We may earn a small commission when readers buy products through links on this page. It supports our team to keep posting great content. Learn more about this
here
.
Last Updated on April 24, 2023
If you are looking for a dog crate for the Pitbull breed, you'll need something that is escape-proof, indestructible, and pretty heavy-duty. This robust and sometimes aggressive breed isn't easily contained.
However, some manufacturers have stepped up to the challenge and made great dog crates for Pitbulls. Keep reading to find out our top picks currently on the market.
Top 3 Picks for Best Dog Crates for Pitbulls
Dog Crates for Pitbulls
Our Rating
Best Overall Dog Crate for Pitbulls
ProSelect Empire Dog Crate

A solid and durable single entry door dog crate built for escape artist pets
Features a stylish hammer tone finish
A convenient slide-out tray ensures you can easily clean up any messes

5/5
Best Budget Dog Crate for Pitbulls
Frisco Double Door Crate

Easy to assemble with no tools required
Features double doors for ease of access
It comes with a divider panel so that the crate can be made bigger as your dog grows

5/5
Best Heavy Duty Dog Crate for Pitbulls (Strongest)
SMONTER Heavy Duty Dog Crate: Best Secure Dog Cage

A heavy-duty dog crate featuring an escape-proof design with welded steel bars
It has an upgraded plug lock mechanism that prevents your pup from breaking out
The y-pattern design makes it hard for your dog to bite this crate

4.5/5
What are the Best Dog Crates for Pitbulls?
Pitbulls can inflict a fair amount of wear and tear on their crates, so you'll want to look for a high-quality one that can stand the test of time. Keep reading to discover the most durable, affordable, and overall best dog crates for Pitbulls.
Best Metal / Steel / Aluminium Dog Crates for Pitbulls
Metal, steel, and aluminum crates are often the best choices for this sturdy breed, particularly if made of a heavier gauge. Here are some of the best metal dog crates for your Pittie.
1. Frisco Double Door Crate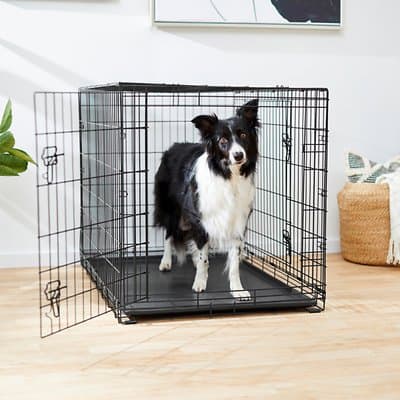 Our rating: 5
Material: Coated steel
Size: 42 x 28 x 30 inches
Weight: 35.5 pounds
A budget-friendly, versatile dog crate that is easy to assemble with no tools required. This crate features double doors for ease of access and a divider panel so that the crate can be made bigger as your dog grows.
It comes in six different sizes, with the 36 inches or 42 inches sizes best suited to the Pitbull breed.
Pros:
Comes with a slide-out plastic plan that makes cleaning up very easy
Can be folded flat for storage or when on the go
Cons:
Not as thick and durable as some other crates on the market
2. ProSelect Empire Dog Crate
Our rating: 5
Material: Steel
Size: 42.25 x 30.75 x 41.25 inches
Weight: 101 pounds
The Proselect Empire Dog Cage features a solid and durable single door entry crate built for escape artist pets with 20 gauge steel and reinforced 0.5-inch diameter steel tubes.
It has a stylish hammer tone finish that not only looks great in your home but also protects the crate against rust and corrosion.
Pros:
A convenient slide-out tray and a grated floor ensures any messes, accidents, and spills can be easily cleaned up
Removable casters on the bottom make this heavy crate easier to move around
This crate is available in two sizes, with the medium suitable for most Pitbulls.
Cons:
Some sneaky pups managed to unlock this crate from the inside
3. Midwest Homes iCrate
Our rating: 5
Material: Coated Metal, Plastic
Size: 42 x 28 x 30 inches
Weight: 39 pounds
The iCrate is a popular double-doored pet crate that features a standard wire design. This dog crate has a fold and a carry design for easy transportation that can be set up and broken down in under 20 minutes.
There are both side and front doors for easy access. A composite sliding pan is included for cleaning.
Pros:
Comes with a divider panel so that the crate can be made bigger as your Pitbull puppy grows
Bolt latches ensure security, so your pup doesn't break out
A budget-friendly option with various sizes available
Cons:
Some pet owners complained that this crate could be easily bent out of shape
4. SMONTER Heavy Duty Dog Crate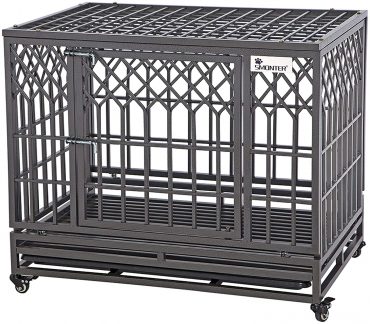 Our rating: 4.5
Material: Steel
Size: 38 x 26.5 x 8 inches
Weight: 63 pounds
A heavy-duty dog crate featuring an escape-proof design with welded steel construction and an upgraded plug lock mechanism that prevents your pooch from breaking out.
The y-pattern design makes it hard for your dog to bite this crate while also creating an aesthetically pleasing look that will compliment your home.
Pros:
The metal frame allows for optimum ventilation and visibility
As this dog crate is shipped partially assembled, it only takes a few screws to put it together
This crate comes with a slide-out removable plastic pan and 360-degree rotating wheels
Cons:
Dogs with separation anxiety were able to escape and chew through the bars
5. LUCKUP Heavy Duty Dog Crate
Our rating: 4
Material: Steel
Size: 38 x 27 x 8.5 inches
Weight: 57.8 pounds
Made from corrosion-resistant steel, this durable dog crate is built especially for medium to large dogs like Pitbulls, German Shepherds, and Huskies.
The door features double locks with safety buckles to stop these intelligent breeds from escaping. There is also a top door that makes interacting with your dog easier.
Pros:
The crate is on 360 degree locking casters so that it can be easily moved around
A removable plastic tray is included for easy cleaning
This crate is easily assembled with just eight screw bolts
Cons:
One pup got injured when she managed to get her paw caught in the floor grate
6. MidWest iCrate Starter Kit
Our rating: 4.5
Material: Coated Metal, Fleece, Polyester
Size: 30 x 19 x 21 inches
Weight: 17.6 pounds
A great starter kit for your dog that includes a dog crate and a dog bed, a machine-washable privacy crate cover, and two stainless steel bowls that can easily attach to the crate. The crate itself features a double door design with rounded corners and secure slide-bolt latches.
Pros:
The kit includes everything you need to get started for a new pet
The crate-sized fleece dog bed means that this crate can also provide a comfortable space for your pet to relax
Cons:
Some dog owners complained that the design was flimsy, and the bowls didn't snap easily onto the crate
7. Gelinzon Heavy Duty Cage
Our rating: 4.5
Material: Metal
Size: 45.6 x 30.7 x 8.7 inches
Weight: 96.3 pounds
A heavy-duty dog crate made from corrosion and rust-resistant steel for durability. It is suitable for both indoor and outdoor use. Ideal for most medium and large dog breeds, this crate features one door with two patent locks with safety buckles.
Pros:
The crate sits on 360-degree rotating locking casters so that it can be moved around easily
A slide-out plastic tray catches any spills and messes and is easy to clean, with an integrated lip that keeps everything contained
Cons:
One dog with severe separation anxiety managed to break his neck between where the steel points meet
Best Portable Dog Crates for Pitbulls (Ideal for Travelling)
If your Pitbull goes everywhere you do, you'll want to look for a lightweight, collapsible crate that allows for easy portability. Here's our top pick:
8. Grain Collapsible Dog Crate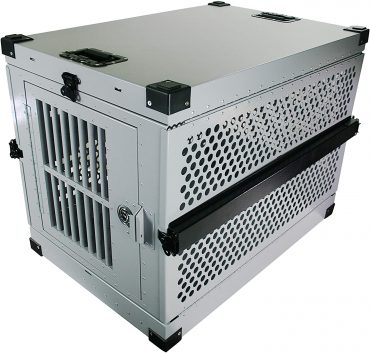 Our rating: 4
Material: Aluminium
Size: 38 x 31 x 12 inches
Weight: 45 pounds
A durable all-aluminum crate that can be collapsed in seconds to less than eight inches for easy transporting. This durable, high-quality crate is powder-coated to prevent rust while the corners are crush-proof, and the latches are made of marine-grade stainless steel for longevity.
Pros:
Drain holes allow for quick and easy cleaning, while carry handles make it easy to transport this crate
The crate offers four-sided ventilation to keep your pet comfortable
The tall design allows for plenty of standing space for your pup
Cons:
Some dog owners claim that setting up was too difficult and even dangerous
Best Soft Dog Crates for Pitbulls
While the Pitbull may tend to chew through a soft dog crate, soft crates can provide a pleasant, cozy environment for your pup if you do own a calm and relaxed pet. Here's our top pick of soft dog crates for Pitbulls:
9. Amazon Basics Premium Folding Portable Crate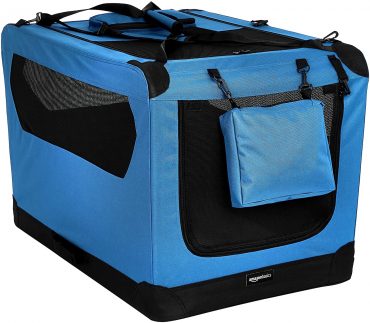 Our rating: 4
Material: Polyester
Size: 36 x 23.4 x 24 inches
Weight: 9.66 pounds
A soft-sided carrier crate that is collapsible for easy storage. Made from PVC and durable polyester with screened panels, this crate provides plenty of ventilation and visibility for your dog.
It comes with a plush fleece bed to provide your dog with a comfortable space while at home or on the road.
Pros:
It includes accessory pockets on the top and sides for storing your dog's leads and treats
A top handle and shoulder strap make it easy to carry this crate around
Cons:
The nylon fabric and wire design of this kennel is not enough to secure escape artist dogs
Best Wooden Dog Crates for Pitbulls
Wooden dog crates are most aesthetically pleasing, blending in with your home decor and furniture.
If you are looking for something a bit more classy than the typical wooden dog kennel, check out our favorite wooden dog crate for your Pitbull:
10. Internet's Best Decorative Dog Kennel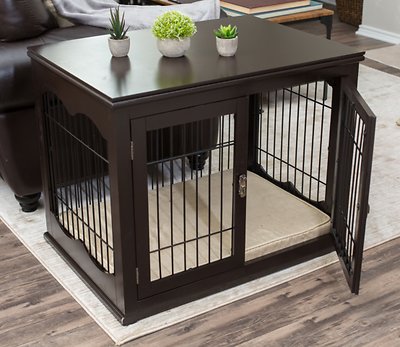 Our rating: 4.5
Material: Wood, Steel
Size: 32 x 23 x 26 inches
Weight: 58 pounds
A wooden and wire table dog crate with a double-door that doubles as a home for your dog and a beautiful side table or nightstand.
The wire side panels make this crate durable while providing visibility for your dog, while a removable dog bed is included for your pup's comfort. Brass hardware not only looks good but keeps your pet safely inside this crate.
Pros:
Available in an espresso-colored finish or a classic white design
For ease of access, this crate features a double side door as well as an end door
Cons:
This crate is not recommended for dogs that will chew their crates
No removable pan or tray
Do All Pitbulls Need Dog Crates?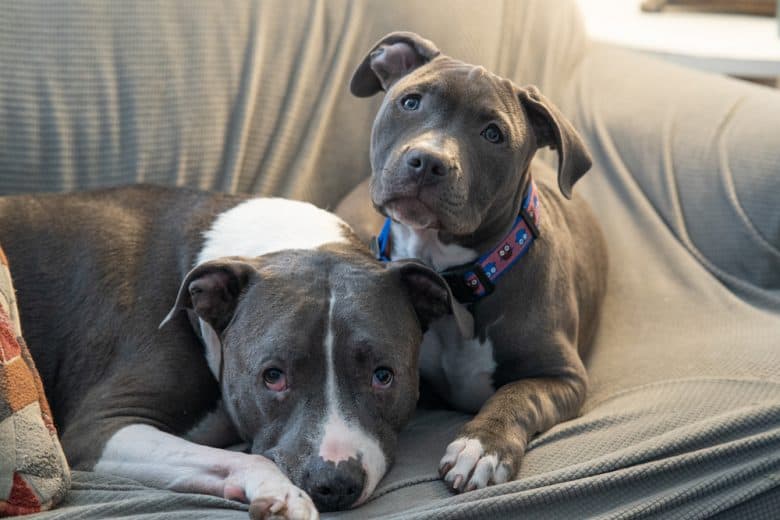 Whether or not you need to crate your Pitbull depends on the individual dog. On the one hand, some people believe that crate training is a cruel method that restricts a dog's freedom.
Conversely, there is proof that crate training is one of the most effective ways of house training your Pitbull.
Whether or not a Pitbull needs a crate would depend on the dog's activity levels and behavior. For example, does the Pitbull have destructive tendencies and separation anxiety? If the answer is yes, then crate training could be deemed a necessity.
However, the Pitbull breed is known to be master escapists. If you do not put them in a secure crate, they will be picking the lock.
Moreover, if you are unaware of your Pitbull's behavior when left unleashed or uncaged, then do not leave them alone without any restraint.
How do Pitbulls escape crates?
Pitbulls escape their crates mainly through chewing. If your Pitbull can expose any weak spots in the crate, then this is likely to result in an escape.
Cages like wire dog crates make use of small hardware and connectors to attach the walls and doors. If these crate areas are exposed, some Pitbulls can wear them down until they break open.
Additionally, Pitbulls are an intelligent breed of dog and know how to manipulate and open the latch of a crate. Moreover, through strength and determination, the Pitbull can burst through the corner of its crate.
This can be potentially dangerous and result in the dog getting stuck by its neck in the crate.
Check out this video of a Pitbull that always escapes his crate to see how he does it:

Benefits of Crate Training a Pitbull
The primary benefit of crate training a Pitbull is that the process will enable your dog to establish a safe zone. Once this has been established, the dog will subsequently have a place of refuge and comfort during periods of separation anxiety.
Well-documented procedures exist on training a dog to use a crate. If these are followed appropriately, and the dog is not confined for long periods, separation anxiety can be kept to a minimum.
The crate will also become the dog's territory which will deter the dog from invading your bed. Pitbulls are strong dogs, and if the dog is allowed to sleep on the bed as it grows bigger, the owner's sleep could suffer as a result.
Furthermore, crates ease the process of transporting a Pitbull. In many US states, it is illegal to leave your pet standing openly in the trunk of the car.
Thus, the crate will provide comfort and security for the Pitbull while traveling long distances. Crate training will also deter behavioral issues such as chewing and incessant barking.
Complete Buyer's Guide to Dog Crates for Pitbulls
If you've decided that you would like to purchase a crate for your Pitbull, there are some considerations to make when looking for the perfect one.
What are the different types of dog crates for Pitbulls?
There are several different types of dog crates on the market. Let's take a closer look at each type and why it may be good or not so good for your Pitbull.
1. Metal Wire Crates
Metal wire crates are advantageous because they are the most budget-friendly crates. Although this is not the most durable of all crates, it will still get the job done with less active Pitbulls who do not have destructive tendencies.
Despite the metal crate's durability and strength, it is still relatively lightweight, making it convenient for transportation purposes.
2. Portable / Plastic Crates
These are deemed suitable for transportation purposes, and some dogs prefer them because of their solid walls. However, due to the sheer strength of a Pitbull, they can easily chew through this material when they become bored.
3. Wooden / Fashion Crates
These are great when using a crate to be kept inside a living area as it blends in nicely with the furniture and leaves an aesthetic touch. However, this would be unsuitable for highly active Pitbulls as they may chew through a wooden crate.
4. Heavy Duty Crates
Crates of this variation cater to all the needs of a Pitbull. These are solidly constructed and will ensure that your Pitbull does not escape from the crate through chewing the material. These also come with lockable latch systems, which prevent further escape attempts.
5. Soft-Sided Crates
These crates are a good idea for the occasional overnight trip or if you are traveling with your Pitbull and still want to offer them the security of their own den without having to bring a metal crate with you.
These fold entirely flat, making them convenient for storage purposes.
How do you choose the best crate for your Pitbull?
When picking out a crate for your Pitbull, try following these steps to make the best purchase: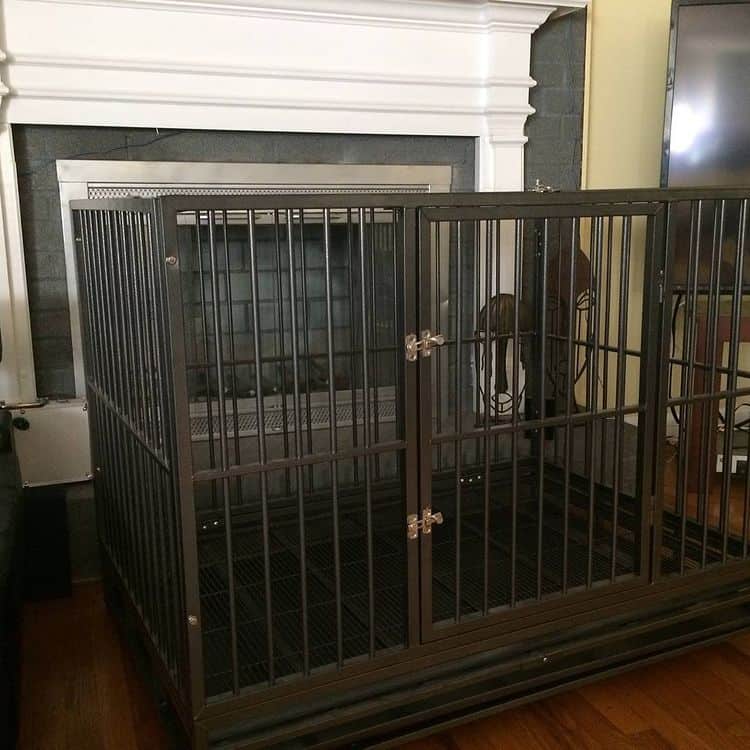 Decide how and where you will be using the crate
Before deciding on the ideal dog crate for your Pitbull, it's essential to evaluate certain criteria.
For example, if the crate is for traveling by air, then a plastic kennel is deemed ideal because of its sturdiness, and you'll want to look for one that is approved by airlines.
Moreover, if the crate is not intended for constant use, then a folding metal crate is more suitable as it's relatively inexpensive and can be folded down, making it ideal for car trips.
Whether the crate is for indoor or outdoor use is further worthy of consideration.
Assess your Pitbull dog's temperament
If your Pitbull has high energy levels and a tendency to engage in destructive behavior such as chewing and biting, a heavy-duty steel crate is most likely the ideal variation of crate as it is the toughest.
If your Pitbull is lazier, then a metal wire crate might do the job, but they are not usually recommended for the breed.
If the Pitbull has manifested signs of separation anxiety, then a box crate with solid sides that create a dark environment might be the best option.
Choose the most appropriate crate model for your Pittie
The most appropriate crate model for a Pitbull is most likely one made out of 20-gauge steel that is strong enough to ensure that no Pitbull is ever going to escape.
Also, look for one with a tray drawer that catches the dog's waste. The only drawback of a heavy-duty crate is that it is challenging to transport.
What size of crate is right for your Pitbull?
The ideal crate size for a Pitbull weighing between 40-80 pounds is usually 36 inches in length, 24 inches in width and a further 24 inches in height.
If the Pitbull is smaller or larger than the average size, it's worth considering a different-sized crate.
The Pitbull needs to have the necessary space to move around, sit up, turn around and stretch out. However, giving your dog too much freedom may result in him using the crate as a restroom.
Types of Pitbull
Size
Height
Weight
American Pitbull Terrier
Medium
21 inches (53 cm)
85 lbs (38 kg)
American Bully (Standard)
Medium
20 inches (51 cm)
66 to88 lb (30–40 kg)
American Staffordshire Terrier
Medium
17 to 19 inches (43 to 48 cm)
50 to 80 lbs (23 to 36 kg)
XL American Bully
Medium
20 inches (51 cm)
66 to88 lb (30–40 kg)
Staffordshire Bull Terrier
Small
14 to 16 inches (36 to 41 cm)

Male: 24 to 37 lbs (10 to 17 kg)

Female: 24 to 34 lbs (11 to 15 kg

Pocket American Bully
Small
17 inches (43 cm)
66 to88 lb (30–40 kg)
Classic American Bully
Small
20 inches (51 cm)
66 to88 lb (30–40 kg)
To learn more about the different types of Pitbull, read our article guide here.
What are other factors to look for in a good dog crate for Pitbulls?
Some additional factors will influence exactly which crate you choose for your Pitbull dog. These include the following: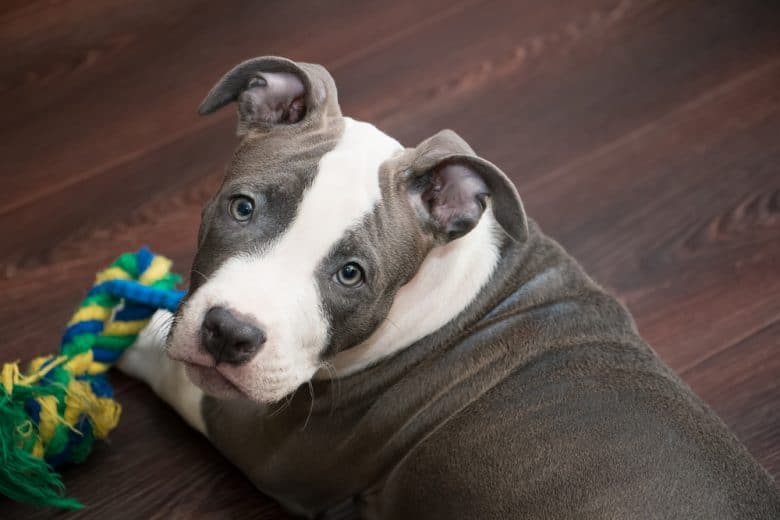 Windows and Ventilation – Although it's essential to ensure that the Pitbull is safe, it's also integral to consider ventilation. A box-type crate should have sufficient opening to let air in and out of the crate. Poorly ventilated crates allow air to stay stagnant, which may result in bacterial growth, causing detriment to your Pitbull.
Visibility – This is important as dogs can also get claustrophobic, and if there isn't a light source, this may prompt destructive behavior. A crate that has good visibility will lessen the probability of separation anxiety and violent behavior. Visibility in the crate will also allow you to monitor your dog's behavior.
Quality – The material quality is an additional factor to seriously consider when buying a crate for a Pitbull. Less sturdy qualities of the material, like that of metal wire crates, will be an easy escape job for a Pitbull. Thus, it's essential to consider strong materials like those made of metal bars or metal sheets, which will ensure the dog's security.
Ease of Assembly – A crate that is easy to assemble and dismantle is another crucial factor to consider before purchasing a crate. Therefore, a crate that collapses easily and can be stored in small spaces is a bonus.
Inaccessible Latches – Many Pitbulls escape by figuring out how to open a crate's latches; thus, look for one that has a complicated latch design. In addition, the more latches per door, the harder it will be for your dog to break free. The slam latches also make it easier for you to close the door without having to fuss over latches at the same time.
Maintenance – Look for a crate that is easy to clean up, so you don't have to worry about feeding your dog in their crate or them making an accident. A grated floor with a removable tray will be the easiest for cleaning.
Price – Of course, the budget will be part of your consideration when choosing a crate for your dog. You'll also want to consider if the manufacturer offers a warranty on their crate, for how many years it is valid, and any disclaimers that may be included. While big brands can often be trusted, make sure you aren't just paying for a name and expensive advertising fees rather than a quality product.
Frequently Asked Questions (FAQs)
Do you still have some questions regarding picking the perfect crate for your Pitbull? Keep reading to have your concerns answered.
At what age should you start crate training your Pitbull puppy?
It is recommended to begin crate training a Pitbull from a young age while they are still puppies.
This will minimize the probability of the dog bringing their bad habits and behavioral tendencies into the crate from which they have learned at an older age.
How long should a Pitbull spend in a cage?
Four hours is the recommended maximum amount of time from the Humane Society that any dog should spend in a crate. Confining a Pitbull to a crate is not a good idea as the breed is married to nature.
The Pitbull, like most dogs, loves to run and burn energy. Make sure to compensate crate time with other energy-draining activities such as morning walks or runs.
What are the reasons not to use a crate for?
Never use a crate as a form of punishment or confine them when they are naughty. You don't want your Pitbull to see their crate as a negative space, but rather a positive one where they can feel calm and relaxed.
Which Crate is Best for Your Pitbull?
There are many options available when it comes to buying a crate for your pitbull. Although it's a little bit on the expensive side, we highly recommend the ProSelect Empire Dog Crate for its structure and durability. If you have the extra money to spare, then this is a great option for you.
If you're on a budget, however, the Frisco Double Door Crate would be perfect. It's easy to assemble and comes with a divider that you can adjust as your pup grows.
No Pitbulls are built the same. Some of the crates here might work for your Pittie and some might not. As we've mentioned above, you need to consider different factors before deciding on which crate to buy.
Do you have a favorite crate for your dog? Let us know in the comments below.
Further Reading: Learn more about Pitbulls
Don't forget to check out our other guides to find out more about your beloved Pitbull.
Reference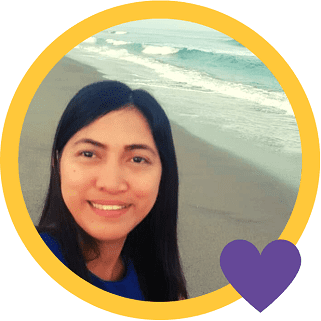 Cess is the Head of Content Writing at K9 Web and a passionate dog care expert with over 5 years of experience in the Pet Industry. With a background in animal science, dog training, and behavior consulting, her hands-on experience and extensive knowledge make her a trusted source for dog owners.
When not writing or leading the K9 Web content team, Cess can be found volunteering at local shelters and participating in dog-related events.