We may earn a small commission when readers buy products through links on this page. It supports our team to keep posting great content. Learn more about this
here
.
Chihuahua dog may not need a lot of food, but you still want to ensure that the dog food formula you are feeding your Chihuahua pup has the proper amount of protein, carbohydrates, fats, minerals, and other nutrients.
The best dog food for Chihuahua is good for her brain and health and should match her activity levels needs.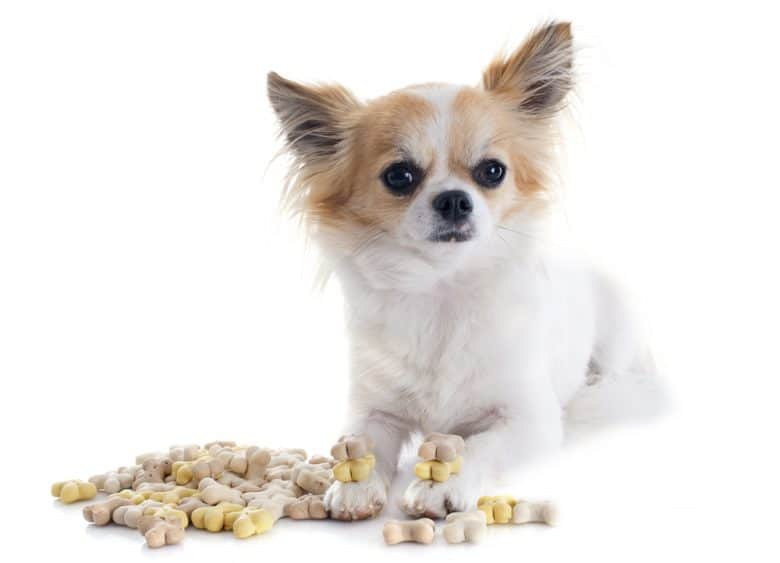 Chis are balls of energy, after all!
If you want a quick look at the best dog food for Chihuahuas on the market, here are the brands that made the top of our list:
Our Top 5 Picks for Best Dog Food for Chihuahuas
Best Foods for Chihuahua Puppy
Nutritional requirements differ from puppyhood to adulthood.
With vitamins, minerals, amino acids, and protein content varying from one life stage to another.
We picked out great brands that offer different recipes with quality ingredients to suit your Chihuahua needs up to her senior years.
Puppy foods for Chihuahuas should contain at least 22% protein in their diet, compared to adult dogs who only need about 18% protein.
Food for puppies also has a higher fat content than adult dog food.
Chihuahua puppies are incredibly energetic and need to eat a lot, and often! It will help support their bones, muscles, and immune systems.
No matter which food you choose, be sure to follow a schedule and feed your Chi four to six times a day.
Best wet puppy food for Chihuahuas
Many Chihuahua dog owners prefer to start their puppy off on wet food, or mix it with their kibble, as it's easier to digest and more palatable for picky eaters.
Here's our list of soft and tastier wet food for Chihuahua puppies.
1. Canidae Grain Free Pure Dog and Puppy Wet Food
Our rating: 4.5
Top ingredients: Salmon, Salmon Broth, Ocean Fish
Type: Wet
Natural wet food with a high protein content perfect for puppies. Packed with protein and Omega 3 fatty acids from the fish.
Pros:
Only contains real food ingredients.
Packed with a variety of nutritional supplements that puppies need.
2. Nutro Grain-Free Wet Dog Food Adult & Puppy
Our rating: 4.5
Top ingredients: Beef, Chicken Broth, Pork Broth
Type: Wet
A wholesome, safe food made using either beef or chicken and safe for adults and puppies. Delicious protein fill food, free from grains.
Pros:
No GMOs, additional fillers, or artificial colors and flavors.
Available in easy to feed peel trays.
It is made in the USA with local ingredients.
3. Wellness Complete Health Natural Wet Canned Dog Food Puppy Chicken & Salmon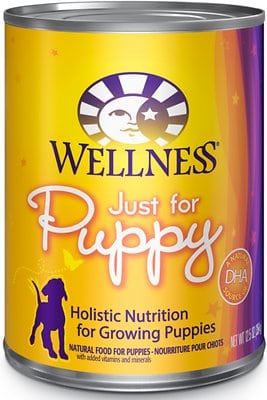 Our rating: 4.5
Top ingredients: Chicken Broth, Chicken, Chicken Liver
Type: Wet
Real-food, high-quality protein wet food specifically formulated for puppies. A high-quality blend of protein and antioxidant-rich vegetables.
Pros:
Made in the United States.
No meat by-products, fillers, or artificial preservatives.
Best dry food for Chihuahua puppies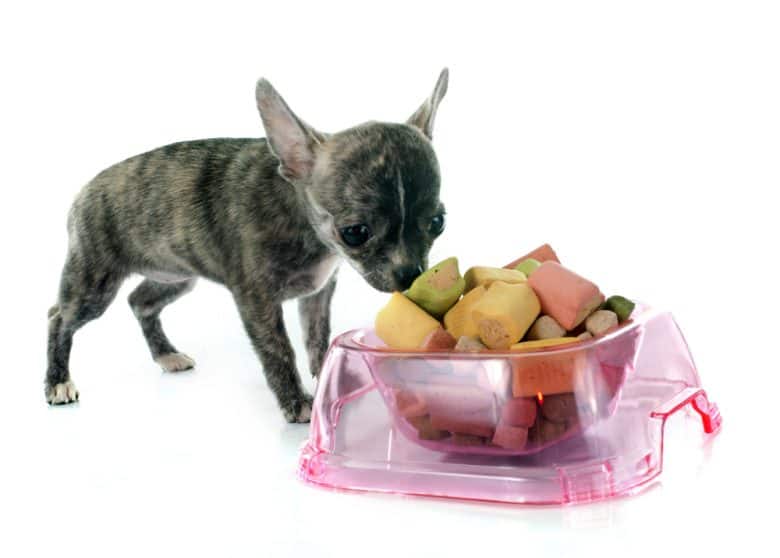 Convenient to store and often more affordable with a bigger available range, dry dog food is an easy option for your Chihuahua puppy.
4. Wellness Complete Small Breed Puppy Food
Our rating: 4.5
Top ingredients: Deboned Chicken, Chicken Meal, Turkey Meal
Type: Dry
Specially formulated small breed puppy food made from high-quality proteins and grains. Specifically designed for toy breeds for optimal energy and building a healthy immune system.
Pros:
Based on chicken and rice.
It contains Omega 3 for healthy skin and coat as well as glucosamine and chondroitin for joint health.
It is made in the USA. No artificial additives or fillers.
Best grain-free Chihuahua puppy food
Many purebred dogs suffer from allergies, which can be worsened by foods, especially grains.
A wholesome limited ingredient diet that is free from grains can help your puppy overcome these issues.
5. Blue Freedom Grain Free Small Breed Puppy Food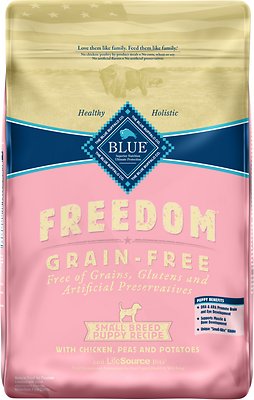 Our rating: 4.5
Top ingredients: Deboned Chicken, Chicken Meal, Peas
Type: Dry
Dry puppy food designed to support growth and development while avoiding grains. A careful blend of protein and carbohydrates to support small breed puppies' growing needs.
Pros:
No by-product meals, corn, wheat, or soy.
Chicken serves as the main ingredient for a lean source of protein.
It is made with DHA and ARA to support brain and eye development.
6. Instinct Raw Boost Small Breed & Toy Breed Grain-Free Recipe Natural Dry Dog Food
Our rating: 4.5
Top ingredients: Chicken, Chicken Meal, Chickpeas
Type: Dry
Naturally nutrient-dense grain-free dry dog food for toy breeds. High protein all-natural food with raw freeze-dry cage-free chicken
Pros:
No artificial flavorings or colors. Includes calcium and phosphorus for healthy teeth and bones and glucosamine and chondroitin for healthy joints.
Complete and balanced food, suitable for small breeds from puppy to senior.
7. Blue Buffalo Wilderness High Protein Grain Free, Natural Puppy Dry Dog Food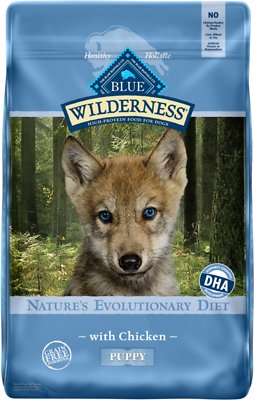 Our rating: 4.5
Top ingredients: Deboned Chicken, Chicken Meal, Pea Protein
Type: Dry
High protein puppy food designed to encourage growth. A well-thought-out mix of antioxidants and real chicken meat.
Pros:
Includes DHA, ARA, and essential fatty acids for muscle growth and cognitive function.
It contains LifeSource Bits, which is a veterinarian's blend of vitamins, minerals, and antioxidants.
No artificial flavors or preservatives.
Best food for Chihuahua puppies with sensitive stomachs
If your Chihuahua pup has a sensitive stomach, you may want to try a dog food with limited ingredients with fewer components that could cause aggravation.
8. Castor & Pollux grain-free organic food
Our rating: 4.5
Top ingredients: Organic Chicken, Organic Chicken Meal, Organic Sweet Potatoes
Type: Dry
USDA organic certified grain-free chicken dog food. Based on organic, free-range ingredients.
Pros:
No artificial preservatives, flavors, or colors.
A unique blend of superfoods, including flaxseed, blueberries, and coconut oil.
It contains DHA for brain development.
9. Nutro Ultra Puppy Dry Dog Food
Our rating: 4.5
Top ingredients: Chicken, Chicken Meal, Whole Brown Rice
Type: Dry
Puppy food made from a trio of protein – chicken, lamb, and salmon. Nutrient-dense simple recipe packed with protein and superfoods.
Pros:
Free of any artificial ingredients. Small kibble designed for small and young dogs.
Best dog food for Chihuahua adults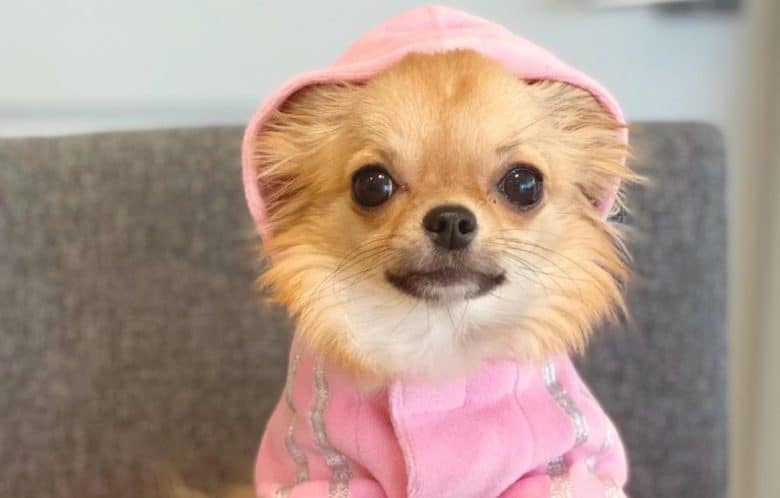 The average adult Chihuahua requires around 200 calories of dog food per day, the equivalent of about half a cup.
10. Royal Canin Breed Health Nutrition Chihuahua Dry Dog Food
Our rating: 4.5
Top ingredients: Corn, Chicken By-Product Meal, Brewers Rice
Type: Dry
Dry dog food developed explicitly for Chihuahuas. Formula created for the high energy needs of the Chihuahua breed.
Pros:
Extra-small kibble size.
Packed with antioxidants for improved immune function.
High in protein and fiber.
Exceptional flavors for fussy eaters
11. Purina Pro Plan Small & Toy Breed Adult Dry Dog Food
Our rating: 4.5
Top ingredients: Chicken, Rice, Corn Gluten Meal
Type: Dry
A high-calorie dog food formulated for toy breeds. With chicken as the main ingredient, this is high-protein dog food, specifically for active dogs.
Pros:
Small size kibble for tiny dogs.
Includes calcium and phosphorus for teeth and bone development.
12. Nutro Wholesome Essentials Small Breed Adult Farm-Raised Chicken, Brown Rice & Sweet Potato Recipe Dry Dog Food
Our rating: 4
Top ingredients: Chicken, Chicken Meal, Whole Brown Rice
Type: Dry
A specially formulated little dry kibble small breed dog food. A good proportion of protein to carbohydrates and fat for high-energy Chihuahuas.
Pros:
Farm-raised chicken is the main ingredient.
It is made with non-GMO ingredients.
Includes essential antioxidants, such as vitamin E, for an excellent immune system.
13. Merrick Classic Healthy Grains Small Breed Recipe Adult Dry Dog Food
Our rating: 4
Top ingredients: Deboned Chicken, Chicken Meal, Brown Rice
Type: Dry
Protein-packed dry dog food for small breeds. High-protein food for little dogs with real chicken and healthy grains.
Pros:
Small, crunchy size, which also helps to clean teeth.
High levels of Omega fatty acids to maintain a healthy coat and skin.
14. Blue Buffalo Life Protection Formula Toy Breed Adult Chicken & Brown Rice Recipe Dry Dog Food
Our rating: 4.5
Top ingredients: Deboned Chicken, Chicken Meal, Brown Rice
Type: Dry
Reliable, wholesome dog food with real grains, vegetables, and protein. A precise blend of protein, antioxidants, vitamins, and minerals to support the toy breeds.
Pros:
Features real meat as the main ingredient.
No meat by-products, corn, wheat, or soy included.
15 Wellness CORE Grain-Free Small Breed Healthy Weight Deboned Turkey Recipe Dry Dog Food
Our rating: 4.5
Top ingredients: Deboned Turkey, Turkey Meal, Chicken Meal
Type: Dry
Grain-free dry dog food for small dogs. Advanced natural nutrition with premium proteins and superfoods.
Pros:
Smaller kibble size for easy eating.
Fortified with omega fatty acids, antioxidants, glucosamine, chondroitin, prebiotics, and taurine.
Made in the USA.
Best dog food for Chihuahua seniors
Senior Chihuahuas are dogs above the age of 7 or 8.
Dog food that has been specially formulated for senior dogs typically includes vitamins, minerals, and supplements to address some of the health problems that plague older animals.
16. Blue Buffalo Carnivora Grain-Free Senior Wet Food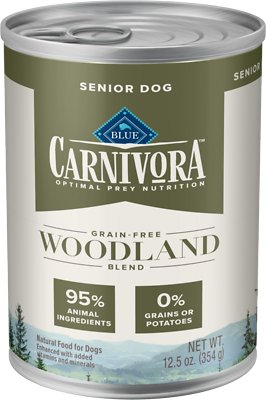 Our rating: 4.5
Top ingredients: Chicken, Turkey Broth, Turkey
Type: Wet
Wet formula dog food that is easy for seniors to chew and digest. Made from 95% animal ingredients, including real chicken and turkey.
Pros:
High-protein diet mimics what dogs would eat in nature.
No grains or potatoes.
It is enhanced with vitamins and minerals.
17. Halo Holistic Chicken Recipe Senior Canned Food
Our rating: 4
Top ingredients: Chicken, Chicken Broth, Chicken Liver
Type: Wet
Canned dog food to meet the needs of senior dogs. Nutritious whole chicken meat and non-GMO diet.
Pros:
Free of artificial colors, flavors, and preservatives.
Easily digestible by older dogs.
18. Merrick Lil' Plates Grain-Free Real Chicken & Sweet Potato Senior Dry Dog Food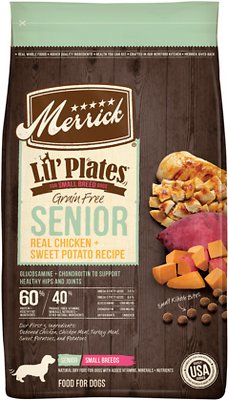 Our rating: 4
Top ingredients: Deboned Chicken, Chicken Meal, Sweet Potatoes
Type: Wet
Senior-specific nutrition in kibble format. High protein diet with real chicken to build muscles and sustain energy.
Pros:
Added glucosamine and probiotics.
Small kibble size is easy to digest while keeping teeth clean.
High levels of omega fatty acids, glucosamine, and chondroitin.
How to Choose the Best Food For Your Chihuahua?
Although small, Chihuahuas are an energetic breed that requires high-quality dog food that is rich in protein and complex carbohydrates.
The best protein ratio to carbs to starch for a balanced diet is around 40, 40, 20. Your dog's food should also be rich in amino acids and balanced in vitamins and minerals.
It's more important to go for a brand that boasts high-quality ingredients rather than a big name that you simply recognize due to their branding, high advertising fees, and marketing efforts.
Chihuahua Dietary and Nutritional Considerations
As Chihuahuas don't have the caloric requirements of larger dogs, you can get away with buying a 5 to 10-pound bag of food at a time, which should last several weeks.
As you don't have to spend large amounts on the quantity of dog food, you should take advantage of your dog's small size and buy the best quality food you can.
The label will be able to tell you a lot about the quality of the dog food.
Look for brands that indicate an animal protein as the first ingredient, have two protein sources within the first three ingredients, have a higher fat content, and have no artificial additives.
The calorie content in dog food varies per brand, so make sure to check each food's feeding recommendations to ensure you aren't feeding your dog too little or too much.
Things to consider when buying Chihuahua dog food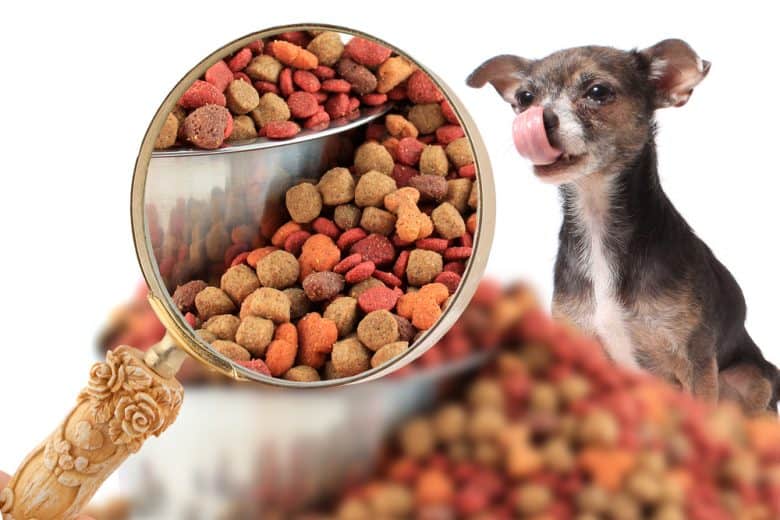 There are several things you want to consider when buying dog food for your Chihuahua dog. The first would be where the food is made.
Dog food produced in the United States, Canada, New Zealand, Australia, or Western Europe has stringent standards and is less likely to contain harmful toxins.
As Chihuahuas are so tiny, they can get very sick quickly, and so you need to keep a close eye on anything you feed your dog.
As a toy breed with high energy, Chihuahuas also have a speedy metabolism and tend to burn through meals very quickly.
The size of the kibble is an essential factor to consider when choosing the best Chihuahua food. Your pint-size pup is going to need a small kibble size that his tiny jaws can handle.
The age and bodyweight of your pet will also affect what food you can give your dog.
Choose a food that has been specifically designed for their life stage with the correct balance of nutrients, vitamins, and minerals they need.
Nursing or pregnant moms will also have different nutritional needs than other adults.
Ingredients to look for when feeding your Chihuahua
Of course, another important consideration when buying any dog food is the list of ingredients. Generally, you want to choose a food that lists meat as the main ingredient.
Avoid foods that list meat by-products or are not specific about the type of meat included in the ingredients.
You'll also want to stay away from refined carbohydrates that can cause a sharp rise and fall in energy levels. Good carbohydrates include whole grains, fruits, and vegetables.
These ingredients should make up about 40% of your dog's diet. Fiber is also an essential part of your dog's diet, aiding in digestion, and preventing constipation.
Preferably your dog's food shouldn't contain any artificial additives which can trigger food allergies.
The ingredients you should avoid
Foods that are high in filler ingredients like meat by-products contain little to no nutritional value and, as a result, are more likely to lead to obesity.
Also, there are certain human foods that you'll want to avoid giving your dog. These include:
Chocolate – the theobromine in chocolate is poisonous for dogs and can lead to vomiting, diarrhea, and seizures
Onions & Garlic – these ingredients can cause anemia
Caffeine – dangerous for dogs as it raises the heart rate
Bones – tiny bones, like chicken bones, can splinter, cause tummy problems and damage to the digestive tract
Grapes, raisins, cherries, avocado, and macadamia nuts – are toxic and can lead to kidney failure
Xylitol – can cause liver problems and cause a dangerous drop in sugar levels
Yeast – pizza and bread rolls can lead to alcohol being absorbed or created in your dog's system
Is grain-free diet options preferable for Chihuahuas?
There are an increasing number of wheat and grain-free dog food products on the market. Dogs need not specifically avoid grains unless they have specific food allergies or health problems.
While many modern dog owners prefer a grain-free diet for their pups, there are benefits to whole grains.
The slow release of sugars, which helps maintain energy while providing adequate levels of fiber to keep your pet regular.
Choosing a dog food for Chihuahuas with health problems
Chihuahuas are a generally healthy breed, with many of these small dogs living longer than 15 years.
However, Chihuahuas can develop lifestyle-related health issues due to their impressive longevity, especially in their senior years. This includes obesity, diabetes, and arthritis.
To keep your dog healthy, focus on food made from high-quality ingredients. You will also want to feed this high-energy breed small portions of food frequently.
Foods that contain chondroitin or glucosamine can help to ward off joint problems, like luxating patellas.
They also can battle skin and coat-related issues, which are sometimes caused by food allergies.
High protein diets containing no allergens, like corn, wheat, or soy, will help you avoid some of these common health concerns.
Foods high in Omega-3 and Omega-6 fatty acids will also assist in promoting a healthy coat.
Chihuahuas are also prone to dental issues, in which case kibble or semi-dry foods are best for this breed; they will help clean the teeth while your dog eats.
Should you give your Chihuahua dry kibbles, wet food, raw diet, or homemade?
Raw food diets are becoming more popular with pet owners, although the scientific community is still debating these diets.
Whether you decide to opt for wet or dry dog food or opt to make your food at home.
You need to ensure that your pet's diet contains all the nutrients they also require and that the food is small enough to be eaten by this toy breed.
Certain cruciferous vegetables should always be avoided in raw food diets as these can suppress thyroid function. This includes broccoli, cauliflower, and cabbage.
You also should not mix raw and dry dog food. As dry dog food increases the stomach's PH levels, dogs fed both will struggle to break down raw food. This can result in indigestion, diarrhea, and bloat.
A homemade recipe you can try for your Chihuahua
If you wish to make dog food at home, be sure to include lean meats like bison, venison, and fish. Organ meat like liver and kidney are also a great protein source.
Deboned chicken is also an easy source of protein for dog owners that prefer to make home-cooked meals. Cooked or scrambled eggs also provide essential protein, minerals, and vitamins.
This protein should be cooked or boiled without salt or with a touch of salt and can be mixed with brown rice and vegetables.
Just be sure to choose your veggies carefully. Carrots, bananas, and apples are good choices.
Unsweetened, plain yogurt can also be added as it contains beneficial bacteria that help maintain a healthy digestive tract.
A home-cooked meal is perfect for Chihuahuas with sensitive stomachs as you can control the ingredients, giving you a better idea of your dog's specific food allergies.
However, you may need to speak to your vet when it comes to portion size and feeding schedule.
Frequently Asked Questions (FAQs)
There are various questions that Chihuahua parents frequently ask when it comes to choosing the right food for their pet. Let's take a look at some of those FAQs and their answers:
Chihuahua feeding guide: How much and often should you feed your Chihuahua?
Chihuahuas need a frequent feeding schedule of between three and four meals a day. Some vets and breeders even recommend keeping a bowl of food out for your pooch all day.
This is because Chis are susceptible to canine hypoglycemia, leading to very low blood sugar levels.
Small puppies should be fed at least five times a day during the first three months to prevent hypoglycemia.
As your dog gets older, you can try reducing their meals to four and then three times a day.
Transition: How to switch from puppy to adult dog food?
The American Kennel Club recommends feeding your puppy a moist or wet food diet until the age of around 12 or 13 weeks.
It is a good idea to maintain the same food the breeder gave your puppy. After that, you can move on to gradually introducing dry kibble to your dog's diet.
Regardless of whether the food is wet or dry, Chihuahuas should be fed food specifically formulated for puppies until they are about nine or ten months old.
Males typically grow more slowly than females and may need a bit more time. At this age, you can now start the transition from puppy to adult food.
When introducing any new food to your Chihuahua's pup diet, don't simply cut them off from the one and start them on another.
Gradually taper off the old food while introducing the new food. This process can take around two weeks.
Do Chihuahuas need supplements?
A variety of supplements should be included in your Chihuahua's diet. This includes Vitamin E, omega fatty acids, and linoleic acid.
These supplements help to reduce shedding and promote a silky, shiny coat. Fatty acids also help with cognitive function.
Calcium should also be supplemented in your dog's food, mainly when your dog is under two months old. This is necessary for healthy bone growth.
Chondroitin and glucosamine are also essential supplements that promote joint health and help to prevent tracheal collapse.
Chihuahua dog food should include all of the above and minerals, vitamins, and antioxidants to keep your dog healthy and strong.
The Best Dog Treats for Chihuahuas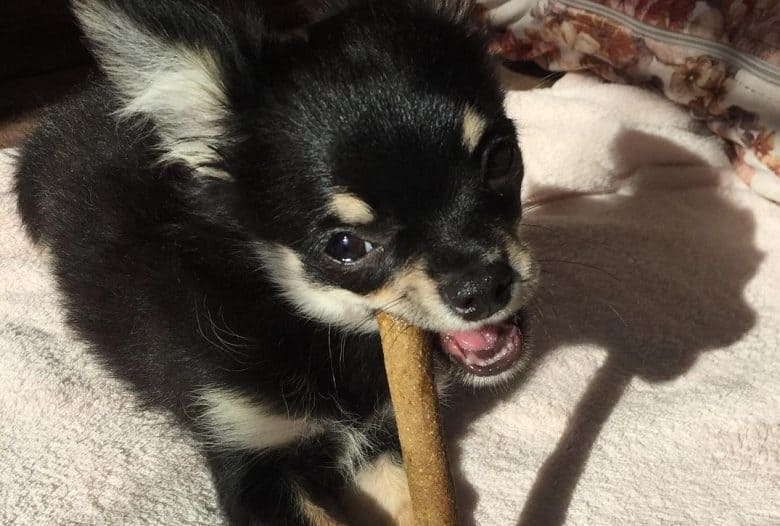 As obesity is a big concern for the Chihuahua dog breed, you should avoid giving your dog too many treats so that they can maintain a healthy weight.
In particular sugary treats can be particularly dangerous for a breed prone to weight gain and hypoglycemia. If you do want to spoil your pup, you can try giving them bananas without the peels.
Bananas make an awesome low-cholesterol, low-sodium, low-calorie treat.
They are also packed full of fiber, copper, magnesium, vitamins, potassium, and biotin, all of which are good for your breed!
What Makes Dog Food Good for Chihuahuas?
Although minimum requirements and standards bind commercial pet food companies, you'll probably want to give your pup more than the simple bare necessities.
Don't skimp on buying the best quality food that you can. Thankfully with the diminutive size of this breed, you don't need to buy a lot!
What food do you buy for your Chihuahua dog? Let us know in the comments below.
Further reading: Dog food for other Toy and Small Breeds