We may earn a small commission when readers buy products through links on this page. It supports our team to keep posting great content. Learn more about this
here
.
Friendly, loving, and outgoing. Labradors are an iconic breed that has stolen the world's heart. They are the top choice for dog owners in America and has been since 1991.
We know that everyone wants to give their dogs the best, and that's why you're here! We also know that it can be quite overwhelming with all the brands on the market so we've narrowed it down for you.
My Top 6 Picks for Best Dog Food for Labs
Top 19 of the best dog food brands for hunting Labs
Diets are very subjective and what works for one breed won't work for another. That's because every dog has its own specific dietary requirements.
Labradors are a medium to large breed that need support to maintain a healthy weight and have strong joints.
Best puppy foods for Labs
Growing Labs need to grow steadily in order to maintain the integrity of their joints.
If they are fed a kibble without the proper nutrients, their bones might grow too fast and develop musculoskeletal disorders. This can cause pain and even lameness.
Below you will find our top picks of high-quality dog foods that are gentle on your puppy's stomach which meet a growing dog's nutritional needs.
1. Wellness Core Natural Grain Free Puppy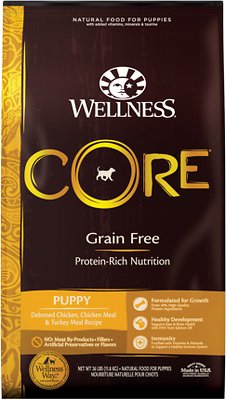 5 stars
Chicken, Chicken Meal, Turkey Meal
Type: Dry
Short Product Description: One of the most popular choices due to its high-quality protein content. One of the best dry dog foods on the market.
Key Features: Kibbles are coated with probiotics to aid digestion and prevent infections. Naturally sourced DHA for cognitive development.
Pros and Cons: No undesirable fillers or preservatives. Can be slightly pricey. Contains high-glycemic potatoes.
2. K9 Natural Grain-Free Puppy Freeze-Dried Dog Food
5 stars
Beef, Beef Blood, Beef Tripe, Eggs, Beef Liver
Type: Freeze-dried
Short Product Description: Picky eaters love this all-natural freeze-dried dog food. It is a great option for high energy large breed puppies like the Labrador.
Key Features: EPA, DHA, and Hoki oil promote healthy brain and eye development as well as a shiny coat.
Pros and Cons: Grain-free, high protein, raw diet. Can be quite pricey and has a pungent smell. Requires minimal prepping.
3. Taste of the Wild Grain-Free Puppy Formula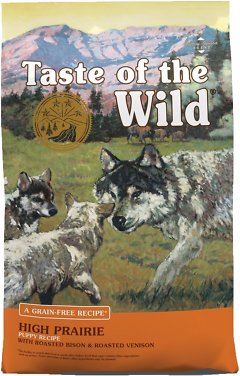 5 stars
Buffalo, Lamb Meal, Sweet Potatoes
Type: Dry
Short Product Description: Sweet potatoes offer complex carbs great for dogs with high activity levels, while buffalo and lamb meal will give your growing pup the source of protein he needs to grow big and strong.
Key Features: Antioxidants and prebiotics for a strong immune and digestive system.
Pros and Cons: Great value for money. Rich in proteins and antioxidants. Safe for sensitive stomachs.
4. Eukanuba Large Breed Puppy Food
4.5 stars
Chicken, Chicken By-Product Meal, Corn
Type: Dry
Short Product Description: Eukanuba ensures a balanced diet, fortified with ideal levels of nutrients for your pooch's joint development.
Key Features: Contains glucosamine and chondroitin for joint health. Omega-oils for healthy brain development.
Pros and Cons: Puppies might have some difficulties with the bigger-than-average kibbles.
5. Hills Science Large Breed Puppy
4.5 stars
Chicken Meal, Whole Grain Wheat, Whole Grain Oats
Type: Dry
Short Product Description: Don't let your financial capabilities hold you back from giving your dog the best. Hills Science is known for providing high-quality ingredients at a lower cost.
Key Features: Contains glucosamine and chondroitin for joint health, along with other key vitamins for a healthy immune system.
Pros and Cons: Easy on the wallet. Includes fiber for digestion and easy elimination. Also formulated with lamb.
6. Royal Canin Breed Specific Labrador Puppy
4 stars
Chicken By-Product Meal, Brewers Rice, Brown Rice
Type: Dry
Short Product Description: Royal Canin offers a balanced diet with high levels of protein which is what your pup needs.
Key Features: Specially formulated for Labs. Prebiotics for gut health. Fish oils for brain development.
Pros and Cons: Doughnut shaped kibbles that encourage Labs to savor their food. Average quality ingredients. Expensive.
7. Blue Buffalo Large Breed Puppy Dry Food
5 stars
Deboned Chicken, Chicken Meal, Brown Rice
Type: Dry
Short Product Description: Blue Buffalo has its own patented formula called LifeSource Bits which is chock-filled with goodies. It also includes nutrient-dense fruits and vegetables such as blueberries, pumpkins, and spinach.
Key Features: No by-products. Includes easily digestible complex carbs and is antioxidant rich. Omega oils and flaxseed to prevent joint disorders.
Pros and Cons: Small kibbles which are easy on your puppy's jaws.
8. Diamond Naturals Large Breed Puppy
4.5 stars
Lamb, Lamb Meal, Whole Grain Brown Rice
Type: Dry
Short Product Description: An above-average kibble for its price range. Diamond Naturals is owned by the same manufacturers as Taste of the Wild. It comes with its own blend of nutrients.
Key Features: Natural DHA for brain health and probiotics for a strong digestive system.
Pros and Cons: Grain-inclusive. Great value for money.
Best dog food for Labrador Retriever adults
Now that your dog has made it to adulthood, you can switch them to adult kibble. Some calorie-rich puppy foods are not ideal for adults because it can cause obesity or fatty liver issues.
However, we've included some pet food for all ages, so you won't have a problem with that.
9. Wellness Core Large Breed Dog Food
5 stars
Deboned Chicken, Chicken Meal (source of Glucosamine), Turkey Meal (source of Chondroitin Sulfate)
Type: Dry
Short Product Description: Wellness Core offers one of the best high-protein and nutrient-dense kibbles on the market. Made with whole foods that boost the immune system and promote gastrointestinal health.
Key Features: Naturally preserved with herb extract.
Pros and Cons: Grain-free, comes in 7 delectable flavors you can rotate. Slightly expensive.
10. Sport Dog Active Series Field Dog Formula (also for puppies)
5 stars
Chicken Meal, Whole Ground Sorghum, Dried Sweet Potato
Type: Dry
Short Product Description: A wonderful choice for active dogs with sensitivities. Does not contain any legumes, lentils or any problematic grain fillers. You also won't find egg or egg by-products.
Key Features: Over 500 calories per cup
Pros and Cons: Includes taurine and cold-pressed wild Norwegian salmon oil for heart health and muscle recovery. Slightly pricey.
11. Taste of the Wild High Prairie
4.5 stars
Buffalo, Lamb Meal, Chicken Meal
Type: Dry
Short Product Description: If you're looking for exotic flavors, look no further. Taste of the Wild has it all. Their kibble is fortified with probiotics, fatty acids, antioxidants for optimal health.
Key Features: Venison!
Pros and Cons: High quality and great value for money.
12. Nutro Ultra Adult Dog Food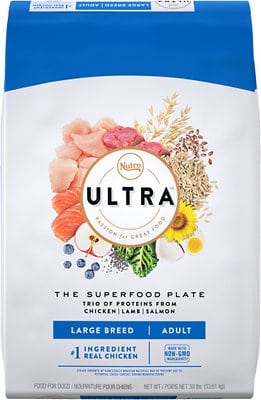 5 stars
Chicken, Chicken Meal (source of Glucosamine and Chondroitin Sulfate), Whole Brown Rice
Type: Dry
Short Product Description: A wonderful option for the holistic pet parent. They use natural ingredients and also have a limited ingredient option for the more sensitive pup.
Key Features: Natural sources of glucosamine and chondroitin, rich in linoleic acid for glossy coats.
Pros and Cons: Non-GMO, slightly pricey.
13. Dr. Gary's Best Breed Holistic Large Breed Dry Dog Food (also for puppies)
5 stars
Chicken Meal, Oatmeal, Brown Rice
Type: Dry
Short Product Description: Kibble specially formulated by a vet. This holistic kibble is slow-cooked and fortified with natural protein and glucosamine sources.
Key Features: Suitable for sensitive dogs
Pros and Cons: Non-GMO
14. AvoDerm Advanced Joint Health Dog Food
4.5 stars
Chicken Meal, Peas, Chicken Cartilage (Source of Chondroitin Sulfate and Glucosamine)
Type: Dry
Short Product Description: A great option for those with different sized breeds at home. It is formulated with naturally-sourced chondroitin sulfate and glucosamine.
Key Features: Avocados for healthy skin and coat.
Pros and Cons: Grain-free. Slightly pricey.
15. Diamond Naturals Extreme Athlete
4.5 stars
Chicken Meal, Chicken, Ground White Rice
Type: Dry
Short Product Description: Extra the proteins, carbs, and fat for the dog that's always on the go.
Key Features: Includes superfoods such as kale and chia seeds.
Pros and Cons: Uses high glycemic grain. Good value for money.
16. Orijen Original Dog Food (also for puppies)

5 stars
Deboned chicken, deboned turkey, flounder
Dry
Short Product Description: Trusted by pet owners for their transparency, Orijen offers ingredients made from wild-caught fish and cage-free poultry.
Key Features: Made with 85% animal ingredients.
Pros and Cons: Wheat free, no high glycemic fillers.
17. Canidae All Life Stages Multi-Protein Formula (also for puppies)
4 stars
Chicken Meal, Turkey Meal, Lamb Meal
Type: Dry
Short Product Description: Canidae All Life Stages offers protection against skin problems and builds up the immune system with their HealthPLUS Solutions.
Key Features: Vet formulated.
Pros and Cons: Grain inclusive. No corn, wheat, chicken by-products, or soy.
18. Gather Free Acres Organic Free-Run Chicken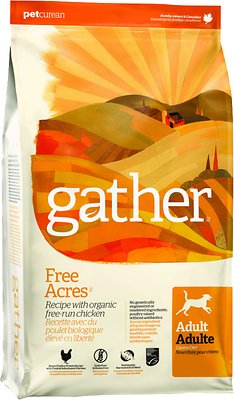 4 stars
Organic Chicken, Organic Dehydrated Chicken, Organic Peas, Lentils
Type: Dry
Short Product Description: A premium kibble with 100% locally sourced organic ingredients for the premium pooch.
Key Features: Made with organic products.
Pros and Cons: Very expensive. Pungent.
Best dog food for Labrador Retriever seniors
The dietary needs of an older dog are slightly different. You'll want to lower his caloric intake, as well as offer him softer food options, if possible.
Some older dogs will have health issues that can be exacerbated by the wrong food.
19. Blue Buffalo Blue Life Protection Formula Large Breed Senior
5 stars
Deboned Chicken, Brown Rice, Barley
Type: Dry
Short Product Description: An expensive offering, but one worth the money. Blue Buffalo is recommended by vets for its great nutrient profile.
Key Features: Low fat and high fiber which helps aging dogs fight against obesity and also promotes a healthy bowel system.
Pros and Cons: It is not grain-free dog food. Can be slightly pricey.
How to choose the best food for your Labrador Retriever?
A dog food that's well suited for your pooch will give them excellent muscle tone, healthy skin and coat, increased immunity, and healthy stools. What comes out of your dog can give you a good idea of their health.
The stool should be a long firm and moist, dark brown log. If your dog is pooping an excessive amount, it means that they aren't absorbing the nutrients in the kibble.
Poop eating is a common occurrence in dogs that do not get adequate nutrients.
Different dogs might react differently to the same kibble but it's easy to go for the big brand names because it's well known and most of them are pretty established.
You can also easily look up their recall history and see if they are regulated by the Association of American Feed Control Officials (AAFCO).
Certain brands are popular for a reason, but this doesn't mean that smaller brands that aren't as well-known are bad. It just means that you have to study the ingredients more closely.
Labrador Retriever nutritional requirement: What to look for in the label
The first ingredient should always be animal protein. Adult dog food should have 20-30% animal protein.
However, a healthy dog's diet should also include fibre and vitamins which are best sourced from vegetables or fruits.
Complex carbs are also a good addition because it provides an energy source for your pups. But it shouldn't exceed 30%. But, Labs are predisposed to obesity, so their kibble should not be more than 10-15% fat.
Labradors are prone to the development of joint-related diseases such as the elbow or hip dysplasia, so chondroitin and glucosamine are a must especially for senior dogs.
Eye problems also tend to hound this popular dog breed. That's why recipes should include ingredients rich in DHA and taurine.
For younger dogs, calcium and phosphorus have been proven to keep their bones strong and encourage healthy cartilage development. Fatty acids such as omega-3 is also a plus.
The ingredients you should avoid
Beware of broad claims such as "all-natural and locally sourced" or "high in protein" because they aren't regulated. They are more likely to be puffery instead of factual.
What you should look at is always the ingredients list.
The top ingredients you want to avoid are any artificial coloring, sweeteners, flavors, and preservatives, although the FDA does allow a controlled amount of preservatives.
Is grain-free diet options preferable for Labradors?
Grain-free formulas have been gaining popularity in the USA, mostly due to an episode of wheat contamination in 2007 which caused kidney damage in many beloved doggos.
While it's true that some dogs can be sensitive to wheat, grain-free doesn't necessarily mean more healthy. There are new reports suggesting that grain-free could be harming your precious pooch.
The AKC also states that grains are preferable to high glycemic carbs such as potatoes.
Choosing a dog food for Labrador Retrievers with health problems
If your dog looks poorly but is otherwise healthy, the culprit might be the food he's eating. Chronic ear infections, itchy paws, weight loss, or diarrhea can point to gluten intolerance or an allergic reaction.
To verify, you can order an allergy test at the vet or you can opt to do it yourself by eliminating ingredients from your dog's diet.
If the symptoms go away, it likely means that your dog has food allergies and should be given a kibble without those triggering ingredients.
The top five most common culprits are: beef, dairy, wheat, chicken, and egg.
Choosing the best dog food for your Labrador Retriever can prevent illnesses
Cheap dog foods are often made with fillers that have very little nutrition, unlike meat or fish meal. This can cause your dog to be undernourished and increases their chances of contracting a disease.
Insufficient nutrients will also result in poor joint and muscle formation. In the long run, you will most probably spend more money at the vet.
Should you give your Labrador Retriever dry kibbles, wet food, raw diet, or homemade?
Some dogs absolutely cannot touch kibble, whereas raw diets might be a hassle and expensive. There are owners who insist on everything homemade, so it really depends on the individual.
Kibbles are definitely a popular choice. You can get anything from Merrick to Purina off Amazon and have it delivered straight to your home.
Fruits and vegetables your Labrador Retriever can and cannot eat
It might be tempting to share whatever you're eating with your buddy, but not everything is dog friendly.
👍 What they can eat:
Apples (without the core)
Bananas (in moderation)
Blackberries
Blueberries
Cucumbers
Oranges
Cantaloupe
Pear
Peaches
Corn (no cob)
Strawberries
Watermelon (without rinds or seeds)
🚫 What they cannot eat:
Rhubarb
Cherries
Garlic
Grapes
Nuts
Onions
Nutmeg
Fruits seeds
A homemade recipe you can try for your Labrador Retriever
Cooking for your dog can be highly satisfactory, especially since they are always eating the same old kibble. Here's a recipe that will stimulate your Lab's palate:
Ingredients:
1 1/2 cups brown rice
1 tablespoon olive oil
3 pounds ground turkey or chicken
3 cups baby spinach, chopped
2 carrots, shredded
1 zucchini, shredded
1/2 cup peas, canned or frozen
Instructions:
Cook rice and set aside
Heat olive oil in a large stockpot or deep pan
Add ground turkey or chicken and stir-fry until browned
Add in spinach, carrots, zucchini, peas, and brown rice
Cook until spinach has wilted and allow to cool
At 10% carbs, 72% protein, and 23% fat, it's rather a protein and calorie heavy. One cup is equivalent to 412 calories, so you might want to dole it out slowly and keep any leftovers in the freezer.
Frequently Asked Questions (FAQs)
It's not enough to know what dog food will be good for your dogs.
Whether you have just brought your dog home, or if your dog has just had a litter of Lab puppies, knowing how much to feed them or how to feed them is an art form which we will cover below.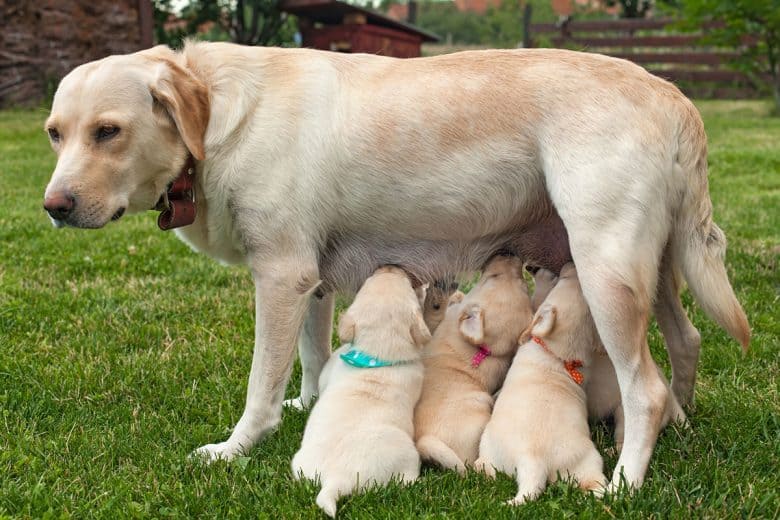 Labrador feeding guide: How much and often should you feed your dog?
Most Labradors have a faulty POMC gene, which regulates their appetite. Paired with their natural propensity for gluttony, you shouldn't allow them to free feed.
To find out how much food your dog needs, you'll have to do some maths.
Fortunately, the equation is relatively simple:
Weight in Kg * 30 + 70 = Resting energy requirements (RER)
A lactating dam should be given 2 – 3 times more than an average adult dog. For puppies and working dogs, you will need to multiply their RER by 4.
As a general rule of thumb, an active adult Labrador should eat around 20 calories per lbs (1 kg), and they should be fed twice a day.
Puppies below 6 months should be fed 3 – 4 small meals a day. A puppy between 15 – 18 lbs (7 – 8 kg) should be fed approximately one cup of kibble a day, whereas a 24 – 26 lbs (11 – 12 kg) pup will need a little over a cup.
By the time they reach 50 – 60 lbs (23 – 27 kb), they should be eating 2 – 3 cups of kibble.
Check out how much Buddy the puppy eats in a day:
Transition: How to switch from puppy to adult dog food?
If your dog has stopped growing taller, you can switch to adult dog food. This generally occurs anywhere from 8 to 12 months.
To prevent irritating their digestive system, you should begin by giving 20% of the new kibble with 80% of the old kibble.
Swap out 20% of the old kibble with the new every day until they are on 100% of the new food. It's that simple!
Do Labrador Retrievers need supplements?
Generally, Labrador owners give their senior dogs a supplement for healthy joints, heart, and eyes.
However, it isn't recommended to give supplements without medical advice, because going overboard is just as bad as not getting enough.
The best dog treats for Labrador Retrievers
The best dog treats for your dog are the ones that you make at home. Peanut butter and oatmeal make a tasty snack, so do apples and bananas!
Refer to the full list above for what kinds of fruits and vegetables are safe for your dog.
If you need a high-value treat, Pup-Peroni Original Beef Flavor Dog Treats is a great choice. Soft, chewy, and easily broken up into tiny pieces for portion control.
These treats are made mainly with beef but it also has some not-so-healthy addition of sugar and salt.
What makes dog food good for Labrador Retrievers?
While we cannot decide what will make the best choice for your dog, you are now equipped to make an informed choice.
Some owners offer their dogs a mixture, while others serve a home-cooked recipe during special occasions. It all depends on what feels right for both of you.
The most important thing is that your dog is happy with what's in their bowl and is growing well.