We may earn a small commission when readers buy products through links on this page. It supports our team to keep posting great content. Learn more about this
here
.
American Pit Bull Terriers (Pitties) have slowly regained their narrative and are no longer being seen as the volatile fighting dogs that they were once known as.
Today, these gentle doggos have become a popular fixture in homes with small children.
Here we have put together a comprehensive guide to feeding your Pittie of all ages. We're going to figure out what's the best food for your beloved pooch.
Top 5 Picks for Best Dog Food for Pitbulls
The Best Dog Food Brands For Pitbulls by Stage
The first thing that you need to figure out is your dog's life stage. It's generally split into three categories.
You have your puppies which are under a year or two, your seniors that have lived past their eighth or ninth birthday, and adults which are anything in between.
Dogs in each life stage have their own specific caloric needs. Aside from that, there are also special considerations for each dog in a different stage of their life.
Little puppies have small jaws and need smaller kibble, seniors might need some help with chewing so wet food might be preferable.
Age aside, the energy level of your dog also comes into play. Since Pitbulls are a high-energy dog, you do want to feed them a high-performance kibble that comes with extra protein, calories, and fat content.
Best Puppy Foods for Pitbulls
Pitbulls are medium to large breed dogs and this means that they are susceptible to hip dysplasia. It's a painful disorder that sets in before the dog is two years old.
You can help prevent this with proper care such as making sure they don't overexert themselves and giving them the best diet you can afford.
As puppies, Pitbulls will need specific levels of calcium and phosphorus so as not to overstimulate their bone growth which can trigger joint problems.
Since they are growing at a rapid rate, you also want to make sure they get sufficient protein and calories.
1. Taste of the Wild High Prairie Puppy Dog Food
Our rating: 5
Top ingredients: Buffalo, Lamb Meal, Sweet Potatoes
Type: Dry
Protein-rich for muscle development with a k9 probiotic blend, great for immature digestive systems. Suitable for all breeds, grain-free, small kibbles for puppy jaws
Pros:
Great for dogs with digestive issues and grain allergies
2. Annamaet Ultra 32% Dry Dog Food
Our rating: 4.5
Top ingredients: Chicken Meal, Brown Rice, Chicken Fat
Type: Dry
Omega oils are naturally sourced from algae, with optimum levels of calcium and phosphorous for healthy joint development. Suitable for all breeds and ages, GMO-free, grain-free, pea free, small kibbles
Pros:
Pros and Cons: Affordable, formulated for dogs with sensitive digestion
3. Dr. Tim's All Life Stages Kinesis Formula Dog Food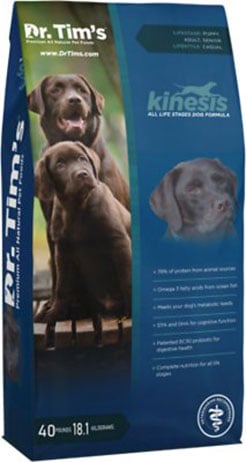 Our rating: 4.5
Top ingredients: Chicken Meal, Brown Rice, Pearled Barley
Type: Dry
From puppyhood to adulthood all the way to their golden years, this kibble is best suited for sedentary to moderately active canines. Suitable for all breeds and ages, grain-free, pea free
Pros:
Affordable, features specially patented probiotic to boost digestion
4. Taste of the Wild Wetlands Dry Dog Food
Our rating: 5
Top ingredients: Duck, Duck Meal, Chicken Meal
Type: Dry
Inspired by nature, this formula sources its nutrients from real and whole ingredients. It is also fortified with omega oils for healthy brain and eye development. Suitable for all breeds and ages, grain-free
Pros:
Cons:
5. Taste of the Wild High Prairie Grain-Free Dry Dog Food
Our rating: 5
Top ingredients: Buffalo, Lamb Meal, Chicken Meal
Type: Dry
Featuring dried chicory root for naturally occurring prebiotics to support healthy digestion. Highest rated dog food on Chewy. Suitable for all breeds and ages, grain-free, gluten-free, high protein
Pros:
Cons:
Some dogs react adversely by having loose stools
6. Victor Classic High Protein Premium Dog Food
Our rating: 4
Top ingredients: Beef Meal, Grain Sorghum, Chicken Fat
Type: Dry
Nutrient dense for dogs of all life stages, including puppies and lactating mothers. Not only does it promote a healthy immune system, it also promotes cellular regeneration and metabolic function.
Pros:
Cons:
Causes vomiting and diarrhea in some dogs, not for large breed dogs
Best Dog Food for Pitbull Adults
According to the Association of American Feed Control Officials (AAFCO), adult dogs need a minimum of 18% of protein and 5% of fat in their diet in order to stay healthy.
Now, this is the absolute bare minimum. What you'll want to feed your dog is closer to 45% protein and 25% fat, depending on his activity level.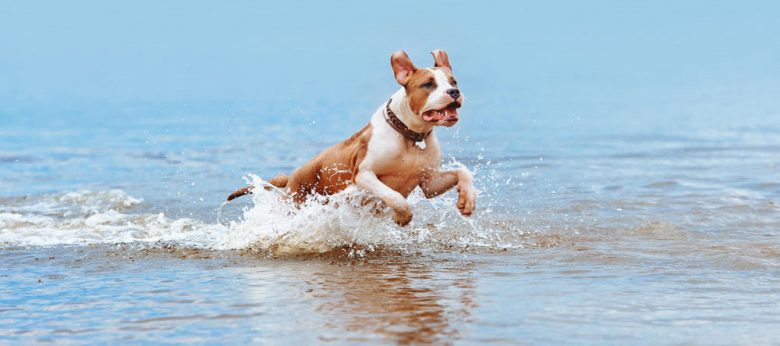 Dogs that work a lot will definitely need more calories than one that's lazing around all day.
A sedentary dog on a high-energy diet will quickly become obese. A dog working the field all day can become quite gaunt and prone to falling ill if not given enough nutrients.
7. Merrick Backcountry Raw Infused Large Breed Adult
Our rating: 4.5
Top ingredients: Deboned Chicken, Chicken Meal, Turkey Meal
Type: Freeze dried
Specially formulated for large to giant breeds, it offers high-quality protein in this easily digestible formula.
Your dog will also reap the benefits of a raw diet without the hassle of feeding raw because of their special raw coated kibbles.
Pros:
Raw coated kibble with real bits of freeze dried meat
Cons:
8. Crave Premium Adult Chicken
Our rating: 5
Top ingredients: Chicken, Chicken Meal, Split Peas
Type: Dry
No nonsense, wolf inspired diet for active dogs. Created with quality ingredients and real meat, supported with essential vitamins, minerals, and key nutrients.
Pros:
Grain-free, no chicken by-products
Cons:
Not for certain picky eaters, free of fillers
9. Diamond Naturals Chicken & Rice Formula All Life Stages
Our rating: 4.5
Top ingredients: Chicken, Chicken Meal, Whole Grain Brown Rice
Type: Dry
A wonderful budget dog food that includes all the necessary nutrients and antioxidants your bully needs.
Further enhanced with probiotics and superfoods which can support your buddy's digestive health and immune system.
Pros:
Grain inclusive, real cage-free chicken as the first ingredient, probiotic inclusive
Affordable, suitable for all life stages and all breeds
10. Wellness Complete Health Adult Deboned Chicken and Oatmeal
Our rating: 4.5
Top ingredients: Deboned Chicken, Chicken Meal, Oatmeal
Type: Dry
Wholesome grains fortified with omega fatty acids for your Pitbull's diet, promoting healthy skin and a strong immune system. Designed to optimize energy levels, it doesn't contain any filler ingredients.
Pros:
Wheat free, corn-free, soy-free
Suitable for all breeds, no meat by-products
11. Nulo Freestyle Adult Turkey and Sweet Potato Dog Food
Our rating: 5
Top ingredients: Deboned Turkey, Turkey Meal, Salmon Meal
Type: Dry
Made with alternative carbs for slow-burning energy, this formula has high protein content.
Plus, if your dog's a super picky eater, you can pair this with their wet food, which offers extra probiotics for a good digestive system.
Pros:
Several protein sources, low glycemic, grain free, gluten free
Chicken and egg free, suitable for all breeds
12. Rachael Ray Nutrish PEAK Grain-Free Open Range Recipe
Our rating: 4
Top ingredients: Chicken Broth, Chicken, Beef
Type: Wet
Covered in palatable gravy, you'll be sure that your pooch will be drooling to get a taste of this high protein goodness.
Got a picky eater on your hands? Not to worry, they have over four different flavors.
Pros:
Grain free, gluten free
Comes in easy to serve cups
Suitable for all breeds
Cons:
Small breeds might find the chunky texture a little cumbersome
13. Blue Buffalo Wilderness Chicken Recipe Grain-Free Dry Dog Food
Our rating: 5
Top ingredients: Deboned Chicken, Chicken Meal, Peas
Type: Dry
Fill with hearty and healthy carbs and protein, it will give your companion to go the distance with you.
The formula is also fortified with essential minerals and vitamins to keep him strong in both spirit and body.
Pros:
Suitable for all breeds, grain free, high protein, poultry free
14. Natural Balance L.I.D. Limited Ingredient Diets Dog Food
Our rating: 4.5
Top ingredients: Salmon, Menhaden Fish Meal, Sweet Potatoes
Type: Dry
Using salmon as their first ingredient coupled with sweet potatoes which are an easy-to-digest source of energy.
Built for the sensitive pup in mind, it focused on using the least amount of ingredients for maximum benefits.
Pros:
Limited ingredient, formulated for sensitive digestion, grain free, pea free, chicken free
Suitable for puppies and all breeds
15. Wellness CORE Grain-Free Dry Dog Food
Our rating: 5
Top ingredients: Deboned Turkey, Turkey Meal, Chicken Meal
Type: Dry
Serve your beloved pooch premium protein sourced from turkey, chicken, and salmon oil. A filler-free formula meant to help your dog build and maintain muscle mass.
Pros:
Grain free, gluten free, high protein
Suitable for all breeds, comes in a variety of flavors
16. Diamond Naturals Large Breed Adult Dry Dog Food
Our rating: 4
Top ingredients: Chicken, Chicken Meal, Whole Grain Brown Rice
Type: Dry
Nutrient-rich and highly digestible dog food for sensitive doggos, fortified with essential vitamins and minerals.
Enhanced with antioxidants from real vegetables and fruits, along with omega 3 and omega 6 fatty acids to support cardiovascular health.
Pros:
Specially formulated for large and giant breeds, no corn, no wheat, no soy
Affordable
Cons:
17. Purina ONE SmartBlend True Instinct Dog Food
Our rating: 5
Top ingredients: Turkey, Chicken Meal, Soy Flour
Type: Dry
Featuring turkey and venison as protein sources to keep your dog's muscle definition. With naturally sourced glucosamine to give your doggo's joint health an extra boost and maintain their active lifestyles.
Pros:
High protein, tender meaty morsels, no by-products, no artificial flavoring, no preservatives
Affordable, suitable for all breeds
Cons:
Might turn some picky eaters off
18. ORIJEN Original Dry Dog Food
Our rating: 5
Top ingredients: Fresh chicken meat, fresh turkey meat, fresh cage-free eggs
Type: Dry
Touted as Biologically Appropriate, ORIJEN uses raw ingredients to preserve their nutrients, including all the organs and parts that a dog would eat in the wild.
Pros:
Raw ingredients
Suitable for all life stages
Cons:
Some owners don't like their dogs eating by-products
19. CANIDAE Grain-Free PURE Limited Ingredient Dry Dog Food
Our rating: 5
Top ingredients: Salmon, Salmon Meal, Menhaden Fish Meal
Type: Dry
This limited ingredient formula is focused on giving only what your dog needs. You don't have to worry about having filler ingredients in this recipe. It comes fortified with all the essential nutrients your pal needs.
Pros:
Formulated for sensitive digestion, with limited ingredient formula
Grain free, gluten free, poultry free
Fortified with Canidae's HealthPLUS which is a blend of probiotics, antioxidants, and fatty acids
Cons:
Pricey
Not suitable for all sensitive dogs
Best Dog Food for Pitbull Seniors
As your Pitbull ages, he might need some assistance with passing motion. You might also need to watch his calories as he slows down and isn't as active anymore.
Food that is packed with fibre is great for senior dogs. It should also include the necessary nutrients for joint health support.
20. AvoDerm Advanced Senior Health Dry Dog Food
Our rating: 5
Top ingredients: Lamb Meal, Peas, Tapioca Flour
Type: Dry
A gentle formula that offers hip and joint support, as well as omega-rich oil to keep your bud's skin and coat healthy and shiny. Large kibble size to help your older dog eat better and keep their teeth clean.
Pros:
Grain free, suitable for all breeds, natural sourced chondroitin sulfate and glucosamine, DHA fortified
Good for dogs with gastrointestinal issues
Cons:
Not a favorite with picky eaters
Best Dog Food for Pitbulls with Health Issues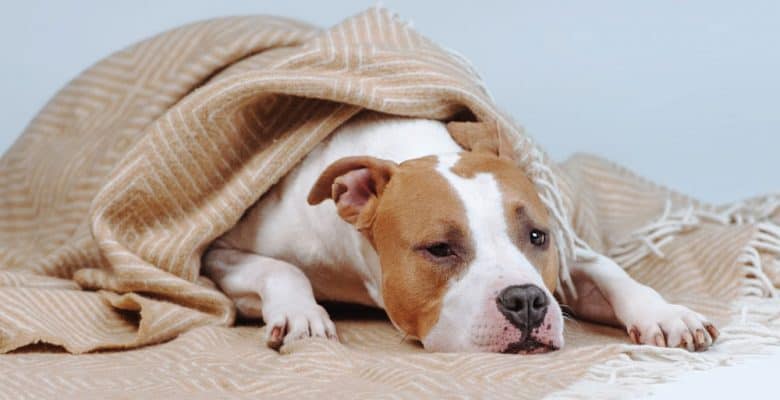 As mentioned above, too much calcium can hinder the development of healthy hips.
Excessive sodium can exacerbate existing health problems such as aortic stenosis. If your fluffer has certain health considerations, you should match his diet with his treatment.
If your dog has allergies, limited ingredient formulas are your best bet. Sensitive stomachs would benefit from added probiotics and prebiotics. When in doubt, ask your vet for recommendations.
However, if your dog doesn't have any problems and is otherwise healthy, there's absolutely no reason to put him on a special diet.
Restrictive diets can sometimes wreak havoc on their health.
Choosing a dog food for Pitbulls with health problems
The best dog food would be able to protect your Pittie from all kinds of ailments by providing them with a balanced diet.
Dogs are an omnivorous animal and there are still certain factors left unexplored by food manufacturers and dog nutritionists. Certain foods which are healthy for humans aren't necessarily healthy for dogs and vice versa.
Like with grain-free diets, a trend that has recently been linked to heart problems in large breed dogs.
While this might encourage you to stay away from grain-free formulations, the fact is that Pitbulls are susceptible to food allergies and will need to be fed either a limited ingredient formula or one without any grains, depending on what he's allergic to.
According to the FDA, the use of certain ingredients in grain free formulas have been linked to heart problems.
Dogs that don't require a grain free diet should be fed a high-quality dog food that's grain inclusive.
Food allergies can come from any ingredient, but it's commonly due to poultry, beef, or grains.
To figure out exactly what ingredient to avoid, you'll have to do it via elimination. It might be a tedious process, but it's the only way you'll be able to catch it for sure.
Another fad that has been catching on is feeding dogs a vegan diet. This stems from the belief that it's healthier and more humane, but the general consensus is that it's unnecessarily cruel and can be difficult to do well.
While scientists agree that it's possible, it would take a team of nutritionists to make sure the dog's vegan diet is well-balanced.
Aside from these trends, overfeeding is not good either because if the excess calories aren't burned off, it becomes stored as fat.
Obesity can take a toll on your Pittie's health, including cardiovascular and joint. On top of that, you might want to feed them a glucosamine supplement if they are constantly participating in high impact sports.
Best for Skin Allergies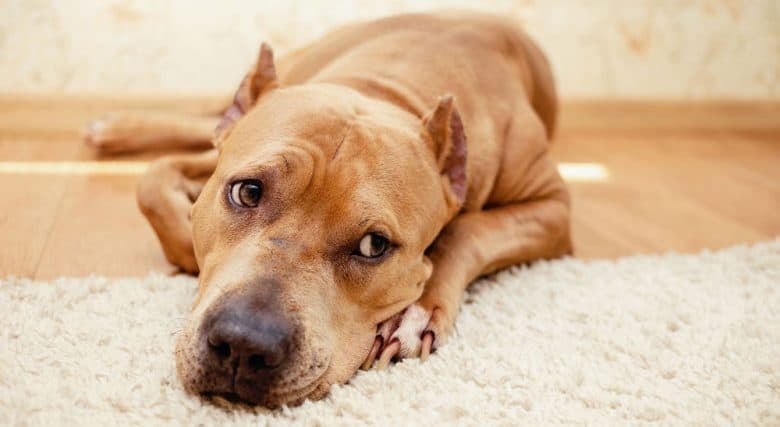 Have a Pittie that's constantly scratching? He might be allergic to his food. If you spot flakiness or redness on his skin, here are two highly rated dog foods for Pitbulls that you can try.
21. Natural Ultramix Grain Free Dry Dog Food

Our rating: 4
Top ingredients: Salmon, Salmon Meal, Herring Meal
Type: Dry
Free of chicken and grain which should keep allergies at bay, this recipe is also fortified with fish oil for healthier skin and coat.
Pros:
Cons:
Carrot pieces might be rejected by picky eaters
22. Blue Buffalo Basics Limited Ingredient Wet Dog Food
Our rating: 5
Top ingredients: Turkey, Turkey Broth, Potatoes, Flaxseed
Type: Wet
Formulated without any chicken, beef, eggs, and other common allergens, with the added benefit of having a special blend of omega oils and veggies.
Pros:
Limited ingredient, grain free, specially formulated for sensitive digestion
Cons:
Also comes in lamb or duck, suitable for all breeds
Best for Sensitive Stomachs
One thing you should know is that Pitbulls are one of the more sensitive breeds out there.
They can be sensitive to loads of things, but grain and chicken are what usually sets them off. Here are two of the more popular dog foods for Pitties with delicate stomachs.
23. Instinct by Nature's Variety Limited Ingredient Diet Grain-Free Recipe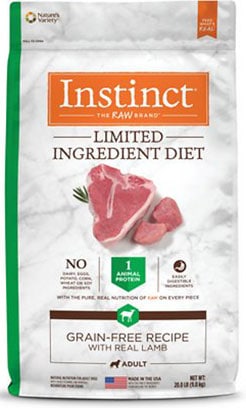 Our rating: 5
Top ingredients: Lamb Meal, Lamb, Tapioca, Peas
Type: Dry
If your dog is sensitive, it's always a good idea to go with a limited ingredient recipe to avoid his triggers.
By eliminating ingredients from his diet, you might be able to pinpoint exactly what's causing him to flare up.
Pros:
Freeze-dried raw coated kibble
Cons:
Pricey, not picky-eater friendly
24. Solid Gold Grain Free Dog Food For Sensitive Stomachs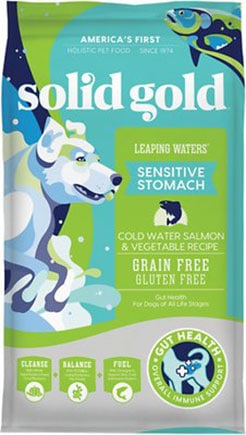 Our rating: 5
Top ingredients: Salmon, Ocean Fish Meal, Chickpeas
Type: Dry
Non-GMO wholesome ingredients that will keep your furry friend's digestive system well oiled.
Aside from having a gentle recipe, this dog food is also fortified with superfoods and omega oils for optimum nutrition.
Pros:
Formulated for active dogs with sensitive digestion
Suitable for all breeds and all life stages, grain free
Cons:
Best for Hip and Joint Wellness
Pitbulls that have hip dysplasia, joint problems, or are getting on in their years, would benefit from dog food with enhanced joint protection.
25. Dogswell Happy Hips Canned Dog Food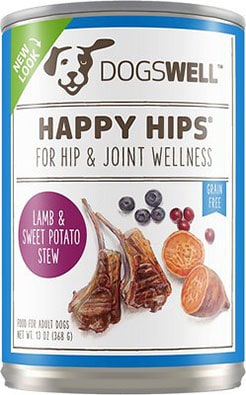 Our rating: 5
Top ingredients: Water Sufficient for Processing, Lamb, Lamb Liver, Beef, Beef Liver
Type: Wet
An easy to swallow stew based wet food that's fortified with glucosamine and chondroitin for joint health, great for dogs that hate taking supplements.
Pros:
Suitable for all breeds, grain-free, chicken-free
Cons:
Stew base can get quite messy
Best Dog Food for Pitbulls Buying Guide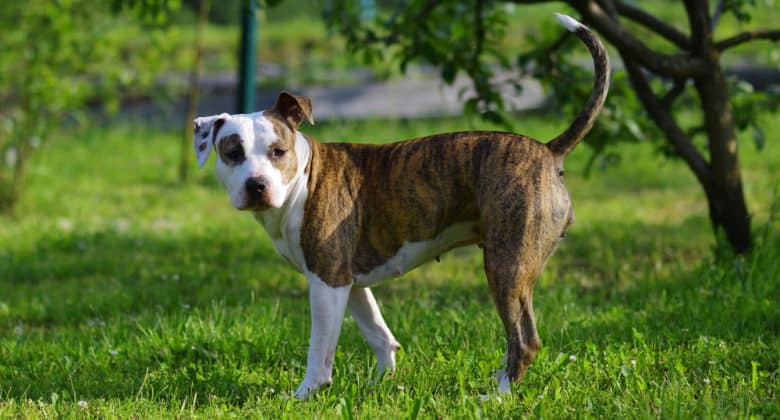 A good quality kibble that's well suited to your dog will ensure a long and healthy life.
Pitties need a balanced diet that consists of protein, carbohydrates, fat, as well as other nutrients including omega-3, amino acids, antioxidants, and optimum levels of vitamins and minerals which we will detail below.
Going for established brands is a safe choice as you can get lots of support from the online community, as well as your vet.
Feeding a lesser-known brand or home-cooked meals might not offer the same essential nutrients. When in doubt, always go for a brand that's well known.
Pitbull Nutritional Requirement: What Kind of Diet is Best for a Pitbull?
Pitbulls have a muscular build and they need a diet with high protein and high fat content.
While they do need high levels of protein, it shouldn't be overlooked that there are certain nutrients that they need in order to stay healthy. A pure protein diet would do more harm than good.
The dog food that you choose should also be specially formulated for large breeds. The reason for this being that large breed dogs need higher levels of calories and joint supportive nutrients.
Much like their Bulldogs cousins, the Pittie is susceptible to food sensitivities and might have special dietary needs.
Best Ingredients to Promote Muscle Growth in Pitbulls
When choosing dog food for your Pittie, it will help maintain and stimulate muscle growth if the following ingredients are present.
Most of these vitamins and minerals can be found in protein such as fish meal, or wheat-based products such as flaxseed. Let's take a more in-depth look below.
Vitamin E: Found in most vegetable oils and nuts. Unfortunately, most nuts are unsafe for dogs to eat.
You can also find Vitamin E in flaxseed, which is a common component in dog food. It is a powerful antioxidant that promotes healthy metabolism. You can also find this in Atlantic salmon, kiwi, blackberries, and red bell peppers.
Vitamin B Complex: Another vitamin that supports a healthy metabolism, commonly found in protein, whether fish or poultry and can also be sourced from sweet potatoes and leafy vegetables.
Calcium: One of the main ingredients that helps keep your dog's bones and muscles strong. It is something that should not be lacking in your Pitbull Terrier's diet.
Calcium mostly comes from seeds, salmon, beans, and lentils, as well as greens and tofu. A lack of calcium might cause your dogs to have weakened and brittle bones.
Choline: Choline helps keep muscle function working well. You'll find it in organ meats and certain vegetables such as cauliflower or spinach.
Ingredients to avoid when feeding your Pitbull
Now that you know what is good for your Pitbull, here's a list of ingredients that you should avoid if you want to keep your doggy at its best.
Ethoxyquin can cause liver problems.
Butylated hydroxytoluene has been known to cause cancer.
Butylated hydroxyanisole is also a carcinogen.
Corn syrup puts your dog at risk for weight gain and diabetes.
Carrageenan can cause tumors and gastrointestinal issues.
By-products often include diseased tissue, organs, and sometimes tumors.
Xylitol is safe in human products but can cause insulin spikes in dogs.
Are grain-free diet options preferable for Pitbulls?
Grain-free diets are preferable for dogs with allergies and Pitbulls are predisposed to allergies, which makes it a better option for them.
However, if your Pitbull doesn't need this specially formulated diet, you don't have to give it to him. Not only could it affect his health, most of them are also more expensive than grain-inclusive recipes.
Due to the recent reports of grain-free recipes and their effect on canine cardiac health, you might be spending a lot more money on both food and vet bills in the long run than if you simply feed a grain-inclusive diet.
Trends and fads change with the times, what's important is to find a diet that is well suited to your dog. Don't forget that each dog is unique.
Should you give your Pitbull dry kibbles, wet food, raw diet, or homemade?
It really depends on your Pittie's lifestyle. Dry kibbles are definitely more convenient. Not only is it easy to store and serve, it can also help keep your dog's teeth relatively clean by scraping tartar off.
Wet food is the best for picky eaters, but not for those that need to watch their weight. If your dog has an active lifestyle, wet food is a great way to boost his protein and fat intake.
Raw diets are arguably the best option for all dogs. However, unless you're a nutritionist, you might be damaging your dog's health by offering an imbalanced diet.
Furthermore, you can't be sure that your protein is uncontaminated from all forms of bacteria. Contaminated meat can be dangerous for both you and your pet.
While home-cooked food can overcome this problem, it can be a hassle for busy pawrents.
It can be satisfying to watch your dog scarf down their raw or homemade meal. Here's Bounce chowing down in an ASMR video:
Fruits and vegetables your Pitbull can and cannot eat
Omnivores can eat both veggies and meat, so you might be wondering what your Pittie can have off your plate or what you can scavenge in the fridge to give him.
Well, here is a list of fruits and vegs that your dear fido is allowed to taste.
Yes to:
No to:

Apples

Bananas

Blueberries

Kale

Spinach

Carrots

Green Beans

Beets

Cucumber

Celery

Sweet Potatoes

Avocados

Nutmeg

Grapes

Raisins

Currants

Garlic

Onions

Chives

Rhubarb

Pips and seeds

Nuts
A homemade recipe you can try for your Pitbull
Eating the same food day in and day out might seem boring, almost torturous. That's why it's totally okay to indulge your dog on special days! We have a dog-friendly chili recipe that you can make for your pooch.
Disclaimer: This isn't a meal replacement and shouldn't be fed on a daily basis as it does not contain all essential nutrients that a dog requires.
Ingredients:
4 chicken breasts (cubed)
1 cup of kidney beans
1 cup of black beans
1 cup of carrots (diced)
½ cup of tomato paste
4 cups of chicken broth
Instructions:
Cook the chicken over medium-high heat until no longer pink
Transfer chicken into a slow cooker
Add the rest of the ingredients
Allow to slow boil for ½ hour
Cool and serve!
Pitbull Feeding Chart
The smaller the dog, the more he'll need to eat. This means puppies younger than four months should be eating four meals a day. Between the ages of four and six, you can cut that down to three.
When your pup is over six months old, you can drop another meal. By the time he's fourteen months old, he can survive on just one meal a day.
Take a look at our quick guide below:
| | | |
| --- | --- | --- |
| Age | Total cups of kibble | Meals per day |
| 8 weeks old | 2 | 4 |
| 3 months old | 3 | 3 |
| 6 months old | 4 | 2 |
| 14 months old | 5 | 1 |
These are just guidelines and shouldn't replace a vet's advice. If your vet mentions that your dog should eat more or less, listen to him because every dog's needs are different.
The table above only illustrates a very broad and general view of how much a Pittie dog needs, without taking into consideration their activity levels or amount of calories in their kibble.
To be more specific, there is a calculation method called the RER. Short for Resting Energy Requirement, you take your dog's weight in kilograms and multiply by 30, before adding another 70.
If your dog is heavier than 45 kg, the calculation will be slightly different. Raise his weight by ¾ power and multiply that by 70.
If your dog weighs 50 kg, you'll get 18.82 when you raise it to the power of ¾, then multiply 18.82 with 70, which will give you a RER of 1317.40 kcal. This is the bare minimum of what your dog will need.
A normal dog will not be resting all day and will be running, barking, playing, all of which burns energy.
Therefore you should only be using this technique to make sure that you're feeding more than their RER. Furthermore, their age and whether they've been fixed or not will also affect their RER.
Knowing what to look for can also help determine whether you're feeding your dog enough or too much.
Your Pittie's body should be muscular and well-defined. If you are unable to feel your dog's ribs easily or see the tapering between ribs and hindlegs (called a 'tuck up'), you might want to cut back on the servings.
Also read: Pitbull Growth and Weight Chart
Transition: How to switch from puppy to adult dog food?
Making the switch is easy, finding the right dog food to switch to is hard. Usually, you should have no trouble switching to the adult line from the same brand.
But just because it's from the same brand doesn't mean you can make the switch right away.
If you're giving your dog anything new, you should always introduce it gradually.
Start with 10% of the new kibble in your Pittie's meal and increase it day by day until you have replaced all his kibble with the new one.
If for some reason you want to change back to the old kibble, you will have to do the same thing to prevent an upset stomach.
Frequently Asked Questions (FAQs)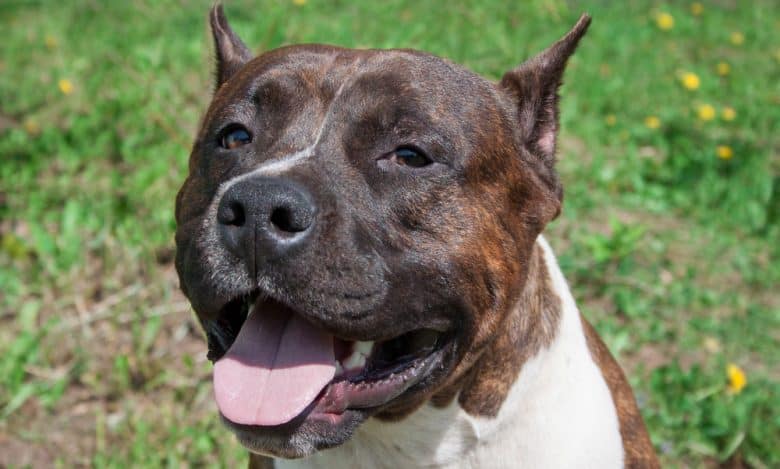 We know you want to give your fido the best, so we've compiled the most commonly asked questions by other dog owners below. If you still have any other questions, feel free to leave them in the comments.
How much and how often should you feed your Pitbull?
If you're confused after reading the Pitbull feeding chart above, don't be.
The truth is that no two dogs are alike and the amount of food you should give each dog is dependent on their size, age, activity level, and health considerations.
Larger dogs need to eat more during a meal, but small dogs will require multiple small meals throughout the day to keep up with their metabolisms.
The same is true with puppies and adult Pitties. On a whole, an average adult Pitbull will need upwards of 1,100 calories a day.
If you have an abnormally active Pitbull, you can definitely get away with feeding him twice a day.
Do Pitbulls need supplements?
Healthy dogs do not need supplements. If you're feeding your dog a well-balanced diet, there's no reason to supplement it.
However, if the diet is lacking in certain components, you will need to provide the necessary supplements.
Some bully owners will insist that Pitties need additional supplements such as the Bully Max supplement in order to stay healthy, but unless you are straining your dog to work or if he's severely malnourished, it is completely unnecessary.
How do I stop my pitbull from gulping his food too quickly?
Certain dog breeds are prone to scarfing down their food and the Pitbull is one such breed. What you can do is invest in a slow feeder and it will force the dog to navigate slowly.
A quick fix is to add a chew toy or a ball into his bowl so he'll have to navigate around it in order to eat his food.
You can also train him out of this habit by feeding him at the same time every day and reassure him that he's not competing with anyone by feeding him in a quiet spot, away from food traffic or other pets.
Can I give table scraps to my dog?
It's never advisable to give your dog table scraps. Unless you're on a dog-friendly diet, the answer is always 'no'.
If you're munching on an apple or any of the safe vegetables listed above, you can give him a piece, provided that he doesn't beg and is otherwise well behaved.
How can I tell if I am feeding the right food to my Pitbull?
Your dog's stools are the best indicator for whether he's on the right diet. The wrong one will either cause constipation where his stools might look shriveled up like prunes, or cause diarrhea.
If you have a sensitive pup, the most obvious tell would be your pooch licking his paws or scratching excessively.
His coat is also a way of telling you how healthy he is. While they do shed moderately throughout the year, it shouldn't be coming out in clumps.
A shiny and dense coat is a way of telling you that "I'm feeling awesome!"
Best Dog Treats for Pitbulls
Dogs love to chew and the Pitbull is no different. Bully sticks are among the best choices to keep your Pittie busy. If you're looking for something more durable, you can give them an antler chew instead.
When shopping for chews, always make sure to check that there are no additional additives such as artificial flavors or preservatives.
Chews are a great way to burn off some excess energy and it gives your dog something to do when you're preoccupied. What about treats?
Has your Pittie been a good boy and you want to reward him? Or maybe you want something to train him with?
Below, you'll find a list of potential training options which are low calorie and made with natural ingredients:
What Makes Dog Food Good for Pitbulls?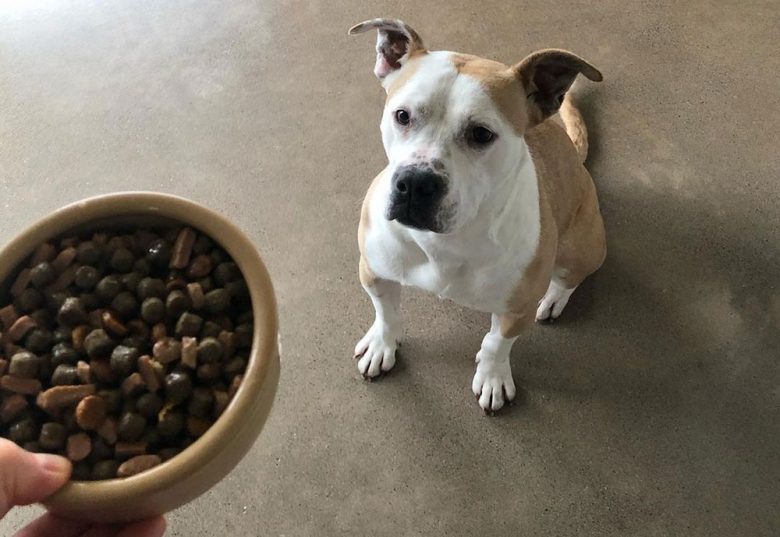 Before you make the switch to any dog food, you might want to speak to your vet first and get their opinion especially if your dog is sensitive or prone to allergies.
If you have never had any problems with your dog's stools, make sure you transition your pooch's diet slowly as illustrated above.
Let us know in the comments which food you've tried and what your Pittie thinks!
Further reading: Other best dog food for your favorite dog breed