We may earn a small commission when readers buy products through links on this page. It supports our team to keep posting great content. Learn more about this
here
.
Last Updated on March 24, 2022
Dog crates are an essential part of owning a pup. Not only does it serve as a place of comfort for your dog, but it also aids in training.
Whether you have a new Great Dane puppy and you're wondering if he should start out in an adult-sized crate, or if you already have an adult dog and you're on the market for a better crate, read on for our ultimate guide to dog crate sizes.
How to Decide What's the Right Dog Crate for Your Pal?
Crates aren't one-size-fits-all because dogs come in all shapes and sizes.
It would be best if you take into consideration factors such as whether it's a temporary crate, a travel crate, or a permanent fixture in your dog's kennel.
Puppies do best in wire crates that come with an adjustable divider so you can increase the size of the crate as it grows.
Some breeds require special crates because of their size or talent for escaping. Huskies will do better with a double door, but a Chihuahua can comfortably fit in an airline carrier for small dogs.
Here is a list of other things you might want to think about when buying a crate:
What is the size of your puppy and how big would it be when it is fully grown?
Does your dog have a preference for open crates or den-like crates?
Will you be traveling with the crate and where will it go?
Does your dog have any special needs? I.E: Anxiety, hyperactive, destructive, etc
Should the door open from the side or the top?
Where will the crate be placed? Outdoors or indoors, with or without ventilation.
How to Determine the Best Dog Crate Size?
A crate should fit a dog comfortably. It shouldn't be too large or too small.
When choosing a dog crate, you will need to measure your dog's height. An ideal crate should allow your pooch to lie with his legs straight and offer some headspace, so he doesn't hit his head when he stands up.
If you get a dog crate that is too small, it will be too cramped. Too large, and it will be excessively spacious and defeat the purpose of having a crate.
How Do You Measure an Adult Dog for a Crate?
Measuring a dog for a crate is not the same as measuring a dog to see if they meet breed standards. Regardless, it does take some skill and practice.
Lay your dog down and put a treat just in front of your dog's nose, so he will stretch out his neck. Place the measuring tape on the tip of your dog's nose and measure all the way to the base of his tail. Now, add 2 inches (5 cm) for small breeds and 4 inches (10 cm) for large dogs. This will give you the ideal crate requirement.
For the height of your dog, you can get your dog to either sit or stand. Measure from their feet all the way up to their highest peak. For some breeds, it is their ears. Again, you'll want to add 2 – 4 inches (5 – 10 cm) to get the ideal height for your crate.
You can also get your dog to stand against a wall and make the appropriate markings with a pencil or chalk. Measuring the markings will be much easier and more accurate than trying to measure a wriggly dog.
1. Length of Dog Crate
The length of your dog crate should give your dog enough space to turn around. However, it shouldn't be big enough for him to have a preferred corner.
Too much space can be detrimental to training because your dog may use one corner as his toilet.
2. Height of Dog Crate
Your dog shouldn't be able to stand on his hind legs or jump up when he's in the crate. Dens are usually confined spaces that allow dogs to feel safe and secure. It's almost like what a blanket is to humans.
A blanket won't work as effectively if it were tented over you, would it?
3. Width of Dog Crate
You don't have to worry about the width of your dog crate as long as you get the length and height right because crates are built with optimal proportions for the comfort of the dog.
But in any case, if your dog can enter the crate comfortably without hitting the sides, it should be adequately wide.
4. Weight Limit
If you're planning to use the crate as a carrier and will be carrying your dog around in it, always check with the manufacturer's recommended weight limit.
Most small dogs do fine in any kind of crate, but big dogs tend to do better in plastic crates.
It's a good idea to get your dog used to a crate so that you can make trips easier for you and your pooch. Even trips to the vet can prove to be less stressful. Think of your dog's crate as his security blanket.
What Dog Crate Size Should You Get for a Puppy?
Puppies grow rapidly, and it makes no sense to upgrade your crate constantly over the next eight months or so, depending on the breed. Fortunately, there are a few options for you and your growing pup.
Save Money by Buying a Resizable Dog Crate
If you know approximately how large your puppy will be when he grows up, you can get an adult-sized crate and buy a divider so you can gradually increase the size of the crate as your puppy grows.
You can ask the breeder for his parent's measurements and figure it out from there. We also have a list of what size crates you should get for almost every breed.
For crossbreeds or mongrels, it might be hard to assess their adult size, so your next option will be to go with an expandable crate.
Dog Crate Sizes Chart for Different Breed Sizes
We've gathered some of the more popular breeds and have them categorized under different crate size requirements.
Bear in mind that gender, pedigree, and nutrition can all play a part in your dog's size, so he might need a bigger or smaller crate than what is recommended below.
18″ – 22″ Dog Crate Sizes for Extra Small Dog Breeds
Extra small or toy breed dogs are categorized as dogs that are under 11 inches (28 cm) and typically less than 12 lbs (5.4 kg). Such breeds include:
XS dog crate dimensions include:
18″ L x 12″ W x 14″ H
18.5″ L x 12.5″ W x 14.5″ H
19″ L x 12″ W x 15″ H
22″ L x 13″ W x 16″ H
Our #1 Recommended Dog Crate for Extra Small Breeds
MidWest iCrate Fold & Carry Single Door Collapsible Wire Dog Crate comes in 18" and 22" varieties to accommodate your tiny pooch's size.
These crates are easy to clean, durable, and a favorite among dog owners for their removable tray that can collect waste and accidents so your puppy doesn't get soiled.
24″ Dog Crate Sizes for Small Dog Breeds
Crates suitable for small dog breeds under 17 inches (43 cm) but taller than 11 inches (28 cm) should fall in this category. Dogs from this size group generally weigh no more than 25 lbs (11 kg).
Our #1 Recommended Dog Crate for Small Breeds
The 24″ Single Door Folding Metal Dog iCrate by Midwest comes with a dividing panel so that you may enlarge the crate gradually, following your dog's size.
Owners have also noted how well-constructed the hinge on the door is, along with the overall sturdiness of the crate. It also comes with a removable pan for spills and accidents.
If you need more inspiration for your large breed dog, check out our article about the Best Dog Crates for Small Dogs.
30″ Dog Crate Sizes for Medium Dog Breeds
If you have a medium-sized dog that falls under any of the breeds below, you might want to consider getting a 30-inch crate for your buddy.
Medium dogs don't grow past 19 inches (48 cm) but their weight may vary. For instance, the APBT can weigh up to 85 lbs (38 kg), whereas the Tibetan Terrier maxes out at 24 lbs (10 kg).
Our #1 Recommended Dog Crate for Medium Breeds
Medium breeds can be heavy or light, but the length and width of the crate are what's important when making a choice. Crates should have enough space for the dog to turn around comfortably.
Whether you have a short-legged Dachshund or a more proportionate Shetland Sheepdog, they'll do great in the 30″ Single Door Folding Metal Dog iCrate by Midwest.
The crate comes with a divider so when your puppy is small, you can use it to ensure that the crate isn't so big they soil it. In the event of an accident, there's a removable and washable pen underneath.
36″ Dog Crate Sizes for Intermediate Dog Breeds
Dogs that are no taller than 22 inches (55 cm) should be in intermediate dog crates. These dog breeds are generally no heavier than 70 lbs (31 kg). Bigger dog breeds tend to have size discrepancies between sexes.
For instance, the male Siberian Husky may be as tall as 23.5 inches (60 cm) but females are capped at 22 inches (55 cm), which makes an intermediate crate better suited for females.
Our #1 Recommended Dog Crate for Intermediate Breeds
Most dog breeds that fall into this category are working dogs with a lot of energy.
To prevent them from escaping the crate, the steel bars on the 36″ Double Door Folding Metal Dog iCrate by Midwest are thicker and closer together. The crate also features heavy-duty locks.
There are also two doors, one which opens from the top. Since puppies start out smaller, you'll also have a divider to resize the crate as you see fit.
42″ Dog Crate Sizes for Large Dog Breeds
Dogs that are around 71 to 90 lbs (32 to 40 kg) and fall around the height range of 23" to 26" (58 to 66 cm) in height should go with 40" crates for optimal comfort.
Our #1 Recommended Dog Crate for Large Breeds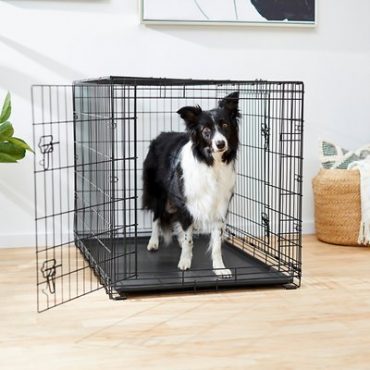 For large dogs, it would be better to start them off in a wire crate before moving on to a plastic crate because they need the additional support.
As puppies, they might have accidents, and very few plastic crates come with the removable pan that most wire crates have.
However, if you only want to get one crate, you are better off with the Frisco Fold & Carry Double Door Collapsible Wire Dog Crate.
If you need more inspiration for your large breed dog, check out our article about the Best Dog Crates for Large Dogs.
46" – 48″ Dog Crate Sizes for Extra Large Dog Breeds
Large dog breeds are powerful, even as puppies. You'll need a sturdy and strong crate to keep your dog in.
When fully grown, your dog should weigh approximately 110 lbs (49 kg) or less. They are also generally less than 28" (71 cm) tall.
Our #1 Recommended Dog Crate for Extra Large Breeds
Wire crates might be able to keep these dogs in as puppies, but when they grow older, you'll definitely need something that is more durable to accommodate their weight.
The X-Large Travel Kennel Dog Carrier By SP should do the trick. It comes with wheels so you won't have any trouble moving them about, instead of having to lug around a heavy crate with a heavier dog in it.
Equipped with a moat that is designed to keep your dog clean and dry, this crate is also suitable for air travel.
54″ Dog Crate Sizes for XXL Giant Dog Breeds
Common breeds that fall into this category are no smaller than 110 lbs (49 kg) and can grow up to over 300 lbs (136 kg). The dog that holds the Guinness record for the tallest dog in the world was 45" (114 cm) tall.
Our #1 Recommended Dog Crate for Double Extra Large Breeds
They don't make plastic crates this large.
Therefore, the 54" Frisco XX-Large Heavy-Duty Single Door Wire Dog Crate is one of the best choices for XXL dogs as it is made with heavy-duty wire gauge and features three L-shaped, slide-bolt safety latches.
Summary: Dog Crate Sizes Guide
Below is a table for those who need a quick guide for choosing the best crate for their dog.
| | | | | |
| --- | --- | --- | --- | --- |
| Dog Crate Sizes | Crate Dimension (in) | Maximum Height (in) | Maximum Length (in) | Breed Recommendations |
| Extra Small | 18 x 12 x 14 inches | 14" | 10" | Chihuahua, Pomeranian |
| Small | 24 x 18 x 19 inches | 20" | 15" | French Bulldog, Pug |
| Medium | 30 x 19 x 21 inches | 26" | 17" | Welsh Corgi, Daschund |
| Intermediate | 36 x 24 x 27 inches | 32" | 23" | Keeshond, Chow-Chow |
| Large | 42 x 28 x 28 inches | 38" | 24" | Golden Retriever, German Shepherd |
| Extra Large | 48 x 32 x 36 inches | 44" | 32" | Alaskan Malamute, Rottweiler |
| XXL Giant | 54 x 36.5 x 44.75 inches | 50" | 40.75" | Tibetan Mastiff, Great Dane |
Material Selection: What Types of Dog Crates Can You Buy?
There are a few different types of dog crates on the market, each with its own pros and cons. Should you get a wooden crate that suits the aesthetics of your house? Or is a wire crate the best option for you and your dog?
We'll discuss each option below, along with its pros and cons.
1. Metal Wire Dog Crates
This is the most commonly used dog crate. While it's not the best looking, it's efficient and convenient, especially when used for training.
These types of dog crates come with removable pans below, which makes accidents easier to clean up.
This crate is best for dogs with separation anxiety or those that simply enjoy watching the activity of the household. When the activity gets too great for them, you can simply drape a cover over to give them some privacy.
Tropical climates are best suited for this type of crate because it offers the most ventilation. Dogs living in colder climates may prefer something with more shelter.
Pros of Wire Dog Crates:
Easy to clean
Divider panels are sometimes included
Collapsible
Well-ventilated for dogs in hotter climates or brachycephalic breeds
Affordable
Comes in a variety of sizes
Cons of Wire Dog Crates:
Not the most attractive or the sturdiest
Exposed grilles which mean less protection
2. Plastic Dog Crates
Lightweight and durable, your puppy will find it hard to escape from these crates. It is also the best option for chewers, as there isn't any purchase for your dog to gnaw on.
Plastic crates also provide the most den-like atmosphere for your dog, which can be comforting to your puppy.
Pros of Plastic Dog Crates:
Many might be airline friendly
Lightweight
Durable and escape-proof
Sheltered and provides more security
Insulated and suitable for cold climates
Easy to clean
Removable food dishes often come with it
Comes in a variety of colors and sizes
Cons of Plastic Dog Crates:
Not collapsible
Ventilation is not as good as in wire crates
Some dogs may dislike being in a small and enclosed space with poor visibility
3. Soft-Sided Dog Crates
Soft-sided dog crates are unsuitable for house training as they are soft and absorbent. These are best for picnics or excursions but can also be used as a pet bed.
While you might be able to tote around a Chihuahua in a Petmate, you will find yourself struggling with larger breeds.
Aside from the flimsy nature of these crates, your dog might decide to use them as their chewy toy. Needless to say, these crates are highly unsuitable for destructive dogs.
Pros of Soft-Sided Dog Crates
Lightweight and portable
Aesthetically pleasing
Usually machine-washable
Foldable
Provides security and shelter from the elements
Cons of Soft-Sided Dog Crates
Unsuitable for destructive dogs
Highly absorbent materials, which means dirt and waste accumulates easily
Entry-way is often secured with zips which dogs can learn to open
4. Metal Heavy-Duty Dog Crates
Large breeds or breeds which are notorious for their escapist natures do best in heavy-duty metal dog crates. These crates are usually catered to larger breeds, which is why large crates are more common.
Think of it as a heavily-enforced wire crate. These dog crates usually come with similar features, such as a removable pan and a fortified lock.
If you want a crate that can last throughout your dog's lifetime, this is your best bet. Some of them are even airline-approved, so you'll have no problems flying with fido.
Pros of Heavy-Duty Dog Crates:
Highly durable and secure
Some are approved for air travel
Usually comes with a removable tray
The attached wheels make it easier to move it around the house or compound
Cons of Heavy-Duty Dog Crates:
Heavy and not very portable
Expensive
5. Stylish Dog Crates
If you have a well-behaved and toilet-trained pooch, you might consider a more stylish crate for him.
There are a variety of stylish wooden dog crates that you can find which can match the theme of your house seamlessly. Some can even function as end tables, so they won't look out of place in your living room.
However, these are unsuitable for hounds with a penchant for chewing, digging, or puppies that haven't been housebroken. Wood isn't highly durable, and it can stain or absorb odors that will be hard to remove.
Pros of Wooden Dog Crates
A variety of styles that can fit in with your interior decor
Some come with a tray to prevent water damage or accidents
Cons of Wooden Dog Crates
Expensive
Hard to maintain or keep clean
Not chew-proof
Tend to be heavy
May absorb odors
Not portable
6. Combination Dog Crates
Combination dog crates try to provide the best of both worlds. They are supposed to have the durability of plastic and the airiness of wire crates. Unfortunately, they can be quite heavy, and most are hard to set up.
Pros of Combination Dog Crates
Durable
Easy to clean
Provides good ventilation
Multiple entry points make it flexible
Cons of Combination Dog Crates
Most disassembled crates are hard to set up – there are very few on the market that's easy to install
Pricey
Isn't accident-proof and doesn't have a divider separating the floor, and the removable tray
So Which Type of Dog Crate is Best for Your Pup?
When judging what type of crate is best, it really depends on what breed you have and how you plan to use your crate. For larger and more powerful breeds, the heavy-duty crate is probably the one for you.
If you have a tiny Pomeranian that you're planning to carry around in the crate, a soft-sided dog crate or plastic crate will be the best one for you.
You can mix and match if your budget allows it—a stylish or heavy-duty crate for the home and a lightweight option for when you travel.
However, if you're only looking to buy one crate, the wire crate is the most versatile as it can house all breeds while still being relatively portable. Wire crates also offer the best value for money.
It also depends on whether you buy a crate for a puppy or an already trained adult dog.
Puppies may do better in wire crates so they don't soil themselves during potty training, but the same concerns won't apply to an already housebroken dog.
Additional Recommended Dog Crate Types By Us
If you still haven't made up your mind about what kind of crate you're looking for, here are a few of our top recommendations.
Our Favorite Collapsible Metal Dog Crate
One of the most popular brands for wire crates is MidWest. Their crates come with a divider and are collapsible for easy storage and portability.
MidWest iCrate Wire Dog Crate
Available Dog Crate Sizes:
XXS: 18 x 12 x 14 inches
XS: 22 x 13 x 16 inches
S: 24 x 18 x 19 inches
M: 30 x 19 x 21 inches
I: 36 x 23 x 25 inches
L: 42 x 28 x 30 inches
XL: 48 x 30 x 33 inches
Why Choose this crate?
Affordable
Easy to clean
Lightweight
The Best Plastic Dog Crate for Travel
Petmate makes plastic crates for dogs of all shapes and sizes, which also happen to be airline-approved. Easy installation with strap hole specially designed for zip-tie installation for secure transportation.
Petmate Vari Dog & Cat Kennel
Available Dog Crate Sizes:
S: 24.1 x 16.7 x 14.5 inches
M: 28 x 20.5 x 21.5 inches
I: 32 x 22.5 x 24 inches
L: 36 x 25 x 27 inches
Why Choose this crate?
Easy to clean
Secure
Interior moats
Our Favorite Soft Dog Crate
These crates have a sporty and rugged feel to them but they aren't meant to withstand hyperactive dogs. Well-ventilated and suitable for indoor use, the design is also made with aesthetics in mind.
Firstrax Noz2Noz Sof-Krate N2 Series Soft-Sided Dog Crate
Available Dog Crate Sizes:
S: 26 x 18 x 21 inches
M: 30 x 21 x 23 inches
I: 36 x 24 x 27 inches
L: 42 x 28 x 32 inches
Why Choose this crate?
Soft and washable
Multiple entry points
Travel-friendly
Check out our list of Best Soft Dog Crates for more soft crate options.
Our Favorite Heavy-Duty Crate
Smonther crafts some of the best heavy-duty crates. Aside from being anti-rust, it also has three anti-escape hatches.
SMONTER Heavy-Duty Strong Metal Dog Crate House
Available Dog Crate Size:
Why Choose this crate?
Highly durable
Multiple entry points
Escape proof
Check out our list of Best Heavy-Duty Dog Crates for more heavy-duty options.
Our Favorite Wooden Dog Crate
Are you looking for a pretty piece of furniture that also doubles as your pet's crate? Merry Products have an easy-to-install option that doesn't require any handyman skills or tools.
Merry Products Dog Crate & Gate
Available Dog Crate Size:
M: 32.48 x 22.35 x 23.35 inches
L: 39.8 x 27.91 x 31.5 inches
Why Choose this crate?
Please to the eye
Multi-functional
Removable plastic tray
Check out our list of Best Wooden Dog Crates for more wooden crate options.
Frequently Asked Questions (FAQs):
Do airlines provide dog crates?
No, you will have to prepare your own dog crate if you're planning to travel with your pooch. With a small dog, you'll be able to travel with them in a pet carrier bag, but for larger breeds, they'll be more comfortable in plastic carriers.
The same measuring methods apply to measuring your dog for a training crate.
What are other helpful, quick tips in choosing the right crate size for your dog?
If you're getting a new puppy, you can ask your breeder for his parent's measurements. Puppies generally don't waver too far from their parent's size.
Always ensure that your puppy has room to stand up, turn around, and lie down comfortably without leaving enough space for another dog. If you can fit another dog in there, it's too big!
When measuring an adult dog, always measure from the tip of the nose to the base of their tail and add 2 – 4 inches, depending on the size of their breed.
Smaller breeds only need an extra inch or so, but giant breeds should be given an excess of 4 inches.
Dog crate sizes and prices
If you go on Amazon, Chewy, or any online retailer, you can see that dog crates can be as affordable as $30 or as pricey as $300, depending on the material and size.
What are the sizes of dog crate pans?
Dog crates sometimes come with pans to make cleaning easier. It usually has the same width and length as the dog crate so that you can ensure that there isn't any spillage from accidents.
What are Exercise Pens?
Playpens or exercise pens are a way to contain or manage an unruly puppy. Dogs that haven't learned their manners can be enclosed safely in a playpen.
According to the AKC, playpens can be used in a number of ways, including:
A way to keep puppies out of trouble
An enclosure that keeps them safe from harm
A place for dogs to relax
Exercise pens or playpens is an alternative to puppy-proofing your home, as your new puppy will be isolated from all the dangers that lurk in exposed cables, loose change, etcetera.
It can also lend a hand in house training, as well as acclimatizing your puppy to his new home.
Pens can be used in conjunction with a crate. You can either have the crate in the playpen, or in a separate area.
As a general rule of thumb, dog crates should not be used for more than four hours except for bedtime. Playpens are larger and offer your puppy more freedom, and can be used for more than four hours at a time.
What are helpful tips when crate training your dog?
Crates should be introduced to your dog gently. Some dogs take to crates like a duck to water, while others may need some coercing. You can add toys or treats in order to entice them, but never push a dog into a crate forcibly.
The basic idea of crate training is to create a safe space for your dog to relax. It should be a place that your dog enjoys being in, and there are a few things that you can add to the crate to optimize comfort for your dog.
What does your dog enjoy?
If Fido enjoys a good chew-toy, you can provide him with something to keep him company in the crate. Some dogs prefer to cuddle with a soft toy or curl up in dog beds, but it's entirely up to your dog's preference.
Is a crate cover necessary?
Crate covers are a great way to settle down a dog that's getting over-excited by the environment. Whether your dog is anxious or hyped, a crate cover can help diffuse that energy by removing visual stimulation.
What accessories do you need for a crate?
Having a tray in place is a good way to keep your house free from spills. You can add pee pads to these trays for easier cleanup or simply hose it down.
It isn't ideal to feed your dog in their crate because dogs don't like to eat or poop where they sleep.
However, it's a good idea to add a water bottle so they always have access to fresh water. Water bowls can also work, but some dogs may make a mess by playing with the water, especially if they are bored.
Crate casters are also a good addition so that you can move the crate around without too much effort, plus they can be locked in place so your dog doesn't move the crate with his exuberant jumping.
Choose a Crate Based on Your Dog's Needs
You might want to get a fancy dog kennel that looks like an end table, but it's unlikely to work out if you have a spanking new puppy or if your dog's a powerful Mastiff.
Always think about the breed and your dog's personality when choosing a crate.
Most dog owners start out with a metal dog crate with dividers so that their dog can grow into the crate and they can upgrade when needed.
Even if you're not planning to crate train your dog, pet crates are definitely handy, especially when you're traveling.
Did we feature your favorite crate? Let us know in the comments, and don't forget to share this guide with any of your new dog owner friends!
Further reading: Have a breed in mind? Check out these dog crate guides!