We may earn a small commission when readers buy products through links on this page. It supports our team to keep posting great content. Learn more about this
here
.
Bully sticks aren't just for bully breeds. Any dog can enjoy bully sticks. They are all-natural, long-lasting treats that can keep your dog entertained.
The reason they are called bully sticks is that they are made from 100% bull penises.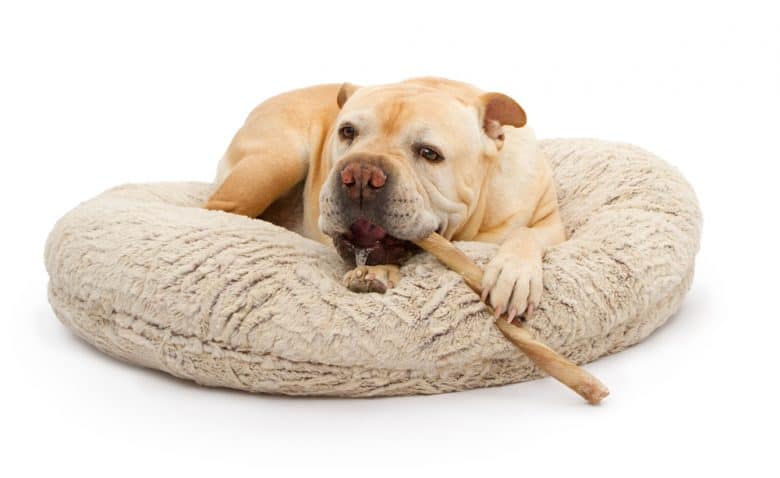 While it may sound gross, it's actually pretty healthy for dogs because it won't splinter and is also a great protein source.
Check out our top beef bully sticks below!
Top 3 Picks for Best Bully Sticks for Dogs
Bully Sticks for Dogs
Our Rating
Best Overall Bully Sticks for Dogs (All Sizes)
Pawstruck Straight Bully Sticks for Dogs

Suitable for all breeds, from big to small
American free-range, grass-fed beef
Sold by weight instead of quantity, ensuring you get exactly what you pay for

5

Best Budget Bully Sticks for Dogs

Downtown Pet Supply 6-Inch Bully Sticks

USDA and FDA approved
Made from GMO-free cattle
Suitable for all adult dog breeds

4

Best Bully Sticks for Small-to-Medium Dogs

Nature Gnaws Extra Thin Bully Sticks

Perfect for smaller mouths
Suitable for puppies
Made from grass-fed, free-range cattle

5
Best Bully Stick Brands for Dogs
Natural bully sticks are some of the best treats you can give your dog. They're made from one single ingredient: bull pizzle – mostly beef pizzle.
Best Bully Sticks for Dogs of All Sizes
Whether you have a tiny Chihuahua or a hulking St Bernard, here are some bully sticks that dogs of all sizes can enjoy!
1. Jack & Pup 12 Inch Premium Grade Odor Free Bully Sticks
Our rating: 4.5
High in protein, low in fat, and made from 100% beef pizzle sourced from the USA.
Not only do these treats take a while for doggos to go through, but it's also perfect for dogs with food allergies as it's pure protein and not processed with any other ingredients.
Pros:
Doesn't smell as bad as other bully sticks
Made from GMO-free cattle
Suitable for all adult dog breeds
Cons:
Due to it being a natural product, the sizes may be slightly inconsistent
There are only three bully sticks per bag
2. Downtown Pet Supply 6-Inch Bully Sticks
Our rating: 4.5
Natural, long-lasting chews that will keep fido gnawing for a long time. On top of giving your pet an all-natural treat, you'll also be helping him keep his teeth clean.
Chews are a great way to remove tartar buildup. As these bully sticks range from 0.5-0.75 inches thick, it is suitable for all breeds, too!
Pros:
USDA and FDA approved
Made from GMO-free cattle
Suitable for all adult dog breeds
Available in 10-pack, 18-pack, 30-pack, and 48-pack
Great value for money
Cons:
The smell may be overwhelming for some
3. Bones & Chews Bully Stick
Our rating: 4.5
Deemed a great alternative to dental sticks, unfortunately, dogs seem to love these bully sticks way too much.
Most bully sticks take one to two hours for a dog to be done with them, but these sticks can barely make it past 20 minutes.
If you're not too fussed about how quickly these bully sticks disappear, we can guarantee that it'll be a big hit.
Pros:
Suitable for all breeds
Available in 1-pack, 6-pack, and 35-pack bully sticks
Cons:
Not as long-lasting as other bully sticks
4. Best for My Pets Odor-Free Bully Sticks
Our rating: 5
Made to be odorless, you might want to give these sticks a try if the generic smells turn you off. These bully sticks are slightly thicker than normal, which may not make them suitable for small breeds.
Pros:
Suitable for all life stages
Thicker than most bully sticks
Made from grass-fed, free-range, USDA-certified beef
Cons:
Some owners have complained that these bully sticks aren't as odorless as advertised
5. Pawstruck Straight Bully Sticks for Dogs
Our rating: 5
A highly rated option for your dog's chewing pleasure. There are many conflicting opinions on these bully sticks, with some pawrents saying that they are low-odor as marketed and extremely long-lasting.
According to past reviews, these sticks are best for small to medium dogs as dogs with stronger jaws may be able to get through them much faster.
Pros:
Suitable for all breeds, from big to small
American free-range, grass-fed beef
Sold by weight instead of quantity, ensuring you get exactly what you pay for
Cons:
According to one owner, it's unsuitable for power-chewers and can be quickly finished in 15 minutes
They are marketed as low odor, but a few pawrents noted that it is not any less pungent than other bully sticks
Best Bully Sticks for Small- to Medium-Sized Dogs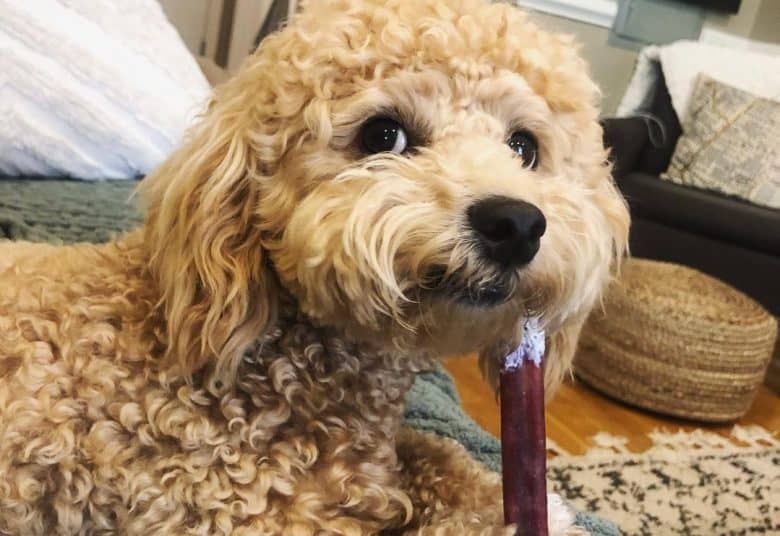 If you have a smaller breed dog that struggles with bully sticks marketed for all or larger dogs, you might want to give these a go instead.
6. Best Bully Sticks Thin 6″ Bully Sticks Dog Treats
Our rating: 4
While marketed for all dog breeds, we do find that 6" pizzle sticks are best for small to medium dogs.
These sticks are closely inspected to ensure that the sticks don't vary too much in size, although they are thinner than most.
Being pencil-thin, they don't provide much in terms of killing time, because dogs go through these quickly.
Pros:
Made from free-range Brazilian cattle
Suitable for small and medium breeds
Cons:
Some dogs have reportedly turned their noses up at these sticks
Slightly pricey
7. Nature Gnaws Extra Thin Bully Sticks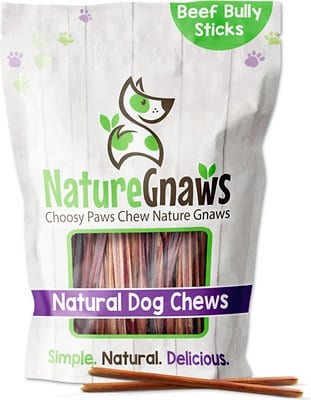 Our rating: 5
A healthy alternative to rawhide chews, these bully sticks are pure 100% beef tendons, with no artificial coloring or preservatives.
It is highly recommended for puppies or smaller dogs but maybe too thin for older dogs of large breeds, especially if they are robust chewers.
Pros:
Perfect for smaller mouths
Hard enough to provide cleaning properties
Hand-selected and inspected
Made from grass-fed, free-range cattle
Cons:
Super thin and may pose a choking hazard for larger breeds
Treated by irradiation
8. Natural Farm 6-Inch Bully Sticks
Our rating: 4.5
Cleaned only with water and oven-baked to preserve maximum nutritional value.
Touted as a company that cares, Natural Farm doesn't use plastic in its packaging or promotional materials, choosing to go with bioplastic instead.
Pros:
Comes in different sizes and quantities to suit every dog's needs
A portion of their proceeds go to animal welfare groups
Cleaned with water only
Cons:
Some dogs have experienced diarrhea after eating these bully sticks
Sizes can sometimes vary quite a bit
9. Nature Gnaws Small Bully Sticks
Our rating: 4.5
Rawhide-free, these bully sticks are a great alternative to manufactured and heavily processed dental chews. Since these pizzle sticks are made for small dogs, it's naturally much thinner than other 6" bully sticks.
Pros:
Perfect for all life stages and all breeds
Long-lasting and can be chewed up to an hour
Low odor
Cons:
Not suitable for power chewers
Dog owners have noted that the larger bags of 50 sticks seem to be different from the smaller bags
10. ValueBull Bully Sticks for small dogs
Our rating: 5
A great option for both puppies and small dogs due to their pencil-thin size. These aren't suitable for larger dogs as they tend to gobble them up.
While it is great value for money, you get what you pay for and these thin bully sticks won't last more than 5 minutes.
Pros:
Great value for money
Well packaged
A wonderful treat for teething puppies
Cons:
Doesn't last very long
Some owners noted their dogs would get sick on them if fed in excessive amounts
What are Bully Sticks?
As mentioned above, bully sticks are made from the reproductive organ of bulls.
Pure muscle and tendons, there are no bones in bull pizzles. Therefore, there's no risk of splinters, unlike elk antlers or rawhide.
Naturally, steer pizzle may have an unpleasant smell, and most owners are shocked to discover what they are.
Since bull pizzles aren't fit for human consumption, it is a great way to ensure that a carcass is fully utilized.
Some owners feel strongly against animal by-products due to the belief that by-products are low-grade materials. While bully sticks are an animal by-product, they are a wonderful treat for dogs.
Benefits of using the best Bully Sticks for dogs
These highly digestible treats are also great for puppies because they are nutritionally rich. Aside from keeping your pooch amused and happy, it can also help with your dog's dental health.
Repetitive chewing and gnawing can dislodge even the most stubborn of tartar. Some owners have noted that some bully sticks may leave a smell in their dog's mouths.
Do note that bully sticks aren't a replacement for brushing your dog's teeth, so you will still need to give them regular cleaning!
Complete Best Bully Sticks for Dogs Buying Guide
When looking for a bully stick product or brand, you want to go for one that's all-natural and preferably made in the United States.
But how do you decide what kind of pizzle is the best? Are bully sticks suitable for large dogs, or should they stick to dog chews? Find out below!
Dog Nutrition 101: What kind of bully stick does your dog need?
Treats should not make up more than 10% of your dog's caloric intake, bull pizzle included. While these chewy treats are highly nutritious, bully sticks cannot replace your pup's proper meals or dog food.
Things to look for when selecting bully sticks for dogs: What should dogs have?
Natural beef tends to have a prominent smell, which means that it's all-natural.
Odorless bull pizzle treats may have been treated with chemicals in order to make them less pungent. Low odor bully sticks are preferable as they are further dehydrated or baked to minimize their smell.
Whether your bully sticks dog treats come from Amazon or South America or China, always read the ingredients list.
It should be 100% grass-fed cattle, with no additives, whether coloring or preservatives. If there are any artificial ingredients, you should most choose a different brand.
Frequently Asked Questions (FAQs)
How often should you give your dog Bully Sticks? What about puppies?
Due to the high protein in these bully sticks, you want to stretch your best bully sticks 6-inch dog treats for as long as they can go. This means making the bully sticks last a few days.
You should also consider your dog's size. For instance, a bully stick made for large breeds may be too much for your puppy to handle.
It's important to match the bully stick size to your pup. Here's a quick table to help determine what size your pooch should be chowing down on.
| | | | | | | |
| --- | --- | --- | --- | --- | --- | --- |
| Dog Weight | 6″ Thin | 6″ Reg | 6″ Thick | 12″ Reg | 12″ Thick | 12″ Jumbo |
| < 15 lbs | ✓ | | | | | |
| 15 – 30 lbs | | ✓ | | | | |
| 30 – 45 lbs | | ✓ | ✓ | | | |
| 45 – 60 lbs | | | ✓ | ✓ | ✓ | ✓ |
| 60 – 75 lbs | | | ✓ | ✓ | ✓ | ✓ |
| 75 – 90+ lbs | | | | | ✓ | ✓ |
Can you soften bully sticks?
The whole purpose of giving your dog a bully stick is to preoccupy them.
Softening a beef pizzle treat would defeat the purpose of bully sticks. But since moisture can soften bully sticks, your dog's saliva will soften it over time.
How do you give your puppy bully sticks the safe way?
Keep bully sticks safe by giving your puppy an appropriately-sized stick and remove it when your pup is down to the last inch or so.
Pups can sometimes get overly excited and try to inhale whatever treat you give them.
If you don't mind, you can also hold the treat to prevent it from becoming a choking hazard or invest in a bully stick holder.
Should you supervise your dog while using bully sticks?
You should definitely watch that your dog doesn't choke, especially when he's gnawed it down to a stub. When in doubt, just throw it out.
However, bully sticks are considered quite safe because it doesn't splinter and softens easily.
Here's a large Pitbull chowing down on a huge braided bully stick:
Do bully sticks smell?
Yes, bully sticks do have a pungent odor. Odorless bully sticks are usually cooked longer and have lower moisture content, which minimizes the smell.
Therefore, when your dog starts chewing on it and softens it with drool, it may cause the bully stick to smell.
How should you store the best bully sticks?
Freezing bully sticks are a great way to store them. Not only will it require more time to polish off, but it will also minimize its odor.
Freezing them is unnecessary, though, and you can keep them at room temperature in the bags they came in.
Half-eaten bully sticks do not have to be thrown away. It's perfectly acceptable to wrap it in a bit of cling wrap and stored it in the fridge.
It is not advisable to leave pizzles out and about after it's been chewed as you will not appreciate the smell and pests that it attracts.
Are bully sticks and rawhide sticks the same thing?
While they may sound similar and are both made from animal parts, rawhide chews are made from animal skins, usually horses, swine, or cattle.
Unlike bully sticks, they aren't easily digestible and can become an obstruction. It isn't uncommon to see dogs vomiting after eating rawhide.
If a piece of the rawhide has broken off from the chew, remove it immediately to prevent blockages in your pup's gullet.
Can you give a homemade bully stick to your dog?
Many dog owners are too weak-hearted to try making their own bully sticks, but it is definitely doable if the necessary precautions are taken.
Pizzle can be a breeding ground for bacteria, so you will need to clean it thoroughly, despite the fact that a healthy dog should be able to handle any bacteria on raw meat.
Make sure to sanitize your hands properly before and after handling bull pizzle as the bacteria may make humans sick.
After you clean it, remove fat and skin from the organ, and dehydrate the bull pizzles either over a dehydrator or an oven. You can even choose to sun-dry your pizzle dental chews.
With proper cleaning, homemade bully sticks can be an even better option than commercial chews as you know precisely what went into the process of making your bully stick.
What are your top picks as the best bully sticks for dogs?
The AKC is an advocate for these all-natural treats. Quality bully sticks satisfy your dog's chewing instincts while providing them with high-quality protein and dental hygiene.
If you're planning to give fido a bully stick for the first time, you can ask your vet whether you should attempt making your own or getting bully sticks from Barkworthies.
However, if you're squeamish about the smell, maybe chew toys are better suited to you and your pooch.
Further Reading: Discover more than just bully sticks below!
Best Hypoallergenic Dog Treats
Best Treats for Diabetic Dogs
Best Dog Treats for Sensitive Stomach
Best Dog Treats for Bad Breath