We may earn a small commission when readers buy products through links on this page. It supports our team to keep posting great content. Learn more about this
here
.
It's essential to keep our dog's teeth clean, especially since dental issues are common among canines. Believe it or not, most have oral problems by the time they turn three-years-old.
If your pooch is having tooth trouble, keep an eye out for some symptoms like discolored teeth, broken or loose teeth, swelling or redness of gums, abnormal chewing, reduced appetite or refusal to eat, or irritability, or other drastic changes in behavior.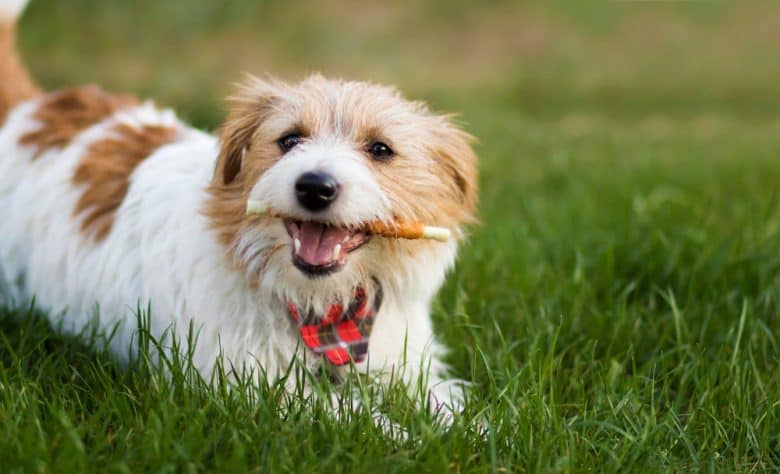 Periodontal Disease is a gum disease that's an infection and inflammation of the tissues around the tooth, the periodontium.
Its symptoms include chronic bad breath (halitosis), swollen or puffy gums, or gums that bleed easily.
This condition will get worse over time if not treated, but it's easily preventable if you care for your dog's teeth regularly by using a pet-safe toothbrush and toothpaste.
Make it a pleasant experience and start as young as possible, so your doggo gets used to the routine and sensation.
But did you know that dental chews, which is a dog treat, have tooth-cleaning power in it? The ingredients and texture helps remove plaque and tartar buildup, also freshening your dog's breath.
To help you choose which chew treat to go for, we've compiled a list of some of the best dental chews for dogs.
Top 5 Picks for Best Dental Chews For Dogs
Best dental chew brands for dogs
There are many types of dental chew brands for your best dog friend. We've taken a look at them and compiled them into a list so you can decide what will work for your fido.
Best dental chews for dogs (All breed sizes)
No matter what size dog breed you have at home, these dental chews will make great choices for all sizes.
1. Zuke's Z-Bones with Apples Rawhide-Free Dental Dog Treats
Our rating: 5
Top ingredients: Ground Potatoes, Ground Peas, Vegetable Glycerin
This particular dental chew is great for active dogs, all the while keeping their teeth clean. These will work with adult dogs from toy to giant breeds. They're easy to digest while freshening their breath with aromatic herbs.
Pros:
Grain-free and rawhide-free
Texture gently removes plaque and tartar
Includes essential vitamins and minerals
Cons:
Not for picky eaters
Not for dogs with sensitive stomachs
2. Dingo Dental Sticks Tartar Control Dental Dog Treats
Our rating: 4
Top ingredients: Rawhide, Chicken, Rice, Calcium Carbonate
Stick-shaped, easy to pick up and chew, these dental sticks will clean your dog's mouth no matter your canine friend's size and age. Puppies and senior doggos will love these!
Pros:
Affordable
Contains real chicken, all-natural ingredients
Reduces tartar buildup and removes plaque
Cons:
Not for picky eaters
May turn your dog's stool green
Best dental chews for toy (extra small) and small breed dogs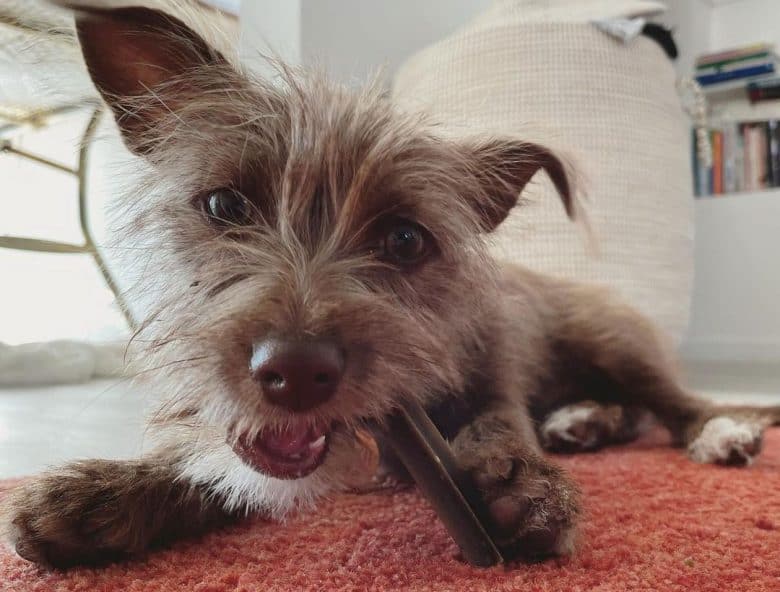 What is the best dental chew for small dogs? Take a look at some of the options we chose and listed below.
3. Greenies Aging Care Teenie Dental Dog Treats
Our rating: 4.5
Top ingredients: Wheat Gluten, Glycerin, Wheat Flour
Whether you have a small pup with tiny teeth or a senior dog with sensitive teeth, this is a great treat for extra small and toy breeds.
These Greenies dental chews are designed to be 50% softer for easier chewing.
Pros:
All-natural ingredients
Rawhide-free
Removes plaque and tartar
Cons:
May be too soft
May have an odor
4. Purina Pro Plan Veterinary Diets Dental Chewz Dog Treats
Our rating: 4.5
Top ingredients: Beefhide, Maltodextrins, Animal Digest
Do you have small dogs with a veterinarian diet? This treat contains plenty of protein while freshening your dog's breath. It will give your pooch clean teeth and better oral hygiene.
Pros:
Has the Veterinary Oral Health Council seal of acceptance
Reduces tartar buildup
Cons:
Small pieces may be a choking hazard
Not for sensitive stomachs
5. Milk-Bone Brushing Chews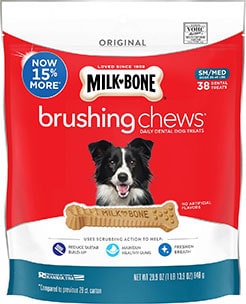 Our rating: 5
Top ingredients: Rice, Powdered Cellulose, Chicken By-Product Meal
These particular chews come in a few different sizes, including minis for toy breeds. It also has a unique, twisted design to cover all areas of your dog's mouth so that they'll get full teeth cleaning while chewing.
Pros:
Contains 12 essential vitamins and minerals
Cuts down tartar
Fights bad breath
Cons:
May cause an upset stomach
Best dental chews for medium breed dogs
If you have medium-sized dogs at home, then here are a few chewers to consider.
6. Blue Buffalo Dental Bones All Natural Rawhide-Free Regular Dental Dog Treats
Our rating: 5
Top ingredients: Potatoes, Powdered Cellulose, Vegetable Glycerin
These rawhide-free chews are for adult dogs that are medium in size. They're easily digestible with all-natural ingredients.
There are no additives, preservatives, or artificial colors, ensuring a healthy snack for your doggo, all the while cleaning their teeth.
Pros:
Will give your doggo fresh breath
Includes vitamins and minerals
Cons:
May have an odor
Not for picky eaters
7. Virbac C.E.T. Enzymatic Oral Hygiene Dental Dog Chews
Our rating: 4.5
Top ingredients: Beef Rawhide, Dextrose, Poultry Digest
If your furry friend loves meat and beef, then this is the dental chew for them.
These enzymatic oral hygiene chews feature a dual-enzyme system that will boost their overall dental hygiene and clean their entire mouth. If your pooch is a vegetarian, there's a plant-based option called VeggieDent.
Pros:
Reduces tartar and plaque buildup
Freshens breath
Cons:
Not for picky eaters
May take a while to see a difference in their oral hygiene
8. Greenies Regular Dental Dog Treats
Our rating: 5
Top ingredients: Wheat Flour, Glycerin, Wheat Gluten
Greenies dental dog treats for medium-sized adult dogs are easy to chew as they're rawhide-free. These chewers are made with all-natural ingredients that also include vitamins and minerals, ensuring a healthy snack.
Pros:
Freshens breath
Removes tartar and plaque along the gum line
Cons:
Some batches may be too hard to chew
Not for sensitive stomachs
Best dental chews for large breed dogs
If you have a large size fido at home, then here are some dental chews that may work great for them.
9. WHIMZEES Alligator Grain-Free Dental Dog Treats
Our rating: 4.5
Top ingredients: Potato Starch, Glycerin, Powdered Cellulose
Another vegetarian option is this grain-free and gluten-free dental treat for large dogs. It has a unique alligator shape that will cover all mouth areas for complete teeth cleaning.
The knobby shapes along the alligator will clean right down to the gum lines.
Pros:
Made with all-natural ingredients
Freshens breath
Cons:
May make your dog sick
Not for picky eaters
10. Pedigree Dentastix Fresh Mint Flavored Large Dental Dog Treats
Our rating: 5
Top ingredients: Rice Flour, Wheat Starch, Glycerin
These chews for large and giant breeds have a chewy texture that will clean right down to the gum line. It promotes overall oral health and fights bad breath with a minty flavor.
Its unique x-shape texture will scrape away at plaque and tartar.
Pros:
Minty flavor that tastes good and boosts fresh breath
Cons:
11. Ark Naturals Brushless Toothpaste Large Breed Dental Dog Chews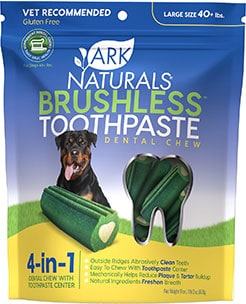 Our rating: 5
Top ingredients: Rice Flour, Honey, Water (for processing)
Looking for chewers that are easy to digest for large size and giant dog breeds? This one's made with all-natural ingredients so that it's healthy for your doggo.
It also promotes a full cleaning for your dog's mouth and freshens their breath.
Pros:
Includes four benefits in one
Your pup can enjoy up to two chews per day
Cons:
May have an odor
Not for picky eaters
12. Purina DentaLife Adult Large Dog Treats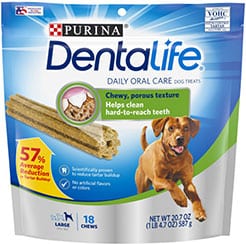 Our rating: 4.5
Top ingredients: Rice, Glycerin, Wheat Flour
Purina made these dental chews with a tasty chicken flavor for your large canine. It's made with wholesome ingredients that reduce tartar buildup.
The texture will help scrub the teeth and the gum line, ensuring a fully clean mouth.
Pros:
Fights bad breath
Many owners are happy how their dogs love this treat!
Cons:
How dental chews supplement a healthy routine
There are a few types of dog dental treats and diets, such as rawhide chews, bones, and biscuits, nylabones with bristles, or chew toys.
Overall, not only will dental chews satisfy any dog's need to gnaw on things, especially when they're teething, it's also beneficial for their teeth by scraping tartar and plaque off their teeth.
But the best outcome that our fur babies can get from dog dental treats is when their overall teeth and gum health is improved.
Will dog dental chews get rid of your dog's bad breath? Most of them will, and some of them won't. But it does help reverse gum disease that causes bad breath in our pets.
Taking precautions with dental dog treats
Unfortunately, some dental chews can cause illnesses, aside from their dental health. Even if they're sold at the pet store, some dental dog treats actually cause more harm for our fur babies.
Before deciding on the best dental treat for your doggie, educate yourself on which would be the best for your fido. You can also consult your vet.
Harmful ingredients: Look for US-sourced treats rather than overseas ingredients
Before buying any dental chews, always check the ingredients and be sure nothing is toxic or harmful to dogs.
Products that are made in North America have stricter guidelines. They oversee the products being made, ensuring all the ingredients are safe for dogs.
Physical obstructions
Intestinal obstructions can also occur when your pup is gnawing on a dental chew.
These issues occur when a large piece is swallowed or your doggie eats too many dental chews in one day. They may not break down fast enough, causing a blockage in the digestive tract.
This problem is severe and will need vet treatment right away.
Dog dental chews buying guide
The benefit of a good treat for your dog in a dental chew is that it does more than you think.
Dental treats freshen your dog's breath, keeps their teeth strong, helps fight gum disease, and will remove plaque and tartar buildup.
But other than the pros & cons of dental chews for dogs, here are the factors you should consider before picking any pack of dental treats.
How to choose dental chews for your pup
Like any other dog food, you want the dental chews you pick for your pup to be healthy for them in more ways than one. Look for:
Short, high-quality ingredient list
Cleaning power
Flavor and palatability
Size (of the chew and your pup)
Durability
Frequency of use
There are chews that should only be given once a day, while some can be given twice a day.
Also, consider hard vs. soft chews, depending on your puppy's teeth and their size. They may prefer one over the other.
There are also edible and non-edible dental chews. Some are in the form of chew toys that might be safer, like the famous Kong chew toy that you can fill with treats.
Dog owners should also keep an eye on the label, and if it says Veterinary Oral Health Council (VOHC) approved, it's more likely to provide adequate dental care, reducing tartar and plaque buildup.
Frequently Asked Questions (FAQs)
Do dental chews work for dogs?
Yes, they do. Dental chews will lessen plaque and tartar buildup on your dog's teeth. However, it should not be used as a replacement for brushing your dog's teeth.
Dental chews should be used ONLY as a supplement to help keep their teeth clean or breath fresh.
Are dog dental chews safe?
Yes, as long as you follow the package's directions to ensure your dog gets what they need. Every dog differs, and not all dental chews are made the same.
Be sure the dental chew is the proper size for your doggo, and it will do what you want it to do for your dog. Check the ingredients to ensure it's healthy and made in the USA to ensure it's safe for your dog.
What are the healthiest dental chews for dogs?
When choosing a dental chew and checking the ingredients, potato starch and rice are good to have. They will freshen your dog's breath and are easily digestible.
Chews with delmopinol are good as well since they help break down plaque.
What should you do before giving dental chews to your dog?
Always have fresh water available for them. It may make them thirsty, and, depending on the chew's texture, it could be dry, and they'll need water to wash it down.
Also, be sure that you're available to monitor them while chewing. Some chewers may end up in small pieces and create a choking hazard for your doggo.
How many dental chews should you give to your dog?
Most dental chews allow one chew per day for your dog. However, every brand is different, so be sure to read the packaging and directions.
Some will allow for pups to have up to two chews per day.
Can puppies have dental chews?
Yes, they can. It might be a good idea to give them dental chews as a supplement while they get used to teeth brushing.
However, you need to make sure the chew is an appropriate size for them to chew and caters to their current weight.
What should you do if a dental chew makes your dog sick?
Unfortunately, not all dental chews will agree with your pup. If your pooch gets sick because of a dental chew, stop feeding it to them immediately. It might not have agreed with them.
If they continue to be sick, check in with your vet as soon as possible.
Maintaining oral health with the best dental chews for dogs
There are many other ways to maintain your canine's dental health aside from dental chews.
Have your fur buddy get a professional dental cleaning either through a professional groomer or during their regular vet visits.
Also, if you notice anything off about your pup's dental health, make an appointment with your vet.
For example, if your pet has foul breath, excessive bleeding from their gums, or have loose or discolored teeth. This may be a sign of gum disease.
If you want to go the dental chew route, then any of these brands on this list will help. Our top pick, Zuke's Z-Bone, will be great for any doggo.
If you have a senior dog, Greenies Aging dental chews will work. If you're looking for an allergy-friendly alternative, try Blue Buffalo dental chews.
Does your pooch enjoy dental chews at home? Let us know in the comments below!
Further reading: Other chewy treats your dog will love
Best Grain-Free Dog Treats