We may earn a small commission when readers buy products through links on this page. It supports our team to keep posting great content. Learn more about this
here
.
Last Updated on April 24, 2023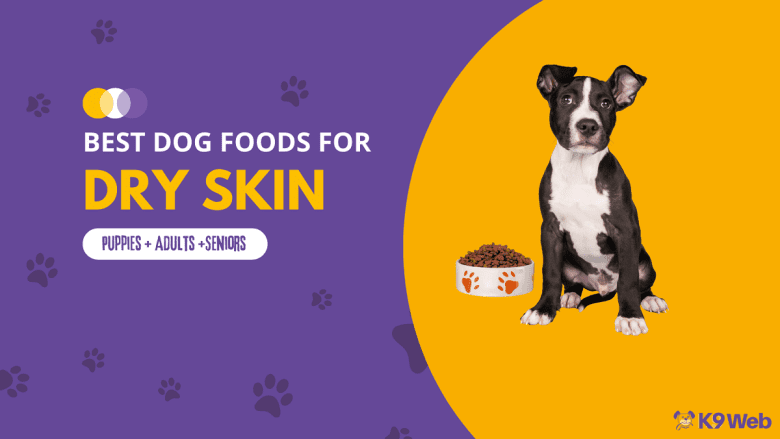 When your pet has dry skin, it can be frustrating for you and your pup.
Not only is it a clear sign that your dog's skin isn't healthy, but it can also lead to all sorts of issues in the long run, like secondary infections, such as bites and scratching.
Luckily, dry skin can be counteracted with a proper diet. So, let's look at some of the best dog food for dry skin.
Top 5 Picks for Best Dog Food for Dry Skin
Best Dog Foods for Dry Skin and Coat (by Life Stages)
The dietary needs of dogs differ depending on their life stage.
Puppies will need more protein and fat, for instance. So, choosing a food that's appropriate for puppies, adults, and seniors is essential for your canine's overall health.
Best Puppy Food for Dry Skin
If your puppy suffers from dry skin, it can be challenging to find a food that is specifically appropriate for them.
Luckily, there is one option out there that can help relieve your puppy's skin problems.
1. AvoDerm Natural Grain-Free Salmon & Vegetables Formula
Our Rating: 4.8
Top Ingredients: Salmon, Herring Meal, Peas
Type: Dry
This dog food is designed for all life stages, including puppies. It includes salmon as the first ingredient, which ensures it is high in fatty acids.
Avocados add some extra omega fatty acids for even more skin and coat health.
Pros:
High in antioxidants
Free from corn, wheat, soy, and by-product meals
Full of essential vitamins, minerals, and antioxidants
Cons:
High in peas and similar filler veggies
Best Adult Dog Food for Dry Skin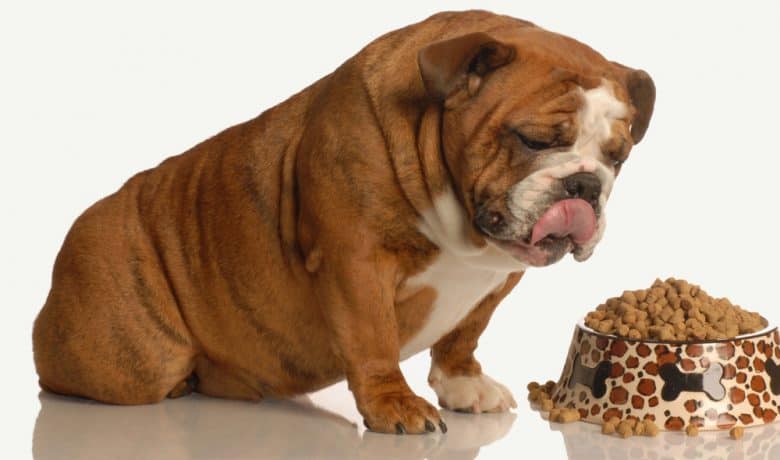 There are tons of dog food options for adults with dry skin. Many of these include components like omega fatty acids and are free from common allergens.
2. Merrick Grain-Free Dry Dog Food Real Duck & Sweet Potatoes Recipe
Our Rating: 5
Top Ingredients: Deboned Duck, Chicken Meal, Turkey Meal
Type: Dry
This dry dog food includes real duck as the first ingredient.
65% of this food is real duck with sweet potatoes as a source of carbohydrates, helping promote healthy muscle tissue and energy levels.
It is completely grain-free, making it suitable for dogs with gluten allergies.
Pros:
Omega fatty acids included promoting healthy skin
Glucosamine and chondroitin for healthy joints
Deboned duck as the main protein source
Cons:
Contains chicken meal, so it is not suitable for dogs with chicken allergies
Very high in protein which might cause weight gain or kidney damage
3. Purina Pro Plan Adult Sensitive Skin & Stomach Salmon & Rice Formula
Our Rating: 4.6
Top Ingredients: Salmon, Barley, Rice
Type: Dry
This high-protein dog food is less expensive than many of the other options on the market.
It is formulated with omega-6 fatty acids and extra vitamin A and E to support your dog's skin and coat, as well as their joints and mobility.
Pros:
Includes probiotics and prebiotics
Supports digestive and immune health
Cons:
Lower in protein than other formulas
4. Natural Balance Limited Ingredient Duck & Potato Formula
Our Rating: 4.7
Top Ingredients: Duck, Duck Meal, Potatoes
Type: Dry
This food is limited in ingredients, so it is perfect for those with food sensitivities. It includes farm-bred duck as the protein, which is an ingredient dogs are rarely allergic to.
A team of board-certified clinical veterinarians helped formulate this dog food.
Pros:
No peas, pea protein, lentils, legumes, corn, wheat, or soy
Contains Omega fatty acids, Vitamin E, and Zinc for a complete nutrition
High in protein
Cons:
5. Royal Canin Veterinary Diets Hydrolyzed Protein Adult HP
Our Rating: 4.7
Top Ingredients: Brewers Rice, Hydrolyzed Soy Protein, Chicken Fat
Type: Dry
Whether your dog is suffering from itching, hair loss, or stomach troubles, this palatable dog food has less risk of causing immune reactions with its hydrolyzed proteins.
They're also suitable for all breed sizes. Looking for a limited ingredient that's free of peas? This might be the answer.
Pros:
Veterinary diet made for dogs with digestive issues, coat, skin, and food sensitivities
Help reduce GI and skin reactions
Contains omega 3 fatty acids that help aid for healthy skin and coat
Cons:
Lower in protein compared to other dog foods for dry skin
Requires authorization from a veterinarian
Not suitable for dogs with gluten intolerance since the top ingredient is Brewers rice
6. Taste of the Wild PREY Angus Beef Formula Limited Ingredient Recipe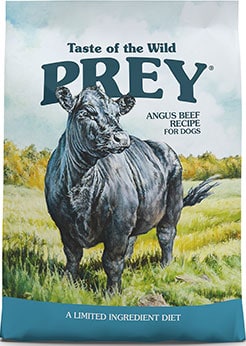 Our Rating: 4.7
Top Ingredients: Beef, Lentils, Tomato Pomace
Type: Dry
This formula includes four main ingredients, making it perfect for dogs who have a lot of sensitivities and allergies. It is fortified with probiotics, which can help your dog's digestion as well.
Pros:
Includes Angus beef as the first ingredient
Contains omega fatty acids
Grain and GMO-free
Cons:
Relatively low in protein compared to other dog foods for dry skin
7. CANIDAE Grain-Free PURE Limited Ingredient Salmon & Sweet Potato Recipe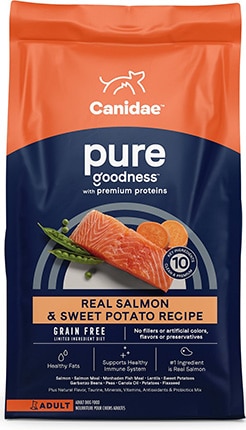 Our Rating: 4.8
Top Ingredients: Salmon, Salmon Meal. Menhaden Fish Meal
Type: Dry
This recipe includes just eight ingredients, most of which are fish.
It is perfect for those with sensitivities since dogs are rarely allergic to fish. It is completely grain-free and free from soy and other fillers.
Pros:
Contains no artificial colors, flavors, or preservatives
Fortified with probiotics and omega-3 and omega-6 fatty acids
Cons:
Peas included high on the ingredient list
8. Blue Buffalo Basics Limited Ingredient Salmon & Potato Recipe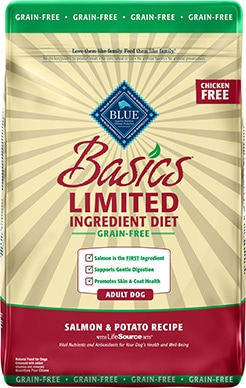 Our Rating: 4.5
Top Ingredients: Deboned Salmon, Peas, Potatoes
Type: Dry
This limited-ingredient dog food is designed for those with sensitivities. Deboned salmon is included as the first ingredient and includes pumpkin, which helps moisturize your dog's skin and coat.
Pros:
Free from chicken, beef, corn, wheat, soy, dairy, and eggs
Includes LifeSource Bits
Cons:
Low in animal protein
Includes peas as the second ingredient
9. AvoDerm Original Chicken Meal & Brown Rice Recipe
Our Rating: 4.5
Top Ingredients: Chicken Meal, Ground Brown Rice, Ground White Rice
Type: Dry
This recipe is made with a blend of essential vitamins, minerals, and antioxidants. It contains everything your dog needs to stay healthy and thrive.
With omega-rich avocados, it is perfect for your dog's skin and coat.
Pros:
Includes chicken meal as the first ingredient
Free from corn, wheat, soy, and by-products
Cons:
Includes lots of rice, including white rice
Very low in protein
Best Senior Dog Food for Dry Skin
Senior dogs are more prone to dry skin and other skin problems. Fortunately, there is one dog food that can help improve your aging dog's skin conditions.
10. Brothers Complete Advanced Allergy Lamb Meal and Eggs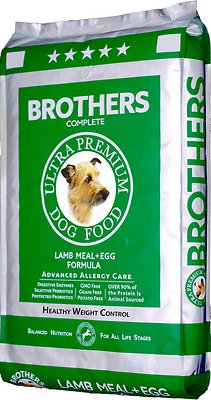 Our Rating: 4.7
Top Ingredients: Lamb Meal, Dried Whole Eggs, Turkey Meal
Type: Dry
This food is designed for all life stages to safely be used by seniors, adults, and puppies alike.
The formula is designed to mimic their natural diet. It includes dried whole eggs, free-range lamb, and similar ingredients.
Pros:
Contains Vitamin E, omega fatty acids, and pre and probiotics
Includes free-range lamb and low-glycemic carbs
Added digestive enzymes to helps dogs with stomach trouble
Cons:
What Causes Dry Skin in Dogs?
Some breeds are simply more prone to it than others. They may be more susceptible to specific causes of dry skin or to dry skin in general.
Allergies are one major cause of dry skin. Typically, a sensitive dog will develop skin problems or allergic reactions after eating a specific food.
Most food allergies are not present at birth but develop after your canine eats the same food for an extended period.
For this reason, we recommend switching a dog's food regularly. If a dog does not eat much of any particular protein type, the odds of developing an allergy to it are fairly low.
Parasites can also cause dry skin. Usually, these parasites will need to be treated by a vet before the dry skin will fix itself. However, suitable dog food can help treat dry skin after the parasites have been cleared up.
Infections can also cause dry skin. Sometimes, these infections are the primary problem. Other times, the infections are a secondary problem.
The skin became dry and irritated due to another reason, which allowed the disease to take hold.
Systemic disorders and breed-specific conditions can also cause dry skin. For example, a dog with lots of skin folds may develop irritation between the folds from the skin rubbing against each other.
Symptoms of Dry Skin in Dogs
You'll be able to notice dry skin visibly when you look at it. However, if your dog has a thick coat, it's easy to miss unless you check your dog regularly.
The first sign that your dog has dry skin is when they keep biting and scratching, which can be caused by irritation.
Itchy skin can lead to excessive scratching, which can cause secondary infections that might be more serious than dry skin.
You also need to note that not all dogs would have the same symptoms. Some dogs would have flaking, dandruff, scabs, or experience hair loss.
Other dogs experience only one or two of these symptoms, while others will suffer from several.
Buyer's Guide: Choosing the Right Food for Dogs with Dry Skin
When choosing the right food for a dog with dry skin, ensure that you're providing a complete and healthy diet.
The food should also contain specific nutrients to conquer your dog's dry skin.
Dog Nutrition 101: What kind of food does your dog need for dry skin?
Start by choosing food that fits your pup's life stage. Puppies, adults, and seniors have slightly different nutritional requirements.
Unless you can get dog food that caters to all life stages while addressing their health and skin needs, it should be a diet specific to their age.
Things to look for when selecting food for dry skin:
First, aim to choose high-quality dog food. The best dog foods will contain high-quality protein as the first few ingredients.
Remember, ingredient lists start with the most prominent component by weight. This includes the water in the food.
Avoid low-quality meats as well, including unnamed meat meals.
Meal isn't necessarily a problem by itself, as it is simply meat that has been cooked down. This is necessary when making dry food and leads to a more protein-packed ingredient.
Meals have more protein and nutrients in them than whole meat.
"Chicken meal" is an excellent ingredient, but "meat meal" is not, simply because you have no idea what the meat is. It could be anything.
Foods specifically for dry skin should contain a lot of omega fatty acids. Omega fatty acids are essential to healthy skin and a shiny coat.
Many dog foods contain at least a little bit of them, but some dogs may need a considerable amount to keep their healthy coat and skin.
Omega-6s and omega-3 fatty acids are both essential dietary fatty acids, including linoleic acid. Most dog foods for dry skin contain added fatty acids but check for them anyway.
They are usually added in the form of fish oil, flaxseed, or salmon oil, which can help with skin issues.
Often allergies can cause dry skin, as most food allergies appear as skin problems. Dogs can only become allergic to proteins, including gluten from grains. They can be sensitive to other ingredients, which can cause problems as well.
If your dog is allergic to chicken, ingredients like venison, fish, and similar proteins are a good choice.
Adding vitamin E can also be helpful, though less so than essential fatty acids. Pet owners should also look for foods formulated by a nutritionist.
Wet, Semi-Moist, or Dry? Which food for dry skin is best for your dog?
While there are many arguments against both types of food, it doesn't appear that there is any scientific evidence favoring one food over the other. For the most part, it seems that each food has its pros & cons.
For example, it is a common myth that kibble helps clean your dog's teeth. However, there is no major scientific evidence that it actually helps.
We recommend choosing food based on its other qualities, such as the ingredients and protein content. You shouldn't choose a specific food just because of the type of food it is.
In some cases, dogs may need a particular kind of food. Older dogs may have difficulty eating dry food, which would make wet dog food the preferable choice.
Smaller dogs, like Chihuahuas, need to eat often to avoid low blood sugar, so you'd likely need to choose something that you can leave out – like dry food.
In general, neither type of pet food is remarkably better than another type of food. But, in particular instances, your dog may benefit from one kind of food over the other.
To grain or not to grain: Do dogs need grain-free food for dry skin?
No dog needs grain-free food unless they have a particular sensitivity to gluten. In this case, the gluten could potentially upset your canine's stomach and cause skin allergies, which we are trying to avoid.
Most dogs are NOT allergic to gluten. Allergies like chicken and beef are equally as likely. If your dog is allergic to grain, go for grain-free dog food. Otherwise, it's better to go with grain-inclusive food when possible.
Grain-free food often doesn't include more protein or meat, as most people think it does. Instead, the companies usually use inexpensive veggies in place of the grains they would normally add.
These vegetables include things like peas, potatoes, and lentils.
The FDA is currently investigating these veggies for a connection to certain heart problems in dogs.
Peas, in particular, are troublesome, likely because they contain a large amount of protein. Some companies specifically use "pea protein" in their dog food.
When peas are used, it makes the dog food appear to contain more protein.
However, this protein is not complete and doesn't contain all the amino acids that whole meat does. This can lead to potential issues, which the FDA is currently investigating.
For this reason, it's usually best to choose a grain-inclusive food since these potentially troublesome veggies are not often used in these formulas.
Frequently Asked Questions (FAQs)
What is the best treatment for dogs with dry and itchy skin?
Dry skin is always caused by something else, even if it's seemingly minor. Most dogs with dry skin have a food allergy.
Unless they're fed a hypoallergenic or limited-ingredient diet, their dry skin will continue despite your best efforts.
Your first step should be to take your dog to the vet to determine the issue. After the underlying problem is resolved, you may need to provide some supportive skincare to your pooch while their skin heals.
This may involve a prescription ointment or a cone to prevent your dog from biting the area with dry skin.
Is it necessary to change a dog's diet if he has dry skin?
Not necessarily. If the dry skin's cause isn't the dog's diet, then the diet may not need to change. However, a common cause of dry skin is a food allergy.
In this case, the diet will need to change to exclude the ingredient your dog is sensitive to.
Should you give supplements for healthy skin and coat to your dog?
There are supplements specifically made to support a canine with dry skin. However, many of the elements you find in supplements can also be found in high-quality dog food.
How do I safely transition to a new food if my dog has dry skin?
Start by mixing a small amount of the new dog food with your dog's old food.
As your dog seems to tolerate it, you can slowly increase the amount of new dog food until you've completely phased out the original dog food.
Here's a quick tutorial on how to change your dog's food with ease:
Can you give homemade food to your dog?
While some dogs thrive on homemade food, you should only feed homemade food under your vet's direction.
When designing homemade food, it is important to ensure that your pet gets all the vitamins and minerals they need.
This can be accomplished by using various quality ingredients since each element will have different amounts of nutrients.
Here's a simple recipe you can try at home:
Ingredients:
Half pound of lamb meat
One and a half cups of brown rice
Five teaspoons of mineral supplements and multivitamins
One teaspoon of sunflower oil
Instructions:
Cut up the lamb into cubes to create chewy bites
Add enough water to the skillet to cover the lamb meat
Wait to boil and then lower the heat to simmer
Cover the skillet and let the meat cook for about 25 to 30 minutes
Drain excess water
While the meat is cooking, you can cook the brown rice in a different pot. Follow the instructions on the package to cook the rice. Once the meat and rice have cooled down, mix the rest of the ingredients before serving.
What can I do to help prevent dry skin?
When preventing dry skin, there are several things you can do to help your pooch.
Make sure they eat a healthy diet
Give your dog baths – but not too many
Visit the vet regularly
Use preventatives for parasites
Which Dog Food is Best for Dry Skin?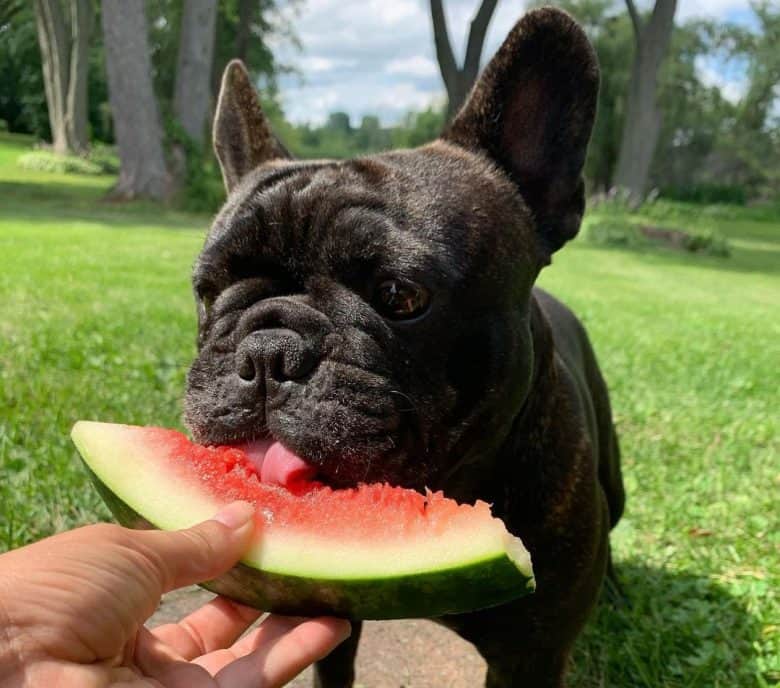 When selecting dog food for your canine, be sure to choose one that is both healthy and includes "extras" that are good for dry skin, like fatty acids.
Out of all the dog foods we reviewed, we preferred the Merrick Grain-Free Dry Dog Food Real Duck & Sweet Potatoes Recipe.
This dog food includes high levels of protein and plenty of omega fatty acids for skin and coat health. Plus, it isn't terribly expensive.
Several dog foods for dry skin did not make it to our list. Still, they are pretty good and might be suitable for your dog.
That includes Hill's Science Diet Adult Sensitive Stomach & Skin Dry Dog Food and Wellness Simple Limited Ingredient Diet Turkey & Potato Recipe. Both foods are made for pups, small to large breeds.
Consult your vet before choosing any new food for your dog with dry skin. They can also prescribe medication if your dog's skin problems are severe.
Has your dog tried any of the dog foods mentioned above? Leave a comment below – we'd love to know more about it.
Further Reading: Helpful guides for other health concerns
Reference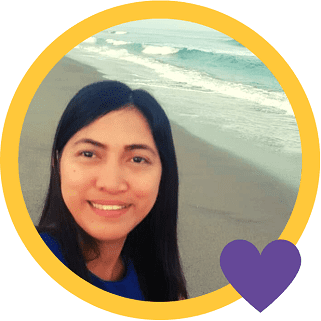 Cess is the Head of Content Writing at K9 Web and a passionate dog care expert with over 5 years of experience in the Pet Industry. With a background in animal science, dog training, and behavior consulting, her hands-on experience and extensive knowledge make her a trusted source for dog owners.
When not writing or leading the K9 Web content team, Cess can be found volunteering at local shelters and participating in dog-related events.