We may earn a small commission when readers buy products through links on this page. It supports our team to keep posting great content. Learn more about this
here
.
Last Updated on January 21, 2023
Many dog owners are huge fans of large dog breeds, but the problem with many of them is that they have joint issues. Some small breeds may also have these problems, such as Pomeranians and their luxating patellas.
If your doggo needs joint support, whether they are a breed prone to hip dysplasia or just due to old age, you've come to the right place.
We've found all the best dog foods with glucosamine on the market, and we'll help you decide what's best for your dear fido.
Top 5 Picks for Best Dog Food with Glucosamine
12 Best Dog Foods with Glucosamine
Whether you're looking for the best gluten-free dog food with glucosamine or dog food that's specially formulated for dogs with sensitive stomachs, we've got you covered.
Here are the top pet foods which are fortified with glucosamine.
Best Adult Dog Food with Glucosamine
Having the added bonus of glucosamine is not enough – your pup needs and deserves a well-balanced diet made from high-quality protein and superfoods.
We've got four of the best adult dog food for your pooch that will keep him healthy both inside and out.
1. Ziwi Peak Air-Dried Grain Free Dog Food with Glucosamine and Chondroitin
Our rating: 5
Top Ingredients: Chicken, Chicken Liver, Chicken Heart, New Zealand Green Mussel, Chicken Bone
Type: Dehydrated
With natural sources of glucosamine derived from green mussels, Ziwi is a New Zealand brand that prides itself on creating nutrient-dense pet food that is sustainably farmed and free from hormones, antibiotics, or even preservatives.
Your pup's immune system will be optimized with this naturally air-dried raw feed.
Pros:
Free from carbs and sugar
Cage-free chicken as its main source of protein
Suitable for all breeds, even picky eaters
Cons:
Expensive
Owners have complained about its dryness
2. Hill's Science Diet Dry Dog Food Healthy Mobility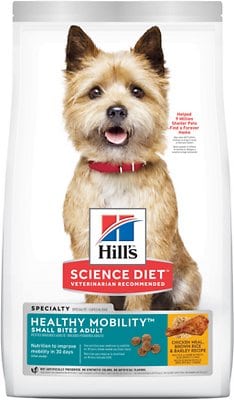 Our rating: 5
Top Ingredients: Chicken Meal, Brewers Rice, Whole Grain Sorghum
Type: Dry
A top dog food made in the USA especially for smaller breeds. Contains naturally occurring glucosamine and chondroitin. There is also fish oil which has anti-inflammatory properties, keeping your tiny furry buddy free from pain.
Pros:
Added fish oils and vitamin E for healthy skin and coat
Tiny kibbles specially formulated for smaller mouths
Owners have noted a distinct increase in mobility
Cons:
Unsuitable for larger breeds (but one Lab owner said this was recommended by her vet)
A negligible amount of glucosamine
3. Diamond Naturals Light Adult Dog Lamb Meal & Rice Formula
Our rating: 4
Top Ingredients: Lamb Meal, Whole Grain Brown Rice, Oatmeal
Type: Dry
A kibble that is specially formulated for less active or overweight dogs with joint issues, it also features prebiotic fiber from chicory root for digestive problems.
Diamond Naturals Light Adult Dog Food is a pretty good choice especially for owners who are looking for an affordable option with glucosamine.
Pros:
275kcals per cup for overweight or less active dogs
Suitable for all breeds
High levels of glucosamine at 750mg per kg
Cons:
May cause gas
The bland taste may not be appealing to picky eaters
4. Dogswell Happy Hips Lamb & Sweet Potato Stew Recipe
Our rating: 4.5
Top Ingredients: Water Sufficient for Processing, Lamb, Lamb Liver, Beef, Beef Liver
Type: Wet
Stew-type wet dog food that's bound to drive any dog bonkers. With 140 mg of glucosamine per can, you can use it as a topper on your dog's glucosamine enriched kibble.
You can also use it as a special treat, but it's a great way to include variety into your dog's diet, especially since wet dog food offers higher amounts of protein and water.
Pros:
Completely free from chicken, including chicken fat and chicken by-products
Glucosamine naturally sourced from shrimp meal
Includes chelated minerals for better absorption
Cons:
Contains bits of veggies that some dogs may not like
Some owners have complained of gas
Best Large-Breed Adult Dog Food with Glucosamine
Due to their size, large-breed dogs generally have more problems with their joints, especially as they age. The cartilage in their joints deteriorates at a faster rate than smaller dogs because of their weight.
For breeds that are predisposed to joint problems, special care should be taken especially when they are puppies. You can check our guide for arthritic-prone dogs and read up on what are the best puppy formulas for them.
Below we have the best dog food for large breed adults.
5. Blue Buffalo Best Large Breed Dog Food with Glucosamine & Omega 3

Our rating: 4.5
Top Ingredients: Deboned Chicken, Chicken Meal, Brown Rice, Oatmeal, Barley
Type: Dry
Nourish your dog's body with Blue Buffalo's special LifeSource Bits, which includes antioxidants and essential minerals for a healthy immune system and strong body.
Your dog's coat, eyes, and cognitive development can also benefit from the flaxseed that's in this formula as it's rich in omega fatty acids.
Pros:
Fortified with omega-3 fatty acids for healthy skin and coat
L-Carnitine for healthy weight management and muscle development
Contains essential nutrients for strong joint maintenance
Cons:
Some dogs do not like eating the LifeSource Bits
Slightly pricey
6. Nutro Large Breed Dog Food with Glucosamine and Chondroitin
Our rating: 4.5
Top Ingredients: Deboned Lamb, Chicken Meal (source of Glucosamine and Chondroitin Sulfate), Whole Grain Brown Rice
Type: Dry
Formulated for large breed dogs above the age of 18 months, Nutro uses real lamb as its first ingredient and doesn't use any chicken by-products.
With a complete blend of vitamins and minerals, this kibble is specially made for larger breeds that need joint support.
Pros:
Free from GMOs
Owners noted that it helps with weight management
Also comes in chicken flavor
Cons:
Negligible amounts of glucosamine
Slightly pricey
7. Hill's Science Diet Large Breed Dog Food with Glucosamine and Chondroitin
Our rating: 4
Top Ingredients: Chicken Meal, Brewers Rice, Whole Grain Sorghum
Type: Dry
A dog food that's recommended by veterinarians, it's nutritionally suitable for larger breeds with naturally occurring glucosamine and chondroitin which can aid cartilage development.
With hip joint health in mind, there's also the added EPA from fish oil.
Pros:
Doesn't have the pungent smell of dry kibbles
Owners have noted an improvement in mobility on this diet
Natural sources of glucosamine and chondroitin
Cons:
Picky eaters have been known to turn their noses up on this
Pricey
8. Diamond Naturals Adult Large Breed Real Meat Recipe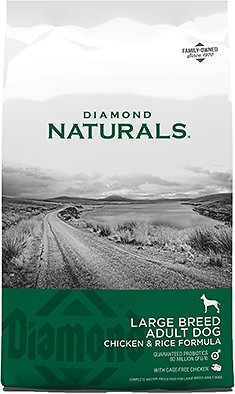 Our rating: 4
Top Ingredients: Chicken, Chicken Meal, Whole Grain Brown Rice
Type: Dry
An affordable option for large breed dogs which is enhanced with superfoods and probiotics to ensure your canine's immune system stays top-notch.
Formulated with real fruits and veggies, along with essential amino acids from protein sources.
Pros:
Cage-free chicken as the first ingredient
Omega-3 and 6 fatty acids for healthy eyes, brain, and coat
Decent amount of glucosamine at 700mg/kg
Cons:
Some ingredients might take your pup some time to get used to
Owners have complained about their dogs being picky with this food
Best Senior Dog Food with Glucosamine
Just like human beings, our pooch's body will also wear down with age. As your doggo grows older, the cartilage that helps his movements be fluid and pain-free may disappear, which is why they might move slower.
Glucosamine-infused dog food can help ease the pain and rebuild the cartilage in their joints.
Most senior dog food has glucosamine but here are four of our top picks.
9. Blue Buffalo Life Protection Formula Natural Senior Dry Dog Food
Our rating: 4.5
Top Ingredients: Deboned Chicken, Brown Rice, Barley, Oatmeal
Type: Dry
With 400mg of glucosamine and 300mg of chondroitin per kg, this dog food should be supplemented with joint supplements for better results.
Real chicken is listed as the first ingredient, giving your dog the quality protein source that he'll need. Your pooch will also have healthy skin, thanks to the omega oils included with their quality ingredients.
Pros:
Great value for money
Fortified with Blue Buffalo's own LifeSource Bits supplementation
Suitable for all breeds
Cons:
Negligible amounts of glucosamine
Not picky-eater friendly
10. Canidae Senior Dog Food with Glucosamine & Chondroitin
Our rating: 4.5
Top Ingredients: Chicken, Chicken Meal, Turkey Meal, Sweet Potatoes
Type: Dry
Naturally occurring glucosamine and chondroitin with levels of a minimum of 1,100mg per kg, Canidae has one of the highest concentrations of glucosamine in their kibble.
This high-quality pet food also contains its own blend of nutrients, inclusive of HealthPLUS probiotics, antioxidants, and omega-3 and 6 fatty acids.
Pros:
Formulated with only nine ingredients for older dogs with sensitive digestions
Does not contain any artificial coloring, flavors, or preservatives
While it's suitable for all breeds, small dogs do best on this diet
Cons:
Kibbles are considered by large-breed owners to be "too small"
High in calories at 409kcals per cup
11. Wellness Complete Health Senior Dog Food with Glucosamine and Chondroitin
Our rating: 4.5
Top Ingredients: Deboned Chicken, Chicken Meal, Oatmeal, Ground Barley
Type: Dry
A GMO-free balanced diet for owners who are concerned about chemicals and growth hormones. Wellness is dedicated to offering the best quality at an affordable price.
Your dog should be more energetic, focused, and healthier on this kibble that's fortified with omega fatty acids and antioxidants, with a guaranteed minimum of 800mg of glucosamine per kg.
Pros:
Great value for money
Doesn't include fillers, artificial preservatives, or meat by-products
Suitable for all breeds
Cons:
Many owners noticed an increase in bowel movements
High in calories at 416kcal per cup
12. Nulo Grain-Free Senior Dog Food with Glucosamine and Chondroitin
Our rating: 4.5
Top Ingredients: Deboned Trout, Turkey Meal, Salmon Meal, Yellow Peas
Type: Dry
A little more protein than more senior formulas, this is a great option for people with older but still very active dogs.
Formulated for all breeds, Nulo's Senior Dog Food also comes packed with L-Carnitine, which helps keep your pooch's metabolism young. Comes with a minimum of 350mg of glucosamine and chondroitin per kg.
Pros:
Suitable for all breeds
Contains probiotics to aid the aging digestive system
Owners have noted their dog sheds less on this diet
Cons:
Pricey
High in calories at 396kcal per cup
Should Dog Food Have Glucosamine and Chondroitin?
Cartilage in our bones wears out over time, and it's the same with dogs. Glucosamine, Chondroitin sulfate, and Methylsulfonylmethane (MSM) are all substances that can help inhibit pain and inflammation.
Aside from providing ample nutrients, weight management can also help with osteoarthritis.
What is Glucosamine?
Glucosamine has healing properties and can relieve joint pain. It is a naturally occurring amino sugar and can help rebuild lost cartilage.
Cartilage is a flexible tissue between joints that absorbs shock from movement. That's why dogs with joint problems get up and move slowly because they are in pain due to the lack of cartilage.
What foods have glucosamine for dogs?
Glucosamine can be found in the following foods:
Green-lipped mussels
Chicken feet
Beef gristle and trachea
Shellfish shells
Crustacean exoskeletons and chitin
Pigtails and ears.
Why Dogs Need Glucosamine?
For some breeds, glucosamine is extremely important to help keep them mobile and pain-free.
Large breeds such as Rottweilers, Labradors, German Shepherds, and Great Danes, can all benefit from glucosamine and it doesn't hurt to start them young.
Glucosamine can aid with healthy joint development in puppies, which can prevent debilitating joint problems.
For large-breed puppies, it's important to look at the calcium and phosphorus levels in their dog food to aid with proper joint development.
For adults, it's always good to start them when they are still running and jumping around in their prime and not wait till they show signs of slowing down.
As they get older, your dog's joints may not be the same as they used to be which is where glucosamine can help. Adequate supplementation can increase comfort in your senior dog's golden years.
Benefits of Glucosamine in Dog Food
For dogs that require additional support, glucosamine in their kibble can relieve them of pain, especially when given a supplement.
This can ensure that your pooch is getting adequate levels of the substance because if it isn't enough, they won't reap the benefits.
You don't have to worry about giving your dog too much glucosamine because the most it can do is give your dog soft stools.
Glucosamine and Dogs with Arthritis
One in five dogs has arthritis. Your dog's joint health can be affected by a number of factors, from breed to diet to lifestyle.
If you suspect that fido is suffering from arthritis, simply adding glucosamine to his diet may not be enough. Be sure to speak to your vet, as your dog may need medication and additional treatment.
Overweight Dogs with Joint Problems
Obesity can worsen joint disorders as your dog's limbs have to work extra hard. Think about a wheelbarrow. Chances are, the one that is carrying the heaviest weight will break down sooner.
Overweight dogs with joint problems will not be able to exercise as much, which will only make matters worse.
Therefore, changing their diet and giving them something for the pain may help them get healthier.
Does Glucosamine Really Work for Dogs?
As with many supplements, it's normal to doubt their effectiveness. According to a blind study, results proved that there is a significant difference in dogs that take glucosamine and chondroitin.
In any case, the substances have specifically been shown to alleviate symptoms of pain caused by osteoarthritis.
Furthermore, vets continue to prescribe glucosamine to patients suffering from joint pain which should increase confidence in the substance.
Buyer's Guide: How to Choose the Best Dog Food with Glucosamine?
When looking for a glucosamine-inclusive kibble, you should be considering everything from kibble size to the quality of its ingredients. Simply having a ton of glucosamine isn't going to mean that it's the best.
Real meat should always be the first ingredient. Chondroitin works well with glucosamine and having L-carnitine or calcium won't hurt either.
Are glucosamine-rich foods good for all dogs?
You might be tempted to give your dog glucosamine regardless of whether they need it because it can't hurt, right? Wrong!
Dogs that have blood clotting diseases shouldn't be given additional supplements such as glucosamine as it can exacerbate the symptoms of Von Willebrand's or Hemophilia A.
Some dogs can be allergic to shellfish and therefore would react adversely to glucosamine or chondroitin from crustaceous sources. Diabetic breeds should also avoid it because of the sugar in glucosamine.
For dogs that shouldn't be given glucosamine, your vet will likely recommend chondroitin instead.
However, it's always best to speak to the vet to figure out what's the best treatment plan for your pooch because every dog is different.
What kind of dog food with glucosamine is best?
First, you have to identify what kind of dog food you're looking for. You'll need to consider life stages as well as breed.
Larger dogs require larger kibbles to prevent them from inhaling or choking on the food. Likewise, smaller dogs will need smaller kibbles for their delicate mouths.
As a general rule of thumb, dog food should always have amino acids from real meat as the first ingredient.
Dog food should have a minimum of 22% of crude protein and 12% of crude fat in order to meet the nutritional requirements of canines. Once you've established that, look for quality ingredients that you can recognize.
Most dog food has additional supplements such as fatty acids for healthier skin and coat, along with cognitive function.
Pro or prebiotics can help with your dog's digestion and is something that you should be on the lookout for especially if you have a puppy, an older dog, or a dog with sensitivities. Victor has great dog food that includes both.
Calcium is also good for bone development, and L-Carnitine, which helps with weight management and muscle development, is a great addition because excess weight can exacerbate your dog's symptoms.
Hormones, artificial coloring, flavoring, or preservatives are often frowned upon.
FAQs about Dog Food with Glucosamine
When should you give your dog glucosamine?
Dogs above one-year-old can benefit from glucosamine, especially if they are high-risk breeds. Prevention is better than cure, and it's much more effective if you start before the symptoms arise.
How much glucosamine is safe for dogs?
It is suggested that you feed your dog 20 mg of glucosamine per pound of body weight on a daily basis. This means that the dosage varies from dog to dog depending on their size and weight.
Most dog foods do not meet the minimum requirements for them to be effective, so you will probably need to give your dog an additional supplement if he has joint problems.
What dog food has the most glucosamine?
Senior dog food or dog food specially formulated for larger breeds generally has more glucosamine.
Canidae Senior Dog Food with Glucosamine & Chondroitin has the most glucosamine out of all of the dog food we've reviewed above.
Wet, semi-moist, or dry? Which food with Glucosamine is best for your dog?
Wet dog food definitely has its benefits. Aside from being more palatable, it's also easier on your dog's digestive system, and the nutrients are more readily absorbed.
Dry food is simply convenient as it doesn't make a mess and stores easily. Plus, it's the most affordable.
Unfortunately, semi-moist dog food tends to have more salt and sugar, which may not be ideal for all dogs. However, you can feed your dog a mixture of any of the three.
It doesn't matter where your dog gets the glucosamine from. You can even buy chicken feet or green-lipped mussels as a treat for your pooches.
To grain or not to grain: Do dogs need grain-free glucosamine-inclusive food?
When it comes to grain or grain-free, it really boils down to whether your dog is sensitive to grain or not.
If not, there's no reason to go grainless. To learn more about this, you can read our guide to grain-free dog food.
How long does it take for glucosamine to start working in dogs?
This really depends on the severity of your dog's joint issues and also on the amount of glucosamine they are getting. With adequate supplementation, you should be able to see improvement within a month.
If you don't see any changes, you might want to consider increasing the amount you're giving.
Can you give homemade glucosamine-inclusive food to your dog?
You can give your dogs a homemade meal filled with glucosamine goodness every once in a blue moon, but unless you're a nutritionist, make it a point to give commercial dog food as well so your dog gets a well-balanced diet.
Dog food companies spend lots of research making sure that their recipes meet AAFCO requirements, after all.
Should you give dog treats with glucosamine to your dog?
By all means, a glucosamine-infused dog treat is more than welcome. Just don't overdo it because overfeeding can lead to weight gain, which can worsen any joint issues your pooch might have.
Should you give glucosamine-inclusive supplements to your dog?
Make sure that the glucosamine you're giving your dog is for dogs.
Technically, you should be able to give your pooch human-grade glucosamine, but some ingredients in human supplements can be incredibly toxic to dogs.
What are other remedies for arthritis and joint pain?
MSM or methylsulfonylmethane can inhibit pain and is something recommended along with glucosamine and chondroitin sulfate.
Aside from supplements and medication, there's the option of laser treatment, acupuncture, physical therapy, weight management, or surgery to consider.
Talk to Your Vet Before Giving a Dog Food with Glucosamine to Your Pooch
Before you make any changes to your dog's diet, make sure that you discuss options with your vet. All dogs are unique, and perhaps there's a better way of addressing any problems your pup may have.
Also, when making the transition from their old food to the new food, make sure to do so gradually or risk having an upset stomach.
You can substitute 10% of the new food for a few days and up the amount to 20% if your dog is adjusting well. Keep increasing the ratio until you're 100% on the new food.
Let us know in the comments if you've had any experience with any of the dog foods above!
Further Reading: Other dog food catered to special diets
Best High Protein Dog Food
Best High Fiber Dog Food