We may earn a small commission when readers buy products through links on this page. It supports our team to keep posting great content. Learn more about this
here
.
Last Updated on January 21, 2023
Whether you're trying to reduce legumes in your dog's diet or you just want the best legume-free dog food, it's essential to know what to look for and what to avoid.
This guide will explain what you should know to keep your pup healthy.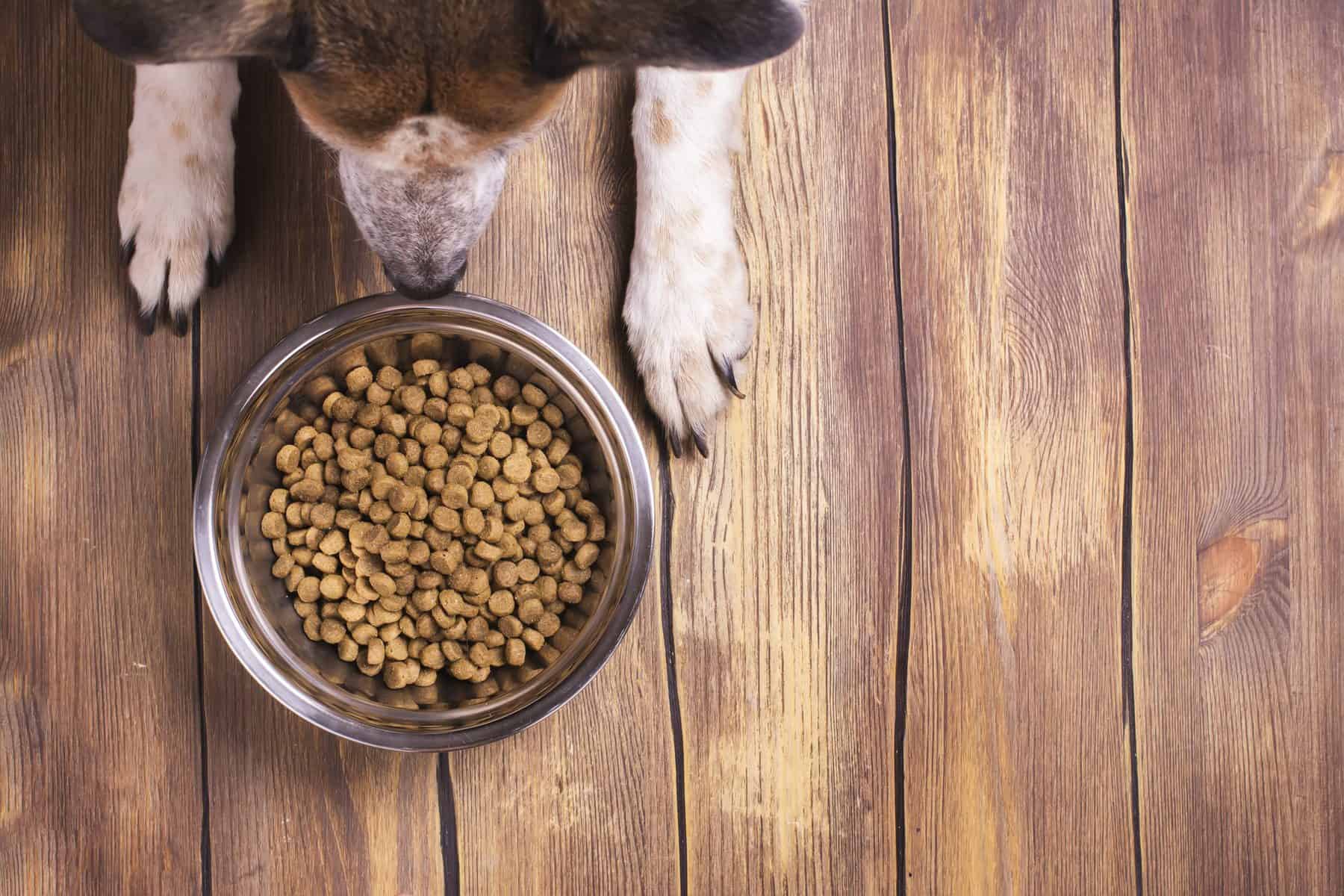 Top 5 Picks for Best Legume Free Dog Food
Best Legume Free Dog Food by Life Stage
Legume-free means that food doesn't contain any plants in the legume family, including peas, lentils, and soybeans.
Some people avoid legumes because their dog is allergic, others because they're concerned about feeding the healthiest food possible
Best Legume-Free Puppy Food
Puppies need food formulated to help them grow big and strong and support their growing bodies. It should have enough calories to give them plenty of energy. Here are our top picks for the best legume-free puppy foods.
1. Stella and Chewy's Perfectly Puppy Beef & Salmon Dinner Patties
Our rating: 4.5
Top Ingredients: Beef, Salmon With Ground Bone, Beef Liver, Beef Kidney, Beef Tripe
Type: Freeze-dried
Stella & Chewy's Perfectly Puppy Recipe is formulated to support your growing pup without any legumes. Instead, it includes lots of healthy proteins such as beef, salmon, cranberries, broccoli, and carrots.
Reviewers say that even the pickiest puppies can't get enough of this tasty formula, and it's made to ensure that your dog develops a healthy brain, organs, and skeleton.
Pros:
Contains probiotics
No fillers or artificial ingredients
95% meat protein
Cons:
More expensive than dry food
Strong smell
Best Legume-Free Adult Dog Food
Adult dogs need food that will keep them healthy and enjoy eating. Here are the formulas that we like best:
2. Purina Pro Plan 30/20 Chicken & Rice Recipe
Our rating: 4
Top Ingredients: Chicken, Corn Gluten Meal, Rice, Beef Fat
Type: Dry
Made for high-energy dogs working or active in sports, the Purina Pro Plan 30/20 Chicken & Rice Formula Dog Food has a precise balance of protein, fat, and carbohydrates to support your dog's active lifestyle.
It doesn't contain legumes, so you can feel safe feeding this dog food to your pooch.
Pros:
Contains DHA, omega-3, and omega-6 fatty acids
No artificial flavors or colors
Cons:
Contains corn
Corn gluten meal makes up a large bulk of the food
3. Natural Balance L.I.D. Limited Ingredient Diets Dog Food (Lamb & Brown Rice)
Our rating: 4
Top Ingredients: Lamb, Brown Rice, Lamb Meal, Brewers Rice, Rice Bran
Type: Dry
The Natural Balance LID Dog Food is packed with premium lamb as the first ingredient added with essential vitamins and minerals formulated to meet the needs of large breed adult dogs.
This grain-inclusive but gluten-free dry dog food doesn't contain corn, wheat, soy, chicken, and legumes ideals for dogs with sensitive stomachs.
Pros:
Lamb is the first ingredient
Gluten-free
Large kibble helps slow down dog's feeding
Cons:
Contains a high amount of rice
4. Nutro Ultra Large Breed Dry Dog Food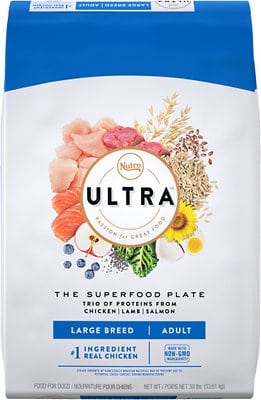 Our rating: 4.5
Top Ingredients: Chicken, Chicken Meal, Whole Brown Rice, Brewers Rice, Rice Bran
Type: Dry
With real chicken as the main ingredient added to lamb and salmon meals, the Nutro Ultra Large Breed Dog Food is packed with healthy ingredients without legumes, corn, wheat, and soy.
It also has glucosamine and chondroitin for healthy joints. Sunflower oil helps your pup's coat stay healthy and shiny.
Pros:
Formulated with lean proteins
Includes amino acids
No artificial colors or flavors
Cons:
Contains a high amount of rice
With dried beet pulp and tomato pomace
5. JustFoodForDogs Pantry Fresh Dog Food (Chicken and White Rice)
Our rating: 4.5
Top Ingredients: Lamb hearts, brown rice, cauliflower, carrots
Type: Wet
This isn't your usual canned dog food. While JustFoodForDogs is made using fresh ingredients like whole fruits and veggies and real lamb hearts, it isn't canned with a bunch of preservatives.
Instead, it's stored in Tetra Pack packaging, so the fresh ingredients stay fresh on the shelf. This is excellent for dogs who need to be on a whole food diet. It's also cooked in a USDA-certified kitchen.
Pros:
No preservatives
No growth hormones
Human-grade ingredients
Cons:
More expensive than dry food
6. ZIWI Peak Air-Dried Dog Food (Beef)
Our rating: 5
Top Ingredients: Beef, Beef Heart, Beef Kidney, Beef Tripe, Beef Liver, Beef Lung
Type: Dry
Ziwi Peak formulates its food with no cheap fillers or artificial ingredients.
The first eight ingredients are animal-based protein, including beef, mussels, and beef parts, followed by healthy additions like kelp, chicory, parsley, and vitamins.
Reviewers say that their dogs love the test, and the air-dried formula stays stable on the shelf and eliminates bacteria that could harm your pet.
Pros:
Contains beef heart, kidney, tripe, liver, lung, and bone
No fillers or artificial ingredients
96% meat protein
Cons:
More expensive than other foods
7. Victor Classic Hi-Pro Plus Dry Dog Food
Our rating: 4.5
Top Ingredients: Beef Meal, Grain Sorghum, Chicken Fat, Pork Meal, Chicken Meal, Menhaden Fish Meal
Type: Dry
Victor manufactures this food to be nutrient-dense, so your pup doesn't bulk up on ingredients that don't provide a lot of what your dog needs to be healthy.
It contains 88% meat protein and is ideal for high-energy dogs or lactating females.
Pros:
No fillers or artificial ingredients
88% meat protein
Cons:
Contains a high level of meat meals
High balance of millet, alfalfa, and sorghum
Contains tomato pomace
8. Rachael Ray Nutrish Just 6 Limited Ingredient Dog Food
Our rating: 4
Top Ingredients: Lamb Meal, Brown Rice, Brewers Rice, Dried Beet Pulp, Chicken Fat
Type: Dry
Rachael Ray Nutrish LID Dog Food is made for those dogs who suffer from food allergies or sensitivities because it contains just six ingredients, including rice, lamb, beets, and chicken fat.
There is no corn, wheat, soy, gluten, and artificial things like preservatives.
Pros:
Made in the USA
Real lamb is the first ingredient
Made with limited ingredients
Cons:
Contains a high ratio of rice to protein
Contains dried beet pulp
9. Natural Balance Limited Ingredient Diets Grain-Free Recipe (Salmon & Sweet Potato)
Our rating: 4.5
Top Ingredients: Salmon, Menhaden Fish Meal, Sweet Potatoes, Cassava Flour, Potatoes
Type: Dry
There are no legumes in this food, only fish like salmon and easily digestible carbs like sweet potatoes.
It's made in the USA using ingredients sourced worldwide and is formulated to ensure that your dog gets all the protein your dog needs to be healthy and happy.
Pros:
Made in the USA
No corn, soy, or wheat
Cons:
Contains cassava flour, which is low in nutrients
A high level of potatoes to animal protein
Best Legume-Free Senior Dog Food
Older dogs need special nutrition that gives them the right balance of energy and support for their aging bodies.
10. Diamond Naturals Senior Formula (Chicken, Egg, and Oatmeal)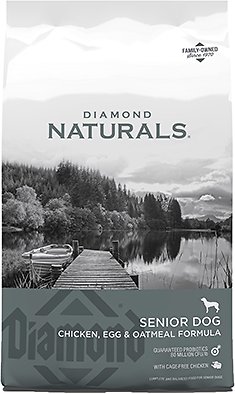 Our rating: 4.5
Top Ingredients: Chicken, Chicken Meal, Whole Grain Brown Rice, Cracked Pearled Barley, Ground White Rice
Type: Dry
Made in the USA using ingredients from around the globe, the Diamond Naturals Senior Formula features cage-free chicken as well as things like glucosamine and chondroitin to support your pup as he enters his golden years.
It also contains lower fat so that your dog doesn't get too chunky as they age. Along with probiotics, chia seed, kale, and flaxseed, it's made to ensure that your best friend is as healthy as possible.
Pros:
Made in the USA
Contains omega fatty acids and probiotics
No artificial colors or preservatives
Cons:
Contains a high ratio of rice and oatmeal
11. Nutro Ultra Senior Dry Dog Food
Our rating: 4
Top Ingredients: Chicken, Chicken Meal (source of Glucosamine and Chondroitin Sulfate), Whole Brown Rice, Brewers Rice, Rice Bran
Type: Dry
The Nutro Ultra Senior Dry Dog Food is packed with all kinds of tasty veggies and fruits to make your aging pal happy.
While it isn't entirely legume-free because it contains a small amount of pea protein, it's a good option for people who want to ensure that their dog isn't getting too much legume in their meals.
Pros:
Contains coconut, chia seeds, spinach, pumpkin, and kale
No corn, wheat, or soy
Cons:
Contains beet pulp and tomato pomace, which are considered fillers
A high ratio of rice to protein
12. Nutro Ultra Senior Pate Chicken, Lamb & Whitefish Pate (Wet Dog Food)
Our rating: 4.5
Top Ingredients: Chicken, Chicken Liver, Chicken Broth, Spinach, Tomatoes, Carrots
Type: Wet
Positively packed with chicken, spinach, eggs, lamb, fish, apples, blueberries, yams, and coconuts, the Nutro Ultra Senior Pate Wet Dog Food is sure to please picky eaters.
While it might not be an affordable option for large dogs, it's ideal for petite pooches who are getting older.
Pros:
No GMOs, by-product meals, or grains
Pate style food is highly digestible
Formulated with yams, apples, and chia seeds
Cons:
More expensive than dry foods
Contains xanthan and guar gum
What Exactly Are Legumes?
So what are legumes in dog food, exactly? Legumes are vegetables in the Fabaceae plant family and include peas, chickpeas, peanuts (which aren't nuts), lima beans, lentils, and soybeans. They can be dried or fresh.
They are packed with protein and carbohydrates and just a little bit of fat, calcium, iron, potassium, magnesium, and antioxidants. They can be an excellent source of nutrients for both dogs and humans.
That said, they are sometimes used as cheap fillers in dog food, or they are used to replace grains in grain-free food. Additionally, some dogs are allergic.
Finally, the FDA is researching whether or not legumes can contribute to a heart disease called canine dilated cardiomyopathy (DCM) in dogs. So while dogs can eat legumes, it might not always be a good idea.
Are Legumes Bad in Dog Food?
So far as we know at this point, legumes aren't necessarily bad for dogs. But the jury is still out, and if you want to be extra safe, you might want to avoid them.
Talk to your vet to better understand what you should and shouldn't feed your dog.
What makes legumes bad for dogs?
So let's dive deeper into whether or not dogs should be eating legumes. Some dogs are simply allergic, so you may notice their bowel movements when eating kibble-containing legumes.
Or they might have dry, flaky skin or itchy eyes and ears.
You should always avoid any ingredient if you learn that your dog is allergic to it. If you aren't sure, try eliminating the ingredient for a while to see if your dog's symptoms improve.
Then there is the dreaded link to DCM. DCM is a heart condition that eventually leads to heart failure. It's more common in older dogs and giant breeds, but it can impact any dog.
There are reports that DCM might be linked to a diet that is high in protein and lacks grains. Or it could be related to diets that contain unusual ingredients, and researchers still just aren't sure.
The FDA says that it appears that while legumes have been a part of the diets of dogs for years, they appear in increased numbers lately as people try to move away from grains.
It could also be linked to taurine deficiency along with a grain-free diet high in legumes or potatoes.
It isn't clear if removing legumes helps or if there is more going on than just too many legumes in the diets of dogs impacted by DCM.
Regardless of whether you feed your dog legumes or not, there are a few times that you should completely avoid them.
These are when the legumes outweigh the animal protein in a recipe. You should also never feed raw legumes or overly-processed legumes.
Why Choose Legume-Free Food For Your Dog?
If your dog has legume sensitivity, you should opt for a food that leaves it out. If you're concerned about legumes being used as cheap fillers, you can look for a food that leaves them out or only uses them in a minimal amount.
Deciding whether to go legume-free or not
There is no evidence that puppies or seniors should avoid legumes unless they are allergic. In other words, it's up to you and your vet to decide whether you think legumes are a healthy addition to your best friend's diet.
Together, consider your dog's overall health, size and breed, and weight.
Best Legume-Free Dog Food Buyer's Guide
Choosing dog food can be a challenge. You don't necessarily have to go with a big-name brand, but many of them have more money for research and sourcing.
That said, some of them also tend to use fillers that you might want to avoid.
However, even mom-and-pop operations can use crappy ingredients, which is why it's so important to read the label on your dog's food.
What are the important features to consider when choosing legume-free dog food?
Avoid foods that contain fillers like potato pomace, cassava, white potatoes, tapioca, or beet pulp.
You might also want to avoid a high level of carbs like rice or oats because you're paying for ingredients that aren't providing much nutrition to your dog. Beet pulp, for instance, acts like sugar in the body.
Look for formulas made by or in cooperation with veterinarians and nutritionists. Be sure to read the nutrient analysis and determine if the food provides a complete and balanced diet.
All the dietary information should be laid out on the label.
So what ingredients should dog owners look for? Complex carbohydrates are great, as are high-quality animal proteins from buffalo, real chicken, lamb, fish, turkey, and other high-quality animal sources.
Proteins from a good protein source should always come first and should be the main ingredients. Dog food brands label food by pre-dried weight, so keep that in mind.
The protein content is another factor to consider, depending on your dog's age and activity level.
Then, look for healthy grains and all those good essential vitamins and minerals. Superfoods like blueberries are great, and some of the best dog foods without peas use healthy options like brown rice or oatmeal to replace legumes.
Brands such as Taste of the Wild, Merrick Grain Free, Farmina, Victor, and others have developed a good reputation for making pet food part of a holistic, healthy diet that is good for your dog's digestive system.
What are some healthy alternatives to legumes?
If you decide to go pea-free, what can you choose to replace those missing legumes in your dog food formula? Healthy carbs like pumpkin, squash, sweet potato, whole grains, spelt, and some starches are a good place to start.
A small amount of fruit like cranberries, blueberries, apples, and zucchini are good options and can improve your dog's health, as well.
Frequently Asked Questions (FAQs)
Is wet legume-free food suitable for dogs?
Whether you choose wet food (also known as canned food) is primarily a personal decision. Wet food costs more because you're getting a lot of water in that can. As always, look at the ingredients list.
Does it contain food ingredients that are beneficial for your dog's immune system, skeletal system, and digestive system? Are your dog's teeth generally healthy?
Choose wet food if the budget is not your concern. Many dogs prefer the taste.
To grain or not to grain: Do dogs need grain-free legume-free food?
Dog's don't need grain-free, legume-free food unless they have an allergy or a specific health concern. However, there have been studies mentioned above about whether grain-free can cause heart problems in dogs.
Grain-free food isn't necessarily healthier unless you have specific needs. Talk to your vet to get the best advice. Check out our guide to the best grain-free dog foods.
There are some options out there that are both grain-free and legume-free, and these are usually heavy in meat proteins and light on carbs.
Can you give homemade legume-free food to your dog?
Feel free to feed your dog a homemade legume-free recipe if none of these foods jump out at you.
A simple mixture of a pound of cooked ground beef, a cup of peas and carrots, and a cup of cooked brown rice mixed with some yogurt is an excellent recipe.
This video provides another great recipe:
Will dog food without legumes cause any deficiency?
Dog's don't need legumes as long as they're getting all the nutrients they need from other food sources. The overall nutrient content of the food is what matters most.
Go Legume-Free to Keep Your Pup Happy
There are many reasons to avoid legumes, from allergies to concerns about health issues. That's why many people decide to leave them out of their dog's diet.
Check out ZIWI Peak's Air Dried dog food for the best overall food. The air-drying process retains the flavor and health profile of the ingredients, all without legumes.
Victor's Classic Hi-Pro Plus is another good option if you're on a budget.
As always, if you have any questions about feeding legume-free, hit us up in the comments.
Further reading: Other Best Dog Food with Restricted Diet