We may earn a small commission when readers buy products through links on this page. It supports our team to keep posting great content. Learn more about this
here
.
Last Updated on December 14, 2022
You might have switched your family over to a vegan diet, but can you do the same for your pet? Believe it or not, various dog food brands offer your pooch a healthy and nutritious vegan diet that caters to all their growing needs.
But it can be challenging to choose the right plant-based formula for your pet; that's why we've done the research for you!
Top 2 Picks for Best Vegan Dog Food
Dog Food Recipes
Our Rating
Best Overall Vegan Dog Food
Natural Balance Vegetarian Formula Dry Dog Food

Offers your dog plenty of fiber for better digestion
Contains increased levels of B Vitamins for immune health

The formula features DHA and EPA for brain and eye function

4.5

Best Budget Vegan Dog Food
Halo Adult Dog Holistic Garden of Vegan Recipe

None of the ingredients are sourced in factory farms
Green peas, wholesome grains, and chickpeas provide plenty of fiber
Contains no rice, dairy, or corn

4
9 Best Vegan Dog Food Brands
Feeding your dog a vegan diet doesn't mean depriving them of protein.
The below options offer your best friend a well-balanced diet packed full of superfoods and nutritious ingredients while being completely free of any meat or animal products.
Best Dry Vegan Food
If you're a vegan, you don't need to compromise when feeding your furry children. There are lots of great vegan dog foods available. Here are just a few of our top picks in the vegan dry dog food category.
1. Halo Adult Dog Holistic Garden of Vegan Recipe
Rating: 4
Top Ingredients: Green Peas, Chickpeas, Pearled Barley
Type: Dry
This plant-based pet diet features a balanced formula of sustainably sourced ingredients. Offering your dog complete body nutrition, this Halo Vegan Food is designed to be just as delicious and nutritious as meat-based meals.
None of the ingredients are sourced from factory farms, with only non-GMO veggies and fruits included in the recipe.
Pros:
Green peas, wholesome grains, and chickpeas provide plenty of fiber and nutrients to your dog
It contains no rice, dairy, or corn
Cons:
Some pet owners complained this food smelt old and rancid
2. Wild Earth Vegan Clean Protein Formula
Rating: 4
Top Ingredients: Dried Yeast, Chickpeas, Oats, Peas
Type: Dry
The Wild Earth Vegan Dog Food is suitable for breeds of all sizes that features 31% complete protein to fuel your dog's muscles.
Designed to provide resistance against disease and allergies, this food doesn't include any fillers, additives, animal by-products, or artificial preservatives. It's also fortified with prebiotic fibers to build a robust immune system.
Pros:
This food is made with 90% fewer resources than what is required to make commercial meat-based dog food
Ingredients like chickpeas, pumpkin, oats, spinach, and sweet potato add flavor and nutrients
Cons:
One dog simply refused to eat this food, even after almost three days
3. V-Dog KindKibble Vegan Dry Dog Food for Adult Dogs
Rating: 4.5
Top Ingredients: Dried Peas, Pea Protein, Brown Rice
Type: Dry
Made in California by a family-owned business, this 100% vegan dog food is made from a unique blend of healthy and delicious whole foods, such as lentils, peas, brown rice, and quinoa.
The V-Dog KindKibble formula includes 24% protein and all the vitamins and minerals your pet needs to remain healthy.
Pros:
It contains L-carnitine and taurine for better absorption and digestion
Made without the use of corn, soy, wheat, gluten, fake stuff, or fillers
Cons:
This food gave one dog runny, yellow stools
4. Natural Balance Vegetarian Formula
Rating: 4.5
Top Ingredients: Brown Rice, Oat Groats, Barley
Type: Dry
Containing all the essential nutrients your pup needs, the Natural Balance Vegan Dog Food features complete and balanced nutrition for adult dogs. Made without any artificial flavors or colors, this food is ideal for sensitive pets.
Featuring brown rice, oatmeal, pearled barley, peas, and potatoes, it offers your dog plenty of fiber for better digestion without sacrificing flavor.
Pros:
It includes increased levels of B Vitamins for immune health
The formula features DHA and EPA for brain and eye function and zinc and manganese for good hip and joint health.
Cons:
One pet owner who has Shih Tzus, said the kibble was too large
5. Royal Canin Veterinary Diet Vegetarian Formula Dry Dog Food
Rating: 4.5
Top Ingredients: Oat Groats, Brewers Rice, Potato Protein
Type: Dry
This highly palatable, veterinary-exclusive Royal Canin Dry Dog Food is made for dogs with food sensitivities. A particular nutrient blend offers your pet proper digestive support while reducing urinary bladder stones.
The formula also includes linoleic acid, zinc, and biotin for supporting healthy skin and a shiny coat.
Pros:
Offers long term support for skin allergies and dogs with a sensitive stomach
Cons:
Some dogs lost a lot of weight on this food
You need authorization from a vet to buy this dog food
Best Wet Vegan Food
Although canned dog food is often loved for its meaty, gravy texture, some of the best vegan foods also come in wet varieties. They offer delicious taste without compromising on quality.
6. Natural Balance's Vegetarian Formula Canned Dog Food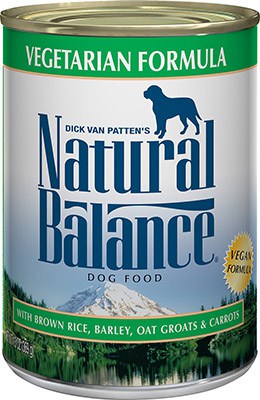 Rating: 4.5
Top Ingredients: Water For Processing, Brown Rice, Barley, Oat Groats
Type: Wet
The Natural Balance's Vegetarian Formula is ideal for breeds of all shapes and sizes. This meatless diet is made with various delicious fruits and vegetables.
At the same time, whole grains like oatmeal and barley are excellent carbohydrates as they provide a good source of fiber and vitamin E.
Pros:
Includes added Vitamin A and B12 to support a healthy immune system
The formula is made with Yucca Schidigera extract, which aids the gastrointestinal system and reduces stool odor
Cons:
This canned dog food made one reviewer's dog very sick
7. AvoDerm Vegetarian Recipe (Canned Dog Food)
Rating: 4
Top Ingredients: Water, Soybean Meal, Carrots, Rice,
Type: Wet
The AvoDerm Vegetarian Recipe is meat-free canned dog food made for adult dogs with plenty of vitamins, minerals, and nutrients to support overall health.
Made with avocado, this food is rich in essential omega 3 and 6 fatty acids, which help keep a healthy skin and coat. At the same time, plenty of antioxidants are included for boosting the immune system.
Pros:
This food is naturally preserved with tocopherols to ensure freshness and palatability
Formulated without any corn or wheat
Cons:
Some dog owners complained that the cans are only filled halfway
8. Health Extension Vegetarian Entree Canned Dog Food
Rating: 4
Top Ingredients: Sweet Potatoes, Butternut Squash, Water Sufficient for Processing
Type: Wet
Specially made for dogs with sensitive stomachs, Health Extension Vegetarian Diet provides balanced nutrition for puppies and adult dogs.
Made in the USA, this dog food formula is gluten-free and free from corn, wheat, soy, added sugar, animal by-products, or rendered animal fats.
Pros:
This food is designed to help your pet maintain proper urinary tract health by providing essential moisture to your dog
Nutritious ingredients like sweet potatoes, peas, carrots, butternut squash, cranberries, blueberries, and kale, make this food super palatable for your pooch
Cons:
This food made one dog throw up repeatedly
9. PetGuard Organic Vegan Entree
Rating: 4
Top Ingredients: Sufficient water for processing, organic pea protein, organic oats, organic sunflower oil
Type: Wet
Organic, vegan canned dog food made with pea protein, oats, and quinoa. This all-natural dog food is free of artificial flavors, colors, preservatives, flavorings, added sugars, and salt.
Recommended by vets, this dog food is chelated with minerals and vitamins to supply your pet with balanced nutrition.
Pros:
Rich in Omega 3 and Omega 6 fatty acids, this pet food supports healthy skin and coat
Made in the USA by a family-owned business
Cons:
Some pet owners said this food was very dry and cakey, but their dogs ate it anyway
Do Dogs Need Vegan Diets?
If you already lead a vegan lifestyle, it may be necessary to you that your dog also eats this type of vegetarian diet. While dogs don't need vegan diets, they can undoubtedly thrive on one.
That is, if the diet is nutritionally complete, meaning it provides all the vitamins, minerals, and nutrients your dog needs to grow and stay healthy.
As with human food, vegan diets are different from vegetarian dog food because they do not contain any animal products.
So not only do vegan dog foods not feature a meat protein source, but they're also free of eggs and dairy, which are some of the leading causes of allergies in pets.
Many dog owners advocate for vegan diets as commercial pet foods contain meat products that are not legally allowed for human consumption.
These meats sometimes even come from diseased animals, leading to several reactions in canines, including skin allergies and stomach sensitivities.
Feeding your dog a vegan diet entirely from vegetable origins minimizes this risk.
Why Do You Need to Buy Vegan Food For Your Dog?
As vegan dog foods contain no animal proteins, they can be an excellent option for pups with food allergies.
Many of these diets are also grain and GMO-free, which can help rule out any allergens in your pet's food.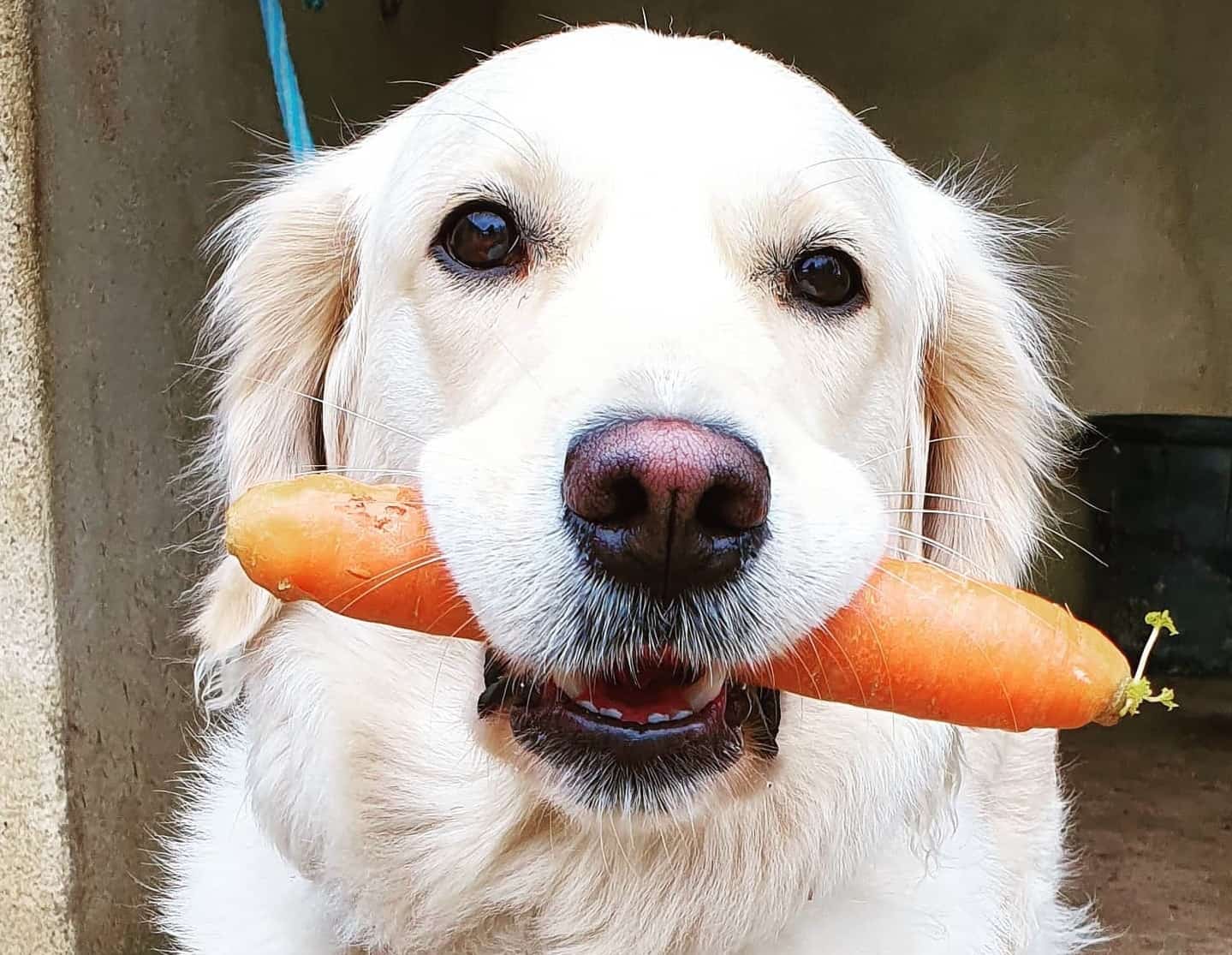 Complete Best Vegan Dog Food Buyer's Guide
You may already believe in the benefits of a vegan diet, but there are still some things you need to consider when choosing a plant-based food for your pet.
What are the benefits of a Vegan diet for dogs?
The benefits of a vegan diet are much the same as they are for humans. Vegan diets are typically much richer in whole foods with less processed ingredients. This has a positive effect on overall health and life expectancy.
In addition, a vegan diet contains considerably fewer toxins and chemicals due to the exclusion of commercial animal-derived ingredients.
As a result, your dog could be at significantly less risk of cancer on this type of diet.
As mentioned, a vegan diet can also help to eliminate allergic reactions.
In addition, pets on a vegan diet also often display improved oral hygiene, better weight management, less flatulence, and healthier skin and coat.
The other obvious benefit is the ethical and environmental impact a vegan diet has.
Dog Nutrition 101: What kind of Vegan food does your dog need?
There are various things to consider when selecting vegan dog food. Pay careful attention to the ingredients to ensure your pet is not missing out on anything they need to stay healthy.
The food you're buying needs to be of high quality while catering to your dog's nutritional needs.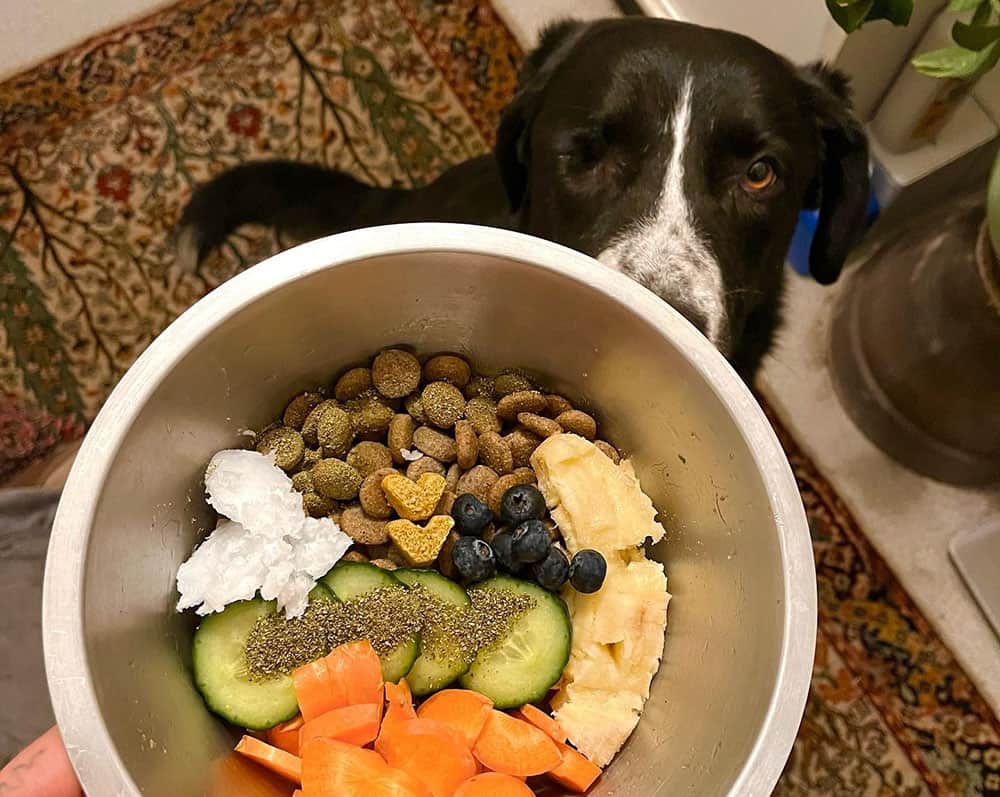 Things to look for when selecting vegan dog food: What should dogs eat?
Not every vegan dog food is created equally. Things to consider include whether the formula has adequate protein levels and if it contains potassium, sodium, and Vitamin B12, all of which your dog needs to stay healthy.
Foods should also contain omega fatty acids, which won't be coming from fish but can be obtained through flaxseed or sunflower oil.
Along with comparing the nutritional content of each dog food, you will also want to look at the manufacturer and brand.
Try and go for a product made in the USA where strict guidelines apply to the manufacturing of pet foods.
Foods approved by AAFCO (Association of American Feed Control Officials) need to carry enough nutrition for the healthy development of your pet.
You'll also want to consider other pet owners' reviews of each dog's food, their bag sizes, and of course, the price.
Frequently Asked Questions (FAQs)
How much vegan food should you feed your dog?
The exact amount of food you give your dog will depend on his size, breed, age, and the dog food chosen.
Always consult the packaging regarding the daily recommended amount to feed your pet.
As with any change in diet, it's essential to make the change gradually. Start by changing out some, but not all, of your dog's old food with new food, increasing the amount of new food to old food over about a week, to ten days.
Oversee your dog during the transition to ensure that he doesn't develop any skin allergies or gastro problems.
Can a dog survive on a vegan diet?
While dogs are historically carnivores or omnivores, dogs can survive on a vegan diet, provided the nutritional value is of sufficient quality.
Your dog's vegan food needs to include all the vitamins and minerals necessary for its health and wellbeing.
Always check the label to see if the food you're buying is nutritionally complete and that it's not simply meant to be used as a dog treat or dietary supplement.
Some large breed pets may require other essential amino acids, taurine, and L-carnitine supplements to maintain muscle mass when on a vegan diet.
Do dogs that are on a Vegan diet live longer?
Some vegan dogs have been shown to live longer than dogs on meat-based diets. One particular vegan dog, a Collie, named Bramble from the United Kingdom, lived to the impressive age of 25.
Anne Heritage, Bramble's lucky owner, has raised seven other vegan dogs, five of which lived to over the age of 19, and she contributes their longevity to her dog's diet.
Potential Risks: What are the downsides of a Vegan diet?
One of the potential risks of this type of doggie diet is the urine becomes alkali in certain breeds. This can lead to urinary tract infections and urinary stones in dogs.
If your pet is on a vegan diet, be sure to get his urine tested regularly.
Another downside of a vegan diet is that these foods are typically significantly more expensive than regular dog food, so you need to consider your budget when switching your pet to this diet.
Transition: Before You Switch to Vegan Dog Food
Although vegan diets can work for most dogs, always chat to your vet before making the transition. Different breeds of dogs have different needs, while the nutritional needs of puppies vary greatly to adult dogs.
Your vet will be able to consult directly with you on the dietary needs of your dogs and the best food for their size, breed, age, and your dog's health.
When it comes to feeding your dog a vegan diet in the United States, there are various options available. Are you already feeding your dog a vegan diet? Let us know in the comments below.
Further Reading: The best dog foods for problematic pets