We may earn a small commission when readers buy products through links on this page. It supports our team to keep posting great content. Learn more about this
here
.
Last Updated on April 22, 2023
Most dogs will love to accompany you on all your adventures, whether a gentle stroll in the park, a meander through the woods, or a strenuous hike in the mountains.
But unfortunately, not all dogs can last the type of distances we can, and when your pooch gets tired, you might consider transferring him to a backpack rather than ending your walk.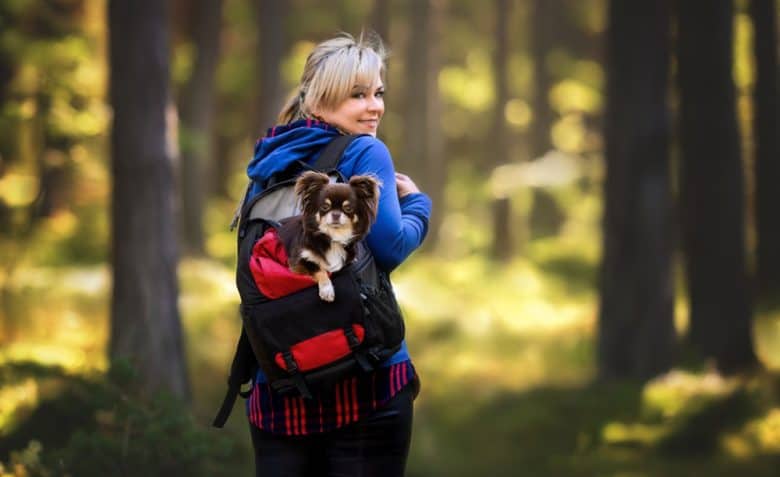 With carriers explicitly designed to transport your dog in comfort, both for you and your furry friend, no hiking adventure is off-limits. That way, you and your pup can experience the great outdoors.
But with so many options out there, choosing a suitable hiking carrier for you and your dog can be a challenge. This article will look at some of the best carriers on the market to help you choose the right one for you and your pooch.
Quick Top Picks: Best Dog Backpack for Hiking
The 10 Best Dog Carrier Backpack Reviews
Designed to carry your dog on your back or front while you're on the move, pup backpack carriers are an excellent option for busy pet parents.
1. K9 Sport Sack Knavigate Dog Backpack Carrier
Our rating: 4.8
Material: Polyester, Nylon
Dimensions: 27 x 14 x 3.5 inches
Weight: 5 to 8 pounds
Designed for pups of all sizes, the K9 Sport Sack Navigate Dog Backpack is ideal for taking your puppy or aging dog on a hike.
It can be worn either on the front or the back and works as a thunder jacket to provide a cozy hug for particularly anxious dogs.
Features of this pack include full-side ventilation, padding, a sternum strap, and hip belt for stability, built-in storage so you can hit the road hands-free and a Sturdy internal frame that keeps your buddy secure.
Advantages:
Designed to be suitable for dogs of all sizes
A versatile pack for hiking or city living
It comes with waist straps to balance and support weight distribution
Disadvantages:
It doesn't have a dog hood
No adjustable shoulder to torso height adjustment
2. Kurgo Dog Carrier Backpack
Our rating: 4.2
Material: Polyester
Dimensions: 10 x 13 x 21 inches
Weight: 4.5 pounds
A premium backpack, the Kurgo Dog Carrier is suitable for dogs under 25 pounds. It fashionably transforms from a backpack into a traditional carrier, just by turning it on its side.
It also features plenty of pockets for carrying around everything your pup needs.
Advantages:
The bag is waterproof, stain-resistant, and easy to clean for when accidents occur
TSA approved with a lifetime warranty
Disadvantages:
Some pet owners thought that the bag wasn't durable enough for bigger dogs and was better suited to pups under 15 pounds
3. Outward Hound Dog Carrier Backpack
Our rating: 4
Material: 80% POLY, 8% PU, 5% PP, 5% EPE, 2% METAL
Dimensions: 8 x 11 x 10 inches
Weight: 0.5 pounds
The Outward Hound Dog Carrier Backpack is a great choice if you have a little dog you want to carry on your chest. It is lightweight and made from weather-resistant fabric with mesh sides to allow ventilation.
It can carry dogs up to 20 pounds and is a great choice for pups suffering from disabilities or that are particularly anxious.
Advantages:
It features an inner collar clip to keep your pet secure
It offers plenty of support for the owner with adjustable straps and a lower back strap
Disadvantages:
Long dogs may struggle to fit inside
It only features one small pocket so it is difficult to carry treats, a leash, poop bags, etc
It only comes in one color option
4. Ytonet Dog Backpack Carrier
Our rating: 4.4
Material: Polyester
Dimensions: 11.5 x 10 x 16.5 inches
Weight: 2.6 pounds
The Ytonet Dog Backpack Carrier is a roomy backpack designed for pets under 18 pounds. It is a particularly great carrier for cycling with your furry friend.
It offers dual openings and plenty of mesh windows for your pup to see out while a foldable back cushion is useful for long journeys.
Advantages:
Offers side compartments for storing your pet's essentials
The comfortable inside pad is removable for easy cleaning
The bottom zipper has a lock to keep your pet safe and secure
Disadvantages:
The backpack may be uncomfortable for shorter people as it is quite long
Some pet owners complained that the zippers were a bit sticky
5. PAWABOO Dog Carrier Backpack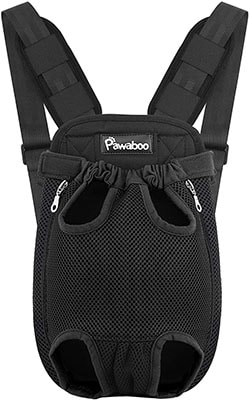 Our rating: 4
Material: Polyester
Dimensions: 13.25 x 9.5 x 0.5 inches
Weight: 6.75 Ounces
The PAWABOO pet carrier backpack is a fashionable accessory for carrying around toy sized pups. Your dog can be worn on your front or back with his tail and legs hanging out, allowing you to show off your pooch.
This will keep your dog contained and safely out of any trouble while out and about.
Advantages:
The elastic leg openings stretch to fit your dog perfectly
This budget-friendly option comes in 10 different color choices
Disadvantages:
This carrier does not feature any padding on the shoulder straps or additional support for the chest and back
6. Mogoko Dog Carrier Backpack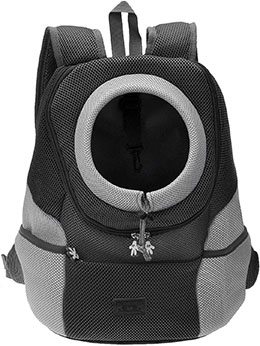 Our rating: 4
Material: Polyester
Dimensions: 17.09 x 13.15 x 2.36 inches
Weight: 8.8 Pounds
The Mogoko Dog Carrier Backpack is made for small dogs less than 15 pounds. This backpack for your pet is made with mesh and EPE-padded foam and features a drawstring neck hole so that your pet can see out.
Both you and your pet will be comfortable hiking with this backpack as it features a buckling waistband and adjustable shoulder straps.
Advantages:
It features side pockets for storing all your pet's goodies
There is a rope on the inside to keep your dog secure
The bottom is removable for easy cleaning
Disadvantages:
Some pet owners said this bag wasn't very durable as the shoulder straps could snap
7. PetAmi Deluxe Hiking Dog Carrier
Our rating: 4
Material: Polyester
Dimensions: 10 x 13 x 16 inches
Weight: 3.6 Pounds
The structured PetAmi Deluxe Hiking Dog Carrier is a hybrid backpack/dog carrier that offers your pet plenty of space to look out and enjoy the ride with ventilated side windows, or your pet can simply relax and catch a nap.
The padded shoulder straps also provide plenty of comfort for you as the pet owner, while the waist and chest straps provide additional support.
Advantages:
This bag is made to be durable with 600D high-grade polyester
It is available in nine different colors
It comes with a collapsible bowl and ID tag for your dog
Disadvantages:
Some pet owners complained that the zippers on this bag were a bit flimsy
8. Petsfit Soft Backpack Carrier
Our rating: 4.2
Material: Polyester
Dimensions: 12.6 x 11.42 x 16.93 inches
Weight: 2.1 Pounds
The Petsfit Soft Backpack Carrier for Dogs features a classic backpack design with mesh side windows and a hole at the top where your pup can see where he is going.
It also features a nifty front entrance which makes it easy for your dog to get in and out.
Advantages:
For your comfort, the back is padded as are the shoulder straps
There is a chest and waist strap for additional support
Disadvantages:
Some pets did not like being in this carrier
9. Lifeunion Dog Carrier Backpack
Our rating: 4
Material: Polyester
Dimensions: 15.91 x 8.27 x 2.99 inches
Weight: 1.55 Pounds
The Lifeunion Dog Carrier Backpack is a knock off of the K9 Sport bag mentioned previously. It is capable of carrying dogs up to 30 pounds and also comes with plenty of pockets for carrying all of your pet's essentials.
It is designed to hug your dog tightly to prevent him from moving around when on the move.
Advantages:
It features a waterproof lining
It features an adjustable reinforcing pad and comfortable padded shoulder straps
Disadvantages:
It can be difficult to fit larger dogs in this bag
This is a knock-off design
10. NICREW Legs Out Front Dog Carrier
Our rating: 4
Material: Polyester
Dimensions: 14 x 10.1 x 1.8 inches
Weight: 0.45 Pounds
The NICREW Legs Out Front Dog Carrier allows you to carry your dog on your chest while out hiking.
It is a great option for small dogs as well as anxious pets and allows your dog a clear view of where you are going with a snug fit that is designed to calm your pooch.
Advantages:
The breathable mesh material will keep your dog nice and cool
The zipper and velcro design makes getting your dog in and out of the carrier easy
The straps are fully padded for your comfort
Disadvantages:
This is designed for small dogs with even the extra-large version being suitable for dogs under 25 pounds
Why You Should Buy a Dog Backpack Carrier?
A hands-free backpack carrier for your pet is a great idea not only when hiking but also when you're cycling or traveling.
You can use them to take your dog up the mountain, through an airport, on public transportation, or when walking around the city.
Dog backpack carriers also provide a convenient way of getting disabled or elderly pets out and about outdoors without putting unnecessary strain on your dog's body.
Are they safe to use for your pup?
How safe a dog backpack carrier is will depend on its ventilation features and closures.
Safety buckles or locks on the zippers, as well as an internal tether, will all help to keep your dog secure, while large mesh windows will provide proper airflow to your pooch.
You'll need to check on your dog regularly to make sure he is comfortable and doesn't need any food or water. Some carriers, especially front-facing ones, allow you to do this without removing the backpack.
How to Choose The Best Dog Backpack Carriers?
To choose the best backpack carrier for your dog, you'll need to consider your comfort, durability, and functionality. Here are three things to consider when looking for the right backpack carrier for you and your furry friend.
Consider your dog's needs: Some dogs might like to be carried in a carrier while others may not. You may also need to entice your dog to like the carrier at the beginning with some treats. Some dogs that are anxious may like a tight front carrier where they can see out, but they are close to you for attention and cuddles.
How much can you carry? Along with the needs of your pet, you'll also want to consider your own needs and how much you can actually physically carry. Carrying around a very heavy dog may slow you down considerably and may not even be physically possible. If you have a large dog, you might also need additional back and shoulder support to help you go the distance.
Weight and size of your pet: One of the main things to consider is the weight and size of your dog. You'll want a pack that is comfortable for your dog, and you're not trying to squeeze him in. Due to practical reasons, most backpack carriers for dogs are designed with smaller pets in mind.
Buyer's Guide: What to Look for When Buying a Dog Backpack Carrier?
1. Size
Your dog should be able to comfortably move around in his carrier with enough headroom and ventilation; otherwise, he could feel trapped and will want to escape.
That said, too much space and your dog could get jostled around inside, which could be dangerous.
2. Weight
The backpack's weight will also be a factor. If you plan on hiking long distances or cycling with your dog, you want a lightweight product that will stay cool and not be too heavy to carry around.
3. Construction Material
Look for a backpack made from quality materials with durable zippers. Inside there should be a comfortable pad for your dog to relax on. The seams should also be smooth without sharp edges that could potentially hurt your pet.
4. Fit, comfort, and breathability
As you'll want to carry your pet for some distance, you need to look for a comfortable carrier with proper support.
Look for padded shoulder straps, additional back support, and straps that distribute the weight across the chest and waist.
5. Durability
Be sure to research the durability of the backpack carrier you are looking at. You don't want the straps to snap mid-way through a hike with your pet, or worse, for your dog to fall out of the carrier entirely.
6. Design (Straps, handles, loops, fastener style)
You'll need to consider how you plan to use your backpack to determine what design elements might be suitable for you. Some carriers have an internal fastener or leash to keep your dog from escaping.
If you plan to hike and travel with your dog, you may want to look for a carrier with expandable sections where your dog can stretch out on journeys or while waiting around.
You could also consider a carrier with a foldable handle and removable wheels so that you don't always need to carry your dog on your back.
7. Price
Obviously, your budget will play a big part in which carrier you can afford. Dog backpack carriers are priced from $20 to $200.
If you plan to hike a lot with your dog, it's well worth investing in a top-of-the-range pack that will stand the test of time.
8. Color
If you're looking for a dog backpack carrier that is functional and stylish, you may want to consider the color of your bag.
Some backpacks are only available in standard blue or black, whereas others might come in an exciting array of bright colors and patterns to suit you and your dog's personality.
9. Weatherproofing / Waterproof
A waterproof backpack will help to keep your dog protected from the elements while on the go. It would also be best if there is a removable bottom or if the whole backpack is washable for easy cleaning in the event of any accidents.
10. Additional Features
While tight fighting carriers that hug your dog may be more lightweight and easier for hiking, they lack features like pockets to put your dog's accessories, his leash, and water and food for yourself and your pet.
This can mean that you'll also need to take some other form of the pack to carry all your extra things.
Some carriers also come with additional features like collapsible bowls and ID tags which can also be helpful when traveling.
Frequently Asked Questions (FAQs)
What is the advisable way to use a pet carrier backpack?
The best way to use a pet carrier backpack is to follow the specific manufacturer instructions on your product. You should also obey the manufacturer's weight and size limit for your dog to ensure maximum safety.
Take accurate measurements before purchasing to ensure your dog fits in the bag.
How long can my pet spend in a backpack carrier?
The exact length of time your dog can spend in a backpack carrier will depend on the outside air temperature, the humidity, your dog's energy levels, and when he last ate or drank.
The consensus is that dogs should not spend longer than 45 minutes in their carriers.
What are the precautions for selecting dog backpacks?
When selecting a backpack for your dog, ensure you select a product that has expressly been made for pets.
These will have been designed to keep your pet comfortable and safe and will have features to make traveling with your pooch easier.
As mentioned, you should also consider your dog's weight and size to ensure you select a pack that can suitably accommodate your pooch.
Can I put my pup in a regular backpack?
It is not recommended to carry your dog around in a regular backpack. These are not equipped with the proper safety features to keep your dog secure and do not provide adequate ventilation for your pooch.
They are also likely not designed to carry your dog's weight and could break during use.
What's the Best Dog Carrier Backpack for Hiking?
The best dog carrier backpack for you will depend on your and your pup's needs.
There are many factors to consider when choosing the right product, including the size of your dog, what you plan to use the pack for, and what features you will need.
Some packs are designed to keep your dog safe and secure, others allow him to see out and appreciate the journey, and others still provide a cozy spot for him to rest up while you are on the move.
Which dog carrier backpack is your favorite, and which does Fido fancy? Let us know in the comments below.
Reference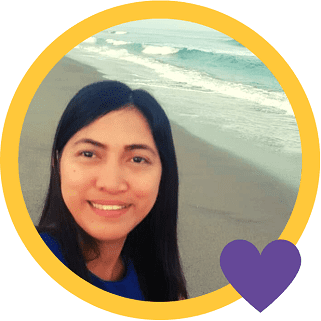 Cess is the Head of Content Writing at K9 Web and a passionate dog care expert with over 5 years of experience in the Pet Industry. With a background in animal science, dog training, and behavior consulting, her hands-on experience and extensive knowledge make her a trusted source for dog owners.
When not writing or leading the K9 Web content team, Cess can be found volunteering at local shelters and participating in dog-related events.