We may earn a small commission when readers buy products through links on this page. It supports our team to keep posting great content. Learn more about this
here
.
Last Updated on April 24, 2023
Fleas and ticks are irritating things that all pet owners have to deal with at some point. Thankfully, several medications are specifically designed to treat fleas and ticks and prevent their presence on your dog.
However, with so many options, it can be easy to get confused.
Let's take a look at some of the best flea and tick treatments for dogs:
Why does my dog need Flea Treatment?
Fleas are very resilient parasites and very capable jumpers. Once they have found a way onto your dog's skin, they lay eggs, which can then find their way into your house, causing an infestation.
With a very short life cycle, this process happens over a matter of days, and once you have an infestation, it can be challenging to get rid of fleas.
Also, ticks can become a severe problem in your yard, particularly if you have a large bushy or woody area with long grass.
Ticks can lead to your dog contracting many serious health conditions, including Lyme disease, ehrlichiosis, rocky mountain spotted fever, and anaplasmosis.
Biting fleas can cause several diseases in your dog, including dermatitis, typhus, plague, tapeworm, and
Haemobartonellosis.
It is to prevent infestation and these diseases that most dog owners provide their pets with regular preventative flea treatments.
How can you tell if your dog has fleas?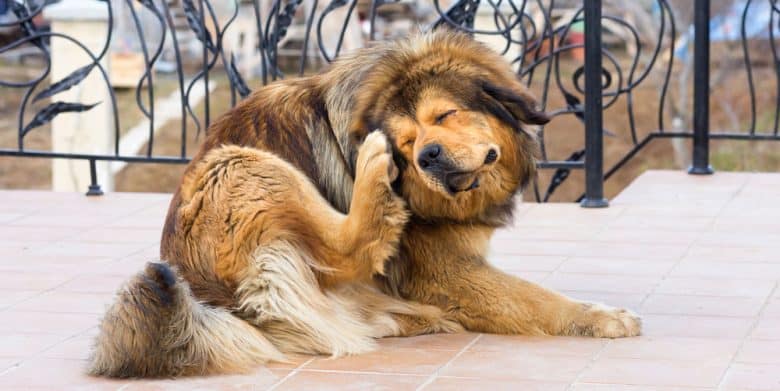 Fleas and ticks are tiny, so you need to visually inspect your pet regularly to find them, especially after you've been for a walk or to the kennel or dog park.
While you may see visible signs that your dog has fleas or ticks, such as scratching, they also tend to hide in areas where your pet can't reach.
This includes the top of the head, underside of the tail, in the folds of the neck and chest, and even between the paw pads.
If you do find ticks on your dog, be sure to keep a close eye on them for any warning symptoms of a potentially fatal disease. This can include limping, lethargy, swelling, or joint pain.
What are the different types of flea treatment and prevention products?
There are several different methods for preventing fleas and ticks on your dogs. These methods include a flea tablet, flea shampoos, topical treatments, and flea collars.
Flea and tick collars for dogs and tablets can help keep your pet tick and flea free for up to eight months, while topical treatments and shampoos generally have to be applied monthly.
It is necessary to remove a tick from your dog within 48 hours of them biting your pet, and as these small creatures can be hard to miss, prevention is always better than cure.
However, if you discover a tick on your dog, you'll want to ensure you remove it completely and thoroughly. Watch this video to learn the best way to remove ticks from your dog:
Dog flea & tick medicine buying guide
When buying tick and flea treatment for your dog, there are several things you need to keep in mind.
The first thing you need to consider is looking for a treatment that can combat an existing presence of fleas and ticks on your dog or if you want something that can work as a long-term preventative measure.
Oral or topical treatments are typically given to control an existing infestation. These treatments offer instant relief and can provide some protection for up to about a month.
On the other hand, preventative medications are longer wearing and typically protect your dog for the entire summer, the time when ticks and fleas are most active.
Some tick and flea medications will also protect against other parasites such as lice, mosquitos, and hookworms.
If your dog loves to swim, you also want to look for a waterproof product, ensuring your dog is offered protection for as long as possible.
Tick and flea medication can be bought at your vet or over the counter, with a range of natural options also available.
Before using any product on your pet, be sure to discuss the active ingredients, side effects, safety, and effectiveness of the treatment with your veterinarian.
Some medicines can also contain toxins, like permethrin, propoxur, imidacloprid, and isoxazoline, which could be harmful to children, cats, and small puppies, affecting the nervous system, leading to seizures.
You will also want to ensure you buy the correct dose for your pet's size and weight.
How to prevent flea and tick infestations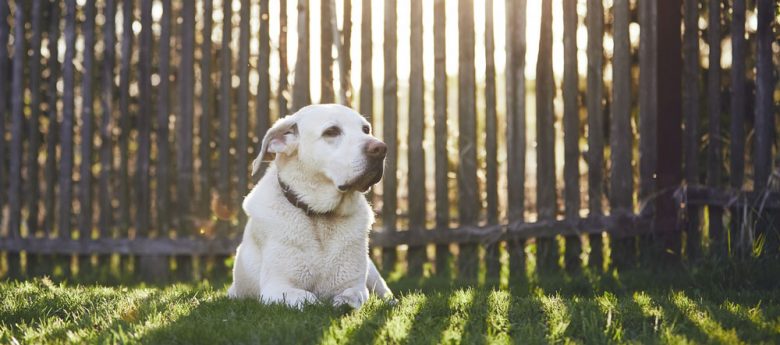 Along with providing your dog with preventative medication, there are several things you can do at home to prevent possible tick and flea infestations.
One of the first things you can do is safeguard your yard. Fencing off your garden will ensure that unwanted flea-carrying wildlife, such as possums or raccoons, do not have access.
You can also buy specific plants that will deter these animals. Be sure also to clean up decaying leaves and keep your lawn and bushes neatly trimmed.
When out on a walk, keep your dog away from wooded areas with thick vegetation and long grasses where ticks thrive.
In addition to preventative medication, it is also necessary to clean the home and your pet's bedding regularly and brush your dog with a flea comb that can help you manually remove fleas.
You can also spray your home with a dog-safe flea and tick insecticide. Some professional pest and flea control companies even offer treatments to protect your home from fleas and ticks.
What is the safest topical flea treatment for dogs?
A topical spot-on solution is easy to apply to dogs and generally kills fleas of all life stages. Topical medications come in a concentrated liquid form that is applied to the skin of your dog.
They can take slightly longer to work than oral medications but generally protect for around a month.
Here are some of the best topical flea treatments for dogs:
1. Frontline Plus for Dogs Small Dog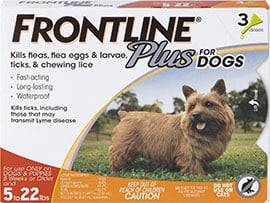 A long-lasting waterproof formula with the active ingredient fipronil
Designed for use on dogs weighing between 5 and 22 pounds (2 and 10 kg)
It also kills lice and ticks
2. K9 Advantix II Flea & Tick Treatment for Extra Large Dogs
It kills insects on contact
Acts against ticks and flea as well as mosquitos, biting flies, and lice
Suitable for dogs with a history of seizures due to the class of drug used
3. PetArmor Flea & Tick Spot Treatment for Dogs 89-132 lbs
Waterproof
Suitable for extra-large dogs
It can be used to control several species of ticks, including deer ticks and American dog ticks
It can also be used to control sarcoptic mange
4. Bravecto Topical Solution for Dogs
Works within 24 hours and protects dogs for three months at a time
Designed with an easy applicator for easy administration
5. Onguard Flea & Tick Spot Treatment for Dogs 45-88 lbs
Not suitable for puppies but can be used on pregnant or nursing dogs
It also works to control sarcoptic mange, brown dog and deer ticks, and chewing lice
It brings relief from dermatitis
Waterproof formulation
Perfect for medium dogs
6. Bayer Animal Health Advantage II Flea Treatment for Small Dogs
Suitable for dogs weighing between 3 and 10 pounds (1.3 and 4.5 kg)
Works within 12 hours of application
Safe to use for puppies from 7 weeks old
Waterproof
Choosing a flea or tick collar for dogs
Flea and tick collars can be an excellent choice for pet owners who want lasting protection and live on farms or in dense areas.
Due to their long-wearing nature, with the most protection for up to six or eight months, this is also a very cost-effective flea and tick control option while also super useful for forgetful or busy owners!
Here are some of the best flea treatment and tick collars for dogs:
1. Seresto 8 Month Flea & Tick Collar for Small Dogs
Water-resistant for dogs that swim or need regular baths
Non-greasy and odorless
It also helps with the treatment and control of sarcoptic mange and lice
2. Activyl Protector Band for Dogs
Odorless and water-resistant with no dry time necessary
It kills three tick species, including the American dog tick, brown dog tick, and the deer tick
One size fits all with a fully adjustable design
Best oral flea medicine for dogs
Oral medications are a very clean way of providing medicine to your dog as you don't have to worry about any greasy substances on their skin or coat.
The medication is simply absorbed into the dog's bloodstream via an ingestible tablet.
Here are some of the best oral flea treatments for dogs:
1. Bravecto Chews for Dogs
Works for three months at a time
Available in a wide variety of sizes for different dogs
Meat flavored for easy administration
Use with caution in dogs with a history of seizures
2. NexGard Chewables Flea & Tick Medicine
Controls fleas as well as black-legged ticks, American dog ticks, Lone Star ticks, and brown dog ticks
One-month formula
It can be given to puppies as young as eight weeks old and dogs as small as 4 pounds (2kg)
3. Simparica Trio Chewable Tablets for Dogs
Protects against five types of ticks, fleas as well as heartworms, hookworms, and roundworms
Monthly formula
Suitable for puppies from eight weeks old
4. Capstar Fast-Acting Oral Flea Treatment for Dogs
Great for instant relief due to the active ingredient Nitenpyram – starts working within 30 minutes of ingestion
A 24-hour formula that can be given once per day to control flea infestation
It can be used on puppies from four weeks old and weighing just 2 pounds (1 kg)
It can be used in conjunction with a long-lasting preventative
5. Advantus Soft Chews for Small Dogs
Also available in large dog formula
Paralyzes and kills fleas within one hour
One time solution that can be used once per day until an infestation is under control
The best flea and tick shampoo
Shampoos can provide dogs with instant relief from infestation. However, as shampoos have limited effects, they should only be used as a first step to get pests under control before moving on to preventative medication.
They are also a good choice for nursing dogs who can't risk passing on chemicals to their unborn pups.
Here are some of the best flea and tick shampoos for dogs:
1. Richard's Organics Flea & Tick Shampoo

It kills ticks and fleas and repels mosquitoes
Sulfate and paraben-free formulation
Works for up to four weeks
Safe to use on dogs that have sensitive or flaky skin
2. Adams Plus Flea & Tick Shampoo with Precor
It kills fleas, ticks, flea eggs, flea larvae, and lice
Provides 28 days of control
Safe for puppies
It contains soothing aloe, coconut extract, and oatmeal
3. TropiClean Natural Flea and Tick Dog Shampoo
It helps to repel adult fleas, ticks, larvae, and eggs for up to seven days
Contains no insecticides
A natural blend of clove, lemongrass, cedarwood, cinnamon, and sesame oils
Does not wash away topical flea prevention products
Safe for puppies from twelve weeks
4. Vet's Best Flea and Tick Advanced Strength Dog Shampoo
Extra-strength flea and tick shampoo
Blend of natural oils and plant-based ingredients
Safe for puppies from twelve weeks
5. Natural Chemistry Natural Flea & Tick Shampoo with Oatmeal
Made from cinnamon, cedarwood, oatmeal, and clove oils
Works on fleas, ticks, black flies, and mosquitoes
Parasites can't become resistant to the formula, so no loss of effectiveness
Provides seven days of protection
Top flea and tick sprays for dogs
Flea sprays provide a fast attracting response to fleas in the house and on your pet. Easy to use sprays can be applied to your dog as well as their bedding and other furniture in your home.
A spray may need to be massaged or backcombed into your dog's coat and is generally not effective on longhaired dogs.
Here are some of the best flea and tick sprays for dogs:
1. Zuba Flea and Tick Spray for Dogs by MDX Concepts
Protects against fleas, ticks, and mosquitos
Chemical-free and made from organic ingredients
Safe for use around other pets and children
2. Adams Plus Flea and Tick Spray for Cats and Dogs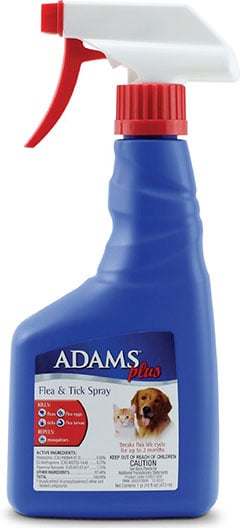 It contains an Insect Growth Regulator (IGR) to stop the flea life cycle and prevent new infestations
Suitable for puppies from ten weeks old
It also helps repel mosquitos
3. Vet's Best Dog Flea + Tick Home Spray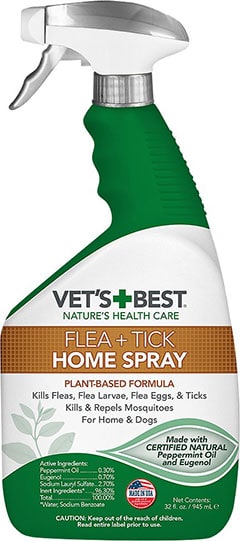 A chemical-free blend of essential oils and natural ingredients
The non-staining formula is suitable for use around the home
Kills fleas, flea eggs, ticks, and mosquitos on contact
Safe for puppies from twelve weeks
4. Natural Care Dog & Cat Flea & Tick Spray
An all-natural, plant-based product
Works almost immediately
Fragrant, peppermint scent
No-stain formula
Natural Flea And Tick Prevention For Dogs
If you are worried about using harsh chemicals or medicine on your dog, some companies offer 100% natural and eco-friendly alternatives for controlling pests:
1. Cedarcide products
Affordable natural sprays and insect repellent pellets for the yard
It kills fleas, ticks, mosquitoes, bed bugs, mites, ants, chiggers, flies, moths, and more
2. Wondercide products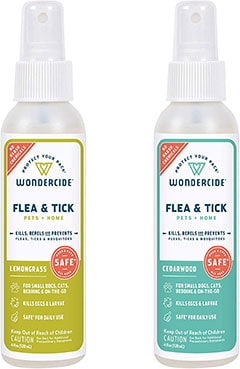 Organic, human-grade ingredients
The product range includes sprays, shampoos, oils, and yard and home control products
Frequently Asked Questions (FAQs)
How often do I need to give my dog a flea tablet?
The duration of effectiveness and frequency you need to give your dog a flea tablet will depend on the brand.
Some pills have short-acting effects designed to kill fleas instantly, while others have long-lasting preventative solutions.
The frequency will also be dictated by where you live. You may need to give your dog flea and tick treatment all year round in some hot regions, whereas this may only be necessary for the summer months in other climates.
Can I use Flea Treatments when my dog is on other medications?
Medication interference can lead to certain flea and tick medications rendering others ineffective or even toxic. It is always best to speak to your veterinarian before using a new product to ensure there is no clash.
Can you use vinegar to get rid of fleas on a dog?
Vinegar is sometimes used as a flea preventative due to the strong smell of acetic acid, which fleas don't like.
However, vinegar is often less effective than commercial preventative products and can irritate your dog's skin.
Does baking soda kill fleas on dogs?
Baking soda mixed with salt is a well-known natural remedy for killing fleas. The baking soda kills fleas by dehydrating them.
This solution can be applied to furniture and carpets but can dry out and irritate the skin if used directly on your pet.
Which dog flea and tick control is the best?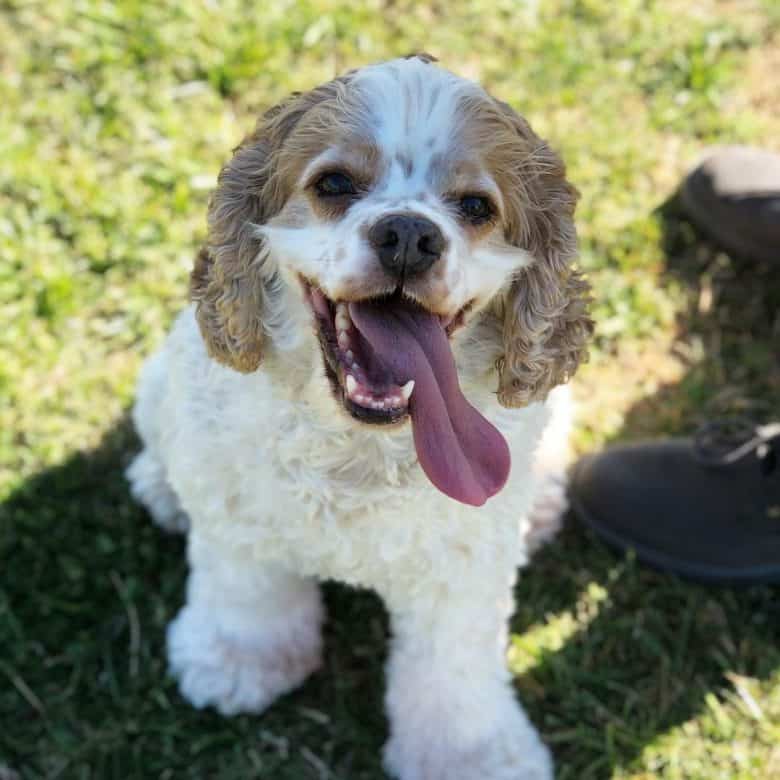 While fleas and ticks can be worrying, you can rest assured that you are not alone. This is a problem that plagues most pet owners.
While a variety of products can assist you in getting rid of fleas and ticks on your pets, the best treatment method is a preventative one that stops them from occurring in the first place.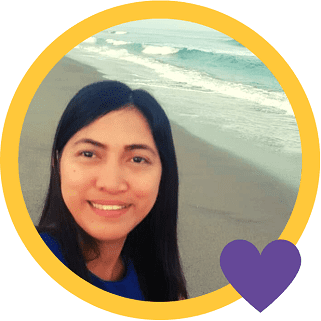 Cess is the Head of Content Writing at K9 Web and a passionate dog care expert with over 5 years of experience in the Pet Industry. With a background in animal science, dog training, and behavior consulting, her hands-on experience and extensive knowledge make her a trusted source for dog owners.
When not writing or leading the K9 Web content team, Cess can be found volunteering at local shelters and participating in dog-related events.