Last Updated on April 20, 2023
French Bulldogs are popular companions due to their sweet, playful personalities and their adorable looks. Choosing the perfect Frenchie to welcome into your home is just the start of a lifetime of adventure.
Now you need to choose the right name for your new friend, which isn't as easy as it sounds. Keep reading for some inspiration when it comes to naming your French Bulldog.
What's a good name for a French Bulldog?
French Bulldogs are adorable little dogs, known for their friendly natures, small, compact bodies, cute wrinkles, and oversized bat ears. Low-maintenance companions, they are trendy in many cities around the world.
The French Bulldog's distinctive looks, and temperament, can affect the name you choose for your dog, or you could decide to be inspired by French culture and history.
Perhaps food will even serve as your inspiration, or you could look to childhood nicknames or even your most-loved friends or movie character names.
No matter what name you end up choosing for your dog, you'll want to keep it short and simple, sticking to a maximum of two syllables. This will enable you to be able to call your dog easily.
Names that are too long or formal can be a mouthful to get out when you need to and can also end up confusing your dog. Dogs pick up on short names much quicker and easier.
Try and pick a name that can easily reflect in different tones so you can use it with different inflections.
This will help you convey emotions to your pet, whether you're trying to be stern with your dog when they've done something naughty, or you're just calling them over for a good cuddle.
You'll also want to choose a name you're not embarrassed to call out in front of your grandma, around children, or at the park, so try and avoid anything offensive.
Also, be sure to take training into account when choosing the perfect name for your French Bulldog. Stay clear of any word that could be mistaken for a command.
Names that rhyme with or sound like sit, stay, and come could be confusing for your new puppy.
What's in a name? Famous French Bulldogs
French Bulldogs are one of the most popular dogs in Los Angeles and New York City. Although Frenchies may be small, they have a big following, with many even making fame for themselves on Instagram and Youtube.
These dogs are also owned by celebrities the world over, with everyone from Lady Gaga to Reese Witherspoon showing their love for the Frenchie.
Why not have a look at what these celebrities have named their pets for some inspiration?
Lady Gaga owns three French Bulldogs, named Koji, Gustavo, and Asia. The dogs even have their own Instagram account! On the other hand, Reese Witherspoon called her dog Pepper, while Hugh Jackman also owns a Frenchie named Dalí.
Other celebs who own a French Bulldog include Hillary Duff, whose dog is called Peaches, The Rock, Dwayne Johnson, who named his dog Hobbs, and Martha Stewart, who chose French-inspired names for her dogs, calling them Creme Brûlée and Bête Noire.
Christina Perri has a dog called Pistachio, and Eva Longoria named her French Bulldog Popeye.
Chrissy Teigen is another celebrity who has a Frenchie with hers sporting the name Pippa. In contrast, Jonah Hill has a dog named Carmela, and Jason Priestley named his Frenchie Swifty.
Rachel Bilson's pup is called Thurman, Zach Braff also has a French Bulldog named Scooter, Denise Richards' dog is called Hank, and Leo Dicaprio also owns a Frenchie who he named Django.
The Most Popular French Bulldog Names
Are you not inspired by the likes of the above celebrity dogs?
Let's take a closer look at some of the most popular names for female and male French Bulldogs while also looking at some artist inspired monikers and some ideas inspired by French foods.
Female French Bulldog Names
With the French serving as inspiration, it should come as no surprise that some of the most popular female names for French Bulldogs are posh, elegant, and old-timey. These include names like Coco, Lulu, Stella, and Olive.
Some other great female dog names for your Frenchie include:
Lola
Bella
Luna
Lucy
Zoey
Gigi
Penelope
Juno
Kiki
Pixie
Roxy
Male French Bulldog Names
Stitch is one of the all-time favorites when it comes to naming male French Bulldogs. No doubt because of their uncanny resemblance to Disney's Stitch character from the movie Lilo and Stitch.
Some other popular names for male French Bulldogs include:
Louie
Winston
Frankie
Oliver
Max
Charlie
Gus
Bruno
Bentley
Marley
Rocco
Names for French Bulldogs inspired by appearance
French Bulldogs are stocky, small dogs with muscular bodies, and very expressive faces. These distinctive looks can serve as the ideal inspiration for your dog's name.
Go for something that represents their little stature, like Shorty, Teeny, Teacup, Squirt, or Bean, or choose a more obscure name like Mercury, the smallest planet.
You could also choose to be inspired by your dog's coat color or markings, opting for a name like Coco, Latte, Onyx, Blue, Dot, Sugar, Ivory Snowflake.
French Bulldog name ideas inspired by its temperament
French Bulldogs are very affectionate, friendly dogs, known for their loving and playful personalities. Names that reflect this dog breed's sweet nature are perfect for French Bulldogs, such as Honey or Marshmellow.
They are also quite outgoing, energetic little things, so a name like Bubble, Sparky, or Ziggy would also be a good choice for a Frenchie.
Or you could opt for a name that reflects the more mischievous, naughty side of your pet and call your Frenchie Chewy or Bandit.
French Bulldog power name ideas
The tough, confident stance of the French Bulldog, coupled with their muscular physique, can make these dogs look like little gangsters.
Choosing a mighty name that reflects this will work for a French Bulldog. How about something like Tank, Bruno, Brutus, Buster, Bubba, Wolf, or Maximus?
You could also name your dog after a powerful mythical or comic book character or historical figures like Napoleon, Thor, Loki, or Zeus.
Power names don't strictly have to be reserved for boy dogs; female Frenchies can be called Joan or Arc or Marie Antoinette.
Artist's and author's names for French Bulldogs
When choosing a name for your French Bulldog, you may choose to be inspired by a famous French artist or writer. Some of the best French artists include the likes of Renoir, Monet, Manet, and Degas.
These could serve as an excellent name for your Pet, as could Chagall, Gaugin, Toulouse, van Gogh or Pissarro.
On the other hand, some of France's best authors could also lend their name to your dogs, such as Victor Hugo, Balzac, Marcel Proust, Voltaire, or Rousseau.
French names for Frenchie pups
Many dog owners honor this breed's history by choosing monikers that are popular human names in the country.
If this sounds like a good idea to you, check out some of the most popular French boy and girl names below, along with their meanings:
Male French names:
Eric, meaning eternal ruler
Andre, meaning brave
Bennett, meaning blessed
Durant, meaning enduring
Émile, meaning industrious
Eugène, meaning good
Francois, meaning Frenchman
Hugo, meaning spirit
Jacques, meaning supplanter
Jean, meaning gift from God
Philippe, meaning lover of horses
Pierre, meaning stone
Sébastien, meaning revered
Female French names:
Amélie, meaning hardworking
Beau, meaning beautiful
Célia, meaning heavenly
Clara, meaning bright
Esmée, meaning loved
Francine, meaning free
Giselle, meaning peace
Louise, meaning warrior
Margot, meaning pearl
Matilda, meaning strength
Renée, meaning reborn
Yvette, meaning archer
French Bulldog puppy names by foreign words
While it may seem obvious to choose a dog name inspired by the French language, there is also a myriad of other foreign words that can serve as great names for your pet.
Persian names like Darius and Jasper can have interesting meanings, such as interesting and bringer of fortune.
On the other hand, Scandanavian names like Astrid are also an unusual choice, meaning divinely beautiful.
Elegant French Bulldog names
With French Bulldogs, elegant little dogs, you may look for a name that reflects this part of their personality. How about getting inspired by your favorite Disney princesses like Belle, Ariel, or Aurora.
You could also look towards your favorite fairy tales or stories for inspiration, naming your dog Romeo or Juliet, or even Nala, the lioness heroine from The Lion King.
Many Frenchie dog lovers notice that these dogs are very majestic and always hold their heads high, so a name that reflects this, like Noble or Duchess, could also suit your dog.
You could also take inspiration from famous French fashion designers with names like Chanel, Gaultier, Yves, Givenchy, or Dior.
Cute French Bulldog Names
French Bulldogs are super cute, so why not choose an equally adorable name for your pet? Take inspiration from your favorite flower, going for a word like Poppy or Daisy.
Or why not take inspiration from your favorite cute animals like Bunny, Kitten or Moose, or your childhood toy and call your dog Teddy?
Funny French Bulldog names
With the French Bulldog's oversized ears and bug-like eyes, adding quite a comical appearance to this dog, you are free to add a little bit of humor when it comes to naming your dog.
Funny characters from film and TV often inspire these names.
Here are some funny French Bulldog names:
Elmo
Spock
Fonzie
Yoda
Scrooge
Pluto
Gizmo
Food-inspired French Bulldog names
French foods can serve as a beautiful inspiration for names for your dog.
Consider naming your dog after a French pastry or bread-like Brioche, Croissant, or Baguette, or go for something with a touch more class like Parfait, Pistachio, Brie, Dijon, or Fromage.
If you are a foodie yourself, you may take inspiration from your favorite food and call your dog Pepper, Peanut, Peaches, Nacho, Taco, Male, or Lolly, being short for Lollypop.
Here are some more food-inspired names to tickle your tastebuds:
Pumpkin
Maple
Beefcake
Raspberry
Cookie
Bonbon
Eclair
Cupcake
Taffy
What should I name my French Bulldog?
Now that you have some inspiration for finding that perfect name for your French Bulldog, have you picked your favorite?
Whether you opt for an elegant moniker, something cute, or even a goofy name, make sure it suits your new dog.
It's always a good idea to spend a few days with your new Frenchie puppy before making a final decision on which name best suits your unique dog.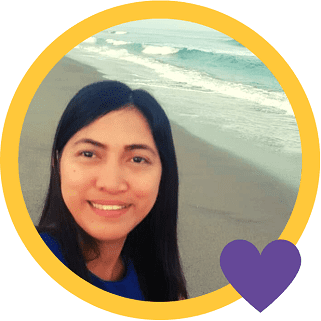 Cess is the Head of Content Writing at K9 Web and a passionate dog care expert with over 5 years of experience in the Pet Industry. With a background in animal science, dog training, and behavior consulting, her hands-on experience and extensive knowledge make her a trusted source for dog owners.
When not writing or leading the K9 Web content team, Cess can be found volunteering at local shelters and participating in dog-related events.