We may earn a small commission when readers buy products through links on this page. It supports our team to keep posting great content. Learn more about this
here
.
Last Updated on April 24, 2023
The American Bully is a newer breed of dog and wasn't recognized by the American Kennel Club until 2004. It's related to other Bully breeds, including the American Pitbull Terrier and Bulldog.
This breed is exceptionally healthy, but they still require a balanced diet to thrive. In this article, we'll look at some of the best dog foods for the American Bully.
Our Top 4 Picks with Quick Review
We may earn a small commission if you purchase a product by clicking on links on this page.
The 12 Best Dog Foods for American Bullies
At various life stages, dogs need different vitamins and nutrients. For this reason, there are dog foods formulated to meet the specific needs American Bullies have at different points in their life.
It is important to feed your canine a food specifically designed for their life stage.
Best Puppy Foods for American Bully
American Bully puppies need more of certain ingredients than adults. For example, because their brains are still developing, they should consume more DHA than an adult dog would need.
Puppy foods are formulated to provide these extra nutrients, ensuring that they develop properly.
1. ORIJEN Puppy Dry Dog Food for Large Breeds – Best for Puppies 🏅
Our Rating: 5
Top Ingredients: Deboned Chicken, Deboned Turkey, Flounder, Eggs, Whole Atlantic Mackeral
Type: Dry
This high quality dog food is specifically formulated for puppies and includes only biologically-appropriate ingredients. In fact, the first five ingredients are quality animal products like flounder and chicken.
Pros:
It contains 85% poultry and fish ingredients
Coated with freeze-dried liver for extra flavor
Made in the USA
Packed with protein and animal ingredients
Cons:
2. Nulo Freestyle Puppy Grain-Free Dry Dog Food
Our Rating: 4.5
Top Ingredients: Deboned Salmon, Turkey Meal, Menhaden Fish Meal, Whole Peas, Chicken Fat
Type: Dry
With whole meats included as the first three ingredients, this dog food contains a lot of protein and fat.
However, it doesn't necessarily have as much protein as other top-rated recipes. Plus, the inclusion of peas means that much of this protein is not from animal products.
Pros:
Grain-free
Low glycemic index
Omega-3 and Omega-6 fatty acids included
Cons:
Expensive
Includes whole peas
3. Taste of the Wild Pacific Stream Puppy Formula
Our Rating: 4
Top Ingredients: Salmon, Ocean Fish Meal, Sweet Potatoes, Peas, Potatoes
Type: Dry
With salmon as the first ingredient, this formula contains a lot of natural DHA for brain growth. It also included no grains, which is great for puppies with sensitive stomachs.
Pros:
Fish included as the first two ingredients
Probiotics included
Cons:
Low in protein and fat
Lots of low-quality veggies are included, like peas and potatoes.
Best Dog Food for American Bully Adults
While adults don't need as many nutrients as puppies, they still require plenty of protein and healthy fats to keep their muscles in tip-top shape. They may also benefit from specific nutrients, like omega-3 fatty acids.
1. Taste of the Wild Wetlands Dry Dog Food – Best for Adults🏅
Our Rating: 4.5
Top Ingredients: Duck, Duck Meal, Chicken Meal, Sweet Potatoes, Peas
Type: Dry
This grain-free formula is a good choice for most adult American Bullies. It is made with duck as the first ingredient, which is a great choice for most adult canines.
Pros:
Includes omega fatty acids to support healthy skin and coat
No grain, corn, wheat, filler, artificial flavors, colors, or preservatives
Probiotics included
Cons:
Includes peas high on the ingredient list
Not exceptionally high in fat
2. VICTOR Select Beef Meal & Brown Rice Formula
Our Rating: 3.5
Top Ingredients: Beef Meal, Grain Sorghum, Whole Grain Brown Rice, Chicken Fat, Yeast Culture
Type: Dry
While it is made of 77% meat protein, this formula is disappointingly low in protein and fat. Instead, it seems to be relatively high in carbohydrates, which is why we rated it lower than most on this list.
Pros:
Made with lots of meat products
Gluten-free
Cons:
3. Nulo Freestyle Grain-Free Salmon & Peas Recipe – Best Overall 🥇
Our Rating: 5
Top Ingredients: Deboned Salmon, Turkey Meal, Menhaden Fish Meal, Whole Peas, Sweet Potato
Type: Dry
This formula is both grain-free and does not contain any chicken or eggs, making it suitable for dogs with allergies or significant food sensitivities. 80% of the protein included comes from animal sources.
Pros:
Vitamin B6 included
Grain-free
Calcium and phosphorous to support healthy bones
Cons:
Best Dog Food for American Bully Seniors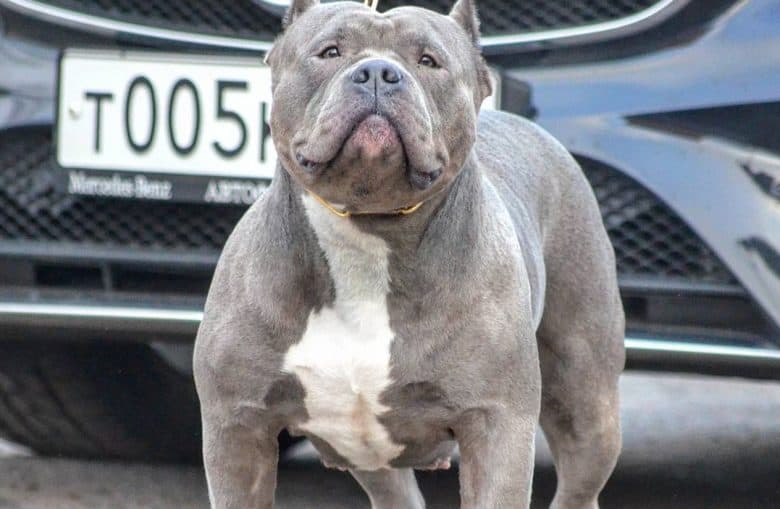 Senior American Bullies occasionally need specifically-formulated dog food just for them. Most senior dog foods contain extra nutrients that some old dogs might need, like joint-supporting vitamins.
1. Wellness CORE Grain-Free Senior Recipe – Best for Seniors 🏅
Our Rating: 4.5
Top Ingredients: Deboned Turkey, Chicken Meal, Lentils, Dried Ground Potatoes, Peas
Type: Dry
While this food is a bit more expensive than many other options, it also includes plenty of nutrients that senior dogs often need. For example, it is high in antioxidants, probiotics, and taurine.
Pros:
Glucosamine and chondroitin for joint and hip health
Omega fatty acids to support dry skin and coat
Includes deboned turkey as the first ingredient
Cons:
Expensive
High in veggies
2. Nulo Freestyle Senior Grain-Free Dry Dog Food
Our Rating: 4.5
Top Ingredients: Deboned Trout, Turkey Meal, Salmon Meal, Yellow Peas, Sweet Potatoes
Type: Dry
Like many senior formulas, this one includes lots of glucosamine and chondroitin. It also includes plenty of high-quality meat ingredients, such as trout and salmon meal.
Pros:
L-Carnitine to help maintain a healthy weight
Probiotics included
Grain-Free
Cons:
Very low in fat, including omega fatty acids
3. Blue Buffalo Wilderness Rocky Mountain Recipe
Our Rating: 4
Top Ingredients: Deboned Beef, Fish Meal, Peas, Tapioca Starch, Pea Protein
Type: Dry
Though it includes deboned beef and fish meal as the first ingredients, this formula also includes many peas, including concentrated pea protein.
This decreases the ratio of animal protein and may make the recipe deficient in some essential amino acids.
Pros:
Added taurine for heart health
DHA for cognitive function
Free from chicken
Cons:
Expensive
Includes lots of peas
American Bullies with Health Issues
While these dogs are relatively healthy, they may still develop health problems – just like any breed. In this section, we'll take a look at some of the best foods for specific health conditions.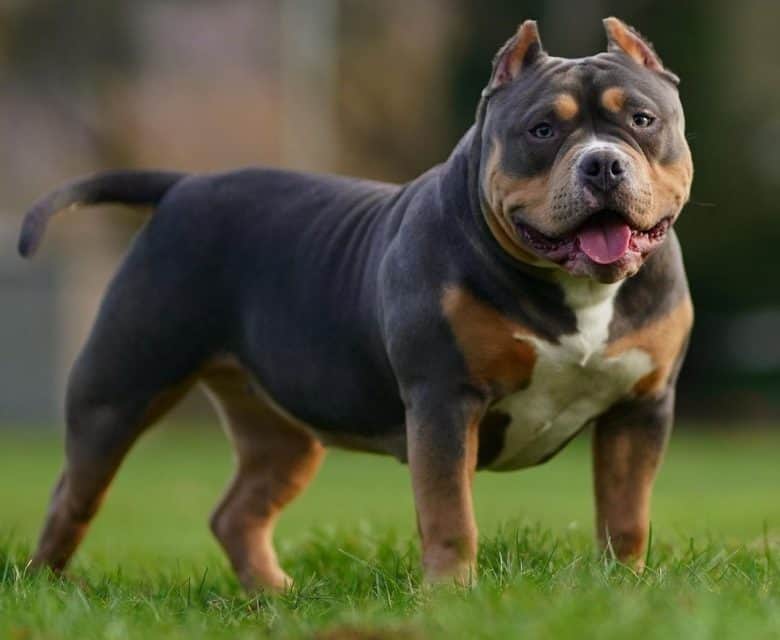 Choosing a Dog Food for Bully Breeds with Health Problems
Often, health problems can be managed through the use of a balanced diet. Many health issues are diet-related, including digestive problems and obesity.
By changing your dog's diet to something more suitable for their health, you may be able to manage their condition.
Common dietary-related problems American Bullies can develop include:
Obesity
Diabetes mellitus
Nutritional imbalance
Gastroenteritis
Food Allergies
All of these conditions can be managed through both medication and diet. Some, like obesity and food allergies, can be cured through diet alone.
Skin problems are often related to diet, as well. Choosing food with the correct amount of DHA and omega fatty acids can decrease skin problems substantially and maintain healthy skin.
Here are some of the best foods on the market for these common health problems:
Best Dog Food for American Bully with Allergies
American Bullies are prone to skin and food allergies just like most Pitbull dogs. Here's our top pick for dogs with allergies.
1. Orijen Six Fish Grain-Free Dry Dog Food
Our Rating: 4.5
Top Ingredients: Whole Atlantic Mackerel, Whole Atlantic Herring, Monkfish, Acadian Redfish, Flounder
Type: Dry
Though this food is costly, it is probably one of the best for allergies. It includes only different types of fish, which dogs are rarely allergic to.
Pros:
High in protein and fat
Kibble is coated in freeze-fried liver
Chicken- and Gluten-free
Cons:
Best Food for American Bully for Weight Management
American Bullies are susceptible to obesity so it's important to look at the type of food they eat. Their diet should be high in protein and fiber but low in fat. Talk to your vet before changing to a special diet, such as our top pick for weight management.
1. Merrick Grain-Free Healthy Weight Recipe
Our Rating: 4.5
Top Ingredients: Deboned Beef, Chicken Meal, Sweet Potatoes, Potatoes, Turkey Meal
Type: Dry
If your pooch has a hard time maintaining a healthy weight, this is the dog food to get. It contains mainly protein but very little fat.
Pros:
Deboned beef as the first ingredient
80% of protein comes from animal sources
Glucosamine and chondroitin to maintain healthy joints
Cons:
Best Dog Food for American Bully with Sensitive Stomach
If your American Bully is suffering from stomach issues, some dog foods are formulated to ease tummy problems. Here's our top pick for dog food for dogs with sensitive stomach.
1. Acana Singles Lamb and Apple Recipe
Our Rating: 4.5
Top Ingredients: Deboned Lamb, Lamb Meal, Lamb Liver, Sweet Potatoes, Whole Chickpeas
Type: Dry
This dry food is made almost completely with animal products, including lamb. It is limited-ingredient, so there are fewer things for your canine to react to.
Plus, many of the ingredients hypo-allergenic, meaning they are less likely to cause an allergic reaction in dogs.
Pros:
High protein dog food
Taurine and other added nutrients included.
Free from peas, corn, and plant-proteins
Made in the USA
Cons:
Feeding Guide for American Bully Dogs
It is vital to feed your canine a complete diet to keep them healthy. Otherwise, your pooch may not get all the nutrients they need, which can lead to health problems.
There are many kinds of diets for you to choose from, including raw dog food and homemade dog foods.
Both of these diets need to be carefully formulated by a veterinarian to ensure that your dog is getting everything they need. Commercial diets are typically developed by a veterinarian and have to uphold specific guidelines.
When choosing a diet, you need to keep your dog's age and activity level in mind. Puppies need puppy food, while active dogs may need high-protein food.
The dog food you choose should be free from fillers, taste great, and be high in protein. Dogs evolved to need lots of protein and fat, so both of these macronutrients are essential for their well-being.
Real meat is always a must, especially since it is high in protein and fat.
By-products aren't necessarily harmful, but they can be lower quality than real meat or meat meals.
High-quality ingredients are also necessary. Look for whole meats and nutritious veggies. Many veggies are inexpensive, so they are sometimes used as fillers.
Avoid dog foods with high amounts of cheap veggies like peas and potatoes high on the ingredient list. Natural ingredients should be preferred.
What Kind of Diet is Best for an American Bully?
American Bullies have the same nutritional requirements as most other dog breeds. They are not particularly prone to any diet-related health conditions, so you don't need to choose a particular dog food for them.
Puppies will have higher nutritional needs than adults because they are growing. However, adults may want increased amounts of some nutrients to protect against common health concerns, like arthritis.
All dogs need high amounts of protein and fat in their diet. While carbs can also be important, they need these in minimal amounts.
Of course, dogs also need a variety of vitamins and minerals, including calcium. Prebiotics and probiotics aren't necessary, but they can be helpful.
Ingredients to avoid when feeding this breed
There are several ingredients you might want to avoid when feeding your pooch. For instance, you may want to avoid high amounts of peas, as they have been linked to specific heart problems in canines.
Instead, ensure the dog food's protein content comes from meat. A protein-rich food is vital, but the protein doesn't need to come from veggies.
The same can be said about potatoes and lentils, though the link is not as clear in these cases.
Are grain-free diet options preferable for your Bully?
You shouldn't feed your canine a grain-free diet unless they are allergic to grains. Dogs have evolved to eat grain, so most of them digest it just fine.
Most grain-free foods are not higher in protein. Instead, they simply use cheap veggies in place of the grain. Often, these veggies can be dangerous in high amounts.
For example, the FDA recently linked grain-free dog foods to certain heart conditions, largely because these diets include high amounts of peas, potatoes, and lentils.
Should you give him dry kibble, wet food, raw diet, or homemade?
Typically, out of the commercial diets, wet food will contain more protein. Furthermore, it also includes more moisture, which can be beneficial for some canines.
Dry food is more convenient for you, though, as you can leave it out. Wet food must be cleaned up regularly.
Raw foods are gaining popularity and can be a good choice. However, there is a high potential of these foods containing bacteria, which can be dangerous for you and your dog.
Homemade diets are another possibility. But, they should be formulated by a veterinarian to avoid nutritional deficiencies.
Fruits and Vegetables Your American Bully Cannot Eat
There are several veggies and fruits that your American Bully cannot eat. Here is a quick list of some common foods your canine should stay away from:
Alcoholic beverages
Apple seeds
Apricot pits
Avocados
Cherry pits
Candy
Coffee
Garlic
Grapes
Gum
Hops
Macadamia nuts
Moldy foods
Mushroom plants
Mustard seeds
Onions and onion powder
Peach pits
Potato leaves and stems (green parts)
Raisins
Rhubarb leaves
Salt
Tea
Tomato leaves and stems (green parts)
Walnuts
Xylitol
Yeast dough
A Homemade Recipe You Can Try for Your American Bully 🍴🥩
Any homemade diet you cook should be carefully formulated to ensure it is nutritionally complete and uses high-quality proteins.
Work with your vet to help ensure your canine is getting everything they need through your homemade diet.
You should vary the diet somewhat, as a varied diet will contain more nutrients than a static one.
American Bully Feeding Chart
You should always feed your dog according to the directions on the dog food container. Different foods have different nutritional levels, which means your dog may need to eat more or less of them.
Still, the average American Bully will need between 3 ⅓ to 4 cups of food a day. You can split this between multiple meals. American Bullies will likely do best when fed at least twice a day.
Also read: American Bully Growth and Weight Chart
Transition: How to switch from puppy to adult dog food?
When switching dog foods, you should slowly faze the puppy food out.
Start with a bowl of mostly puppy food and a small amount of adult food – such as a ⅓ cup, for instance. Then, slowly increase the amount of the new food as your pooch tolerates it.
If your canine seems to react negatively to the food at any point, go back a step and spend a bit longer there before moving forward.
Frequently Asked Questions
Below, you'll find answers to some frequently asked questions. If you have any questions left, you may find the answer below.
Should I Give My Bully Vitamin Supplements?
If your canine has any chronic problems, a vitamin supplement may be helpful. Here are some of our favorite vitamin supplements organized depending on what your dog needs:
Overall Health, Coat, and Nails
As a general supplement, we recommend the AVN ProBalance Canine Wellness Formula. This contains some extra nutrients your pooch may need.
For Dogs with Diarrhea and Upset Stomach
The Purina Pro Plan Veterinary Supplements FortiFlora Canine Nutritional Supplement contains probiotics that can help support your dog's digestive system.
This is not a terribly expensive supplement, but it is still premium quality. This supplement can also support your pet's immune system.
Salmon Oil
Salmon oil and other fish oils can also be helpful for canines. It is packed full of DHA, which is an essential part of any canine's diet. Flaxseed is a similar option, but it comes from a vegetable instead of a fish.
How can I fatten up my American Bully?
Firstly, you should ensure that your dog is actually underweight. Too much weight can harm your dog's joints, which may lead to problems down the road.
If your dog is actually underweight, we recommend slowly increasing its food intake. You don't want to do it all at once, as this may cause the dog to experience intestinal discomfort.
Consider increasing your dog's exercise to encourage lean muscles and increased muscle mass, not fat.
Ensure the pet food they are eating has a high enough fat content.
Work alongside your vet to slowly bring your canine up to a healthy weight. Dogs are rarely underweight for no reason, so it is also important to check for underlying health conditions.
Best Dog Treats for American Bullies
The best dog treats are those with one ingredient. For instance, freeze-dried chicken or beef is a great treat choice. You want to avoid treats with lots of ingredients, as these are often full of things your canine doesn't need.
Furthermore, single-ingredient treats are often lower in carbohydrates and higher in protein. This macronutrient breakdown allows them to fit better into your pet's diet.
What's the Best Dog Food for American Bully?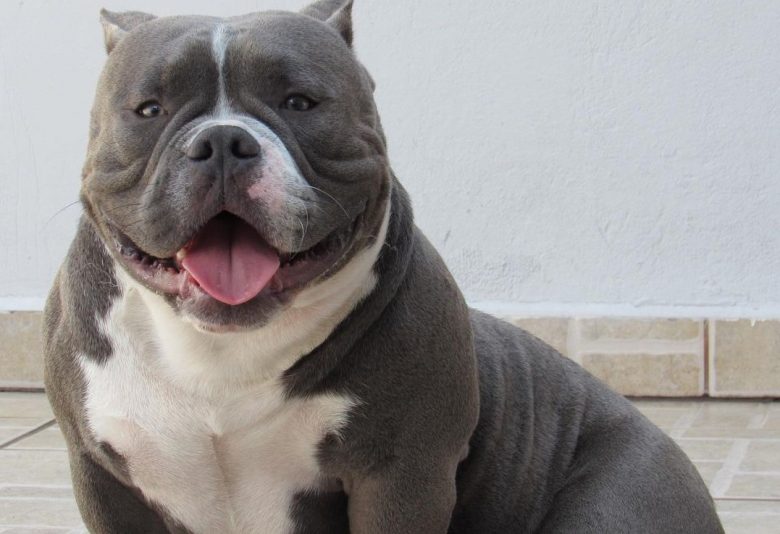 There are tons of dog food brands on the market. With so many to choose one, you can find the perfect dog food for practically any canine.
Of course, you should talk to your vet before switching your pet's food, especially if they have any underlying health conditions.
Further reading: Best Dog Food for other Dog Breeds
Reference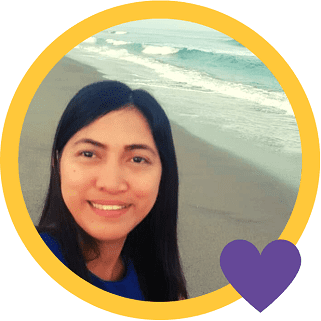 Cess is the Head of Content Writing at K9 Web and a passionate dog care expert with over 5 years of experience in the Pet Industry. With a background in animal science, dog training, and behavior consulting, her hands-on experience and extensive knowledge make her a trusted source for dog owners.
When not writing or leading the K9 Web content team, Cess can be found volunteering at local shelters and participating in dog-related events.