We may earn a small commission when readers buy products through links on this page. It supports our team to keep posting great content. Learn more about this
here
.
Last Updated on April 24, 2023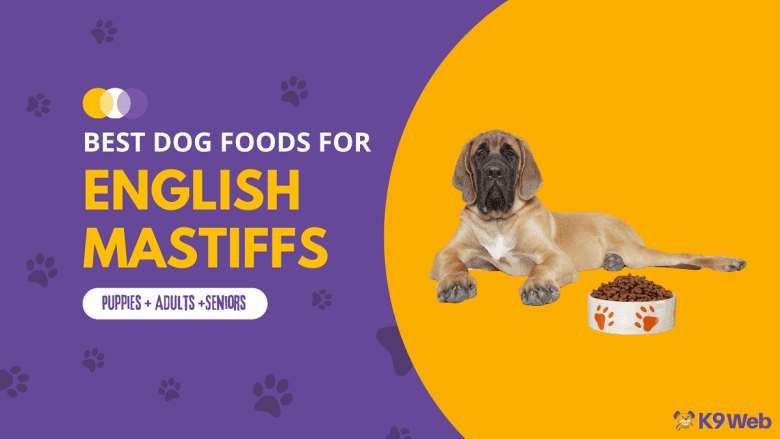 You are what you eat, and a good diet is the start of good health. The same is true when it comes to dogs, even gentle giants.
Your English Mastiff is a large breed dog, and canines of different sizes have different dietary requirements.
Mastiffs can have fleeting lives, but with the right food, you may be able to add a couple of years to their lifespan.
Top 5 Picks for Best Dog Food for English Mastiffs
13 best dog food brands for English Mastiffs by stage
As mentioned above, dogs in different stages of their lives will require diets with special caloric and nutritional needs.
Below, we'll expand on each stage so you may learn how to pick the best dog food based on your dog's requirements.
Best Puppy foods for English Mastiffs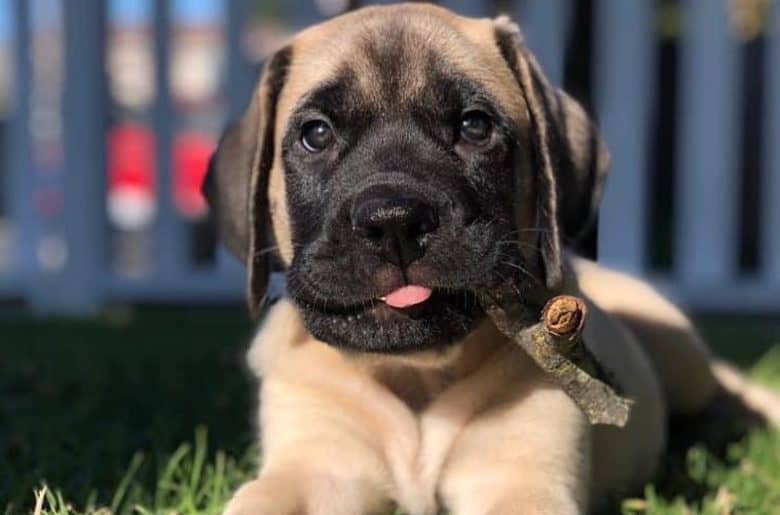 A growing puppy would need more calories to reach their full potential. They also need DHA for brain and eye development.
As a large dog breed that's prone to hip dysplasia, a Mastiff puppy will need appropriate amounts of calcium and phosphorus for healthy joints to form.
Too much of a good thing can also be bad, so stay away from kibble that is overly high in calcium.
Also, avoid all-stage dog food because it will not meet this giant breed puppy's high nutritional needs.
1. Eagle Pack Lamb, Chicken & Fish Recipe Large Breed Dry Puppy Food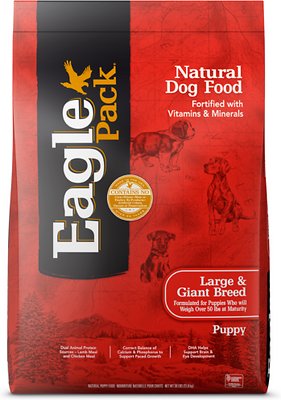 Our rating: 4.5
Top ingredients: Lamb Meal, Oatmeal, Ground Brown Rice
Type: Dry
Specially curated ingredients for a large breed puppy, this formula will meet your Mastiff's dietary needs.
It offers an optimum ratio of calcium and phosphorus for healthy joint development and added glucosamine.
Pros:
Owners have noted that their dogs reacted positively to this formula, with better stools and shinier coats
Offers joint health support
Cons:
Some dogs have turned their noses down at this
2. Instinct Raw Boost Large Breed Puppy Grain-Free Recipe with Real Chicken & Freeze-Dried Raw Pieces Dry Dog Food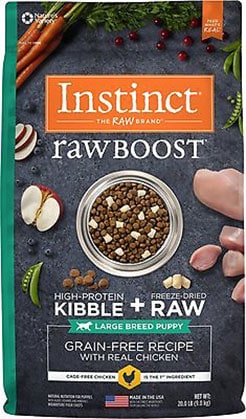 Our rating: 4.5
Top ingredients: Chicken, Chicken Meal, Peas
Type: Dry kibbles and freeze-dried raw chicken
This formula features a blend of meat, including poultry and fish as well as lamb. Broad exposure to different proteins can help in preventing protein-specific allergies from developing.
It also features micronutrients to ensure the proper development of your doggo's joints and cognition.
Pros:
Very high protein content at 33.5%
Freeze-dried raw real meat included with kibbles fortified with antioxidants, prebiotics, and naturally sourced DHA Omega salmon oil for boosted immunity and health
Cons:
Some dogs may pick out the raw pieces and leave the kibbles or vice versa
Owners have complained about subpar bowel movements
3. Taste of the Wild High Prairie Puppy Formula Grain-Free Dry Dog Food
Our rating: 5
Top ingredients: Water Buffalo, Lamb Meal, Sweet Potatoes
Type: Dry
Taste of the Wild has formulated a well-rounded kibble that has thought of everything.
This formula comes with added Omega fish oils for brain health and a shiny coat, probiotics to aid digestion, and taurine for a strong heart.
Pros:
Novel protein as the first ingredient helps keep allergies at bay
High protein content at 28%
A budget-friendly option
Works well for puppies with a sensitive digestive system
Cons:
Some dogs had adverse reactions to the food, from developing dark spots or losing their energy
4. Blue Buffalo Wilderness Large Breed Puppy Chicken Recipe Grain-Free Dry Dog Food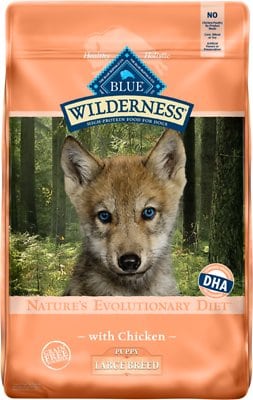 Our rating: 4.5
Top ingredients: Deboned Chicken, Chicken Meal, Peas
Type: Dry
Inspired by the wild wolf's diet, your growing pup will benefit from the high protein and balanced nutrients.
Kibbles from Blue Buffalo is fortified with their special blend of antioxidants and vitamins that ensure optimal growth and protection.
Pros:
35% protein, with deboned chicken as its first ingredient
Contains LifeSource Bits, a source of essential nutrients which have been specially balanced by veterinarians and nutritionists
Free from corn, soy, or wheat fillers and preservatives
Enriched with DHA and ARA for early cognitive development and renal health
Cons:
Some owners have complained that their dogs will not touch this dog food, or that they've had loose stools
Best dog food for English Mastiff adults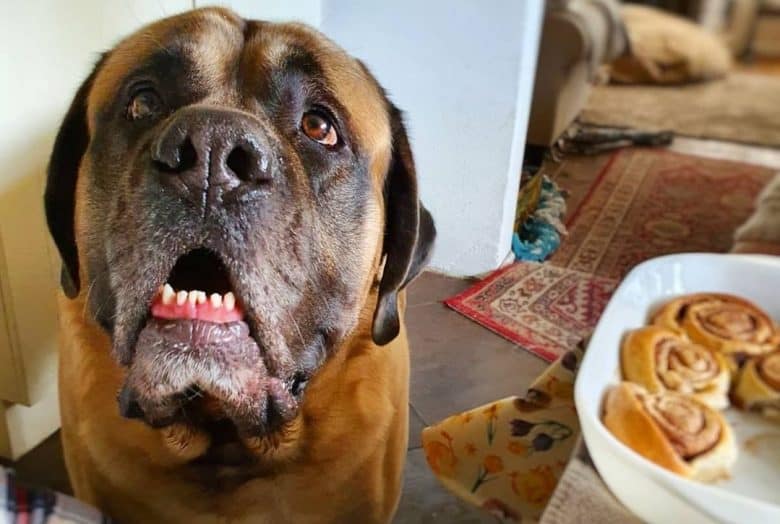 When choosing a diet for your adult Mastiff, you will need to consider their activity levels.
With that in mind, they need a formula that is suitable for their lifestyle.
Without packing on the pounds and offering enough nutrition to help maintain their muscle mass and meet their caloric requirements.
5. Blue Buffalo Wilderness Large Breed Chicken Recipe Grain-Free Dry Dog Food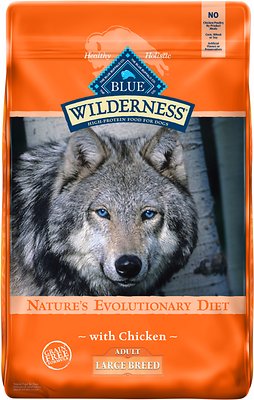 Our rating: 5
Top ingredients: Deboned Chicken, Chicken Meal, Peas
Type: Dry
High protein for that muscle mass and as a source of energy, with joint support. It also offers support for your pup's skin, coat, and immunity, with their special LifeSource Bits.
If your dog hasn't had any problems with their puppy formula, this is an excellent choice as they share a similar recipe, with added benefits for your adult dog.
Pros:
32% protein, with deboned chicken as its first ingredient
Contains LifeSource bits, a source of essential nutrients which have been specially balanced by veterinarians and nutritionists
Free from corn, soy, or wheat fillers and preservatives
Enriched with glucosamine, chondroitin, and EPA for healthy and strong joints
Cons:
Some owners that have switched over from a different brand have complained of soft stools or pickiness
Pricey
6. CANIDAE All Life Stages Chicken, Turkey, Lamb, and Fish Meal Formula Dry Dog Food (for all life stages)
Our rating: 4
Top ingredients: Chicken Meal, Turkey Meal, Lamb Meal
Type: Dry
CANIDAE's All Life Stages formula offers a wide variety of amino acids for fido's muscle tone. It will also give your pooch the boost of energy he needs.
Free from common food allergens, it is veterinarian-formulated and has all the ingredients and nutrients that your dog will need in order to stay healthy.
Pros:
24% protein, with protein meal as its first three ingredients
Free from corn, wheat, and soy
Veterinarian-formulated
Contains HealthPLUS Solutions, a blend of probiotics, antioxidants, and Omega oils
Cons:
Reviewers have mentioned that the kibble is dry and crumbly
Picky eaters might not enjoy this food
7. Wellness CORE Grain-Free Large Breed Chicken & Turkey Recipe Dry Dog Food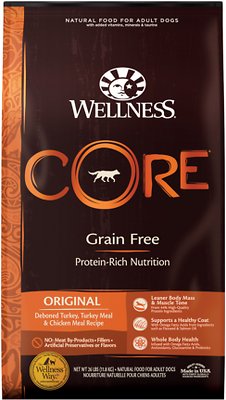 Our rating: 5
Top ingredients: Deboned Turkey, Turkey Meal, Chicken Meal
Type: Dry
Crafted to meet your giant breed dog's nutritional needs and free from grain, gluten, corn, and soy, it is a great option for dogs with grain sensitivities.
Your dog's heart will be protected with the added taurine, as well as other micronutrients.
Pros:
Fortified with micronutrients such as Omega-6 and Omega-3 fatty acids, antioxidants, glucosamine, probiotics, vitamins, and minerals
Owners have noted how much shinier their dog's coats are
Small bites suitable for all breeds, good for multi-dog households
Cons:
Not all dogs will go crazy for this kibble
Considered top-tier and slightly expensive
8. American Journey Active Life Formula Large Breed Salmon, Brown Rice & Vegetables Recipe Dry Dog Food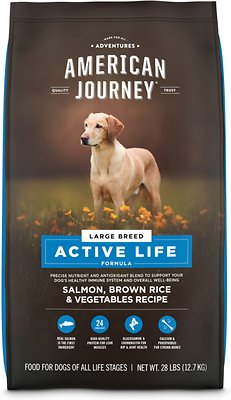 Our rating: 5
Top ingredients: Deboned Salmon, Menhaden Fish Meal, Brown Rice
Type: Dry
Even if your dog doesn't have any food sensitivities, introducing a novel protein can help keep the allergies at bay.
They also offer a similar recipe that's suitable for all breeds and dogs of all ages – something worth considering if you have other dogs at home.
Pros:
Free from artificial ingredients, corn, soy, and wheat
Contains natural fiber from wholesome sources for a healthy digestion
Many dog owners have praised this dog food for delivering consistent results such as firm stools, shiny coats, and lots of energy
Cons:
Some dogs aren't excited about this food unless paired with a topper
9. Nutro Ultra Large Breed Adult Dry Dog Food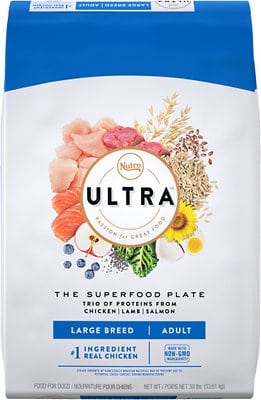 Our rating: 5
Top ingredients: Chicken, Chicken Meal, Whole Brown Rice
Type: Dry
This grain-inclusive, three-protein ingredient formula will keep your pooch's mind sharp and body strong.
With naturally sourced glucosamine and chondroitin for joints and the added bonus of antioxidants for healthy immunity and a sharp mind.
Enriched with sunflower oil for its linoleic acid, which can keep your dog's skin and coat shining with valor.
Pros:
Real chicken is its first ingredient, followed by a chicken meal which is a natural source of glucosamine and chondroitin sulfate
Free from artificial coloring, flavoring, and preservatives
Nutro values accountability and transparency so you may trace its ingredients to the source
Cons:
Kibbles tend to be on the smaller side (measuring at around 20 x 8 millimeters) which doesn't encourage chewing and may contribute to bloat
Best dog food for English Mastiff seniors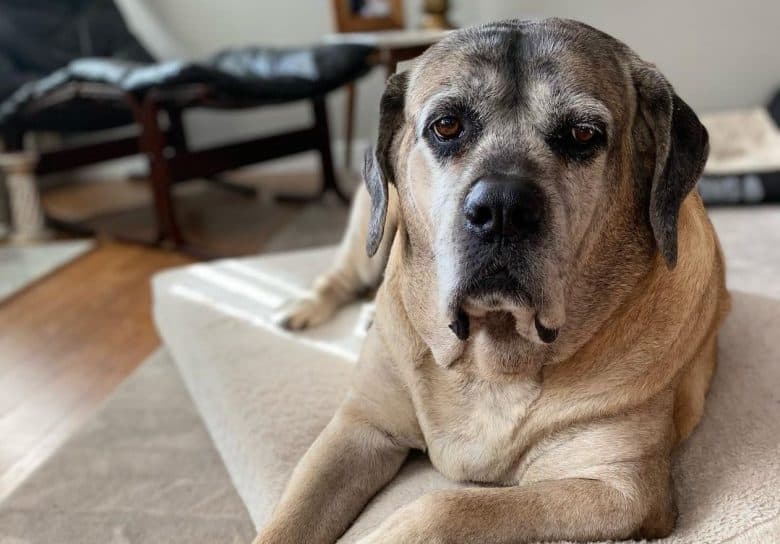 The best dog food for your aging buddy is one that's gentle on the stomach. Senior dog food should also be lower in calories or fat content.
Protein levels can be high, and it would be best if it came with added supplements for joints and heart health.
10. Blue Buffalo Wilderness Turkey & Chicken Grill Grain-Free Senior Canned Dog Food
Our rating: 4
Top ingredients: Turkey, Chicken Broth, Chicken
Type: Dry
Soft, wet food that'll be palatable to your not-so-little sidekick. The aging fella could make use of the added amino acids, chelated minerals, and various vitamins in this can of goodness.
Serve it as is or use it as a topper, it will give your pooch something to look forward to.
Pros:
Free from grains, gluten, by-product meals, corn, wheat, and soy
Doesn't contain any artificial flavors or preservative
Owners have mentioned that it's helped with digestive issues
Cons:
Some dogs aren't a fan of the pate texture
Comparatively more expensive than brands such as Pedigree
11. Nutro Wholesome Essentials Large Breed Senior Farm-Raised Chicken, Brown Rice & Sweet Potato Recipe Dry Dog Food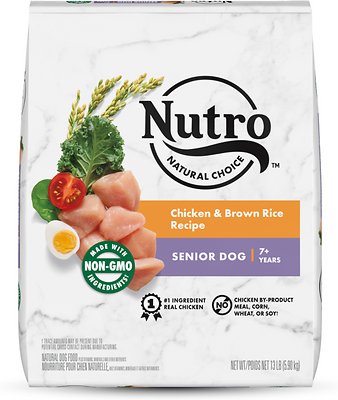 Our rating: 4.5
Top ingredients: Chicken, Chicken Meal, Whole Grain Barley
Type: Dry
If you're looking for a non-GMO product, you've found it!
Nutro's Wholesome Essentials is also free of chicken by-product meal, corn, wheat, and soy, making this a grain-inclusive formula that's safe for sensitive doggos.
Pros:
Added calcium for joint health and natural fibre for digestive health
Specially formulated with your senior friend's needs in mind
Cons:
According to some owners, their dogs rather starve than eat this kibble
12. Hill's Science Diet Adult 6+ Large Breed Chicken Meal, Barley & Rice Dry Dog Food (also good for adults)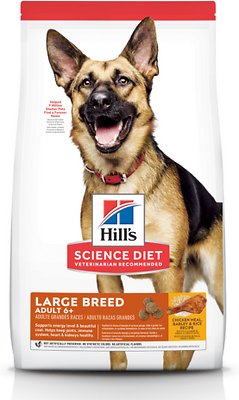 Our rating: 4.5
Top ingredients: Chicken Meal, Cracked Pearled Barley, Brewers Rice
Type: Dry
A balanced diet specially crafted in the USA.
Except for all the amazing ingredients they have going on, the protein content is lower than recommended levels but you can remedy it easily by serving with high protein kibble or treats.
Pros:
Suitable for adults and seniors
Fortified with the necessary nutrients to keep your dog's joints working well, skin shiny, and immune system going strong
Cons:
15% protein, which is a little on the low side as you want something above 18% for a large dog like the English Mastiff
13. ORIJEN Senior Dry Dog Food, Grain-Free, High Protein, Fresh and Raw Animal Ingredients
Our rating: 5
Top ingredients: Deboned Chicken, Deboned Turkey, Atlantic flounder
Type: Dry
ORIJEN has opted to go with three different sources of protein for high-energy dogs, ensuring that your older dog can go the extra mile.
Filled with quality ingredients that offer naturally sourced vitamins and minerals. The only downside is that it is quite pricey.
Pros:
38% protein, with the first five ingredients being fresh or raw protein sources
Made from 85% ingredients that are naturally rich in both vitamins and minerals
Cons:
Best dog food for English Mastiffs with health issues
There is no one-size-fits-all dog food. The best dog food for an English Mastiff with health issues is a specific formula that suits your dog.
For instance, a dog with grain allergies will benefit from a grain-free formula
A dog with joint problems should be on a glucosamine-rich diet. The best dog food for your dog is one that suits him.
Choosing a dog food for English Mastiffs with health problems
Mastiffs are known for their sensitivities, and they can be sensitive to anything from beef to dairy products.
You might need some trial and error to figure out what they are allergic to. Common symptoms include itching and diarrhea, but a poor coat can also be an indicator.
Best Dog Food for Mastiffs Buying Guide
A well-balanced diet will keep your Mastiff happy and healthy. Suitable dog food will manifest in well-formed stools that aren't excessive in quantity or odor.
Big-name brands the first choice for many because there's a reason they are so popular.
They have built up a credible reputation with the quality food that they've put on the market.
You can also easily check on their recall rates and history. Information on big name brands is a dime a dozen, whereas smaller brands might not have the same coverage, diminishing reliability.
English Mastiff nutritional requirement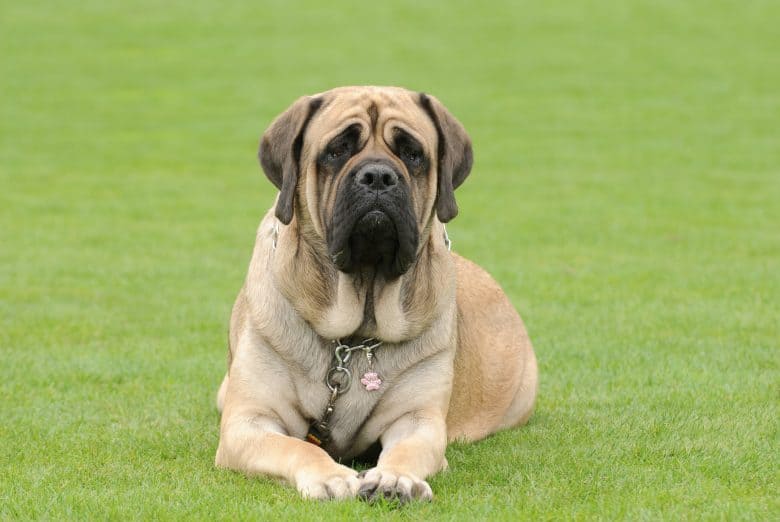 When choosing pet food for your Mastiff, there are a few things to consider.
Dogs need a diet that contains high levels of animal protein, adequate fat, and carbs, as well as specific micronutrients. We've broken it down below:
Protein should come from natural animal sources as they contain certain amino acids that are crucial to keeping a dog healthy.
Not only is protein the building block of lean muscle development, but it is also a source of energy for your dog.
Fat is also another source of energy, and it helps your Mastiff with their metabolism. Excessive amounts of fat will lead to obesity, so adults and seniors tend to need lower fat levels.
DHA is great for a puppy's cognitive development, Omega-3 oils improve coat health, and older dogs would benefit from medium-chain fatty acids (MCFAs).
Carbohydrates are an essential energy source. While not an essential nutrient like protein or fat, with adequate amounts of carbs, more protein will go into your dog's muscle development.
However, carbs should be tightly controlled as excessive amounts may also contribute to obesity.
Micronutrients such as glucosamine and chondroitin can promote strong joints. Taurine is also an added benefit for heart health.
Puppies need a healthy balance of calcium and phosphorus to grow well. Chelated minerals and pro- or prebiotics are also a beneficial addition to your dog's diet.
As long as the dog food you've selected has met the above criteria, you should be safe. Next up, what you don't want to see in your dog's food.
Ingredients to avoid when feeding your Mastiff
Some ingredients are better than others, but some are downright unhealthy or unnecessary in your Mastiff's diet. Here are some ingredients you don't want to see in your dog food's recipe:
Poultry by-product meals are often confused with poultry meals or poultry by-products which are an OK additive.
Poultry by-product meals contain feathers and beaks, which may cause a reaction in your dog as Mastiffs have pretty sensitive stomachs.
Artificial additives such as flavoring, coloring, or preservatives. These additives are not beneficial to your pet's health and can also trigger allergies.
Is grain-free diet options preferable for English Mastiffs?
The latest research suggests that grain-free is preferable for English Mastiffs that are allergic to grains.
If your dog does not have any specific grain allergies, it can actually be harmful to feed your dog grain-free dog food.
Peas, lentils, and potatoes have been linked to an increased incidence of heart problems in certain breeds, and these ingredients are commonly used to replace wheat in grain-free dog food.
Should you give your English Mastiff dry kibbles, wet food, raw diet, or homemade?
There are benefits to different types of food. Dry kibbles are good for the teeth as it prevents tartar buildup.
Wet food, whether raw, canned, or homemade, provides slightly more nutrients that are lost during the cooking process. Raw is the most nutritious, but it's also the riskiest.
Experts advise against feeding raw especially if you have young children in your household, due to the increased risk of pathogens and contamination.
Puppies and dogs with a compromised immune system can also benefit from cooked food.
So what's the best type of food to feed your dog? It all boils down to what you're willing to put up with. Dry food is the most convenient, with canned food close behind.
Raw diet and homemade food require some preparation in terms of cooking and lots of careful measuring.
Fruits and vegetables your English Mastiff can and cannot eat
There are loads of fruits and vegetables that our dogs can eat. Potatoes and measured amounts of garlic can be good for your dog, but you should never feed it to them raw.
If you're in doubt, always Google prior to giving your dog any questionable food. Here's a list of safe and unsafe fruits and vegetables for your English Mastiff's consumption:
| | |
| --- | --- |
| 👍 OK | 👎 NOT OK |
| Carrot sticks | Avocado |
| Green beans | Garlic |
| Cucumber slices | Onions |
| Zucchini slices | Cocoa |
| White rice | Grapes |
| Pasta | Raisins |
| Apples | Macadamia nut |
| Oranges | Fruit seeds or pips |
| Bananas | Persimmons |
| Watermelon | Peaches |
| | Plums |
A homemade recipe you can try for your English Mastiff
Homemade dog food requires careful planning. Aside from measuring the nutritional value, you'll also need to spend time on preparing and cooking.
It would be great if you supplement your homemade dish with a balanced kibble. Homemade meals can also be a one-off treat for special occasions.
Here's a simple recipe by Guylene that you can try:
Ingredients:
Boiled deboned whole chicken
3 lbs of hamburger
3 lbs total chicken hearts, livers, and gizzards
Green beans
Butternut squash
Carrots
Split peas
Chickpeas
Broccoli
Brown rice
Oats
9 duck eggs
48 oz. of beef and chicken broth
Optional Ingredients:
Cauliflower
Pumpkin
Zucchini
Apples
Powdered eggshells
Barley
Instructions:
In a large pot, add chicken stock and bring to a boil
Add chicken offal and hamburger
Once raw meat is cooked, add boiled chicken and all vegetables
When everything is soft, add oats and washed rice
When the rice is cooked, leave to cool and serve
The remainder can be safely frozen for up to 6 months
English Mastiff Feeding Chart
A large breed puppy like the English Mastiff will require appropriate amounts of calories to grow properly.
Their calories should come from a specially formulated recipe with sufficient calcium, phosphorus, protein, and other necessary nutrients.
Your Mastiff should be on this special puppy formula for at least two years.
As they are fast-growing dogs, you'll need to readjust their intake often, especially in the first few months according to their weight. Here's a rough guide:
| | | |
| --- | --- | --- |
| Age | Amount | Frequency |
| 4 to 8 weeks old | 3 to 4 cups | 3 to 4 meals |
| 8 to 12 weeks old | 4 to 6 cups | 3 to 4 meals |
| 4 to 6 months old | 6 to 8 cups | 2 to 3 meals |
| 6 to 18 months old | 8 to 12 cups | 2 meals |
| 18 months to 6 years | 6 to 10 cups | 2 meals |
Once they have fully developed at around 18 to 24 months, you can move them to an adult formula until they begin slowing down at around the six-year mark.
Older dogs don't require as much to maintain their weight but should still be fed around 6 to 10 cups of food, depending on their weight.
An adult male English Mastiff that's 200 lbs (90 kg) needs at least 3500 calories every day. Females of the same weight will only need 2800 calories.
To find out how many calories your dog needs, you can ask your vet or use a calorie calculator.
How do you know whether your dog is at a healthy weight? Use your eyes and hands. If you can see his ribs, he's too skinny. If you can't feel them, he's too fat.
It doesn't matter how good quality your dog food is and whether it is filled with superfoods or chicken fat, if you feed your dog too much, he won't be healthy.
While you need to ensure the dog food is made from quality ingredients, you also need to monitor your dog's weight for his well-being.
Whether his food is GMO-free or from Amazon won't matter if you're not following a proper feeding schedule or amount.
Transition: How to switch from puppy to adult dog food?
From his first puppy kibble to the food he'll enjoy in his golden years, you'll have to make the changes gradually. Over the course of seven days, replace his old kibble with his new.
Start on day one with a ratio of 1:9, and increase this to 2:8 on the second day, 3:7 on the third, and so on and so forth until he's completely on the new food.
If at any point in time he experiences loose stools, reduces the ratio for a few days before proceeding.
Frequently Asked Questions (FAQs)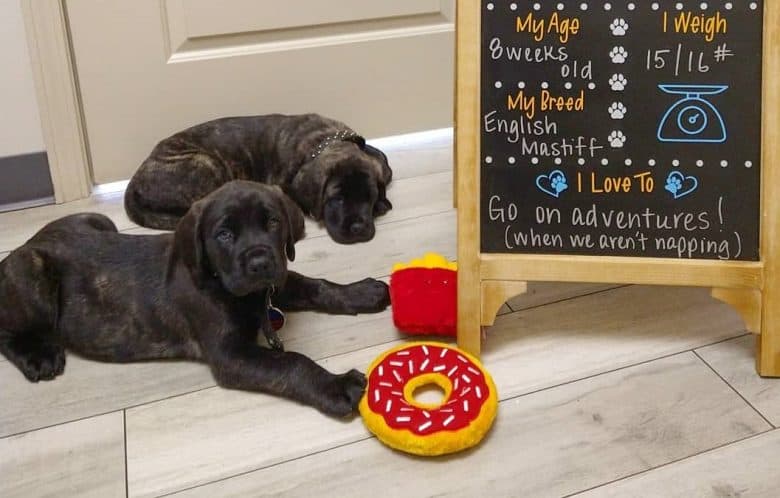 Do English Mastiffs need supplements?
Supplements are not necessary for all dogs because it's used to fix a deficiency.
If your dog lacks a specific nutrient in his diet, you should make the necessary changes so that he gets a balanced diet.
However, if he suffers from certain problems with their skin, coat, joints, or heart, they can be given a supplement to help with it.
Best dog treats for English Mastiffs
English Mastiffs are prone to obesity, so it's important to watch what they eat, and that includes treats.
Utilize every morsel that you give your dog instead of generously offering your Mastiff treats because he's cute. Overfeeding your dog is not a form of love as it can cause health problems.
When training, make sure to choose low calorie treats such as:
What makes dog food good for English Mastiffs?
Instead of searching for the best ingredients and quality, always remember suitability comes first.
Some dogs may do well on beef and fillers, whereas others might need a limited ingredient recipe that's free from grain.
We hope you've gotten a clear understanding of how to choose the best dog food for your English Mastiff.
Let us know your experiences, and don't forget to share this article with your fellow Mastiff-lovers!
Reference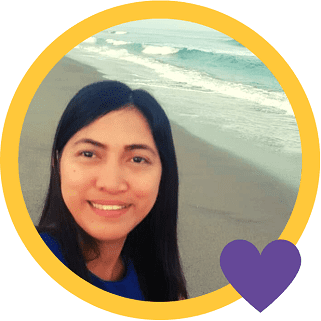 Cess is the Head of Content Writing at K9 Web and a passionate dog care expert with over 5 years of experience in the Pet Industry. With a background in animal science, dog training, and behavior consulting, her hands-on experience and extensive knowledge make her a trusted source for dog owners.
When not writing or leading the K9 Web content team, Cess can be found volunteering at local shelters and participating in dog-related events.