Last Updated on April 22, 2023
The Exotic Bully is a relatively new breed of dog quickly becoming more popular. He is also starting to get recognized by the various kennel clubs, who are beginning to see this dog as a distinct breed.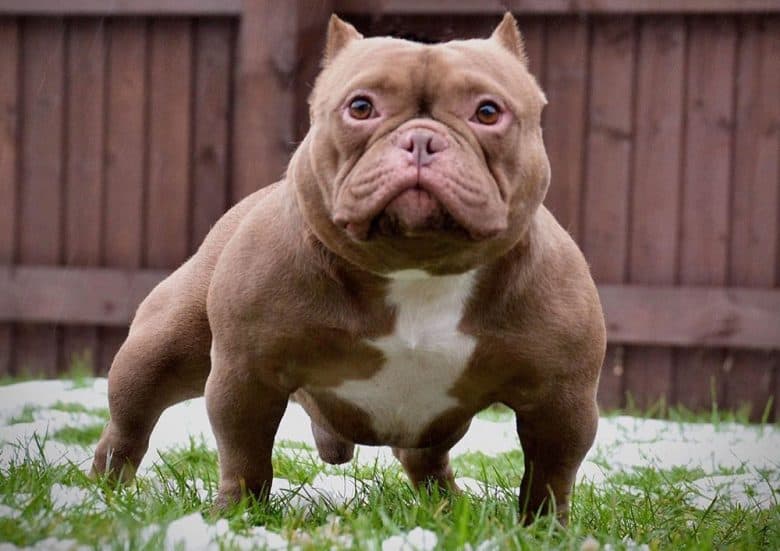 An Exotic Bully radiates strength for its size. They are compact small dogs with big blocky heads, wide chests, and a muscular build.
The resemblance of their parentage, being Bulldog, American Pit Bull Terrier, and American Bully, is definitely recognizable. However, there are some key differences that set this breed apart from these other dogs.
Learn all about the defining characteristics of this breed and what sets it apart from others in this article.
What is an Exotic Bully?
This breed is an extension of the American Bully, with looks and characteristics that are more exaggerated and pronounced than their American Bully equivalents.
They have a high energy level but are not very athletic and are smaller than the standard American Bullies.
Check out what one of these adorable dogs looks like in this video:
Where did this breed come from?
This exotic breed is very new in the Bully community. They started getting organized as a breed in 2008.
Changes in the genetic makeup of some dog breeds under the Bull type resulted in these dogs with smaller, more packed, muscular bodies, looking more Bulldog-like.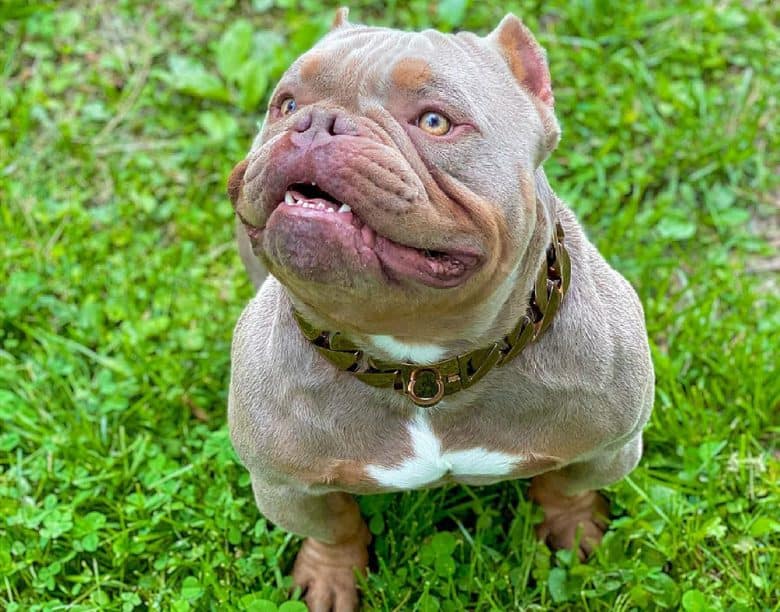 This change separated them as a new breed from the American Bully to be a breed on their own. They come from the American Bully, English Bulldog, Old English Bulldog, and Short Bull, while other Bulldog types could also be included.
The Bully Registries that Currently Recognize this breed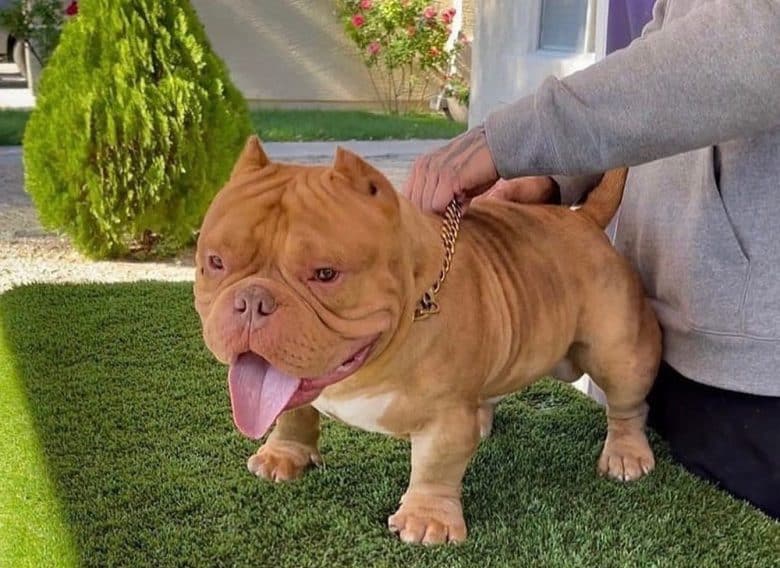 The US Bully Registry (USBR) has set a breed standard for these dogs, while some other kennel clubs that recognize the Exotic Bully include the following:
The American Bully Registry (ABR): This is one of the biggest registries for Exotic Bullies. The ABR believes that their distinctive features cannot be mistaken for any other Bully breeds, so they should be classified in their own right.
The International Bully Coalition (IBC): This is an organization that registers dogs and organizes dog shows. They have one of the largest registries of Exotic Bullies and have also established a breed standard for these dogs.
The International Bully Register (IBR): This is a relatively new organization that started in 2015 and uses social media as its primary form of communication.
The US Bully Registry (USBR). This recognizes a wide range of bulldog breeds. They first recognized the Exotic Bully in 2013. This organization is also known for arranging some of the best dog shows in the United States.
What Does an Exotic Bully Look Like?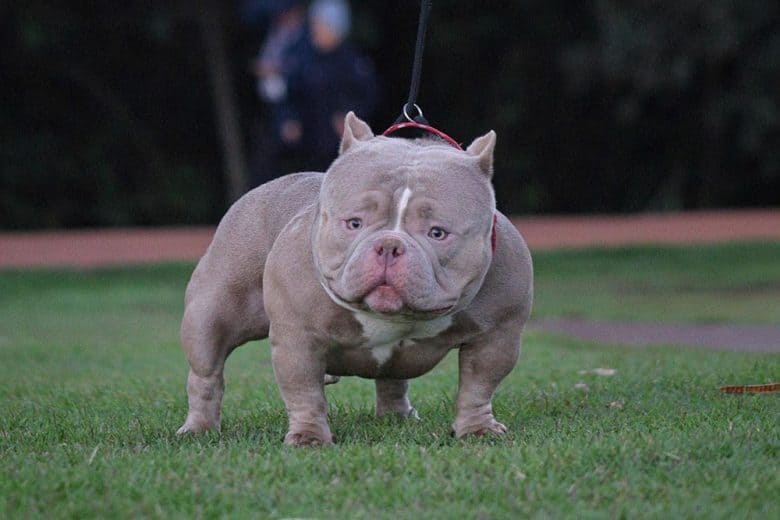 The Exotic Bully has a broad skull with pronounced cheek muscles and a muzzle that should be 2 inches (5 cm) or less. Ears should be high set (natural or cropped) and round to oval eyes (all colors except albinism).
A heavy, strong neck supports the head, the shoulders are strong and muscular with wide blades, and the back length should be proportionate to the dog's height.
The chest is broad, wide, and deep, with front legs set wide apart (with large and round bones). The hindquarters are strong, muscular, and broad, with thighs well-developed. A docked tail is accepted.
What colors and markings do Exotic Bullies come in?
Exotic Bullies are available in a variety of colors and designs, like chocolate, black, white, brown, brindle, and tri-color. The tri-colored ones have three colors on their coats and are the most expensive ones.
Their price range can be from $10,000 to $20,000. Merle is not really accepted for Exotic Bullies, though they can be found in more than 20 colors.
Exotic Bullies are not hypoallergenic, although these dogs have short fur and don't shed a lot. They do shed enough to irritate people with dog allergies.
They carry bits of dander or dead skin in their hair, which can affect people that are allergic to dogs.
Does this breed have an official standard?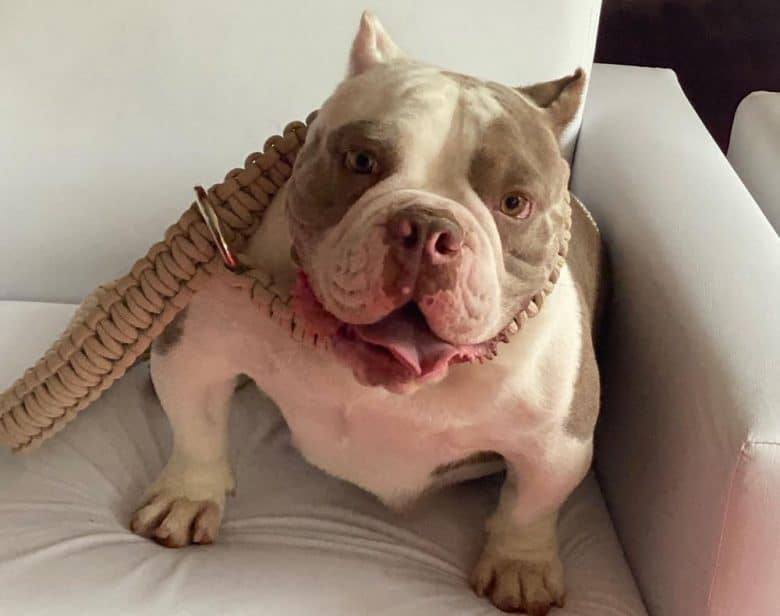 There exists an "unofficial" official breed standard for the Exotic Bully. These unofficial standards serve as guidelines for breeding the "real" one.
Although most of the big kennel clubs don't recognize it as a breed yet, they agree that the breed has been confirmed.
Breeding practices and appearance are still changing, and the standards are continually being upgraded.
What is a deformed Exotic Bully?
As popular and loved as these dogs seem to be, it is unfortunate that they are so overbred that they suffer a great deal. These features, such as their short muzzles, which people so adore, are actually deformities.
There is a cry from animal welfare groups and dog lovers to demand stricter breeding controls to avoid or just reduce the suffering these poor dogs must endure.
What is a clean Exotic Bully?
This breed is just an Exotic Bully without any issues. They should not have a sloped skull, a weak underjaw, a snippy muzzle, over-or undershot bite, a body that is out of proportion, or a curly coat.
What's the difference between American Bully and Exotic Bully?
They look so similar that they sometimes confuse people, for they both have Bulldog characteristics.
The Exotic Bully breed is smaller, which means they are closer to the ground, compared to the American Bully, which stands much taller with their typically muscular bodies.
Although this is a newer breed than the American Bully, they both make great family dogs. The American Bully breed has already been recognized by the AKC.
In contrast, exotic Bullies are still not recognized, though they have many distinctive Bully traits, just in a smaller and more overemphasized compact way.
The main breed indicators are their size and general stature. Where Exotic Bullies are smaller, American Bullies come in different sizes.
American Pocket Bully vs Exotic Bully
The American Pocket Bully and Exotic Bully are known for their small size, but in reality, the Exotic Bully is still the smaller of the two.
The more Bulldog-like appearance of the Exotic Bully compares to the Pitbull-like body traits of the American Pocket Bully. Exotic Bullies also have a stouter muscular build, shorter muzzle, and a wrinkly face.
What is an Exotic American Bully?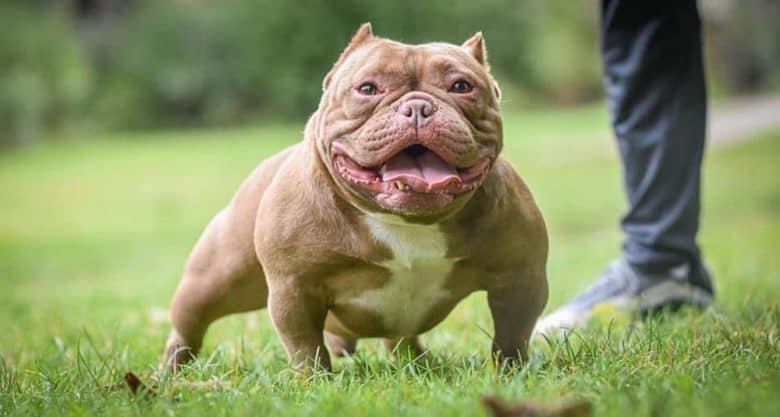 This breed is actually a cousin of the American Bully. At first, this was bred as a variation of the American Bully.
This is the reason why they are so similar in many ways, and people get confused about which is which.
It looks like a compact version of the American Bully if you don't really know the difference. This is because there is no official breed standard established to recognize and evaluate them.
How Big Do Exotic Bullies Get When Fully Grown?
There are no specific measures pinned down for the exact height of a fully-grown Exotic Bully because this has not really been agreed on yet.
They may measure as much as 18 inches (45.7cm) at the shoulder, but preferably they should be under 16 inches (40.6cm).
The heavy bones and densely packed muscles of this breed are the reason for their weight, for they are rather heavy for their compact size.
The average weight for a male is around 81.5 pounds (37kg), and for a female, about 70.5 pounds (32kg).
Exotic Pocket Bully
An Exotic Bully puppy with Pitbull parents is often called the Exotic Pocket Pitbull.
When an Exotic Bully has an American Bully ancestry, they again are called the Exotic Pocket American Bully. The Exotic Pocket Bully is the very smallest of all these Bully dogs and typically stands under 13 inches (33cm) tall.
Micro Exotic Bully
Pocket Exotic Bullies are also known as Micro Exotic Bullies. They are the smallest version accepted as the standard for this breed.
There is no accepted weight standard yet, other than for them to be proportional to their height, which should be under 17 inches (43cm), though they are sometimes smaller than 13 inches (33cm) high.
They tend to be very, very expensive, especially so if they also wear a unique coat color, like blue, which can drive up the price for one to $30,000!
How Long Do Exotic Bullies Live?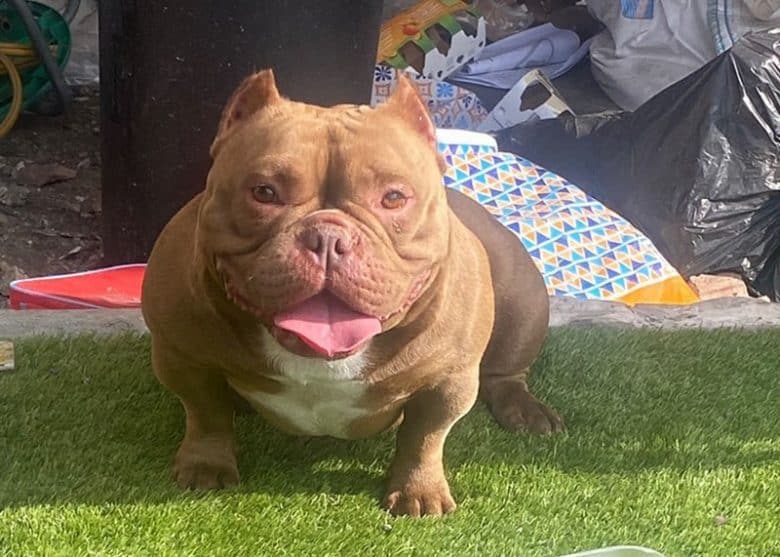 As the Exotic Bullies are such a young new breed, there is not a lot of data available yet to make definite estimations in this regard.
It is agreed that the life expectancy is around five to seven years, compared to other dog breeds, which is a very short life span.
Breeding this breed is very controversial. Because of their overstated features, they seem to have severe health problems.
Their flat faces and short muzzles make breathing hard for them, as air cannot pass as easily through their compressed airways.
Too much exercise or overheating can even exacerbate their breathing problems. Proper and skillful breeding is of utmost importance for this breed because other issues like back problems, as well as joint and bone issues, also occur.
Are they prone to weight gain?
Exotic Bullies are definitely prone to get overweight if overfed. This breed can very easily and quickly become obese, and this can complicate their already existing heart and joint problems.
Keep in mind to be very careful in feeding your dog the right high-quality food in the correct amounts to maintain the dog's lean muscle mass.
Are Exotic Bullies Good Family Dogs?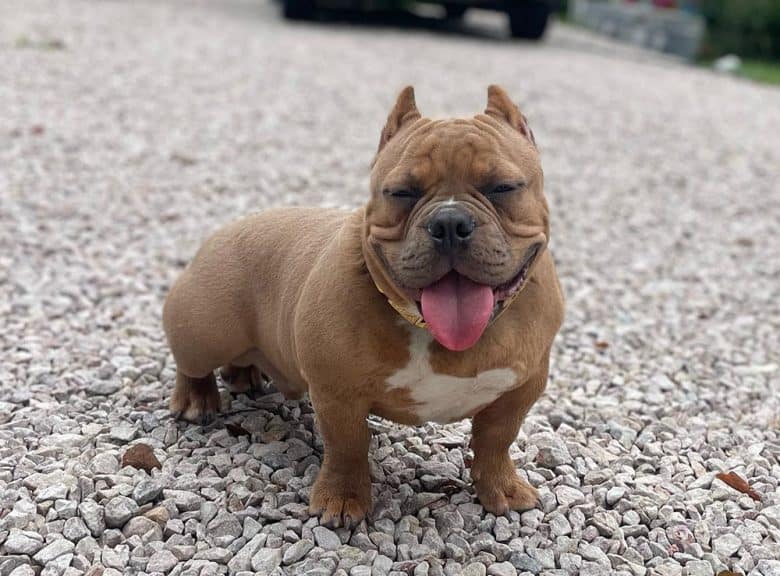 Exotic Bullies are sweet, loveable, friendly dogs and make excellent family dogs. Because they are so easy to take care of, don't require a lot of maintenance, and don't have high grooming needs due to their short coats, they would be fine for busy families.
They don't even need a lot of exercise, and a half-hour-a-day walk will be sufficient.
They can also easily fit into smaller homes or apartments due to their small size. Supervision while playing with small kids is always recommended.
As long as they have been trained and socialized, they make good family dogs who are also friendly with other dogs and pets.
Are they aggressive?
Although Exotic Bullies give an impression of aggression, they are not aggressive and socialize well with humans and other dogs. It is still essential for them to have training and socializing classes from a young age.
Are they easy to train?
Like all other breeds, Exotic Bullies also need training and early socialization. Because they are a bit stubborn, you may tend to be a bit strict, but they are very delicate and need to be rewarded all the time.
They are also eager to learn and love attention; therefore, training should go very well.
Do they have high energy levels?
Exotic Bullies have medium to low energy levels. They don't need a lot of exercise, but half an hour of walking daily is essential for their health and well-being.
They will also enjoy a good chew toy at home to play with and exercise their strong jaw.
What else should you know about their personality?
Although Exotic Bullies look pretty intimidating when you see them for the first time, a well-trained and socialized dog may be one of the friendliest and most affectionate dogs around.
They have great personalities and are not whatsoever aggressive.
Attention is one of their great loves, and they adore their family. Exotic Bullies don't like to be left alone for too long, for they can quickly develop separation anxiety, which can cause them to become destructive.
They love to cuddle and can become a bit jealous about their food and place, although they are mostly friendly with other dogs. They really are exceptionally loyal to their human family.
Are they good for first-time owners?
Because Exotic Bullies need a strong leader, they are not as good for first-time owners as you may think.
On the other hand, they are so easy to take care of due to their low maintenance that they could be just the right dog for first-time owners.
So, depending on the owner's preferences, he will have to make up his own mind about this controversial situation.
What is the Average Cost of an Exotic Bully Puppy?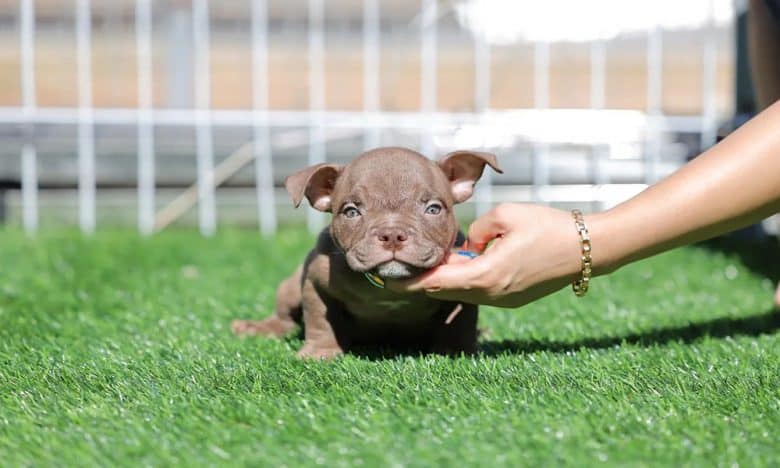 The cost of an Exotic Bully puppy depends on its coat color and adherence to breed standards. On average, a puppy can cost between $1,750 and $7,000, and some can cost up to $20,000.
Places to find these exotic puppies for sale or adoption
If you are looking for healthy Exotic Bully puppies for sale at reasonable prices, you can take a look at the following breeders and breed-specific rescue sites for those willing to adopt. Here are a few places to get you started.
Venomline Extreme Build Pocket Bullies, Houston, Texas, and Florida
Fresno Bully Rescue, California
What Kind of Food Should Exotic Bullies Eat?
Because Exotic Bullies are very sensitive even to allergies, and they are prone to a number of diseases, your best bet is to consult your vet in this matter.
In any case, the best food for these dear canines would be food with lots of protein and very low in fat.
What are the best dog foods for Exotic Bullies?
This breed can easily become overweight, which will turn out very bad for them, so owners must always keep a close eye on what they eat to maintain their muscle mass and keep them healthy.
Their diet should be balanced with the amount of activity they do during the day.
Here are some good dog foods that you can get for this breed:
Maximum Bully Chicken and Pork High Performance
Bully Max High-Performance Super Premium Dog Food for All Ages
Blue Buffalo Wilderness Salmon Recipe
Should I Get an Exotic Bully?
If you really want an Exotic Bully, make sure that you get one from a reputable breeder. They go to great effort into breeding these puppies with responsibilities and the best skills.
Inbreeding and careless breeding can lead to great health problems, escalating costs in the long run. Also, keep in mind their short lifespan.
Remember that a puppy from a good breeder may cost up to $7,000. But they make great dogs if bred with care, trained, and socialized before buying.
Another fact to consider is if you belong to an active family and want to play and take your dog on long walks, as these things would not work for you with this dog breed due to their short muzzles, breathing difficulties, and sedentary natures.
Do you have this exotic dog breed? We would love to learn all about you and your dog in the comments below.
Janine is an experienced content writer and travel journalist based in Cape, Town, South Africa.
Raised by a bundle of botanists, researchers, and biologists, she is passionate about things related to the animal kingdom, including, our furry friends. However, as a terrible allergy sufferer, she is limited in her pet selection and so has grown up surrounded by curly-haired Poodles.