We may earn a small commission when readers buy products through links on this page. It supports our team to keep posting great content. Learn more about this
here
.
Last Updated on May 3, 2023
Dachshunds (Doxies) are a beloved breed known for their unique appearance and spunky personalities. Unfortunately, these small dogs have elongated bodies and short legs, making them prone to health issues like joint problems and obesity.
Despite their small size, Doxies are active and energetic, which requires a balanced and nutritious diet to keep up with their activity level.
Choosing the right dog food for your Dachshund is crucial to provide them with all the essential nutrients they need to maintain good health.
In this article, we've researched, compared, and compiled the best dog foods for Dachshunds below to help you choose the right one for your sausage friend.
Our team has carefully evaluated each recipe and ranked them based on their nutritional value, fat and filler content, and value for money.
Our Top Picks: The Best Dog Food for Dachshunds
12 of the best dog food for Dachshunds by stage
Weiner dogs may be small, but they also have specific nutritional requirements, which makes choosing the best dog food a crucial task.
For pet owners, the safest approach is to choose an appropriate diet that can sustain them efficiently as they go through the different stages of their lives.
Best puppy foods for Dachshunds
When checking options for the best dog food for your Daschund puppy, knowing what they need during their early developmental stage is important. The food they consume is vital to secure a healthy body in the long term.
Here are our top dog food picks for Dachshund puppies to help ensure optimal growth.
1. Hill's Science Diet Puppy Healthy Development Small Bites Dry Dog Food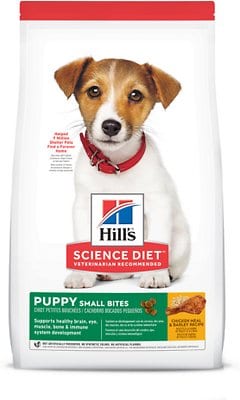 Our rating: 5
Top ingredients: Chicken Meal, Whole Grain Wheat, Cracked Pearled Barley
If you have a Dachshund puppy, we recommend feeding them Hill's Science Diet Puppy Small Bites Dry Dog Food.
After comparing multiple dog foods for puppies, we found this one to be the best. It contains high-quality protein from real chicken as the first ingredient, providing them with the essential building blocks they need for healthy growth and development.
Also, the small bites in this dog food are specially designed to make it easier for them to chew and digest.
Pros:
Added antioxidants and vitamin E & C ensures a healthy immunity
No added artificial colors, flavors, or preservatives
Formulated with DHA from fish oils for eye and brain development
Cons:
It contains wheat and corn and might not be suitable for your puppy
Some pet owners said that this formula leads to a decreased appetite in pups
2. Wellness Small Breed Complete Health Puppy Dry Dog Food
Our rating: 4.5
Top ingredients: Deboned Turkey, Chicken Meal, Oatmeal
Made from natural and globally sourced ingredients, this kibble is specially formulated to ensure a balanced level of nutrients for your pooch.
The smaller-sized kibble is easy to eat and digest for smaller dogs, has quality proteins and wholesome grains, and is strengthened with omega fatty and amino acids for overall health.
Pros:
No meat by-products or artificial preservatives
With taurine and zinc for proper organ functions
Packed with antioxidants and vitamins for healthy immunity
Cons:
Some owners said the kibble is still too big, while other dogs don't like this recipe
Product might grow mold after a while – store in a dry area
3. Wellness CORE Grain-Free Puppy Dry Dog Food
Our rating: 4.5
Top ingredients: Deboned Chicken, Chicken Meal, Turkey Meal
This grain-free dog food is designed to aid with growth and development.
The combination of nutrients, antioxidants, prebiotics, and probiotics provides balanced, quality dog food that helps with muscle tone and body mass.
It also has easy-to-ingest kibbles for a small breed puppy, like Standard or Miniature Dachshunds.
Pros:
No meat by-products, fillers, or artificial preservatives added
Formula encourages healthy skin and coat
With DHA for proper neural development
Cons:
Has peas, lentils, and potatoes, a potential cause of canine heart disease
Some pet parents claim that this recipe can cause gassy stomach in dogs
Best dog food for Dachshund adults
If your Doxie is one year of age or older, it's time to transition its diet from puppy to adult food.
You can now slowly give them adult dog food, which will provide them with a different set of nutrients they now need.
Some brands are well-known, like Wellness Complete Health, Royal Canin, and Blue Buffalo Life Protection. Deciding what brand to choose is a matter of preference, but here are our top choices.
1. Blue Buffalo Life Protection Formula Small Breed Adult Dry Dog Food
Our rating: 5
Top ingredients: Deboned Chicken, Chicken Meal, Brown Rice
After analyzing the ingredients of multiple dog foods, our top choice for the #1 Best Overall food for Dachshunds is Blue Buffalo Life Protection Formula Small Breed Adult Dry Dog Food.
This grain-free recipe is packed with high-quality protein, featuring deboned chicken as the first ingredient for healthy muscle development and carbs for energy for an active life.
Pros:
Free from wheat, corn, soy, and animal by-products
Contains glucosamine for healthy bone and joints
With L-carnitine for metabolic functions
Cons:
Some owners said their dogs became lethargic after transitioning to this recipe
Can cause indigestion and upset stomach, according to some pet parents
2. Acana Red Meat Formula Grain-Free Dry Dog Food
Our rating: 4.5
Top ingredients: Deboned Beef, Deboned Pork, Beef Meal
This dry dog food recipe contains 60% animal ingredients from globally sourced and organic ranch-raised beef and Yorkshire pork.
The other 40% of the recipe includes fruits, vegetables, vitamins, natural preservatives, and probiotics for overall nutrition and health.
All of these create a nutritious dog food formula that can be beneficial to your Daschund.
Pros:
High-protein formula for gaining muscle mass
Free from grain, corn, soy, wheat, and tapioca
Coated with freeze-dried beef, lamb, and pork liver to add flavor
Cons:
Some dogs experienced skin problems like ear inflammation, as per the reviews
3. Solid Gold Wee Bit Small Breed Dry Dog Food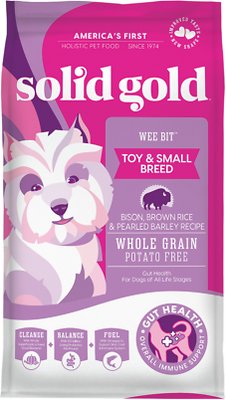 Our rating: 4.5
Top ingredients: Bison, Ocean Fish Meal, Peas
This is one of the first dog food brands that brings a holistic approach to its recipes that can provide dogs with optimal nutrition while supporting their overall well-being.
It's formulated with nutrient-dense clean superfoods and high-quality proteins to fuel your dog's healthy body.
Pros:
Breed-specific; for small and toy breeds only
Infused with nutrient-rich superfoods to maintain good overall health
No corn, soy, or wheat
Cons:
Some dogs might not like the taste of this recipe
Kibble can be hard to chew
4. Instinct Original Small Breed Grain-Free Wet Canned Dog Food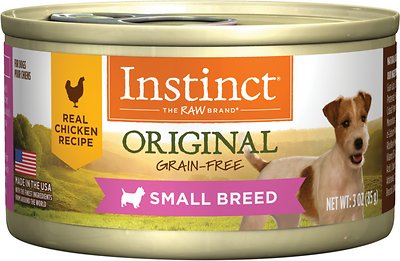 Our rating: 4.5
Top ingredients: Chicken, Chicken Broth, Chicken Liver
For a small can of dog food, this one sure packs a protein punch.
This grain-free wet dog food is made for small breeds to help them unlock their full potential and is curated with animal products, fruits, and vegetables, and has a loaf texture.
It also contains natural omega fatty acids to help ensure healthy skin and a shiny coat. Scoop this on some dry food and see your dog gobble up every bite.
Pros:
High in animal protein that builds strong, lean muscles
Has a good calorie level for small dog breeds
Smells like real meat, so your dog will be excited
Cons:
Some pet owners said they found bone fragments in the food
Best dog food for Dachshund seniors
After reaching the age of 8, your Dachshund is officially a senior citizen.
As such, it's important to provide them a diet that can help them stay active and healthy while supporting their current lifestyle as seniors.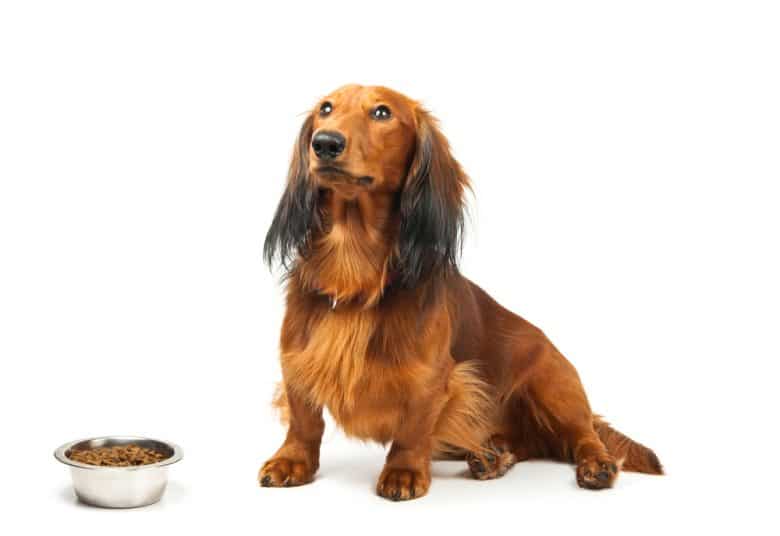 1. Nutro Ultra Senior Dry Dog Food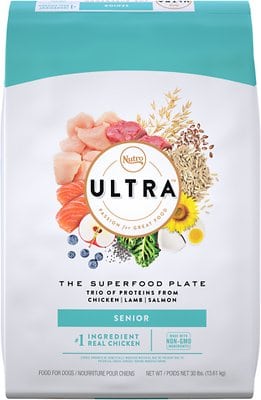 Our rating: 5
Top ingredients: Chicken, Chicken Meal, Whole Brown Rice
One of the best things you could give to your older pooch is superfoods. As dogs get older, their bodies will need higher amounts of nutrients to stay healthy.
The Nutro Ultra Senior Dry Dog Food does exactly that. We've discovered that the ingredients included are a balanced mix of premium protein, antioxidants, and healthy oils.
Made from high-quality animal products, with chicken as the first ingredient, this holistic superfood blend is loaded with amino acids for strong muscles. It also consists of an assortment of beneficial fruits and veggies.
Pros:
Boosts the immune system
Promotes healthy skin and coats
Contains glucosamine and chondroitin for healthy cartilage and joints
Cons:
It might cause gassy stomach and dog diarrhea, as observed by some pet owners
Some dogs simply won't eat the kibble
2. Orijen Senior Grain-Free Dry Dog Food
Our rating: 4.5
Top ingredients: Deboned Chicken, Deboned Turkey, Atlantic Flounder
Another option to maintain your senior canine friend's weight and support lean muscle mass, this recipe from Orijen has 85% animal ingredients for a Wholeprey approach.
It's also coated with freeze-dried liver to entice his appetite.
Pros:
High-protein diet where the first 5 ingredients are raw or fresh
Gluten-free and helps with weight control
Dry dog food that's naturally rich in minerals and vitamins
Cons:
Some owners said the protein level of this kibble is too high
There are dogs who experienced skin and stomach problems
Best dog food for Dachshunds with health conditions
Although Dachshunds are generally healthy dogs, they can still be susceptible to some genetic health issues.
And just like humans, proper nutrition would help prevent and reduce the risk of certain health problems.
So when choosing pet food, canines who suffer from sensitivities may require a limited-ingredient diet
It means that the recipe only includes specific ingredients to ensure that it's suitable for fidos with skin allergies or stomach problems.
Here are some of the other common Dachshund health issues to consider when forming a diet for your pup:
Canine Diabetes
Deafness
Obesity
Gastric Dilation
Bone and joint issues
Intervertebral Disc Disease
Patellar Luxation
Eye Problems
Progressive Retinal Atrophy
Skin and coat problems
Urinary issues and stones
Anal gland problems
Thyroid gland problems
Tests can be done to see if your Dachshund might be prone to any of these diseases.
You can also take this opportunity to ask them for more information on preventing long-term issues related to these conditions.
1. Best food for an overweight Dachshund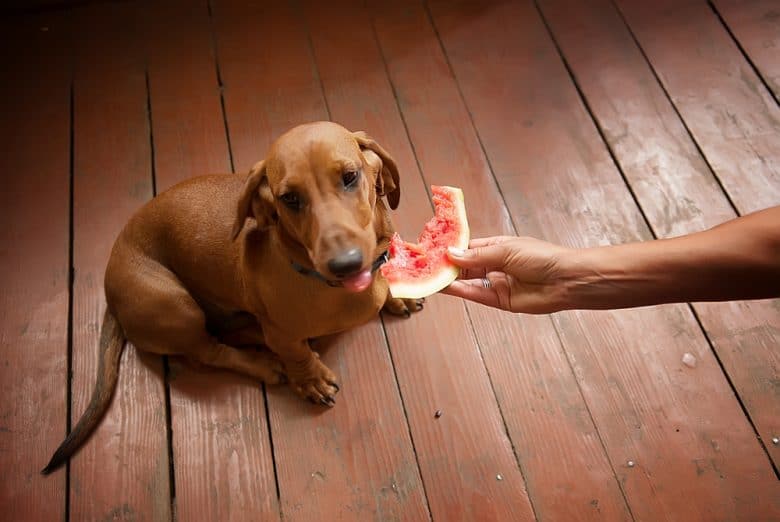 Just because some dogs are bred to work and are active doesn't mean they can stay in shape. And it's common with Dachshunds, too.
Hill's Science Diet Adult Small & Mini Perfect Weight Dry Dog Food
Our rating: 5
Top ingredients: Chicken, Cracked Pearled Barley, Brown Rice
This weight management dog food not only promotes weight loss and muscle mass but it's also made to be tasty so that your dog won't notice that he's on a diet.
The protein source comes from chicken which aids in lean muscle mass and helps small dogs maintain their healthy weight.
Pros:
Promotes a balanced diet for everyday feeding
Our research shows that over 70% of dogs have lost weight within ten weeks after consuming the dog food
Formulated by a recommended brand by veterinarians
Cons:
With a lot of different ingredients, we won't recommend this recipe to dogs with sensitivities
Some dog owners said that this dog food could cause an upset tummy
2. Best Dachshund food for allergies
Wellness Simple Limited Ingredient Diet Grain-Free Small Breed Dry Dog Food
Our rating: 5
Top ingredients: Salmon, Salmon Meal, Peas
After comparing multiple recipes, we've found Wellness Simple Limited Ingredient Diet to be suitable for dogs with allergies because it's grain-free and doesn't contain chicken.
The added omega fatty acids, antioxidants, glucosamine, probiotics, and taurine also support healthy digestion, immune systems, skin, and coats.
This dog food is also known as an alternative to therapeutic diets that can be prescribed to dogs.
Pros:
Globally-sourced ingredients to ensure a quality product
No added preservatives, colors, or flavors
With single-source protein from salmon and easy-to-digest carbohydrates
Cons:
Not GMO-free
Can cause tear stain in some dogs, as observed by some pet parents
3. Best food for sensitive stomachs
Blue Buffalo Basics Limited Ingredient Diet Small Breed Adult Dry Dog Food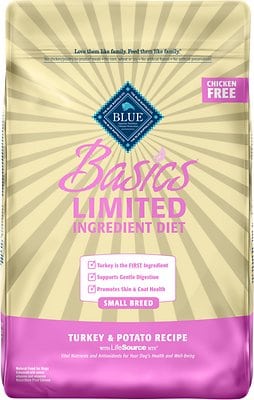 Our rating: 5
Top ingredients: Deboned Turkey, Oatmeal, Turkey Meal
We highly recommend Blue Buffalo Basics Limited Ingredient Diet for small breed dogs with sensitive stomachs. We've carefully compared the nutritional content of this dog food to other limited-ingredient diets and found it to be superior.
This recipe features turkey as a single animal protein source, blended with pumpkin and easily digested carbohydrates.
Pros:
No added chicken, beef, corn, wheat, soy, dairy, and eggs to reduce the risk of food sensitivities
Comes in small bite-sized pieces for easier digestion
Contains antioxidants, minerals, and vitamins chosen by vets to support a healthy immune system
Cons:
Some dogs may be allergic to one of the few listed ingredients
Picky eaters might not like this recipe
Shopping for the best dog food for your Dachshund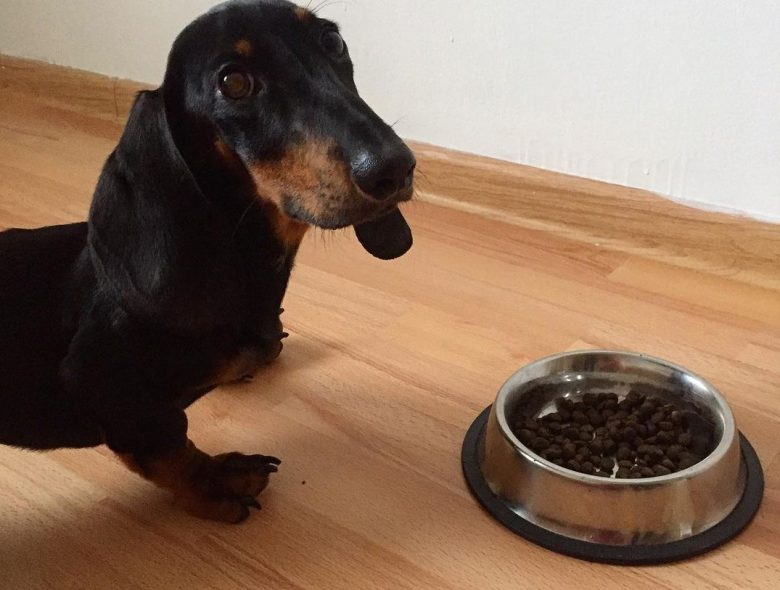 The most crucial factor to consider when you are buying dog food is the ingredients.
Before looking at product reviews or their prices, check the label. Ensure that the formula doesn't contain the ingredients that your fur baby cannot have.
You can ask your local vet about the kind of food that's best for your Dachshund by doing an allergy test.
After that, it's all about experimenting with different brands and recipes according to reviews, ingredients, and prices to see what suits your pup best.
Sometimes a dog food can be perfect on paper, but your Dachshund might not like the taste. Be patient and try again with a new product until you find one you are both happy with.
What are Dachshunds' nutritional requirements?
Although checking for nutritional values is often a daunting task to any dog parent, knowing your dog's dietary and nutritional needs is imperative. Besides, it's a form of love in itself because it will benefit your fur baby.
When you know what they require to maintain a balanced and healthy intake, you can make conscientious decisions that benefit your dog.
Protein promotes muscle mass and maintains energy levels. The source of the protein is also noteworthy.
Look for ingredients like chicken, beef, turkey, or lamb — products with high phosphorus levels.
Be wary of some products that might source their protein from animal by-products that are low quality.
Fats do more than just add flavor to dog foods. It aids in the health of your dog's skin and coat. However, excessive amounts of it can also lead to weight gain.
Make sure the fatty ingredients are high-quality and from natural sources like chicken fat. Dachshunds need between 5-8 grams of fat per day.
Carbohydrates are probably your dog's primary source of energy and can be found in nearly every dog food. Carbs found in corn, wheat, and soy should be avoided because they break down easily.
This can give your dog a spike in energy that dies down quickly. On the other hand, good carbs are found in things like flaxseed.
Each stage would require different levels of nutrients, though. Dachshund puppies would need a minimum of 22% protein and 8% fat to ensure healthy growth and development.
An adult Dachshund would require at least 18% protein and 5% fat.
For senior dogs who reach the ripe age of 8 years, their metabolism is slower, and they can't digest fats as well as they used to. So they shouldn't consume more than 500-600 calories a day.
Characteristics of a reliable Weiner dog food
Good dog food should be calcium-fortified with no artificial preservatives, additives, or synthetic flavors. The ingredients should also be globally sourced and have at least two sources of natural protein.
Check the label for easily digestible carbs like whole grains and low starch veggies, no animal by-products should be used, more on natural fats, and it should have limited use of synthetic supplements.
Meanwhile, some things in low-quality dog foods are not beneficial to your Dachshund's development and general health.
What should I not feed my Dachshund?
When looking for food for your puppy, look for Docosahexaenoic Acid (DHA). This ingredient is present in mothers' milk, fish oils, and egg, promoting brain and eye development.
Other things like antioxidants, vitamins, and minerals are always a plus.
Avoid ingredients like artificial fillers and artificial preservatives like BHA, BHT, and ethoxyquin since they can cause long-term problems or irritate existing issues.
Are grain-free diet options preferable for Dachshunds?
Grains are sometimes a good source of carbohydrates and can provide your dog with a lot of energy. But, some are sensitive to grains and can have an allergic reaction to them when consumed.
So the call is yours when deciding whether to opt for a grain-free diet or not. It has benefits, but it will ultimately fall to the needs of your dog.
You can also ask your vet to try and test if your Dachshund has an allergy to ascertain if a grain-free diet is suitable for him.
Nulo, Wellness, Taste of the Wild, Blue Buffalo, Orijen, and Instinct are some brands with grain-free products.
Should you give your Dachshund dry kibbles, wet food, raw diet, or homemade?
It will depend on your dog's needs and preferences, as well as your budget. As owners, what's important is that our pet is eating healthy and provides them the nutrients they need.
Though each type of dog food has its own pros & cons, sometimes you can mix it up, alternate it every meal, or you can also add some wet food to the kibble.
You can make your dog's food, too. One thing to note is that your dog has specific needs, but once you know what these needs are and what to add to get them, you're good to go.
Fruits and vegetables your Dachshund can and cannot eat
Veggies and fruits are rich sources of essential vitamins, minerals, antioxidants, and sometimes even proteins or fats.
They are necessary for ensuring a healthy Dachshund. Make sure to include them in their diet for a guaranteed happy and healthy pup.
Below is a list of fruits and vegetables that are healthy for Dachshunds to consume.
Asparagus
Bananas
Blueberries
Broccoli
Brussels sprouts
Cantaloupe
Carrots
Cauliflower
Celery
Cucumber
Green beans
Mango
Oranges
Peaches
Pears
Peas
Pumpkin
Spinach
Sweet potato
Zucchini
Here's a cute ASMR video of a Dachshund named Loulou eating fruits and veggies:
Bonus: A homemade dog food recipe you can try for your Dachshund
If you want to start making your Doxie his own food, there are a lot of recipes online, but we found one that your pooch might love.
Ingredients:
3 tablespoons of olive oil
1/4 cup curly parsley, minced
3 carrots, shredded
4 hard-boiled eggs, mashed or diced
2 lbs of ground beef, cooked and drained
6 cups of organic brown rice, cooked
Procedure:
Put all of the ingredients in a large container, stir and mix well.
Keep sealed in the fridge in-between feedings.
Dachshund Feeding Chart: How much dog food should your Dachshund eat?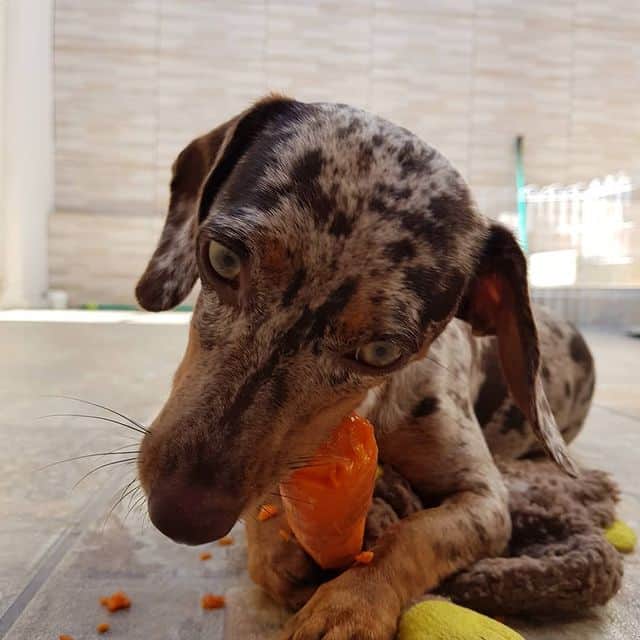 The type and amount of food you feed your Doxie should depend on his age, body weight, activity level or metabolism, and health.
But it's also important to keep in mind that this purebred loves to eat and can quickly gain weight, even if small breeds have faster metabolisms.
Dachshund puppies would need at least 40 calories per pound a day. As they grow older, the number of calories they need per day will lessen.
As a pet parent, you need to watch their calorie intake as these dogs plow through their energy levels because of their intense metabolism.
Once they reach adulthood, their meals shouldn't exceed 600 calories daily or an average of 1 cup of dog food.
Look at the dog food's amount of calories; the fewer calories per serving, the more food they can eat.
Transition: How to switch from puppy to adult dog food?
Regardless of breed and size, switching from puppy food to adult food should be done slowly.
The same gradual change is applicable when transitioning to a new diet to avoid upsetting your canine's tummy.
Generally, it's done by adding 25% of the new dog food to their current diet for the first 2-3 days. Then, change 50% of their meal for the next few days until they completely transition to the new food.
Frequently Asked Questions (FAQs)
Do Dachshunds need supplements?
If your dog has specific deficiencies, it would be best to give them extra supplements.
Otherwise, if your Dachshund is running around, looking happy and healthy, the high-quality dog food you're giving him is enough.
When to feed your Dachshund
You can feed your dog around the same time you eat breakfast, lunch, and dinner. This schedule will give them a monitored and constant intake of nutrients and energy.
Are Dachshunds picky eaters?
Generally, the Dachshund breed isn't picky with its food. But every dog is different, so your pooch may just have a preference.
How to change your Dachshund's diet?
If you want to change your pet's diet, it would be best to do it gradually by mixing current food with the new formula so they can get used to the new taste.
How can I stop my dog from eating too fast?
When your Dachshund is rushing his mealtime, you can try to feed them from your hands. This trick teaches them portion control and how to eat their food slowly. Slow feeders are an option, too.
The best dog treats for Dachshunds
If you want to train your dog and teach them a few tricks, you'll need to stock up on a bunch of doggy snacks.
There are many fantastic brands that provide delicious and healthy treats that are perfect for your Dachshund.
Make sure that the ingredients are of premium natural ingredients. Avoid those high in sugar or loaded with fat. Instead, choose something with good protein content like fish, chicken, or lamb.
Wellness Soft Puppy Bites, American Journey Training Bits, or Good 'n' Fun Dog Chews are great options if you want to give your baby a treat for good behavior.
What makes dog food good for Dachshunds?
So, what dog food really is best for your dog? Picking your favorite, however, is up to you.
Consult your vet to understand your Dachshund's needs and do your assignment.
Make sure you know the ingredients of the products and whether or not your dog can eat them. After that, you are good to go — your pup can get their meal.
Share your experiences with different types of dog food brands. We would love to hear from you!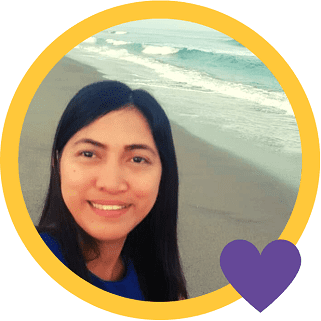 Cess is the Head of Content Writing at K9 Web and a passionate dog care expert with over 5 years of experience in the Pet Industry. With a background in animal science, dog training, and behavior consulting, her hands-on experience and extensive knowledge make her a trusted source for dog owners.
When not writing or leading the K9 Web content team, Cess can be found volunteering at local shelters and participating in dog-related events.