Last Updated on April 20, 2023
Once favored by Chinese emperors and European royalty, Pugs are now adored the world over.
These small dogs are known for their adorable looks, with their wrinkly skin and bug-like eyes, as well as their larger than life personalities.
If you have decided to welcome one of these dogs into your home, then now you need to choose the perfect Pug name for your new pooch.
What's a good name for a Pug?
There are many things to consider when choosing the perfect name for Pug. You can be inspired by famous Pugs of old, your Pug's looks, or even your favorite food.
The best Pug names will bring a smile to your face and roll off your tongue easily. As you will be saying your dog's name a lot, be sure to choose a name you like!
You can even practice saying your dog's name out loud and even calling it out from your backdoor. Hearing your chosen name often will allow you the opportunity to decide if it is right for your dog.
Also, try and avoid offensive or embarrassing words that you don't want to call out in public, use at the vet, or in front of children.
Names with one or two syllables will be easier to say and for your dog to learn.
If you decide to opt for a loftier, more convoluted name for your little royal, like Sir Domino Longsquat, be sure to have an easier nickname on hand that is easier to say.
Also, consider training your Pug when choosing a name. Pugs have an excellent ability for hearing high-frequency sounds, so words with ch, sh, s and k sounds work well for this breed.
Avoid names that sound similar to commands; for instance, Bit or Kit could sound like Sit while Ray or Fay sounds like Stay. These names could end up confusing your dog during training.
What's in a name? Famous Pug
Several famous Pugs have been the stars of movies or have been owned by well-known celebrities or royalty.
Some well-known Pugs from movies and TV shows include Frank, from Men in Black, Bert, and Blueberry from Lady Dynamite, Mel from The Secret Life of Pets, Otis from The Adventures of Milo and Otis, and Percy in Disney's Pocahontas.
Some celebrities also own Pugs. These include Gerard Butler, who owns a Pug named Lolita, Jessica Alba, who owns a Pug named Sid, and Paris Hilton, who named her to rescue Pug Mugsy.
Billy Joel also owns a Pug named Sabrina, Kelly Osborn has a Pug called Prudence, and Anna Faris' pet Pug is named Bonzo.
Many Pugs are also celebrities in their own right, causing sensations on the Internet and becoming Instagram stars.
Perhaps the most famous Internet Pug of all is Doug The Pug, who has over 4 million followers and refers to himself as the King of Pop Culture.
Other famous Instagram Pugs include the Pugdashians, Natty, Tilly, and Sassy, who have over 225,000 followers and work as therapy dogs.
The Pugdashians use their fame to raise money for Pug rescues. Another Instagram star who also uses the platform to raise awareness around rescuing Pugs is Minnie & Max.
With over 110,000 fans on Instagram and more than a million on Facebook, Minnie & Max have been featured on Animal Planet, the Ellen DeGeneres Show, and Jay Leno.
Other famous Instagram Pugs include Otis, Veruca, Milo, and Teddy of The Pug Walsh and Ozzy the Mean Mug Pug.
Best Pug Dog Names
Pugs have some of the best names in the doggy kingdom, with many owners inspired by these dogs adorably unique looks and their humorous, charming personalities.
Let's take a closer look at some of the most famous names for these purebred pooches:
Cute Pug Names
Including the word Pug in your dog's name can be super cute. Pugsley is one of the most popular Pug names.
Here are some other names for your dog that include the word Pug:
Pugster
Pugsworth
Pugzilla
Puggles
Funny Pug Names
The word Pug lends itself to a variety of funny, pun-filled names for this breed. This includes names like Love Pug or Spark Pug.
You can also make your dog sound super fancy with funny names like Pepe Le Pug or Sir Pugs-a-Lot.
Your dog's fun-loving, larger than life personality, can also serve as the inspiration for its name.
For instance, the Gremlin character Gizmo is known for making funny noises and having large eyes, much like your Pug. On the other hand, a dog that is always getting up to mischief could be called Rascal.
Female Pug Names
A super sweet dog, the name of your female Pug should reflect their loving, cute personality. Opt for something that isn't too serious, much like your Pug, and showcases their playful nature.
Here is a list of names for your female Pug:
Rosie
Lulu
Diva
Lola
Fifi
Daisy
Lexie
Bella
Stella
Diva
Zoey
Lucy
Roxy
Lily
Male Pug Names
Inspired by the wrinkly features of the Pug, vintage old-timey gentleman names are chosen for this breed at a much higher rate than other dog breeds. This includes names like Louie, Winston, Otis, Charlie, and Frank.
Some other top male Pug names include:
Max
Oliver
Milo
Buddy
Rocco
Zeus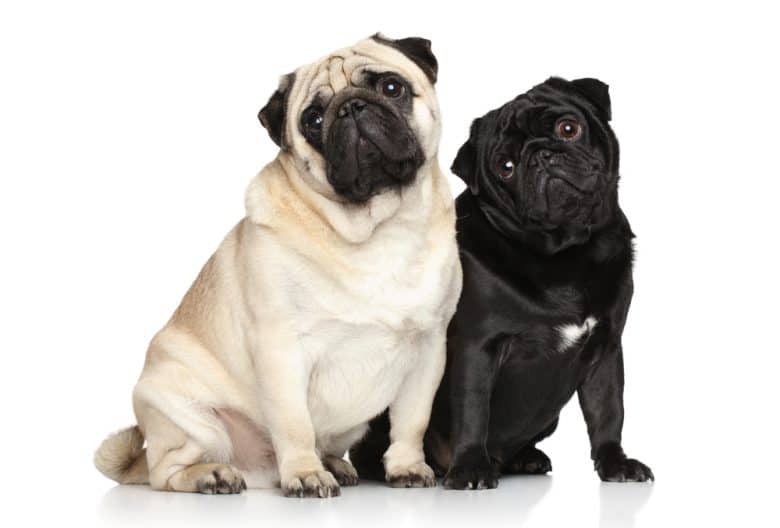 Pug Names based on color
The AKC recognizes two different colors of Pugs, that being fawn and black. Fawn-colored Pugs, a light tan color, are the most common variant, with around two-thirds of all Pugs being this color.
Apricot-fawn and Silver-fawn are variations of this color that are not recognized by the AKC but are by the FCI. Brindle colored Pugs also sometimes occur.
The color of your Pug can help you choose a name for your dog. Here are some options for Fawn colored Pugs:
Buttercup
Amber
Cashew
Sesame
Tawny
Goldie
Chestnut
Almond
Caramel
Honey
Sandy
Pearl
Black colored Pugs could be named one of these options:
Coal
Ash
Dusty
Espresso
Mocha
Pepper
Shadow
Ember
Onyx
Pug Names based on size and appearance
Bred to be lap dogs, Pugs are small dogs that stand around 10 to 14 inches (25 to 36 cm) in height and weigh between 14 and 18 pounds (6 and 8 kg).
They have short stature and unique appearance, with a wrinkled, flat face, dark, round protruding eyes, similar to a Bulldog. This stubby, comical appearance serves as the inspiration for many great Pug names.
Here are a few names inspired by their small size:
Baby
Mr. Big
Stumpy
Munchkin
Shorty
Teenie
Mini
Pixie
Button
Here are some names that reflect the Pug's wrinkled appearance and bug-like eyes:
Crinkles
Wrinkles
Yoda
Bugsy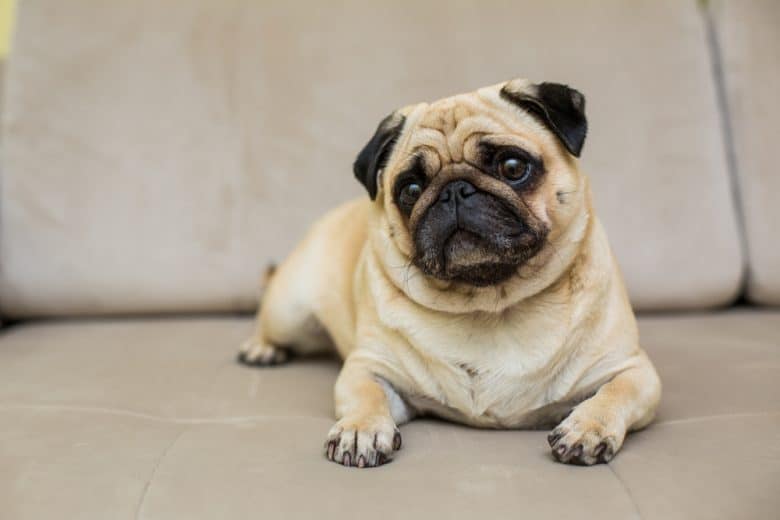 Pug Names from history
There have been many famous Pugs over the years that could serve as inspiration for naming your Pug.
Some of these include royal dogs like Queen Victoria's favorite Pug Basco, the Duke of Windsor's Pugs named Diamond, Winston, Dizzy and Trooper, and Marie Antoinette's Pug named Mops.
Josephine Bonaparte, the wife of Napolean, also had a dog named Fortune when she was imprisoned at Les Carmes.
As the only visitor she was allowed at the prison, Josephine was said to have hidden letters to her family in her Pug's collar.
Pugs also became the official dog of the House of Orange, after one dog, named Pompey, who allegedly saved the life of William of Holland after warning the Prince that the Spaniards were approaching.
Winston Churchill also had a beloved Pug named Punch, while William Hogarth, a famous English artist, created a renowned self-portrait featuring his Pug named Trump.
Italian fashion designer Valentino also had a Pug named Oliver, which served as the name of a line of shirts and cardigans.
One famous Pug from history is Chester Ludlow. This particular Pug was awarded an MBA from Rochville University, making him the first-ever pup to do so.
Pug Names from literature
If you are still looking for inspiration for naming your Pug, look no further than your local library.
The Pug Pals book series is a highly illustrated chapter book that is humorous and features two adorable Pugs, named Rosy and Sunny.
Another excellent book series, Pig the Pug, is geared towards children and features a very greedy, selfish Pug named Pig.
In general, kid's books may also serve as inspiration for your Pug's name, such as the doe-eyed deer Bambi.
You may also find yourself inspired by Harriet Beecher Stowe, the author of Uncle Tom's Cabin. Although a Pug doesn't feature in this particular literature work, the author had a Pug named Missy.
Funny music-related names for Pugs
If you love music, you may want to consider a musically inspired, unique name for your pet.
If you're a David Bowie fan, then why not opt for the name Ziggy, or if Elvis is more your thing, consider naming your dog Elvis Pugsley.
You could also name your dog after your favorite female singers like Cher, Jewel, or Dolly.
How about mixing up some musical inspiration with some good puns to create a fun name for your dog, such as these:
Notorious D.O.G
50 Scent
Bustamove
Diggy Azalea
Goofy boy and girl pug names inspired by food
Pugs are known for their love of food. So it is apt that many Pug names are in turn inspired by their owner's favorite foods.
Here are some food-themed names for your pooch:
Cookie
Ginger
Olive
Peanut
Peaches
Biscuit
Nugget
Brownie
Hershey
Jellybean
Nacho
Oreo
Shortcake
Snickers
Waffles
What should I name my Pug?
Hopefully, the above has given you a few ideas as to what you can name your Pug? Even if you have picked out a great name for your Pug, it's always a good idea to meet your
Pug puppy before making a final decision. By spending a few days with your new dog, you will better understand their character and behavior and what name suits them best.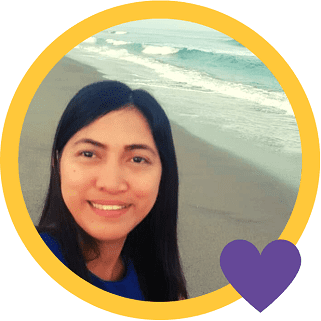 Cess is the Head of Content Writing at K9 Web and a passionate dog care expert with over 5 years of experience in the Pet Industry. With a background in animal science, dog training, and behavior consulting, her hands-on experience and extensive knowledge make her a trusted source for dog owners.
When not writing or leading the K9 Web content team, Cess can be found volunteering at local shelters and participating in dog-related events.