We may earn a small commission when readers buy products through links on this page. It supports our team to keep posting great content. Learn more about this
here
.
Last Updated on April 24, 2023
The Boston Terrier, nicknamed the American Gentleman, is a cute small breed dog that often requires a special diet. They can be picky eaters, and some tend to have sensitive stomachs.
We're here to help you choose the perfect dog food for your pup. We've picked the best dog foods in the market today that will suit your Boston Terrier.
Top 5 Picks for Best Dog Food for Boston Terriers
Best Dog Food Brands for Boston Terriers by Life Stages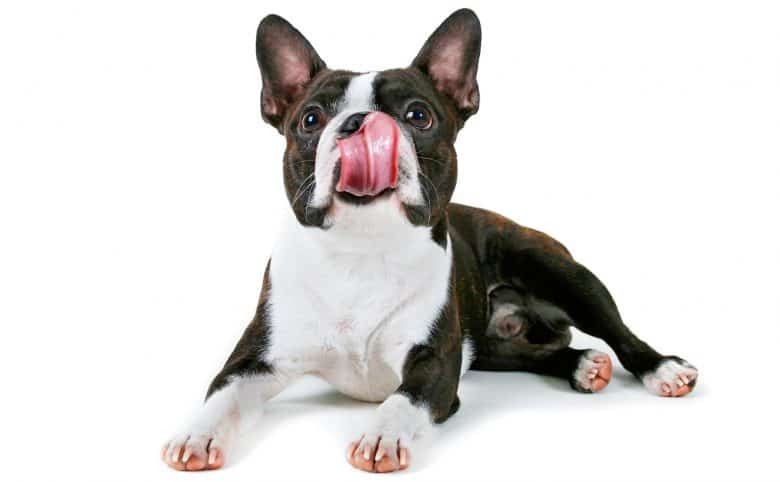 We've highlighted ten excellent dog food brands that offer high-quality ingredients that are perfect for Boston Terriers.
In addition, you'll find puppy food, adult blends, and even senior dog formulas that provide all the essential nutrients your dog will need.
Best Dog Food for Boston Terrier Puppies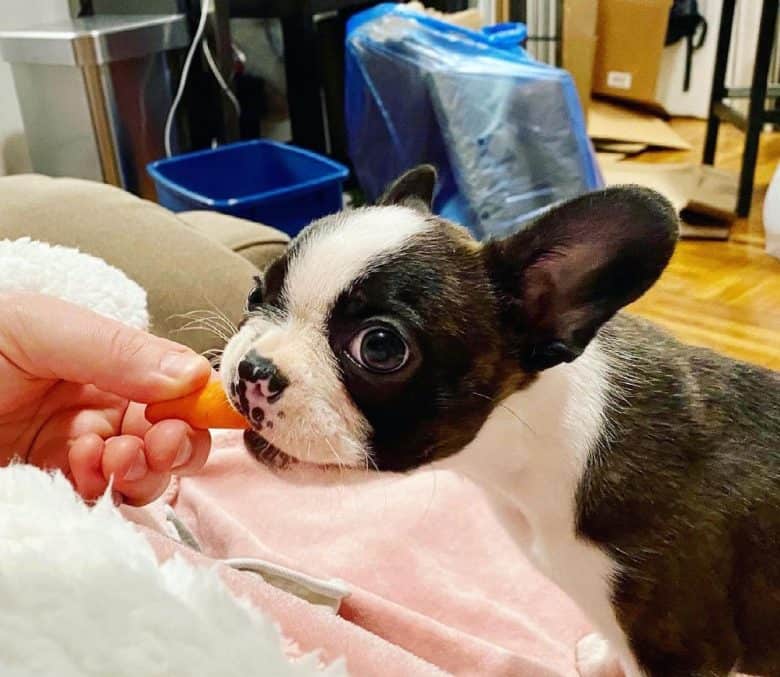 When you've got a young puppy at home, they'll need the appropriate vitamins and nutrients to help their growing bodies. The best way to ensure your pup is getting what they need is to start with well-balanced dog food.
Puppies have growing bones, muscles, teeth, and even minds that can be stimulated with the proper nutrition.
Here we've listed a few dog foods that are perfect for Boston Terrier puppies. Each food is specifically formulated for puppies, but each brand offers its unique blend of ingredients.
1. Eukanuba Small Breed Puppy Dry Dog Food
Our Rating: 4.6
Top Ingredients: Chicken, Chicken By-Product Meal, Corn
Type: Dry
Eukanuba Small Breed Puppy Dry Dog Food provides a complete and balanced diet perfect for a young Boston Terrier.
It promotes early brain development via DHA, and it works to help muscle growth and bone health through calcium and phosphorus. A superb blend for a growing young pup.
Pros:
Offers high-quality animal proteins, optimized fats, and carbohydrates perfect for a growing puppy
Features vitamin E to support a healthy immune system as well as prebiotics and natural fibers that aid in digestion
Cons:
Not suited for puppies with gluten intolerance
2. Blue Buffalo Life Protection Formula Puppy Chicken & Brown Rice Recipe Dry Dog Food
Our Rating: 4.8
Top Ingredients: Deboned Chicken, Chicken Meal, Brown Rice
Type: Dry
This dog food features a smaller kibble size perfect for young pups while also promoting tartar control. This blend also features both omega-3 and omega-6 fatty acids to support healthy skin and a shiny coat.
In addition, enhanced nutrients and antioxidants specifically targeted for growing young puppies help support their immune systems.
Pros:
Features no corn, soy, wheat, or chicken by-product meals of any kind
Has DHA for healthy brain development, ARA to support eye health, and calcium and essential vitamins for healthy bones and teeth
Cons:
Blue Buffalo products can be a bit more expensive than some other brands, but they back it up with quality.
3. Merrick Lil' Plates Grain-Free Real Chicken & Sweet Potato Puppy Dry Dog Food
Our Rating: 4.5
Top Ingredients: Deboned Chicken, Chicken Meal, Potatoes
Type: Dry
With small kibble, this food supports tartar control and healthy teeth. It also features high levels of omega fatty acids to keep skin healthy and coats shiny.
Lil' Plates features fresh ingredients that are perfectly proportioned for growing pups.
Pros:
Grain-free and gluten-free formula that is perfect for a pup with a gluten allergy
Promotes healthy digestion with prebiotics and probiotics while utilizing chondroitin and glucosamine for hip and joint health
Cons:
Features lower DHA levels than some brands
Best Dog Food for Adult Boston Terriers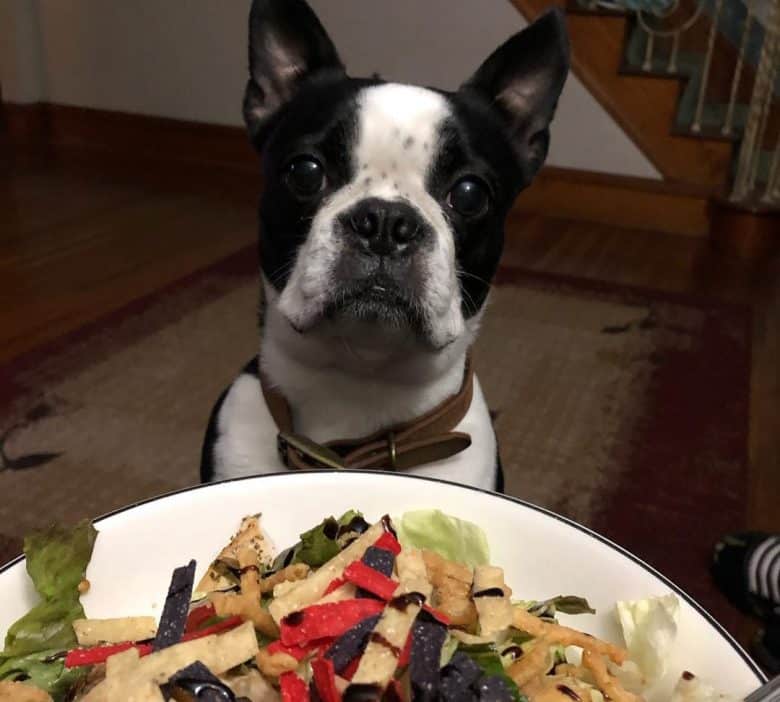 As your Boston Terrier grows into adulthood, their dietary needs change. Some of the nutrient-rich boosts they needed as a puppy may no longer be necessary, and dog food formulated for an adult will suit them better.
The dog food blends we've gathered here have been formulated for adult dogs. They'll help your dog maintain what they built up as a puppy while ensuring they have the energy they need now that they're adults.
4. Wellness CORE Grain-Free Small Breed Turkey and Chicken Recipe
Our Rating: 4.8
Top Ingredients: Deboned Turkey, Turkey Meal, Chicken Meal.
Type: Dry
Packed with protein-rich ingredients to keep them full of energy, this recipe promotes whole-body health with an optimal calorie count for small breeds.
Wellness CORE features the perfect amount of vitamins and nutrients for an adult Boston Terrier.
Pros:
Utilizes a gluten-free recipe that is perfect for doggos with gluten allergies
Does not contain any artificial preservatives, colors, or flavors
Features probiotics, antioxidants, glucosamine, omega-3 fatty acids, and chondroitin
Cons:
Very expensive
Contains tomato pomace, which is a controversial ingredient
5. Canidae Grain-Free PURE Petite Lamb Formula Small Breed Limited Ingredient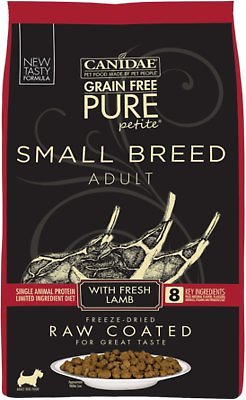 Our Rating: 4.5
Top Ingredients: Lamb, Lamb Meal, Peas
Type: Dry/Freeze-Dried
This blend offers a limited-ingredient formula that still packs the essential vitamins and minerals your Boston Terrier will need in adulthood.
In addition, it helps promote a healthy immune system and healthy digestion while also supporting skin health and a shiny coat.
Pros:
Features a limited ingredient blend that is perfect for small breeds but even better for dogs on restrictive diets
Has eight key ingredients that deliver all the antioxidants, probiotics, and omega fatty acids your dog will need while still being grain-free
Cons:
This freeze-dried recipe can be quite different for some dogs who are not used to it in their diet
Relatively lower protein content compared to other adult dry dog foods
6. Taste of the Wild High Prairie Grain-Free Dry Dog Food
Our Rating: 5
Top Ingredients: Water Buffalo, Lamb Meal, Chicken Meal
Type: Dry
This recipe features the right blend of nutrients to stimulate general good health. Crafted with real meat such as roasted venison and bison to ensure your Boston Terrier gets a novel protein source and promotes muscle growth.
Pros:
Includes real vegetables and fruits for healthy digestion
Gluten-free and grain-free recipe
Contains antioxidants, pre, and probiotics for overall health and wellness
Cons:
Contains chicken which is a known allergen
7. American Journey Stews Poultry and Beef Variety Pack
Our Rating: 4.7
Top Ingredients: Chicken/Beef, Chicken/Beef Broth, Chicken Liver
Type: Wet
With these beef and chicken canned dog foods, American Journey offers meals full of high-quality protein, essential amino acids, and plenty of omega fatty acids.
Packed with all the beneficial nutrients your dog needs, this formula promotes lean muscles, healthy skin, a shiny coat, and plenty of energy.
Pros:
Offers different flavors so that your dog can have some variety in their diet.
Free of poultry by-product meal, grains, wheat, corn, soy, artificial colors, artificial flavors, and preservatives.
Has no grains, corn, wheat, and soy
Cons:
Depending on your dog's weight, you may need more than a single can at mealtime.
Best Dog Food for Senior Boston Terriers
As your Boston Terrier dog matures from adulthood into its senior years, its dietary needs can change. They may not be as active as they once were, and their metabolism can slow down.
When your doggo ages, they will require different nutrient formulas to target new needs.
Here we've gathered high-quality dog foods perfect for Boston Terriers in their twilight years.
8. Royal Canin Size Health Nutrition Small Adult 8+ Dry Dog Food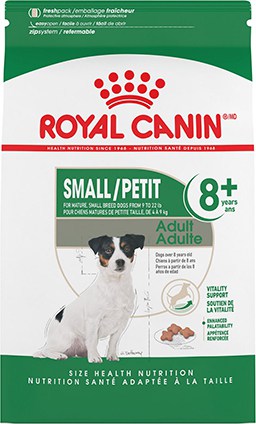 Our Rating: 4.7
Top Ingredients: Corn, Chicken By-Product Meal, Brewer's Rice
Type: Dry
With this dog food blend, Royal Canin offers a formula of high-quality nutrients designed to keep your small dog vibrant and full of life as the signs of aging begin to appear.
This blend will help maintain a healthy weight and a good metabolism while offering a kibble that helps keep teeth clean and free of tartar buildup.
Pros:
Features a unique blend of nutrients and antioxidants to help your dog as they age
Contains L-carnitine to help maintain your dog's ideal weight
Cons:
Contains brewers rice flour which is considered a low-quality filler
Lower in protein compared to other dog foods for senior dogs
9. CANIDAE PURE Senior Grain-Free Limited Ingredient Dry Dog Food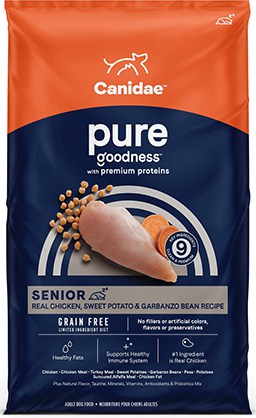 Our Rating: 4.5
Top Ingredients: Chicken, Chicken Meal, Turkey Meal
Type: Dry
With nine main ingredients, this dog food has honed in on a mix that features a high protein level to keep a healthy muscle tone while providing an excellent source of energy.
It promotes good digestive health via probiotics, and it offers antioxidants and vitamins for a healthy immune system. Canidae's well-rounded blend can suit many dog breeds, including your Boston Terrier.
Pros:
Features a grain-free and gluten-free recipe that avoids utilizing soy, wheat, and corn to help sensitive stomachs
Contains no artificial flavors, colors, or preservatives
Cons:
It can be pricier than others
Best Foods for Boston Terriers with Health Concerns
Any dog breed can suffer from health concerns, and your Boston Terrier is no different. When choosing the right food, you may be pleased to know that a proper diet can help prevent these problems.
Best Boston Terrier Dog Food for Sensitive Skin and Stomach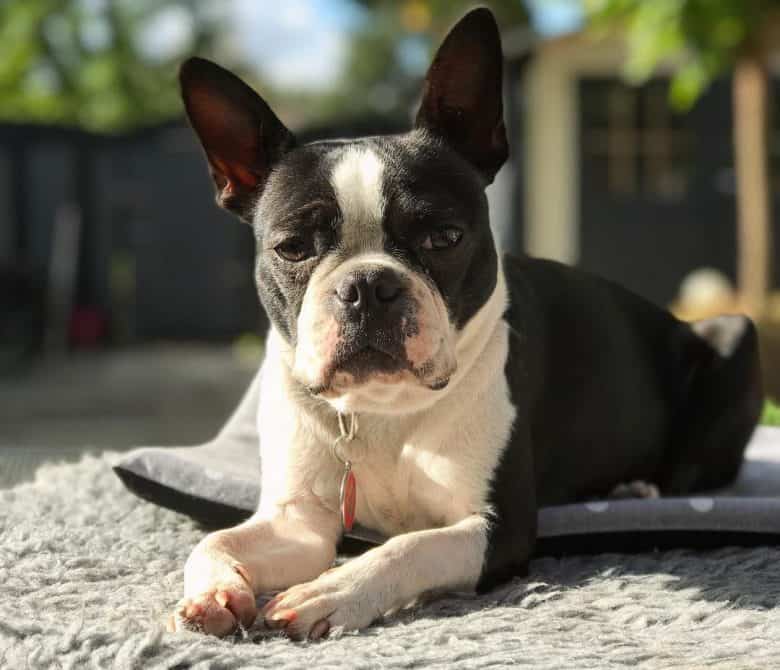 10. Purina Pro Plan Adult Sensitive Skin & Stomach Dry Dog Food (Salmon & Rice)
Our Rating: 5
Top Ingredients: Salmon, Barley, Rice
Type: Dry
This Purina Pro Plan blend features a specially crafted formula to help sensitive skin and stomach. It's nutritious and highly digestible, with real salmon and rice as its top ingredients.
It's also fortified with vitamins and minerals to support healthy joints.
Pros:
Contains omega fatty acids for healthy skin and coat
Fortified with pre and probiotics to support your dog's digestive and immune health
Cons:
Has a higher calorie count than some brands
Best Boston Terrier Dog Food for Allergies
11. Natural Balance Limited Ingredient Diets Dry Dog Food Grain Free(Salmon & Sweet Potato)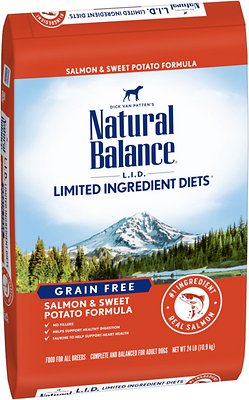 Our Rating: 5
Top Ingredients: Salmon, Menhaden Fish Meal, Sweet Potatoes.
Type: Dry
Natural Balance has crafted an easily digestible limited ingredient diet that works as an excellent source of carbs with this dog food.
It was specifically designed to meet your dog's nutritional needs, but it's also grain-free while avoiding the use of corn, wheat, and soy.
Pros:
Formulated for all breed sizes as well as both puppy and adult dogs
Well-suited for sensitive stomachs
This blend also leaves out peas, legumes, lentils, and pea protein
Cons:
While this blend is well suited for puppies and adults, it may not be the best for senior dogs.
Buyer's Guide: Choosing the Right Dog Food for Your Boston Terrier
When it comes to choosing the right diet for your Boston Terrier, you'll always want to make sure that their food meets their nutritional requirements.
If your Boston Terrier has special needs, there will be more factors to consider.
A well-balanced diet will keep your Boston Terrier happy and healthy.
You also don't need to shy away from big-name brands like Blue Buffalo. They make a fine product, but before making your choice, ensure the food you're buying has what your dog needs.
Are grain-free diet options preferable for Boston Terriers?
Your Boston Terrier doesn't require a grain-free diet, but it may be the right option if your dog has allergies or a sensitive stomach. A grain-free diet can help with these concerns while still delivering the essential nutrients.
Grain-free dog foods aren't necessarily better for your pet, but they do serve their purpose when your doggo has special dietary needs.
Should you choose dry kibble, wet food, a raw diet, or homemade?
When choosing dry kibble or wet food or even whether or not to go with a raw diet, you'll want to consider the needs of your Boston Terrier. Each type of food works, but what works best for you?
If your dog has a sensitive stomach, it may benefit from wet food or even a raw diet. On the other hand, if your dog needs extra dental attention, dry kibble could be perfect for their tartar control.
The choice you make here depends entirely on what best suits your four-legged friend.
Boston Terrier Health Concerns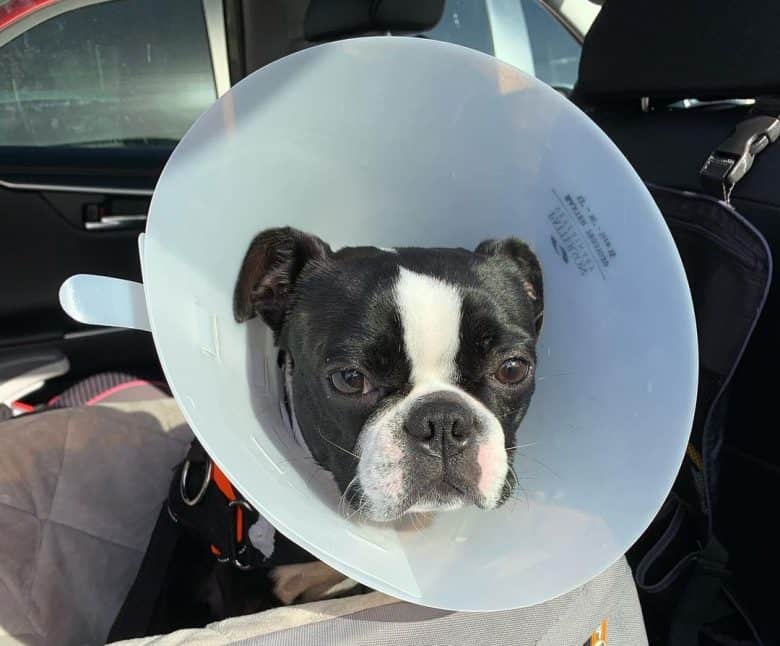 Any dog breed can suffer from health concerns, and your Boston Terrier is no different.
When choosing the right food, you may be pleased to know that a proper diet can help prevent these problems. But what are some health concerns your Boston Terrier may encounter?
Possible Boston Terrier Health Problems:
Cataracts
Cherry Eye
Heart Murmurs
Deafness
Otitis
Colitis
Conjunctivitis
Dermatitis
Corneal Ulcers
Gastritis
Periodontal Disease
UTI
Allergies (including food allergies)
Patellar Luxation
Glaucoma
Epilepsy
While that list of health issues may concern you, none of those is guaranteed, and your Boston Terrier is fully capable of a long and happy life.
Boston Terriers and their Sensitive Stomachs
Some Boston Terriers may have sensitive stomachs, and they may develop a food intolerance or food allergies that could be concerning. But how do you recognize a food allergy?
Luckily, there are common signs that could point to your pooch having a food allergy. Here are a few examples:
Chronic ear inflammation
Gastrointestinal problems such as diarrhea, vomiting, and chronic gas
Hair Loss
Skin Infections
Hot spots – Hot spots are skin lesions that feel hot and moist while also being inflamed from your dog's repeated licking, scratching, and biting. Hot spots generally occur near the head, hip, and chest areas, which can be very painful.
Changes in behavior – This may be harder to associate with a food allergy, but if your dog's activity level changes via sudden hyperactivity, less activity, or even abnormal aggressiveness, it could be from a food allergy.
When it comes to choosing the right pet food for your dog's health concerns, it's a matter of finding the best blend of quality ingredients that can help their particular condition.
For example, your Boston Terrier may have a sensitive digestive system, which will require a lighter diet.
Boston Terrier Nutritional Requirements: What kind of diet is best for a Boston Terrier?
Although Boston Terriers are considered a small breed, they need a lot of energy in their bodies since they're an active breed who loves to run and play most of the time.
Even month old puppies love to play around:
The best diet for your Boston Terrier will be a well-balanced diet that contains different ingredients that will trigger a great deal of energy.
It should also contain essential vitamins, proper amounts of protein, carbohydrates and fat, and minerals to keep them healthy and strong.
Essential Nutrients for Boston Terriers:
Proteins
Carbohydrates
Fats
Vitamins
MInerals
Water
The best food for your Boston Terrier will be brands that start with the above-listed nutrients as their building blocks.
Of course, your dog may need special considerations if they have a sensitive stomach or allergies, but the base of essential nutrients should be present even then.
These nutrients should also be present in diets meant for each stage of life.
A Homemade Recipe You Can Try for Your Boston Terrier
If you've decided to try a homemade diet for your Boston Terrier, ensure it meets their dietary needs with all the essential nutrients they'll need. There is nothing wrong with a well-balanced homemade dog's diet.
If you're interested in a recipe to try, here's a simple one you can do at home:
Ingredients:
Half pound of chicken breasts, cubed
Two cups of rice bran or ground flax (you may also try oat bran)
¾ cup of water
Instructions:
In a pot, boil the chicken breasts in water. Don't discard the water after boiling
Preheat the oven to 350°F
Put the cooked chicken and cooking water from earlier in the blender. Blend until you get a batter-like consistency
Add the rice bran and pulse until all ingredients are incorporated
On a baking sheet, roll the mixture into balls of your preferred size. It shouldn't be too big since you're feeding it to your Boston Terrier
Flatten the ball by using a spoon or your hand
Bake for about 20 minutes
These doggie treats may be stored for up to two weeks if stored in an airtight container.
Boston Terrier Feeding Chart
Below we've provided a basic feeding chart based on age and the average size of Boston Terriers. Still, your dog's needs may vary when it comes to feeding your dog, factor in their size, age, activity levels, and even their metabolism.
| | |
| --- | --- |
| Stage of Life | Average Food Intake Per Day for Boston Terrier |
| Puppy | ½ – 1 ½ cups |
| Adult | 1 – 2 cups |
| Senior | 1 – 2 cups |
How often should you feed your Boston Terrier
It's important to note that it's better to split your dog's food into 2 or 3 meals over the course of the day.
The average Boston Terrier puppy needs around 430 calories a day, which will grow to around 660 in adulthood, so you'll want to keep an eye on calorie intake. For puppies 3 months below, they need approximately five meals a day.
For adults and seniors Boston Terriers, they will only need to be fed at least twice a day.
Transitioning: How to Switch From a Puppy Blend to an Adult Dog Food
When it comes to transitioning from one dog food to another, it should be a gradual process. Different foods have varying nutrient levels and even different flavors.
In the first two days, you'll want to start with a mix that is 75% current food and 25% of new food. Then, you can bump that up to an even 50/50 split of each type of food on days three and four.
On days five and six, you should be able to move to a 25% mix of the food they have been eating combined with 75% of the new food you're starting.
Finally, you can give them 100% of the new food you've been working into their diet on day seven.
If all has worked out as planned, your dog will now be on the new food without much fuss.
Frequently Asked Questions (FAQs)
Are Boston Terriers picky eaters?
Boston Terriers have been known to be picky eaters, and many of them also have sensitive stomachs. Luckily, there are excellent food options to help with these very problems.
Do Boston Terriers need supplements?
If you choose the right diet, your Boston Terrier shouldn't need supplements. Even if they aren't getting what they need in their diet, it's best to correct this with foods that provide the essential nutrients rather than supplements.
Best Dog Treats for Boston Terriers
There are plenty of excellent treats for your Boston Terrier. You can keep it simple with things like apples or bananas, or you can find name-brand treats.
Raw bones can be okay as long as you get the right size for their small frames while keeping in mind that they can spoil.
If you're looking for something you can buy regularly, think about single-ingredient snacks like these all-natural liver dog treats.
Choosing the best food for your Boston Terrier
Only you can make this final decision after weighing the factors that will best suit your Boston Terrier's needs.
From all the dog foods we listed above, we highly recommend Taste of the Wild High Prairie Grain-Free Dry Dog Food. It uses natural ingredients and contains zero fillers and artificial ingredients.
Never be afraid to consult your veterinarian, especially if your pup has special dietary needs. When you've found the right food, your dog will be a happy and healthy companion.
Further Reading: Best Dog Food for Other Dog Breeds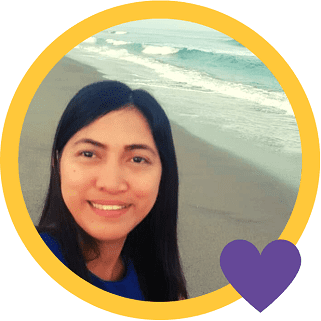 Cess is the Head of Content Writing at K9 Web and a passionate dog care expert with over 5 years of experience in the Pet Industry. With a background in animal science, dog training, and behavior consulting, her hands-on experience and extensive knowledge make her a trusted source for dog owners.
When not writing or leading the K9 Web content team, Cess can be found volunteering at local shelters and participating in dog-related events.