We may earn a small commission when readers buy products through links on this page. It supports our team to keep posting great content. Learn more about this
here
.
Last Updated on April 25, 2023
Known for their glamorous white coats, the Maltese is a highly energetic small dog breed. They are playful, friendly, and one of the most popular companion dogs in the world.
These furballs need a well-balanced diet to maintain their energy. Unfortunately, they are also picky eaters, so it can be hard to find the best dog foods for Malteses.
Top 5 Picks for Best Dog Food for Malteses
Best Dog Food Brands for Malteses by Life Stage
When choosing the best dog food for your Maltese, you may come across breed-specific dog foods. While that might sound great, it's usually just a marketing trick that only includes breed-specific packaging and labels.
Puppies, adult dogs, and senior dogs have different nutritional requirements. Therefore, we'll focus on Maltese dog foods that are suitable for each life stage.
Best Puppy Foods for Malteses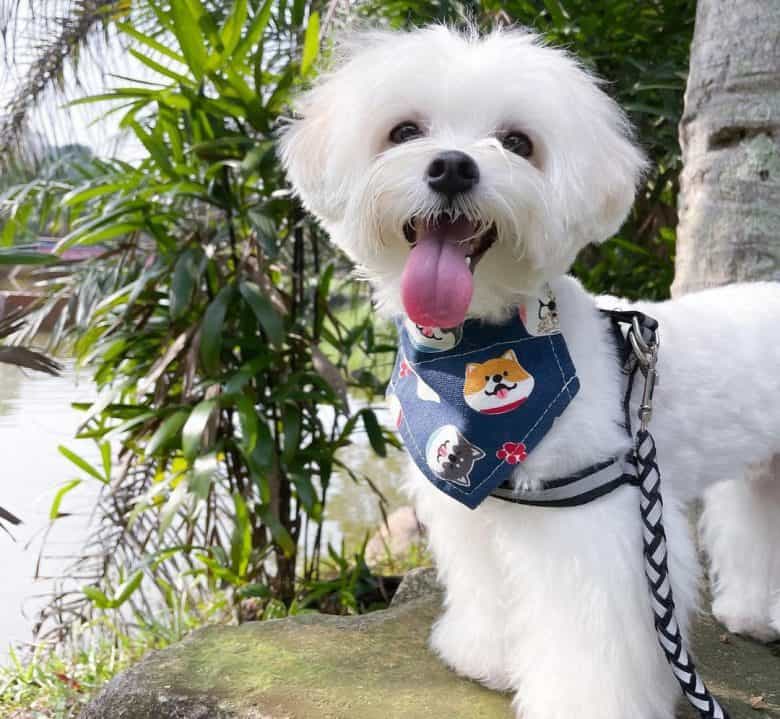 The best puppy foods for Maltese are high in protein and carbs since puppies need them for healthy growth.
1. Earthborn Holistic Small Breed Natural Dog Food
Our Rating: 4.3
Top Ingredients: Turkey Meal, Brown Rice, Dried Egg
Type: Dry
One of the rare dog foods suitable for both puppies and adults, this kibble has protein sources like turkey meal, dried eggs, and Pacific whiting meal.
In addition, the food is rich in fruits, vegetables, and supplements, in addition to highly digestible grains like oatmeal and brown rice.
Pros:
High caloric content ideal for growing puppies
Good for skin and coat health due to high content of fatty acids
Made in the USA
Cons:
Not suitable for dogs with food allergies since it contains grains
2. Purina Pro Plan Toy Breed Puppy Dog Food
Our Rating: 4.5
Top Ingredients: Chicken, Corn Gluten Meal, Rice
Type: Dry
This dry kibble contains real meat with chicken as the first-named ingredient. Specially formulated for toy breed puppies, it's high in protein to support the health and wellness needed by a growing pup.
Pros:
Full of calcium to support bone development and fish oil to improve cognitive abilities
Contains DHA from dried eggs and fish meal
Small kibble size perfect for small jaws
Cons:
Contains poultry by-product meal
3. CANIDAE Grain-Free Recipe Pure Petite Small Breed Raw Coated Dry Dog Food
Our Rating: 4.8
Top Ingredients: Salmon, Salmon Meal, Lentils
Type: Dry
This dog food is perfect for puppies with sensitive stomachs and food allergies since it is grain-free.
The freeze-dried kibble is fortified with prebiotics and has real salmon as its staple ingredient, further enriched with the salmon meal to provide a high-calorie content.
Pros:
Limited-ingredient to reduce chances of allergic reactions
Super high caloric content that puppies need
Contains omega fatty acids to promote healthy skin and coat
Cons:
A bit on the expensive side, especially for a staple diet
Best Dog Food for Maltese Adults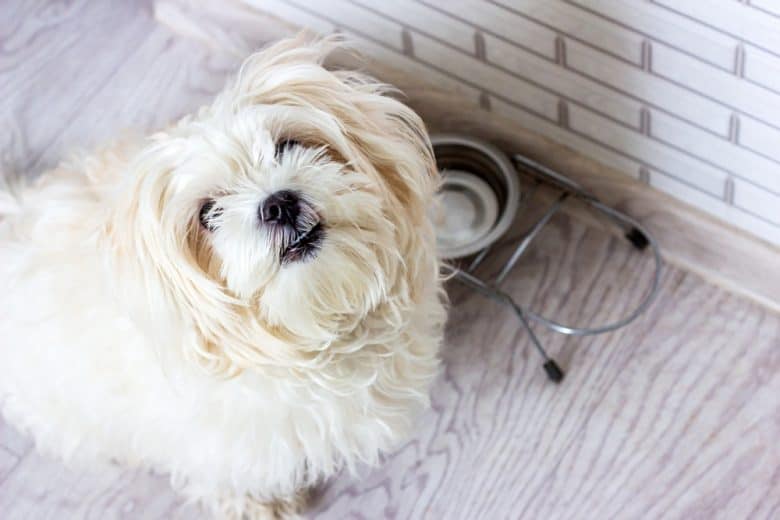 If you already have a grown and mature Maltese dog, you should look for adult dog food. There are many great choices out there, but these are our favorites:
1. Blue Buffalo Life Protection Formula Small Breed Adult Chicken & Brown Rice Recipe Dry Dog Food
Our Rating: 4.8
Top Ingredients: Deboned Chicken, Chicken Meal, Brown Rice
Type: Dry
This kibble is specially formulated for small dogs, with its kibble size just small enough to prevent choking. It has deboned chicken as the primary protein source and a wide array of fatty acids for skin and coat health.
It also contains a range of vitamins, minerals, and probiotics to support the immune system.
Pros:
Appropriate caloric content for small breeds (397 kcal/cup)
Impressive ingredients list at a fair price point
Made in the USA and does not contain artificial flavors
Cons:
Some dog owners might find the food's aroma too strong
Contains small amounts of garlic
2. Wellness CORE Small Breed Grain-Free Dry Dog Food (Turkey & Chicken Recipe)
Our Rating: 5
Top Ingredients: Deboned Turkey, Turkey Meal, Chicken Meal
Type: Dry
In addition to real deboned turkey that serves as the lean protein source, this food is also full of omega fatty acids and antioxidants for a healthy, well-balanced diet.
It's fortified with glucosamine and probiotics to ensure proper digestion and prevent joint problems. Suitable for dogs with digestive issues and food allergies since it is grain-free.
Pros:
High in protein and fat perfect for your Maltese
Contains high-quality ingredients, fruits, and vegetables
Made in the USA
Cons:
Picky eaters may not like the taste
3. Nutro Ultra Small Breed Adult Dry Dog Food
Our Rating: 4.5
Top Ingredients: Chicken, Chicken Meal, Whole Brown Rice
Type: Dry
This dry kibble is full of various protein sources like chicken, chicken meal, lamb meal, salmon meal, and pea protein.
In addition, the unique mix of superfoods like kale, coconut, and chia makes this kibble stand out and offers various health benefits. It also includes whole brown rice for healthy digestion and proper nutrient absorption.
Pros:
No wheat, soy, or corn in the formula
Made with natural ingredients, does not contain artificial fillers or flavors
Fortified with antioxidants, vitamins, and minerals for a stronger immune system
Cons:
Not for dogs with sensitive stomachs due to the extensive ingredient list
Best Dog Food for Maltese Seniors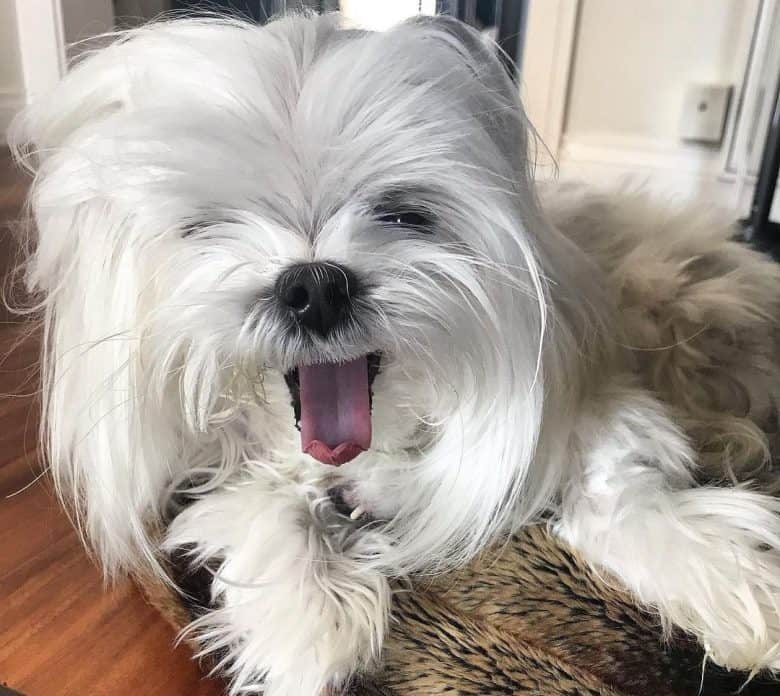 For dog owners with senior Malteses, we have prepared a few of our favorite dog foods that are suitable for that life stage:
1. Merrick Lil' Plates Grain-Free Real Chicken & Sweet Potato Senior Dry Dog Food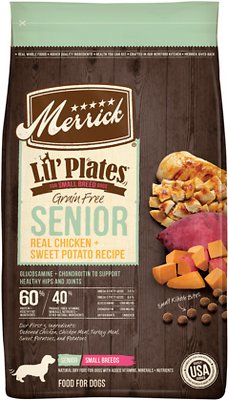 Our Rating: 4.9
Top Ingredients: Deboned Chicken, Chicken Meal, Sweet Potatoes
Type: Dry
This grain-free and gluten-free dog food is made with real deboned chicken and other high-quality protein sources. It contains pre and probiotics to promote healthy digestion for your senior pup.
Includes chondroitin and glucosamine to support bones and joint function.
Pros:
A grain-free formula suitable for sensitive stomachs or food allergies
Contains high levels of omega fatty acids for healthy skin and coat
Made in the USA
Cons:
Contains a high amount of peas and potatoes
2. ORIJEN Senior Dry Dog Food, Grain-Free, High Protein, Fresh and Raw Animal Ingredients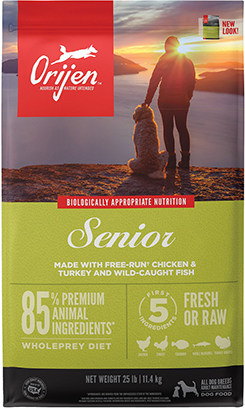 Our Rating: 4.7
Top Ingredients: Deboned Chicken, Deboned Turkey, Atlantic Founder
Type: Dry
Orijen Senior is a grain-free dog food that offers complete nutrition for your aging pooch. It has limited carbs and contains fresh regional ingredients like deboned chicken, deboned turkey, and various fish as protein sources.
In addition, each kibble is coated with freeze-dried liver for an irresistible flavor your pup will love.
Pros:
High-quality protein sources and ingredients do not contain any artificial flavors or colors
Includes omega fatty acids for healthy skin and coat
Contains calcium to promote strong teeth and bones
Cons:
Very high in protein, not suitable for dogs with kidney problems
Expensive compared to other products
3. Now Fresh Senior Small Breed Grain-Free Dry Dog Food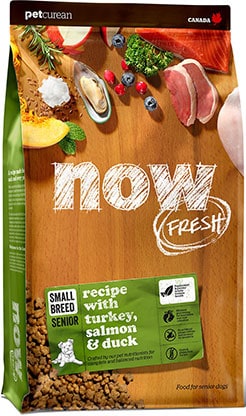 Our Rating: 4.5
Top Ingredients: De-Boned Turkey, Potatoes, Peas
Type: Dry
A grain and gluten-free dog food specially formulated for senior dogs 9 years older. Aside from real turkey, the formula also features fresh salmon and duck for a balanced protein source.
Includes a mix of probiotics and prebiotics to support good digestion.
Pros:
Contains L-carnitine that promotes healthy body weight and supports healthy heart function
Has omega fatty acids to help nourish your dog's skin and coat health
Formulated with vitamins, minerals, and antioxidants for a healthy immune system
Cons:
Kibble size is inconsistent, according to some dog owners
Best Dog Food for Maltese with Health Issues
If your Maltese has a specific health issue, you need to choose his food more carefully. A well-balanced diet can prevent illnesses and keep your pooch healthy.
Choosing the best dog food for Malteses with health problems
Certain foods are suitable for dogs with health problems, so let's take a quick look at the most common health issues in Malteses:
Sensitive Stomach – Feed your pooch high-quality dog food and avoid any sudden changes to his diet.
Obesity – Portion control and dog foods for weight control can prevent obesity.
Dental Problems – Stick to small size dry kibble suitable for small and toy breeds to reduce the risk of dental problems.
Joint Problems – Choose dog foods fortified with glucosamine and chondroitin since they can prevent joint issues.
Tear Stains – This issue is often caused by low-quality food, especially artificial additives, colors, and flavors. Foods with heavy wheat or corn content can also be problematic. Avoid these foods and stick to high-quality, natural ingredients.
Another common issue for Malteses is food allergies. Common symptoms of food allergies include itchiness, ear infections, sneezing, digestive problems, hives, runny eyes, swelling, etc.
Take your dog to the vet to determine whether he has a food allergy and determine what specific ingredient is causing allergic reactions.
Best Maltese Dog Foods for Weight Management
Maltese dogs that are overweight need to be on a special dietary regimen to lose weight. Consult your vet before changing to a special diet, such as our top picks for weight management.
1. Wellness Small Breed Complete Health Adult Healthy Weight Turkey & Brown Rice Recipe Dry Dog Food
Our Rating: 5
Top Ingredients: Deboned Turkey, Chicken Meal, Salmon Meal
Type: Dry
This dog food is formulated for small breeds and uses high-quality protein. It also contains omega fatty acids, glucosamine, probiotics, and taurine for a strong and healthy immune system.
Made without any meat by-products, GMOs, artificial fillers, and preservatives.
Pros:
Small kibble size suitable for small and toy dog breeds
Has a high fiber content compared to other dog foods
Contains antioxidants from nutrient-rich fruits and vegetables
Cons:
Some picky eaters refused to eat this food
2. Hill's Science Diet Perfect Weight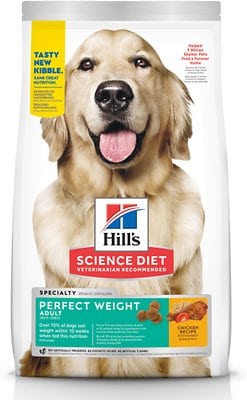 Our Rating: 4.5
Top Ingredients: Chicken, Cracked Pearled Barley, Brown Rice
Type: Dry
According to the manufacturer, over 70% of dogs who eat this kibble lose weight within the first ten weeks. Whether this is true remains a question, but the recipe does have a mere 291 kcal per cup and reduced fat content.
This dog food has chicken as the main protein ingredient to support muscle maintenance.
Pros:
Kibble is rich in fiber and L-carnitine ideal for maintaining a healthy weight
Contains vitamins and minerals for a balanced nutrition
Made in the USA
Cons:
Contains some artificial flavors, such as chicken liver flavor
Does not contain probiotics that aid in digestion
3. Halo Holistic Healthy Weight Grain-Free Turkey, Turkey Liver & Duck Recipe Dry Dog Food
Our Rating: 4.5
Top Ingredients: Turkey, Dried Peas, Dried Chickpeas
Type: Dry
This dry kibble is made only from whole meats, which guarantees high-quality protein content. It's a bit high in calories, but it's made to boost your dog's metabolism and reduce weight by keeping the fat content down.
In addition, the small and digestible kibble size makes it ideal for your Maltese.
Pros:
Does not contain any artificial ingredients
Contains omega fatty acids to maintain healthy skin
Made in the USA with sustainably sourced ingredients
Cons:
Buyer's guide: How to choose the right dog food for a Maltese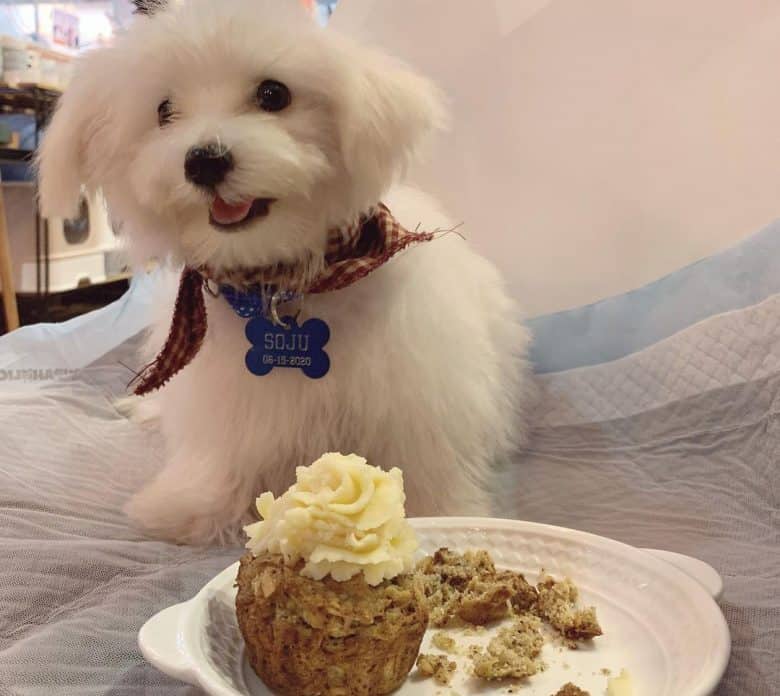 Choosing the right pet food for your Maltese can be difficult and time-consuming, but it is important to focus on it.
A well-balanced diet has many benefits – it can improve overall health, prevent various diseases, maintain a healthy weight, and ensure that your dog's coat is strong and shiny.
Before you focus on the dog food, consider your dog's unique needs:
Age – Young pups need more calories and more frequent meals to avoid hypoglycemia. Opposite to that, adult dogs require fewer calories and don't need to be fed as often.
Weight – Dogs under 4 pounds need smaller servings, unlike dogs over that weight.
Food Allergies and sensitivities – Dogs can be allergic to certain foods. For example, Malteses are usually allergic to dairy, grains, and some proteins.
What are the characteristics of the best Maltese dog food?
When choosing reliable and quality dog food for your Maltese, the key is to focus on wholesome, high-quality ingredients:
Quality protein sources coming from real meat such as chicken, turkey, lamb, beef, fish, bison, rabbit, etc. Cooked eggs in moderate amounts are also a good protein source and rich in amino acids.
Healthy fats can maintain your dog's energy levels and healthy skin and coat. The most important fats are Omega fatty acids such as Omega-3 and Omega-6, found in fish oil (mackerel or salmon oil), flaxseed oil, and animal fat.
Carbohydrates are also crucial for calories and energy, in moderation. Common sources include grains like rice, oats, and barley, plus various vegetables like sweet potatoes.
Vitamins and minerals are essential for a dog's immune system, bone and joint health, eyesight, healthy coat, etc. They can come from whole foods like fruits and veggies like spinach, cranberries, blueberries, pumpkin, broccoli.
What to avoid when feeding your Maltese dog
So, we know what elements and ingredients to look for in dog food for your Maltese. Now, let's take a closer look at things you should avoid:
Foods without a whole protein – Whole proteins should be listed as the first ingredient in high-quality dog foods.
Foods with artificial additives – Artificial colors, flavors, and preservatives are sometimes added to keep the food fresh and make it look and taste better. However, they are not healthy since they can act as allergens and cause other health issues.
Foods with animal by-products – Animal or meat by-products aren't always bad, and they can even be a good source for things like glucosamine, but only in small amounts. Avoid unidentified or generic meat meals since they can contain almost anything you can or can't imagine.
In addition to these ingredients, you should also avoid foods made in countries with poor quality control and food safety protocols.
Instead, stick to dog food made in countries like the United States, Canada, Australia, New Zealand, and Western Europe.
Are grain-free diet options preferable for Malteses?
Many Maltese dogs do well on grain-free dog food, but it is unnecessary to pay a premium price for grain-free formulas if your dog can digest grains.
Whole grains are a good source of carbs, so only avoid them if your dog is allergic or sensitive to grains or gluten.
Choosing between dry kibbles, wet food, raw diet, or homemade meals for your Maltese
Each of these feeding options has certain benefits. Wet foods are generally tastier and easily digestible, but they can lead to runny bowels in some cases.
Dry kibble can clean your dog's teeth and prevent gum disease or tooth decay. Also, dry kibble is more affordable.
Home cooking has many benefits, which we'll cover in detail later, but you would need to be very careful to meet all of your dog's nutritional needs and dental care requirements.
Raw food diets are getting more popular now, but it is still unclear whether they are nutritionally complete and well-balanced.
Our suggestion for Malteses would be dry kibble. However, make sure to choose kibble suitable to small breed dogs, i.e., smaller kibble size that makes it easier to chew and swallow.
You can also add a bit of wet food or some broth to the dry kibble to make it more chewy.
Homemade Meals for Malteses You Can Try
A homemade diet for your Maltese has many benefits since it allows you to control the quality of the ingredients first-hand. It is also fresher and tastier.
However, cooking takes a lot of time to prepare the meals and meet all nutritional requirements.
Some of the best natural ingredients to include in homemade meals are quality animal proteins, vegetables, and fruits we mentioned already. Also, don't forget to add fatty acids from vegetable or fish oils or animal fats.
Here's another simple recipe you can try at home:
Ingredients:
3 lbs of ground turkey
4oz Salmon
One cup of string beans
One cup of shredded carrots
8oz of white rice
4oz of sweet potato
1 tsp of flaxseed oil
Preparation:
Cook the white rice first.
While the rice is cooking, put the string beans and shredded carrots in a food processor. Pulse until all veggies are shredded into small pieces.
Boil the sweet potatoes and once it's tender, mix with the rest of the shredded vegetables in a bowl.
Cook the ground turkey in a pan until it's golden brown.
Add the minced salmon to the turkey and continue to cook for 2-3 minutes.
Mix the cooked white rice with the vegetables and cooked turkey and salmon.
Add the flaxseed oil as the final touch.
Maltese Feeding Chart – What, How, and When to Feed Your Dog
Malteses are small breed dogs which means they need more calories than large breed dogs. These little dogs also have special nutritional requirements since they are prone to allergies and digestive issues.
The most important thing to consider when it comes to feeding your Maltese is caloric intake. Portion control is essential for Malteses to maintain healthy body weight.
Also, Malteses are picky eaters, and it may take some time to find the food that your dog likes.
Watch how picky these two Maltese pups can be while they review different foods:
Calorie requirements: Maltese puppies require about 55 calories per day for each pound of body weight. Meanwhile, adult dogs that have reached maturity need around 45 calories per pound of body weight.
Protein requirements: According to AAFCO, your puppy's food should contain at least 22% protein and 8% fat to ensure proper growth, while dog foods for adult Maltese should have at least 18% protein and 5% fat.
Serving sizes: In most cases, dog foods come with recommended feeding guidelines based on their formula and your dog's weight and age.
In general, Malteses that weigh from two to four pounds should eat 1/4 cup to 1/2 cup of food per day. Malteses over five pounds of body weight should eat between 1/2 cup and 3/4 cups of food per day.
Feeding frequency: This depends on your dog's age since puppies should eat more often than adult or senior dogs. Feed your Maltese puppies 3-4 times per day, while adult and senior Malteses should eat 2-3 times per day.
Keep an eye on your dog's weight to make sure that he is eating enough, and prevent excessive weight gain.
Transition: How to switch from puppy to adult dog food?
The transition from puppy food to adult dog food for Maltese should begin once they reach maturity, between 9 to 12 months of age. The switch needs to be done slowly.
If you need to switch your new Maltese puppy to another dog food with better nutritional value, it also has to be a gradual change to not upset his digestive system.
To do this right, mix the puppy's old food and new food – 1/4 new food and 3/4 old. Increase the amount of new food by 1/4 after each week until your dog is eating just the new food.
Frequently Asked Questions (FAQs)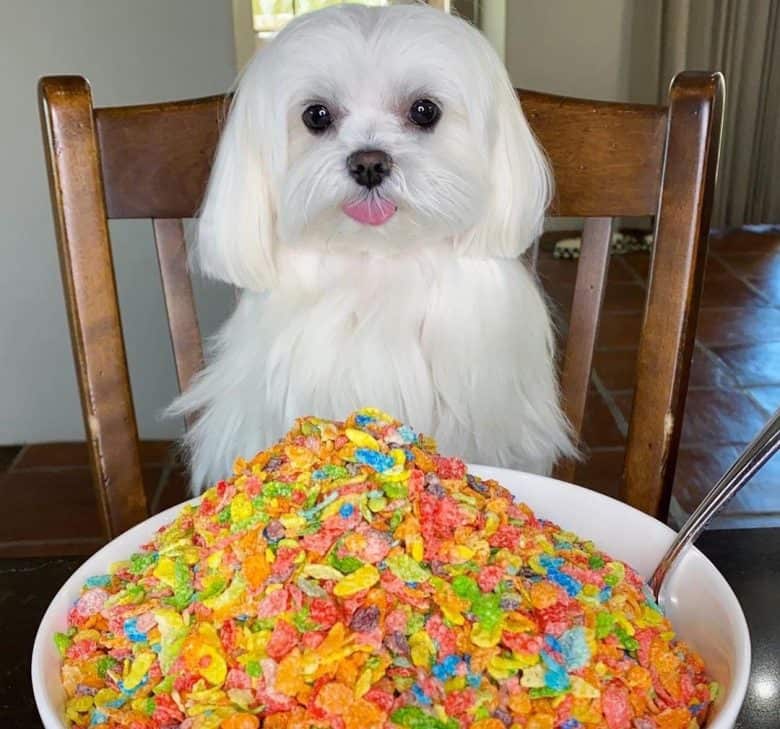 Do Maltese dogs need supplements?
If you are wondering whether your Maltese needs supplements, the answer can vary depending on his age. For example, dogs over six years of age should take joint supplements.
That being said, Malteses that eat a well-balanced diet don't need supplements. Many dog foods already contain prebiotics and probiotics (dried fermentation products) to ensure regular, healthy digestion.
Some also contain chelated minerals, which are mineral supplements that are easier to absorb and digest.
How to store your Malteses dry dog food?
Keep your dog's dry food in an airtight container so it remains fresh. You should also put the food in a cool and dry location to protect it from heat and moisture.
What are the best dog treats for Malteses?
Be careful with dog treats since there are some genuinely terrible options out there. The best dog treats for the Maltese breed contain natural, healthy ingredients like meat, veggies, and fruit.
Avoid dog treats that have artificial flavors, colors, and additives.
What Makes Dog Food Good for Malteses?
The best dog food for Maltese has to be high in quality proteins but also include other ingredients with nutritional value.
Vitamins, minerals, carbs, fibers, fatty acids, probiotics, prebiotics – all of them play a role in your dog's health.
Blue Buffalo Life Protection Formula is our absolute favorite when it comes to the best dog foods for Maltese. It has a great list of ingredients, including whole meats as protein sources.
Other good dog food brands didn't make it to our list: Taste of the Wild Appalachian Valley Dog Food and Royal Canin Adult Maltese Dog Food.
However, you may give them a try since both are good dog foods for your Maltese too.
Whatever dog food from our list you like the most, it is essential to talk to your vet before making any changes in your dog's diet.
What dog food do you use for your dog's diet and do you agree with our list of best foods for Malteses? Let us know in the comment section, or you can recommend a different choice of dog food.
Further Reading: Best Dog Foods for Other Dog Breeds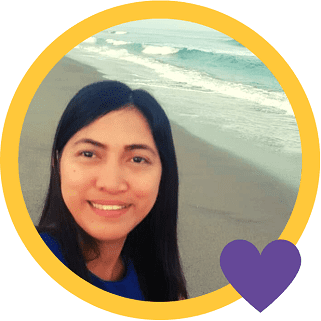 Cess is the Head of Content Writing at K9 Web and a passionate dog care expert with over 5 years of experience in the Pet Industry. With a background in animal science, dog training, and behavior consulting, her hands-on experience and extensive knowledge make her a trusted source for dog owners.
When not writing or leading the K9 Web content team, Cess can be found volunteering at local shelters and participating in dog-related events.