Last Updated on May 15, 2023
Pomeranians are a great dog breed that is perfect for owners who enjoy having a furry shadow. These small dogs have amazing temperaments, perfect for creating a designer dog.
Perhaps you're in the market for a hybrid dog, or perhaps you've adopted a Pomeranian crossbreed from the shelter and would like to learn more.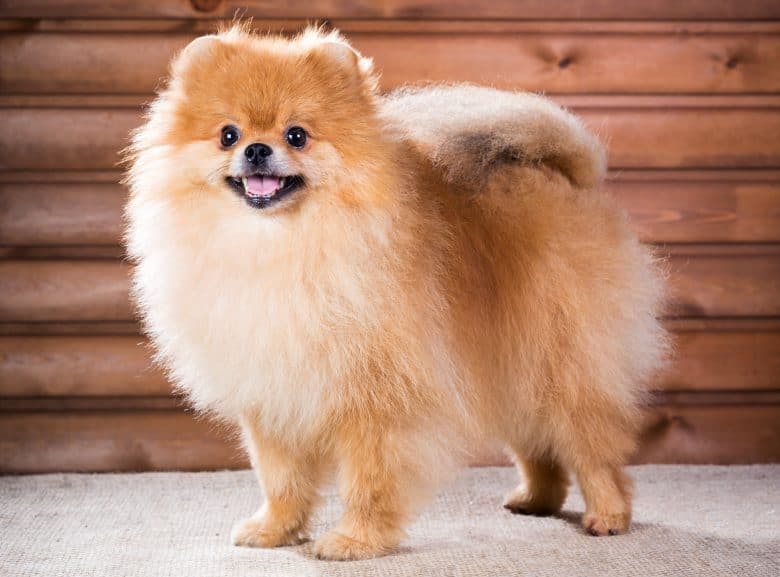 Whichever the case, you've come to the right place! We have 40 popular Pom mixes below.
What is a Pomeranian Mix Dog?
Pomeranians are an independent little dog that has stolen the hearts of many, from royals to celebrities. These dogs were popularized by Queen Victoria.
They used to be small to medium-sized dogs but now have become miniaturized into a toy breed. Teacup Pomeranians are smaller still, and you can read all about them here.
The Pomeranian dog comes from a complicated background. They started as a spitz-type dog from the Arctics and moved to Pomerania, now known as Poland and a part of Germany.
Their ancestors include the German Spitz, Malamute, Samoyed, and many others. Today, they are part of many designer breeds. They add a layer of fluff and attentiveness to any breed.
Quick Choices for Top Pom mixes
Best low-shedding Pom mixes: Pomapoo, Shiranian, Yorkie-Pom, Peek-A-Pom
Best Pom mixes for families: Pomimo, Pompitz, Labranian, Golden Pom
Best Pom mixes for kids: Smooth Pom Terrier, Aussie Pom, Pom-A-Pug
Best Pom mixes for apartments and small spaces: French Pomerdog, Pomchi, Paperanian
39 Most Popular Pomeranian Mixes
One thing you should know about crossbreed or designer dogs is that they don't have a fixed standard. Their temperament or appearance won't be split 50/50 between two parent breeds.
If you're not comfortable not knowing how your pooch will grow up to be, you might want to check out purebred dogs instead. Mutts are like a box of chocolates, you never know what you're going to get.
However, most dogs will inherit the Pomeranian breed's thick double coat and possess the self-confidence of the Pom-Pom. Here are the top 40 Pom mixes in 2020.
1. Husky Pomeranian mix (AKA Pomsky)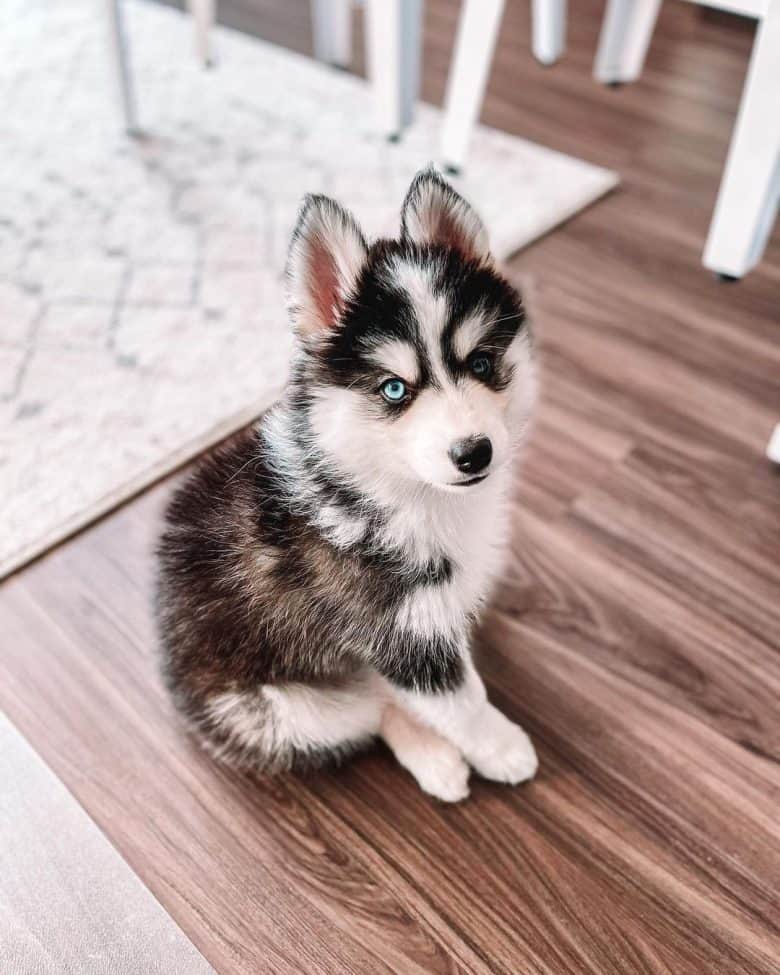 Breeds: Siberian Husky and Pomeranian mix
A meme propelled this mixed breed pup into popularity by marketing the Pomsky as a forever puppy. The truth is Pomskies can grow up to 15 inches (38 cm) and can be as heavy as 38 lbs (17.2 kg).
Apartment life can suit this little tyke, but be warned, Huskeranians have a tendency to be very vocal. They also aren't the best for first-time owners.
Take a look at cute Kai getting a bath:

Also read: Toy Pomsky Dog Breed
2. Chihuahua Pomeranian mix (AKA Pomchi)
Breeds: Chihuahua and Pomeranian mix
Want a tiny dog with a bigger-than-life attitude? This is the perfect combination for you.
This Pomchi will shower you in affection and guard your house, all with the demeanor of a diva.
These tiny tots seldom grow past 9 inches (22 cm). They are quite long-lived and will make a great companion dog for people who are often home.
3. Poodle Pomeranian mix (AKA Pomapoo)
Breeds: Poodle and Pomeranian mix
Smart little critters who will excel at training, the Pomapoo is usually mixed with a Toy Poodle and will usually be smaller than 14 inches (35.5 cm).
Their small size and demure nature make them great apartment dogs. Plus, they might shed less than a purebred Pomeranian.
4. Maltese Pomeranian mix (AKA Maltipom)
Breeds: Maltese and Pomeranian mix
Maltipoms often have pure white coats. These little fluffballs tend to be 7 – 8 inches (17 – 20 cm) tall and are gentle souls.
They are eager to please and need proper socialization, especially if you have other pets. They do best in small households without any children.
5. Pomeranian Spitz mix (AKA Pompitz)
Breeds: Spitz and Pomeranian mix
The Pompitz is often mistaken for a White Pomeranian because of their pristine coats and similar features.
These gentle dogs are smaller than 14 inches (35 cm) and make great family dogs as they get along with everybody.
Since both parent breeds are notorious barkers, you might want to teach your Pomeranian Spitz the quiet command.
6. Shih Tzu Pomeranian mix (AKA Shiranian)
Breeds: Shih Tzu and Pomeranian mix
The Pomtzu or Pomshi is one of the best companion dogs. They are unfailingly faithful and are career lap dogs.
Don't expect to leave your Shiranian alone all day as they won't be happy unless they are with you.
A small dog is great for retirees or homebodies. They can also be wonderful for allergy sufferers if they inherit the Shih Tzu's hair-like fur.
7. Papillon Pomeranian mix (AKA Paperanian)
Breeds: Papillon and Pomeranian mix
Paperanians or Papipoms are fantastic lap dogs. They are small dogs, not more than 12 inches (30 cm), and have a delicate build. Their coats need frequent brushing as they are prone to shedding.
Best for seniors or individuals who can dedicate lots of time to them, but Pomillons don't need a lot of space so they are great apartment dogs.
8. American Eskimo Pomeranian mix (AKA Pomimo)
Breeds: American Eskimo and Pomeranian mix
The Eskiranian or Eskipom needs lots of exercises but also loves lounging on laps. They are great watchdogs that warm up to new friends quickly, a great family dog.
They are often small and bred with the Toy American Eskimo, and their offspring will be no bigger than 9 inches (22 cm).
9. Pomeranian Shiba Inu mix (AKA Pomshi)
Breeds: Shiba Inu and Pomeranian mix
Shibapoms grow up to an average of 15 inches (38 cm). They rarely will look like a perfect combination of the two, as pictured above.
One thing is for certain is that these dogs need an experienced hand as they can get quite stubborn.
Independent and aloof, you don't have to worry about separation anxiety with these loyal and dedicated puppers.
10. Jack Russel Pomeranian mix (AKA Jackaranian)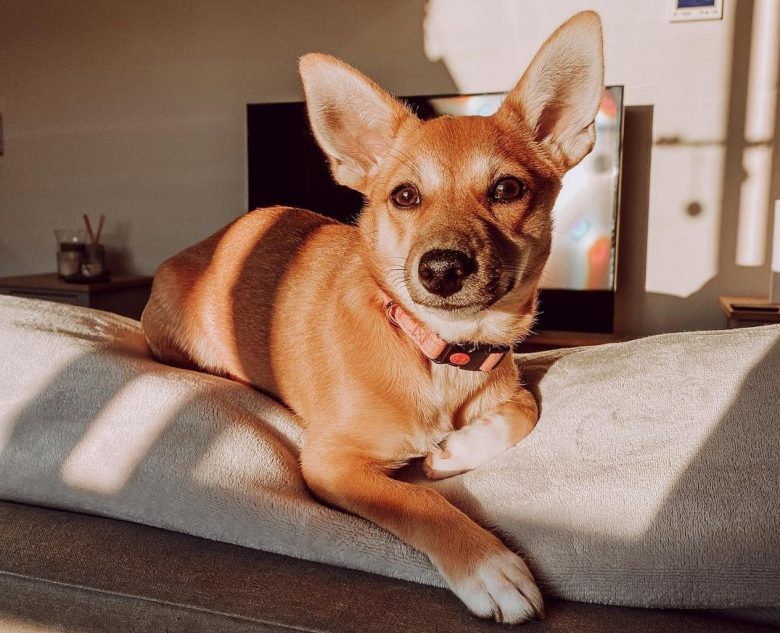 Breeds: Jack Russell and Pomeranian mix
Precocious and high-strung, the Jackaranian is more suited to an active family. They are great watchdogs that have a penchant for barking.
The Pom-A-Jack is a small dog, standing at a maximum of 10 inches (25 cm) but they are great with kids who know how to be gentle.
11. Yorkie Pomeranian mix (AKA Yorkipom)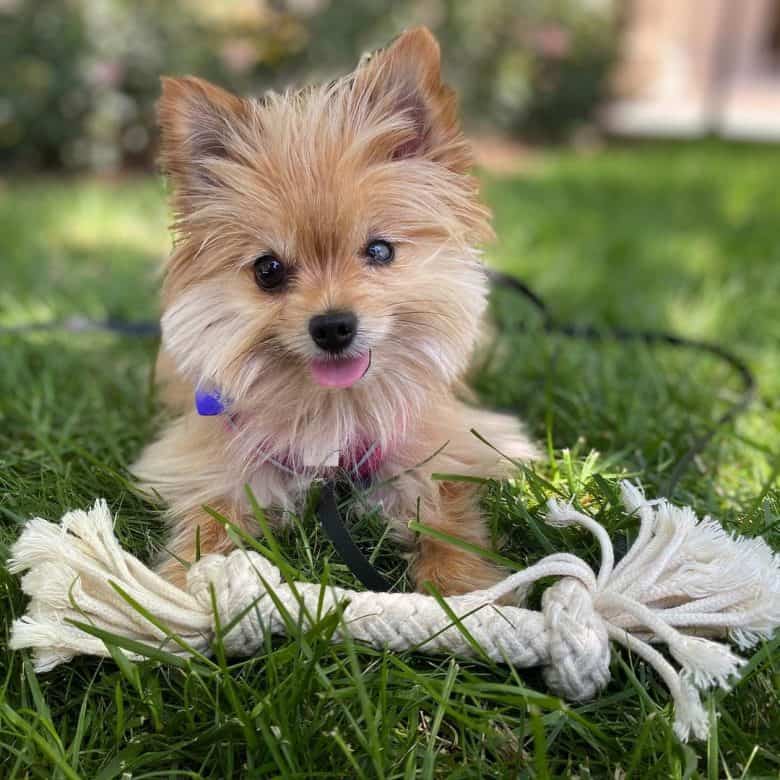 Breeds: Yorkshire Terrier and Pomeranian mix
The Porkie might seem like an odd mix, but it's an odd mix that works well. They have sweet faces and are generally no bigger than 10 inches (25 cm).
Yorkie-Poms tend not to shed much. Yoranians also do well with children, but they shouldn't be left unsupervised with very young kids due to their small size.
12. Pomeranian Pug mix (AKA Pom-A-Pug)
Breeds: Pug and Pomeranian mix
This popular cross is a funny looking guy. The Puguranian is great with children because of their stocky build. These charismatic guys will keep their dog owners entertained.
They usually have floppy ears, big buggy eyes, and are only about 8 – 13 inches (20 – 33 cm) tall.
13. Pekingese Pomeranian mix (AKA Peek-A-Pom)
Breeds: Pekingese and Pomeranian mix
A low-shedding crossbreed, the Peek-A-Pom can be a good alternative for dog lovers with allergies. He will need frequent grooming sessions to keep his coat tangle-free, though.
They are a low-energy breed, perfect for seniors who are patient when it comes to training. These mini dogs don't grow past 10 inches (25 cm).
14. Pomeranian Sheltie mix (AKA Poshie)
Breeds: Shetland Sheepdog and Pomeranian mix
Poshies might sound like they will be high maintenance, but the truth is that they are an independent crossbreed. They do like to curl up with their owners, but they don't need constant supervision.
What they do need is a good romp to burn off their energy. Standing at 16 inches (40 cm) and with a tendency to herd, they aren't great for little children.
15. Pomeranian Dachshund mix (AKA Dameranian)
Breeds: Dachshund and Pomeranian mix
These puppies are hard-headed and have a high prey drive, although they can get along just fine with other family pets.
The Dameranian loves to cuddle but also loves to work up a good sweat. They have high energy, despite their small size that rarely exceeds 15 inches (38 cm).
16. Australian Shepherd Pomeranian mix (AKA Aussie Pom)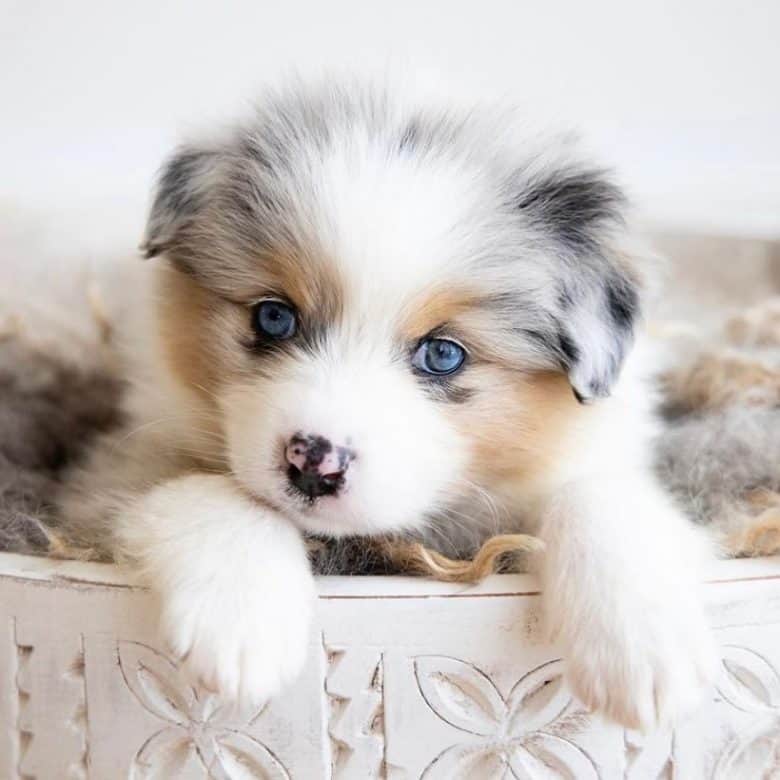 Breeds: Aussie and Pomeranian mix
An Aussie Pom is a high-energy dog for the adventurous or outdoorsy owner. These mixes usually have very interesting coloring paired with blue eyes.
This affectionate and eager to please doggie is a great option for families with young children. They are usually under 30 lbs (13 kg) which is the perfect size for a toddling playmate.
17. Pomeranian Cavalier King Charles Spaniel mix (AKA Cavapom)
Breeds: Cavalier King Charles Spaniel and Pomeranian mix
An uncommon Pom mix, these beauties are a friend to all. Often in a shade of gold, they can also be brown and white.
They are affectionate and great with kids, although they often only weigh 8 – 16 lbs (3 – 7 kg), so children must be taught to treat them gently.
18. Cocker Spaniel Pomeranian mix (AKA Cockeranian)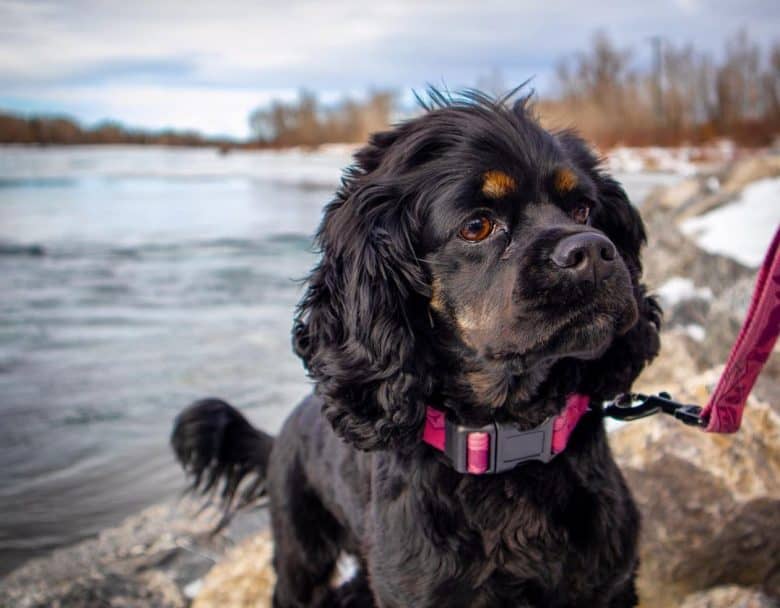 Breeds: Cocker Spaniel and Pomeranian mix
A high-energy crossbreed that does better in landed properties. They require lots of exercise and grooming. This will be one of the friendliest and most outgoing Pomeranian mixes you'll ever meet.
These calm and easygoing dogs can grow up to 27 lbs (12 kg) and will make a great playmate for children or other pets at home.
19. Boston Terrier Pomeranian mix (AKA Pomston)
Breeds: Boston Terrier and Pomeranian mix
These puppers are prone to inheriting an underbite. They are low maintenance and don't require much grooming.
The Pomston is a friend to all and a great option for all households, even those with small kids.
20. Miniature Pinscher Pomeranian mix (AKA Pineranian)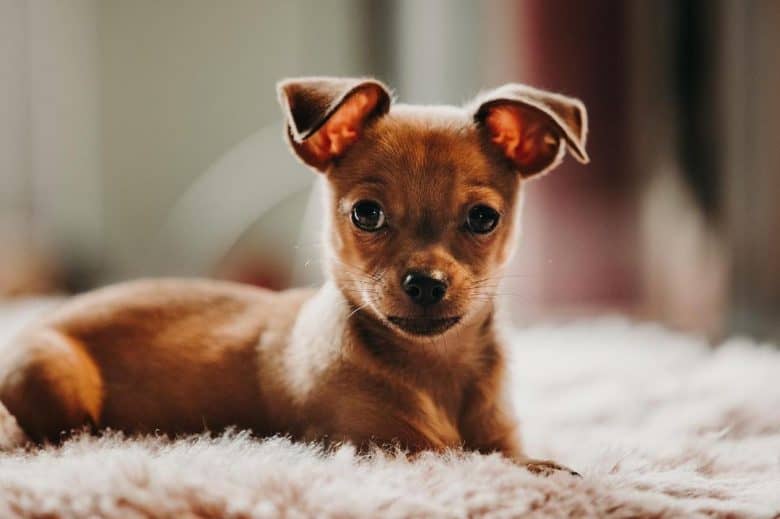 Breeds: Miniature Pinscher and Pomeranian mix
Pinneranians or Pin Poms are small dogs with a zest for life. These intelligent pooches are also intuitive creatures and are often used in therapy.
Be warned though, without proper socialization, they are prone to nip… especially at grubby little fingers that tug too hard.
21. Pomeranian Terrier mix (AKA Pom Terrier)
Breeds: Toy Fox Terrier and Pomeranian mix
If you're looking for a courageous companion, look no further. The Pom Fox Terrier will be your tiny little bodyguard.
He'll never leave your side, so don't expect to leave him unattended for long periods. They might be only 12 inches (30 cm) tall, but they will require more than 60 minutes of exercise a day.
22. Corgi Pomeranian mix (AKA Corgiranian)
Breeds: Corgi and Pomeranian mix
A feisty little thing that can cause quite a ruckus. These mischievous little pups can be monstrous shedders.
Corgiranians won't grow past 30 lbs (13 kg) but they tend to be pushy, which means they don't play well with little kids. Also, Pomgis tend to get quite barky, but they are affectionate and fun dogs.
23. Beagle Pomeranian mix (AKA Pomeagle)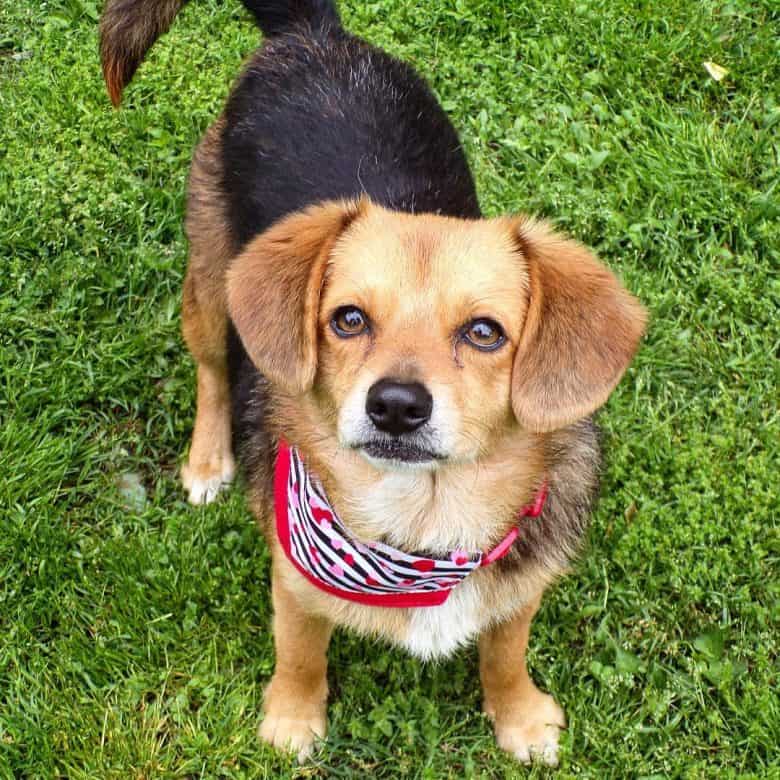 Breeds: Beagle and Pomeranian mix
Don't let this darling face fool you, the Pomeagle packs a punch and requires lots of exercise and stimulation.
They might only be 11 inches (28 cm) tall but they will run circles around you and dig up the yard when you're not looking. Best for experienced owners who enjoy agility and obedience.
24. Bichon Frise Pomeranian mix (AKA Bichonaranian)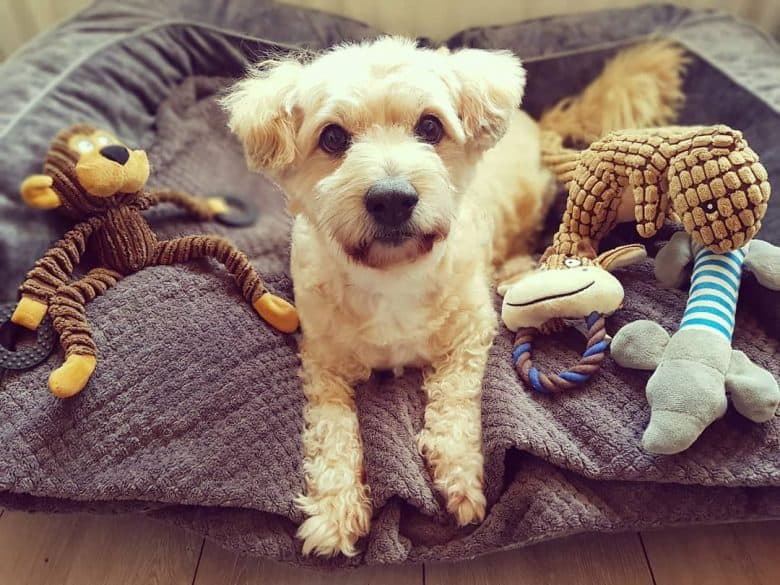 Breeds: Bichon Frise and Pomeranian mix
These cute critters are also referred to as Pomachon or Pom Frise. They are affectionate and love children, with a maximum weight of 12 lbs (5.4 kg).
The Bichonaranian should be an easy-going dog that is highly receptive to training. A sweet-natured additional to the family, they might even be hypoallergenic if they take after their curly-coated parent.
25. Lhasa Apso Pomeranian mix (AKA La Pom)
Breeds: Lhasa Apso and Pomeranian mix
Anybody says, cuddle buddy? These small 12-inch dogs (30 cm) just want to snuggle. They are great for all families, but preferable without little kids.
These loyal, sociable, and playful pups can live happily in tiny homes or apartments. They do need constant grooming and vigorous exercise so active families work best.
26. Japanese Chin Pomeranian mix (AKA Chineranian)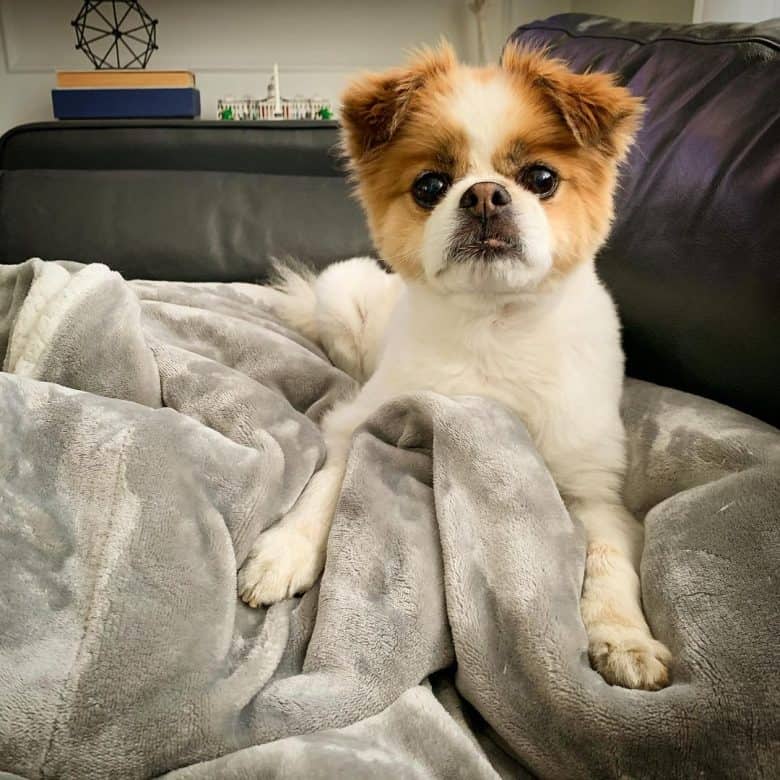 Breeds: Japanese Chin and Pomeranian mix
Crossed between two companion breeds, you can be sure they can't deal with loneliness very well.
These small dogs don't grow more than 12 inches (30 cm) and shouldn't be left unsupervised with toddlers who don't know how to handle them gently.
They are affectionate and love children, so they can do well in households with older kids.
27. Havanese Pomeranian mix (AKA Ewokian)
Breeds: Havanese and Pomeranian mix
Ewokians get their nickname from how similar they look to the bear-like creatures on Star Wars. That's where the similarities end because Ewokians are affectionate and hate solitude.
They don't do well on their own and should be treated with tender loving care.
28. Schipperke Pomeranian mix (AKA Pomerke)
Breeds: Schipperke and Pomeranian mix
Also known as the Schip-A-Pom, the Pomerke will be well suited to families with older children. They are inquisitive and need consistent training.
Their intelligence coupled with their free-thinking attitude makes them susceptible to their moods. 45 minutes of exercise a day is enough for this small dog that rarely grows past 10 inches (cm).
29. Schnauzer Pomeranian mix (AKA Pom-A-Nauze)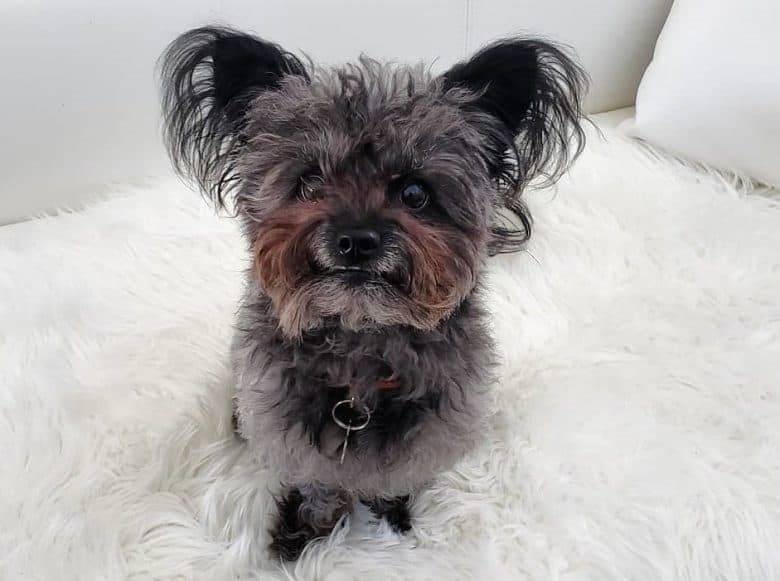 Breeds: Schnauzer and Pomeranian mix
The Pom-A-Nauze is a sensitive soul that is prone to separation anxiety. They love their humans and will make sure you know it with lots of affection.
These pooches can be territorial and protective, so early socialization is a must. Because both parents present barking traits, it's important to teach them to be quiet, especially if you live in an apartment.
30. Keeshond Pomeranian mix (AKA Pom Kee)
Breeds: Keeshond and Pomeranian mix
Poms and Keeshonden are cousins and look very similar. The only difference being their size. The Pom Kee will usually clock in at around 17 inches (42 cm).
They are sensitive dogs that hate being alone. Prone to barking, they aren't the best option for apartment dwellers. They do great with kids but will require lots of grooming to keep their coats under control.
31. Brussels Griffon Pomeranian mix (AKA Brusselranian)
Breeds: Brussels Griffon and Pomeranian mix
The Brusselranian can only be described as a tiny Wookie. They are furry little dogs that have the Brussels' signature monkey face.
Depending on the coat they inherit, they might not need much grooming at all. These companion dogs do well in any settings and only require moderate amounts of exercise.
32. French Bulldog Pomeranian mix (AKA French Pomerdog)
Breeds: French Bulldog and Pomeranian mix
With their fuzzy coat, oversized ears, and miniature 11 inches (28 cm) stature, we can't help but compare French Pomerdogs to plush teddy bears.
They are a healthier alternative to the purebred Frenchie, without sacrificing temperament. These furballs are low-energy yet fun-loving and love entertaining their owners.
33. Pitbull Pomeranian mix (AKA Pit-Pom)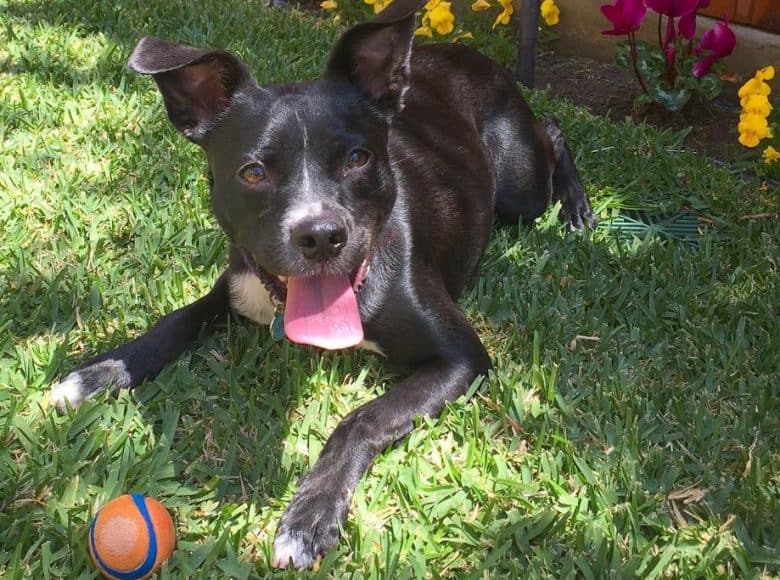 Breeds: Pitbull and Pomeranian mix
The Pitbull and Pomeranian complement each other nicely in the Pit-Pom crossbreed. Their offspring are often calmer and make great family dogs.
Their small but sturdy size makes them an ideal candidate for families with small kids, especially when paired with the Pittie's patience and tolerance.
34. Pomeranian Golden Retriever mix (AKA Golden Pom)
Breeds: Golden Retriever and Pomeranian mix
The Pomeranian adds a little more spunk to the calm Golden, which is well-known for his affable nature.
Golden-Poms usually look like an overgrown puppy at 15 inches (38 cm), with their fluffy coats and overgrown ears which can be either folded or erect.
They will thrive in large families that have a penchant for the great outdoors.
35. Samoyed Pomeranian mix (AKA Pomoyed)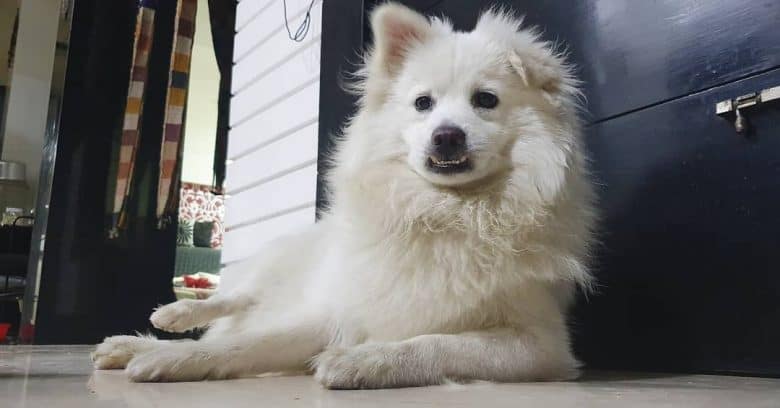 Breeds: Samoyed and Pomeranian mix
Samoyeds are beautiful dogs with high-energy needs. Both are from the spitz family and will blow out their coats seasonally.
Samoyed Poms usually looks like a miniature Samoyed, with their white coats and fun-loving nature. They are great for active couples or individuals.
36. Border Collie Pomeranian mix (AKA Border Pomeranian)
Breeds: Border Collie and Pomeranian mix
These pups usually have the extreme intelligence and high energy of their Border Collie Parent, while retaining the Pomeranian's hardy persona.
While their coats are not so profuse, they do need a good brush twice a week to keep it shiny. This medium-sized dog will need lots of stimulation and will not do well in an apartment at all.
37. German Shepherd Pomeranian mix (AKA German Pom)
Breeds: German Shepherd and Pomeranian mix
This crossbreed is rather rare, but they are reminiscent of how the Pomeranian used to look in its early days.
Weighing in at 30 to 40 lbs (13 – 18 kg), they make great watchdogs and great hiking partners. An active crossbreed, they'll need 60 – 115 minutes of exercise daily.
38. Rottweiler Pomeranian mix (AKA Rottie-Pom)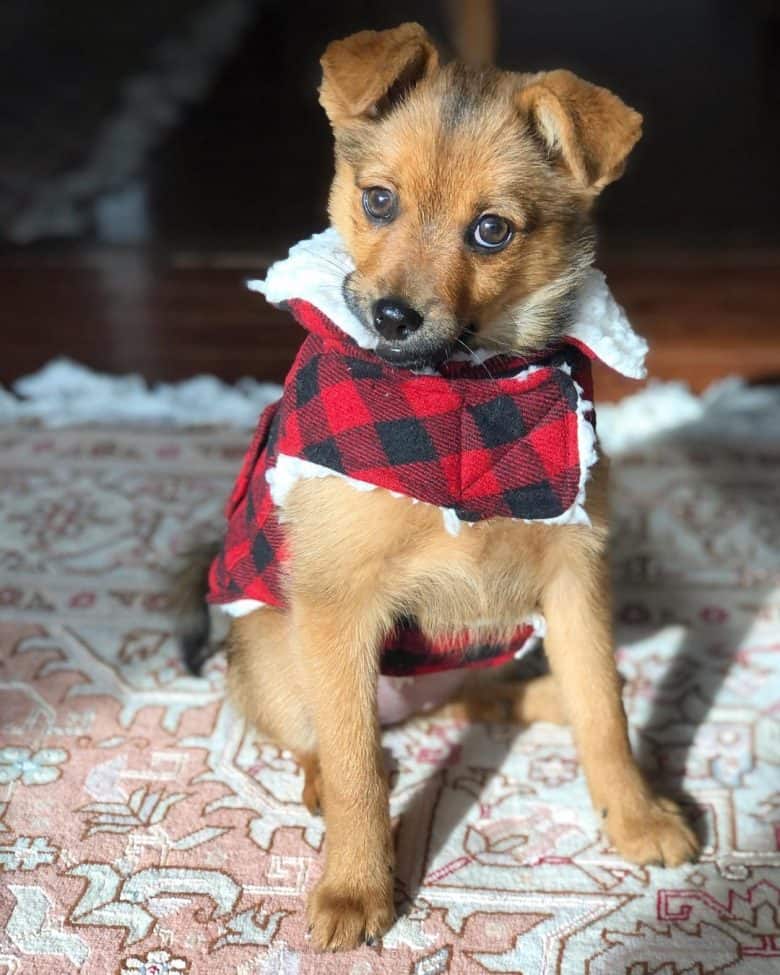 Breeds: Rottweiler and Pomeranian mix
An unlikely pairing of a fearsome guard dog and a cute little fluffer. These dogs can grow up to quite large, depending on which parent it takes after.
But they are sweet and affectionate dogs that need proper training. Pomeranians naturally come in the black and tan coloring of Rottweilers, and they are adorable!
39. Pomeranian Lab mix (AKA Labranian)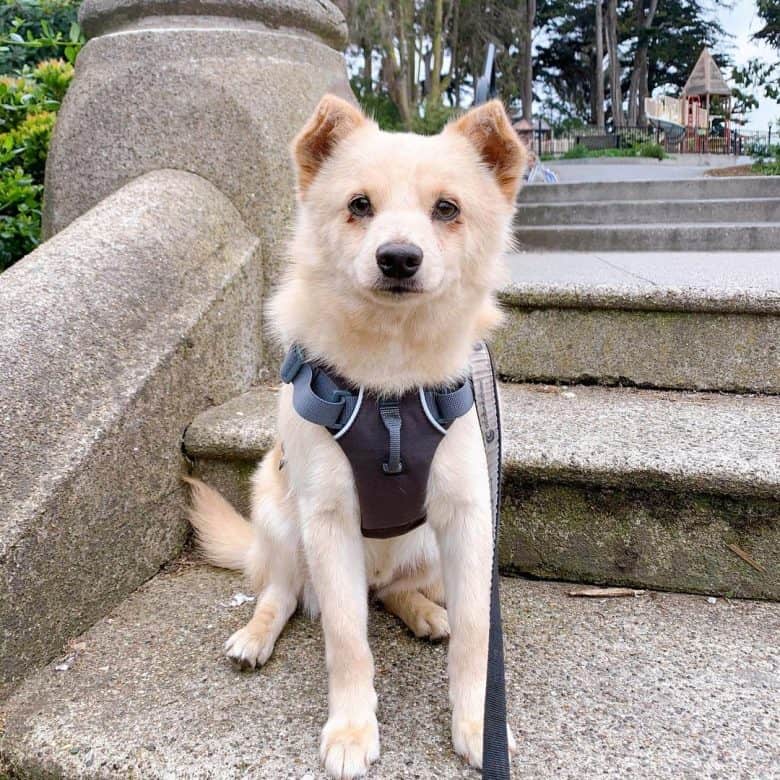 Breeds: Lab and Pomeranian mix
The Pom Lab or Labranian often looks like a small Labrador with feathering. They are family-oriented dogs that will alert you to any comings and goings.
Labradors can struggle with separation anxiety but when paired with the Pomeranian, they will be more accepting when their family leaves them at home for short intervals.
Which Pomeranian Mixes are Your Favorites?
Pomeranians are hardy dogs and often add years to a breed's lifespan, along with a profuse coat. Which of these designer dogs is your favorite?
Do you have one? Let us know all about him or her in the comments below.
Make sure you share these delightful crossbreeds with your friends and make sure to adopt, don't shop. You should be able to find plenty of Pomeranian mixes at shelters.
Further reading: Learn more about Pomeranian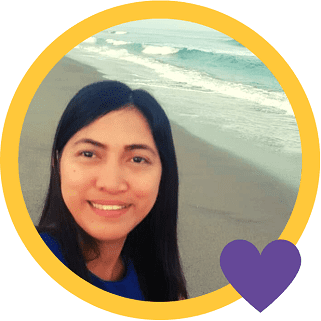 Cess is the Head of Content Writing at K9 Web and a passionate dog care expert with over 5 years of experience in the Pet Industry. With a background in animal science, dog training, and behavior consulting, her hands-on experience and extensive knowledge make her a trusted source for dog owners.
When not writing or leading the K9 Web content team, Cess can be found volunteering at local shelters and participating in dog-related events.