Last Updated on April 28, 2023
The Pomeranian is a small dog breed that's known to be loyal, intelligent, and lively. Any household would be lucky to have this doggo as part of the family.
However, if you adopt one, expect to spend between $500 to $2,500 for this tiny pup, sometimes even more. What else do you need to budget for?
Keep reading so you can adequately budget for your new furry friend.
How Much Are Pomeranian Puppies?
Pomeranians will cost you anywhere between $500 and $2,500. However, that's if you get one from a good breeder.
This dog breed is popular, thanks to Queen Victoria, who fell in love with the breed in Italy.
If you go through a reputable breeder with Pomeranian puppies from a high lineage with top pedigrees, the cost will drastically increase. For instance, you can spend between $4,000 and $10,000.
Alternatively, you can adopt a Pomeranian from an animal shelter or rescue organization. Not only will you be saving a dog's life, but you'll get the dog cheaper. For example, these may cost between $350 and $550.
However, if you go through a shelter, you may not find a Pomeranian puppy. It could be an adult, a senior, or a mixed breed with Pomeranian genes.
Did you know that Pomeranians can make excellent service dogs or therapy dogs? They're great at helping their owners to detect asthma, diabetes, or heart conditions.
If you're interested in purchasing a Pomeranian as a service dog, then you can expect to spend at least $10,000 or more.
Should you buy a Pom puppy or an older dog?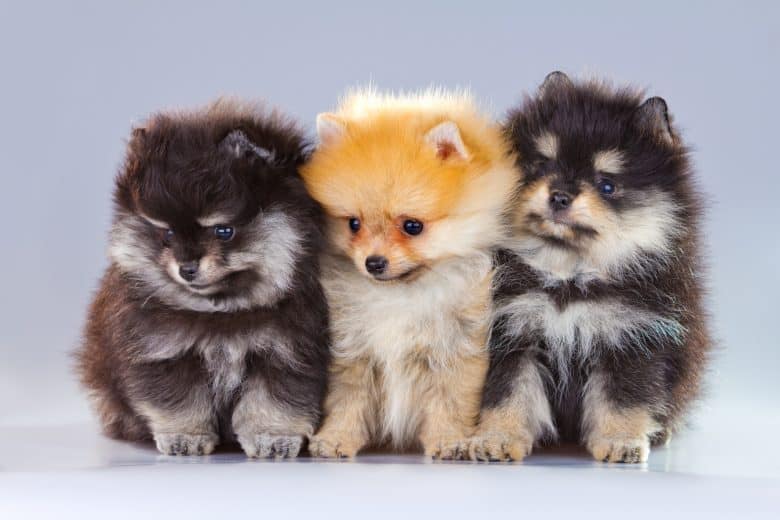 Whether you want a Pomeranian puppy or an older dog is entirely up to you and what fits well in your lifestyle.
There is no right or wrong answer, but older dogs will cost less. On the other hand, Pomeranian puppies may cost anywhere between $750 and $2,200 or more, depending on where you get them from.
You'll have a longer time with your Pomeranian puppy, but an adult Pomeranian may already be housetrained.
Are small Poms more expensive than large ones?
Yes, small Poms are more expensive than large ones. However, a Pom puppy is part of the toy group and only comes in one size. Some breeders pass off runts as Teacup Poms.
Since they're so small and adorable and people believe they're getting a rare dog, the smaller sizes are more expensive.
How Much Do Pomeranians Cost From a Breeder?
A Pomeranian from a reputable breeder starts at $2,000. This is factored by the breeder's location, the number of pups in a litter, the dog's gender, and coat color.
How to find a reputable Pomeranian breeder… and avoid puppy mills
There are many things that reputable breeders do not only for you but for the dogs as well.
Good breeders care about finding the puppies a good home, but some places, such as puppy mills and backyard breeders, only care to make a profit.
You can tell an ethical breeder from the rest because they health screens the dogs before breeding. After, they'll health screen and get the puppies genetically tested. Then, they'll make sure the puppies are up to date on all their vaccinations, socialize, and train them as early as possible.
Also, good breeders will want to meet with you in person. They'll answer any questions you have and allow you to meet the puppies and the parents.
Finally, a good breeder will have documents for you, register the puppies, and may also be licensed or registered with the AKC.
How Much Does it Cost to Rescue a Pomeranian?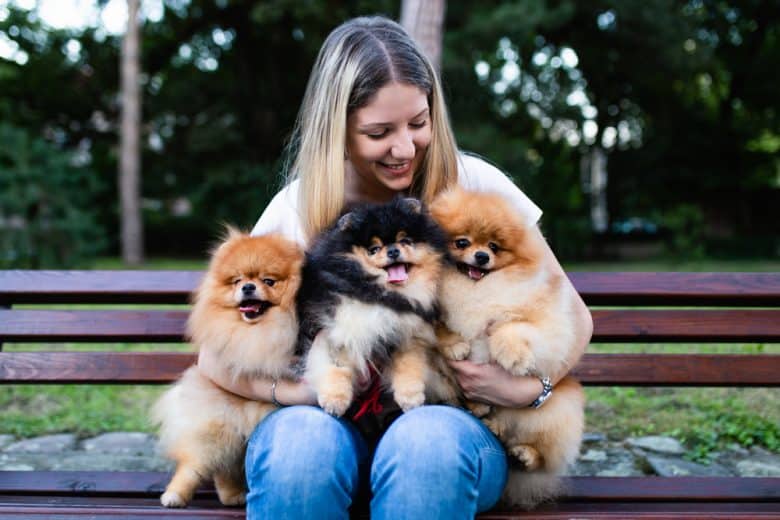 Rescuing a Pomeranian dog will be a lot cheaper at around $300. This cost covers vaccinations, microchipping, and getting them spayed or neutered. Overall, it's cheaper because they want to see the dogs going to a good home.
Factors that Impact the Price of a Pomeranian
The cost of a Pomeranian can vary drastically, depending on a few factors. For example, the dog's age matters quite a bit. Older dogs are in less demand than puppies, which makes puppies more expensive to buy.
Despite the Pomeranian only coming in one size, this also factors into its cost. Some breeders sell the runts of a litter as Teacup Pomeranians.
While the American Kennel Club (AKC) doesn't recognize this size, people believe they're getting a rarer type of Pomeranian. Not to mention, this size is adorable. So, the smaller the Pomeranian, the higher the cost will be.
You can expect to pay at least $2,500 for a Teacup Pomeranian.
There's also a matter of purebred vs. mixed breed. Purebred Pomeranians are higher in demand, thus more expensive.
However, there are some crossbreeds, such as the Pomeranian Husky mix and Pomeranian Poodle mix, which are considered designer dogs. These dogs are relatively popular, increasing the price.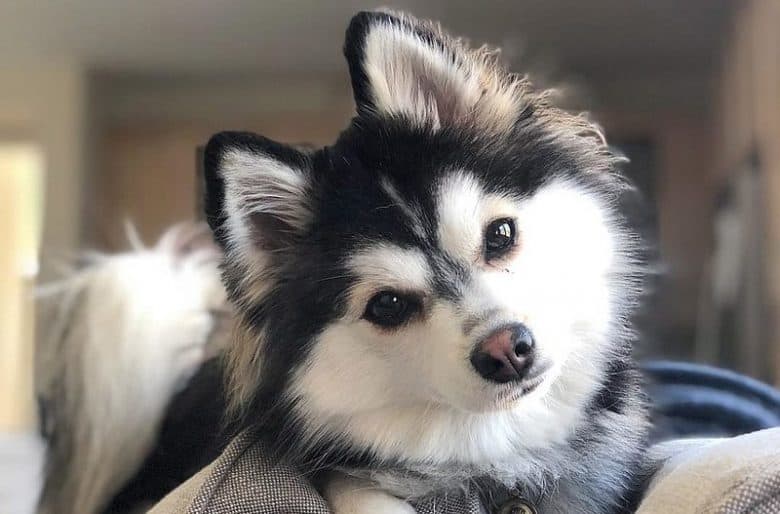 Lineage and bloodlines also factor into the price. If the puppies come from a champion bloodline or a high-quality pedigree, its cost will be higher.
In addition, if you're planning on having a show dog, then certifications, registries, and warranties are important. Again, breeders will help you with this and provide you with what you need for an added cost.
If you're looking to have your Pomeranian as a family pet, you won't need to worry about this paperwork.
Pomeranians have small litter sizes of only one to three puppies at a time. Also, male Poms are more common than females. This is why gender plays a role in the cost of a Pomeranian. Female Pomeranians are more expensive because they're harder to come by.
In addition, the Pomeranian's coat color and markings affect the price. Solid-color Pomeranians are rare, so they're in higher demand. Thus, they're more expensive.
For example, Pomeranians can come in solid black, blue, lavender, or white Poms. However, these colors are rare, so they're more expensive to buy.
Learn more about the different Pomeranian Colors here.
Also, the quality of the dog matters. If the pup is healthy, has a beautiful coat pattern, and inherits some of the best traits, they're considered quality Pomeranians, making them more expensive.
On the other hand, if it has a health issue or genetic condition, for example, the puppy price may be a little cheaper. In addition, most ethical breeders will have health documents to show you.
In addition, show-quality dogs can cost up to $10,000.
Finally, you can buy a dog that's registered, is limited registered, or not registered at all. Registered dogs are more expensive.
Location is another huge factor. Pomeranians are more popular in some areas than others. So, if you're having trouble finding a breeder of this purebred, then you can look elsewhere.
Be mindful that if the location has a high demand for Pomeranians, the price will be higher. On the other hand, you can search for a Pomeranian breeder in a location where this small pup isn't too popular. Thus, saving you money.
The location is important, but so is the time of year. Believe it or not, people adopt dogs more so in the late spring to late summer months.
During this time, puppies are higher in demand, so breeders are ensuring their litters are ready to go to their forever homes around this time. This increases the price.
On the other hand, if you decide to adopt a dog during the winter, its cost may be significantly lower.
Also, if a breeder trains and socializes the dogs as early as possible, that could also increase the price. This is because it increases the dog's quality and saves you some time later on when it comes to training.
Unfortunately, pet stores get their dogs from puppy mills. This means the puppies are poorly socialized and trained and weren't bred under the healthiest conditions.
Finally, avoid adopting a puppy from a pet store if possible. They are more interested in making a profit, often selling the dogs for a much higher price than you would get them from a reputable breeder.
Long-term Ownership Costs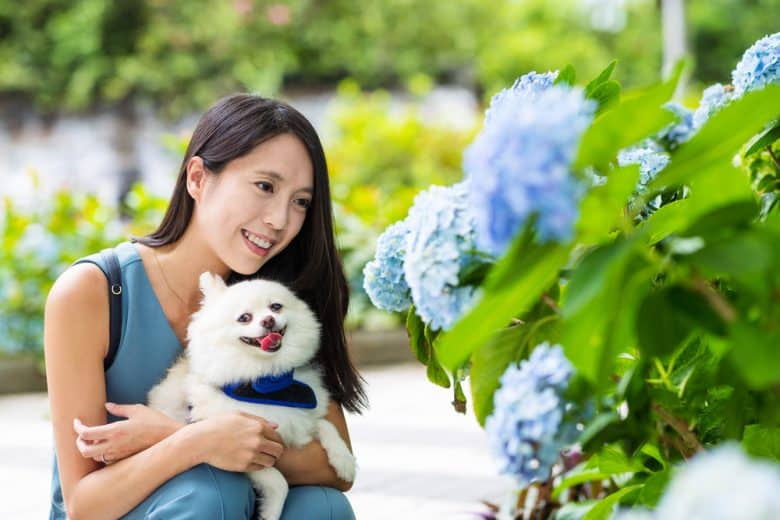 Pomeranians have an average lifespan of about 12 to 16 years. Sometimes, they can even live to be in their early twenties. This is because little dogs mature faster than bigger breeds. Thus, their body doesn't need to work as hard to grow and develop.
When it comes to budgeting for your Pomeranian, be sure to factor in how long you'll have your Pomeranian for and everything else that comes along with owning a dog.
How much are the vet expenses for Poms?
For the first year, expect to spend about $385 to $795 in medical expenses for your Pom. This cost includes essential vaccinations, heartworm prevention, and other shots such as Leptospirosis, Influenza, and Lyme.
You can also count on $50 to $300 of that cost going toward spaying or neutering your pup.
Medical Expenses for
Pomeranians
Range
Average Cost
First Year Vet Cost
$385 – $795
$590
Spay/Neuter (optional)
$50 – $300
$175
Adult Year Vet Cost
$280 – $645
$465
Potential health issues of Poms
Pomeranians are a healthy dog breed, but there are still a few health conditions they can be prone to.
Most common health issues
in Pomeranians
Likelihood
Treatment Cost Estimate
First Opinion
Second Opinion
Hypothyroidism
Medium
$350 – $800
$700 annually
Patellar Luxation
High
$300 – $2,000
$180 annually – $1,800 (surgery)
Collapsing Trachea
High
$250 – $4,500
$600 annually – $4,500 (surgery)
Dental Disease
High
$400 – $800
–
Mitral Valve Disease of the Heart
High
$300 – $800
$2,100 annually
Cryptorchidism
(in addition to castration)
–
–
$450
One health problem is merle, which is a coat color pattern. This consists of multiple colors on their coat, giving a speckled look.
Unfortunately, merle comes with genetic disorders, such as deafness or eye defects. For example, eye issues may be microphthalmia, microcornea, microcorni, a rudimentary lens, or a lack of retinal pigment or tapetum lucidum.
Luxating patella is another concern that may be hereditary among Pomeranians. This occurs when the dog's kneecaps are dislocated from where it's supposed to be. It rests in the groove of the thigh bone, causing some pain and stiffness.
Correct exercise may prevent Luxating patella. Otherwise, if it happens to your doggo, let them rest until they're ready to properly run and play again.
If you often hear your Pomeranian cough frequently, especially when they bark and get too excited, then they may have tracheal collapse. This happens when the trachea is weakened and collapses on itself, blocking the airway.
In terms of treatment, tracheal collapse is common in small dog breeds. You can get medication and preventative care to help treat this issue.
Hypothyroidism occurs when your Pomeranian's body doesn't make enough of the thyroid hormone. There are many signs of hypothyroidism, such as dry skin, hair loss, weight gain, or aggression.
Luckily, treatment is available and is normally a pill given by your veterinarian.
Dental disease is another common health issue in Pomeranians. Their teeth and gums can get tartar and plaque buildup and infected if you don't brush their teeth regularly.
If it's not treated, your doggo may lose teeth. In addition, it could affect their kidneys, liver, heart, and joints.
In addition, Mitral valve disease is another common issue. In fact, heart failure is the leading cause of death for Pomeranians. This occurs when your dog has a heart murmur. Luckily, it can be treated with medication, if caught early enough.
Toy breeds, like the Pomeranian, are also more at risk of getting cryptorchidism. This is when one or both of the testicles fails to go to the scrotum but instead go into the abdomen. Should this occur, you'll need to neuter your dog right away to correct it.
Patent Ductus Arterosus (PDA) happens when a vessel that carries blood to the heart doesn't close shortly after birth. Blood is then carried to the lungs, causing shortness of breath and a blockage. Surgery may be needed to fix this issue.
Another health issue that's common and may be hereditary in small dog breeds is Legg Perthes Disease. It affects the hip joint, which may cause your pup to be uncomfortable and in pain. Surgery is needed to remove the blockage.
Finally, Entropion is an eye condition in which the eyelid rolls inward. In turn, the eyelashes rub up against the cornea, which causes pain for your pooch. Eventually, it could lead to blindness, and will need surgery to correct it.
Luckily, there are ways around these health problems. Bring your dog to the vet once a year for their annual checkup.
In addition, get preventative care such as spaying or neutering your dog and getting heartworm, flea, & tick prevention, among other vaccinations, dental work, and health screenings.
You can get pet insurance or healthcare for your Pomeranian that will help you cover the costs in case anything should happen. You can get accident and illness plans for about $565 per year.
Or, if you'd rather have just the illness plan, you can expect to pay about $190 per year.
Food Requirements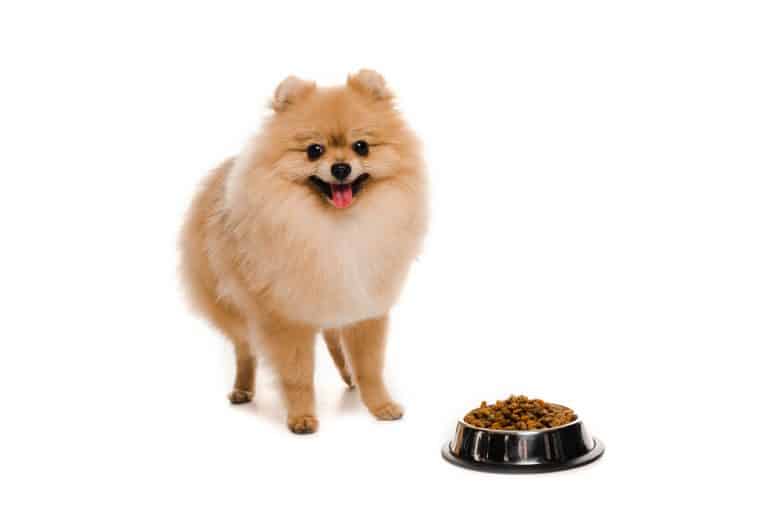 Since Pomeranians are such small dogs, they typically only consume about 50 pounds of food per year. Based on that, you can expect to spend about $50 to $90 per year on dog food alone.
In addition, the estimated range for dog treats can be $40 to $240 per year, depending on how often you go through treats and which high-quality brands you purchase. Read our guide to learn more about the Best Dog Food for Pomeranians.
| | | |
| --- | --- | --- |
| Yearly Food Cost for Pomeranians | Range | Average Cost |
| Puppy | $50 – $90 | $70 |
| Adult Dog | $25 – $90 | $55 |
Pet supplies
For the first year, you may spend up to $650 on dog supplies. Each year after that, you can expect to spend between $55 to $260 per year.
What supplies do Pomeranians need? To start, they need food and water bowls, a collar, leash, harness, dog bed, and a crate.
You'll also want to buy toys, poop bags, housetraining pads, and cleaning supplies (for accidents in the house).
Finally, you may also need grooming supplies—for example, nail clippers, brushes, teeth cleaning kit, and shampoo.
Other expenses to consider
There are additional costs such as getting a dog license, which is about $15, microchipping your doggo for about $40, and dog walking or dog boarding if needed.
For example, dog walkers may cost about $20 per walk, and boarding or daycare costs about $40 per day.
In addition, you may consider hiring a professional dog trainer to help with the training process, especially in the beginning. Classes can range up to $200 but are typically about $100 on average.
You can pay about $50 to $150 for a professional groomer to bathe and trim your dog with their fluffy double coat.
Or, you can save a little money and do it yourself at home. Also, it'll be a bonding opportunity for your dog.
You can see some pricing of grooming supplies on the table below.
| | |
| --- | --- |
| Pomeranian Grooming Supplies | Average Price |
| Nail Clippers (or Grinder) | $12 ($25) |
| Shampoo & Conditioner | $5 – $25 |
| Metal Comb | $5 – $10 |
| Slicker Brush | $10 – $15 |
| Ear Cleaning Solution | $10 – $25 |
| Toothbrush & Toothpaste | $10 – $20 |
| Total | $52 – $120 |
Finally, if you want to enter a dog show, there will be some costs to that as well. For instance, each entry fee can be about $25 to $30.
Frequently Asked Questions (FAQs)

How can you save money when purchasing this breed?
There are a few ways to save money when adopting a Pomeranian. For example, you can shop during slow seasons such as late spring to late summer, adopt an older dog, buy from a cheaper location, ask family and friends, haggle with breeders, or buy from a breeder without paperwork.
What are the red flags when shopping for a Pom?
Extremely low prices or high prices can be red flags. For example, low prices may mean the dog was bred in a puppy mill or something wrong with it.
On the other hand, expensive prices might come from an inexperienced breeder or a scam.
What are the yearly and monthly costs for a Pomeranian?
During the first year, you can expect to spend an average of $2,845 per year, about $237 per month. Each year after that, the average cost is about $1,160 per year, roughly $97 per month.
How do you save on its supplies?
To save on supplies, shop smart. Buy what you need before adopting your dog. This way, you can order supplies in advance and take advantage of sales throughout the year.
What are great names for a Pom dog?
There are many fun and unique names you could give your new furry friend. If you're looking for some ideas, then consider these Pomeranian Names.
Foxy
Bailey
Chloe
Bella
Bear
Is the Pomeranian the Right Dog Breed for You?
Overall, you can expect to pay a couple of thousand for your Pomeranian puppy and all the supplies for the first year.
After that, you'll spend a little over $1,000 each year. Before buying your pet, make sure you budget accordingly and decide what you want to do with your pup.
For example, will you buy grooming supplies or take them to a professional salon for regular grooming? The choice is yours.
If you can handle the Pomeranian cost and price tags that come with it, then this Spitz-type dog will surely love to be part of your family.
They're tiny, feisty, and love to be around their family members. You won't regret this decision.
Further reading: Check out these other Dog Breed Prices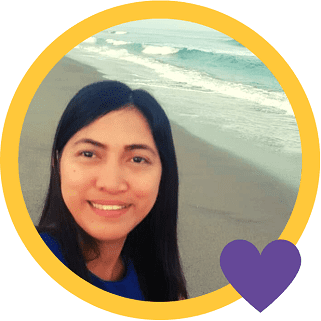 Cess is the Head of Content Writing at K9 Web and a passionate dog care expert with over 5 years of experience in the Pet Industry. With a background in animal science, dog training, and behavior consulting, her hands-on experience and extensive knowledge make her a trusted source for dog owners.
When not writing or leading the K9 Web content team, Cess can be found volunteering at local shelters and participating in dog-related events.