Last Updated on April 25, 2023
The Shih Tzu Pomeranian Mix is a crossbreed between the Pomeranian and the Shih Tzu, also known as Shiranian, Pomshi, or Shih Pom.
It's characterized as toy to small in size, measuring 7 to 12 inches (18 to 30 cm) tall and weighing around 4 to 16 pounds (2 to 7 kg). The average lifespan of the Pomeranian Shih Tzu Mix is around 12 to 16 years.
Shiranians are excellent family pets. They are loving, affectionate, and playful dogs, especially when it comes to kids. They can also be great lap dogs for seniors willing to spend hours at home with a pup in their lap.
If you're planning to own a Shih Tzu Pom mix puppy, you can get it between $700 to $1,200 from a reputable breeder.
We will cover all you need to know about the Pom Shih Tzu breed. From its origin, temperament, diet, exercise, and grooming needs, to its common health issues. Read our complete guide and see if this friendly and playful designer dog is right for you!
Where did the Shih Tzu Pomeranian breed come from?
The history of the Shiranian dog breed is mostly unknown. This hybrid dog originated in the United States in the late 1990s, as the result of breeding the Chinese Shih Tzu (or Shitzu) with the German Pomeranian.
Both the Shih Tzu and the Pomeranian were favored by their country's royal families. Shih Tzus are affectionate charmers bred to be in the lap of luxury.
There is some evidence that these dogs were bred by Tibetan monks as gifts to Chinese emperors.
Pomeranian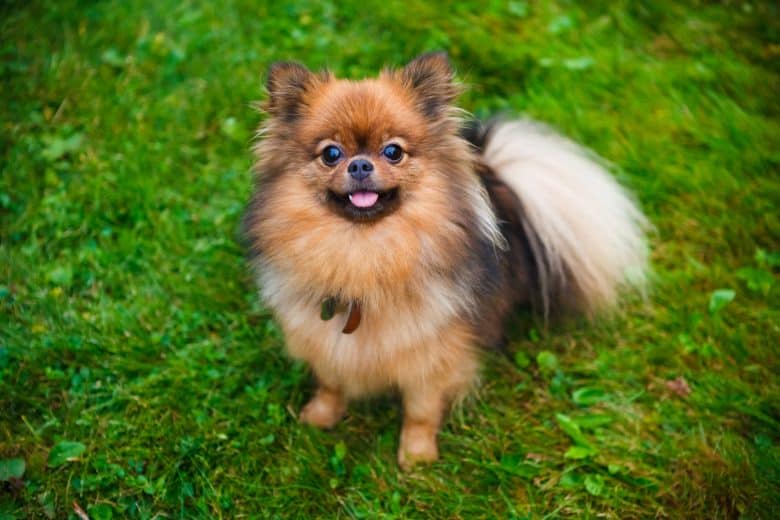 Pomeranians are the smallest of the Spitz breed (bred as sled-pulling dogs), but their big personality and elegant exteriors made them a favorite of Queen Victoria. She became an official breeder, and these pups have been popular ever since.
So even though the true origin of the hybrid Shiranian is unknown, you can be sure that they carry royal favor!
Shih Tzu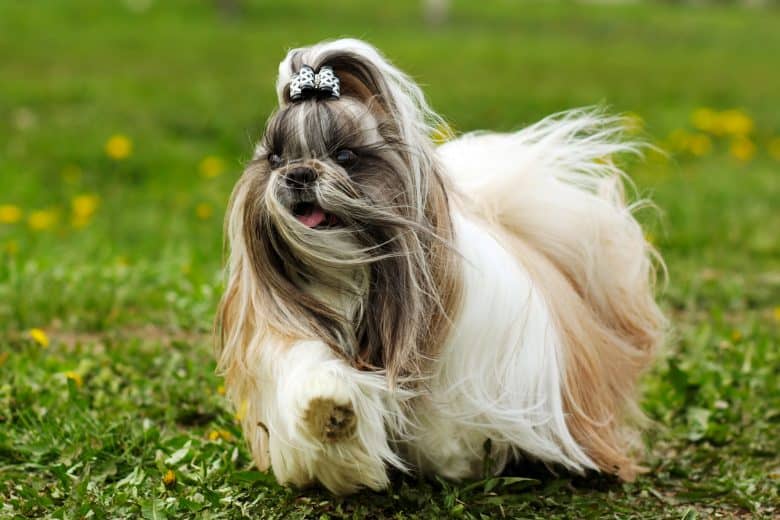 Shih Tzu's are known for being affectionate and stubborn, and Pomeranians are friendly and intelligent.
Shiranian pups will inherit traits from both parents, so you are sure to get a small dog with a big personality.
Breed Recognition
Shih Tzu Pomeranians are hybrid or crossbreed dogs, so they are not recognized by the American Kennel Club (AKC), which is only for purebred dogs. However, Shiranians are recognized by the following groups:
American Canine Hybrid Club
Designer Dogs Kennel Club
International Designer Canine Registry
Designer Breed Registry
Dog Registry of America, Inc.
What does a Shiranian look like?
Shih Tzu Pomeranians will inherit a combination of different traits from their parents, so unlike purebred dogs, their appearance will vary from pup to pup. This toy breed will remain small and compact.
Their big brown eyes, triangular ears, short muzzles, and flowing manes make them resemble tiny lions.
Watch these adorable Shiranian puppies playing together!
How Big Will a Shih Tzu Pomeranian Mix Get?
The Pom Shih Tzu mix classifies as a toy-to-small-sized dog. Both female and male Shiranians can grow around 7 to 12 inches (18 to 30 cm) and can weigh between 4 to 16 pounds (2 to 7 kg).
Shih Tzu Pomeranian mixes are considered full-grown when they reach 9 to 10 months of age. Their compact size makes them ideal for apartment dwellers.
Shih Tzu Pomeranian Mix
Physical Features
Male
Female

Height

7 to 12 inches




(18 to 30 cm)

7 to 12 inches




(18 to 30 cm)

Weight

4 to 16 pounds




(2 to 7 kg)

4 to 16 pounds




(2 to 7 kg)
Long, luxurious coats
Shih Tzu Pomeranian mixes will inherit a long, flowing double coat. Their coats may be straight or slightly wavy. Their coat colors will range from black, tan, white, orange, brown, brindle, merle, and sable.
Shiranians can be solid in color, but they are typically a bicolored or tricolored pattern.
Shiranian shedding
The Pomeranian Shih Tzu mix will have minimal to moderate shedding. However, long coats don't shed daily or as much as short, smooth-coated dogs.
If you are looking to keep your home spotless, this may not be the right dog for you.
Sneeze factor: Achoo!
Unlike the Shih Tzu dogs, your Shiranian is not known to be hypoallergenic. They will shed a little and carry dander.
Their long coat makes them less allergenic than other breeds, but if you are certain you have dog allergies, you should consider a different breed.
Bonus fun fact: they don't drool! So while you might have to run a vacuum, you won't have to clean up slobber.
The Shih Tzu Pomeranian mix disposition
You will be pleased with the affectionate temperament of the Shiranian.
Keep in mind that these are social doggies who thrive on companionship. They will stick by your side whenever possible and may experience separation anxiety if left alone.
Social family dogs
Pom-Tzus are family dogs and will do well with young children. Small children may need to be supervised to ensure that the tiny pup isn't handled too aggressively.
Just ensure that all family members are watchful of this pint-sized pup who can easily get underfoot.
Early socialization is important to ensure these pups will get along with other pets. Homes with other pups are ideal if you work outside of the home. That way, these needy doggies will have a friend to snuggle.
Senior lap dogs
Since Pomeranian Shih Tzus need constant companionship, they make excellent pets for a senior willing to spend hours at home with a pup in their lap. These devoted dogs will adore being your shadow.
Not the ideal watchdog
Shiranians rarely bark and do not make good watchdogs. They love everybody, which includes any intruder! Your pup will be trying to snuggle up on a robber's lap before alerting you of their presence!
Training: A persistent people pleaser
Shih Tzu Pomeranians are intelligent dogs who are moderately easy to train. They can possess a stubborn streak, so positive reinforcement is needed to keep these dogs in line.
They are eager to please their owner, so be patient and training will be a success!
Potty training should be fairly easy. Just remember that small pups need frequent potty breaks. Praise and positive reinforcement will result in speedy house training.
How to care for your Shiranian dog
Shih Tzu Pomeranian mixes are moderate maintenance dogs whose small size makes them suited to smaller homes and apartments.
Keep your Pomshi looking fresh with monthly bathing and daily brushing. Brush your Pom-tzu's teeth every day.
Check their ears and keep them clean to avoid infections. Trim nails once or twice a month (or anytime you hear the clickety clack on your floor).
Shiranians are not designed for extreme weather. Keep them indoors on excessively hot days and consider a sweater for cold winter days.
Exercise
Pom-Tzus have moderate energy levels, but since they are little dogs, they will only need one or two short leash walks a day. Aim for 30 minutes of activity.
They also will enjoy daily playtime with interactive or squeaky toys to keep them occupied.
Does Shiranians need grooming?
Establishing a regular grooming routine will cut down on the shedding and keep your pup soft and healthy.
Long, double coats need to be groomed often to avoid tangles and mats, making these dogs high-maintenance in terms of needing to see a groomer every three months.
Plus, grooming can keep your dog looking "forever young" with the cute, round puppy cut.
Food and diet
Small dogs like Shiranians only need ½ to 1 cup of dry dog food per day. Choose a blend suitable for small breed dogs with moderate energy.
Consult your veterinarian for recommendations on the best quality blend of kibble for your Pom-Tzu.
Stick to a healthy diet with minimal treats as these pups are prone to gain weight easily.
Are Shiranians Healthy Dogs?
Like most crossbreeds, the Shih Tzu Pomeranian is generally considered a healthy dog. Shiranians may inherit some health concerns from their Pomeranian or Shih Tzu parent, so regular vet checkups are important.
Potential health issues to look out for in your Shiranian include:
Hip dysplasia (where the hip socket develops abnormally)
Cataracts (eye disease that can cause blindness)
Hypoglycemia (low blood sugar)
Allergies
Hypothyroidism (thyroid doesn't produce correct hormones)
Breathing problems
Lifespan
Shiranians are generally healthy dogs with an expected lifespan of 12 to 16 years.
How much will Shih Tzu Pomeranian mix puppy cost?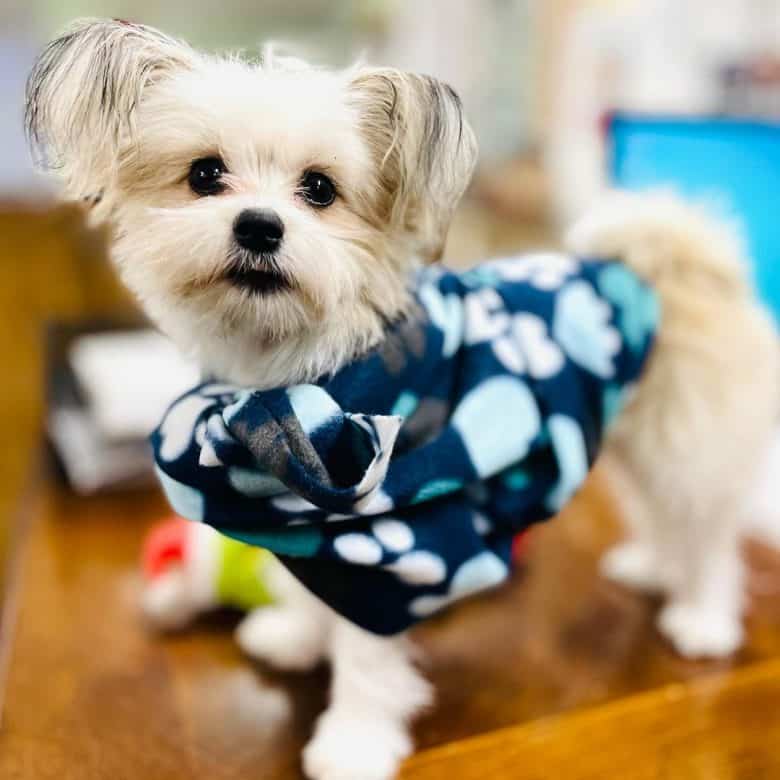 These playful pooches will range in price according to their coloring and if their parents were of championship quality. An average price is $700, although this fluffy friend can cost up to $1,200.
Shiranian Breeders
Toy breeds have small litters (average 1 to 4 puppies), which can increase the cost of the Shih Tzu Pom puppy. You will find F1 (Shih Tzu and Pomeranian parents) or F2 (two Shiranian parents) variations offered by breeders.
Do your research! Find a legitimate breeder who will show you the parents and answer your questions.
Your puppy should be checked by a veterinarian and have their initial rounds of vaccinations before coming home to you.
Shiranian Rescue
Adopting a Shiranian is always a good idea! Sadly, designer dogs sometimes end up in shelters.
Contact your local shelters and ask if they have a Shih Tzu Pomeranian mix in need of a forever home. Or, consider a Shih Tzu rescue or Pomeranian rescue to find your right match.
We recommend:
Pawsitively Pom Rescue
Shih Tzus & Furbabies
Other Shih Tzu Mixes
If you cannot find a Pom-Tzu at a shelter, and your heart is set on adoption, consider these other Shih Tzu mixes that are sure to melt your heart!
Is the Pomeranian Shih Tzu Mix the dog for you?
If you are looking for a trusty companion who will never leave your side, is good in smaller homes, and needs minimal outdoor exercise, consider adopting a Shiranian.
These tiny bundles of love are certain to brighten your day!
Pros
Personable and playful personality
Intelligent and trainable
Minimal exercise required
Infrequent barking (suitable for apartment dwelling)
Few health issues
Good for families with other pets
Ideal for seniors needing a lovable lap dog
Cons
Grooming needed
Stubborn streak
Needy and prone to separation anxiety
Not a good watchdog
Needs to be supervised around small children (due to its delicate size)
Do you have what it takes to own this pampered pup? What do you think of the lovable Shih Tzu Pomeranian mix? Comment below.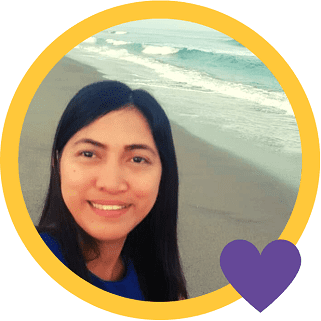 Cess is the Head of Content Writing at K9 Web and a passionate dog care expert with over 5 years of experience in the Pet Industry. With a background in animal science, dog training, and behavior consulting, her hands-on experience and extensive knowledge make her a trusted source for dog owners.
When not writing or leading the K9 Web content team, Cess can be found volunteering at local shelters and participating in dog-related events.