Last Updated on April 20, 2023
When you started your search for the perfect name to adorn your new pooch with, you may not have immediately thought of alcohol-related terms.
Sure, it may seem odd, but they're also unique names that can be well suited for your new dog.
We've put together a list of alcoholic beverages, companies, and more from which you can find a great name.
Picking the Right Alcohol-Inspired Dog Name
Picking the right name for your new dog can be an arduous task, but with our help, you can subvert that headache.
When it comes to alcohol-related names, it already inspires images of fun, friends, gatherings, and celebrations.
There is nothing wrong with celebrating an excellent name for your new pooch. Plus, our selected names can suit any breed, from a Golden Retriever to a Pomeranian.
It's always a good idea to pull from something you love. If you enjoy beer, we've got a ton of quality ideas, but we've also got the wine lovers covered.
Pull from personal experience or even a favorite cocktail as they can all help you find the perfect name.
I always recommend saying the names out loud. See how they roll off the tongue, how they sound to the ear, and if you're lucky, how your new doggo perks up at the mention of it.
Don't be afraid to try something new. Sometimes the best names come from the unlikeliest of places.
Alcohol-Inspired Dog Names from Pop Culture
Finding inspiration in the world of pop culture is nothing new, and it's also not a bad idea.
When it comes to alcohol-inspired names, we have names inspired by alcohol, alcohol inspired by actual names, and even dogs on Instagram.
Famous Alcohol-Related Names:
Charlie Chaplin – A famous actor in the silent era of cinema and the name of a gin and brandy cocktail.
Hooch – After the dog from the film Turner & Hooch.
John Daly – A famous golfer who popularized the vodka spiked version of the Arnold Palmer, which is now a cocktail named for him.
Shirley Temple – A mixed drink named after the famous child star.
Tomb Raider – A vodka and rum-based mixed drink inspired by the video game of the same name.
Alcohol-Inspired Dogs on Instagram:
Boozer the Shar-Pei Mix
Budweiser the Shih Tzu
Carter the Craft Beer Dog – He doesn't drink them, but he sure loves to pose with them.
Chablis the American Staffordshire Terrier
Cognac the Chihuahua
The Best Alcohol-Inspired Dog Names
We've compiled various names to help your search, including beer, wine, liquor, and even cocktail-based names.
Dog Names Inspired by Beers & Breweries
Ale
Amstel
Becks
Blue Moon
Bock
Bud
Budweiser
Bush
Chimay
Coors
Corona
Dogfish
Dos Equis
Dubbel
Dunkel
Flanders
Foster
Guinness
Heineken
Heiny
Kirin
Lager
Michelob
Miller
Milwaukee
Molsen
Natty – The nickname for Natural Light beer.
Pale Ale
Pilsner
Porter
Samuel Adams
Sapporo
Shiner
Shock Top
Stella
Stout
Yuengling
Dog Names Inspired by Wine & Wineries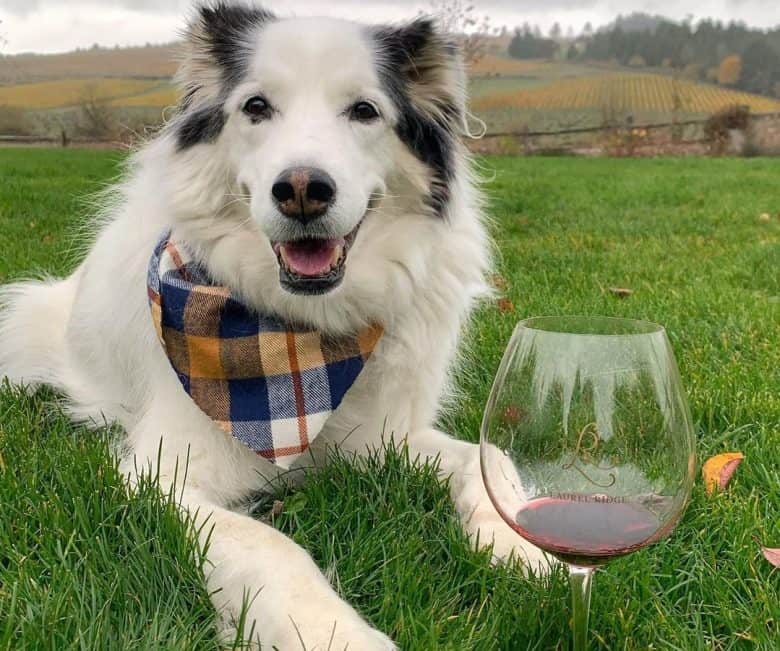 Barefoot
Bellini
Blanc
Blush
Bordeaux
Burgundy
Cabernet
Cava
Chablis
Champagne
Chardonnay
Chianti
Gallo
Grigio
Hess
Malbec
Merlot
Moscato
Noir
Pino/Pinot
Pip
Port
Prosecco
Riesling
Rose
Sauvignon
Sherry
Vermouth
Vino
Zinfandel
Dog Names Inspired by Liquor
Absinthe
Absolut
Amaretto
Bacardi
Bailey
Bourbon
Brandy
Captain Morgan
Cognac
Crown
Curacao
Goldschlager
Hennessy
Jack Daniels
Jagermeister
Jameson
Jim Beam
Johnnie Walker
Jose Cuervo
Kahlua
Malibu
Patron
Rum
Sambuca
Schnapps
Scotch
Skol
Skyy
Smirnoff
SoCo
Stoli
Tequila
Vodka
Whiskey
Dog Names Inspired by Popular Cocktails & Mixed Drinks
Appletini
Colada
Cosmo
Daiquiri
Fireball
Fuzzy Navel
Gimlet
Godfather
Harvey Wallbanger
Highlander
Hurricane
Irish Coffee
Julep
Kamikaze
Lemon Drop
Mai Tai
Manhattan
Margarita
Martinez
Martini
Mimosa
Mojito
Mudslide
Mule
Old Fashioned
Paloma
Pink Lady
Rob Roy
Rumrunner
Sangria
Sazerac
Screwdriver
Sidecar
Spritz
Tequila Sunrise
Tom Collins
Whiskey Sour
Zombie
Booze Related Dog Names
Boozer
Cider
Grain
Liqueur
Malt
Mash
Mead
Moonshine
Sake
Shaker
Spirit
Tonic
More Alcohol-Inspired by Dog Names
Alchy
Bomber
Boozer
Brew
Brewer
Brewski
Brewster
Chaser
Cheers
Chug
Cork/Corky
Drunkard
Half Pint
Hangover
Hops
Keg
Oktoberfest
Pint
Pub
Rye
Saloon
Shot
Tapper
Tavern
Tipsy
The Best Male & Female Alcohol-Inspired Dog Names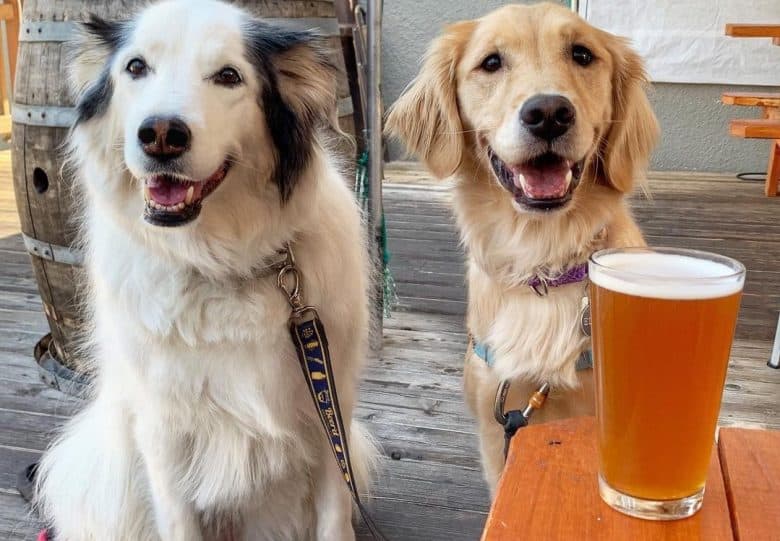 We've also got great suggestions for alcohol-related names that are perfect for female and male dogs.
Alcohol-Inspired Female Dog Names
Alba – After the vineyard and winery.
Amber – After the color of some beer and liquor.
Barbie – After the pink Barbie cocktails.
Blondie – Like a blonde ale.
Bubbles – Like nice bubbly champagne.
Deedee – A play on the term designated driver.
Genny – Short for Genesee, a brewing company.
Ginger – Like a nice ginger beer.
Lush – Meaning a heavy drinker.
Mary – Like a Bloody Mary.
Milly – A variation of Miller.
Morgan – Like Captain Morgan.
Nebbiolo – A variety of grape.
Peach – Like a fine Peach Schnapps.
Saison – A style of beer.
Seven – If you're a fan of a 7 & 7.
Shine – Short for moonshine.
Shiraz – A variety of grapes used for red wines.
Syrah – Another name for Shiraz grapes.
Tannin – Provides texture and mouthfeel to wine.
Vesper – Like a vesper martini.
Virgin – As in a virgin cocktail or a cocktail without alcohol.
Alcohol-Inspired Male Dog Names
Bacchus – The God of wine.
Barley – Used in distilling spirits.
Blackout – As in blackout drunk.
Blotto – Means "extremely drunk."
Chaser – In reference to chasing a shot.
Dionysus – Another name for Bacchus, the God of wine.
Goose – Like Goose Island Brewery.
Growler – A large jug that beer is sometimes sold in.
Hammer – After various mixed drinks like the Hawaiian Hammer or the Velvet Hammer.
Jager – Short for Jagermeister.
JD – Short for Jack Daniels.
Jose – Like Jose Cuervo.
Mugsy – Like a nice mug of ale.
Pabst – Like Pabst Blue Ribbon.
Pimm – Like a Pimm's Cup.
Shooter – Like a jello shooter.
Sommelier – A wine steward.
Spike – As in a spiked drink.
Sutter – Like Sutter Home Wines.
Tallboy – After the large cans of beer.
Toddy – After a hot toddy.
Vin – After the French term "vin d'alcool," which means "spirit wine."
Walker – Like Johnnie Walker.
Dog Names Inspired by Other Drinks
To provide the best names possible, we also included names inspired by other beverages like coffee, tea, and carbonated drinks.
Dog Names Inspired by Coffee
Americano
Barista
Bean
Cappuccino
Cortado
Espresso
Frappuccino
Java
Joe
Latte
Macchiato
Mocha
Venti
Vienna
Dog Names Inspired by Tea
Amacha
Chai
Chamomile
Cinnamon
Earl Grey
Jasmine
Lavender
Matcha
Moroccan
Oolong
Turmeric
Yerba
Dog Names Inspired by Carbonated Drinks
Cola
Fanta
Fresca
Kickstart
Mr. Pibb
Perrier
Shasta
Soda
Sprite
Squirt
Sunkist
Dog Names Inspired by Other Non-Alcoholic Drinks
Aquafina
Cocoa
Eggnog
Fruit Punch
Milkshake
Sweet Tea
Swiss Miss
Tang
What alcohol-inspired name should I give my dog?
The factors you weigh in your own mind, or even how your dog reacts, can answer this question for you.
When you find the name that suits their personality or look, or maybe when you find the name that meshes with something you love, you'll know. When the feeling is right, the name will delight.
If you're still searching for unique ideas, try Purina's Dog Name Generator. It will suggest names based upon the information you provide about your pup.
Don't forget to check out our other superb articles and lists of great dog names.
Further reading: Other dog names
Badass Dog Names
Food Names for Dogs
Tough Dog Names
Country Dog Names
Native American Dog Names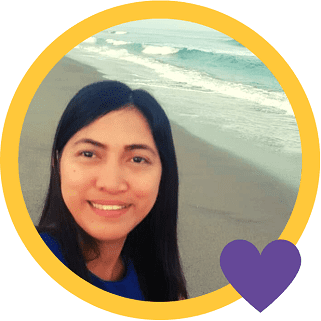 Cess is the Head of Content Writing at K9 Web and a passionate dog care expert with over 5 years of experience in the Pet Industry. With a background in animal science, dog training, and behavior consulting, her hands-on experience and extensive knowledge make her a trusted source for dog owners.
When not writing or leading the K9 Web content team, Cess can be found volunteering at local shelters and participating in dog-related events.