Last Updated on April 20, 2023
You just brought home your very own Siberian Husky. You did your research, you found a good breeder or rescue, and you made the investment of a lifetime.
But now comes the tough part: What are you going to call your new pooch?
Picking out Husky names doesn't have to feel overwhelming. Our guide will help you decide on which is the best name for your pup.
What's a Good Dog Name For a Husky?
Before clicking "add to cart" on Amazon for that cool collar or tag for your Husky, you should be sure of what name to place on it.
And when it comes to naming your new Husky pup, the best advice we can give you is to pick something short and original.
Your pet will have trouble remembering her name if you go for a long Siberian Husky name. Imagine calling for "Chancellor Good Boy" or "Sir Fluffykins." Your fur buddy will tune you out by the second syllable.
If you choose a common name, you risk your pup answering to every owner shouting for Fluffy or Spot. You should also think about all those Fluffies and Spots running to you.
As much as we all dream of being overrun by adorable puppies, that adventure would probably get old pretty quickly.
Avoid any doggie drama by giving your Husky a simple yet unique name. One that means something for both you and your pup.
Luckily for you, you can draw inspiration from several sources.
Your Siberian Husky's temperament, looks, and goofy antics are all excellent starting points. You can look to well-known Huskies for name ideas, as well.
Famous Husky Names with Catchy Monikers
There are famous Huskies whose names strike a balance between short and catchy. Their names also come with an air of distinction–perfect for the confident Husky breed.
You could always name your fido after legendary Siberian Huskies like Balto, Togo, or Mukluk. Do you prefer to take a cue from modern influencer pups?
Bruin, Glacier, Gala, and Anuko are some of the Huskies rising to Instagram fame.
You might've heard about Gohan, too. He's a Husky YouTuber (yup, Huskies can be YouTubers!), best known for his ASMR videos and hanging out by the pool.
Of course, you might take a cue from Huskies on the silver screen:
Gus from Iron Will
Diesel, Mack, Sniff, Yodel, Scooper, Duchess, and Demon from Snow Dogs
Max, Maya, Truman, Dewey, Shorty, and Old Jack from Eight Below
Siberian Huskies stole the spotlight portraying the Stark family's direwolves on Game of Thrones, too. It's only fitting that your Husky bears a name like Grey Wind or Nymeria.
There are plenty of Huskies making waves in Hollywood behind the scenes, too. Many A-list celebrities call Huskies their forever friends, like these star-studded duos:
Aurora and Ashlan Gorse
Buckets and Quincy Poindexter
Floyd and Miley Cyrus
Dallas and Danica Sue Patrick
Kona and Nick Lachey
Waldo Picasso and Joe Jonas (okay, this one's a little long, but it's adorable)
As if that's not enough inspiration for you, we have even more notable Husky names in store. Keep reading!
Best Husky Dog Names
When it comes down to it, the best name for your dog is whichever one you like best. Here are 519 of the best Husky names out there. One of these is bound to be a winner!
Cute Husky names
Siberian Huskies are charming, even in their senior years. This timeless breed has striking yet endearing physical qualities and traits, so why not give them a name to match?
Alfie
Angelica
Autumn
Baby
Bambi
Basil
Beal
Blue
Boo
Boots
Cloud
Dandelion
Dougal
Faith
Fluff
Frankie
Gizmo
Hugh
Irie
Joy
Katie
Latte
Leo
Mabel
Mistletoe
Molly
Mouse
Nana
Nora
Nutmeg
Oliver
Oreo
Paisley
Peach
Pebble
Pooh Bear
Poppy
Robb
Rocket
Scooter
Sealy
Snow-Angel
Snowball
Snowflake
Socks
Sparkles
Squirt
Stardust
Syral
Tate
Ted
Tinsel
Velcro
Woody
Yogi
Funniest Husky names
Maybe "cute" isn't really your jam. Perhaps a name that taps into your Siberian Husky's mischievous side is more up your alley. Spice things up with a funny Husky name instead!
Bertha
Bing Bong
Carl
Chewy
Chilly
Devil Dog
Dexter
Fabio
Fatboy
Foxy
Fuzzy Wuzzy
Gandalf
Gangsta
Goose
Hairy
Ho-Ho
Ice Cube
Jack Frost
Milkshake
Moe
Muggle
Pacman
Pancake
Sasquatch
Sailor
Snowman
Sulley
Taco
Trail Mix
Trump
Twinkle Toes
Waffle
Wolfie
Yeti
What are the leading Female Husky Names?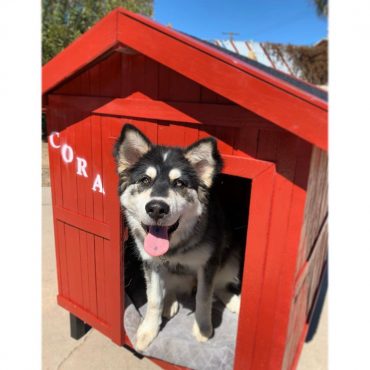 It might be easier to look at names categorized by gender. Let's start with top picks for female Huskies!
Abby/Abi
Akira
Alexa
Alina
Amal
Anastasia
Anna
Anya
Arya
Ash
Astra
Athena
Auggie
Avery
Babushka
Bailey
Barbara
Bella
Belle
Bianca
Bonnie
Buffy
Celeste
Cheyenne
Chyna
Coco
Daisy
Dany
Darla
Delta
Desna
Diana
Dixie
Dora
Dorothy
Dory
Dotty
Eliza
Elle
Elke
Elsa
Empress
Espirit
Eva
Fergie
Freya
Fuschia
Genesis
Geneva
Gracie
Hera
Hermione
India
Indigo
Inna
Irina
Iris
Izzy
Jackie
Jesse
Jewel
Katniss
Kayla
Kimber
Kira
Kyra
Lady
Laika
Leia
Leslie
Lilo
Maru
Marvel
Maya
Mia
Mika
Miley
Mischa
Misty
Mulan
Mya
Nala
Niki/Nikki
Nikita
Olga
Peggy
Periwinkle
Pina
Piper
Quinn
Raisa
Regina
Rey
Riesling
Ripley
Roxy
Sadie
Sansa
Sasha
Sava
Savannah
Scout
Serena
Shae
Shasta
Sheba
Shiloh
Sierra
Sofia
Sonny/Sunny
Sophie
Star
Tasha
Tonya
Topaz
Twila
Valkyrie
Vega
Venus
Vera
Viktoria/Victoria
Violet
Vixen
Wanda
Willow
Xena
Zendaya
Zhanna
Zia
Zoe
What are the top Male Husky Names?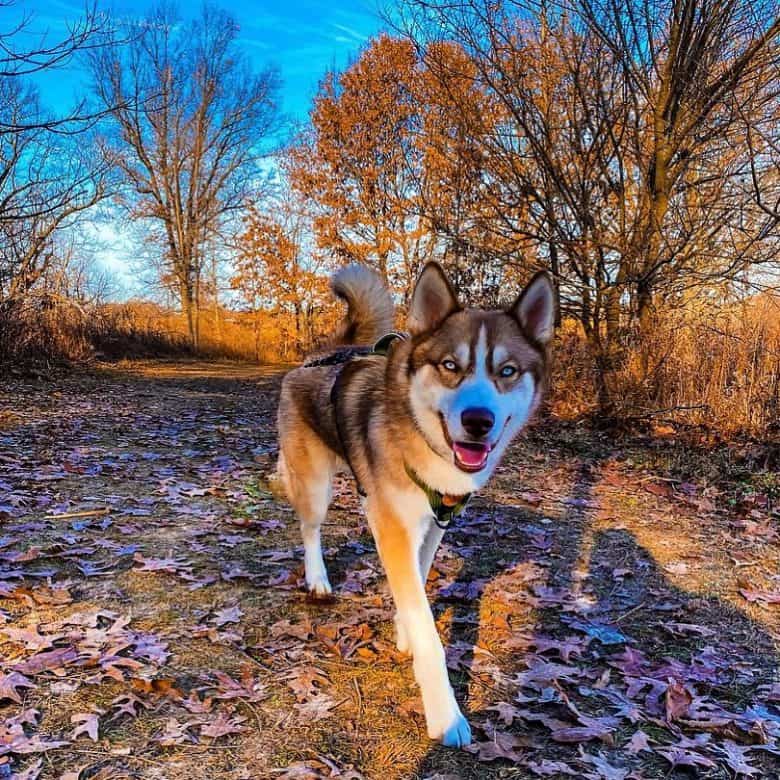 We can't forget about the boys. Here are some of the most popular Husky names for the (canine) man in your life.
Ace
Alwin
Ares
Artur
Asher
Atlas
Atticus
Axel
Banshey/Banshee
Bart
Beau
Blitzen
Boomer
Boomerang
Boris
Bowie
Bruce
Bruno
Buck
Bucky
Buddy
Cammo/Camo
Chase
Chino
Cody
Comet
Cooper
Cosmo
Damion
Dante
Dash
Dasher
Denis
Diego
Drift
Duke
Dwight
Echo
Elmer
Emmett
Ernest
Fable
Fang
Fergus
Finn
Flash
Forrest
Fritz
Gaston
Goliath
Granite
Gunner
Gunther
Hank
Harry
Homer
Hopper
Houdini
Howl
Huck
Hulk
Iditarod
Isaac
Ivan
Jack
Jasper
Jericho
Kai
Koko
Kudo
Lance
Lancelot
Larry
Leo
Lobo
Loki
Mako
Malakai
Maxim
Maximilian
Mekko
Michael
Milo
Moose
Musher
Ned
Neo
Nero
Nestor
Niko
Nikolai
Obi
Orion
Oscar
Oso
Phoenix
Pilot
Prince
Riley
Rocky
Rodion
Ryder
Sammy
Sergei
Shaun
Simon
Slate
Smokey
Solo
Stark
Stag
Tank
Thor
Tigger
Timber
Token
Tony
Truman
Tucker
Turbo
Vader
Vance
Vice
Viktor/Victor
Voodoo
Walter
Yuri
Zeus
Zippy
Zorro
Siberian Husky Names Based on Color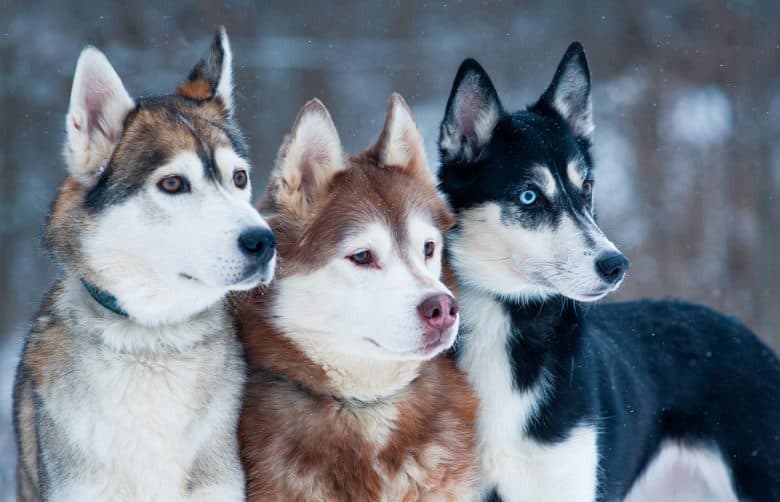 In addition to being endearing, Huskies come in a plethora of coat colors and shades.
With their brown and blue eyes and fluffy fur, the perfect name may well come from their physical characteristics.
If you have a Brown Husky, try these names:
Amaretto
Biscuit
Coco
Fudge
Hazel
Hershey
Mocha
Rusty
Sandy
Tanner
Teddy
Here are a few great names for White Huskies:
Casper
Chalkie
Cotton
Crystal
Dusty
Ghost
Icewind
Misty
Nova
Pearl
And Red Huskies will feel like the best dog on the block with one of these names:
Amber
Cinnamon
Clifford
Coral
Ginger
Merlot
Penny
Pepper
Rosie
Ruby
Rufus
Scarlet
Back to their roots: Husky Names from where they originated
Siberian Huskies are an ancient dog breed from Siberia. The Chukchi people, who bred the Husky's direct ancestors, speak a language called Chukchi or Chukot.
Why not draw from this indigenous language for your new dog?
Aanaq – mother
Altana – gold
Ayaan – journey
Ayiina – deity
Belek – gift
Chamuk – eagle
Dashinima – good fortune
Eshi – wisdom
Natena – expected
Nyurgun – snowdrop
Tatuk – morning
Umky – polar bear
Nature-Inspired Husky names
These sled dogs have strong ties to both the Siberian tundra and the Alaskan wilderness. Consider giving them a name that conjures up feelings of mushing through the ice and snow. It's only fitting!
Alaska
Alpine
America
Anchorage
Arctic
Aspen
Avalanche
Blizzard
Dakota
Denali
Eagle
Fargo
Fox
Frosty
Hawk
Hurricane
Ice
Iris
Juneau
Juniper
Juno
Kenai
Klondike
Koda
Kodiak
Lightning
Luna
Maple
Nome
Olive
Orca
Owl
Panther
Polar
Rain
River
Sahara
Seward
Shadow
Siberia
Sky
Snow
Snowy
Storm
Summit
Terra
Tiger
Tundra
Twilight
Willow
Winter
Yeti
Yukon
Badass Names for the Toughest Huskies
Okay, well, "tough" and "Husky" might not exactly go together. All Husky dog lovers know these precocious canines are the biggest softies on the planet.
But they seem tough, and they can endure temperatures as low as -75°F (-59°C). We'd say that alone is pretty badass.
Alpha
Apache
Apollo
Bandit
Blaze
Bear
Blitz
Bolt
Bruiser
Chief
Commander
Electra
Fang
Grizzly
Harley
Havoc
Hunter
Jax
Jet
Khan
King
Legend
Loki
Magnum
Major
Mammoth
Maverick
Nitro
Odin
Outlaw
Ozzy
Racer
Ranger
Rasputin
Rebel
Saber
Sable
Spear
Spike
Stealth
Stella
Thunder
Titan
Trapper
Trouble
Walker
Wolf
Wolverine
Wrangler
Inuit Siberian Husky Names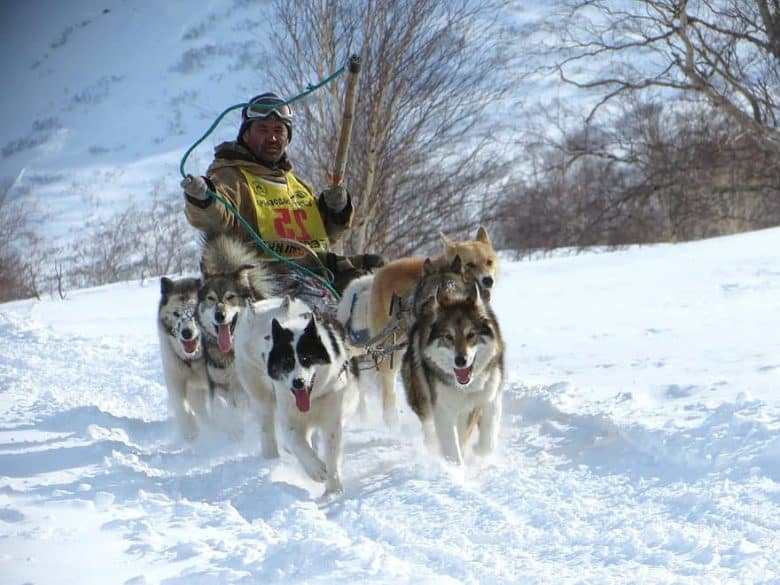 If our nature- and geography-based names aren't good enough for you, there's another way you can honor the Husky's place in Alaskan history. Try one of these Inuit names instead.
Akiak – brave
Amak – playful pup (describes the Husky perfectly, don't you think?)
Atka – king
Chinook – warm wind
Eska – creek
Kaskae – chief
Kavik – wolverine
Miki – small
Miska – little bear
Nanook/Nanuk – polar bear
Neko – woman
Nini – porcupine
Qana – falling snow
Qimutki – puller
Sakari – sweet
Sesi – snow
Shila – flame
Siku – ice
Silla – god of sky
Suka – fast
Takaani – wolf
Tanana – hills
Tatuk – morning
Tikaani – wolf
Tonrar – devil
Uki – survivor
Ulva – wolf
Yuka – brightstar
Yura – beautiful one
What Should I Name My Husky?
With over 500 names on our list, you're sure to have found the perfect name for your Husky.
Naming a dog like retrievers is challenging enough, but what more with wolfy canines like Huskies and Malamutes, right? All we can do is help narrow down your choices.
Think about your pup's personality, appearance, and history as a trusty sled dog. You can always look to legendary Huskies or use a bit of humor in your Husky's name, too.
So, what will it be? We'd love to hear your Husky's new name in the comments!
Further reading: Popular Dog Names for other Dog Breeds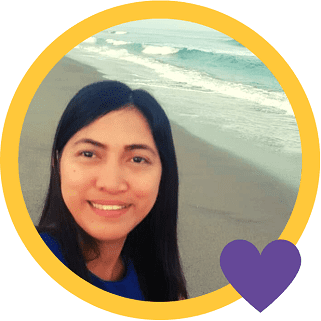 Cess is the Head of Content Writing at K9 Web and a passionate dog care expert with over 5 years of experience in the Pet Industry. With a background in animal science, dog training, and behavior consulting, her hands-on experience and extensive knowledge make her a trusted source for dog owners.
When not writing or leading the K9 Web content team, Cess can be found volunteering at local shelters and participating in dog-related events.