Last Updated on April 20, 2023
Have you ever heard of the Australian Cattle Dog? Often referred to as Blue Heelers, they're also known by other names such as Queensland Heelers and Australian Heelers.
If you were just thinking, "We need a dog," and now you're a new pet parent, this article is a complete guide that will help you pick what to call your Blue Heeler puppy.
Show some dog love by selecting an excellent moniker for your pooch from our list of Blue Heeler names.
What to Consider When Choosing a Good Name for a Blue Heeler?
The Australian Cattle Dog (ACD) is a working dog breed developed to respond to cues and commands.
Though it's useful to know the Blue Heeler's dog breed information, there are things that you should consider before naming your fido.
Blue Heeler names that are short, concise, and easier to say will make your pet more responsive. And try to stick to one or two syllables for practicality.
While you want your chosen name to be as short as a command, you don't want the two getting confused!
Make sure the name you pick is distinguishable from cues like "sit," "heel," and "stay" to avoid confusion during training and housebreaking.
You'll also want to pick a name you love, as this pup will spend all his dog days with you! The bottom line is, it's all about your preference.
Famous Blue Heelers and their Names
When you think of famous dogs, you might think of a German Shepherd from those cute memes or adorable Golden Retriever pics or films, like the Bud movies. But what about Australian Cattle dogs?
You might be surprised to learn that Blue Heelers have appeared on the big screen, too.
One example is Last of the Dogmen, a 1995 American Western film that stars a Blue Heeler named Zip.
Check out the list of other famous Blue Heeler names and where they appeared in pop culture:
Cane – Daewoo cars advertisements
Chico – Secret Window
Dinki-Di – Mad Max
Hank – Man of Steel
Believe it or not, there's even an Australian kids' show dedicated to a family of Blue Heelers and a pup named Bluey. Check out this video:
There are also plenty of famous dogs on Instagram, and the Blue Heeler dog breed is no exception. Australian Cattle dogs have had their share of the limelight with tens of thousands of followers on social media.
Here are some of the photos of Blue Heelers that are popular online:
Blodgett
Millie
Kyro and Kona
Top Blue Heeler (Australian Cattle Dog) Names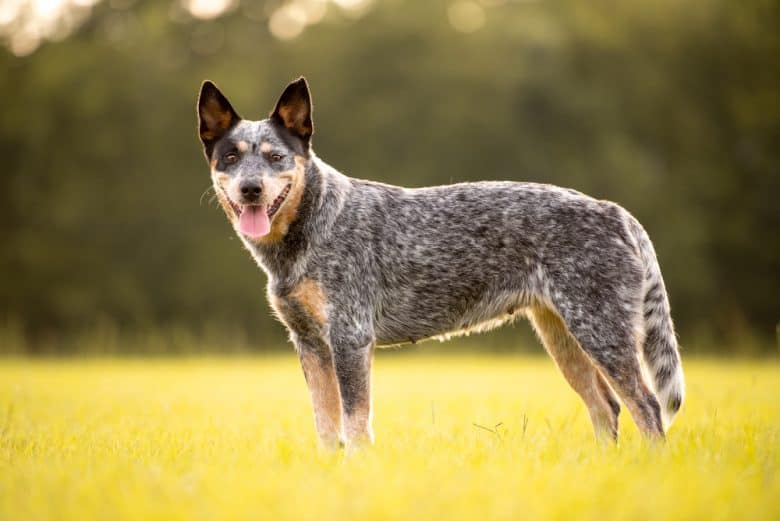 You can get ideas from old-fashioned cattle dog monikers and change them up to your liking. These names are commonly used with working dogs.
Angus
Bandit
Brangus
Chianina
Dairy
Dexter
Fly
Gelbvieh
Lassie
Lucky
Moss
Oreo
Poll
Rally
Rex
Scout
Shadow
Shep
Slick
Sly
Swiss
Winston
The best name for a Blue Heeler is one that suits the dog and the dog's owner. It has to be something you feel connected with and one that your dog responds to.
Want more of the best overall Blue Heeler names?
Ace
Aussie
Bailey
Blue
Captain
Cobalt
Chase
Drake
Duchess
Dundee
General
Hawk
Heeler
Hero
Hunter
Luna
Max
Australian Cattle Dog names with meaning
If you want to pick one of the ACD names with meaning, these names hint at the Blue Heelers' heritage and refer to different aspects of the land down under.
Bondi – Famous Australian beach
Brisbane – Australia's capital
Darwin – Australian city
Digger – A slang term for "soldier"
Dingo – A type of Australian dog
Gonzo – Slang term for a weird person
Mate – Slang for "friend"
Miki – Aboriginal word for "moon"
Ozzie – A slang term for an Australian
Roo – Slang word for "kangaroo"
Sheila – Slang for "woman"
Sydney – Australian city
Trooper – A police officer
Female Blue Heeler names for your sweet pooch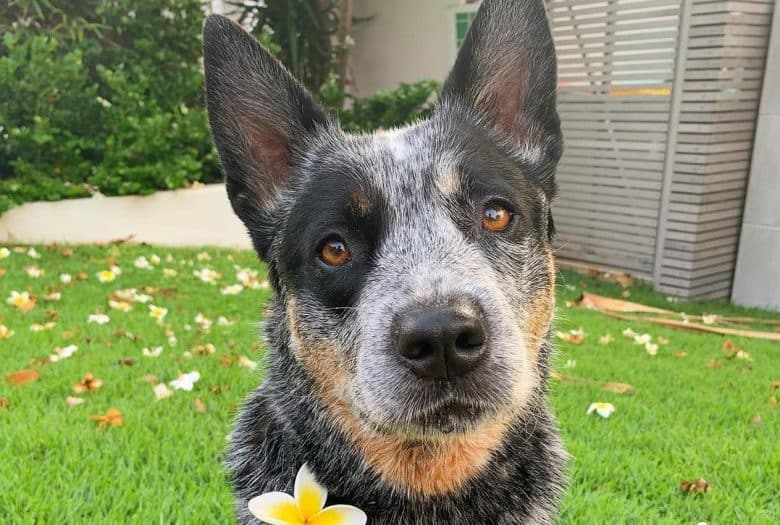 Below is a list of Blue Heeler names to give you some inspiration for your female dog. Don't worry because we'll also cover more of it, referring to the other attributes of your Blue Heeler besides its gender.
Abby
Amy
Annie
Belle
Bindi
Candy
Carla
Chelsea
Chloe
Cinder
Clare
Demi
Dinah
Emma
Empress
Faith
Flora
Gracie
Gwen
Hadley
Hannah
Harley
Hope
Jada
Jo
Juno
Kaige
Katie
Lexi
Liv
Lois
Lola
Mara
Meg
Precious
Sage
Sheba
Sugar
Sunny
Tasha
Tilly
Willow
Zara
Ziva
Male Blue Heeler names for your loyal pooch
If you're welcoming a new male puppy into your life, you can take a look at the Blue Heeler boy names listed below.
Arlo
Baz
Benny
Blake
Brock
Bryn
Clark
Cole
Dale
Dan
Ditto
Duke
Flynn
Gus
Holt
Jake
Len
Lenny
Oli
Oliver
Otto
Robby
Ron
Sam
Sammy
Seth
Tate
Ted
Trip
Troy
Vince
Wade
Wells
Wilf
Zach
Zephyr
Blue Heeler Names Based on Color
The Australian Heeler's coat can be a source of inspiration when choosing a name. Some owners adore their pet's physical characteristics.
Blue-inspired dog name suggestions
A quick trick to come up with a coat-inspired name is to think of a synonym for the coat color.
For Blue Heeler girl dogs, you'll want to go with anything in the blue color family, but still relatively feminine. If you can't think of one offhand, we've got some examples for you.
Arctic
Ash
Azula
Azura
Brooke
Capri
Celeste
Cyan
Georgia
Ice
Iris
Jean
Jade
Lapis
Lupine
Marine
Maya
Misty
Plum
Raisin
Sapphire
Sky
Storm
Tempest
Velvet
Violet
Zinc
And these are some of the best blue Australian Cattle Dogs monikers that sound more male-oriented:
Azul
Cadet
Denim
Huck
Jay
Lake
Navy
Neptune
Oxford
River
Royal
Sonic
Zaffre
Do you prefer unisex options that you can use once your dog gives birth? These Blue Heeler names listed refer to the color blue, without being strictly feminine or masculine.
Bluestar
Moody
Midnight
Peacock
Peri
Powder
Rain
Smurf
Red-inspired names for Red Heelers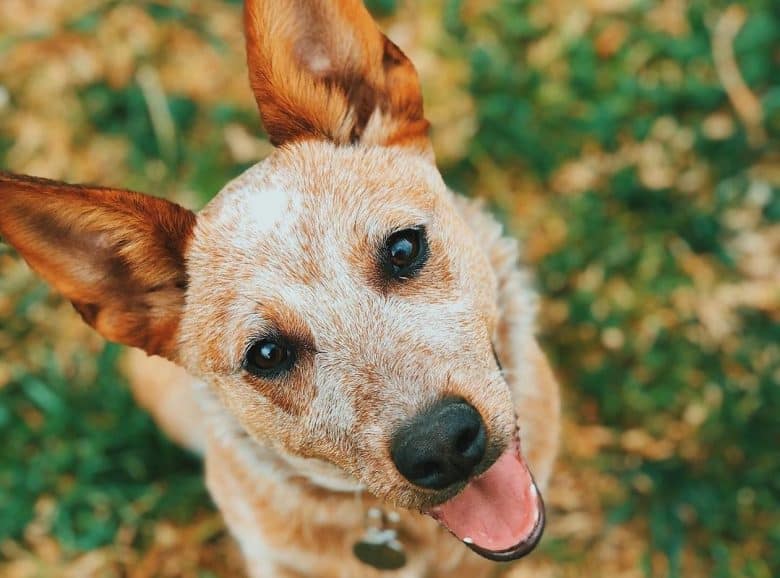 For Australian Cattle Dogs with a red or auburn coat, a name inspired by the fiery hues works great. Here are some of our suggestions:
Ariel
Blaze
Blush
Cardinal
Clifford
Copper
Crimson
Elmo
Finch
Ginger
Malbec
Mars
Poppy
Red
Rosie
Rusty
Scarlet
Sparky
Best Australian-Themed Dog Names
Want to pay tribute to its country of origin? This list is dedicated to just that. You can also use these monikers for a Border Collie or an Australian Shepherd as both breeds originated in Australia.
Camira
Cheyenne
Coorah
Kiah
Kora
Margaret
Marlee
Talia
There are a lot of choices for popular boy dog names with an Aussie-inspired meaning. Here are some of our recommendations for your spunky and macho little pooch.
Adami
Bloke
Gong
Jiemba
Joey
Miro
Ranger
Taz
Best Catchy Hunting Dog Names
Hunting dogs like hounds, terriers, and of course, the Australian Cattle dog are adept at problem-solving, scenting, and retrieving.
You can research different hunters throughout history or names that hint at the clever nature of your skillful ACD, or you can pick one from the list below:
Ammo
Apollo
Archer
Atlas
Baron
Beretta
Brutus
Buck
Bullet
Camo
Edie
Hercules
Huntsman
Taurus
Texas
Titan
Best Herding Dog Names
Blue Heelers and other herding dogs are known for herding abilities, like being independent and obedient, which might help you think of an apt name.
Blitz
Bolt
Chaos
Dart
Dash
Flash
Lightning
Nipper
Raven
Razor
Rounder
Tracker
Trapper
Wrangler
Zippy
Cute Blue Heeler Names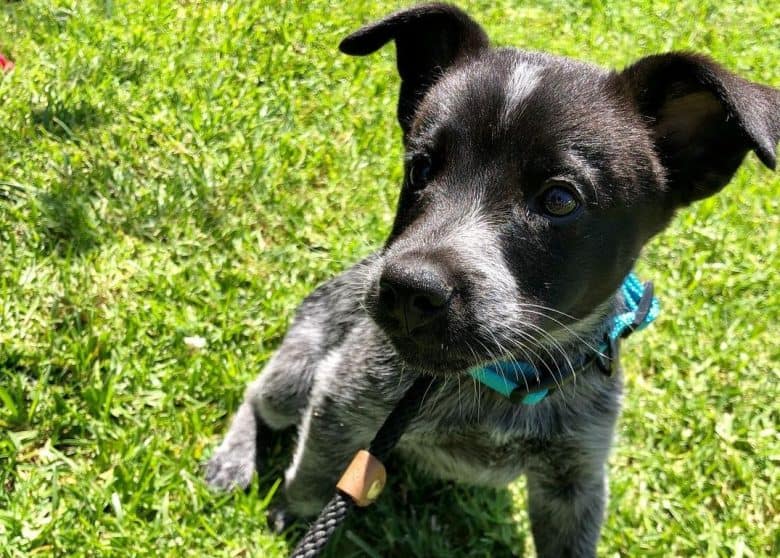 Some dog owners like to choose distinguished names like Aristotle, but others prefer cutesy ones that hint at their pets' sweet and funny temperaments, including canines that slobber.
For adorable name ideas for Australian Cattle dog puppies, here are some options for Blue Heelers that will make you croon.
Angel
Aster
Baby
Bean
Bird
Blossom
Bluebell
Boo
Boots
Buttons
Buzz
Cherry
Chip
Clover
Coco
Cookie
Custard
Daisy
Disco
Dolly
Doodle
Echo
Frankie
Mango
Mouse
Noodle
Stitch
Tansy
Waffles
Whirl
Ziggy
Unique Blue Heeler Dog Names for Your One of a Kind Pet
For something a little extraordinary, you can choose something that sounds original from the unique Blue Heeler dog names we included here:
Archie
Banjo
Bobby
Brooklyn
Buddy
Cody
Daegal
Devi
Finn
Grape
Jack
Jesse
Kane
Kenan
Matt
Milo
Phoenix
Rudy
Vulcan
Wolf
What Name Should I Call My New Blue Heeler Puppy?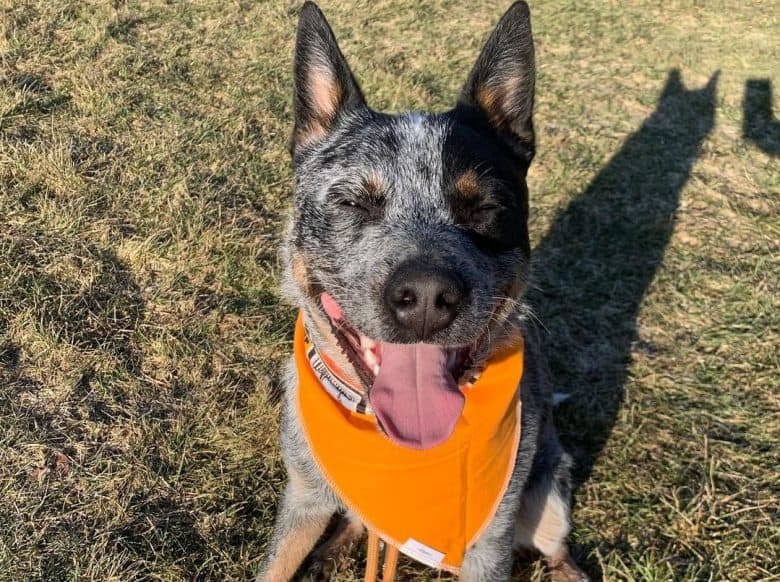 Choosing the best dog name means picking one that works for both you and your furry friend.
Naming a Blue Heeler can be a fun experience if you research names inspired by the Australian outback or refer back to the breed's history of hunting and herding cattle.
Whatever approach you go with, there are hundreds of Blue Heeler dog names to choose from for your new best friend that will make absolute dog goals!
If you've got a unique Blue Heeler name we haven't thought of yet, please comment below. We love hearing from dog owners!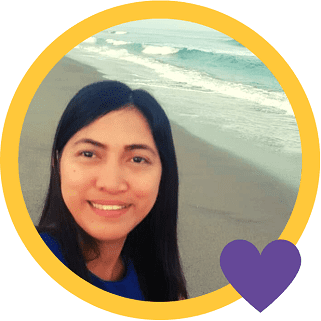 Cess is the Head of Content Writing at K9 Web and a passionate dog care expert with over 5 years of experience in the Pet Industry. With a background in animal science, dog training, and behavior consulting, her hands-on experience and extensive knowledge make her a trusted source for dog owners.
When not writing or leading the K9 Web content team, Cess can be found volunteering at local shelters and participating in dog-related events.