Last Updated on April 20, 2023
Endearingly called Aussies, Australian Shepherds are well-known and beloved by any active dog lover, as well as families and dog trainers, because of their intelligence and outstanding traits.
But being one of the versatile dog breeds, naming them is a tough yet fun challenge.
That's why we made a list of some of the best and creative Australian Shepherd names that would fit your herding dog.
How do you pick the right name for your Australian Shepherd?
The common advice that people give is to choose a name that matches your dog's personality or maybe her favorite food. But what if you just got a new puppy?
You can also pick a moniker that's based on your Aussie's physical qualities, like the color of her coat.
Sure, the Australian Shepherd breed is a beautiful dog, so you can even use that cuteness or alert nature to land a name suited for her.
It's best that you get to know your fido first before deciding on puppy names. Waiting a few days to see how she behaves is okay because it will be a huge help.
Try to avoid monikers that sound like common commands such as no, yes, sit, and stay because it might confuse your pooch.
After picking a name, try to use it all the time, so the dog associates herself with it.
Call your Aussie by her name to give positive reinforcement and good memories. Otherwise, she might associate it as a signal for being scolded.
Some trends for Australian Shepherd dog names focus on their independent spirit. Others derive from their outdoorsy and adventurous nature and give them names inspired by the environment.
If you're still struggling to decide, keep in mind that names should have a mixture of something personal to you. Names should be easy to respond to when starting with their dog training.
Need more tips and advice on how to teach your Australian Shepherd her name? Here's a helpful video you can watch:
Names of the most famous Australian Shepherds
Like some pawrents, you can also take cue of what celebrities are naming their Aussies. Others can go for the names of popular fidos online, just like these famous Australian Shepherds on Instagram:
Secret (@my_aussie_gal)
Oliver (@oli_the_aussie)
Thori and Valkyrie (@just_thori_things)
Kiba (@kiba.aussie)
Atlas and Aries (@atlas.aries.aussies)
Getting the number one spot is Secret with 421K followers! She's well-known for her videos where she's doing tricks with her owner Mary, who's also a clicker trainer.
Best Australian Shepherd names
Still not sure as to what to name your Australian Shepherd? Here's a list of the best dog names for Aussie dogs:
Abby
Admiral
Alaska
Banjo
Benji
Bindi
Boomer
Buffy
Chuck
Clancy
Cream
Dani
Diva
Duke
Eclipse
Einstein
Emma
Eros
Fiasco
Freckles
Fog
Gatsby
Grace
Griffin
Hamilton
Houdini
Iggy
Indy
Isla
Jackie
Jolene
Josie
Kermit
Khira or Kira
Kiwi
Kylie
Lake
Lazy
Leonidas or Leo
Log
Lucky
Lyanna
Maverick
Mila
Minka
Molly
Monster
Murphy
Nacho
Noodle
Nova
Oreo
Ozzie
Pippa
Piper
Queenie
Quincy
Raven
Ripley
Rosalie
Roxy
Samantha
Storm
Sydney
Talia
Teddy
Trooper
Twilight
Ulysses
Ursa
Vegas
Venus
Viper
Wally
Walter
Whiskey
Whitney
Xander
Xena
Yahtzee
Yeti
Yogi
Yoshi
Zelda
Zeus
Zula
Some of these are unisex, and you can give them to male and female dogs. It's all about finding and getting a feel for the perfect name for your fur baby.
Top 25 female Australian Shepherd names
Bella is the most popular dog name in Australia for girls, but if you want more feminine options for your girl, take a look at these female dog names:
Ruby
Jenna
Daisy
Maya
Lola
Lucy
Luna
Penny
Sadie (can be shortened to Sade)
Stella
Naia
Cassie
Eve
Nala
Maggie
Gracie
Millie
Harper
Belle
Sophie
Mia
Cali or Callie
Dixie
Cleo
Sabi
Top 25 male Australian Shepherd names
Males are a bit more affectionate and buoyant than female Aussies. This could mean the names of your male dog can be on the cheery side:
Bailey
Bear
Blue or Blu
Charlie
Cooper
Abe
Koda
Max
Milo
Tucker
Riley
Kailo
Bohdi
Brody
Ollie
Jack, Jackson, or Jax
Hank
Toby
Louie
Jake
Kodi or Cody
Arlo
Tracker
Lewis
Mate
Best Australian Shepherd names inspired by dog size
Small doesn't mean less, which is why there's a saying that good things come in small packages. And if you own a Miniature Australian Shepherd, the same expression probably applies here.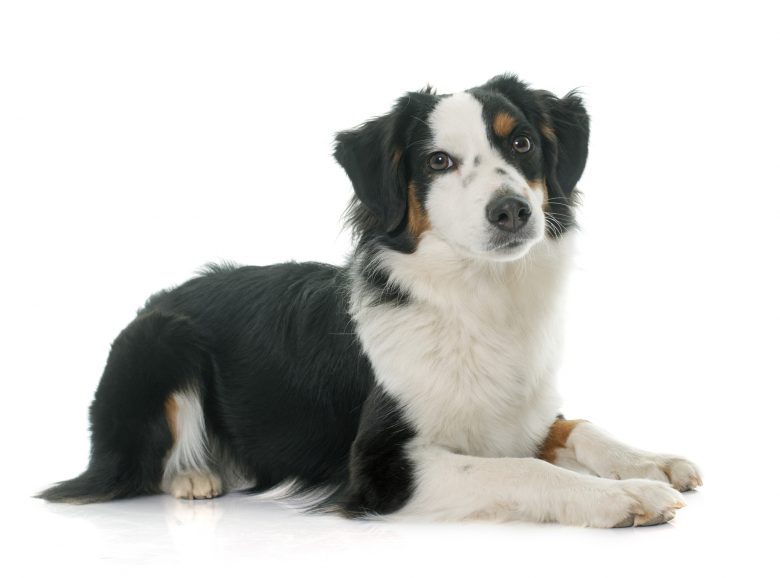 Here's a list of names for small dogs that may suit your mini Australian Shepherd.
Tinkerbell
Bitsy
Lily or Lili (as in "liliputian")
Ladybug
Pocket
Firefly
Sparkle
Flicker
Patch
Willow
Ducky
Olive
Kibble
Antman
Chip
Firefly
Marbles
Haiku
Micro
Nano
Sushi
Tiny
Twinkie
Sparrow
Clove or Clover
Australian Shepherd names inspired by coat color
Coat or eye color can serve as inspiration for your dog's name. If it's on the darker side, why not Darth Vader? But Aussies come in many colors and combinations.
Black Australian Shepherd Names
If you have a black Aussie, channel that shade into a stand-out moniker.
Beetle
Chrome
Coffee
Ebony
Inky
Jet
Mamba
Midnight
Owl
Panther
Asher
Shadow
Red Merle Australian Shepherd Names
The term "Red Merle" relates both to coat color and pattern and has a shade that can range from light cinnamon red to dark russet red.
Another eccentric thing they have is that they mostly have blue eyes with marbled browns. Unique pups should also have a name that stands out:
Cherrie or Cherry
Amber
Apple
Chili
Copper
Dorothy
Ginger
Henna
Peppermint Patty
Rosie
Rusty
Scarlet
Mr. Fox
Autumn
Tawny
You can also go for Uluru, which is a red rock formation in Australia.
Blue Merle Australian Shepherd names
Much like red merles, blue merle Aussies have a lighter shade that can range from a light cream color to a dark gray. They have patches of light silver or dark charcoal in their fur. Does that spark an idea in naming your dog?
Agate
Blueberry
Indigo
Iris
Lapis
Navy
Ocean
Pearl
Sapphire
Skye
River
Tough Australian Shepherd names
Aussies are independent, charismatic, and confident. Some might even possess a formidable personality.
It may not be as intense as German Shepherds, but these names can either show how resilient your pooch is or even give him or her a boost of confidence.
Bullet
Dragon
Eagle
Fang
Growler
Knight
Legend
Rambo
Tank
Voldemort
Bandit
Harley
Rocky
Cute Australian Shepherd names
Some paw parents got their dog because they think that that Aussie is the cutest. Who doesn't like a cute dog, right?
Baby
Coco
Flower
Munchkin
Nacho
Pebbles
Pipsqueak
Pony
Tater Tot
Zoey or Zoe
Remi or Remy
Ellie
Pepper
Beau or Bo
Chloe
Marley
Archie
Winnie
Annie
Ozzy
Layla
Phoebe
Izzie
Princess
Adalee
Cool Australian Shepherd names
In pop culture and mainstream entertainment, we often watch and love shows or movies. Afterward, we think about how cool those characters are.
Because dog lovers identify with these famous personalities and think that they're so cool, some think, "I want to give my dog that name". And to that, we say, why not?
Arya
Axle
Apollo
Captain
Finn (can be short for Finley)
Galaxy
Gunner
King
Kingston
Monet
Unity
Dallas
Freyja
Bentley
Jasper
Gus
Ranger
Levi
Cash
Badass dog names for Australian Shepherd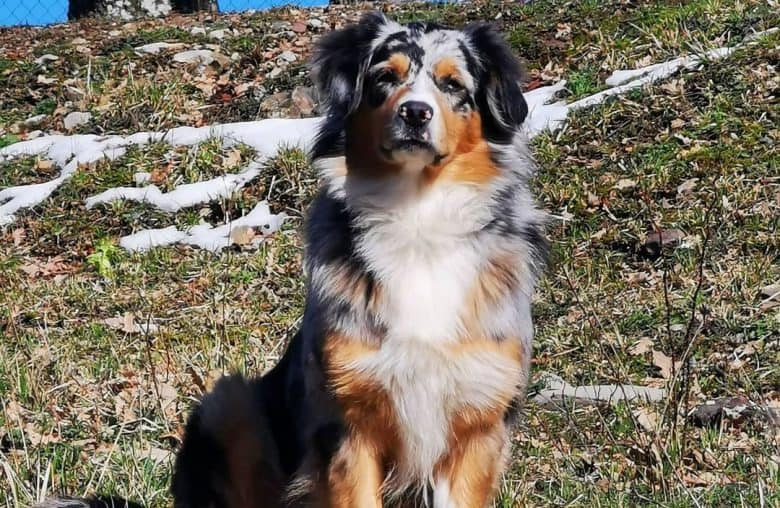 An Australian shepherd is a pretty badass dog that doesn't take any nonsense from anyone.
They're resourceful, loyal, and happy-go-lucky. So your kickass dog deserves a badass name, too.
Casper
Chase
Chief
Genesis
Geraldine
Hazel
Honey
Ingrid
Sawyer
Scout
Harley
Loki
Winston
Funny Australian Shepherd names
Adding humor to your dog's name can simultaneously boost the dog's cuteness and impress other dog owners. Here are some names that are aww-dorable and not rude to say or call out in public:
Andy War-Howl
Barkley
Dumbledog
Lolly Pup
Mary Puppins
Muttilda (you can nickname her Tilda or Tilly)
Pup Tart
Sir Waggington
Snoop Dog
50 Cent
Kobe
Moose
Dexter
Goose
Unique Australian Shepherd names
If you're a unique person who wants to give a fascinating name to its doggo, we have the list for you.
Armadillo
Allora
Brownie
Dart
Fiona
Flyer
Kofi
Priya
Speedy
Toto
Oakley
Aspen
Paisley
Dakota
Bruno
Coral
Jarrah
What should I name my Australian Shepherd puppy?
Whether you want to name your dog after a character that you love or because it sounds funny, or your favorite place in the United States, one thing you should be sure of is that it fits your dog's personality.
After buying or adopting your dog, it's your job to befriend them and see what they are like.
If they show signs of lovability, you could give them a funny, unique, or cute name. However, if they're more rugged, proud, and determined, you might want to give them a tough or badass name.
You can even base it on your pup's looks. Whether they are Blue Merle, Red Merle, or a Black Australian Shepherd, there is a name that will fit your Aussie perfectly.
We want to hear about your Aussie's unique name. Feel free to share your experiences and suggestions with us in the comments.
Further reading: Other dog breed names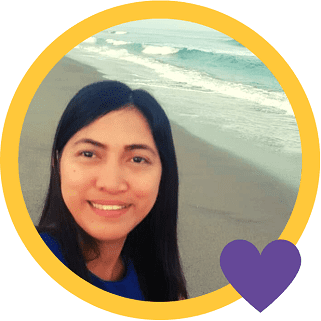 Cess is the Head of Content Writing at K9 Web and a passionate dog care expert with over 5 years of experience in the Pet Industry. With a background in animal science, dog training, and behavior consulting, her hands-on experience and extensive knowledge make her a trusted source for dog owners.
When not writing or leading the K9 Web content team, Cess can be found volunteering at local shelters and participating in dog-related events.