Last Updated on April 20, 2023
The German Shepherd (GSD) needs no introduction. Imposing, powerful, majestic — this dog breed is also known for its wolfish appearance, loyalty, and obedience. It's no wonder that they're such popular police dogs.
GSDs are versatile canines and are America's top #2 breed. They're excellent in canine jobs and as hunting companions, family dogs, and hiking buddies.
If you're having trouble finding the best German Shepherd name, fret not, because that's what this guide is for.
What's a good name for a German Shepherd dog?
There are no rules to picking out a name, but you generally want something easy to remember and pronounce, like one to two syllabic names.
You might also want something that can live up to the GSD's striking personality or appearance.
A White German Shepherd might be called Ghost like that iconic wolf-dog on "Game of Thrones."
Black German Shepherds could be named after your favorite dessert, like Brownie!
Once you have a name for your doggo, help him learn his name by using it frequently while petting him. Then, give him loads of praise if he acknowledges you when you say it.
Never use your German Shepherd's name to reprimand him. Only associate his name with positive reinforcement as this will help with his recall in the future.
What's in a name: Famous German Shepherds
The most famous German Shepherd has to be Rin Tin Tin, who's also responsible for popularizing the saddle marked GSD. But many people aren't aware that GSDs come in all sorts of colors.
Other GSDs characters that have graced the screens are Batman's Ace the Bat-Hound and Strongheart.
Feeling inspired? Here's the full list of notable German Shepherds:
Ace – fictitious character in Batman
Apollo – 9/11 search and rescue hero
Atticus – Jake Gyllenhaal's dog
Buddy – first seeing-eye guide dog
Champ – President Biden's dog
Dolly – Jennifer Aniston's dog
Hutch – Ben Affleck's dog
Ira – Nikki Reed's dog
Jade – Instagram star
Logan – Instagram star
Major – President Biden's dog
Max – Instagram star
Monty – Tom Hank's dog
Rin Tin Tin – actor
Strider – Instagram star
Strongheart – actor
Top German Shepherd dog names
There's a name that resonates with every breed. Jake sounds like a dependable Golden Retriever. For the German Shepherd, the name Max fits like a glove.
Have you seen the 2015 movie titled "Max"? Just watch this video to see how strong and tough this breed is. You might even get convinced to give your pup the same name:

Need more options? Here are more than one hundred names for the powerful Alsatian.
German Shepherd puppy names
It's easy to get tempted with cute name ideas, but don't forget that your fur baby will grow up into a large dog.
You want a name that you won't be shy calling out at the dog park and one that will be easy to use during dog training sessions.
These are great names for your puppy to grow into:
Cooper
Charlie
Buddy
Hera
Patch
Tucker
Bullet
Governor
Kyra
Oscar
Female German Shepherd names from A to Z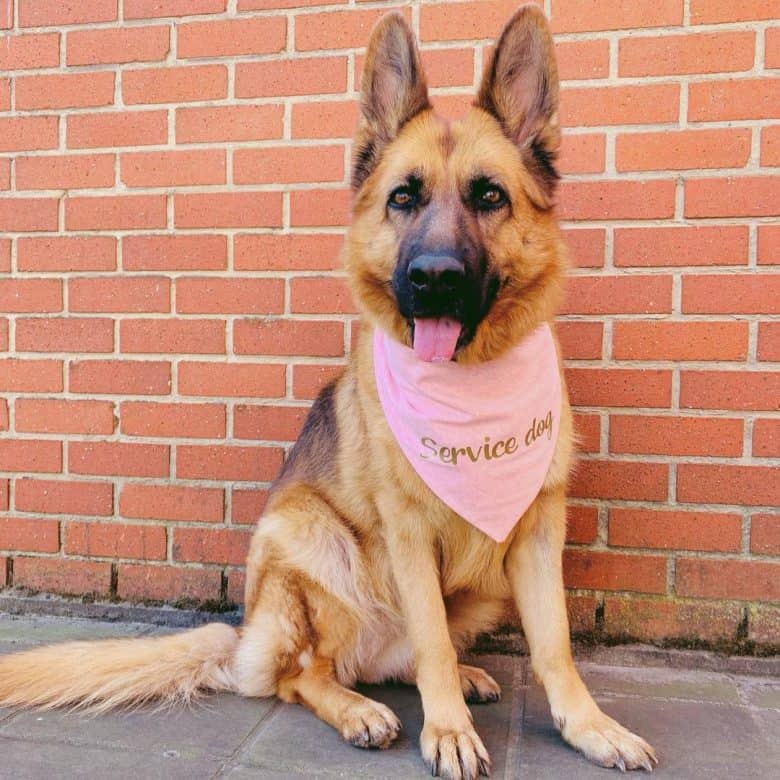 The perfect name for female GSDs should symbolize power and elegance with just the right touch of femininity.
Below are the female dog names which are best suited to your protective and affectionate pooch:
Abby
Angel
Artemis
Asia
Athena
Atlas
Aurora
Bathilda
Bella
Bronx
Bree
Carmen
Charity
Chanel
Coco
Dutchess
Elsa
Elektra
Emma
Faith
Goddess
Harper
Heaven
Holly
Hope
Ivy
Jupiter
Kaya
Rogue
Savannah
Super
Tia
Timber
Jada
Jewel
Katarina
Kiera
Lady
Leola
Levi
Lola
London
Luna
Maverick
Meadow
Murphy
Nala
Nikita
Oakley
Opal
Precious
Queen
Quinn
Raider
Rhea
Roxy
Sable
Sadie
Star
Stormi
Tammy
Unity
Ursula
Vale
Valkyrie
Venus
Victory
Willow
Xena
Yuna
Zaila
Zelda
Zina
Zoe
Male German Shepherd names from A to Z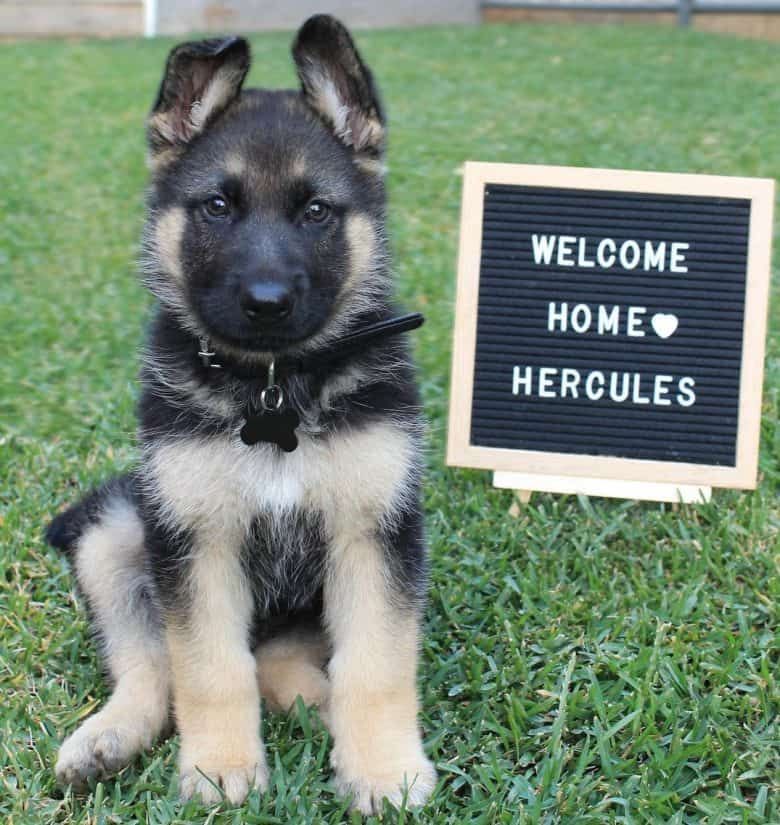 For the manly and authoritative German Shepherd, calling out "Rambo" seems much cooler than "Tiny."
The subtle male dog names below are both awesome and tough for your boy GSD:
Admiral
Arrow
Archie
Aspen
Bailey
Baron
Bane
Bear
Blitz
Brutus
Caesar
Cairo
Captain
Charlie
Chaos
Conan
Dash
Denver
Diesel
Dozer
Dublin
Dude
Duke
Echo
Ethan
Eli
Fang
Flash
Gambit
Ghost
Gunner
Gunther
Havoc
Hercules
Hollywood
Isaac
Jason
Jagger
Judge
Jury
Koda
Kojack
Keanu
Legolas
Loki
Max
Magneto
Mozart
Nova
Otto
Parker
Perseus
Ranger
Shadow
Sparta
Stallone
Steel
Taj
Tank
Quentin
Rocky
Sarge
Tarzan
Thor
Tornado
Tracker
Troy
Titus
Tyson
Union
Viking
Wolfgang
Xavier
Xerxes
Yale
Zeus
German Shepherd names based on appearance & color
Feeling inspired by the way your dog looks? Take a look at our top picks below based on the German Shepherd's physical qualities and coat color.
10 Black German Shepherd names
Aside from naming your fido for its color, you can choose to go with what darkness represents.
Reaper
Phantom
Eclipse
Panther
Vader
Ebony
Raven
Widow
Layla
Lilith
White German Shepherd names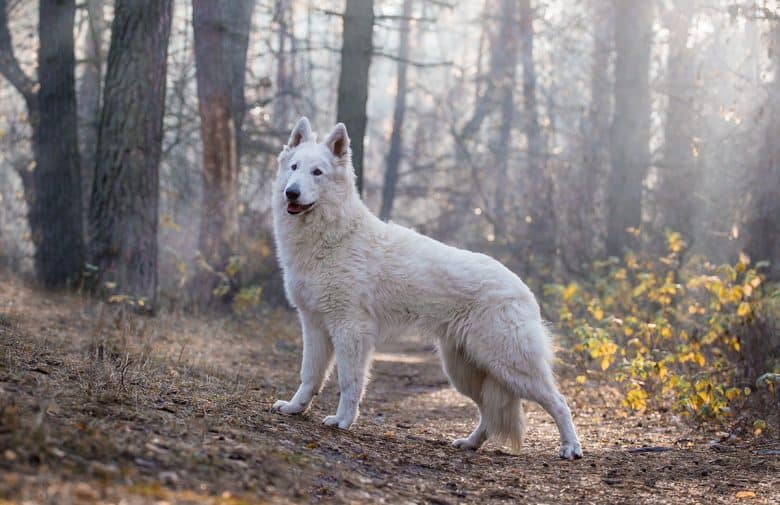 White dogs are quite magical and wolf-like. It also symbolizes purity, snow, and innocence.
Blizzard
Ice
Casper
Ghost
Yeti
Alaska
Dove
Luna
Snowy
Sugar
Other colored German Shepherd names
How about German Shepherd colors, such as the elusive Isabella or the intriguing Panda? We have some ideas.

Blu (Blue)
Cocoa (Liver)
Oreo (Panda)
Whiskey (Sable)
Lava (Red)
Silver (Isabella)
Azure (Blue)
Maple (Liver)
Dot (Panda)
Sandy (Sable)
Amber (Red)
Mystique (Isabella)
German Shepherd names based on size
You might want to acknowledge the medium-to-large size of GSDs. We've chosen dynamic and larger-than-life names you might like:

Titan
Gulliver
Balor
Missy
Queenie
Titania
King
Goliath
Hulk
Gaia
Maya
Rebel
German Shepherd names based on coat length
You might have a German Shepherd with amazing fur, so here are some names to match them!

Chewbacca
Shaggy
Rex
Kona
Aldo
Mick
Rapunzel
Grace
Cleopatra
Harley
Amazon
Cashmere
German Shepherd names based on origin
Do you love a particular place, city, or country? Maybe you're just wanderlust? We have a list of names from all over the world, including the beautiful country that GSDs come from.
Spanish names for German Shepherds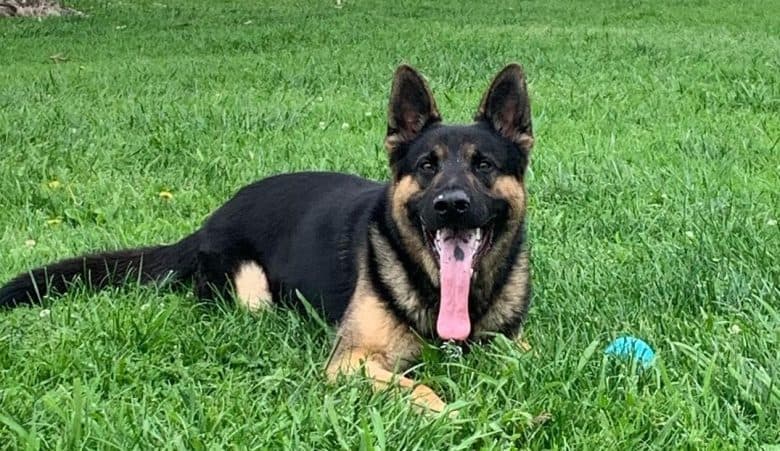 Home to delicious food and rich culture, anyone will feel drawn to Spain, including their language. Here are a couple of Spanish names for your GSD.

Blanco – White
Lobo – Wolf
Santo – Saint
Oso – Bear
Toro – Bull
Risa – Laughter
Dulce – Sweet
Feliz – Happy
Alba – Sunrise
Iria – Colorful; rainbow
Indian names for German Shepherds
There are plenty of beautiful Indian names, too. Whether you're looking for something regal or more down-to-earth, we have just the thing.

Krishna – God of Protection and Love
Adil – Sincere
Jihan – Cosmos
Nirav – Still; calm
Raja – King
Yoga – To unite
Gauri – White
Pari – Fairy
Zoya – Life
Bala – Strength
Native American names for German Shepherds
There's something about Native American heritage that feels wild and powerful, just like a German Shepherd. If you want to pay homage to the land of the free, take a look at a few of our top picks.

Anakin – Soldier
Dakota – Friendly companion
Jacy – The Moon
Nuka – Younger brother
Nodin – Wind
Tiva – Dance
Kimi – Secret
Istas – Snow
Elu – Beautiful
Sakari – Sweet
African names for German Shepherds
Imbued with strength and closeness with nature, the savannah's wilderness, and the people's old history, African names will fit any courageous pup.

Jambo – Greeting
Obi – Heart
Tandi – Fire
Oseye – Happy
Enyi – Friend
Nandi – Sweet
Zuri – Lovely
Zibu – Water lily
Sonto – Sunday
Titi – Flower
Japanese names for German Shepherds
If you know the loyal dog named Hachiko and you're inspired by it, we have included some Japanese names on our list. After all, their language is also rather melodic.

Akira – Intelligent
Hachiko – Mr. Eight
Ryuu – Dragon
Nori – Seaweed
Yuki – Good fortune
Kirakira – Shiny
Emi – Blessing
Miyu – Gentle
Sora – Sky
Shinju – Pearl
Hawaiian names for German Shepherds
Perhaps you're a bit more carefree and want your dog's name to reflect a culture that celebrates life. You can't go wrong with Hawaiian.

Akua – Spirit
Inoki – Devoted
Kai – Ocean
Lupo – Wolf
Weuweu – Fluffy
Mahina – Moon
Meli – Honey
Lani – Sky
Lellani – Royal Child
Asera – Lucky
German Names for German Shepherds
Ah, the home of the Alsatian. We have dedicated each gender a list of names to honor the nation that birthed the beloved breed. These are all classic names that are popular in Germany.

Axel – Father of peace
Bach – Stream; brook
Baldwin – Bold; brave
Bruno – Brown
Dieter – People ruler
Friedrich – Ruler; power
Gunthere – Battle; army
Hansel – God is gracious
Kaiser – Emperor
Klaus – Victory of the people
Rolfe – Wolf
Walther – Powerful army
Wolfgang – Wolf path
Ada – Nobility
Anka – God is gracious
Cara – Darling; dear one
Edith – Prosperous in war
Gretel/Greta/Gretchen – Pearl
Heidi – Noble birth
Helga – Holy; blessed
Hilda – Battle
Ida – Labour; work
Liesel – God's promise
Nina – Gift of God
Sofie – Great wisdom
Thea – Gift of God
Names for Military and Police German Shepherds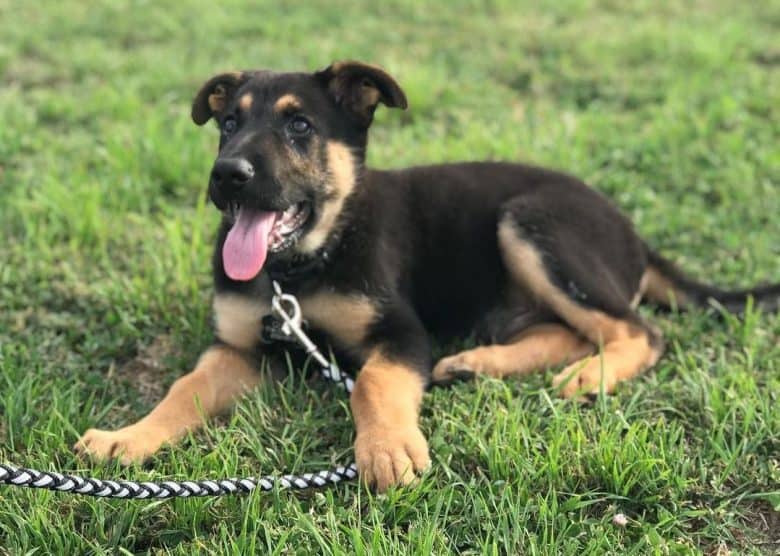 It's almost impossible to disassociate German Shepherds with action-packed canine jobs. If you want your fido to have a name that resonates with authority, you're not alone!
Here are some military-themed or police-related names for your GSD. Some of these also represent the values of the police academy.
Glock
Blazer
Chief
Sargeant
Colonel
Trooper
Rookie
Honor
Justice
Cadet
Liberty
Faith
Freedom
Glory
Partner
Sport
Deputy
Boss
Alpha
Delta
Bravo
Mercy
Heroic dog names for your German Shepherd
Want to name your German Shepherd from a hero? It can be a character from your favorite book, TV series, or film. It's all fair play.
My dogs are named based on my obsessions, and things we're passionate about are where the best names come from.
Ares
Aragon
Balto
Falcon
James Bond
Morpheus
Skywalker
Neo
Sherlock
Snape
Katniss
Lara Croft
Sarah Connor
Merida
Hermione
Trinity
Arwen
Clary
Rachel
Tally
Auto-Inspired German Shepherd names
Even if you have a girl dog, many of these car-inspired names are unisex and can be used interchangeably.
Adler
Audi
Aston
Beetle
Beemer
Benz
Diesel
Mercedes
Mustang
Porsche
Opal
Alpina
Gumpert
Honda
Volvo
Nissan
Ford
Jeep
Rover
Chevrolet
German Shepherd names inspired by places
You must have a favorite place that has always stuck with you. The city you've ever visited, the country where you met your soulmate, or the name of the diner you love!
Tokyo
Brooklyn
Jolibee
Alpine
Paris
Sydney
Roman
Beijing
Morocco
India
Names for German Shepherds owned by foodies
Food is universal, and some dishes, snacks, or ingredients make unique pet names. Just take a look at your pantry and start naming things out loud. It might surprise you!
Brownie
Cookie
Cheddar
Chestnut
Chip
Candy
Cinnamon
Hazel
Honey
Juice
Kale
Marshmallow
Meatball
Milo
Mochi
Nacho
Frosting
Olive
Peanut
Poppy
Taco
Waffle
Names for the strong and tough German Shepherd
Do you want to encourage your GSD puppy's courageous side? Here are names inspired by wrestlers that may suit German Shepherd.
Your little fighter will have a name to watch, just like the other popular dog breeds with lethal beauty.

Jet Li
Jones
McGregor
Chuck
Ali
Mulan
Ronda
Megumi
Holly
Laila
Badass and cool German Shepherd names
How about a name that's as cool as you? You'll be able to call your dog by these names loudly and proudly.

Prince
Beast
Galahad
Ninja
Spike
Viper
Mystique
Roxy
Serena
Aphrodite
Cute German Shepherd names
Maybe you like having a big scary-looking dog with the cutest name in the world.
If Hagrid can name a three-headed dog monster "Fluffy," there's no reason why the best dog in the world shouldn't have a cutesy name, as per his (or her!) owner's wishes.
Peanut
Fluffer
Squirt
Wolfy
Bee
Sprinkles
Snacks
Kitty
Cotton
Puck
Funny German Shepherd names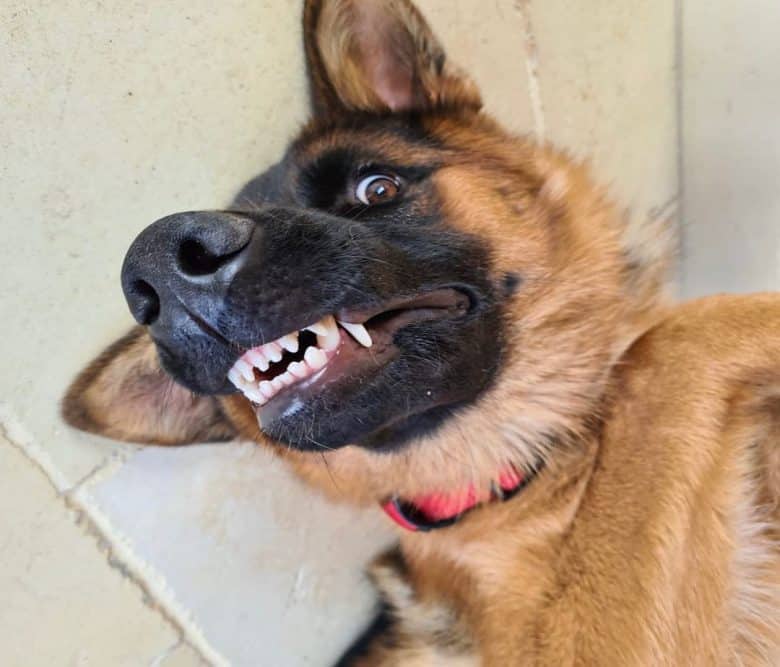 Are you more the clown of the group because of your fantastic sense of humor? You'll love these pop culture references!
Before choosing a funny name, think about other people who are going to hear it. Not everyone has the same sense of humor, but this list can give you a good start.
Howler
Pumba
Bow Wow
Sir
Master
Hairy Pawter
Bark Twain
Dogzilla
Jimmy Chew
Zazu
Unique German Shepherd names
These incredibly uncommon names would leave a lasting impression.
Attila
Hannibal
Adolf
Cocktail
Cowboy
Tali'Zorah
Helmet
Hokage
Krypton
Lucifer
Sven
Balanar
Salazar
Lashes
Intelligent-sounding names for German Shepherds
For the smart dog destined for greatness:
Aristotle
Plato
Einstein
Churchill
Howser
Harvard
Watson
Dartmouth
Socrates
Curie
Ruth
Oprah
Sweet-sounding names for German Shepherds
German Shepherds are known to be devoted and fierce protectors, but not many people know how sweet they are. If you do have a sweetheart furball, you'll love this list:
Bubbles
Blossom
Georgie
Sugar
Hersheys
Roo
Boo-Boo
Dolly
Daisy
Darling
Names for pairs of German Shepherds
For the German Shepherd siblings, twins, or couples, these duo names might do the trick:
Adam & Eve
Hera & Zeus
Bart & Lisa
Peter & Wendy
Batman & Robin
Duke & Captain
Salt & Pepper
Romeo & Juliet
Ben & Jerry
Thelma & Louise
Lightning & Thunder
Pinky & Brain
Twister & Tornado
Robber & Bandit
Faith & Hope
Aiden & Caden
Other German Shepherd names
Looking at popular German Shepherd names might get your creative juices flowing. But it's best to look at your daily life, too. You might come across some more unique names, such as the following:
Ragnarok
Babe
Sabine
Gatsby
Guardian
Castiel
Becks
Absinthe
Rooster
Danger
What should I name my German Shepherd dog?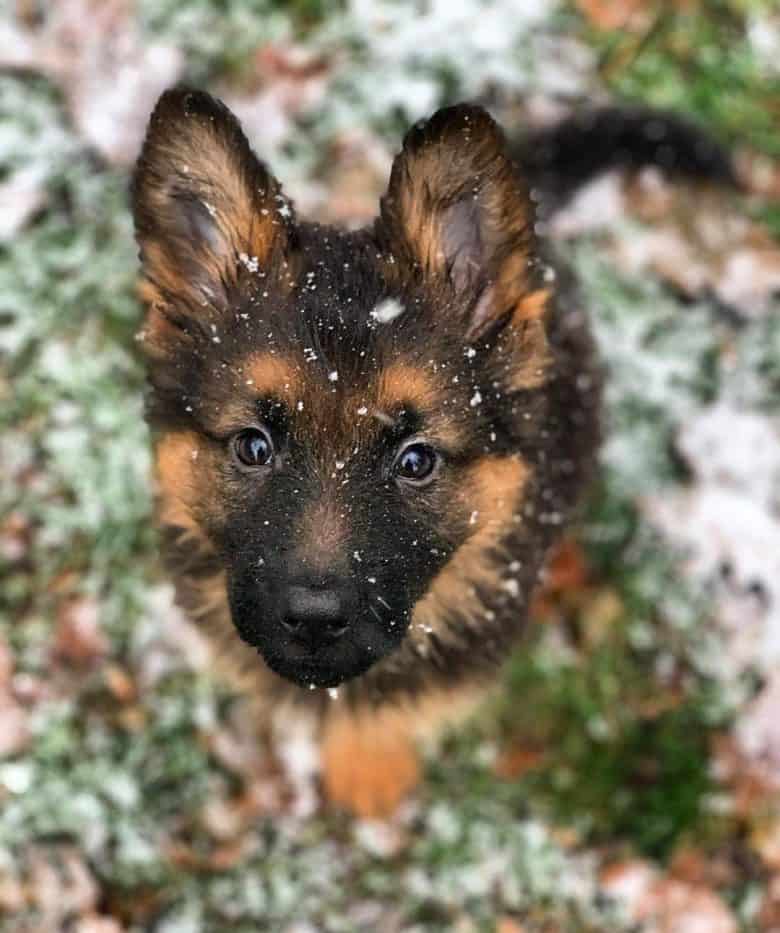 If you're stuck in a rut, you can save a few of your favorites and try them out with your new puppy or dog before you settle on one.
Don't stress if the name you've chosen doesn't work out. You can change the name in a heartbeat! Nobody's going to know! 😉
You can even involve your pooch by calling out names and seeing which one he reacts to.
Already have a decision? Which German Shepherd names made your list? Share it with us and other pawrents by commenting below.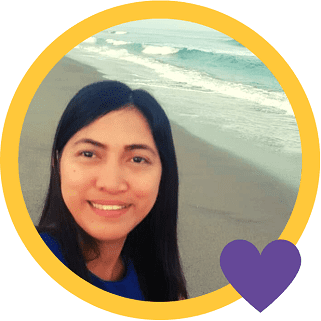 Cess is the Head of Content Writing at K9 Web and a passionate dog care expert with over 5 years of experience in the Pet Industry. With a background in animal science, dog training, and behavior consulting, her hands-on experience and extensive knowledge make her a trusted source for dog owners.
When not writing or leading the K9 Web content team, Cess can be found volunteering at local shelters and participating in dog-related events.