Last Updated on

The Weimaraner is truly one of the aristocrats of dogdom. This animal was designed to be an aristocrat, and due to the rules of the German Weimaraner Club, it will probably stay that way in that country for a long time to come. But first, at least some background.
History
At the beginning of the 19th Century, about 1805, at the German court of Weimar – in those days the cultural centre of Germany – Grand Duke Karl-August von Sachsen-Weimar decided that he wanted a particular type of dog. This dog had to have several features:
First, it had to compete with the best types of dogs in hunting, fetching, tracking, and swimming.
Secondly, it had to look distinctively different, the type of dog that looked like it belonged to royalty. And of course, it had to be extremely intelligent, loyal, hardy and strong.
No one knows how long it took to create this dog. What we do know is that the Dutch painter A. Van Duijk in 1631 painted a dog that still looks like the Weimaraner we know today. There are many theories on the origin of the Weimaraner.
Some say it came from the Red Schweiss Hound (a dog that looks very similar to a Bloodhound, strongly related to the Bayern Gebirg Schweisshund). There are people who state that the Weimaraner has the blood of the Great Dane running through his veins.
The French are sure that Karl-August got his Weimaraner from the French court (Les Gris de Saint Louis). The French King Louis IX acquired these gray dogs from the Middle East during the crusades. There is even a theory that the Weimaraner is a descendant of the Rampur-dog out of India! We must conclude that the origin of this breed is covered in a 'gray' mist.
What we can be sure of is that the Weimaraner is the oldest 'pure-bred' German Pointing Dog. Almost all of the other German Pointing Dog breeds have changed in the last 150 years. If you look at old pictures of the German Shorthaired Pointer, you will see a completely different dog than the GSP we know today.
Selective breeding and crosses with Pointers made the GSP smaller and above all faster in the field. This did not happen with the Weimaraner. If Heidi vom Atlande were still alive today, I am sure he would have a good chance at being best Weimaraner in Show! So our breed hasn't changed much. There are however some changes.
The Weimaraner became bigger. In the first breed standard (1897) the height at the withers was 55 to 65 cm. In the most recent breed standard of the German Club (approved by the F.C.I. in 19??) the height is for bitches 57-65 cm and for dogs 59 – 70 cm. So they became 5 cm taller in the last 100 years.
Once the dog became fixed in abilities and appearance, one hundred years ago, on the 20th of June 1897, the first Weimaraner Club was formed in Germany among the noblemen who were interested in hunting … and in being exclusive. The club was named 'Ver ein zur Reinzucht des Silbergrauen Weimaraner Vorstehhundes' (Club for the pure breeding of the silvergray Weimaraner). A year later the name was changed to 'Verein zur Zchtung des Weimaraner-Vorstehhundes'.
A hundred years ago there were three different types of Weimaraners in Germany: the Weimaraners of the type 'Weissenfels' bred by Bach in East Friesland (the northern part of Germany, near the border with Holland); the Weimaraners of the Thringer-type bred by Lindblohm; and the Weimaraners of the type 'von Sandersleben' bred by Pitzschke and Feltens.
There was much disagreement on several points between the breeders in those early days. They disagreed on the color (mousegray or roegray), the question of whether to breed in Pointers, if Weimaraners with a darker coat should be accepted and so on. In 1907 Wittekop was able to unite the breeders within the Weimaraner Club.
One of the first rules the Club issued was that only a member of this club could ever own a Weimaraner and that all substandard or excess stock would he destroyed! This was not that unusual a hundred years ago. Working dogs in general in those days had to be able to work (hunt, point, and retrieve) and if they weren't fit to do so, there was no place for them.
It is said that Howard Knight was the first person who was allowed to export Weimaraners to another country. It is true that he brought the first two Weimaraners in 1929 to the States (Providence, Rhode Island).
It is however not true that he was the first person who exported Weimaraners. The first officially registered Weimaraners in Holland were entered in the stud book in 1898 under the numbers 749 and 750. Number 749 was a beautiful dog called Roland (von Cleve) and number 750 was his sister named Bella (von Cleve).
These first Dutch Weimaraners were imported by the owner Mr. E. Rogmans. They came from the very old German bloodline 'von Sandersleben'. If you would like more information on the history of the Weimaraner in Holland, look at http://home.pi.net/~patrimon/home.html.
The first Weimaraner to be imported in Austria was Adda von Artlande. Adda came from old bloodlines from East Friesland. She was imported in 1913 by Otto Stockmayer, who worked for Prince Hans von Ratibor Hohenlohe at Schloss Grafenegg in Austria.
The Prince was convinced that the Weimaraner was the best HPR' to hunt with, so he decided that all of his gamekeepers were obligated to hunt with Weimaraners. In 1924 the Austrian Weimaraner Club (™sterreichischer Weimaraner Verein) was formed with Prince Hans von Ratibor Hoh enlohe as the first president.
The Weimaraner Club of America
It was not until 1943 that the American Kennel Club recognized the breed. When the Second World War ended, many Weimaraners were brought to the States by soldiers coming back from Germany. American sportsmen wanted to get their hands on this dog because by this time the ability of a Weimaraner had become almost a legend.
The reason was that there were quite a few articles written on the breed in which the Weimaraner seemed almost 'a wonder dog'. A nice compilation of those articles can be found in the book The Weimaraner by Jack Denton Scott. When people were finally introduced to the breed, they were so impressed with the Weimaraner that they too, formed a Weimaraner Club (The Weimaraner Club of America) This happened 50 years ago in 1947!
In the early years of the club, the same rigid rules of exclusivity were enforced: only a member of the Club could own a Weimaraner. It would be easy either to condemn the Weimaraner Club of America for their selfishness or to complement them on their insight.
How else could they ensure that a perfect stock of fine dogs be built up unless they actually controlled every dog in one way or another? How could they weed out the bad stock that might come up? The only answer now – 50 years later – is that the Weimaraner Club of America did a fine job, and the "Grey Ghost", as the Weimaraner is sometimes known, became a popular Sporting Dog, but fortunately without all of the hereditary diseases most of the other popular breeds have!
It is interesting to note that since non-members of the Weimaraner Club of America can now get Weimaraners, Weimaraners are appearing in obedience trials and other events besides sporting. They have made a wonderful reputation for themselves in every field of endeavor.
The WCA today prospers. Every new member has to sign a code of ethics that includes general rules of behavior and sportsmanship.
Description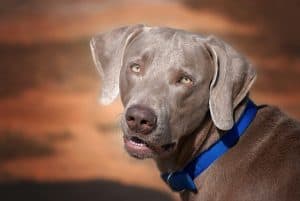 The first breed standard was written by Major von Bnau (president of the Hunting Club Bernburg). Specifically for this purpose, the Weimaraners were judged separately at a dog show in Bernburg on 23rd April 1897. The breed points of the Weimaraner were also included in the book 'Les Races du Chiens' by H.A. Graaf van Bylandt, published in 1897.
In 1904 this book was republished in four languages (English, French, German and Dutch). The breed was described as Pointer of Weimar (English), Weimaraner Vorstehunde (German), Chien d'Arrˆt de Weimar (French) and Korthaarige Staande Honduit Weimar (Dutch). One hundred years ago the Weimaraner should look as follows.
General appearance: Dog of medium size, the muscles are not so developed as in the German Pointer.
Head: Rather light, skull narrower as that of the German Pointer, but the occipital bone is more developed. The jaws seem to be long; lips pendulous without exaggeration. Muzzle broad, but looks narrow by its length.
Eyes: Of medium size, color yellow-brown.
Nose: Flesh-coloured, going in the head color by a clear violet tint.
Ears: Light and rounded, somewhat pointed.
Legs: Often thinner than those of the German Pointer, but straight and well muscled.
Feet: Close together.
Tail: Rather light.
Coat: Softer than the coat of the German Pointer
Colour: From silver-grizzle to mouse-grizzle, often clearest on the head and on the ears; white patches on chest and feet are objectionable, whereas tan markings are faults
Height at shoulder: From 21« to 25« inches. Weight: From 55 to 70 lb.
In this first breed standard, the Weimaraner is several times compared to the German (Shorthair) Pointer. You must realize that the German (Shorthair) Pointer in those days was a completely different dog than the GSP we know today. A hundred years ago the GSP showed much more resemblance to a Bloodhound-type dog.
And while the Weimaraner stayed pretty much the same, the GSP – as a result of breeding in Pointers – developed into a much smaller and faster gundog. So now the comparison is almost reversed! It is no longer a rather light head, skull narrower than that of the German Pointer, but one might state the Weimaraner as possessing a moderate head, the skull broader than that of the GSP.
The Weimaraner of today is still a medium sized all purpose versatile gundog. He has fine aristocratic features, but must be of a functional working type, pleasing in shape, sinewy and muscular. The AKC breed standard says that he should present a picture of grace, speed stamina, alertness and balance, and the conformation must indicate the ability to work with great speed and endurance in the field.
The AKC breed standard can be found at http://www.akc.org/weim.htm. If you're interested in the breed standard issued by the Kennel Club for the U.K. you will find that at http://www.discover-dogs.org.uk/gundog/g832.htm.
Behavior and Character
The Weimaraner is a versatile (gun)dog that can easily be trained. he is fearless, friendly, obedient and alert, yet also protective. The Weimaraner makes a good family dog and a companion can be stand-offish, watchful of strangers. It is passionate but steady hunting and shooting dog. Persevering in search, yet not too lively. He has a remarkable ability to pick up a scent.
It is a dog 'with spirit' ready to seize the game and other prey. He might consider the cat from the neighbors as "prey" when this cat would enter your garden, even when he is used having (your own) cats around him! He must have considerable daily exercise and will get into mischief if bored.
A Weimaraner is certainly able to do a day's work, yet he is not aggressive. He must be trained consistently. Weimaraners are dominant dogs and therefore they should be put through obedience training. You must be able to control your Weimaraner, else your Weimaraner will control you! He is a reliable pointer and worker in water.
A Weimaraner has remarkable inclination to work after the game is shot. To put it very clearly, one might state – if we compare the Weimaraner with the GSP – that a GSP is a Pointing Dog that is also able to retrieve and to track, while the Weimaraner is more a Retriever and tracking dog that is also able to Point.
Health and Care
In general, Weimaraners are very healthy dogs. It is not unusual for them to have life span of 9 to 15 years. They are susceptible to hip dysplasia, although careful breeding in the States and in Europe has kept this problem to a minimum in the breed. All Weimaraners that are going to be bred should be x-rayed and officially (in the USA by the OFA) certified clear of hip dysplasia.
We have these rules within the Weimaraner Clubs of America, Germany, Austria, Holland, Belgium and so on. If you are purchasing a puppy, make sure that both parents have been officially certified on HD.
Another – not genetic (as far as we know) – disease in Weimaraners is bloat. It is wise to feed your Weimaraner more than once a day. Let him eat and drink in small portions rather then to give him his daily meal in one portion, especially when he just had his exercise.
Very rare genetic diseases that occur once in a while are von Willebrand's Disease and epilepsy.
The Weimaraner has either a short- or longhaired coat. The longhaired Weimaraner is not recognized by the American and Canadian Kennel Club. In all FCI-countries and in England the longhair is fully accepted.
The shorthair Weimaraner has a smooth, short and sleek coat that requires very little maintenance. They do shed a little but their hair is almost invisible. The coat has, therefore, no special needs other than a good regular rub with hand glove. Weimaraners are clean dogs and they have very little odor.
Frequently Asked Questions
I do not hunt. It is wise to purchase a Weimaraner?
There is no reason why you shouldn't. Weimaraners are hunt-point-and retrieving dogs and they love to work. But 'work' can also be agility, flyball or obedience! As long as you make sure your Weimaraner gets his daily exercise there need not be any problem.
Can you have Weimaraners in an apartment?
Yes, the can live in any environment, if they have enough exercise, a warm dry place to stay and love and attention. The Weimaraner is a clean dog, with little odor and minimal shedding due to the short coat. They are usually very easy to housetrain. What you teach a Weimaraner as a puppy, he will remember.
So when you allow the puppy to sleep on the bed, remember that it won't be easy to keep him off the bed once he is full grown! Be consistent in raising a Weimaraner.
Do Weimaraners get along well with children, visitors, cats, and other dogs?
In general, if you socialize your Weimaraner properly they will get along very well with children. However, no child should be left unsupervised around any dog, as either may hurt the other, even unintentionally.
And due to its size, younger Weimaraners may knock smaller childer over by accident. The Weimaraner is not a specific watchdog, but he does tend to have a protective nature. He, therefore, might protect the members of 'his family' (the people and even other dogs he is living with) against strangers.
When a Weimaraner is raised with cats, he will consider those cats 'as members of his family' and will not hurt them, but just play with them. If on the other hand, this Weimaraner sees a cat in the field, he might chase and fetch it! Weimaraners are in general tolerant towards other dogs.
However, as was mentioned a Weimaraner might be dominant and his handler should put him through obedience to stay in charge. Not all Weimaraners are that dominant, but if you have a Weimaraner with a dominant character you must stay in control or else his protective nature might cause problems with other dogs.
When choosing a puppy – and this goes also for other breeds – it is advisable to perform a puppy-test that will give you at least an indication of the different characters of the puppies.
Do Weimaraners have bad habits?
As a gundog Weimaraners are interested in a game. If you give them the chance they might want to chase it. And when a Weimaraner is chasing a hare on sight, his ears are closed so he doesn't (want to) hear you whistle or calling him in!
Like all athletic gundogs, they can easily clear high fences. Some Weimaraners might bark if there is something worthwhile to bark at, but on the other hand, many Weimaraners hardly bark ever at all. They like food and it is wise not to give them food from the table when you are having your dinner.
Once they get used to that as a puppy, they will drool every time there is food on the table!
Are Weimaraners hyper?
Weimaraners are not hyper. They are however energetic gundogs and they do need their exercise, which is more than just a walk around the block.
They also need their exercise when is raining! So if you don't have the time, please choose another breed, because the breed rescue organizations already enough Weimaraners looking for a new home! When they get older they become more laid back.