Last Updated on April 25, 2023
Everyone knows the stigma that makes the Pitbull notorious. Though misunderstood as vicious dogs, this new breed will trump all the negativities around dogs with a "Pitbull" in its name.
Say hello to the People's Dog, the Blue Nose Pitbull.
Read our guide about the Blue Nose Pit and find out if this is the dog that's missing from your life!
What is a Blue Nose Pitbull?
The Blue Nose Pitbull isn't its own distinct Pitbull breed. There are only three primary Pitbull breeds today: the American Pit Bull Terrier (Pittie or Pit), the American Staffordshire Terrier, and the Staffordshire Bull Terrier.
The Blue Nose Pit is a type of American Pit Bull Terrier. Like the Red Nose Pit Bull, it got its name from its distinct coloring.
Blue Nose Pitties have a blue-gray hue to their skin. Their eyes and toenails are often the same shade, as well.
This unique coloring is caused by a recessive gene, which triggers abnormal melanin production. The shade may vary with each Blue Nose Pit (from black to bluish-gray), depending on the amount of melanin in its skin.
And, despite their name, these dogs don't have blue noses. Their noses are more of a gray color, with just a tint of blue. This coloring truly makes for a dog with a striking appearance.
Why are Blue Nose Pitbulls rare?
The recessive gene that causes the gray coloring is uncommon in Pitties, and it's even rarer for two Pitbulls with this recessive gene to breed.
Given the small likelihood of producing a Blue-Nosed Pittie, some breeders use different methods to make sure that they get Blue Nose Pitbull puppies.
These breeders turn to inbreeding Pitties from the same litter, despite consequences in the dog's health, to cash in on demand for these dogs.
Characteristics of a Blue Nose Pitbull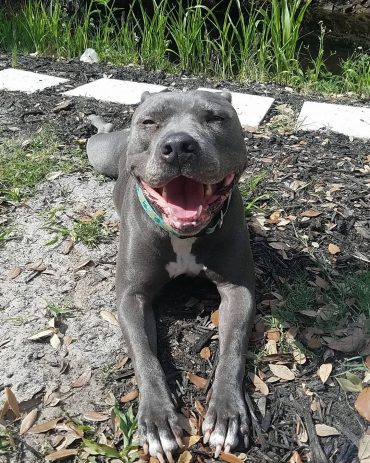 The Blue Nose Pit is a medium-sized dog that can grow as tall as 14 to 24 inches (36 to 61 cm), but it can weigh as much as 85 pounds (39 kgs)!
That is why some people and dogs are intimidated by their strong legs, broad chest, and strong, confident stance.
Their appearance belies the Blue Nose Pittie's true nature, though.
One look at this Pittie's trademark smile and its excitedly wagging tail will tell you how friendly and loving this breed is.
Aside from their unique color, their coats are the same with a regular Pittie's: short, soft, and silky.
Don't Judge A Blue Nose Pitbull by its cover
No matter how amazingly different they look, a lot of people still worry about these dogs' Pitbull background.
But did you know that Pitbulls score near Golden Retrievers in temperament tests? Pitbulls, in general, are labeled aggressive because of their history of being used in dogfights, but all of that is untrue.
Pitbulls are some of the most predictable dogs in the canine world. They are loving dogs with a calm nature.
Most Pitties are even gentle with kids. With their robust built, they won't mind being hugged tightly by the little ones in their family.
If you want to have a Blue Nose Pitbull in your family, be ready to have an expressive dog. These dogs have no concept of personal space and will cuddle up to family members whenever possible.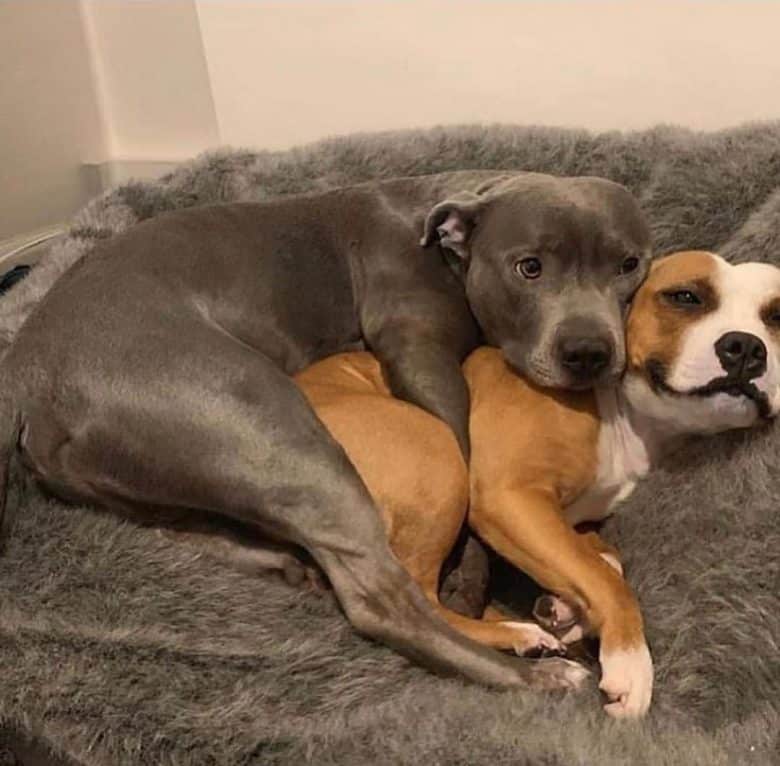 Are Blue Nose Pitbulls dangerous?
A dog's aggression is often a reflection of their owner and not of its temperament. Any dog will develop tendencies to lash out and bite when neglected, mistreated, and threatened.
Raised properly, the Blue Nose Pitbull is a goofy and friendly creature that loves to play and learn with their favorite human.
That's the thing with this breed; it loves interacting with people. Most of them won't be good watchdogs or guard dogs because they will greet strangers with a wagging tail and slobbery kisses.
This breed is a loyal companion, too. They will show you how much they love you with their protectiveness. If the Blue Nose Pitbull feels there's a threat around, they will defend their pack without hesitation.
Blue Nose Pitbulls, however, crave so much attention that they can quickly get jealous if another dog enters the picture. That's something you can train out of your Pittie through socialization.
The exercise needs of the Blue Nose Pitbull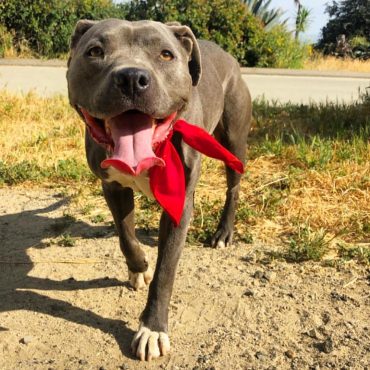 Although he's gentle, the Blue Nose Pit is an active dog that loves to jump high!
However, all that jumping is not enough to satisfy the exercise needs of this hardy breed.
Prepare yourself because this dog requires at least 1 hour and 30 minutes of exercise every day.
Your Pittie will love long walks around the neighborhood or trips to the dog park, where he can run and explore the environment.
Be careful bringing him to the dog park, though, as it may trigger his prey drive and jealous tendencies. Proper socialization during puppyhood can help curb this behavior.
This dog will also thrive in a home that will provide them with a lot of space to move around freely. Just make sure your backyard has a fence to keep your Pittie from exploring outside your property.
Without exercise, your Blue Nose Pitbull can become moody, overweight, and lazy. An active lifestyle will ensure that he's happy and healthy.
Training your Blue Nose Pitbull
They may have a goofy, clueless look on their face, but the Blue Nose Pitbull is a highly intelligent dog that you can train efficiently.
If you're concerned about temperament issues, we suggest that you stick with a Blue Nose Pitbull puppy. Puppies are more engaged and open to learning.
You should start training and socialization as soon as you bring home your dog. Some patience may be needed, as pups are often more easily distracted.
What's essential with training a Pitbull is that you establish yourself as the alpha. This will help him understand his role in the pack, making him more likely to follow your commands.
Positive reinforcement like treats and praise goes a long way when teaching proper behavior to a Blue Nose Pit. Don't even try to yell at him, unless you want to see the disappointment in his sweet face.
If you need help, you can also bring your Blue Nose Pittie to obedience classes to get assistance with everything your dog needs to learn.
Older Blue Nose Pits are a different case. They'd be a lot harder to train as they may already have fallen into bad habits that would be difficult or impossible to remove.
Taking care of your Blue Nose Pitbull
Though Blue Nose Pits look like healthy dogs that don't need to be looked after, they still require plenty of attention and love.
How do you take care of this breed inside and out?
Grooming a very active Pitbull
Brushing his coat once a week is sufficient. Regular brushing ensures that natural oils are evenly distributed in the Pittie's short coat and helps keep shedding under control.
Blue Nose Pitbulls shed a low to moderate amount of fur. Unfortunately, this means these Pitbulls are not hypoallergenic.
Given that he's an energetic dog, you can also expect your Blue Nose Pit to sweat a whole lot!
Make sure he stays fresh (and smells good) by bathing him at least once a month. This is highly important if you live in an apartment.
Don't forget to brush their teeth, clean their ears, and trim their nails, which can grow quite fast. Active Blue Nose Pits may naturally wear down their nails, which means less frequent trimming for you.
A diet fit for a buff dog
Nutrition is another essential part of every dog's life, and the amount of food you give your Blue Nose Pitbull will depend on a lot of factors, such as its age and activity level.
With the Blue Nose Pitbull puppy, it's ideal for him to eat a total of 1 cup of dry dog food, portioned into three meals a day.
An adult Blue Nose Pit can be given kibble 2 to 3 times a day to fuel their energy levels. Feed your Pittie 30 calories per pound of their body weight.
Make sure the dog food you choose can meet the Pitbull's daily nutritional needs. Kibble that's rich in protein, for instance, can help the Blue Nose Pittie maintain his muscle mass and strengthen his joints.
Fat keeps his coat shiny and healthy while providing him with enough energy for his exercise routine. Though they can be a source of energy, carbohydrates are not a priority for the Blue Nose APBT's diet.
A raw food diet may work for this Pitbull, but it's always a good idea to consult your vet before changing anything in your dog's diet.
Health issues that Blue Nose Pitbulls may have
Pitbulls are generally healthy, but, since their breed is from a relatively small gene pool, Blue Nose Pitbulls are more prone to genetic problems.
These Pitties are susceptible to heart disease, as well as improper functioning of the immune and nervous system.
They are prone to allergies and skin problems, too. So keep an eye out for rashes or other irregularities in their skin and don't hesitate to take your dog to the vet.
Your Blue Nose Pitbull has a lifespan of 12 to 16 years. With a healthy lifestyle and regular wellness checkups, most health problems can be kept at bay.
Where to buy Blue Nose Pitbull puppies
Think you can handle a Blue Nose Pitbull and be a firm pack leader for him?
Then it's time to look for a Blue Nose Pittie puppy to take home.
You'll find plenty of sources for this dog, but one thing to keep in mind is that not all Pitbull breeders have ethical breeding practices.
Avoid scams and look for a breeder who cares about the health and well-being of his puppies.
If you don't have the time to train a Pitbull puppy, though, you can opt for adoption.
Many Pitbulls end up in shelters and rescues because owners underestimate these dogs' needs when it comes to training and exercise.
Trustworthy Blue Nose Pitbull breeders
Always do your research before buying a puppy from any potential breeder. Puppies who came from inbreeding will have more health problems and could have worse temperament issues.
You should only negotiate with reputable breeders that perform genetic tests to rule out health conditions before the breeding process begins.
Typically, a Blue Nose Pitbull puppy costs around $1000 to $3000. Stay away from breeders who claim that their puppies have extra-special characteristics and charge higher prices.
To help you with your search, here are some reputable breeders you can contact:
ManMade Kennels
Blue Fire Pits (Upstate New York)
Finest Pitbulls Made
Finding Blue Nose Pitbulls for Adoption
Adopting a Pitbull gives you the opportunity to provide a permanent home for a dog in need. If you have experience with Pitbulls, adopting an adult Blue Nose Pittie wouldn't be a problem for you.
Check out these websites that provide temporary homes for APBTs waiting for their forever family to pick them up:
Pittielove Rescue (New England)
Rescue Me (Georgia)
The Love Pit Dog Rescue (Texas)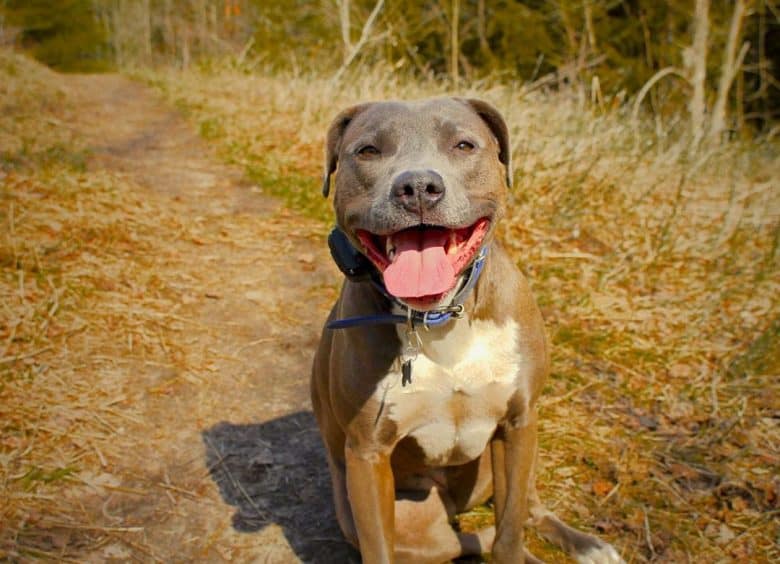 Pros and Cons of the Blue Nose Pitbull
The truth is, the Blue Nose Pitbull is an emotional, gentle, and kind dog. Once you've trained and raised one, you've earned yourself a loving, loyal companion for life.
They are an excellent dog for families, even if you have kids! But if you're looking for a watchdog, the Blue Nose Pit is too friendly for that.
Weekend warriors should steer clear of this breed as they need intense exercise daily. If you want a jumpy and excited dog to play with or a canine companion for regular jogs and hikes, then this is the right dog for you.
Do you have a Blue Nose Pitbull? Spread the truth about the sweet Pitties and let us know what you have to say about this dog. Leave a comment in the box below.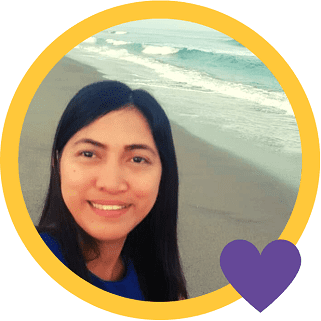 Cess is the Head of Content Writing at K9 Web and a passionate dog care expert with over 5 years of experience in the Pet Industry. With a background in animal science, dog training, and behavior consulting, her hands-on experience and extensive knowledge make her a trusted source for dog owners.
When not writing or leading the K9 Web content team, Cess can be found volunteering at local shelters and participating in dog-related events.