Last Updated on April 20, 2023
Naming your new puppy is one of the great privileges of dog ownership, but settling on the perfect name can be tricky.
Have you just gotten a new puppy? Why not name your new pooch with a unique and meaningful
Here are some names that can serve as inspiration:
What Do The Japanese Name Their Dogs?
The top dog names in Japan might just be perfect for your pup. Here are some of the most popular dog names that can serve as inspiration:
Kotaro, meaning small boy
Koro, meaning roly-poly
Choco, short for chocolate
Cookie
Crea
Leo
Yuma
Leon
Taro
Sota
Riku
Maron, meaning chestnut
Lucky
Momo, meaning peach
Sakura
Maron
Yui
Yuto
Mocha
Kurumi, meaning walnut
Koko
Mei
Runa
Akira, this name comes from the famous Japanese writer and film director
Aya, meaning art or beauty
Haru, which means spring
Hiroshi, which means generous
Mao, which means cherry blossom
Mika, after the Japanese singer and actress
Rina, which means jasmine
Toshi, which means wise
Japanese unique traditions, cultures, cities, and foods can also all serve as inspiration when it comes to picking the perfect moniker for your dog. Your dog's personality, too, can serve as inspiration for their name.
If you share a home with many family members, ensure that everyone has their input in naming your dog. You don't want to change your dog's name a few weeks in, as this can confuse them.
Also, always opt for a short name that is not longer than two or three syllables.
While some strange Japanese words sound cute, you still want to make sure they are easy to call and simple enough for your dog to understand.
Here's a short clip on how you can teach your dog their name:
The most famous Japanese Dog
One of the most well-known Japanese dogs is Hachikō. Hachikō, who lived between 1923 and 1935, grew to fame because of his undying loyalty to his owner.
During Hachikō's life, he would wait for his owner at the station every day for the walk home.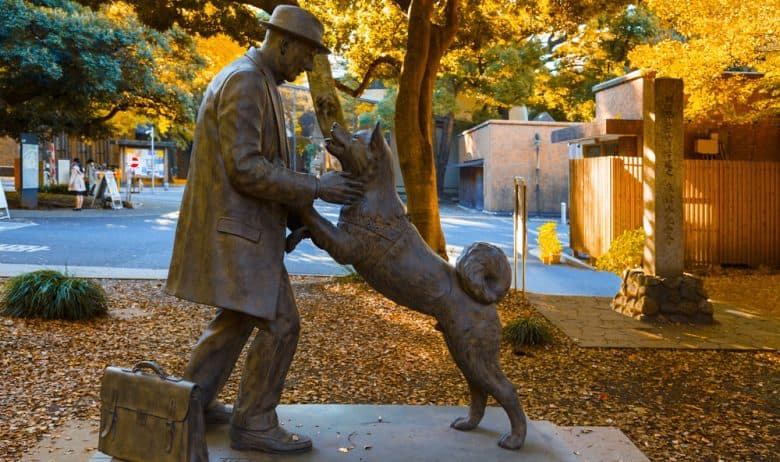 Following Hachikō's owner's death at work one day, Hachikō continued to wait for him at the station every day for nine years, until his own demise.
Hachikō became a symbol of loyalty and fidelity in Japan and has been recognized in many movies and films. The most well-known film starring Hachikō is the 2009 American movie Hachi: A Dog's Tale.
Dog names popular in Japan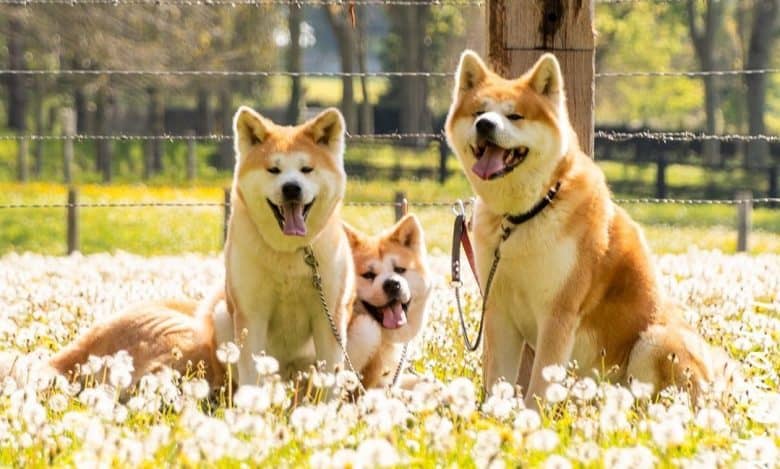 Some of the best names for dogs are Japanese human names. Here are the most popular dog names pet owners are giving their doggos:
Female Japanese Dog Names
The most popular girl names in Japan can make an excellent choice for your pup. Here are some of the best and beautiful Japanese names for your female dog, along with their meanings: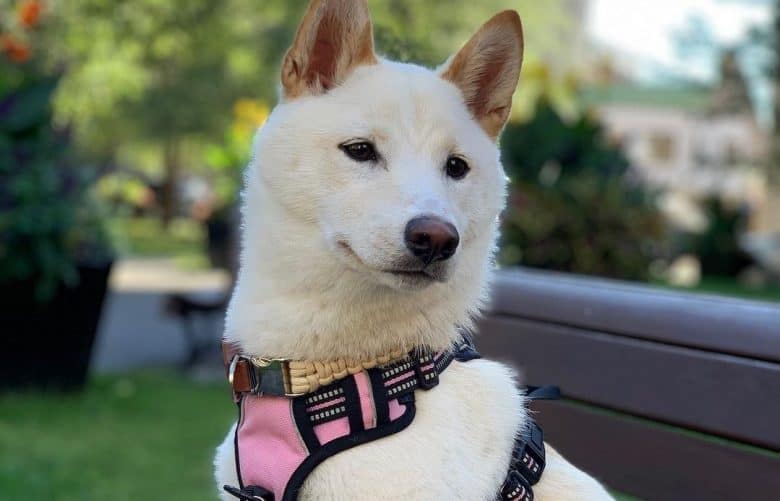 Akira – means bright or clear
Kimi – means noble
Chieko – means intelligence or wisdom
Yuka – means gentle flower
Yuina – means to bind together
Tomiko – means wealth or fortune
Tomomi – means beautiful friend
Emi – means beautiful blessing
Eri – means blessed prize
Haru – means spring
Haruko – means spring child
Hana – means flower
Hanako – means flower child
Akiko – means bright child
Kiko – means be happy
Aiko – means little loved one
Hideko – means splendid child
Miyu – means beautiful or gentle
Hikari – means light or radiance
Yuko – means gentle child
Mana – means love
Airi – means love or jasmine
Hoshiko – means star child
Masa – means just or true
Yumi – means reason or beautiful
Hotaru – means firefly
Wakana – means harmonious music
Izumi – means spring or fountain
Kazuko – means child of peace
Kimiko – means empress child
Akemi – means bright and beautiful
Miwa – means beautiful harmony or peace
Kiyomi – means pure beauty
Ren – means lotus or love
Yoshiko – means good child
Mio – means beautiful cherry blossom
Asuka – means perfume or fragrance
Etsuko – means child of joy
Mai – means dance
Chika – means scatter flowers
Maki – means hope
Mami – means beauty
Natsuki – means summer hope
Kyo – means cooperation
Asami – means morning beauty
Rika – means true fragrance
Suzu – means bell
Hoshi – means star
Emiko – means smiling child
Yuri – means lily
Yuuna – means gentle
Minori – means truth
Sora – means sky
Miki – means beautiful princess
Keiko – means blessed child
Satomi – means beautiful and wise
Shinju – means pearl
Rin – means dignified
Yoko – means child of sunlight
Natsumi – means beautiful summer
Takara – means treasure
Masumi – means true clarity
Yasu – means peace
Chiyo – means one thousand generations
Male Japanese Dog Names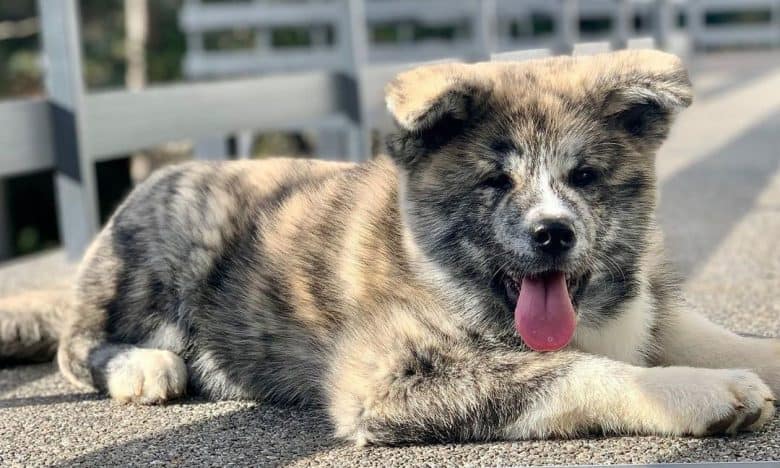 Here are a few Japanese male dog names to serve as inspiration, along with their meanings:
Aki – meaning bright or autumn
Takahiro – meaning value or nobility
Katashi – meaning firm
Akio – meaning bright man
Daiki – meaning great glory or nobility
Naoki – meaning honest timber tree
Hiro – meaning generous
Kenta – meaning strong or healthy
Kiyoshi – meaning purity
Katsu – meaning victory
Haruki – meaning shining sun
Osamu – meaning disciplined or studious
Taro – meaning large son
Makoto – meaning sincere
Hinata – meaning sunflower
Dai – meaning great or large
Nao – meaning honest
Kaito – meaning ocean flying
Noboru – meaning ascend or rise
Nori – meaning to rule
Yori – meaning trust
Isamu – meaning brave or courageous
Yukio – meaning blessed hero
Masaru – meaning victory
Yasu- meaning peace
Tadashi – meaning loyal or faithful
Toshi – meaning wise
Yasushi – meaning peaceful
Kaede – meaning maple
Ryo – meaning refreshing or cool
Names for Japanese Dogs Based on Breed
A variety of dog breeds that you know today have their origins in Japan. These include popular breeds like the Akita Inu, Kai Inu, Shiba Inu, Hokkaido Inu, Kishu Inu, and Shikoku Inu.
Here are a few of the popular dog names for Japanese dog breeds:
Shiba Inu Japanese dog names
The Shiba Inu is a small breed Japanese dog known for its spunky attitude. You can pick a name inspired by their gorgeous red-orange color, tiny size, or fun personality.
Akane -which means deep red
Alpha
Dart
Kitsune – which means fox
Sass
Yoshiro – which means righteous son
Japanese Spitz dog names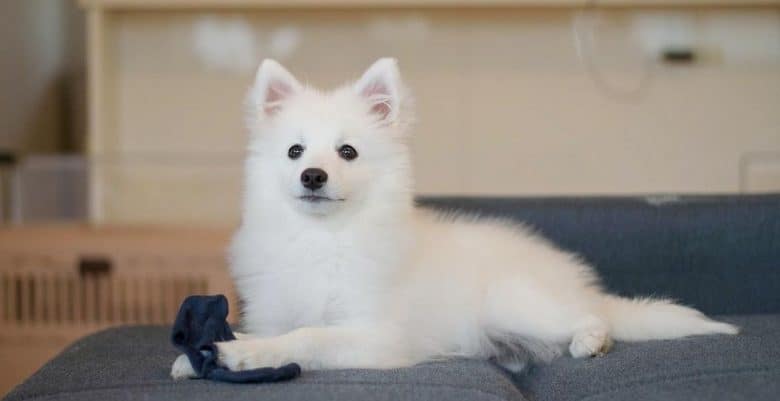 The Spitz is a type of Japanese dog breed known for its beautiful white coat. This gorgeous fluffy fur lends itself to a variety of different dog names.
Aspen – a famous ski-resort town in America

Bolt – the white dog from the Disney movie of the same name

Fuzz

Luna

Misty

Poof

Snow

Winter

Yuki – which means snow or happiness
Hokkaido Japanese dog names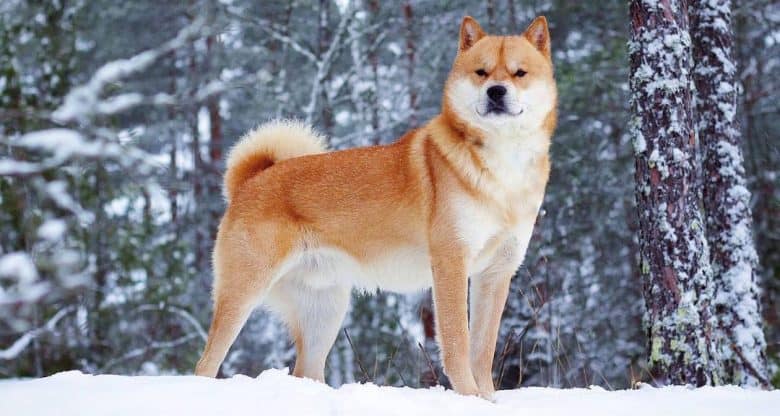 Hokkaidos are brave and make fantastic watchdogs and hunters. Due to this, warrior-style names are perfect for this Japanese working breed.
Daiki – which means excellent glory

Toshi – which means wise

Ken – which means healthy and strong

Manabu – which means to study or learn

Tatsuya – which means imperial
Akita Japanese dog names
One of the larger Japanese dog breeds, the loyal Akita is known as an excellent guard dog, but they also have a gentle and reserved side.
Kazuki, which means peace
Makato, which means sincere
Mamoru, which means guardian or protector
Nao, which means honest
Yuka, which means gentle flower
Tosa Inu Japanese dog names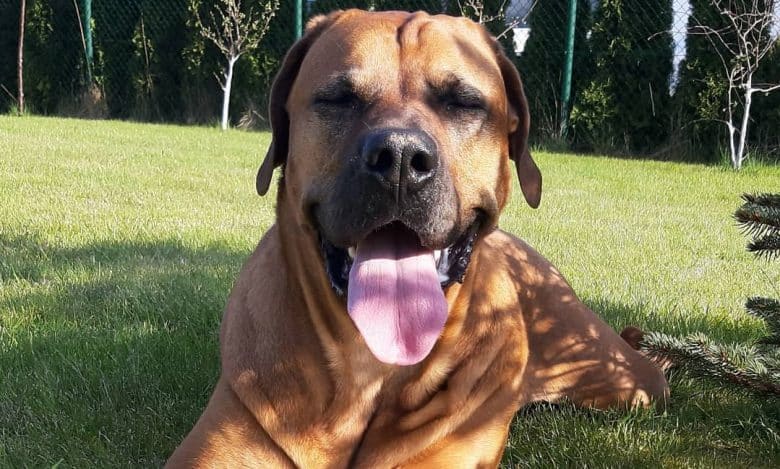 A rare Japanese breed, the Tosa Inu (AKA Japanese mastiff), is a fighting dog that needs a powerful name:
Ali, after Muhhamad Ali
Butch
Isamu, which means brave
Katsuro, which means victorious son
Spike

Kenshin – from the anime Samurai X

Yuuta – which means excellent bravery

Kenji – which means strong
Japanese Dog Names Inspired By Temperament or Appearance
Your dog's quirky personality or good looks can inspire some great dog names. Here are some that might suit your dog's characteristics:
Kuru – which means black

Takeo – which means warrior

Yoshi – which means good

Ryuu – which means dragon

Jin – which means placid

Taidana – which means lazy

Doki doki – which means excited

Fuwafuwa – which means fluffy

Aoi – which means blue
Dog Names Influenced by Japanese Words and Local Traditions
Other Japanese words from popular culture can inspire some cute names for your dog. Here are some of our favorites:
Manga – a Japanese comic

Haiku – a form of a poem with a set three-line structure

Geisha – a female Japanese dancer and artist

Bonsai – an artistic way of creating miniature trees

Origami – the ancient art of Japanese paper folding

Samurai – a type of Japanese warrior

Sensei – a Japanese teacher or master

Shinto – a Japanese religion

Shogun – a military dictator

Pochi – the Japanese word for pooch

Tenko – a celestial fox from folklore

Obon – a yearly Buddhist festival that honors the ancestors

Sakura – the cherry blossom or Japan's national flower

Kanpai – Japanese way of saying cheers

Sumo – the famous ancient Japanese wrestling sport

Hashi – the Japanese word for chopsticks

Chanoyu – a traditional Japanese tea ceremony
Dog Names Inspired by Japan's Geography
Japan is also well-known for its snow-capped mountains and pink cherry blossoms. Its most famous cities and regions can serve as inspiration for your dog's name:
Tokyo
Osaka
Kobe
Kyoto
Kawasaki
Fuji
Fushimi
Ashi
Oki
Sapporo
Yoko
Dog Names Inspired by Japanese Animals
Why not get inspiration from other four-legged creatures when naming your dog? Inu is the Japanese word for dog, but you can also name your dog after a wolf or even a tiger!
Neko (cat)
Saru (monkey)
Tanuki (raccoon)
Kuma (bear)
Sika (deer)
Tori (bird)
Ushi (cow)
Uma (horse)
Tora (tiger)
Ookami (wolf)
Kitsune (fox)
Mausu (mouse)
Shika (deer)
Suzume (sparrow)
Dog Names Inspired by Popular Japanese Food and Drinks
Japan is the home of great dishes like sushi!
While you could name your dog Maki or Sashimi, there are so many other famous Japanese foods and drinks that can also lend their name to your dog. Here are a few of our favorites:
Sake – a rice wine famous in Japan

Soba – a Japanese noodle made from buckwheat.

Ramen – a type of Japanese soup and noodle dish

Edamame – a kind of soybean served in the shell

Tempura – a type of deep-fried batter used on Japanese seafood and vegetables

Udon – a thick noodle made from wheat flour

Manju – a Japanese treat made from boiled adzuki beans and sugar

Matcha – a type of green tea

Ryokucha – a form of Japanese green tea

Miso – a type of sauce or flavoring

Kombu – a kind of seaweed used in sushi

Natto – fermented soybeans

Momoshu – a Japanese peach liquor

Amazake – a sweet fermented Japanese rice drink
Names Inspired by Japanese Anime Dog Characters
Love anime or sophisticated Japanese cartoons? Then this is a great place to look for your dog's name.
Akamaru – Kiba's ninja pup from Naruto

Apo – Hibito's pet pug from Space Brothers

Alexander – Nina's pet from Fullmetal Alchemist

Armageddon – Fumi's pet from Hayate the Combat Butler

Bee – a Labrador from Dragon Ball Z

Blue – Wolfdog from Wolf's Rain

Ein – Corgi from Cowboy Bebop

Gin – from Ginga Nagareboshi Gin

Den – from Fullmetal Alchemist

Guts – pooch from Kill la Kill

Iggy – Boston Terrier from JoJo's Bizarre Adventure

Heen – Errand dog from Howl's Moving Castle

Koromaru – Shiba Inu from Megami Tensei

Kazuhito Harumi – Dachshund from Inu to Hasami Wa Tsukaiyou

Maru – or Pedro Martinez, a stray pup from Kimi ni Todoke

Menchi – Excel's dog from Excel Saga

Pluto – from Black Butler

Pakkun – Kakashi's Nin-dog from Naruto

Potato – stray dog from Air

Shiro – Momotaru's Japanese Spitz from Hoozuki's Coolheadedness

Sadaharu – pet and mascot from Gintama

Tetsuya #2 – Kuroko's pet dog from Kuroko's Basketball

Tadakichi-san – Chiyo's pup from Azumanga Daioh

Tobimaru – Shiba Inu from Sword of the Stranger

Zeke – puppy from Highschool of the Dead

Wanta – from Elfen Lied
Cute Japanese Dog Names
Japan is also well-known for its love of all things little and cute, hence Kawaii. If you're looking for cute names, here are a few you can choose from:
Wasabi
Temaki
Nigiri
Koko
Mochi
Uni
Momo
Cho
Cherry
Roe
Hashi
Kurumi
Finding the Right Japanese Name for Your Dog
We hope you have picked the perfect name for your pup with so many Japanese dog names to choose from.
Wait until your dog gets home before setting its name in stone. You want to make sure your chosen name suits your unique pet.
Do you have a Japanese dog of your own and have some name ideas? Let us know in the comments below.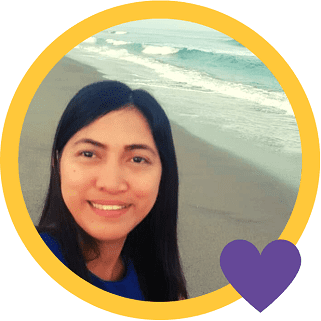 Cess is the Head of Content Writing at K9 Web and a passionate dog care expert with over 5 years of experience in the Pet Industry. With a background in animal science, dog training, and behavior consulting, her hands-on experience and extensive knowledge make her a trusted source for dog owners.
When not writing or leading the K9 Web content team, Cess can be found volunteering at local shelters and participating in dog-related events.