Last Updated on April 20, 2023
Thinking of a perfect name for your new black dog can be engaging and fun, but don't worry if you draw a blank or can't decide on a name. We're here to help.
Many dog breeds come in black, so there is a great range of suitable name ideas for your pup. So, let's check out some of the most creative black dog names.
What is a good name for a black dog?
There are many great names for black dogs to choose from, especially if you like themed names related to your dog's coat color. But you can also go a different route, like giving your pooch multiple names or using puns.
Naming your black puppy after characters or things from popular culture is another way to go. Books, movies, TV shows – all of them offer a fountain of ideas.
However, be careful with it since many characters become villains later and you might end up regretting your decision.
The same goes for human names. Some people may find it odd to share a name with your dog, while others may even be offended.
If you have multiple dogs, don't give them similar names since that may cause confusion in your household. Also, avoid words that sound similar to commands you plan to use when you train your dog.
A good and creative name can mean a lot to some dogs. For example, black dogs in shelters are often overlooked that a term "Black Dog Syndrome" has been coined.
There's even a National Black Dog Day, introduced to increase adoption rates and celebrated on October 1st. A great name may draw attention to some of these dogs.
What's in a name? Famous black dog names
As we already mentioned, one of the main sources of inspiration for many dog lovers are famous names in pop culture.
For example, we have chosen black dog names popularized by characters who wear black and cartoon characters.
You may also find great examples of black dog names, white dog names, and many other dog names on Instagram and other social media networks.
Black dog names inspired by characters who wear black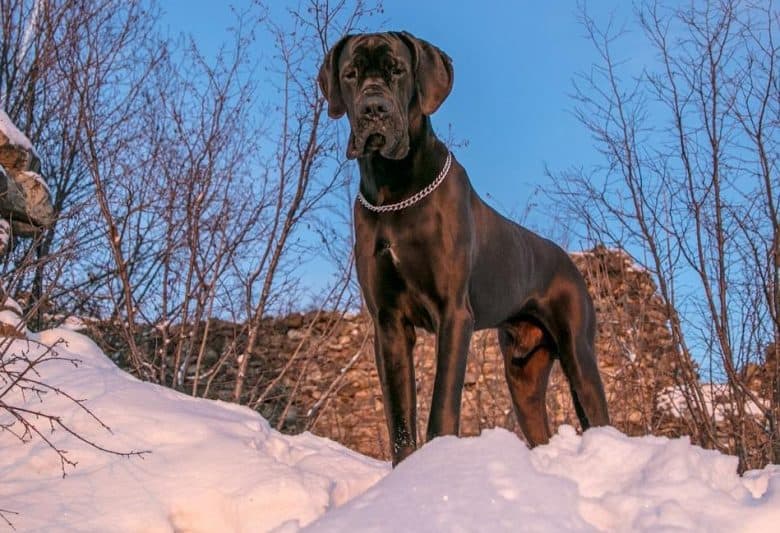 Batman
Blackbeard
Blade
Bond
Cash
Darth (Vader)
Gomez
Jafar
John Wick
Jules
Kylo
Maleficent
Morpheus
Morticia
Neo
Poe
Pugsley
Selene
Severus Snape
Sirius Black
T'challa
Tony Montana
Toto
Trinity
Vader
Vincent Vega
Voldemort
Warlock
Wednesday
Xena
Zorro
Black cartoon character names for black dogs
Franklin
Freeman
Frozone
Gerald
Huey
Numbah
Oscar
Penny
Riley
Susie
Tiana
Vince
Names of famous black dogs on Instagram
Aloysius van Winkle – @digbyvanwingle
Beta – @dearbeta
Dada – @dog_dada
Momo – @andrewknapp
Otis Barkington – @otisbarkingon
Trotter – @trotterpup
Best names for black dogs
It's impossible to say what is the best name for a black dog. There are so many names to choose from, inspired by books, movies, nature, space, foods, and other things that surround us.
The best we can do is choose a bunch of different names for you and let you pick the one you like the most.
Black dog names from A to Z
Achilles
Ajax
Alice
Amor
Arya
Aswald
Baby Bear
Bamboo
Barli
Basil
Bat Flower
Beetle
Beluga
Black Bart
Black Beauty
Black Dahlia
Blackfoot
Black Knight
Black Magic Hollyhock
Black Market
Black Pearl
Black Peony Poppy
Black Rosa
Black Sheep
Black Velvet
Black Wolf
Blackbird
Blackboard
Blacker
Blackheart
Blacklist
Blacky
Blake
Boston
Bran
Brena
Brenna
Bruno
Calathea
Cardew
Catheryn
Cethin
Charcoal
Charna
Cheers
Chico
Chicory
Ciardha
Cinderella
Cinders
Coke
Colby
Cole
Cooper
Cordial
Cree
Cricket
Cronin
Currant
Cyan
Dakota
Dark
Darkness
Dash
Dashiell
Delaney
Delano
Dice
Dunstan
Eightball
Emery
Eve
Evening
Eventide
Fey
Fia
Fiat
Flint
Gethen
Gothic
Grayson
Hesper
Indigo
Indigo Rose
Isra
Jet Black
Johnny Cash
Julian
Kasha
Keira
Kettle
Kieran
Kodiak
LBD
Lava
Layla
Lead
Legend
Leila
Limo
Lugosi
Lyra
Magick
Marble
Maroulis
Maura
Maurice
Mauricio
Maury
Melaina
Melanie
Menace
Metallica
Mickey
Misfit
Mixer
Mondo
Moonbeam
Moonstruck
Moritz
Murky
Nacht
Natt
Nerissa
Nevermore
Nhi
Night
Night Owl
Nighthawk
Nightingale
Nightshade
Nisha
Noche
Nocturna
Nori
Notte
Oil Engineer
Omen
Ophelia
Orpheus
Oso
Padfoot
Persephone
Pete
Puddle
Puffin
Puffins
Royal
Sabbath
Sammie
Scout
Selkie
Semira
Shawn
Slate
Sloe
Smoky
Smudge
Soot
Sooty
Spice
Spot
Spots
Starling
Steel
Steely
Sunspot
Superstition
Swarthy
Swartz
Talon
Tansy
Tar
Tasmania
Teddy
Teddy Bear
Treacle
Tux
Twiglet
Tynan
Umbra
Undertaker
Ursa
Vesper
Vlad
Wander
Wasabe
Widow
Yang
Yappers
Yin
Yukon
Black dog names linked with the color black
Every color has certain symbolic meanings, including the color black, often associated with dark and negative things.
However, black also represents elegance, power, protection, calm, and many other things. Here are some choices of dog names linked with the color black:
Batsho
Blackster
Coalface
Diablo
Dusky
Ebony
Graphite
Knight
Limousine
Miner
Monk
Moor
Night Rider
Pitchy
Villain
Zulu
And if your dog has a touch of white, you may want to consider these names:
Bishop
Cookie
Domino
Friar
Panda
Raven
Spotty
Black dog names inspired by other languages
The word black sounds quite different in other languages. Here are our favorites:
Kuro – Japanese
Nero – Italian
Negro – Spanish
Noir – French
Pango – Maori
Preto – Portuguese
Schwarz – German
Zwart – Dutch
Top 10 black dog names
Before we dig deeper into the list of names for black dogs, these are our top 10 choices:
Ash
Cosmos
Goth
Kuro
Mamba
Panther
Shadow
Storm
Voodoo
Zorro
Female dog names for black dogs
If you are unsure what to name your black girl puppy, we have selected some of the best girl names for black dogs.
Of course, it is important to choose the name that has a meaning, so we did our best to find meaningful names for female black dogs.
Abby
Abigail
Acadia
Agagate
Alexa
Amaris
Amaya
Amazon
Amber
Amy
Angel
Anka
Ariana
Babe
Banshee
Baroness
Batty
Beauty
Belle
Bertha
Betsy
Bitsie
Black Widow
Bobby
Bridget Jones
Brooklyn
Brünhilde
Cairo
Candy
Cersei
Chai
Cherry
Clove
Crown
Cups
Daisy Duke
Dana Scully
Darcy
Deadshot
Diabolique
Dot
Duchess
Echo
Electra
Elle
Erin Brockovich
Eureka
Fergi
Fern
Frida
Fudgie
Gaia
Galactica
Galadriel
Gem
Gemini
Ghost Rider
Gigi
Gorgeous
Hermoine
Hope
Huntress
Jewel
Joy
Juno
Kay
Kedavra
Laces
Lady Bug
Lakota
Leia
Lil' Kim
Lipstick
Liv
Lolita
Majesty
Malibu
Manhattan
Marge Gunderson
Mary-Kate
May
Medusa
Mia
Minnie
Minuit
Missy
Ms. Ink
Muffin
Mystica
Nakita
Natasha
Nayla
Nimbus
Octavia
Odile
Page
Pandora
Paris
Phoebe
Pitch
Plum
Princess
Queen
Queen Shadow
Queen of Spades
Queenie
Rayne
Reese
Ripley
Roo
Rosie
Sable
Sadie
Sahara
Scrappy
Sequoia
Shimmer
Shiva
Silhouette
Slay
Smize
Star
Sugar
Sweetpea
Swift
Syrup
Taka
Talladega
Tess
Tiffany
Tinkerbelle
Trixie
Valkyrie
Velvet
Venus
Vixen
Von Rothbart
Zoey
Zuul
Male names for black dogs
There are many great names for male black dogs that have a meaningful background and also sound commanding. Let's check them out.
Admiral
Adonis
Adrian
Angus
Anthony
Ash
Asher
Balto
Bartholomew
Baskerville
Beau
Beck
Beowulf
Bernie
Biggie Smalls
Binx
Blimp
Bluto
Bono
Boomer
Bronson
Bruce Lee
Buba
Buck
Buckshot
Bucky
Bug
Button
Captain
Cassius
Cecil
Chase
Clifford
Colossus
Corbin
Crumbs
Cub
Czar
Danny Devito
Django
Dodge
Donnie
Donnie Darko
Duff
Duncan
Durango
Dusty
Everest
Falafel
Felix
Foo
Frankenstein
Frodo
Gabe
Gadget
Gandalf
Gary Coleman
General
Genghis
Grease
Hagrid
Hakeem
Hannibal
Hawk
Haze
Hercules
Hooch
Hoss
Hunter
Ink
Jamesy
Jericho
Jesper
Jessie
Jethro
Jett
Judas
Kitt
Kane
Kellen
Kev
King of Spades
Kingston
Kong
Kuno
Lazarus
Lego
Leilo
Leo
Louis
Mac
Major
Manny
Marmaduke
Mars
Maverick
Max
Meatball
Moby
Mookie
Moose
Mud
Mufasa
Nana
Nova
Oden
Odie
Opie
Othello
Oz
Ozlo
Pengu
Peter
Pharaoh
Pip
Pluto
Polo
Puck
Pudge
Reece
Reeses
Rich
Rocket
Rolo
Rosco
Rusty
Salem
Scar
Scooby
Shade
Shades
Shadow
Sharpie
Silas
Slim
Smoke
Smokey
Soldier
Spade
Spud
Stitch
Sullivan
Sylvester
Taz
Ted
Thrash
Toby
Toots
Tootsie
Uno
Vadar
Winston
Woody
Zander
Black dog names based on size
Every dog deserves a great name – whether it is a small dog breed like Chihuahuas or Pugs, or a big dog breed like Great Danes or Labrador Retrievers. So, here are the best names for black dogs based on size.
Small black dog names
Bebe
Bella
Betty Boop
Bonnie Boo
Checkers
Chess
Chi Chi
Ciara
Ciggy
Coco
Cocopuff
Coley
Diamond Duff
Dora
Fascianne
Fefe
Gucci
Lamya
Lena
Mi Mi
Mila
Mily
Mini
Minor
Mittens
Monkey
Muffles
Nessie
Nila
Peewee
Petie
Pimp-Squeak
Pipa
Pippin
Pipsy
Pita
Popcorn
Popsicle
Rosaleen
Sas
Sileni
Thimble
Tiddles
Tika
Tilly
Tina
Tiny
Truffles
Violet
Yoda
Za Za
Zara
Big black dog names
Adham
Al
Albert
Alexelia
Andre the Giant
Annabel Lee
Apollo
Ares
Atticus
Ava
Avnilla
Avril
Axle
Barthy
Ben
Big Bee
Biggie
Blackjack
Bootblack
Brandon
Breana
Brutus
Burlinda
Butler
Caleb
Char
Cherny
Chester
Chief
Cujo
Daysi
Diego
Draven
Duke
Fallon
Fifty
Fin
Fjodor
Flare
Godzilla
Goliath
Hefty
Helen
Hex
Hugo
Hulk
Jabu
Juggernaut
Kanye
King
King Kong
Mack
Mercedes
Nemesis
Pongo
Ragnar
Rex
Rick
Rocky
Roth
Sarge
Shrek
Slater
Titan
Trooper
Truman
Tupac
Victor
West
Whale
Yeezy
York
Yorkie
Zeek
Zena
Tough Black Dog names
Some dogs look tough and rough, so it seems appropriate to give them a tough name. We would suggest these:
Ali
Axel
Bandit
Beast
Bronx
Bruiser
Bullet
Butch
Buzz
Dozer
Dre
Fang
Floyd
Frazier
Gunner
Harley
Hendrix
Jedi
Jinx
Raider
Rebel
Riddick
Spike
Sonny
Tyson
Vinnie
Black Dog names inspired by deities
Gods have been inspiring people for centuries in many different ways. Names of the old, polytheistic gods are particularly popular today:
Anubis
Artemis
Athena
Aurora
Deva
Erebus
Hecate
Hera
Kali
Lucifer
Nyx
Odin
Poseidon
Thor
Zeus
While giving your dog a name after deity is cool, you should make sure that you are pronouncing the name properly.
Check out this video to learn how to pronounce names of Gods from Norse mythology:

People names for black dogs
For those of us who like to name dogs after people, there is a comprehensive list of people's names to choose from. We've selected some of our favorites here:
Bart
Boris
Brad
Britney
Christine
Cindy
Cobb
Darlene
Ernie
Georgina
Jake
Jasper
Jeb
Jerry
Johnny
Kate
Katherine
Kent
Liz
Nancy
Nate
Paul
Raymond
Sam
Sarah
Sherry
Sonya
Susan
Tony
Trent
Trudy
Vilma
Yasmin
Yolanda
Black dog names inspired by magic, spook, and more
Many people find inspiration for names in magic and spooky things, especially when it comes to names for a black dog.
Dracula
Elvira
Goth
Magic
Merlin
Midnight
Mystery
Mystique
Necromancer
Phantom
Rorschach
Voodoo
Black dog names inspired by the outer space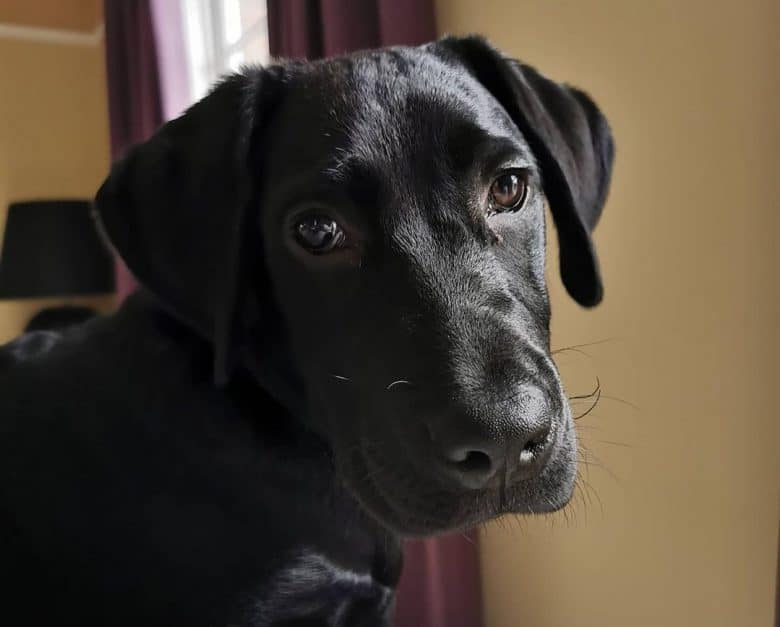 Staring into the black void we call outer space is bound to inspire even those with little imagination. Here's what we came up with:
Astra
Celeste
Cosmo
Cosmos
Galaxy
Eclipse
Moon
Nebula
Orion
Selena
Space
Stella
Vortex
Black dog names inspired by black animals
Naming your black dog after another animal, especially another black animal, is quite popular. Here are our suggestions:
Bat
Bear
Crow
Falcon
Grizzly
Jackal
Jaguar
Leopard
Mamba
Panda Bear
Panther
Penguin
Puma
Raccoon
Seal
Spider
Stallion
Squid
Turtle
Swan
Wolf
Black dog names inspired by nature, elements, and flowers
Inspiration can be found all around us in nature. Naming your black dog after things from nature and various elements is creative, especially if you name your dog after a unique flower.
Anise
Black Velvet Petunia
Calla
Canna
Cantor Black
Carbon
Coal
Dahlia
Daisy
Denali
Dianthus
Duna
Dusk
Ember
Hellebore
Lily
Luna
Obsidian
Onyx
Opal
Pearl
Petunia
Phantom Petunia
Poppy
Prunella
Queen of the Night
Rain
Rainy
Rose
Shady
Sirius
Skye
Storm
Stormy
Tarmac
Thunder
Twilight
Vega
Zwartkop
Black dog names inspired by food and drinks
If you are a foodie, you will certainly find inspiring ideas in the names of different foods and drinks. These are our favorites:
Bailey
Bean
Black Bean
Blackberry
Bock
Brandy
Brownie
Caviar
Chip
Coconut
Cocoa
Coffee
Cola
Cupcake
Crisp
Espresso
Fudge
Godiva
Guinness
Hershey
Jameson
Java
Kahlua
Kona
Latte
Licorice
Mocha
Olive
Oreo
Pepper
Pepsi
Porter
Pudding
Pumpkin
Raisin
Salami
Snickers
Stout
Cool names for black dogs
While it may be hard to determine what is cool and what's not, we believe that our list of cool black dog names is cool. Check it out:
Adriel
Ariel
Barker
Barkley
Bowser
Brantley
Chance
Chandler
Chopper
Chrome
Cinder
Colton
Dagan
Dandy
Diesel
Eddie
Eli
Elmo
Fleur
Hank
J.J.
Jordan
Josh
Knut
Leroy
Mason
Muttly
Nigel
Nooner
Ronnie
Sierra
Sir
Speck
Stick
Tanner
Tom
Cute names for black dogs
There is cute, and there is black dog cute. For this reason, we have chosen a few of the cutest names for black dogs:
Ace
Acer
Anisette
Anna Lee
Blackie
Bubbles
Chippy
Cutie
Darling
Fiona
Flea
Fluffy
Frannie
Grace
Huey Lewis
Jannette
Kaluha
Kory
Lawna
Lori
Madison
Monday
Morris
Petal
Prancer
Shandy
Funny black dog names
Adding a bit of humor to the entire process of name selection is always a good idea. Naming your dog Whitey even though he is a Black Lab may not be funny to him, but it's bound to draw some smiles in the dog park.
So, here are some funny black dog names for you:
Arf
Baa-Baa
Banjo
Barcode
Berry
Bevis
Blondie
Boots
Bosco
Boss
Bouncer
Bumper
Bunny
Cadbury
Chancellor
Chew-bark-a
Chicken
Chow
Demon
Devil
Doodle
Ego
Elvis
Fancy
Fluffles
Foggy
Ford
Foxy
Gizmo
Gnasher
Goob
Groucho
Happy-Go-Lucky
Inkblot
Inky
Jaws
Jersey
Juicy
K9
Ken
Kitten
Knobby
Kobe
Lager
Miguel
Mike
Milo
Mosley
Muddy
Nestle
Nike
Ninja
Nipper
Paws
Peanut
Pinkie
Pooh Bear
Porkchop
Prince
Queen Bee
Reaper
Reeces
Rover
Schnauz
Sealy
Shaunee
Shredder
Skipper
Skippy
Smelly
Smiggle
Snoop
Squiggle
Sting
Suede
Sweetie
T-Bone
Tank
Tater
Tegan
Terminator
Thumbelina
Thumbles
Tint
Tippy
Tipsy
Toodles
Topper
Trouble
Twizzler
Usher
Waffle
Weezy
Welly
Whitey
Witchy
Woof
Wooly
Yeti
Yip
Zebra
Zippie
Zippy
Unique Black Dog names
Some black dog names are more popular than others, but choosing a unique name will make your dog feel special. Here are a few examples:
Agate
Agent
Aiden
Badger
Bandy
Bash
Bootleg
Champ
Chaplin
Cherokee
Chomp
Crowe
Digger
Drover
Dylan
Fuzzy
Gracie
Grover
Hal
Harlequin
Hoth
Inkspot
Iris
Jackson
Jet
Landis
Larson
Loki
Margarita
Mullet
Poppy Seed
Raskolnikov
Restorical
Ricky Rocket
Rosalee
Tara
Texas
Thirteen
Washington
Widow-Maker
Wilder
What should I name my black dog?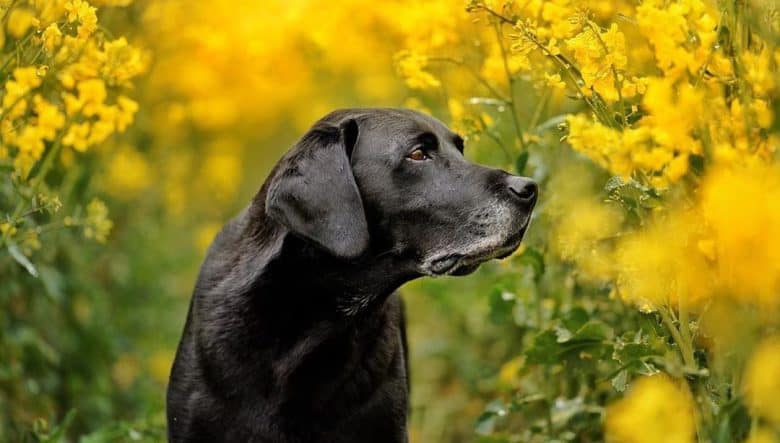 With such a huge selection of unique, tough, funny, and cool names for black dogs, it may be difficult to select just one.
If you are still wondering how to name your black dog, we suggest going with your gut. Any name will certainly suit your sweet best friend.
Let us know in the comment section if you have other awesome black dog names to suggest.
Further reading: Other color-inspired dog names
Reference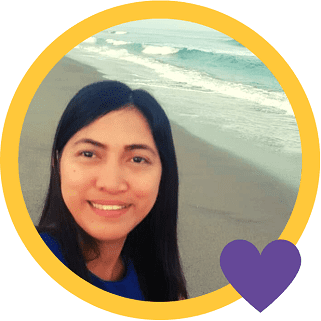 Cess is the Head of Content Writing at K9 Web and a passionate dog care expert with over 5 years of experience in the Pet Industry. With a background in animal science, dog training, and behavior consulting, her hands-on experience and extensive knowledge make her a trusted source for dog owners.
When not writing or leading the K9 Web content team, Cess can be found volunteering at local shelters and participating in dog-related events.