Last Updated on April 20, 2023
Dogs come in many colors, but we think that one of the most beautiful dog colors is brown. Additionally, there are many wonderful shades of brown that a dog can have.
With that in mind, we've decided to help you name your brown pup and provide you with an extensive list of brown dog names.
How to pick the right name for your brown dog?
Choosing the perfect name for a brown puppy can take some time. Luckily, there are many brown dog breeds out there, which means that there are also many great names to choose from.
First, let's take a look at the ten most popular dog breeds that may have brown coats:
Pekingese
Great names for brown dogs can come from many different sources. You may find dog name ideas in books, movies, nature, foods, animals, flowers, etc.
Some dog owners like to name dogs after humans. People's names for dogs are gaining popularity lately, so that's another source where you can get ideas.
However, if you want to name your dog after a person you know, ask them before you do it. It's rare, but some people may find this practice awkward or even offensive.
Themed names related to brown color are definitely the most popular, but you don't have to go down that route. You may find a name you like among white dog names – it's your prerogative.
However, we believe that there are many suitable names for brown dogs, whether you have a chocolate Lab or a dark brown Dachshund.
Tips for naming your brown dog
The first thing to focus on is that the name rolls off the tongue. While some names seem great on paper, they may be hard to pronounce.
Say the name out loud to hear how it sounds. Do it in a normal tone first, then pretend that you are calling your dog. Does it sound right?
Make sure that the name doesn't sound similar to the main commands that you plan to teach your pooch to avoid any confusion.
Avoid longer names since they can be tiring to say all the time, especially if you can't find a suitable shorter nickname.
Keep in mind that you will have to use the name in public, so it's best to avoid awkward and embarrassing names. Definitely avoid curse words or you may receive many strange looks at the dog park.
Once you've named your dog, you need to teach it to him. Don't be intimidated by this; all it takes is persistence and a bit of time.
You can speed the process up with treats – reward your pooch whenever he reacts to you calling out his name. Repeat your dog's name many times every day until your furry friend learns it.
Also, this video may help you:

What's in a name? Who is the most famous brown dog?
Pop culture and celebrities are often setting the trends for dog names. With that in mind, we have chosen our favorite famous brown dogs and dogs owned by famous people.
Brown female dog names inspired by celebrities' brown girl dogs
Angel (Shay Mitchell)
Asia (Lady Gaga)
Charlotte (Bradley Cooper)
Coco C. Suzy Grande (Ariana Grande)
Cora (Jon Hamm)
Esmeralda (Anne Hathaway)
Esther (Justin Bieber)
Foxy (Nicole Richie)
Ginger Gurl (Patrick Stewart)
Harley (Julianne Hough)
Karoo (Hilary Swank)
Kola (Kellan Lutz)
Lexi (Julianne Hough)
Lua (Gisele Bundchen)
Lucy (Nava Rivera)
Lulu (Channing Tatum)
Mabel (Mark Hamill)
Marnie (Joe Jonas)
Maui (Ashley Tisdale)
Millie (Mark Hamill)
Nietzsche (Ian Somerhalder)
Peaches (Hugh Jackman)
Penny (Carrie Underwood)
Poppy (Sandra Bullock)
Ren (Emma Stone)
Ruby (Sandra Bullock)
Tina (Jessica Biel)
Tinkerbell (Paris Hilton)
Brown dog names inspired by celebrities' brown boy dogs
Ace (Carrie Underwood)
Arthur (Dianna Agron)
Atticus (Jake Gyllenhaal)
Axl (Josh Duhamel)
Baxter (Ryan Reynolds)
Baylor (Selena Gomez)
Boo Radley (Jake Gyllenhaal)
Brennan (Justin Timberlake)
Buckley (Justin Timberlake)
Diddly (Simon Cowell)
Dubois (Hilary Duff)
Emu (Miley Cyrus)
Finn (Amanda Seyfried)
Fitz (Lauren Conrad)
George (Ryan Gosling)
Ira (Nikki Reed)
Kenobi (Anne Hathaway)
Kevin (Kellan Lutz)
Licorice (Famke Janssen)
Marosca (Cristiano Ronaldo)
Maximus (Maria Menounos)
Neal (Liv Tyler)
Norman (Kendall Jenner)
Rumi (Hilary Swank)
Samson (Bradley Cooper)
Squiddly (Simon Cowell)
Tanneroo (Eliza Dushku)
Trip (Stella Maxwell)
Tucker (Charlize Theron)
Whiz (Natalie Portman)
Big brown dog names inspired by pop culture
Argos
Balto
Barry
Beasley
Blackjack
Bo
Bobbie
Charlie B. Barkin
Doctor Who
Faith
Fluffy
Frankie
Hot Dog
Isham
Jughead
Just Nuisance
K9
Nipper
Pal
Perdita
Pluto
Poker
Pongo
Rex
Rufus
Sauer
Soter
Target
Timmy
Titanic
Little brown dog names inspired by pop culture
Belka
Bingo
Bruiser
Chloe
Crab
Dino
Eddie
Enzo
Greyfriars Bobby
Lady
Laika
Milo
Moose
Nemo
Odie
Oweney
Perez
Pickles
Sallie
Skip
Smoky
Snoopy
Spike
Strelka
Sun-Yat Sen
Toto
Uggie
Verdell
Vogue
5 famous brown dogs on Instagram
Maru – @marutaro
Marnie – @marniethedog
Tuna – @tunameltsmyheart
Samson – @samsonthedood
Jiff – @jiffpom
The best and most popular name ideas for chocolate or brown dogs
We have covered a few famous dogs, but we are only warming up. Now, we will provide you with a wide selection of the best name ideas for brown dogs.
Brown dog names inspired by similar coat colors
Since we already mentioned that brown dogs can have numerous shades, here are the most popular names for different shades of brown:
Dark brown dog names
Dark brown is not the most common color in dogs, but that doesn't mean that we don't have plenty of names for these pooches:
Agate
Alder
Auburn
Bruno
Garnet
Kobicha
Larch
Macore
Peru
Plummy
Roan
Ruddy
Rusty
Tawny
Teak
Terra
Chocolate brown dog names
Perhaps the most popular shade of brown is chocolate, which means that the number of name ideas for chocolate dogs is extensive. Many of them relate to chocolate in some way. These are our favorites:
Brazil
Carob
Cashew
Chocolat
Chocolate
Cikolata
Clove
Dove
Godiva
Graham
Hazel
Kombucha
Maple
Schokolade
Suklaa
Light brown dog names / Tan dog names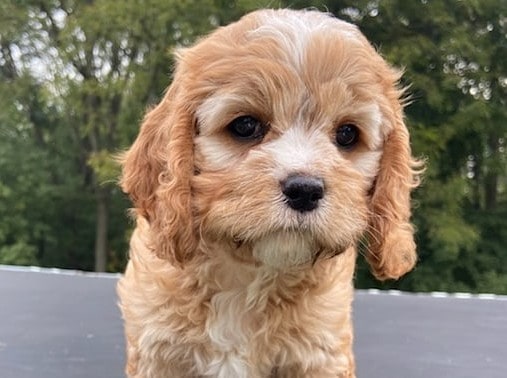 If you have a light brown or tan-colored dog, you are not alone. This color is perhaps the most common brown shade, and it offers a variety of name ideas:
Almond
Barley
Beige
Biscuit
Buckwheat
Canoli
Cheesecake
Coppe
Dumpling
Fawn
Flax
Frito
Ginger
Grits
Ivory
Latti
Mango
Marigold
Maui
Mochi
Nilla
Noodles
Pinto
Prairie
Ruffles
Sahara
Sandy
Savannah
Sesame
Snuffy
Spicee
Summer
Sunbeam
Sunset
Taffy
Taupe
Toastie
Tuscan
Golden & reddish-brown dog names
Brown dogs that have a golden or reddish hue are adorable. The same goes for their most popular names:
Amaretto
Amber
Ambrosia
Aruna
Autumn
Burgundy
Cayenne
Cheyenne
Chili
Copper
Goldie
Goldy
Honey
Merlot
Saffron
Scarlette
Sepia
Shiraz
Sienna
Brown dog names inspired by brown things & animals
Many people find inspiration for brown dog names in nature, such as animals, plants, and other brown things that surround us. Here are our top choices:
Bamboo
Bay
Bear
Beaver
Bison
Brick
Bunny
Burlap
Camel
Camo
Canary
Cello
Cherry
Clay
Coyote
Dun
Elk
Gecko
Heartwood
Hickory
Hippo
Honey Badger
Honeybee
Kanga(roo)
Koala
Lion
Mongoose
Muskrat
Oak
Otter
Panda
Pangolin
Pecan
Pine
Pinecone
Rosewood
Seal
Spruce
Squirrel
Tiger
Turkey
Turtle
Violin
Wolf
Wolverine
Woodchuck
Brown Dog names inspired by food
Brown dog names inspired by brown food sound delicious. If you are a gourmet yourself, check out some of our suggestions:
Bean
Biscotti
Brown Sugar
Brownie
Cappuccino
Caramel
Chai
Cheerio
Chips
Chocolate Chip
Cinnamon
Cocoa
Coffee
Cortado
Donut
Espresso
Fudge
Granola
Guinness
Hamburger
Hazelnut
Hershey
Hotdog
Kiwi
Lager
M&M
Macchiato
Marmalade
Meatloaf
Mocha
Mousse
Nestle
Nutella
Nutello
Nuts
PB/Peanut Butter
PBJ
Peanut
Pepsi
Porter
Pretzel
Pumpernickel
Pumpkin
Raisin
Reese
Scotch
Skippy Peanut Butter
Snickers
Stout
Toblerone
Toffee
Tootsie Pop
Tootsie Roll
Tortilla
Truffle
Twinkie
Twix
Waffles
Wheat
Whiskey
Brown Dog names inspired by words for "coffee" and "brown" in other languages
Other languages can offer a lot of great ideas for brown dog names. We have chosen to focus on foreign words for "brown" and "coffee," but you can use other foreign words as well.
Barna (Hungarian)
Braun (German)
Brun (French)
Castanho (Portuguese)
Kahawa (Swahili)
Kahvi (Finnish)
Kannella (Maltese)
Kopi (Indonesian)
Marrone (Italian)
Rudas (Lithuanian)
Ruskea (Finnish)
Meaningful Names for Brown Dogs
For many dog owners, it is important that their dogs have meaningful names. Here are some choices for meaningful names for brown female dogs and a few meaningful names for brown male dogs:
Rosco
Rudy
Sable
Scarlet
Scone
Shanti
Skylar
Sol
Sorrel
Sydney
Tanner
Teddy
Tern
Tiki
Tito
Toro
Tyler
Vegas
Waffle
Wendy
Wilma
Winnie
Winter
Woody
Wren
Wrigley
Zephyr
Zero
Zoe
Zola
Classic Name Ideas for Brown Dogs
If you are not keen on experimenting, classic name ideas for brown girl dogs and boy dogs are probably the best way to go.
Alaska
Apricot
Baby
Bailey
Bayla
Bella
Betty
Bindi
Blondie
Bon Bon
Boo
Brandy
Butters
Calypso
Casey
Cassidy
Chia
Croissant
Dakota
Delilah
Dolly
Dulce
Fern
Fleur
Flor
Franny
Galaxy
Creative name ideas for brown dogs
If you want to think out of the box before you name your brown pup, here are some of the most creative name ideas for brown boy and girl dogs:
Almond Joy
Ander
Angus
Bacon
Badger
Bagel
Bailey Cream
Bambo
Barrel
Baylor
Beau
Benji
Blaze
Boomer
Boss
Brandie
Brewster
Bronze
Brown Bear
Buck
Buckeye
Caesar
Café Noir
Carmel
Carmelo
Chipmunk
Choco
Clyde
Coco Puff
Coffee Bean
Cola
Corky
Cronan
Cuppa
Curry
DeCaf
Diesel
Digger
Dunkin
Dusty Copper
Echo
Eclair
Finley
Folger
Fondue
Garbanzo
Gingersnap
Ginky
Jenny
Kasha
Kisses
Ko-Ko
Kodiak
Kona
Leather
Meridian
Molly
Molly Brown
Motts
Mugs
Mylo
Pancake
Pepper
Puddin
Puma
Raisinette
Riesen
Rocky Road
Rufous
Russet
Sahra
Sanka
Scooby Doo
Sealy
Sundae
Tadder
Teddy Bear
Tetley
Timber
Twink
Yogi Bear
Cute brown dog names
Is your dog the cutest pet in the world? We have no doubts about it, so here are some cute brown dog names for you:
Bongo
Caddy
Chickadee
Farley
Genie
Junebug
Kiki
Klondike
Koda
Leo
Melody
Muddi
Nola
Oso
Pippi
Puffin
Queen
Quinn
Reef
Reno
Robin
Roo
Teacup
Topi
Tutu
Velvet
Cool brown dog names
Your brown dog certainly deserves a cool name since he is totally cool, we are sure. So, here are some cool name ideas for chocolate-colored male and female dogs:
Africa
Amazon
Batman
Beluga
Cara
Cleveland
Grady
Grizzly
Guey
Gunner
Hank
Harvey
Hops
Igor
Jackson
James
Jasper
Jenga
June
Jupiter
Karma
Loki
Lyric
Mabel
Mars
Mink
Montana
Mouse
Moxie
Nacho
Pepe
Prune
Rebel
Ren
Zulu
Funny brown dog names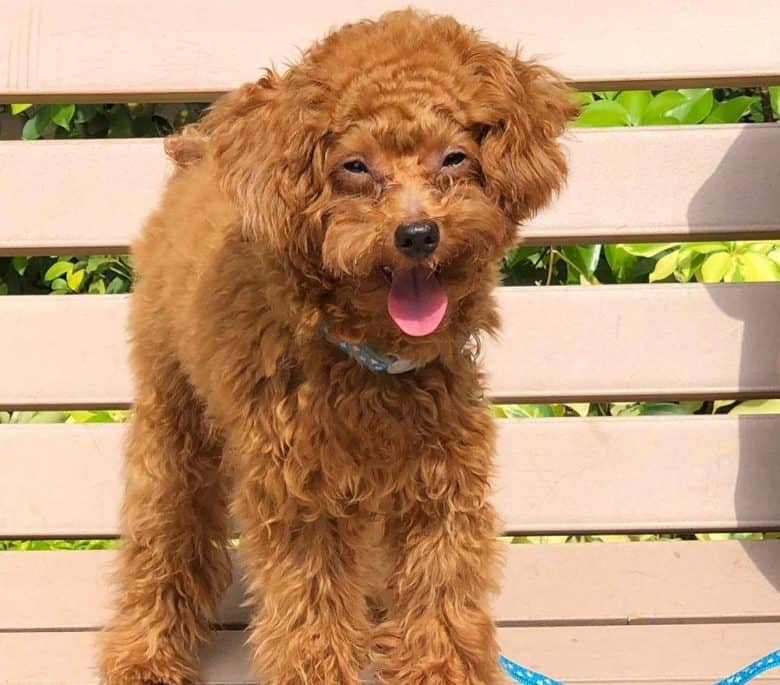 Having a sense of humor about the entire process of naming your dog is probably the best way to approach the situation. So, here are some funny brown dog names for you:
Amy
Andy
Bernie
Bill
Buddy
C.K
Carlin
Carson
Chelsea
Chevy
Conan
Dane
Danger
Eden
Ellen
Gilda
Hart
Hope
Jerry
Leno
Leslie
Mac
Martin
Melissa
Patton
Pryor
Redd
Rock
Rogan
Sarah
Seth
Susan
Steve
Tina
Trouble
Wanda
Whoopi
Will
Unique brown dog names
Your dog is one of a kind, so it makes sense to find a unique name for your pup. These are our favorites:
Abbey
Aja aja
Aspen
Barna
Bourbon
Braon
Bru
Bruin
Bruns
Buff
Bunni
Canela
Castanho
Cerriu
Champagne
Cheddar
Chumpi
Cider
Coklat
Dadu
Daffodil
Donn
Forest
Freckles
India
Jengga
Kafe
Kannella
Kapila
Karah
Laana
Maro
Marrone
Motia
Muffin
Nugget
Peaches
Pebbles
Ruskea
Ruzdu
Schubert
Scooby
Sundance
Sunny
Topaz
Zongse
Best male, female, and unisex brown dog names
Still haven't found the perfect name for your black puppy? Don't worry, we've got more name ideas to share. This time, we will focus on the dog's gender:
Female Brown Dog Names
Bahama
Bambi
Brunette
Carmela
Chablis
Cookie
Ginny
Heath
Henna
Kahlua
Kava
Khaki
Kitkat
Moana
Rose
Sabra
Sherry
Sierra
Sweet Georgia Brown
Tiramisu
Tootsie
Valentine
Xena
Male brown dog names
Beer
Bosco
Burnell
Buster Brown
Butterscotch
Cadbury
Charlie Brown
Chestnut
Chewbacca
Chewy
Chip
Count Chocula
Dr Pepper
Dusty
Goose
Hawk
Health
Jack Daniels
Jim Beam
Mahogany
Mudd
Oak Tree
Oakley
Rambo
Rocky
Rolo
Romeo
Starbuck
Suede
Wonka
Wookie
Unisex brown dog names
Acorn
Anise
Arizona
Beans
Brew
Cedar
Gravy
Java
Latte
Molasses
Nutmeg
Oatmeal
Reeses
Root Beer
Sedona
Smores
Soy
Syrup
Toast
Truffles
Umber
Walnut
Yogi
What should I name my brown dog?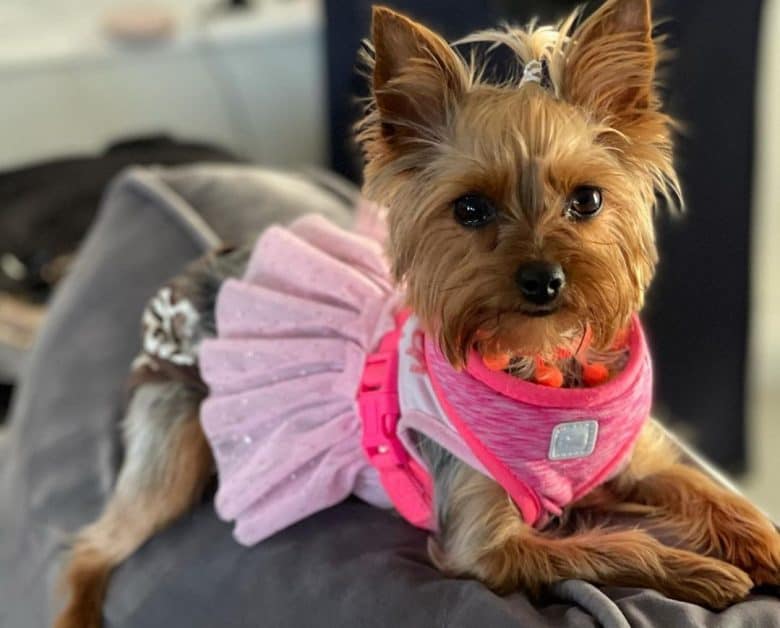 Naming your dog doesn't have to be a difficult, time-consuming process. Just take a look at our suggestions and find a name that you like.
Choose a name that seems suitable and simply follow your intuition.
Do you have a brown dog? What's the dog's name and how did you choose it? Let us know in the comment section.
Further reading: Other cute dog names by color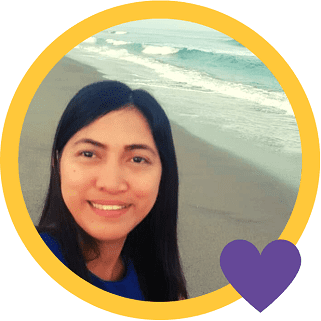 Cess is the Head of Content Writing at K9 Web and a passionate dog care expert with over 5 years of experience in the Pet Industry. With a background in animal science, dog training, and behavior consulting, her hands-on experience and extensive knowledge make her a trusted source for dog owners.
When not writing or leading the K9 Web content team, Cess can be found volunteering at local shelters and participating in dog-related events.