Last Updated on April 20, 2023
Have you just picked up a gray dog and are now looking for the perfect name for your new dog? Choosing a name that suits their color is a fantastic place to start.
However, there are many ways to describe your Gray dog, with inspiration from ghosts, mythology, or objects. Let's have a look at some of the best Gray dog names out there: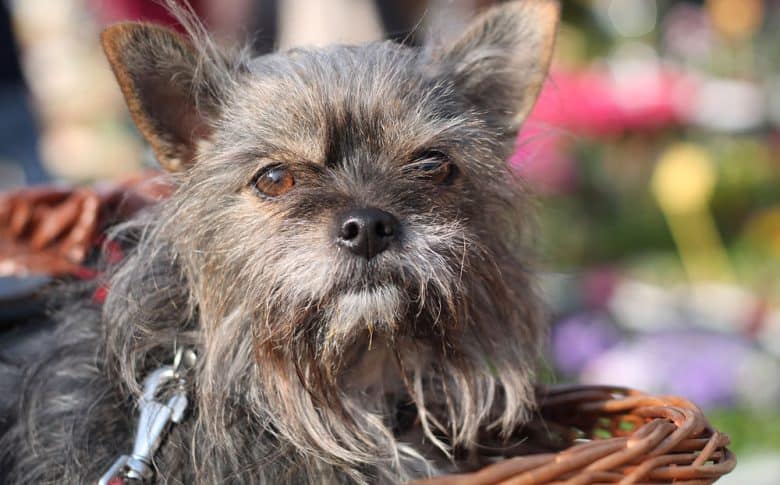 How do you pick the right name for your Gray, Silver, or Blue Dog?
Gray dogs come in various shades from Silver to Blue, Merle, Grizzle, Gray Brindle, Seal, Slate, or Pepper. You even get dogs with blue or grey eyes.
Sometimes these dogs are quite common, whereas other times, they are scarce and sought-after by dog owners. It all depends on their breed.
Looking at a Gray themed name is a great place to start when thinking of a moniker for your new family member.
Just be sure that you also opt for something easy to say, matches your dog's personality, and has meaning to you.
Of course, you will also want to consider your dog's other attributes when picking a name, such as their country of origin, build, size and markings.
Also, always try and opt for a shorter name that isn't longer than two or three syllables. Words of one syllable are easier for training and your dog to remember.
If you want to go for a loftier, longer term, think of a shortened version you can use as a nickname for your pooch.
Famous Gray, Silver, or Blue dog names
You could turn to pop culture when choosing a name for your dog.
How about naming him Gandalf, after Gandalf the Grey from Lord of the Rings, or Buster after the dog actor that stars in John Wick alongside Keanu Reeves?
You might also call him Greystoke, after the Vicounte of Greystoke from Tarzan, Vader after Darth Vader from Star Wars, or TinMan, taken from The Wizard of Oz.
A Blue dog could also be named after one of the many blue characters in popular TV series and movies, such as Cookie Monster from Sesame Street, Dory from Finding Nemo, or Eeyore from Winnie the Pooh.
Genie, from Disney's Aladdin, Neytiri from Avatar, Sulley from Monsters, Inc could also all lend their name to your dog. You could even just name your dog Smurf!
You might also choose a name for your Blue dog inspired by a famous Blues artist. Here are a few for inspiration:
B.B, after B.B. King
Billie, after Billie Holiday
Ella, after Ella Fitzgerald
Joplin, after Janis Joplin
Memphis, after Memphis Minnie
Muddy, after Muddy Waters
Steely, after Steely Dan
Winter, after Johnny Winter
The best Gray dog names
Various breeds come in a striking Silver or Gray color, including the Weimeranar, Poodle, and Irish Wolfhound.
Other breeds can have black, blue, or silver markings on their coat, such as the German Shepherd or Siberian Husky.
Names for your dog can be specifically related to their grey color or a more abstract moniker taken from mythology, your favorite book, or even a different language.
Dog names that mean Gray
One obvious way to name your Gray dog is by choosing a name that means Gray or Silver or refers to something that is Gray in color.
Here are some Grey dog names:
Ash
Cinder
Coal
Carbon
Dove
Earl Grey
Mink
Dusk
Dolphin
Foggy
Graphite
Silver
Slate
Pebbles
Shale
Smokey
Tinsel
Wisp
Anchovy
Ember
You could also look at the word Gray or Silver in other languages, such as these:
Grigio, which is Italian for Gray
Gris, which is French for Gray
Haiiro, which is Japanese for Gray
Myst, an ancient spelling of mist
Argent, the French word for Silver
Gin, a Japanese word for Silver
Kesef, the Hebrew word for Silver
Plata, a Spanish word for Silver
Silber, a German word for Silver
Cenzio, the Spanish word for Gray
Grau, which is German for Gray
Grigio, which is Italian for Gray
Plata, a Spanish world for Silver
Arian, a Dutch word for Silver
Famous Silver mines and towns, plus Silver rush-inspired dog names
Have you thought about naming your dog Mint, after the place where currency and coins are produced, or how about Nickel, Pewter, or Steel after the silvery metal alloys?
You could even choose a name like Scratch, a slang term used for coins.
Alternatively, you might choose to be inspired by famous mines and towns that became popular during the silver-rush. Here are a few good names to get you started:
Chico: Norte Chico, a town in Chili in the 1830s-1840s
Comstock: Comstock Lode's silver rush was in 1859 and spanned Virginia City and Gold Hill, Nevada
Hecla: Hecla Mining Company is one of America's oldest mining companies.
Kaslo: The British Columbian silver rush of 1889.
Glasebach: Germany's Glasebach Pit is a silver mine dating back to the 1400s and is now a museum.
Keeley: Keeley-Frontier Mines produced 19,000,000 ounces of silver in Northeastern Ontario.
Samson: Germany's Samson Pit in Germany worked in 1922 and was one of the deepest silver mines of its day.
Nasa: The Nasa mine worked in the 1600s in Lappland, between Sweden and Norway.
Pitarilla: A Mexican silver mine that is the fourth largest in the world.
Potosi: The largest silver deposit in the world is found at the Bolivian Potosi mine. Butch Cassidy and the Sundance Kid famously robbed this mine, leading to their demise.
Telluride: An area of Colorado with one of the world's ten largest silver mines.
Lunar-inspired names for Silvery dogs from mythology
The stars, moon, and magic can serve as fantastic inspiration for silver-colored dogs. Here are some names that come from the heavens or are inspired by the glow of the night on a full moon:
Gleam
Glimmer
Glitter
Sparkle
Shine
Sheen
Shimmer
Stellar
Luna
Nimbus
Maybe you're into Gods and Goddesses of the moon? Check out these unique names:
Anumati: Hindu deity of the moon
Artemis: The Greek goddess of hunting and the moon
Bendis: Another Goddess of hunting and the moon, from Thracian mythology
Elatha: The Irish god of the moon
Jarilo: A shapeshifting Slavic god of the moon and springtime
Kaskuh: The god of the moon in Hittite mythology
Luna: The Roman goddess of the moon
Selene: A Greek moon goddess
Meness: Latvian moon god
Napir: Elamite mythology moon good
Nyx: The Greek goddess of night
Rathi: The Indonesian moon goddess
Don't miss out: Best Unique Greek Dog Names
Ghostly names for Silver or Gray dogs
With Gray or Silver dogs taking on a ghostly appearance, it makes sense to give them a name that reflects their otherworldly looks. Here are some ethereal names and their meanings:
Banshee: A wailing or screeching female apparition that foretells death
Casper: The famous friendly ghost
Mogwai: A Chinese ghost that brings harm
Moroi: A Romanian vampire or ghost.
Phantom: An apparition or ghostly play of the mind
Shade: A being of the underworld
Shadow: A spirit or ghost
Shroud: A mask worn by ghosts or the dead
Specter: A terrifying apparition
Umbra: A shadowy image
Vapor: A cloudy image
Wraith: An undead creature that is the soul of the recently departed
Trivia: A Roman goddess known as Queen of the Ghosts who haunted graveyards
Best male and female Gray dog names
While most of the above names can be gender-neutral, you may want a name representing explicitly if your dog is a boy or a girl.
You could also like the sound of a human name on your dog; they are, after all, a member of your family.
Gray female dog names
Gray female puppy names are often a little bit mysterious and ethereal. Here are some of the top choices:
Astra
Aurora
Crystal
Dakota
Eve
Grace
Griselda
Heather
Isabel
Jupiter
Silverbell
Lacy
Leila
Lilac
Lyra
Nora
Olive
Pearl
Poppy
Storm
Sylvia
Willow
Gray male dog names
Opt for a name for your boy dog that reflects their loveable appearance but also their soft personality. You could also look to the stars for some inspiration that is out of this world.
Rory
Bear
Boomer
Bruno
Bubbles
Chase
Clay
Cosmos
Falcon
Flint
Floyd (meaning gray-haired in Welsh)
Grayson
Smudge
Jupiter
Lobo (which is Spanish for wolf)
Maverick
Mercury
Orion
Stoney
Scout
Sully
Zane
Dorian (after Dorian Gray, a gothic novel by Oscar Wilde)
Poupon (after Grey Poupon, a type of mustard)
The best Blue dog names
Blue dogs can have a light, pale Gray-Blue coat color or a darker, steeler, almost black shade. In essence, all blue dogs look like a diluted black dog.
Blue dogs come in large and small breeds and are unique looking dogs sought after for their unusual looks.
Dog names that mean Blue
An excellent place to start looking for your blue dog's name is with words that mean Blue. Describe the various shades of blue or look for blue objects. Here are a few Blue names to get you started:
Agate, which are healing Blue stones
Azure
Beryl, which is a healing Blue mineral used in magic
Blueberry
Cadet
Cobalt, the Blue color associated with the evil eye
Harriman, a lesser-known shade of blue
Lapis, which refers to the blue gemstone Lapis Lazuli
Sapphire
Topaz
Teal
Navy
Periwinkle, a Blue flower or sea creature
Powder
Royal
Union, the shade of Blue used for Civil War uniforms
Yale, the shade of Blue associated with Yale university
Han, the Blue pigment used in Chinese imperial pottery
Indigo
Cerulean
Lake
Ocean
Blue-eyed dog names
Blue-eyed and grey-eyed dogs are highly sought after and very unusual. Blue eyes and grey eyes are also said to represent the seer or the ultimate expression of physical beauty.
Blue or grey eyes can also represent detachment or strength of character.
These characteristics can help you chose a name for your blue-eyed dog, or you could also choose to be inspired by famous people who have Gray eyes. With this in mind, here are some top choices for a blue-eyed dog:
Iris
Arthur: After King Arthur, who had gray eyes
Bourne: After Jason Bourne of the Bourne Identity, whose gray eyes change color depending on his surroundings.
Draco/Lucius: The Malfoys in Harry Potter have cold, evil gray eyes.
Gable: After Anne of Green Gables, who has gray eyes.
Sherlock: Sherlock Holmes and his brother, Mycroft, have gray eyes.
Sirius/Regulus: The Black brothers, also from Harry Potter, have gray eyes.
Stannis: Stannis Baratheon, a character with gray eyes from Game of Throne.
Athena: A Greek goddess with gray eyes.
Belle: The heroine from Beauty and the Beast has gray eyes.
Gal Gadot: Wonder Woman, whose eyes turn from blue to gray when Athena restores her sight.
Ivy: Ivy Carson in The Changeling has dark gray eyes.
Katniss: The heroine of the Hunger Games has steely gray eyes
March: Josephine March, in Little Women, has gray eyes.
Blue Dog names inspired by breed
Many breeds come in a beautiful blue color, including the Australian Cattle Dog, Kerry Blue Terrier, Chihuahua, Boston Terrier, or Pit Bull.
Choose a tough or cuddly name for your Blue dog, depending on their personality and breed characteristics.
Here are some names for your Blue dog that can be inspired by their breed:
Ajax: The Greek hero of the Trojan War and blue cleanser that is stronger than dirt. This name is suitable for a tough Bostie or Pit Bull
Blade: Also an excellent name for a robust and tough breed
Bullet: Only a silver bullet can kill a werewolf making this name perfect for the quick Greyhound or Weimaraner.
Cutlass: A sword popular with sailors and pirates and the perfect name for a guard dog
Ice or Icy: An excellent name for a dog breed that has patches of grey and white, such as the Bearded Collie
Ryder: Tough blue jeans. This name would work well on any breed
Saber: A heavy one-edged sword. This name is also suitable for tough, strong breeds.
Shank: A short, sharp metal object often fashioned in prisons. A tough name for protective watchdogs.
Spike: A projection on a weapon or sporting shoe. Suitable for strong breeds as well as athletic dogs.
Speckled: An excellent name for a Merle Blue dog such as an Australian Cattle Dog
Pepper: Another fantastic name for a Merle colored breed
Comet: Ideal for a super-fast, out of this world racing breed
Graybeard: Perfect for a dog breed that has a beard
Inky: This is a cute name for a brindle gray-colored dog like a Boston Terrier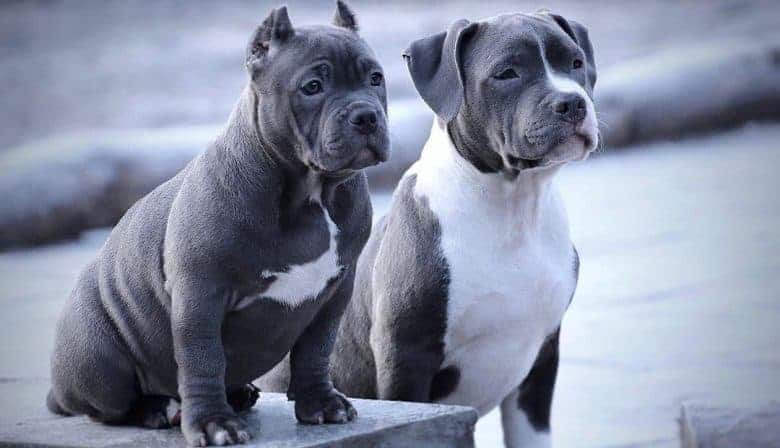 Best male and female Blue dog names
The color Blue is associated with the ocean and the sky and thus with a feeling of tranquility, calmness, stability, and cleanliness.
Human names that have these meanings can also work well for your Blue dog, or you could opt for a foreign language word that means Blue.
Female Blue dog names
Female dog names can be inspired by the sea or the sky or also come from foreign words. Here are some of our favorite female Blue dog names:
Sky
Misty
Fairy, from the Turkish word for turquoise – Fairuza
Livi, from the Latin word from Blue – Lividus
Azul, which means Blue in Spanish
Aqua, which means water in Latin
Amrin, meaning Blue sky in Arabic
Celeste, meaning heavenly in French,
Doli, a Native American name meaning bluebird
Neelja, a Hindu name meaning blue lotus
Nilam, a Muslim name meaning blue sapphire
Meena, a Hindi name for a blue stone
Bluebell, a kind of flower
Mingan, a Native American name meaning gray wolf
Male Blue dog names
Be inspired by the sea or the color Blue and opt for a mysterious, calming name for your Blue dog:
Bleu, which means Blue in French
Oakley, which means blue sapphire
Marlais, which means Blue in Welsh
Neptune, after the Roman god of the sea
Montana, which is known for producing sapphires
Hinto, a Native American name meaning blue-haired
Yahto, a Native American word meaning Blue
Kalter, which means Blue in Albania
Sini, which means Blue in Finnish
Zydra, which means light blue in Lithuanian
Nilesh, a Hindi name meaning Blue God
What should I name my Gray, Silver, or Blue dog?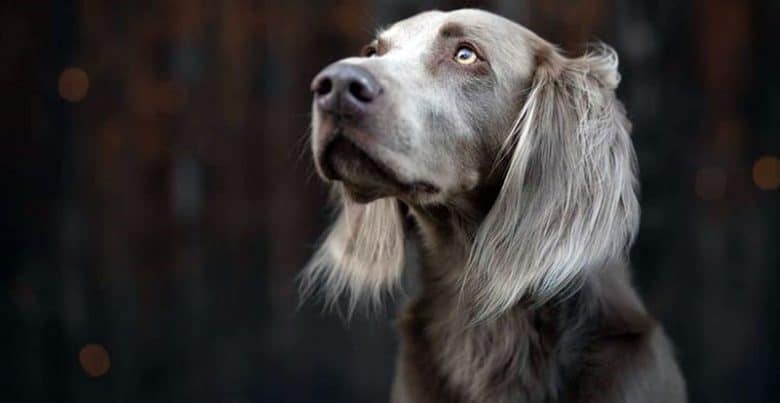 Choosing a name for your dog is a privilege, and your dog's coat color can serve as the most straightforward form of inspiration.
It's always a good idea to spend some time with your puppy before making a final decision to ensure you have chosen the best name for their personality.
Have we missed out on your favorite Gray dog name? Let us know your name ideas in the comments below.
Further reading: Other dog names by color you'll love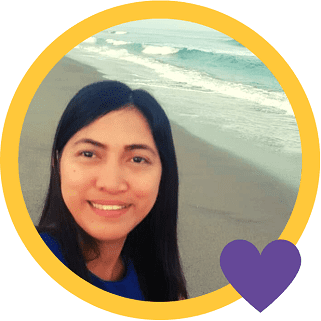 Cess is the Head of Content Writing at K9 Web and a passionate dog care expert with over 5 years of experience in the Pet Industry. With a background in animal science, dog training, and behavior consulting, her hands-on experience and extensive knowledge make her a trusted source for dog owners.
When not writing or leading the K9 Web content team, Cess can be found volunteering at local shelters and participating in dog-related events.