Last Updated on April 20, 2023
Have you just brought a fluffy, white doggo home who needs a name? Have you been debating over what name best suits your new pup?
Should their name accentuate their fluff, or maybe their strong personality is calling out to you?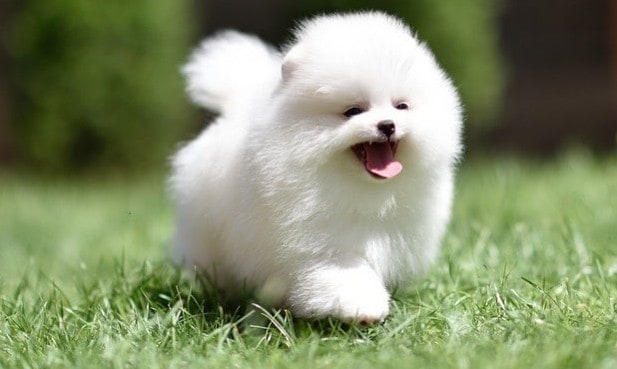 Lucky for you, we've got a big selection of excellent white dog names from which to choose. Let's find the right name for your new best friend.
White Dog Breeds
Many dog breeds offer a beautiful white coat that is suited for a comparable name. Breeds of elegance and beauty that deserve a name befitting their stoic presence.
But what are some breeds that have prominently white coats? Well, we're here to help.
White Dog Breeds: Some of these breeds can feature other colors, but a white coat is very prominent.
Bull Terrier
American Eskimo Dog
Japanese Spitz
Maremma Sheepdog
Bolognese
Pekingese
If you're interested in knowing more, check out the video on white dog breeds.

What is a good name for a white dog?
When it comes to choosing the right name, you'll want one that best fits your dog's look or personality. Snowball may be an excellent name for a Pomeranian, but it might not work as well if your dog is a Great Pyrenees.
You want to pick a name that expresses who they are to the world, and there are a few things to contemplate during the naming process.
First, you'll likely want to choose a name that resembles your pup, be it in size, behavior, or coat. Puns can also be a fun way to name your pet, and this works well if you're initially thinking of a longer name.
Many dog owners tend to avoid human names, which is fine, but you don't have to rule them out if they suit your pooch. Don't be afraid to experiment with the name to try and find the perfect fit.
If you're feeling stumped, we have plenty of options below, but you could also try Purina's Dog Name Generator. You can choose multiple details, including personality and coat color, to narrow your search for suggestions.
Famous Names That Could Fit White Dogs
Do you have your eyes set on a famous name or character? Many characters from various pop culture mediums have names that could work for your four-legged friend.
Some of the names we've listed are from characters that are white dogs, but others are just fun names from pop culture.
Albus – From Harry Potter
Baymax – From Big Hero 6
Bella – From Twilight
Blondie – A rock band and an unrelated comic
Bolt – From the Disney film Bolt
Buddy – From Air Bud
Buffy – From Buffy The Vampire Slayer
Casper – The friendly ghost!
Domino – From X-Men comics
Dumbledore – From Harry Potter
Elsa – From Frozen
Ewok – From Star Wars
Frodo – From The Lord of the Rings
Frosty – The Snowman!
Gandalf – From The Lord of the Rings
Hermione – From Harry Potter
Hobbit – From The Lord of the Rings
Jabba – From Star Wars
Jack Frost – From the horror film or the family film of the same name. Your choice!
Jon Snow – From Game of Thrones
Keanu – Because everyone loves Keanu Reeves!
Khaleesi – From Game of Thrones
Olaf – From Frozen
Peabody – From Mr. Peabody and Sherman
Perdita – From the Disney film 101 Dalmatians
Pongo – From the Disney film 101 Dalmatians
Raiden – From Mortal Kombat
Shadowfax – A white horse from The Lord of the Rings
Snoopy – From Peanuts
Snow White – From the Disney film
Thor – From Marvel Comics and Films (also Norse Mythology)
Vulcan – From Star Trek
Yoshi – From the Mario video games
Zero – From A Nightmare Before Christmas
You may enjoy greek dog names from famous characters and creatures in mythology. Well, we have you covered on that too.
Ahti – Finnish God of the Ocean
Apollo – Greek God of Prophecy
Ares – Greek God of War
Ariadne – From Greek Mythology
Artemis – Greek Goddess
Athena – Greek Goddess
Beowulf – From the epic poem
Calliope – From Greek Mythology
Calypso – From Greek Mythology
Cassiopeia – Queen in Greek Mythology
Europa – From Greek Mythology
Freya – Norse Goddess of Love
Hermes – The messenger of the Greek gods
Indra – Hindu Warrior God
Juno – From Roman Mythology
Nala – From the Hindu epic, the Mahabharata
Pixie – A mischievous fairy
Priya – From a Hindu legend
Suijin – From Japanese Mythology
Valkyrie – Female warriors in Norse mythology
Zephyr – From Greek Mythology
Zeus – Greek God
Don't rule out Instagram either. You can find amazing white dogs like Bella the White Shepherd and Maya the Samoyed to draw inspiration.
Finding a meaningful name in something you love is always amazing, so think hard and choose wisely, but feel free to check out our other names below.
The Best White Dog Names
Below you will find numerous names split amongst categories that could suit you and your white puppy. We've got names for male and female dogs, cute dogs, tough dogs, big dogs, small dogs, and even black and white dogs.
Whether it's a cute name for your Pomeranian, a name from a white flower for your Poodle, or a tough name for your Husky, we've got plenty.
The Word "White" in Other Languages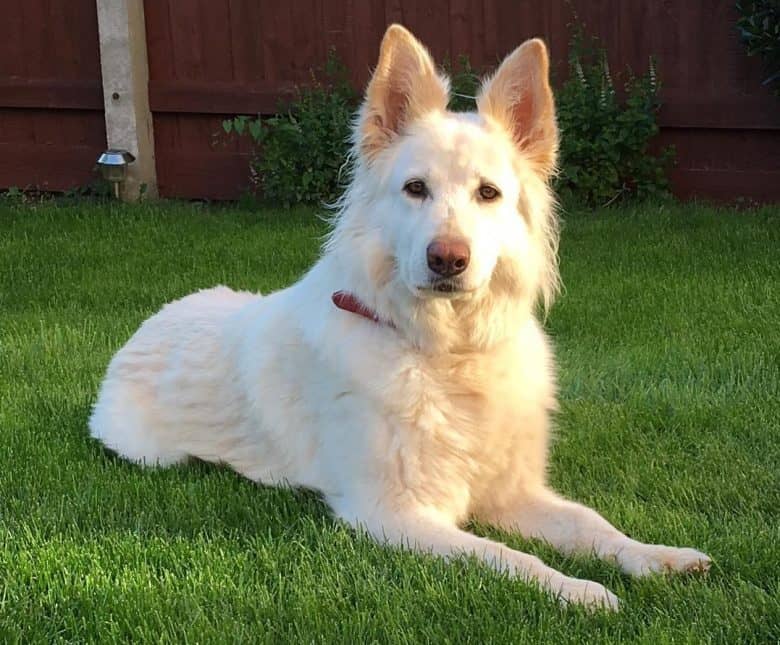 Some people enjoy using the term white, but from another language. People with strong connections to other countries and languages may appreciate furthering that connection through their companion's name.
We've found a few names that mean white and could suit your dog.
Bajda from Maltese
Balta from Lithuanian
Beyaz from Turkish
Bialy from Polish
Bianco/Bianca from Italian
Biancu from Corsican
Bijela from Croatian
Blanc/Blanche from French
Blanco/Blanca from Spanish
Blancu from Asturian
Blank from Afrikaans
Branco/Branca from Portuguese
Chia from Crow
Gwenn from Breton
Gwynn from Cornish
Moroti from Guarani
Pihnka from Miskito
Shiro from Japanese
Weiss from German
Zuri from Bask
People Names for White Dogs
Sometimes a name typically associated with humans can also be the perfect name for your fluffy white dog. Some people like to avoid human names for their dogs, but when it's right, it's right.
Allegra – means "joyful" or "happy."
Arianna – a Welsh name meaning Silver
Ava – a variant of the name Eve
Bailey – Old English meaning "berry clearing" or "bailiff."
Ben – From Hebrew origin, meaning "son of."
Benny – means "son of the right hand" in Hebrew.
Bernard – means "brave as a bear."
Blake – means "fair-haired."
Chloe – Greek for "blooming" or "fertility."
Clara – means "clear" or "bright."
Dawn – means "daybreak."
Elle – French for "she."
Eudora – Greek for "generous gift."
Fenton – Old English for "settlement of the marsh."
Freddie – means "elf" or "magical council," depending.
Fiona – means "white" or "fair" in Gaelic.
Jonah – means "dove" in Hebrew.
Maya – means "water."
Mia – means "bright" or "friendly."
Milo – means "soldier" or "merciful."
Molly – means "wished-for child."
Noah – means "rest" or "comfort."
Otis – means "wealth."
Pablo – means "small" or "humble."
Penelope – means "weaver."
Pippa – means "lover of horses."
Quincy – means "estate of the fifth sun."
Riley – means "valiant" or "wood clearing."
Robin – means "fame-bright."
Sebastian – means "from Sebastia."
Stella – means "star."
Walter – means "powerful army."
Wesley – essentially translates to "a field in the west."
Winston – means "joyful stone."
Wren – means "small bird."
Female White Dog Names with Meanings
Here are some excellent choices for female dogs that can give your young pup a leg up.
Adah – means "adornment."
Alba – means "sunrise" or "dawn."
Autumn – means "fall."
Charmin – means "delight."
Clear – means "transparent."
Darcey – means "dark" (an ironic name for a white dog).
Delilah – means "delicate."
Dolly – means "gift of God."
Fairy – "a small, magical being."
Gidget – means "small girl."
Gracie – means "favor" or "blessing."
Harper – occupational name meaning "player of the harp."
Hattie – means "home-ruler."
Joy – means "happiness" or "joyful."
Lacey – Old French name "from Lacy."
Lady – was initially used to signify "the female head of household."
Lizzie – from Elizabeth and means "oath of God" or "God is satisfaction."
Lupita – means "from the river of the wolf."
Mija – pronounced Mi-ha, and it's Spanish for "my daughter."
Miran – means "worthy of admiration."
Noelle – means "Christmas."
Princess – means "royal daughter."
Queenie – means "woman" or "royal leader."
Roxy – means "dawn."
Sierra – means "saw" or "mountain range."
Tallulah – means "leaping water."
Tilly – means "mighty in battle."
Male White Dog Names with Meanings
We've also got plenty of terrific suggestions for male dogs too!
Alfie – means "elf" or "magical council."
Bandit – means "thief."
Bo – means "to live."
Bones – can be part of the skeletal structure, or it can mean "good."
Chico – means "small boy" in Spanish.
Cringle – from the name Kris Kringle, which is associated with Christmas
Duke – means "the leader."
Fergus – means "man-strength" or "virility."
Finn – means "fair."
Flash – means "bright light."
Hugo – means "mind" or "spirit."
Jasper – means "treasurer.
Ludo – means "loud" or "famous."
Max – means "greatest."
Prince – means "royal son."
Remo – means "the strong one."
Remus – means "advice" or "counsel."
Romulus – means "citizen of Rome."
Roscoe – means "doe wood."
Scout – means "to listen."
Wilbur – means "resolute" or "brilliant."
White Dog Names Based on Size
Are you interested in a name that fits the size of your dog? Here we've collected names for small dogs, fluffy dogs, and tough dogs that might just be perfect.
Small White Dog Names
Maybe you've got a Miniature Poodle or a tiny Pomeranian at home? Well, we've got plenty of names for the little bundle of joy.
Acorn – the small fruit of the Oak Tree
Button
Carlin – Irish name meaning "little champion."
Dinky – means "small."
Dobby – a mechanism on a loom or a Harry Potter character
Doodle – an absentminded scribble or the nickname for a Poodle dog
Dot
Elf – a supernatural creature or one of Santa's helpers
Mini
Nugget
Pip – a small fruit seed
Pixel – the smallest controllable element of a picture monitor
Ryan – Irish name meaning "little king."
Scrappy – means determined or pugnacious.
Smidge – a scarcely detectable amount
Sprite – a mythical spirit
Thumbelina – means "a small human the size of a thumb."
Tic Tac – a steadily recurring ticking or a breath freshener
Tinkerbell – A character from Peter Pan
Tiny
Toto – means "a young one," or if you're a Wizard of Oz fan.
Usha – French for "little bear."
White Fluffy Dog Names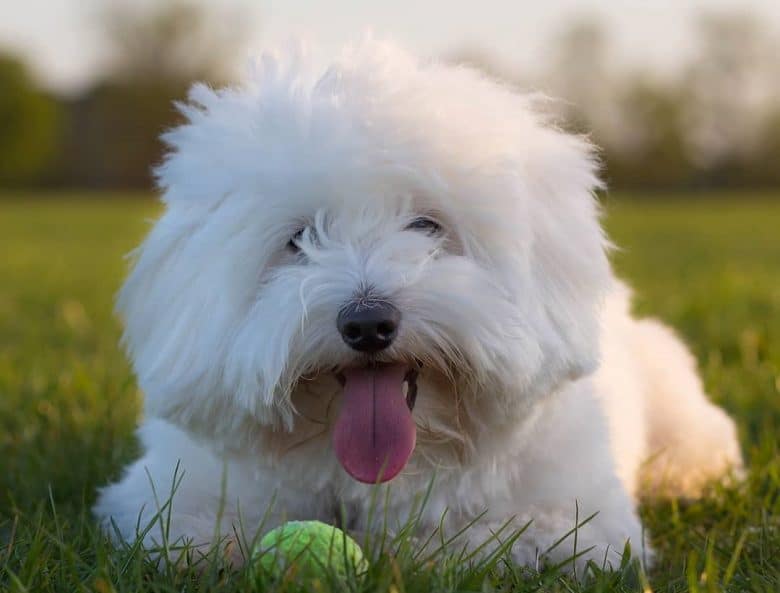 How fluffy is your four-legged friend? Can I interest you in some excellent names for your furry fido?
Blanket
Cotton
Fluffy
Poof
Poofball
Puffball
Snuggles
Teddy – means "wealthy protector," or like a Teddy Bear.
Tough White Dog Names
Is your white dog a big boy? Maybe they have a tough demeanor? No need to fret, though, as we have you covered on that front too!
Ace – one who excels at a particular activity
Adonis – a very handsome young man
Amos – means "to carry a heavy load or burden."
Axel – means "father is peace."
Bear
Bluto – a large, muscular man
Brutus – means "heavy" or "dull."
Denali – means "the great one."
Diesel
Ghost
Mammoth – means "huge."
Rex – means "the reigning king."
Titus – means "title of honor."
White Dog Names Inspired by Faith
There are millions of people with a strong faith in this world, and we've got a few faith-based names that could be perfect.
Abram – means "high father."
Angel – a messenger of God
Anjo – Angel in Portuguese
Asher – means "blessed."
Celeste – means "heavenly" or "celestial."
Eden – As in the Garden of Eden from the book of Genesis
Elijah – means "my God is Yahweh."
Eve – the giver of life
Ezekiel – means "God will strengthen."
Grace – a simple elegance or "a divine grace" as if from God
Halo – a circle of light surrounding the head of a holy person
Hans – means "God is gracious."
Jackson – means "God has been gracious."
Jerry – means "may Jehovah exalt."
Toby – means "God is good."
Zebedee – means "gift of God."
White Dog Names Inspired by Astronomical Phenomena
Have you ever looked to the stars in search of answers? Well, maybe they hold the best solution for you now.
Aurora – From Aurora Borealis
Comet – a celestial object flying through space
Luna – means moon
Milky Way – From the name of our galaxy, the Milky Way Galaxy
Moonlight
Nova – a newly visible star or nebula
Nebula – a giant cloud of dust and gas in space
Neptune – the name of a planet and the Roman God of the sea
Orion – a constellation
Pluto – a planet
Scorpio – a constellation
Sirius – The brightest star in the sky known as the dog star
Star
Starlight
White Dog Names Inspired by Nature
Do you pride yourself on being a nature lover? Well, we've gathered up some great names inspired by the world around us just for you!
White Dog Names with a Weather-Related Theme
Here you'll find some excellent names that stem from weather and related phenomena.
Avalanche
Blizzard
Chilly
Flurry
Fog
Ice
Icicle
Igloo – An Eskimo dwelling made of ice
Inverno – Italian for "winter."
Misty
Nimbus – A type of cloud
Nix – Latin for "snow."
Schnee – German for "snow."
Sky
Snowball
Snowflake
Snowstorm
Snowy
Storm
Yuki – Snow in Japanese
White Dog Names Inspired by Flowers, Plants, and Trees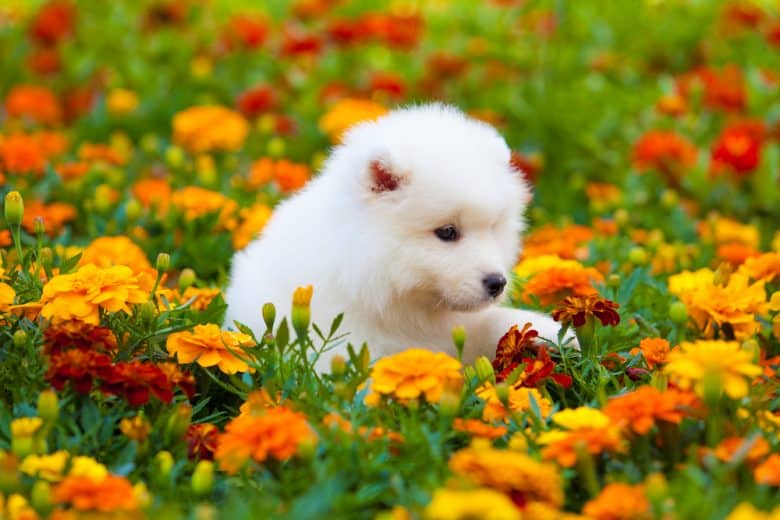 There is nothing wrong with the beauty of a plant or flower to inspire the name of a beloved doggo.
Buttercup
Carnation
Daisy
Dandelion
Fern
Flora – means plants of a particular region or period.
Flower
Holly
Iris
Ivy
Jasmine
Jicama – A plant in the pea family
Kamala – means lotus in Sanskrit.
Lotus
Lily
Magnolia
Orchid
Peony – a shrubbery plant with showy flowers
Periwinkle – an ornamental and medicinal plant
Poppy
Rose
Snowbell – a tree with fragrant, hanging white flowers
Tulip
Willow
White Dog Names Inspired by Rocks, Gems, and Minerals
Given that dogs are treasured gems in our own life, the name of one may just be the right choice.
Citrine – a transparent, yellow quartz
Cliff
Crystal
Diamond
Emerald – while they are green, they are also symbols of truth and love.
Gem
Howlite – a white stone that represents the spiritual qualities of stillness and tenderness
Moonstone – a feldspar with a pearly sheen
Opal – means "precious stone" in Sanskrit while being a gem of its own
Pearl
Sapphire – while technically a blue gem, it could be perfect for a pup with blue eyes.
White Dog Names Inspired by Places
Are you a traveler? Or maybe you simply want to commemorate your favorite place? Either way, we've got places and landmarks from around the world that could be perfect.
Alaska
Arctic
Aspen – a town in Colorado
Barrow – a town in Alaska
Everest
Fargo – a town in North Dakota
Matterhorn
North
Paris
Persia
Polar
Siberia
Tundra
Yukon
White Dog Names Inspired by Food
Are you a foodie? Giving your dog a name based on food is often cute and appropriate.
Alfredo
Bubblegum
Candy
Chowder
Coconut
Dill
Feta
Flour
Honey
Jellybean
Kezia – Hebrew for cinnamon
Lamb Chop
Marshmallow
Marzipan
Mayo
Meatball
Noodles
Olive
Oreo
Parsnip
Peaches
Peanut
Pepper
Peppermint
Pickle
Popcorn
Sokeri – Finnish for "sugar."
Sprinkles
Sugar
Taco
Tapioca
Tofu
Truffles
Vanilla
Waffles
White Dog Names Inspired by Beverages
Continuing down the food path, we've also got names based on beverages. Did you know that a lot of white wine names could work well for a white dog?
Buttermilk
Champagne
Chardonnay
Coco
Eggnog
Latte
Milky
Moonshine
Moscato
Riesling
Zinfandel
White Dog Names Inspired by Toys and Household Objects
I understand your hesitation here. Should I name my dog after a household object or toy? Well, yes. They can absolutely work!
Chalky
Cottonball
Frisbee
Pez – Everyone's had at least one Pez dispenser, right?
Pog – Anyone else remembers Pogs?
Q-tip
Teacup
Tonka – Tonka trucks are popular kids toys
Cool Names for White Dogs
Here are a few cool names that you may not have considered, but they can be well suited.
Caesar
Cabana
Ivory
Koda – a Native American term meaning "friend."
Lycan – means "werewolf."
Lykos – means "wolf" in Greek.
Reva – means "one that moves" in Sanskrit.
Cute White Dog Names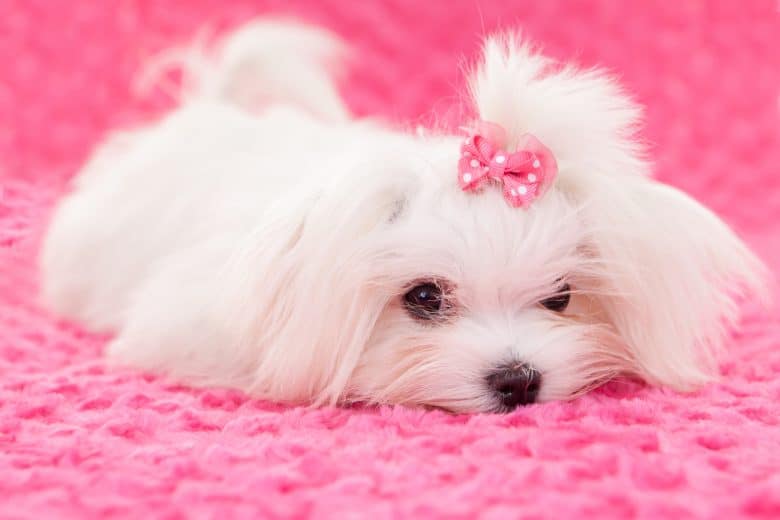 Do you have a cutie patootie at home in need of a matching name? We've got those too!
Albie – Old English meaning "brilliant."
Bootsy
Bubbles
Bunny
Cottontail
Lucky
Marbles
Powder
Twinkle
Funny White Dog Names
How's your sense of humor? Nothing wrong with having some fun in naming your dog.
Al Bino – a play on albino
Allie Baster – a play on alabaster
Beluga – like the whale
Boo
Bubba
Dude
Fido
Ice Cube
Iceman
Mary Puppins – a play on Mary Poppins
Mothra – a monster in Godzilla movies
Rover
Whitey
Winnie the Poodle – perfect for a Poodle
Yeti
Fun White Dog Nicknames
Does your little buddy need a nickname? We've put some thought into those just for you.
Beanie – could also be short for Jellybean.
Chewie
Dazzle
Fluffers
Ice Ice Baby
Mr. Snow
Muppet
Polar Bear
Powder Puff
Sparkle
White Claw
White Walker
White Wolf
Fancy White Dog Names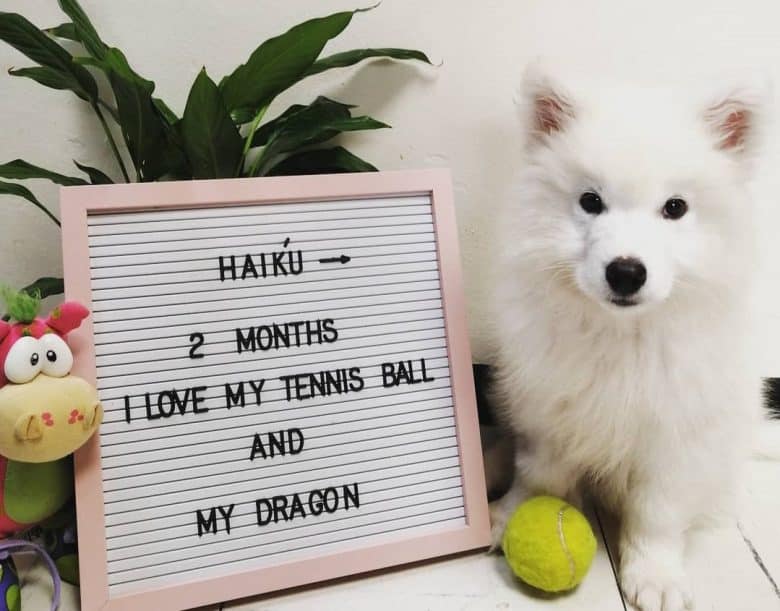 There's nothing wrong with giving your dog a sense of nobility. Embrace it with some of these names.
Alabaster – a finely textured gypsum
Chantilly – a delicate silk
Dove
Haiku – a specific type of Japanese poem
Lakshmi – means "lucky omen" in Sanskrit.
Lumiere – French for light
Papillon – French for butterfly
Percy – of French origin, meaning "Pierce Valley."
Porcelain
Romeo
Swan
Tahani – Arabic name meaning "best wishes."
Unique White Dog Names
Are you looking for something unique and out of the box? Maybe these names can help.
Echo
Egret – a white bird
Eureka
Glimmer
January
Merlin
Pavlov
Rosalba – a white rose
Whisper
Yoko – can mean "ocean," "sun," or "child" in Japanese.
What should I name my white dog?
Only you can be the final judge when it comes to naming your fluffy white pup, but with some time and thought put forth, you can find the perfect name.
Hopefully, these suggestions have helped you on your journey, and your white dog's name is bringing a smile to their face and yours.
Further reading: Other dog names inspired by colors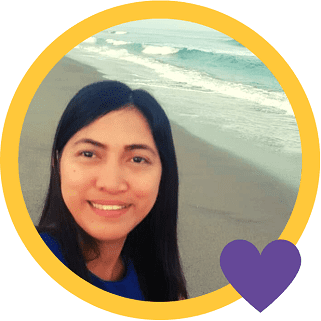 Cess is the Head of Content Writing at K9 Web and a passionate dog care expert with over 5 years of experience in the Pet Industry. With a background in animal science, dog training, and behavior consulting, her hands-on experience and extensive knowledge make her a trusted source for dog owners.
When not writing or leading the K9 Web content team, Cess can be found volunteering at local shelters and participating in dog-related events.