Last Updated on April 20, 2023
When it comes to picking a name for your dog, consider that nerds rule!
Whether you're a science fanatic who idolizes Bill Nye or a Star Wars geek who dreams of having their own pet Yoda, the world of nerdom is an endless source of entertaining, intelligent, and fun names.
This list of nerdy dog names will get you started on the search for the right moniker for your dog.
How do you pick the right Nerdy name for your dog?
The first thing is to consider your passion. Movies? Math? Narrow it down and think of some of the best names from that subject.
Pick something that you love and that fits your dog's looks or personality (or both!).
It's vital to choose a name that you both like because you two will be stuck with it for years to come.
A trick you can try is repeating the name to yourself for a few days to make sure that you love it. Then, start saying it around your dog.
Does your pup respond? If so, give your doggo a praise or a treat! Soon enough, they'll quickly learn what their name is.
Famous Nerdy dog names
If you're looking for the perfect nerdy name for your dog, look no further than pop culture, history and science.
Nerd names for dogs based on historical figures in science
There's no better place to look for nerdy dog names than in history. There have been some pretty impressive scientists throughout time and many of them have names that are perfect for your pet!
From ancient Greek astronomers to modern science gurus like Neil DeGrasse Tyson, here are some awesome options.
Agnesi
Agnodice
Archimedes
Aristotle
Beatrix
Bernoulli
Bill
Copernicus
Da Vinci
Dalton
Darwin
Dian
Edison
Einstein
Faraday
Fibonacci
Florence
Galileo
Geiger
Hawking
Hildegard
Jane
Mary or Marie
Newton
Nina
Sagan
Tesla
Tycho
Virginia
Woz
Popular Nerd Characters from TV and Movies
TV shows, films, and books are the perfect place to start in your hunt for the right name.
Nerdy dog names from film and movie
There are plenty of geeky and nerdy names from movies. Here are some of our favorites:
Names inspired by Star Trek films and TV:
Spock
Kirk
Nyota
Scotty
Leonard
Hikaru
Pavel
Janice
Geordi
Hadley
Star Wars is another excellent source of names:
Darth
Vader
Leia
Obi-Wan
Han (as in Han Solo)
Luke
Chewbacca
Tarkin
R2
Greedo
Wedge
Jawa
Mos
BoShek
Senni
Jango
Jarjar
Boba
Oola
Padme
Sebulba
Q'ira
Holdo
Mothma
Dooku
Yoda
Ewok
Jabba
Anakin
Who can forget the classic Lord of the Rings trilogy?
Aragorn
Gandalf
Frodo
Gollum
Legolas
Arwen
Sauron
Bilbo
Boromir
Galadriel
Gimli
Samwise
Saruman
Pippin
Elrond
Merry
Haldir
Isildur
Lurtz
Celeborn
Elendil
Gil-galad
Rosie
Everard
Lobelia
Figwit
Hamfast
Rimil
Bounder
Nerdy dog names from television
Some of the best TV series also have great names for dogs. How about a name from Battlestar Galactica?
Kara
Gaius
William
Six
Boomer
Helena
Lee
Anastasia
Saul
Cally
Karl
Galen
Feli
Sam
Ellen
Tory
Billy
Cavil
Brendan
Leoben
D'Anna
Sherman
Athena
Dr. Who has been around since 1963, so you can bet there are tons of names to pick from. Of course, you can always go with good old K9. Check him out in the video below!.
Doctor
Master
Amy
Jack
Rose
River
Donna
Martha
Rory
Mickey
Harriet
Curator
Wilfred
Graham
Ryan
Tish
Lynda
Evangelista
Zu-Zana
Winston
Paradox
And then, of course, there have been so many awesome cartoon dogs. Why not pick one to name your adorable pupper?
Scooby
Snoopy
Pluto
Odie
Goofy
Max
Bolt
Tramp
Droopy
Copper
Courage
Lady
Spike
Tyke
Pongo
Muttley
Clifford
Dino
Slinky
Grommet
Brian
Astro
Blue
Trusty
Jock
Huckleberry
Peabody
Underdog
Perdita
Sam
Jake
Charlie
Marmaduke
Colonel
Chief
Seymour
Peg
Pal
Snuffles
Wishbone
Napoleon
Lafayette
Marc
Snowy
Ren
Krypto
Other Nerdy Dog Names from Movies/TV
From Harry Potter and Game of Thrones to the classic Buffy the Vampire Slayer, TV and movies are full of some other good options:
Marvin
Critter
Mac
Groot
Poole
Rico
Ripley
Strax
Traxkler
Strutter
Vasquez
Venkman
Zebes
Zed
Buffy
Cisco
Zorg
Watney
Wickus
Zaius
Zerbes
Porthos
Quaid
Gort
Klaatu
Korben
Lacombe
Leeloo
Gaff
Furiosa
Freck
Flash
Hicks
Eleven
Fidgit
Brenner
Chevette
Daenerys
Arya
Khal
Jojen
Oberyn
Ygritte
Tyrion
Cersei
Ramsay
Daario
Comics Nerdy dog names
Comic books are full of wonderful nerdiness, from the dark, dystopian tales to the lighthearted adventures you grew up with. Here are just a few:
Akira
Alfred
Astro
Bruce
Clark
Deadpool
Dredd
Flash
Frost
Galactus
Goku
Halo
Harvey
Hawkeye
Hulk
Jade
Joker
Lex
Loki
Magneto
Marv
Mystique
Obelix
Oracle
Pepper
Raven
Rocket
Rogue
Rorschach
Spawn
Storm
Usagi
Venom
Marvel Comic Book Dog Names
Prefer the Marvel universe? Here are some cool characters: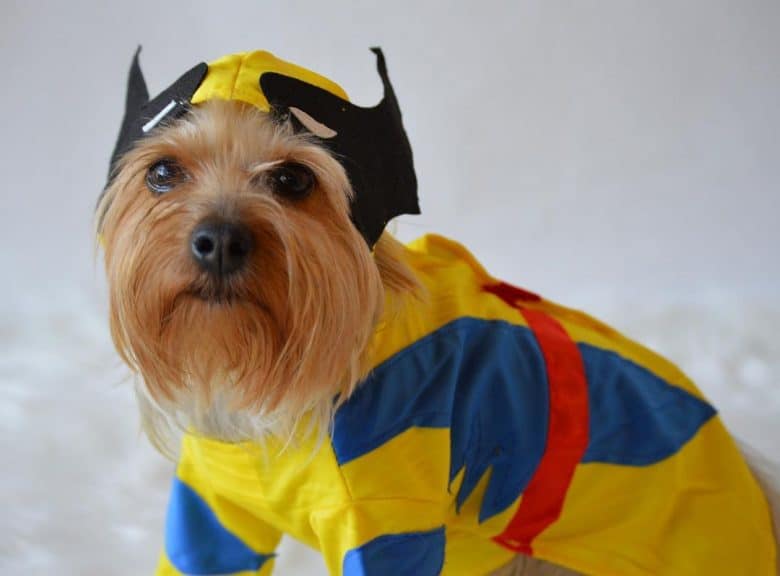 Jessica
Ant
Marvel
Wolverine
Angel
Anthem
Arcade
Ares
Bloke
Blade
Blur
Butterfly
Cable
Cornelius
Countess
Doop
Dracula
Ezekiel
Firestar
Forge
Gressil
Gideon
Jocasta
Jubilee
Loa
Loki
Maelstrom
Magneto
Misty
Thundra
Titania
Thanos
DC Comic Book Dog Names
DC more your style? How about one of these options?
Harley
Etta
Lucius
Signal
Amethyst
Anarky
Atom
Bane
Deimos
Enchantress
Jay
Jesse
Hippolyta
Huntress
Mera
Monitor
Robin
Rick
Riddler
Rip
Tawky
Drake
Thunder
Vixen
Zoom
Dog names inspired by literary characters
If you're a big reader, try choosing one of your favorite literary characters.
Elizabeth
Scarlett
Atticus
Holden
Darcy
Gatsby
Hermoine
Katniss
Jo
Ebenezer
Lisbeth
Daisy
Ahab
Hester
Pip
Tintin
Josef
Sherlock
Emma
Lancelot
Bovary
Humbert
Anne
Ripley
Patrick
Lyra
Godwin
Elinor
Fermin
Zazie
Fagin
Hannibal
Lorelei
Maisie
Jim
Rhett
Hamlet
Arturo
Zeno
Moby
James
Nerdy gaming console and video game character dog names
Who doesn't love to sit down with their favorite video game. Memorialize your love for the console with a name from your favorite game.
Atari
Banjo
Boo
Boss
Bowser
Cid
Chell
Chun-li
Crash
Duke
Eve
Fenix
Fox
Ganon
Genesis
Jax
Kirby
Kitana
Kong
Koopa
Kratos
Lara
Link
Mai
Mario
Mileena
Peach
Pong
Princess
Ryu
Samus
Sega
Snake
Sonic
Sonya
Switch
Wario
Zelda
Top Nerdy Dog Names
No matter what dog breed you have, these popular geeky names are sure to fit.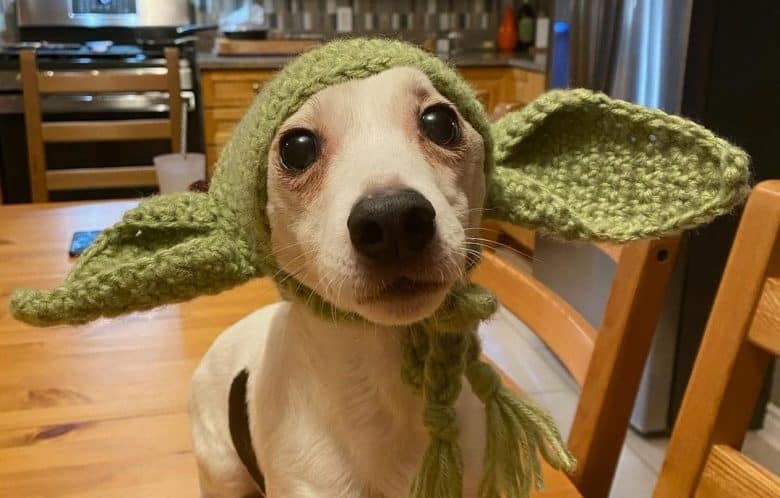 Gizmo
Chewy
Leia
Khaleesi
Yoshi
Yoda
Vader
Magic
Luigi
Pixel
Math & Science Nerdy Dog Names
Where would we be without math and science? Your best friend deserves to carry the name of your favorite STEM topic.
Math Dog Names
Math your subject? There are so many good name ideas from the science of math to choose from. One of these is sure to be the perfect name for your little pooch.
Abstract
Algorithm
Alpha
Apex
Apothem
Axiom
Bell
Bisector
Cartesian
Chi
Cubic
Delta
Element
Ellipse
Epsilon
Fractal
Gamma
Hexagon
Hyperbola
Infinity
Kappa
Lambda
Matrix
Modulus
Mu
Nu
Oblique
Octagon
Omicron
Parabola
Parabol
Paradox
Phi
Pi
Polygon
Rho
Rhombus
Sigma
Surd
Tan
Tau
Theta
Trapezoid
Vector
Nerdy names for science geeks
The fields of chemistry and space have some of the coolest names out there, and many of them really stand out as unique. You won't find your average Rover or Spot, here!
Apollo
Asteroid
Ariel
Aries
Astra
Atlas
Atom
Aurora
Beaker
Callisto
Cassiopeia
Ceres
Comet
Cosmo
Eclipse
Galaxy
Helix
Hubble
Isotope
Jupiter
Leo
Libra
Lyra
Mercury
Nebula
Neutron
Nova
Orion
Phoenix
Pi
Quasar
Quark
Saturn
Sirius
Sputnik
Sky
Star
Stella
Titus
Triton
Venus
Virgo
Zeta
Techie & Programmer dog names
While they may labor behind the scenes, there are some programmers and designers out there that deserve to be honored by naming your dog after them.
After all, they are the ones who brought technology to the place it is today.
Bonus! Only insiders will get the reference.
Nerdy names for dogs inspired by computer & graphic design
If you want to work in some of the most well-known graphic designers and design terms out there, here are some more options:
Aperture
Apex
Milton
Rand
Fletcher
Stefan
Jan
Alex
Chip
Cipe
Erik
Gif
Heller
Josef
Airey
Louise
Lotta
Maeda
Ivan
Lester
Bayer
Dwight
Grid
Hex
Italics
Kerning
Margin
Palette
Raster
Tech Brand Dog Names
Technology is a huge part of our lives, and if you work in the tech sector, or just really love technology, there are some great names to give to your pooch.
Ajax
Alpha
Apple
Behance
Beta
Bit
Bug
Gyte
Chip
Cisco
Clarus
Cloud
Codec
Cookie
Cortana
Cro
Cupertino
Cyber
Data
Digit
Diode
Dot
Gates
Giga
Glitch
Hacker
Java
Kernal
Linux
Mouse
Morph
Nano
Newbie
Nokia
Pascal
Pixel
Radar
Ram
Redmond
Root
Serif
Shell
Siri
Sony
Surf
Sync
Typo
Vector
Widget
Wifi
Zip
Programmer Nerdy dog names
Abrash
Aho
Mac
Roland
Lars
Beck
Zork
Bradley
Capps
Cohen
Cooper
Rexx
Lexx
Dorsey
Eich
Ewing
Linux
Griswold
Hack
Henter
Kamp
Kay
Knight
Martin
Moler
Jakarta
Java
Oates
Papert
Page
Romero
Sakya
Perl
Nukem
Quake
Doom
Inferno
Bell
Zeev
Turner
Yang
Geeky Dog Names
What's the difference between a nerdy name and a geeky one? A geek is focused on gathering things and learning more about their favorite topic.
Some of these names take inspiration from some of the geekiest subjects out there:
Ada
Echo
Fleur
Leela
Teyla
Coraline
Keiko
Adria
Daisy
Jimmy
Alyx
Jace
Tyr
Arnold
Best male and female Nerdy dog names
If you're looking for female dog names that fit your nerdy nature, here are a few excellent options, followed by some perfect male dog names.
Female Nerdy Dog Names
Cookie
Penny
Princess
Buffy
Gidget
Clara
Gizmo
Ripley
Java
Sansa
Male Nerdy Dog Names
Gizmo
Chewie
Finn
Thor
Cookie
Apache
Ripley
Bones
Mac
Ash
What Nerdy name should I give my dog?
You can't go wrong with any of these excellent choices, but pick a name for your pup that really speaks to you.
If you aren't into games but love programming, narrow down your choice to something that speaks to your soul.
Then, look at your pup and make sure the name fits. Some pet names are clearly wrong for one dog but right for another. Good luck!
Further reading: Other dog names by personality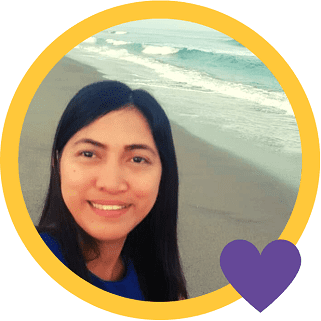 Cess is the Head of Content Writing at K9 Web and a passionate dog care expert with over 5 years of experience in the Pet Industry. With a background in animal science, dog training, and behavior consulting, her hands-on experience and extensive knowledge make her a trusted source for dog owners.
When not writing or leading the K9 Web content team, Cess can be found volunteering at local shelters and participating in dog-related events.