Last Updated on April 20, 2023
Whether you have a tough-looking dog such as a Pitbull or Rottweiler or a smaller pup like a Chihuahua, the perfect name for your pooch may be on this list.
If your doggo is a tough guy or you're looking for an ironic name for your scaredy-cat, we've compiled some of the most badass dog names for your best companion. Let's check out the list!
How do you pick a badass name for your dog?
Before we get started, what makes a badass dog name?
The sound and meaning of the name, for one. You can have a name that simply means "tough" if you'd like.
Overall, you want to have strong, bold names that will show off your dog's personality or breed.
Remember, when naming your pooch, try not to rhyme it with another pet's name or command. Choose something your pup will respond to, which will be easy for everyone to remember.
Are you ready to name your doggo? Let's begin the list.
What's in a name? Who is the most famous badass dog?
What better way to honor some strong people in history by sharing their name with your dog. Let's start with some strong female dog names from history.
Amelia Earhart
Boudicca
Harriet Tubman
Khutu
Margaret Fuller
Marie Curie
Mary Seacole
Maya Angelou
Melita Norwood
Rosa Parks
And here are some strong male dog names from history.
Alexander the Great
Edmund Hillary
Hugh Glass
Jesse Owens
Marco Polo
Napoleon Bonaparte
Neil Armstrong
Nelson Mandela
Robert Falcon Scott
Winston Churchill
If you want to name your pooch after a leader from history, then here are some dog names inspired by strong leaders to think about.
Albright
Caesar
Charlemagne
Che
Cleopatra
Davis
Evita
Ginsburg
Grant
Huey P.
Joan of Arc
Kenndy
King
Lincoln
Mahatma
Malcolm (X)
Milk
Obama
Princess Di
Roosevelt
Thatcher
Ulysses
Winfrey
If you're more into sports, then check out these badass dog names inspired by famous athletes and famous tough fighters.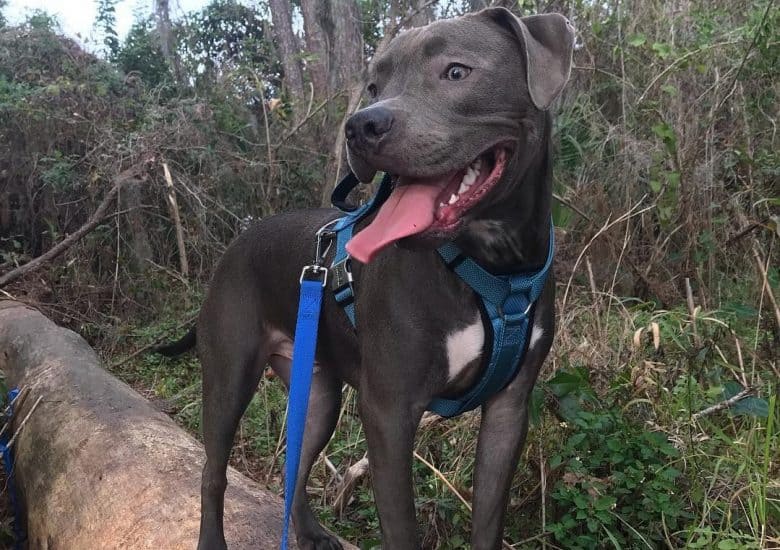 Ali
Brady
Brock
Cristiano
Danica
Dempsey
Diamond
Evander
Faber
Fedor
Flair
Giant
Gordie
Gracie
Hogan
Jab
Jackson
Jericho
KO
Lebron
Liddel
Machida
McMahon
Mick
MJ/Jordan
Oscar
Peyton
Rafael
Rampage
Razor
Rocky
Rousey
Rowdy
Savage
Serena
Silva
Sonny
Tiger
Tito
Tyson
If you're more musically inclined, then there are some tough dog names for that as well.
Here are a few badass male and female dog names inspired by rappers, singers, and bands.
2Pac
Akon
Arcade
Bruno
Busta
CeeLo
Dido
Fergie
Jayzee
Ke$ha
Linkin
Neyo
Outkast
Pitty
Shaggy
Tayo
Twisted
Usher
Waylon
Wyclef
Youngbloodz
There are also strong dog names inspired by pop culture.
Alien
Andy Warhowl
Brando
Callahan
Chopper
Clubber
Corleone
Drax
Durden
Dutch
Groot
Hooch
Indiana Bones
Jaws
Joplin
Katniss
Lolita
Luke
Quint
Red
Riggs
Snake
Snarls Barkley
Strummer
Washington
If you have a really feisty doggy, then here are the most famous aggressive dog names for you to think about.
Atticus
Bender
Bourne
Bundy
Chop
Coffin
Dahlia
Ivy
Luca
Nemesis
Raider
Reaper
Robotnik
Siege
Storm
If you would like some more inspiration, take a look at these five famous badass dogs on instagram.
Ser.jorah.pawmont
Ghost.thesuperhusky
Sansagolden_doodle
Nedthewhippet
Snowbee_the_mutt
The best badass dog names
Are you still looking for a name? Don't worry; we have plenty more no matter your dog breed, whether it's a Poodle, Doberman, Bulldog, or anything in between.
Let's take a look at some of the best badass dog names.
Badass dog names inspired by TV and movie characters
If you have a soft spot for TV shows and movies, such as Game of Thrones, here's a quick list of badass dog names inspired by superheroes.
Asterix
Conan
Elektra
Hawkeye
Hulk
Rogue
Spidey
Thor
Wolverine
Wonder Woman
We can't forget about those villains! Here are some badass dog names inspired by movie villains.
Bane
Dr. Doom
Gollum
Hannibal
Lex
Loki
Luther
Norman
Scar
Vader
Or, if you're looking for a unique name that's more on the classy side, here are a few badass dog names inspired by classic action films.
Butch
Dominic
Duke
Floyd
Gus
Rambo
Rocco
Spike
Vinnie
What about these badass dog names inspired by TV characters?
Andre (Dre)
Carlton
Chandler
Fonzie
Frasier
Magnum
Marshall
Rufus
Tyrion
Walter
If you love TV, you'll enjoy these badass dog names inspired by The Boys Next Door.
Bill
Clark
Craig
Derek
Hank
John
Nathan
Rick
Roger
Steve
Dogs names inspired by famous prisons and jails
You can't get tougher than a dog named after prison or jail, can you?
Chino
Folsom
Hatfield
Lompoc
Parchman
Raiford
Rikers
Sing Sing
Yodok
Or what about these badass dog names inspired by real criminals?
Bonnie
Borden
Capone
Cassidy
Clyde
Genghis
James
Kojak
Robin Hood
Villa
Vlad
Zod
And here are some more outlaw and gangster dog names.
Bugsy
Colombo (crime family in New York)
Dillinger
Escobar
Gambino
Gotti
Hickok
Lansky
Vito
Wyatt
Badass working-dog names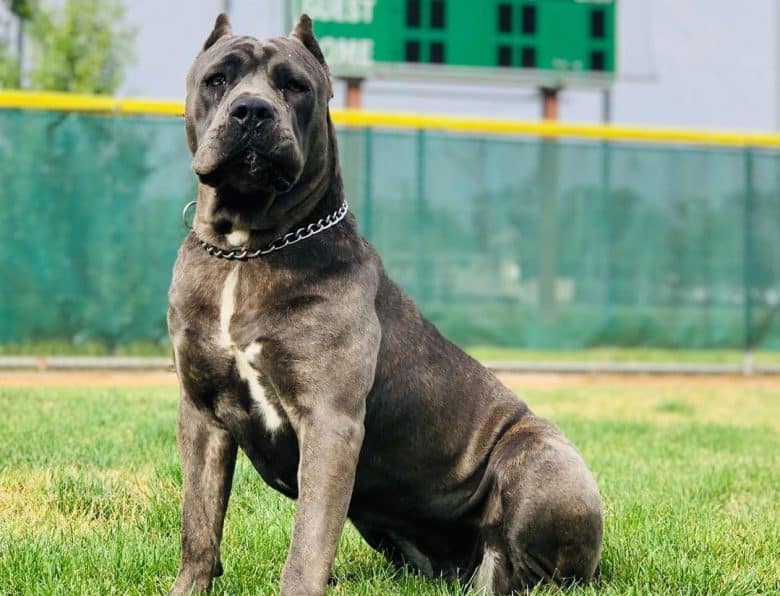 There are many working dog breeds, and those pups are tough.
So, here are some female working dog names.
Avery
Blair
Celine
Cinder
Daisy
Delilah
Delta
Duchess
Eliza
Ella
Emery
Evelyn
Faith
Fern
Fiona
Florence
Floss
Ginger
Giselle
Hazel
Heather
Lassie
Locket
Mallory
Mango
Maple
Meadow
Mika
Mocha
Mystic
Nova
Nutmeg
Ophelia
Orchid
Quinn
Regina
River
Rye
Serenity
Sparkle
Spirit
Summer
Tabitha
Tamara
Tillie
Trixie
Utopia
Velvet
Wren
Zora
Of course, we added male working-dog names as well.
Alvin
Birch
Boxer
Bruce
Chief
Colin
Colt
Drake
Elliot
Everest
Felix
Flash
Flint
Hamilton
Icon
Igor
Irving
Judge
Knight
Kurt
Lance
Lucky
Major
Malfoy
Marvel
Master
Maverick
Oliver
Oscar
Patriot
Pilot
Quill
Radar
Roy
Ryder
Skipper
Snapper
Spade
Tracker
Tucker
Ukele
Viggo
Vince
Virgo
Xavier
Yarrow
Yeti
Yoshi
Zane
Zyron
Badass military dog names for your fearless pup
Are you into the military? Maybe you know a few veterans, or maybe you're a World War history buff.
If so, these female military dog names might be for you.
Alpha
Bazooka
Carnation
Cerise
Chestnut
Destiny
Glory
Haven
Honor
March
Missile
Navy
Scooter
Viper
Wera
You can check out these male military dog names as well.
Admiral
Bomber
Boots
Caliber
Camo
Colonel
Combat
Commander
Dagger
General
Laser
Private
Rifle
Sniper
Trooper
Need more military dog names?. Pick one from these 400+ names.
Badass guard dog names
Is your doggy a good watchdog? What makes a good guard dog name for them?
Try to find a name that's one or two syllables. You'll be able to keep it short and sweet, all the while conveying enough emotion to your doggo.
Of course, a great name will also sound tough.
What are some good guard dog names for you to name your pooch?
Arma
Beast
Bench
Blitz
Brick
Butcher
Crash
Cush
Daga
Diesel
Dozer
Erma
Fang
Fender
Fera
Fire
Fury
Gorilla
Jager
Jinx
Juno
Knuckles
Kong
Nails
Pistol
Pusher
Saber
Slash
Stone
Stryker
Tala
Tappaa
T-Bone
Zao
Zeva
Badass hunting dog names
If you have a hunting dog, check out these badass hunting dog names.
Bronson
Dunkirk
Rhodes
Rictus
Rooster
Scully
Sinbad
Skinner
Sledge
Taboo
Tomoyuki
Trinity
Tron
Ultimate Warrior
Don't miss: The Best Hunting Dog Names for your fierce and loyal dog
Sled dog names for your Husky, Alaskan Malamute, or Samoyed
Here are some more working pups, female sled dog names inspired from Alaska.
Aga
Akira
Amber
Aurora
Bailey
Blue
Crystal
Dakota
Eska
Fable
Freya
Grace
Hazel
Irina
Java
Kayra
Laika
Miska
Nova
Odessa
Pandora
Qwin
River
Sky
Snowflake (Snow)
Suka
Terra
Tundra
Ulva
Winter
Yumi
And here are the male sled dog names.
Arko
Arrow
Aspen
Balto
Bolt
Chase
Dash
Echo
Frost
Ghost
Huner
Ice
Jiro
Kenai
Logan
Moose
Nanook
Odin
Polar
Quake
Siku
Timber
Togo
Usk
Willow
Xanadu
Yukon
Need more Husky names? Check out our list of 500+ Husky names here.
Scary dog names
Check out these scary dog names for your pooch.
Bullet
Cruella
Evil
Freddie
Jabba
Jafar
Jigsaw
Lecter
Lucifer
Orc
Satan
Sauron
Spook
Thanos
Ultron
Funny yet strong dog names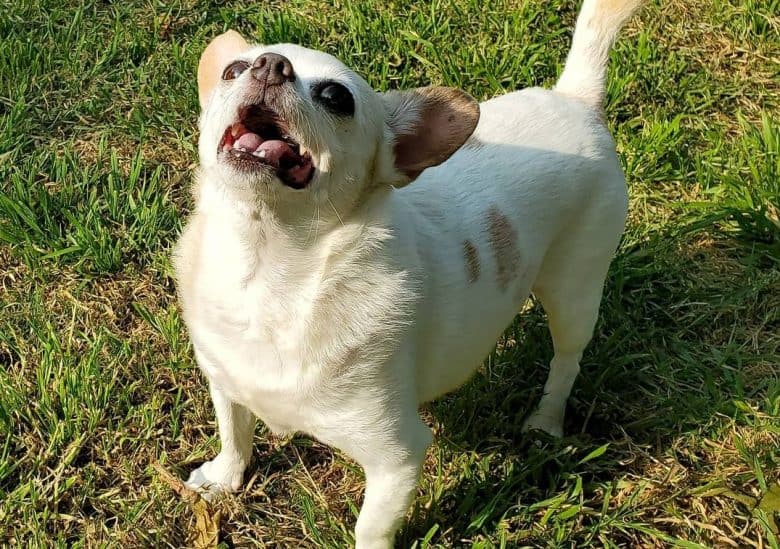 Here are a few funny yet strong dog names if you're into puns.
Bark Ruffalo
Barky Rogers
Beowoof
Chewbarka
Clint Eastwoof
Dogtor Strange
Dogtor Watson
Hairy Pawter
J.K. Growling
Kahl Dogo
Luke Skywoofer
Muttley Crew
Ned Bark
Notorious D.O.G.
Pup Norris
Sherlock Bones
Tony Bark
Uma Ferman
Looking for more funny names? Check out our list of the best funny dog names here..
Dog names inspired by strong names from mythology
You can't go wrong with badass dog names inspired by Greek mythology to ensure your dog sounds tough.
Achlys
Aries
Artemis
Athena
Bacchus
Ceto
Erebus
Eris
Hades
Hera
Hercules
Hermes
Ippo
Leo
Maia
Neptune
Nyx
Orion
Poseidon
Samson
Shaitan
Sparticus
Talos
Titan
Xena
Zeus
Badass dog names inspired by the universe
There are also these names inspired by the universe.
Apollo
Comet
Haley
Jupiter
Luna
Pluto
Sirius
Venus
Badass dog names inspired by music
Check out these few names inspired by music.
Blondie
Cardi
Chance
Elvis
Hendrix
Iggy
Lizzo
Motley
Prince
Sid Vicious
Badass dog names inspired by the letter A, for Awesome
Do you have more than one dog, and you're looking to give them similar names? Check out these names inspired by the letter A.
Ace
Ajax
Ansel
Anson
Apache
Aphrodite
Archer
Ash
Atlas
Axel
Dog names inspired by strong-sounding words
Or here are some names inspired by strong-sounding words.
Ammo
Bouncer
Bruiser
Brutus
Champ
Crusher
Hitman
Kevlar
Nitro
Rhino
Scandal
Sniper
Tonka
Turbo
Badass puppy names from powerful words
If none of the words above tickled your fancy, what about these names from powerful words?
Amir
Brendan (Gaelic for "brave")
Carlo
Colossus
Faya
Garvan
Griffin
Gunner
Ozzie
Porter
Rebel
Stalin
Widow
Zander
Badass dog names based on breed
Do you have a German Shepherd? Take a look at these badassGerman Shepherd pet names.
Goulash
Harbin
Heinko
Karto
Lothar
Ludwig
Nurem
Otto
Pilsner
Raik
Reissdorf
Roth
Rowland
Rudolf
Sauerkraut
Saxon
Stuttgart
Ulf
Ulrich
Ureich
Volker
Walther
Wenke
Werner
Willi
Witten
Wolf
Wolfgang
Wurst
Check out for more German Shepherd Names here!
If you have another breed, check out these badass dog names for Australian Shepherds.
Ambush
Arnold
Ashanti
Astra
Auburn
Aussie
Bandit
Bayou
Beamer
Begonia
Belle
Bertha
Bessie
Best
Bina
Brassy
Brie
Disaster
Diva
Dixie
Erase
Erupt
Escapade
Eureka
Evict
Exit
Fedora
Fifi
Fighter
Flame
Fleak
Flight
Foxy
Freeze
Fright
Geisha
Harlequin
Heart
Italia
Liara
Liberty
Lick
Lightning
Lilith
Lottie
Loyal
Lula
Lush
Lyric
Macy
Magic
Magnetic
Majestic
Mali
Malia
Malica
Marcia
Marnie
Maya
Melody
Mercury
Midnight
Musk
Nala
Nevada
Nia
Rave
Red
Renee
Rhonda
Ria
Role
Role
Roselyn
Roxy
Royal
Ruby
Rylie
Sable
Sabre
Sacrifice
Safire
Saskia
Scare
Sienna
Siobhan
Talia
Tanika
Check out for more Australian Shepherd Names here!
How about these badass dog names for Golden Retrievers?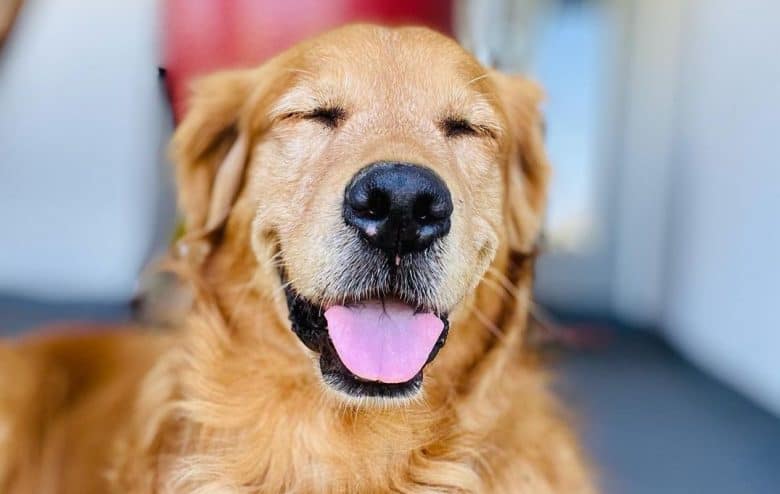 Ally
Althea
Annie
Anya
Ariel
Audry
Bella
Buffy
Chloe
Ella
Emma
Gwen
Gypsy
Harper
Indie
Jade
Jasmine
Jenny
Julie
June
Katie
Linda
Lizzie
Lola
Lucy
Marilyn
Mary
Maya
Mia
Rose
Sadie
Sasha
Sia
Sophie
Stella
Sue
Summer
Check out more Golden Retriever names here!
Badass dog names by nationality
Honor your roots by naming your doggo after your nationality. Here are some badass Russian dog names.
Aleksi
Annushka
Boris
Chernouh
Domonika
Faddey
Gavrilla
Jelena
Konstantin
Polina
Check out these badass Irish dog names.
Aisling
Anlon
Breen
Brosnam
Cashel
Charm
Dagda
Emerald
Fallon
Molly
And here are a few badass Italian dog names.
Anita
Antoinetta
Beatrice
Belinda
Bianca
Cara
Carmela
Elena
Gabriela
Gemma
Gianna
Giovanna
Liliana
Lunetta
Margherita
Maria
Natala
Paola
Pippa
Rita
Roma
Trista
Venice
Verona
Virginia
Badass dog names inspired by just being badass
Are you still looking for a name? Why not consider one of these badass dog names inspired by just being badass?
Bedlam
Boomer
Chaos
Cyclone
Damien
Hurricane
Inferno
Malice
Maximus
Mayhem
Pyro
Renegade
Tank
Tempus
Badass dog names inspired by booze
Give your pet a unique name inspired by booze.
Barley
Bud
Captain
Jameson
Kendall
Spudz
Whiskey
For more alcohol-inspired dog names, check out here!
Badass dog names inspired by the importance that requires formality
Give your pup a title with these important names that require formality.
Doc Savage
Dr. Demon
Dr. Drool
Dr. Pepper
Mr. Mackey
Mr. Miyagi
Mr. Wonderful
Mz. Manners
Best male and female badass dog names
Are you still torn between a couple of names? Why not narrow it down by gender?
Female badass dog names
Here are some badass girl dog names.
Arya
Attila
Cersei
Daenerys
Gamora
Harley
Huntress
Justice
Leia
Medusa
Mystique
Queenie
Ripley
Sassy
Sheba
Starbuck
Vixen
Male badass dog names
Check out these badass names for boy dogs.
Blaze
Boss
Danger
Goliath
Riptide
Viper
What should I name my badass dog?
It's not easy to come up with the perfect name for your pooch. Once you get to know their personality a bit and keep their breed in mind, it's easy to find a unique name.
Which names on this list are your favorites? Let us know in the comments below.
Further reading: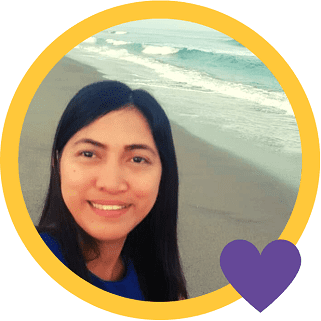 Cess is the Head of Content Writing at K9 Web and a passionate dog care expert with over 5 years of experience in the Pet Industry. With a background in animal science, dog training, and behavior consulting, her hands-on experience and extensive knowledge make her a trusted source for dog owners.
When not writing or leading the K9 Web content team, Cess can be found volunteering at local shelters and participating in dog-related events.