Last Updated on April 20, 2023
Dogs have been helping humans in their military endeavors ever since they've been domesticated.
They continue to do so even today, so many dog owners feel inspired by the military when naming their best friends.
Also, military names for dogs are usually awesome. With that in mind, we have created a list of the best military dog names to help you out.
How do you pick the right military name for your dog?
Whether you are a member of the military or not, honoring those who served and their heroic actions is one of the reasons to choose a military dog name.
Or maybe you just want to make your dog sound tougher.
In any case, finding the perfect military name for your canine isn't easy since there are so many options to choose from.
These names can come from many sources, like famous military dogs, war heroes, famous battles, army bases or ranks, code names, and many others.
So, take some time and check our list of military dog names to find the right name for your furry friend.
Who is the most famous military dog or dog with a military-inspired name?
To start our search for the perfect military dog name, let's take a look at some famous warriors and war dogs.
Military dog names from ancient warriors
Atilla
Charlemagne
Drake
Genghis Khan
Joshua
Khan
Saladin
Spartacus
Tamerlane
Modern warrior name inspirations
Murphy (Audie Leon Murphy)
Patton (George Patton)
Pershing (John Joseph "Black Jack" Pershing)
Ulysses (Ulysses S. Grant)
Dog names after military heroes
Military heroes serve as inspiration for many people, so it's not surprising that many dogs are named after them.
Alvin
Ann
Cathay
Daniel
Deborah
Desmond
Eileen
Emma
Eugene
Florence
Frank
Herman
Howard
Jack
James
Joel
John
Jonas
Kenneth
Lawson
Leo
Lloyd
Louis
Matej
Matt
Melvin
Merritt
Neel
Patrick
Raymond
Robert
Rosie
Samuel
Sarah
Smedley
Thomas
William
Famous war dog breeds
As we already said, dogs can also be war heroes and even win medals like Silver Star or Purple Heart. Can your pup be as tough as these dogs?
Can he be the new dog to be recognized as a war hero? Well, any dog can become a military dog and prove his worth on the front lines.
That being said, some breeds are better at military dog training, especially working dog breeds like German Shepherds, Labrador Retrievers, Border Collies, Doberman Pinschers, Yorkshire Terriers, and others Terrier breeds, etc.
American Pit Bull Terriers have been often used in the past, but they are rarely used today.
So, if you are looking for a great name for your pooch, here are some of the most famous war dogs that served in WWI, WWII, and other wars and military conflicts.
Adak
Ajax
Annie
Baron
Bdak
Bertie
Blackie
Bobo
Buster
Cairo
Candy
Chesty
Chips
Chyba
Conan
Conny
Cooper
Dannie
Dick
Diesel
Dino
Duchess
Floki
Gander
Geron
Herta
Holi
Judy
Just Nuisance
Katja
Kenner
Kirby
Mous
Moustache
Nemo
Oori
Pal
Peefke
Pito
Queene
Rags
Rex
Rexo
Rin Tin Tin
Rip
Rocky
Sallie
Sandy
Sarbi
Sergeant Studdy
Silver
Smoky
Stubby
Teddy
Tony
Tresji
Udo
Wolf
Xena
York
5 Famous Military dogs on Instagram
Social media can also serve as inspiration for military dog names. Here are the most popular military dogs on Instagram:
Sergeant Rex – @sergeantrex
Kuno – @kuno_themwd
Asur – @asurblindhero
Argus vom Strengen Winter – @argusvomstrengenwinter
Berri & Echo – @gsd_berri.and.furmissile_echo
What are good military dog names?
Good military dog names can be inspired by different things from the military, famous military leaders and war dogs, or events and things from different wars.
Like the Civil War in the United States, World War I, World War II, Vietnam War, Afghanistan War, Iraq War, etc.
We will focus on all these things, so keep reading to find the perfect name for your pooch.
Military dog names inspired by the different branches of the military
There are many unique military dog names that are inspired by different branches of the military, like the U.S. Army or the U.S. Marine Corps. Let's check them out:
Army dog names
Army
Bazooka
Bethany
Black Hawk
Bliss
Cadence
Captain
Chief
Colonel
Cougar
Custer
Elsie
General
Glory
Hero
Hunter
Jag
Major
March
Nitro
Nyala
Ranger
Sarah Emma
Sarge
Sergeant
Stryker
Tank
Yankee
Navy dog names
Admiral
Augusta
Boomer
Christi
Elmo
Erie
Fallon
Grace
Gunnar
Hopper
Jersey
Langley
Navy
Perry
Petty
Radar
Viper
Navy SEAL dog names
Cade
Jesse
Kyle
Rudy
Scout
Raider
Troy
Air Force related dog names
Buzz
Cannon
Collins
Lancer
Maxwell
Nemo A534
Pilot
Marine dog names
Bea
Belleau
Diamond
Jiggs
Lava
Minnie
Opha May
Tripoli
Coast Guard dog names
Alameda
Ensign
Ida
Miles
Seneca
Sinbad
Spencer
Military dog names based on Rank & Positions
Ranks and positions in the military often come as inspiration for people's names and nicknames, but they are especially popular as dog names.
Bomber
Chief
Commander
G.I.
Gunner
Marine
Private
Sailor
Shooter
Skipper
Sniper
Soldier
Striker
Tracker
Military dog names based on Codewords
Naming your dog after code names in the military or unique things from military terminology will ensure that he has a one-of-a-kind name.
Alpha
Bravo
Charlie
Delta
Echo
Foxtrot
Juliet
Mike
Oscar
Quebec
Romeo
Sierra
Tango
Victor
Whisky
Unique dog names from military terminology
Bang Bang
Jawa
Mustang
Semper Fi
Snafu
Swoop
Zoomie
Military dog names based on Weapons
Naming your dog after weapons are bound to be a great ice-breaker in social situations, so here are some of the most popular names:
Ammo
Archer
Bayonet
Beretta
Bullet
Caliber
Carbine
Cartridge
Colt
Dagger
Gauge
Grenade
Hammer
Kevlar
Kimber
Laser
Magnum
Mauser
Missile
Musket
Nuke
Pistol
Primer
Recoil
Reload
Remington
Remmy
Ricochet
Rifle
Rocket
Ruger
Semi
Taser
Torpedo
Uzi
Wesson
Military dog names: Tanks, aircraft, & transportation
Inspired by tanks, aircraft, and other military transportation vehicles, these military dog names are quite popular today.
Tough tank names for powerful dogs
Bradley
Merkava
Panzer
Sheridan
Sherman
Flying fortress names for tough dogs
Antonov
Clipper
Havoc
Hercules
Hudson
Puss Math
Military dog names: Bases & stations
Naming your dog after military bases and stations in the United States and other countries sounds like a good idea:
Andrew
Benning
Campbell
Carson
Diego
Gordon
Hampton
Jackson
Knox
Lejeune
Lewis
Luke
Stewart
Travis
Cool military dog names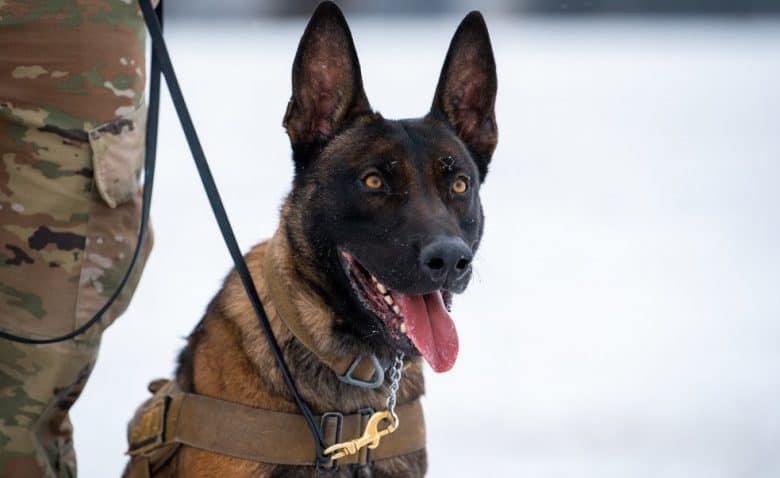 Military names for dogs are already cool enough. However, some of them simply sound a bit cooler:
Ace
Adrianople
Agnadello
Alkmaar
Antietam
Apache
Blackhawk
Boots
Borodino
Boyaca
Boyne
Braddock
Camo
Cannae
Castillon
Chalons
Chevron
Chinook
Colenso
Combat
Constantinople
Dodger
Duke
Edgehill
Gettysburg
Granada
Hap
Hastings
Hattin
Honcho
Huai-Hai
Humvee
Ipsus
Jet
Julu
Justice
Jutland
Lepanto
Leuctra
Leuthen
Liberty
Leipzig
Lutzen
Marne
Maverick
Max
Megiddo
Metaurus
Mylae
Nancy
Naseby
Navarino
Patay
Pharsalus
Poltava
Presley
Sacheon
Saratoga
Savannah
Seacroft
Sentinum
Solider
Tannenberg
Taraori
Tet
Thymbra
Trafalgar
Trooper
Valmy
Walter
Waterloo
Yorktown
Tough military dog names
Are you looking for a military name that will make your dog sound like he is as tough as nails? Here are our favorite tough military names:
Aim
Ally
Ambush
Armor
Assassin
Attack
Battle
Blast
Bomb
Breach
Brigade
Bunker
Cargo
Carnage
Carrier
Casualty
Chaos
Chopper
Crossfire
Danger
Defender
Destruction
Doom
Dread
Elite
Enemy
Fang
Fear
Fighter
Fugitive
Hazard
Ignite
Jets
Legacy
Mayhem
Nightmare
Patriot
Patrol
Rebel
Shock
Target
Unique military dog names
Your dog can have a really unique military name if you want. Just take a look at our suggestions below:
Alaric
Alex
Alfred
Amazon
Arthur
BB
Barret
Boudica
Brass
Bruce
Buckshot
Caesar
Charles
Cyrus
David
Disney
Douglas
Edward
Eisenhower
Flash
Fred
Freedom
Garibaldi
Garrison
George
Haig
Hannibal
Harald
Henry
Honor
Hotshot
Independence
Indy
Ivan
Joan
Leon
Lizzy
Matilda
Montgomery
Monty
Napoleon
Nefetiti
Nelson
Oliver
Otto
Peter
Pompey
Ramesses
Rascal
Reveille
Richard
Roger
Sal
Scipio
Shaka
Simon
Sparticus
Spirit
Spitzer
Sun
Trigger
Tudor
Tyler
Victory
Wallace
Winston
Zippo
Best male and female military dog names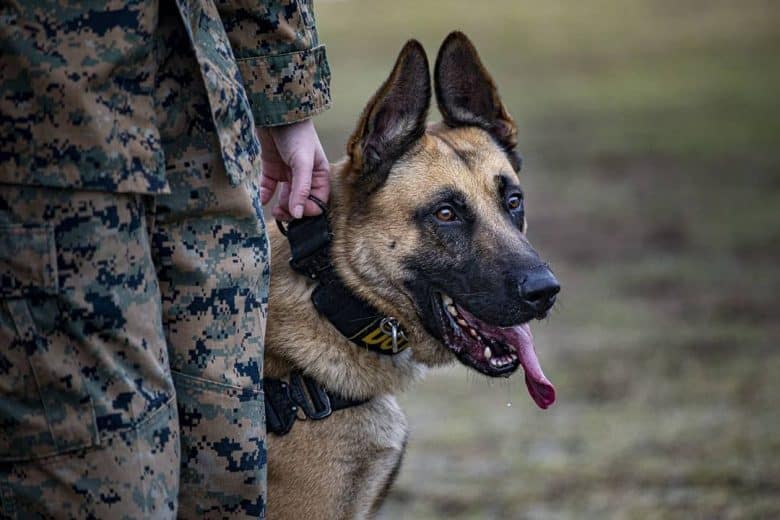 Dog lovers who are looking for the best male and female military dog names can check out our comprehensive list:
Female military dog names
Girl military dog names A-G:

Ailani
Alessa
Alessia
Alexa
Alice
Ambrosia
Andrea
Andromeda
Bellatrix
Biddy
Brenda
Chomp
Earthquake
Edda
Gabby
Gloria

Girl military dog names H-N:

Havana
Hedda
Hera
Hurricane
Ilda
India
Jaws
Jemima
Joplin
Juliett
Kelly
Koda
Latoya
Lexi
Lima
Lovise
Lulu
Mairi
Mascot
Maura
Mercy
Meredith
Nanna
Nediva
Neith
Nilda
Noreen
Norma
November

Girl military dog names O-Z:

Olga
Onora
Parris
Pepper
Polly
Rhetta
Ria
Sandra
Seal
Shamara
Shelly
Shura
Sigfrid
Sloane
Solange
Sonia
Spider
Spunk
Stien
Sylvi
Tilda
Tinker
Tremor
Trudy
Tsunami
Tyndall
Ula
Ursula
Valencia
Valerie
Veronica
Vilma
Wera
Whiskey
Willa
Xandra
Yong
Zandra
Zulu
Male military dog names
Boy military dog names A-G:

Aaron
Achilles
Aegeus
Alajos
Alamo
Alastair
Alexander
Alfa
Aries
Armando
Asim
Barnes
Berk
Boris
Brody
Browning
Bruiser
Chad
Clancy
Colvin
Conn
Darius
Dieter
Earl
Elonso
Ferdinand
Gabe
Golf
Griffin
Grunt
Gunther

Boy military dog names H-N:

Harvard
Helm
Helo
Hillard
Hotel
Kadir
Kalle
Kilo
Knife
Kolya
Lance
Lex
Liam
Ludek
Luther
Matchlock
Milo
Muzzle

Boy military dog names O-Z:

Olek
Papa
Pointer
Powder
Preben
Priam
Qadir
Ram
Rambo
Revolver
Rick
Sabre
Salvatore
Sandro
Scope
Shrapnel
Sigmund
Slug
Solomon
Sword
Tactic
Thane
Threat
Umberto
Val
Veera
Viggo
X-Ray
Yut
Ziggy
What military name should I give my dog?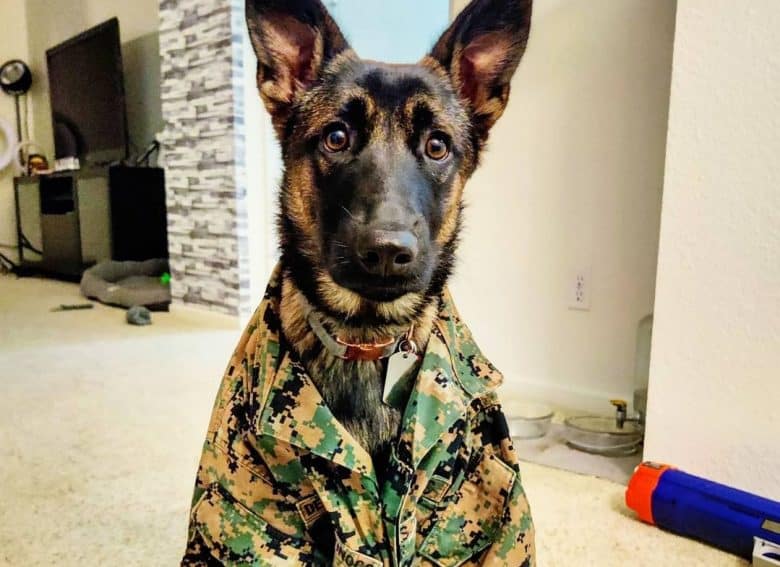 As you can see, the list of great military names for dogs is quite extensive and creative.
We hope that you have found the perfect name for your pup and that you will know how to teach your dog his new military name.
Of course, there are probably some military names that we left out or didn't think of. Do you have any suggestions? Leave them in our comment section.
Further reading for dog names: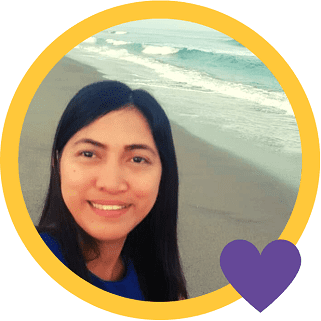 Cess is the Head of Content Writing at K9 Web and a passionate dog care expert with over 5 years of experience in the Pet Industry. With a background in animal science, dog training, and behavior consulting, her hands-on experience and extensive knowledge make her a trusted source for dog owners.
When not writing or leading the K9 Web content team, Cess can be found volunteering at local shelters and participating in dog-related events.