When it comes to naming your canine, there are tons of ways to get inspiration. If you're looking for a name out of the ordinary, perhaps consider giving your new puppy a funny name.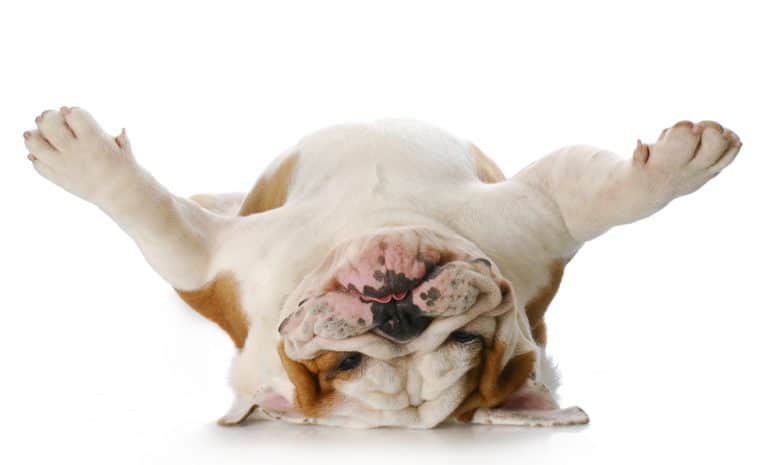 These names are sure to stand out from the crowd and be memorable. We've listed some of the best funny names throughout this article.
How do you pick the right funny name for your dog?
Choosing a name for your dog is one of the hardest parts of adopting a new pup. There are thousands and thousands of name possibilities out there. It can be hard to settle on just one perfect name!
Even if you've decided to give your dog a funny name, in particular, there are still hundreds of options for you to choose from.
When choosing a name, the most important thing to keep in mind is that it should be a name you like.
If you're adopting the dog with someone else, their opinion should get a say as well. We recommend making a list of all your favorite funny dog names. The shorter the list, the better.
Then, you can try each name out on your pooch for a few hours or a day. Your dog won't get confused by the different names, as it'll take them a few days to learn their name anyway.
Sometimes, you may want to wait a bit before you name your dog so that you can get to know their personality.
No matter how much you like a name, some names are just not fitting for some dogs! Gender plays a role in this, of course, but you have to consider other factors too, like personality.
Famous Funny Dog Names
When it comes to funny dog names, it is somewhat difficult to find famous examples. However, there are quite a few movies and other pop culture things that would make funny dog names.
For instance, Tramp is a funny name for a male dog, based on the movie Lady and the Tramp. Rowlf is a funny name from the Muppets, and Slinky is a similarly funny name from Toy Story.
You should also name your dog Toto, like the sidekick from The Wizard of Oz. Bruiser from Legally Blonde would be funny for some canines, especially if they were smaller and not a bruiser in the least.
Best Funny Names for Dogs
Here is a list of our favorite funny puppy names. Many of these are unisex, as most funny names are based specifically on words and things dogs do.
Jimmy Chew
Elmo
Little Bow Wow
Bullwinkle
Bacon
Taco
Bark Twain
Furdinand
Kanye Westie
Lady Rover
Barkley
Subwoofer
Chewie
Meatloaf
Muddy Buddy
Nacho
Charlie Brown
Cookie Monster
Einstein
Slink
Snoop Doggie Dog
Little Bow Wow
Oscar Mayer
Meatball
Chewbacca
Pup Tart
Sir Licks-a-lot
Sir Barks-a-lot
Sushi
Miss Piggy
E.T.
Hooch
McGruff
Cinder Ella
Munchkin
Phideaux ("Fi-Dough")
Porkchop
Waldo
Bingo
Woofer
Tater
Waffles
Funny Dog Names Inspired by Appearance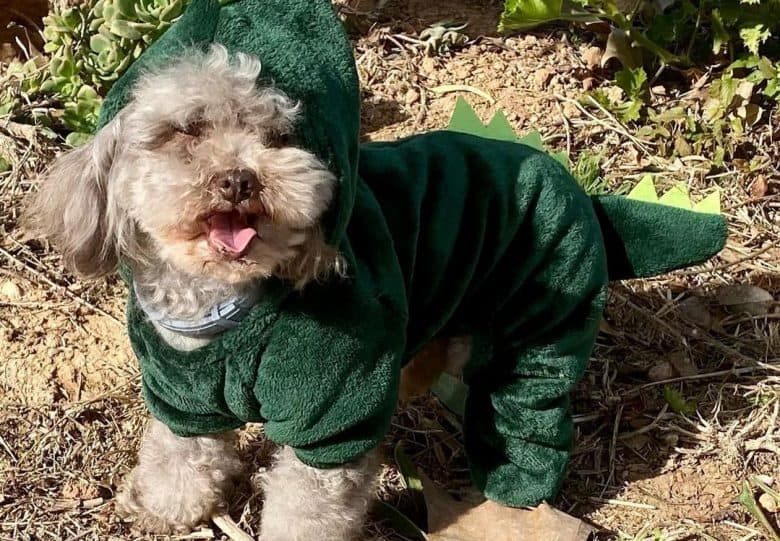 Some names that are funny for certain dogs aren't funny for other dogs. There are particular names that are very funny for small dogs but would sound appropriate for a larger dog.
In this section, we'll look at these appearance-specific names.
For example, name your Great Dane "Tiny" for a subtly funny name.
Funny Names for Small Dogs
Andre, the Giant
Chunk
Dogzilla
Fang
Gladiator
Hercules
Hulk
Jabba
Samson
Sumo
Atilla
Cujo
Pee Wee
Pixel
Rambo
Rex
Rocky
Squirt
Tank
Tinkerbell
King Kong
Brutus
Moose
Baloo
Bean
Bitsy
Bug
Chunk
Zeus
Pug
Bella
Killer
Napoleon
Yoda
Don't miss: The most fun and funky small dog names
Funny Names for Big Dogs
BonBon
Bear Burrito
Bitsy
Munchkin
Peanut
Little Bunny Foo Foo
Pee Wee
Thor
Tiny
Yeti
Chickpea
Tiny
Nugget
Bear
Brutus
Sumo
Tankerbell
Biggie Smalls
Clifford
Godzilla
Gordo
Hulk
Jumbo
Moose
Munchkin
Nessie
Peanut
Pee Wee
Retriever
Don't miss: Best Big Dog Names
Funny Dog Names From Literature and Art
There are several dog names that you can draw from the literature that is quite funny. Here are some of our favorites based on authors and some favorite characters:
Virginia Woof
Mary Puppins
Sniffy Longdroppings
Miss Havisham
Winnie the Pooch
Droolious Caesar
Bilbo Waggins
Andy Warhowl
George Bernard Paw
Ezra Hound
Paw-casino
Bark Twain
Sherlock Bones
Funny Dog Names That Are a Play on Words
There are quite a few words that you can turn into funny dog names with some imagination. Here are a few examples to get you started:
Longest Funny Dog Names
Lord Wafflestack of Buttercreme Shire
Chunky Face Monkey Butt
Dynamite Diesel Duddley Do
Lucky Goodsniffer
Professor Wagglesworth
Doctor Guiseppe Suppertime
Chauncey Von Poopsalot
Howyadoin' Mr. Beaujangles
Dunkle Doxie Graben Stein
Lord Geoffrey Wiggleton of the Yorkshire Wiggletons
Smokey Bottom Jeans Boots With the Fur
Herr Pickles Von Wiener Schnitzel
BlueperLuper Super Duper Dog
Speed Queen Leontine Von Washateria
Sir Mooska Moo Bernie
Alfredo Moonglow
Pun Names for Dogs
Barkley
Bark Twain
Chewbarka
Muttley Crue
Salvador Dogi
Sherlock Bones
Indiana Bones
Jimmy Chew
Joan of Bark
Mary Puppins
Sir-Barks-A lot
Funny Food Dog Names
These names are based on food. Any of these names would be perfect for a food-obsessed dog.
Sorbet
Cupcake
Nacho
Pickle
Tater
Waffles
Eggroll
Pup Tart
Tater Tot
Porkchop
Nutella
Kumquat
Crouton
Maple Sizzup
Charleston Chew
Chickpea
Latke
Won Ton
Fluffernutter
Meatball
Noodles
Sir Tabasco Hot Shot
Snow-pee
Sir Loin
Don't miss: Funny and Unique Food Names for Dogs
Funniest Dog Names From the Tech and Digital World
The land of technology is another place to find inspiration for funny dog names.
Gizmo
Quark
Applet
FiFo
WYSIWYG
Hashtag
Qwerty
Beta
Dot Matrix
Giga
Napster
Byte
Tinder
Fitbit
Woofer
Slo Moe
Funniest Dog Names on Social Media
There are many funny dog names on social media and names that can be inspired by social media. Here are some of our favorite examples. We're sure you could find plenty more on your favorite social media site.
Underdog
Putt-Putt
Bon Scratch-It
Here Kitty
Suga Boga
Flop
Scratch
McTummy
Lovebucket
Grandma
Grandpa
First Dibs
Woolly Butt
Wonder Naughty
HoneyLeggs
Rumpypumpy
Snorts
Fluffernaut
Goofy Human Names for Dogs
Some human names are quite funny when used for dogs.
Archie
Bubba
Cletus
Clive
Doris
Fergus
Jethro
Larry
Rufus
Barney
Betty
Brian
Ernie
Waldo
Walter
Best Funny Male and Female Dog Names
If you're looking for gender-specific names, have a go at these lists. We've listed our favorite boy dog names and girl dog names below. If you haven't found anything thus far, you'll probably find something here.
Funny Dog Names for Female Dogs
Diva
Giggles
Fifi
Posh
Princess
Queenie
Lucy Lu
Mittens
Mouse
Aphrodite
Bean
Brunhilda
Button
Olga
Oreo
Flo
Foxy
Ladybug
Lady Rover
Pip
Sheba
Tootsie
Funny Dog Names for Male Dogs
Barkley
Bond
Byte
Einstein
Freud
Dude
Houdini
Spud
Waldo
Wags
Harry Paw-ter
Fido
Gordo
Groucho
Hobbit
Moniker
Homer
Chewie
Dozer
Booger
Bubba
Doggy
Einstein
King
Kramer
Mr. Muggles
Ninja
Poodle
Puck
Pugsley
Scooter
Sheldon
Mutt
What Funny Name Should I Call My Dog?
As you can see, there are hundreds of funny names you could potentially name your furry friend.
We've listed some of our favorites in this article, but you can likely think of more with a bit of imagination.
Choose a great name that you like that is also fitting (or completely unfitting) for your canine.
Either way, whether you have a Poodle or a Chihuahua, we're sure you'll find some funny inspiration for your new dog's name in this article.
Further reading:
Badass Dog Names
Dog Names from Movies