Last Updated on April 15, 2023
Film is a huge part of everyone's lives. Whether it's a movie, TV show, or some other form of pop culture. There are plenty of dogs in these movies as well.
What better way to name your dog than after a movie character or actor?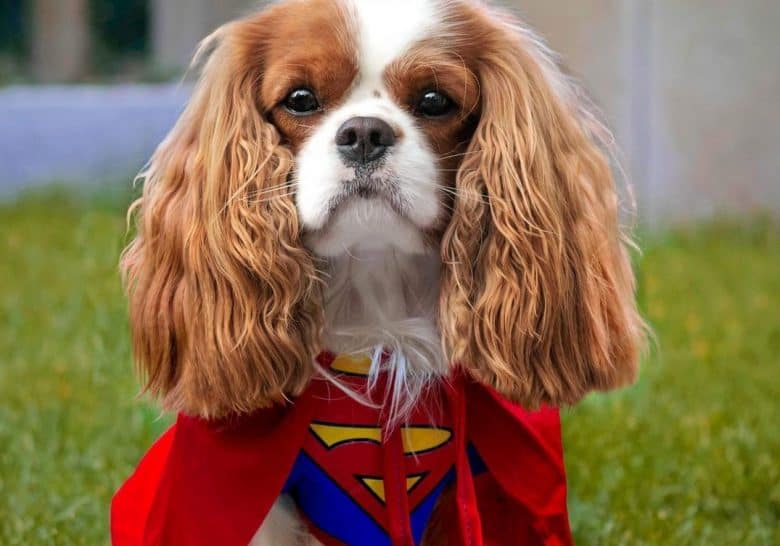 Here's a master list of 392 dog names from movies you can choose for your new pup.
How do you pick the right name for your dog?
Picking a name for your dog is a fun process. When choosing the right name, try to think of something they'll respond to.
Dogs tend to reply to words with certain sounds, and that will make it easier for them to remember that you're talking to them.
Additionally, you'll want to choose a simple pronounce name but doesn't sound too similar or rhyme with another pet's name or even a typical command.
Otherwise, that may confuse your pooch during training.
This doesn't mean you can't have fun with your pet names, though.
You also want to choose a name that's special to you. If that means naming your dog after someone from the movies, then so be it.
Before bringing your forever friend home, have a couple of different pet names in mind. You can then test them out with your pooch and see which one they respond to. Sometimes, they name themselves!
If you're having trouble coming up with some names, don't worry. We've got you covered. Luckily, there are many names to choose from.
Famous dog names from movies
Who would forget famous names from box-office movies? From Disney movies or live-action movies such as Harry Potter or The Lord of the Rings!
Even if you haven't seen the movie, these names probably sound familiar:
Ace
Aladdin
Ambrosius
Andy
Aragorn
Atticus
Aurora
Bane
Bashful
Batman
Bella
Bello
Blondie
Bluto
Boba Fett
Boomer
Brick
Bud
Buzz
Claire
Clarice
Cooper
Cosette
Darla
Django
Doc
Dopey
Duchess
Dude
Dumbo
Edward
Falcor
Feris
Fievel
Fiona
Frankenstein
Freddie
Gandalf
Gaston
Gizmo
Gollum
Goose
Grumpy
Gustave
Hairy Pawter
Happy
Honey Bunny
Jabba the Mutt
Jack
Jafar
Jane
Jasmine
Juno
Kane
Kip
Marty
Marv
Maverick
Molly
Morpheus
Murph
Neo
Napoleon
Norman
Oda
Odie (Garfield)
Peppy
Pippin
Riggan
Rizzo
Robin
Rocket
Rocky
Scarlett
Simba
Sleepy
Snake
Sneezy
Spicoli
Stitch (Lilo and Stitch)
Sully
Tarzan
Ted
Thor
Trinity
Vito
Wall-E
Winnie the Poodle
Woody
Yoda
Movie character dog names
If none of those names seemed to jump out at you for your pooch, let's check out some of these dog names from movies A to Z.
(Miss) Anges
Agent Eleven
Asta
Beatrice
Bingo
Bombon
Buck (Call of the Wild)
Butkus
Chestnut
Chiffon
Chloe
Chucho
Cooper
Cujo
Delgado
Demon
Dewey
Diesel
Dreyfuss
Dutchess
El Diablo
Frank (the Pug)
Georgia
Grunt
Henrey
Hercules
Hubert
Jerry Lee
Juliet
Kiki
Lenny
Mac
Maya
Mike
Monte
Moses
Nana
Nikki
Oddball
Old Jack
Otis (The Adventures of Milo and Otis)
Papi
Rafa
Red
Reno (Top Dog)
Rhapsody
Romeo
Sadie
Scooper
Scud
Sebastian
Shep
Shorty
Slink (Dachshund in Toy Story)
Sniff
Sounder
Spitz
Spot
Truman
Trusty (Lady and the Tramp)
Tyrone
Underdog
Verdell
Winky
Yodel
If you have a female dog and want to narrow your search further, here's a brief list of female character dog names.
Amelie
Ariadne
Arwen
Astrid
Belle
Buttercup
Clementine
Dorothy
Dory
Elsa
Eowyn
Eve
Fleur
Ginny
Ilsa
Judy
Leia (Star Wars)
Luna
Marla
Matilda
Mia
Moana
Nala (The Lion King)
Rey
Ripley
Rita
Sarah
Of course, we can't forget about the boys. Here are some male character dog names to try on for size if you have a male dog.
Bruce
Finn
Harvey
Jules
Logan
Mowgli
Newt
Rick
Russell
Sully
Deadpool
Forrest
Hiccup
Kevin
Nemo
Nick
Sam
Tyler
Ellis
Gru
Jareth
Leon
Ron
Snape
Vince
Best dog names from movies
Many movies have dogs in them, whether they're the protagonist's furry friend or they're the star of the show. Think about your favorite movie, and you may be able to pull some names from that.
If not, here are some of the best dog names from movies.
Barney
Boris
Brinkley
Bruno
Buckley
Bull
Chloe
Copernicus
Daisy
Daphne
Dodger
Doogal
Elvis
Fang (Mastiff from Harry Potter)
Freckles
Fred
Gromit
Hank
Jewel
Lucky
Patch
Pedro
Penny
Puffy
Quark
Reg
Rex
Rolly
Speck
Tito
Movie star dog names
You don't need to name your dog after a movie or TV show character either. You can also look at the names of your favorite actors and actresses.
First up, here are some popular female movie star dog names.
Anne (Hathaway)
Audrey (Hepburn)
Bette (Davos)
Cate (Blanchett)
Charlize (Theron)
Cicely (Tyson)
Emma (Thompson)
Glenn (Close)
Grace (Kelly)
Greta (Garbo)
Halle (Berry)
Helen (Mirren)
Ingrid (Bergman)
Jane (Fonda)
Jodie (Foster)
Joan (Crawford)
Judy (Garland)
Kate (Winslet)
Keira (Knightley)
Liv (Tyler)
Mae (West)
Meryl (Streep)
Nicole (Kidman)
Rita (Hayworth)
Ruby (Dee)
Sally (Field)
Sandra (Bullock)
Susan (Sarandon)
Viola (Davis)
Whitney (Huston)
And here are some of the most popular male movie star dog names.
Al (Pacino)
Alan (Rickman)
Bill (Murray)
Brad (Pitt)
Cary (Grant)
Clint (Eastwood)
Denzel (Washington)
Don (Cheadle)
Dustin (Hoffman)
Heath (Ledger)
Hugh (Jackman)
Ian (McKellen)
Jack (Nicholson)
Jamie (Foxx)
Jeff (Bridges)
Jim (Carrey)
Johnny (Depp)
Kirk (Douglas)
Liam (Neeson)
Marlon (Brando)
Mel (Gibson)
Morgan (Freeman)
Robin (Williams)
Samuel (L. Jackson)
Sean (Connery)
Sidney (Poitier)
Steve (McQueen)
Tom (Hanks)
Tommy (Lee Jones)
Will (Smith)
Famous dog names from books, comics, cartoons, and pop culture
Dog names don't need to be limited to just movies, either. Many awesome characters name your doggo after from various pop cultures such as books, comics, and cartoons.
Famous dog names from TV
First, let's look at some dog names from other TV shows and cartoons.
Balto
Baxter
Beast
Beethoven (St. Bernard from Beethoven)
Benji
Bolt
Bruiser
Buddy (Air Bud)
Chance (Homeward Bound)
Clifford
Comet (Golden Retriever from Full House)
Dug
Eddie Crane
Einstein (Back to the Future)
Fly
Hooch (Turner and Hooch)
Lady (Cocker Spaniel from Lady and the Tramp)
Lassie
Marley (Labrador Retriever from Marley and Me)
Max
Milo
Old Yeller
Perdita
Petey
Pit Bull
Pluto
Pongo (101 Dalmatians)
Rin Tin Tin
Samantha
Sandy
Scooby-Doo (Great Dane from Scooby-Doo)
Shadow
Shiloh (Beagle from Shiloh)
Skip (Jack Russell Terrier from My Dog Skip)
Snoopy (Peanuts)
Toto (The Wizard of OZ)
Tramp
Uggie
Winn-Dixie
Zero (The Nightmare Before Christmas)
Famous dog names from literature and comics
If none of the names from various films and TV shows don't seem to stick out to you, here's a quick list of dog names from literature and comics.
Andy
Argos
Bailey
Bear
Blue
Bullseye
Dogbert
Electra
Ellie
Ghost (Game of Thrones)
Hotdog
Jip
Krypto
Lad
Marmaduke
Pilot
Toby
Famous dog names from history and the real world
You can also choose a dog name based on a real dog from history. There's no better way to honor a dog from the past in the real world than naming your dog after them.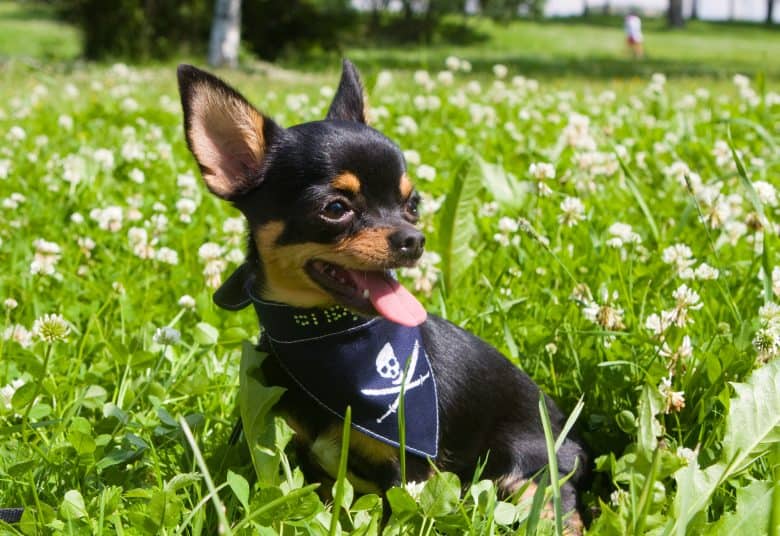 Check out these amazing dog names from history.
Bo
Chaser (Border Collie with largest tested memory)
Checkers
Chips
Fido
Gibson
Hachiko
Jo-fi
Lady Greyhound
Laika
McGruff
Millie
Miss Beazley
Nipper
Peritas
Pickles
Sinbad
Snuppy
Spot Fetcher
Strongheart
Sunny
Tinkerbell (Paris Hilton's Chihuahua)
Trakr (German Shepherd rescue dog from 9/11 World Trade Center)
Zeus
Zorba
Names of famous dogs on the internet
Before we finish this list, let's look at some honorable mentions from the internet.
Many famous dogs on the internet use various social media because who doesn't love looking at pictures of dogs?
Below is a quick list of some famous dogs on the internet that might inspire some dog names for you for different dog breeds.
Bodhi: @mensweardog
Boo: @boo
Gary: @garyfisher
Digby van Winkle: @digbyvanwinkle
Doug the Pug: @itsdougthepug
Jiff Pom: @jiffpom
Lentil the French Bulldog: @MyNameIsLentil
Manny: @mannythefrenchie
Marnie: @marniethedog
Maru: @marutaro
Maymo: @maymothedog
Sir Charles Barkley: @barkleysircharles
Tuna: @tunameltsmyheart
What dog name from the movies should I call my dog?
Did any of these dog names from movies jump out at you? Which ones were your favorites?
We hope this list gave you some new great name ideas on what to name your new dog.
Which dog name from the movies are you going to name your furry friend? Let us know in the comments below!
Further reading: Other awesome dog names for your pup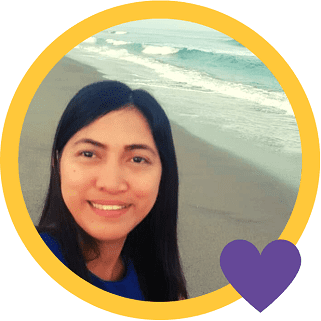 Cess is the Head of Content Writing at K9 Web and a passionate dog care expert with over 5 years of experience in the Pet Industry. With a background in animal science, dog training, and behavior consulting, her hands-on experience and extensive knowledge make her a trusted source for dog owners.
When not writing or leading the K9 Web content team, Cess can be found volunteering at local shelters and participating in dog-related events.