Last Updated on April 20, 2023
Harry Potter changed the world over 20 years ago when the first book hit shelves, so it's no surprise that this bonafide phenomenon continues to influence magic and dog lovers across the globe.
If you're a huge Potter fan and you're looking for the perfect name for your dog, we've got some inspiration for you.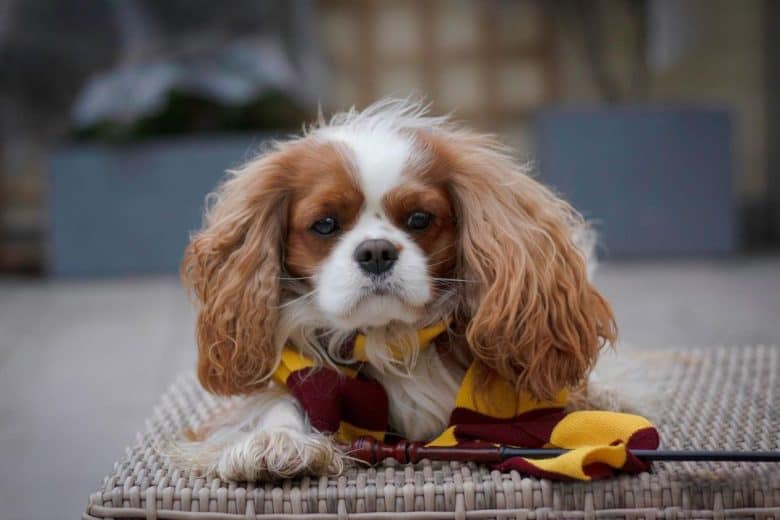 How do you pick the right Harry Potter name for your dog?
Consider your dog's personality when compared with your favorite Potter name. Is your dog a little sweetheart? Maybe Severus Snape isn't the way to go. Have an adorable bloodhound? Maybe Fang is perfect!
Don't worry, you don't have to choose an animal name from the books for your dog. The name of a person works just as well! How cute would a furry little Pomeranian be named Harry?
Choosing the right name for your dog is super important. This is a name that they're going to have for their entire life.
If you end up hating it or thinking it sounds silly, you'll either need to change it or use a nickname.
Think long and hard before landing on a name. You want something that fits your dog and that you like, too. You might want to run it through your mind for a few days before committing.
Also, avoid picking a name that sounds too similar to a common command like "sit" or "stay." If your chosen name sounds too similar, your dog might be super confused during training time!
Once you pick the perfect name, it's time to teach your pupper their new moniker. To make the magic happen, say their name.
When they pay attention to you, praise and reward them. Any time they respond to you when you say their name, praise them and make a big deal out of it.
Don't ever use their name to punish or yell at them. Don't use it as a negative thing or they'll start to associate their name with bad things!
Who is the most famous dog with a Harry Potter-inspired name?
Harry Potter is undeniably a massive part of pop culture. J.K. Rowlings' books have touched every part of the culture.
Some major stars have expressed their love for the Potterverse, including Ariana Grande, Jennifer Lawrence, Margot Robbie, and Selena Gomez.
There are some famous dogs out there on social media who have Harry Potter-inspired names. Check out Dobby the Dog Elf or a second Dobby, this one from Australia, on Instagram. There's also Fang the Malamute.
Then there's the magical Sirius the Service Poodle and Nimbus, a teeny tiny Potter-loving pup.
Dog names for Harry Potter Fans
Harry Potter is wildly popular even all these years later, so there's no surprise that names from the wonder world of Harry Potter continue to be popular as names for dogs.
To get us into the spirit, check out the first time Harry, Ron, and Hermione meet Fluffy, the three-headed dog.
Here are some of the most popular pet options:
Fluffy – the name of Hagrid's three-headed dog.
Padfoot – another name for Sirius when in his dog form.
Sirius – this is Harry's godfather. He sometimes takes the form of a dog.
Norbert – The name of Hagrid's pet dragon.
Fang – Hagrid's pet bloodhound.
Dobby – not a dog, but a house-elf
Fawkes – Dumbledore's companion phoenix.
Lupin – as you may guess from the name, this is a werewolf from the book
Ravenclaw – One of the houses at Hogwarts
Pixie – a cute name and also a troublemaker in the books
While these are popular pet names from the books below, we'll give you a comprehensive list of Harry Potter dog names.
Harry Potter Characters
Here are some of the well-known characters listed by gender.
Female Harry Potter dog names
Alice – Neville's mother.
Amelia – Aunt of Susan Bones.
Ariana – Sister of Dumbledore.
Bellatrix Lestrange – Full-blooded witch and member of the House of Black
Charlie – The eldest Weasely child (a boy in the book, but also a good name for a girl).
Emmeline – A member of the order of the Phoenix.
Fleur – A French girl in the Triwizard Tournament
Ginny – Harry's love interest
Ginerva – Weasley's daughter
Hermione – Hermione Granger was Harry's best friend.
Helga – One of the founders of Hogwarts
Kinglsey – Member of the Order of the Phoenix
Katie – The chaser for Gryffindor in Quidditch.
Lavender – A student and Ron's girlfriend
Lily – Harry's mother
Luna – A quirky student at the school
Molly – Mother of Ron
Minerva – Professor at the school
Myrtle – A ghost who haunts Hogwarts after being killed
Marjorie – Sister of Vernon
Maxime – Headmistress of Beauxbatons Academy
Millicent – Student at Slytherin
Orion – Father of Sirius, but works as a girls' name too.
Padma – student
Pansy – Student at Slytherin
Poppy – Nurse at the school.
Pomona – Professor of herbology
Romilda – Student
Rowena – Co-founder of Hogwarts
Susan – Student at Hufflepuff
Tonks – Romantic partner of Lupin
Male Harry Potter dog names
Amos – Cedric Diggory's father
Argus – The caretaker of Hogwarts School of Witchcraft and Wizardry.
Alastor – A famous Auror in the book.
Albus – Headmaster of Hogwarts
Arthur – Head of the Weasley clan.
Augustus – One of Lord Voldemort's followers
Cormac – Keeper of the Gryffindor team.
Charles – Eldest brother of Ron.
Cedric – Represents Hogwarts School of Witchcraft and Wizardry in the Triwizard Tournament.
Draco – Student belonging to Slytherin.
Dudley – Harry's cousin
Dumbledore – Albus Dumbledore is a previous Hogwarts headmaster
Fred – Brother of George Weasley.
Hagrid – Gamekeeper and keeper of the Keys and Grounds
Harry – Star of the series.
George – Older Weasley brother.
Godric – One of the founders of Hogwarts
James – Harry's father.
Justin – Hufflepuff student.
Lucius – Father of Draco Malfoy
Lupin – Remus Lupin is a professor and werewolf
Moody – Famous Auror
Neville – Gryffindor student.
Ronald – Harry's best friend.
Rubeus – See Hagrid
Severus Snape – Head of Slytherin House
Sirius – Harry's uncle
Viktor – Student at Durmstrang.
Vincent – Student at Slytherin.
Reginald – works at the Ministry of Magic in the Magical Maintenance Department.
Seamus – Student at Gryffindor.
Sirius Black – The last of the House of Black
Vernon – Harry's uncle
Zacharias – Student in Hufflepuff.
Other Potter-Themed dog names
Here are some lesser-known characters and terms from the Wizarding World of Harry Potter. If you want to choose a name that only Potter lovers will get, one of these will be perfect!
Bertie
Botts
Whizbee
Pudding
Lemon
Honeyduke
Mead
Sherry
Quidditch
Quaffle
Accio
Errol
Creevy
Finch
Cormac
Zacharias
Romilda
Blaise
Winky
Angelina
Charity
Ludo
Arabella
Muggle
Fig
Frank
Bryce
Hooch
Irma
Azkaban
Filch
Lovegood
Riddle
Salazar
Aragog
Barty
Delacour
Diagon
Dursley
Gilderoy
Longbottom
McGonagall
Mungo
Nymphadora
Skeeter
Patronus
Harry Potter dog names: Words, Creatures, Places
There are lots of pets and animals in the book, so of course, you could always go with one of these great name options.
These include:
Buckbeak
Crookshanks
Errol
Fang
Fawkes
Fluffy
Mrs. Norris
Nagini
Scabbers
Trevor
Hedwig
Then there are some other creatures. Think:
Owl
Goblin
Newt
Bandicoot
Basilisk
Doxy
Crup
Cockatrice
Clabbert
Bundimun
Billywig
Augurey
Abarimon
Centaur
Dugbog
Erkling
Fairy
Fwooper
Graphorn
Griffin
Hippogriff
Hodag
Horklump
Imp
Jarvey
Kelpie
Knarl
Limax
Lobalug
Matagot
Moke
Mooncalf
Oni
Phoenix
Pixie
Plimpy
Ramora
Re'em
Selma
Sphinx
Trollwig
Yeti
There are also magical creatures and spirits with names that would be awesome for your little pal. Some of these include:
Banshee
Caipora
Inferius
Boggart
Nargle
Hydra
Ogre
Veela
Yumbo
Funny Harry Potter dog names
Have a great sense of humor? Is your dog a goofy good boy or girl? You could always pick a funny name inspired by Harry Potter.
You'll get a chuckle every time you call them back to you from across the dog park.
Gryffindog
Dogwarts
Hairy Pawter
Hairy Pupper
Hufflepup
Barkyndor
Ravenpaw
Pettigrew
Triwhiskers
Furnon
Pansy Barkison
Sloberin
Other Magical dog names
Does the magic of Harry Potter appeal to you, but none of these names are just right? No worries! Here are some magical dog names:
Gandalf
Merlin
Magic
Jafar
King
Count
Copperfield
Houdini
Bigby
Prospero
Dresden
Rand
Willow
Bacon
Genie
Sauron
Soule
Henning
Mage
LeFay
Yoda
What Harry Potter-themed dog name did you choose?
So tell us, what name really jumps out at you the most? Do you prefer one of the main characters that we all know and love?
Or are you more partial to one of those lesser-known names that only true Potter fans know?
While you can't go wrong with any of these names, you'll know when you come across the right one because it will speak to you… almost like magic!
Further reading:
Disney Dog Names
Dog Names from Movies
Funny Dog Names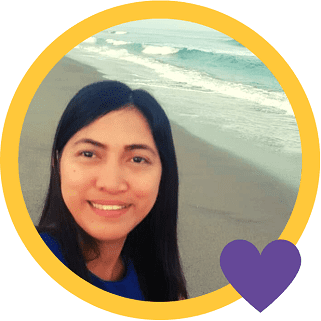 Cess is the Head of Content Writing at K9 Web and a passionate dog care expert with over 5 years of experience in the Pet Industry. With a background in animal science, dog training, and behavior consulting, her hands-on experience and extensive knowledge make her a trusted source for dog owners.
When not writing or leading the K9 Web content team, Cess can be found volunteering at local shelters and participating in dog-related events.