German Shepherds are a popular breed in the United States, coming in at second right behind Labradors.
They look imposing and are great guard dogs, but they are also a wonderful family pet and service dog. The first guide dog in America was a GSD called Buddy.
The best you can do for these gorgeous animals is by offering them the best dog food for German Shepherds. Read more below!
Top 15 of the best dog food brands for German Shepherds
Dog food can be confusing because there is food for large breeds, toy breeds, seniors, and puppies.
Sometimes you'll come across "maintenance" dog food. What does all of this mean and does it really matter?
Yes, it does. Every dog breed and dogs of all ages require different nutrition. Giving a Chihuahua a Golden Retriever's food can cause them to have fatty liver or become obese due to the high calories.
Conversely, large breed dogs like German Shepherds need special nutrition to keep their joints and bones healthy and strong, something that smaller breeds don't have to worry about.
Best dog food for German Shepherd puppies
Puppies need the best nutrition to help them reach their full potential. When choosing a puppy food for your GSD, you should keep an eye out for high protein.
They should be getting at least 22% protein from their daily meals.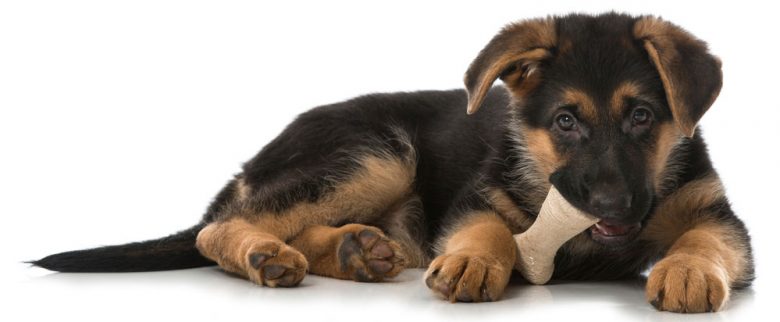 To keep up with a growing pup's caloric requirements, you should feed them a high-quality large breed puppy formula.
This is because growing puppies usually need twice the amount of nutrients as adults of the same breed.
Here are our top picks for growing Shepherd puppies.
1. Wellness — CORE Grain-Free Puppy Chicken & Turkey Recipe Dry Dog Food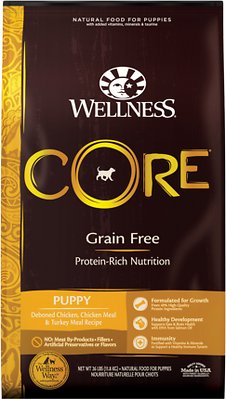 Top ingredients: Deboned Chicken, Chicken Meal, Turkey Meal
Type: Dry
Fortified with antioxidants, probiotics, omega fatty acids, and Glucosamine, this formula will ensure that your puppy grows steadily and healthily.
The large kibble encourages proper chewing, which can minimize risk of bloat. The downside is that it can get slightly pricey.
2. Holistic Select — Large & Giant Breed Puppy Health Dog Food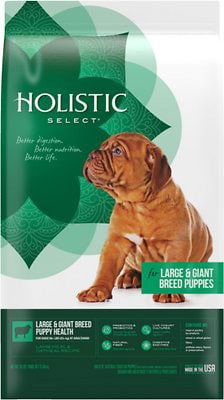 Top ingredients: Lamb Meal, Chicken Meal, Oatmeal
Type: Dry
Each kibble is jam-packed with digestive enzymes, active probiotics, and healthy fiber which will keep your pup's digestive health at its finest.
The kibble is also of a larger variety, made for large breed pups. An American product with quality ingredients sourced from all over the world.
3. Diamond — Naturals Large Breed Puppy Formula Dry Dog Food
Top ingredients: Lamb, Lamb Meal, Whole Grain Brown Rice
Type: Dry
Nutrient-rich with easily digestible protein for your little pup's developing digestive system. Comes with natural DHA for healthy brain development and eyesight.
There are no wheat or filler additives, making this a great large breed puppy food.
4. Royal Canin — Giant Junior Dry Dog Food
Top ingredients: Chicken By-Product Meal, Brewers Rice Flour, Brewers Rice
Type: Dry
Specially formulated for large breed puppies. This kibble has the appropriate amounts of calcium and phosphorus to ensure healthy joint growth.
It also has the added benefit of digestible protein to take the strain off your growing pup's system!
5. Purina Pro Plan — Focus Puppy Large Breed Formula Dry Dog Food
Top ingredients: Chicken, Rice, Corn Gluten Meal
Type: Dry
With live probiotics for better digestive health, Purina has your furkid's best interest at heart with their specially formulated kibble.
Naturally sourced glucosamine from fish meal and DHA from omega-rich fish oil for developing your puppy's brain and vision.
6. Instinct — Raw Boost Large Breed Puppy Grain-Free Recipe with Real Chicken & Freeze-Dried Raw Pieces Dry Dog Food
Top ingredients: Chicken, Chicken Meal, Peas
Type: Dry
A freeze-dried option with boosted nutrition from real raw meat. Natural sources of energy from chicken fat, DHA from chicken eggs, and omega-6 from flaxseed to give your pup a shiny and healthy coat.
7. Blue Buffalo — Wilderness Large Breed Puppy Food
Top ingredients: Deboned Chicken, Chicken Meal, Peas
Type: Dry
Inspired by the diet of wolves, Blue Buffalo set out to craft a diet that will enhance your pup's health and maximize his potential.
There's extra taurine for heart health, peas that provide prebiotics which is a great source for a healthier digestive tract.
And ARA, a fatty acid found in mother's milk to promote cognitive development and renal health.
8. Wellness — Large Breed Complete Health Puppy Deboned Chicken, Brown Rice & Salmon Meal Recipe Dry Dog Food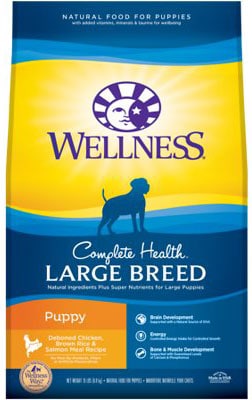 Top ingredients: Deboned Chicken, Chicken Meal, Peas
Type: Dry
A DHA-fortified option that focuses on your GSD puppy's development. Comes enriched with salmon oil for a boost in your pup's immune system, heart health, and cognitive function.
It's a grain-inclusive product that doesn't use any GMO ingredients. Only the best for your lil bud.
Best dog food for German Shepherd adults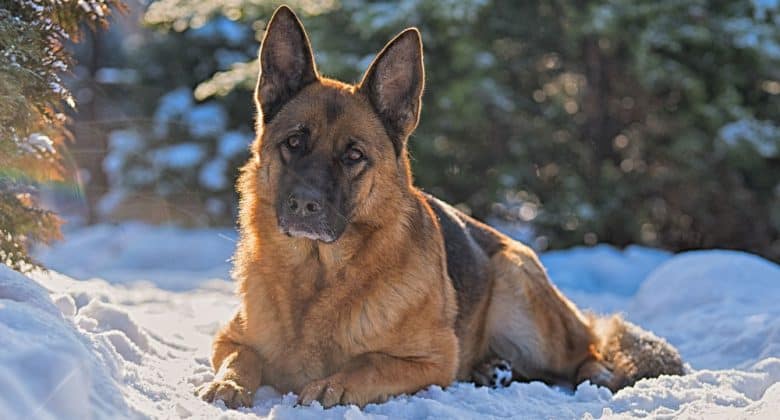 Adult GSDs often have digestive problems and might have sensitive stomachs. To prevent this, they will need a well-balanced diet.
They are also built for hard work and have certain caloric requirements to keep their minds and bodies fit and healthy.
An inactive GSD might only need 1,200 cals per day, whereas an average adult will need 1,500 cals. For working dogs or those that are always on the go, you're looking at close to 2,000 calories a day.
Take a look at Sniper trying out some raw dishes and veggies:
9. Taste of the Wild — Southwest Canyon Grain-Free Dry Dog Food
Top ingredients: Beef, Peas, Garbanzo Beans
Type: Dry
A high-quality dog food made in the USA. No list of best dog foods is complete without a mention of Taste of the Wild.
It contains natural ingredients and sources their protein from lamb, boar, and beef, with the intention of feeding our domesticated buddies what their wild ancestors would eat.
10. Blue Buffalo — Wilderness Salmon Recipe Grain-Free Dry Dog Food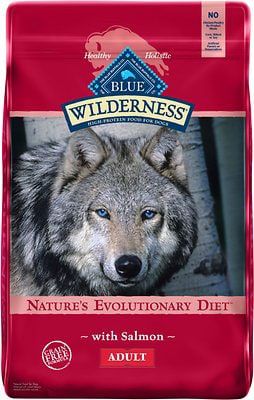 Top ingredients: Deboned Salmon, Chicken Meal, Peas
Type: Dry
Another wolf-inspired formula, this also boasts grain-free ingredients as well as protein-rich kibble.
Their kibbles are enriched with antioxidants as well as LifeSource Bits which will offer support to their immunity.
11. Merrick — Grain Free Large Breed Dry Dog Food Real Chicken & Sweet Potato Recipe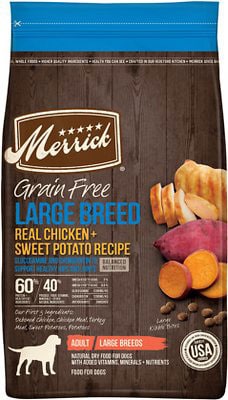 Top ingredients: Deboned Chicken, Chicken Meal, Turkey Meal
Type: Dry
With the first ingredient as deboned chicken, you know you're getting a high-quality feed.
Their recipe touts a 60% protein and fat inclusion, with the remaining 40% for fat, fiber, and other necessary ingredients which are both natural and beneficial to your adult dog's health.
12. Royal Canin — German Shepherd Adult Dry Dog Food
Top ingredients: Brewers Rice, Chicken By-Product Meal, Brown Rice
Type: Dry
Specially formulated for German Shepherds above 15 months of age. It includes fish oil which is an essential source of EPA and DHA. The kibble is shaped into an X to promote chewing and slow eating.
13. Nutro — Natural Choice Healthy Weight Large Breed Adult Farm-Raised Chicken, Rice & Sweet Potato Recipe Dry Dog Food
Top ingredients: Chicken, Chicken Meal, Whole Brown Rice
Type: Dry
A kibble formulated for GSDs watching their waistlines.
It promotes healthy weight loss while still supporting your dog's nutritional needs. Made with non-GMO ingredients and rich in naturally sourced glucosamine and chondroitin.
One great thing about this is that it comes in lamb as well, so if the chicken is one of the allergens making your dog itch, you can give that a try!
Best dog food for German Shepherd seniors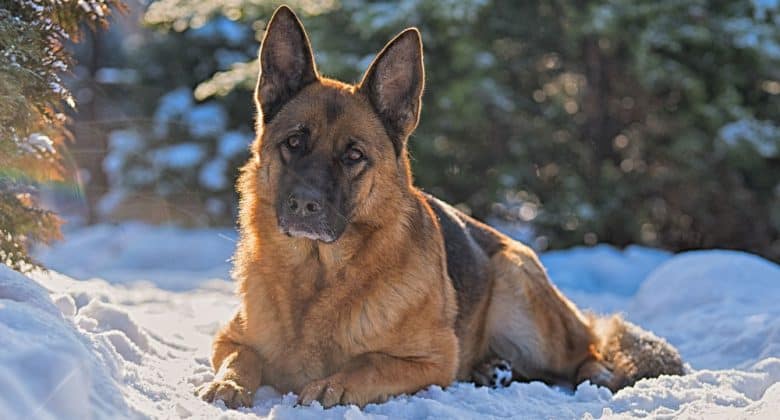 As your dog ages, he might require some additional support when it comes to their diet.
You probably want to avoid feeding him the free dog food samples you get at the supermarket or buying just about any brand off Amazon.
Your buddy is getting on the years and might have developed food allergies along the way.
To keep your GSD healthy, you should look into adding superfoods into his diet while keeping an eye on the fat content.
14. CANIDAE — Grain-Free PURE Real Bison, Lentil & Carrot Recipe Dry Dog Food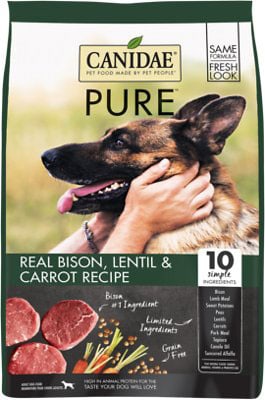 Top ingredients: Bison, Lamb Meal, Sweet Potatoes
Type: Dry
Made from only 10 ingredients, this formula takes into consideration any food sensitivities that your dog might have. With high protein content and fortified with Canidae's HealthPLUS.
A special blend of probiotics, antioxidants and omega-3 and 6 fatty acids, to give your dog healthy skin and a balanced diet.
Formulate for all life stages, this German Shepherd food is suitable for puppies and adults.
15. Nutro — Ultra Senior Dry Dog Food
Top ingredients: Chicken, Chicken Meal, Whole Brown Rice
Type: Dry
A low-calorie option for dogs aged 5 and above, inclusive of joint-protecting glucosamine and chondroitin.
Formulated with antioxidant-rich fruits and vegetables with lean proteins. It also has added fibre to aid digestion, as well as muscle-building amino acids.
How to choose the best food for your German Shepherd?
As previously mentioned, dogs of all ages, sizes, activity levels all have different requirements. A lactating dam will need nutrients closer to that of a puppy than a full-grown adult male working dog.
There are certain kibbles that are suitable for all life stages that can help you keep your dog in optimum health with minimum effort.
German Shepherd nutritional requirement: What to look for in the label
Look at the German Shepherd. What do you see? Large, powerful, muscular.
They need large amounts of high-quality protein sourced from real meat to maintain that figure.
Not only does protein keep them strong, it also gives them energy and the nutrients to make their coats shiny.
Adult dogs will need 18% of protein in their diets. A working dog will require 30 – 40% in order for it to be sufficient.
Fat is another crucial ingredient.
Omega-6 fatty acids aid in your dog's brain development, keep the coat in tip top condition, and also it provides them with twice the energy than what they can get from protein or carbohydrates.
When feeding an active dog, you probably want to strive for 12% fat. This doesn't mean that the more fat the better. If your dog doesn't need the additional energy, stick to 5% or 8% for puppies.
With the latest trend of grain-free formula, carbs have been getting a bad rep. But are they important? Yep, they are!
Some dogs might have grain sensitivities, but if not, it's entirely okay to feed them a grain-inclusive kibble. However, carbs should not make up of more than 40 – 50% of the recipe.
Any antioxidants, vitamins, or minerals are all a great addition.
Most large breed dog food will have the appropriate amounts of L-carnitine, Chondroitin, Glucosamine, and EPA & DHA for their joint health.
Supplementing is not necessary unless advised by a vet.
When reading labels, search for the AAFCO (Association of American Feed Control Officials) approved seal. This means that the dog food meets the basic requirements and is a well-rounded option.
The ingredients you should avoid
Chocolate should be on the top of every "DO NOT TOUCH" list of every dog owner. What is a tasty treat to us, can be lethal to them.
Always store your chocolates out of reach because curiosity might get the better of them and it's better to be safe than sorry.
When it comes to the ingredients list on your kibble, you want to stay away from animal by-products, preservatives, artificial coloring, and nutritionless fillers.
Are grain-free diets good for German Shepherds?
Soy, and wheat could cause irritation in some dogs but it doesn't mean that all dogs are allergic to grain.
If your dog is scratching his face excessively, licking his paws, and exhibiting signs of gastrointestinal symptoms.
It's not dangerous to your dog, but it can cause discomfort. Grain is not the only ingredient that GSDs can develop a sensitivity to.
Chicken and other protein sources such as eggs or beef can also be triggers. You will have to figure it out by eliminating one ingredient at a time to determine what causes the allergic reaction and remove it.
That being said, if your dog turns out to be allergic to grain, that's probably when you should start feeding him a grain-free kibble. Otherwise, it'll only be an unnecessary expense.
Choosing a dog food for German Shepherds with health problems
When choosing a brand or product for your sick dog, there are multiple factors to consider. What can exacerbate their problem and what can help them?
Dogs suffering from hip dysplasia will benefit from glucosamine and chondroitin.
For dogs with a sensitive gut, you can try formulas that feature limited ingredients and have probiotics that promote gut health and can boost your dog's immune system.
Choosing the best dog food for your German Shepherds can prevent illnesses
As a medium to large breed dog, Germans are predisposed to hip dysplasia.
Having the appropriate nutrients as a puppy can help prevent the joints from growing too quickly and malforming.
Obesity can exacerbate this problem, so you should try to keep your GSD at an optimum weight.
Bloat or stomach twists usually affect dogs with deep barrel chests. The German Shepherd falls in this category.
Certain kibble helps prevent this by making them into a doughnut shape as this will force dogs to slow down when they are eating.
There are also slow feeders that you can use but it's advisable to feed Germans 2 – 3 small meals a day to prevent them from scarfing their meals just because they are hungry.
What types of food are good for German Shepherds?
German Shepherds can thrive on all kinds of dog food. Dry kibble is the most popular option because it is convenient.
If you don't mind going through a bit of trouble, there's the option of dehydrated or frozen-then-thawed dog food.
The ingredients matter much more than the type of dog food it is, whether dry or moist. However, older dogs and puppies might deal with wet food better.
Also, unless your dog has certain allergies, you don't have to feed organic or grain-free food.
Fruits and vegetables your German Shepherds can and cannot eat
| | | |
| --- | --- | --- |
| Never | Okay | In Moderation |
| Avocados | Blackberries | Bananas |
| Rhubarb | Blueberries | Oranges |
| Cherries | Carrots | Watermelons |
| Garlic | Cranberries | Celery |
| Grapes | Cucumber | Cauliflower |
| Nuts | Sweet Potatoes | Cabbage |
| Onions | Lettuce | Spinach |
| Nutmeg | Cantaloupe | Kale |
A homemade recipe you can try for your German Shepherds
Wanna spoil your GSD with a home cooked meal? Here's a recipe for culinary adept pawrent to try! It features 23.1 grams of protein per serving. The following recipe yields 5 servings so adjust accordingly!
Ingredients
6 cups water
1 pound ground turkey
2 cups brown rice
1 teaspoon dried rosemary
½ (16 ounce) package frozen broccoli, carrots and cauliflower combination
Directions
Wash rice and drain
Add rice, turkey, rosemary, and water in a large Dutch oven or cast iron pot
Stir until turkey is all dispersed and mixed well
Bring to a boil and simmer for 20 minutes
Add frozen vegetables
Remove from stove after 5 minutes
Serve two cups twice a day, freeze the rest
Frequently Asked Questions (FAQs)
The German Shepherd is a stunning dog in both appearance and intelligence. They need a healthy diet suited to their needs in order to stay healthy and handsome.
Aside from the best dog food, there are also certain feeding practices that go hand in hand with a healthy lifestyle.
How often should you feed your German Shepherd?
Puppies are often fed 4 times a day when they are 4 weeks old. When they reach 4 months of age, you can drop 1 – 2 meals so you'll be feeding them only 2 – 3 meals a day.
Some wait till their GSDs are 9 months to a year old before making that switch because it's better to keep them too long on puppy formula than switching too soon.
How much should you feed your German Shepherd?
The general average is 3 – 4 cups of kibble for adults but it really depends on your dog's activity levels.
If your dog is a working shepherd, he might require much more calories than a house pet that only gets an hour of exercise daily.
Transition: How to switch from puppy to adult dog food?
Making the transition between puppy to adult food or from one brand to another is not as hard as you think. All you need to do is replace the original food with the new kibble gradually.
You can do this slowly or over the course of a month, depending on how much of the old kibble you still have.
The most common method is adding 20% of new dog food daily, so by the 5th day, your dog will have transitioned to the new food.
What I like to do is mix their new and old kibble together in a container and serve.
Adjust the radio until all the old dog food is used up, so when you're nearing the end of the bag, just throw a handful into the container!
Do German Shepherds need supplements?
Vets usually will advise senior Germans to take a heart and joint supplement. Just like humans, dogs can also experience wear and tear on their limbs and organs.
However, if you have a young and healthy pup that's fed a well-balanced diet, there's no reason to give him additional supplements unless recommended by a vet.
The best dog treats for German Shepherds
We think that the best treats are all natural, whole foods like carrots or homemade peanut butter oatmeal balls. It's simply, really, just take some all natural peanut butter, mix it with oat and freeze it.
If you're a no-grain family, you can replace it with pumpkin.
However, if you're looking for a convenient treat to give during training, here's a favorite of ours.
Wellness Soft Puppy Bites Grain-Free Lamb & Salmon Recipe Dog Treats
Top ingredients: Lamb, Salmon, Chickpeas
Specially made for puppies, these wholesome bite-size treats come in a resealable bag. Formulated with all-natural products.
You also won't find meat by-products, corn, wheat, or dairy in this treat! While it's specially formulated for puppies, it is fortified with DHA and omega-3.
What makes dog food good for German Shepherds?
Food that can sustain his lifestyle and meet his nutritional needs is good food!
Look for high-quality ingredients and a recipe that is gentle on his digestive system.
Your adult German Shepherd will benefit from animal protein-rich foods and minimize any health issues that might arise from a bad diet.
Have you tried any of the dog food above? Let us know whether fido likes it in the comments!