We may earn a small commission when readers buy products through links on this page. It supports our team to keep posting great content. Learn more about this
here
.
Last Updated on April 21, 2023
Urinary tract problems can be painful and possibly lead to more serious infections, like kidney infections and blockages of the urethra. Looking after your dog's urinary health is crucial as it affects their internal functions.
Some dogs such as Yorkshire Terriers, Shih Tzu, and Bichon Frise are more prone to urinary problems than others. These dogs may benefit from a specific diet formulated to support the urinary tract.
Luckily, there are a number of dog foods formulated just for dogs suffering from urinary health issues.
Check out our top picks of the best dog foods for puppies, adults, and seniors who tend to have more urinary problems.
Top 5 Picks for Best Dog Food for Urinary Health
Best Dog Food for Urinary Health (by Life Stage)
Feeding your pooch the right kind of dog food is extremely important, especially if you see any signs of urinary tract problems.
Good dog food for urinary health may have several things, including cranberries, extra cod oil, and even added vitamin B.
They should also be low in certain minerals, like magnesium and phosphorus. These ingredients may cause problems such as urolithiasis or bladder stones.
Best Dog Food for Puppies with Urinary Health Issues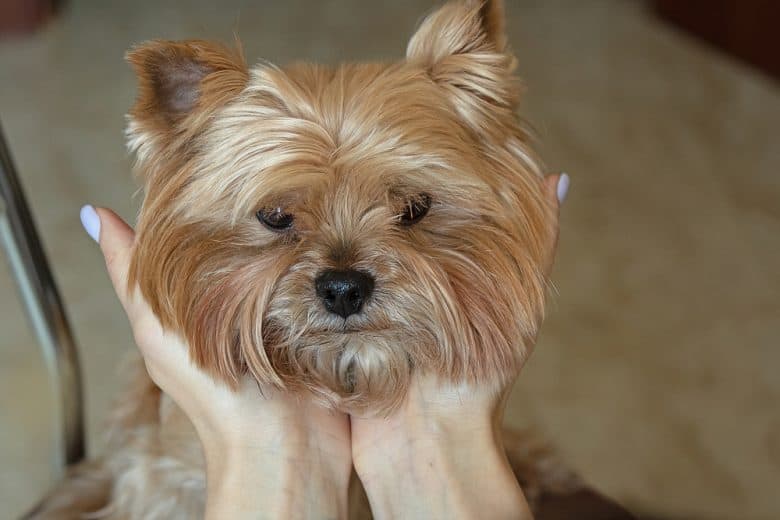 Puppies are sometimes prone to urinary tract infections. Sometimes, this is due to their breed being more vulnerable to urinary tract problems.
If treated early, the pup's urinary problems can be cleared up without difficulty. However, other dogs will need to continue with dog food made explicitly for urinary health issues.
1. Blue Buffalo Homestyle Recipe Puppy Chicken Dinner with Garden Vegetables Canned Dog Food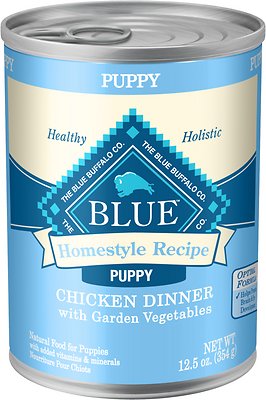 Our Rating: 4.8
Top Ingredients: Chicken, Chicken Broth, Chicken Liver
Type: Wet
This wet dog food has more moisture than most, which can prevent dehydration. Hydration is essential to prevent urinary problems. It is also packed with omega fatty acids for healthy skin and coat.
This food is a suitable choice for many puppies as it contains quality ingredients your growing pup needs.
Pros:
Made with real chicken
Formulated with DHA
Does not contain any by-product meals, corn, wheat, or soy
Cons:
Contains peas, which the FDA is currently investigating due to its potential link to Canine Dilated Cardiomyopathy
Best Dog Food for Adult Dogs with Urinary Health Issues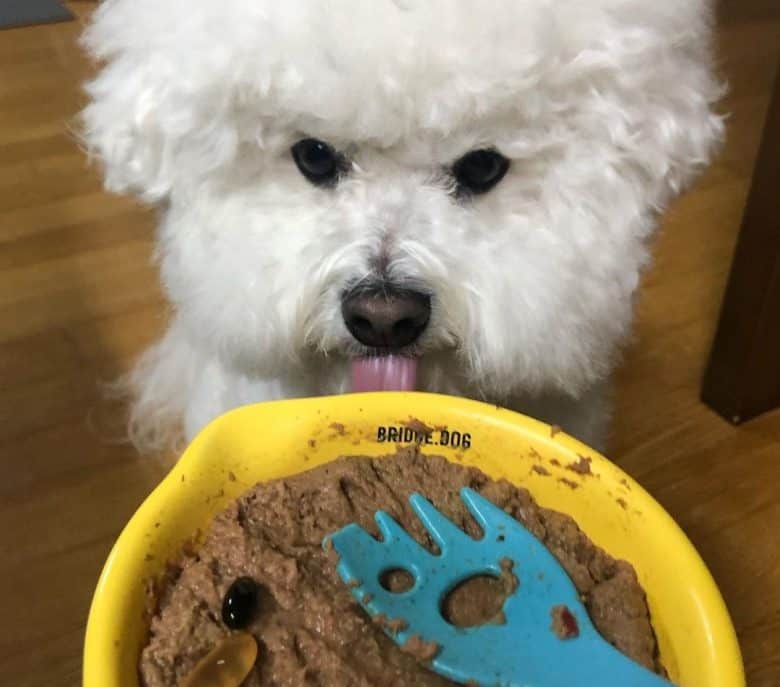 In this section, you'll find various dog foods specifically designed for adult dogs with urinary added health problems.
2. Blue Buffalo Natural Veterinary Diet + Urinary Care for Dogs
Our Rating: 4.5
Top Ingredients: Deboned Chicken, Chicken Meal, Pea Starch
Type: Dry
This dry dog food is designed to support your dog's urinary health and help them maintain a healthy weight. It is made with dietary fiber to help your canine stay fuller for longer, and it is completely grain-free.
Pros:
Veterinary diet formula
Formulated with low levels of magnesium and sodium
Contains no corn, wheat, or soy
Cons:
3. Purina Pro Plan Urinary Veterinary Diets Canned Dog Food
Our Rating: 4.5
Top Ingredients: Chicken, water, rice
Type: Canned
This is another veterinary formula that is specifically formulated for urinary health. It is canned food with higher moisture content, making it perfect for canines with urinary problems.
Pros:
Extra moisture
Formulated to lower the risk of urinary stone formation
Designed by vets
Cons:
Includes meat by-products (aka mystery meat)
4. Royal Canin Veterinary Diet Urinary SO Small Breed
Our Rating: 4.7
Top Ingredients: Brews Rice, Corn, Chicken Fat
Type: Dry
This formula is designed to support the urinary tract and bladder in smaller dogs. It dilutes certain minerals to reduce the chance of stone and crystal formation. The kibble size is adapted for smaller dogs.
Pros:
Lowers iron concentration in urine
For dogs under 22 pounds
Does not contain peas or any pea by-products
Cons:
Not particularly high in meat ingredients
Includes a variety of low-quality ingredients
5. Hill's Prescription Diet C/D Urinary Care Multicare Chicken Flavor Wet Dog Food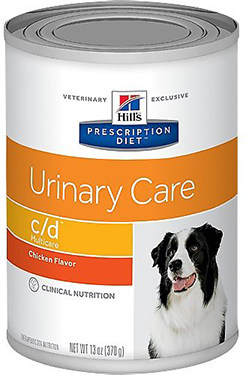 Our Rating: 5
Top Ingredients: Water, Beef By-Products, Chicken
Type: Wet
This wet dog food is specifically designed to support your dog's bladder and urinary function.
It includes all the essential nutrients your canine needs without overloading the bladder and causing stones to develop.
Pros:
Reduces the risk of calcium oxalate crystals and struvite crystals
Formulated with controlled levels of magnesium, calcium, and phosphorus
Includes extra antioxidants and omega fatty acids
Cons:
6. The Honest Kitchen Whole Grain Dehydrated Dog Food Chicken Recipe
Our Rating: 4.6
Top Ingredients: Dehydrated Chicken, Dehydrated Potatoes, Organic Barley
Type: Dry
Sometimes, all a dog with urinary problems needs is high-quality dog food. That's exactly what this food by The Honest Kitchen is.
It is made with free-range chicken and organic whole grain barley. This food is also non-prescription.
Pros:
AAFCO compliant
Made with minimal processing
Contains no by-products, preservatives, or GMO ingredients
Includes add moisture
Cons:
Expensive
Requires some preparation at home
7. Nulo Adult Trim Weight Management Dry Dog Food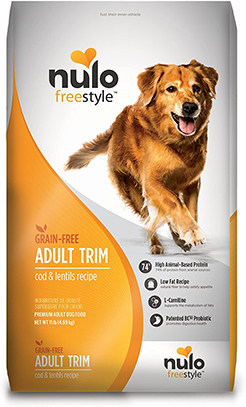 Our Rating: 4.5
Top Ingredients: Deboned Cod, Turkey Meal, Salmon Meal
Type: Dry
This dog food is made with plenty of meat products, including cod, turkey, and salmon.
It is free of corn, wheat, soy, and white potatoes. The blend is made with 74% animal-based protein, which is relatively high.
Pros:
Designed to help manage weight
Includes high-quality proteins
Probiotics included
L-Carnitine included boosting metabolism
Cons:
Digestive problems have been reported
8. Hill's Prescription Diet c/d Urinary Care Multicare Chicken Flavor Dry Dog Food
Our Rating: 4.8
Top Ingredients: Whole Grain Corn, Chicken Meal, Pork Fat
Type: Dry
This formula is designed specifically for dogs with urinary tract problems and bladder stones. It provides just the right amount of magnesium and phosphorus to prevent overloading the dog's system.
It is even enhanced with antioxidants to support your dog's immune system.
Pros:
Balanced fat levels
Low sodium content
Includes omega-3 fatty acids
Cons:
9. Purina Pro Plan Veterinary Diets UR Urinary Ox/St Dry Dog Food
Our Rating: 4.5
Top Ingredients: Brewers Rice, Whole Grain Corn, Chicken By-Product Meal
Type: Dry
This food by Purina is explicitly designed to prevent painful urinary stones from forming.
It is intended for all life stages and can even dissolve current sterile struvite stones. Many dogs find that it is great-tasting, as well.
Pros:
Specifically formulated to prevent urinary stones
Includes antioxidants
Dissolves current stones and prevents new ones
Cons:
Best Dog Food for Senior Dogs with Urinary Health Issues
Senior dogs are more prone to urinary health problems. We've selected one dog food that's specifically formulated to support your dog's urinary tract.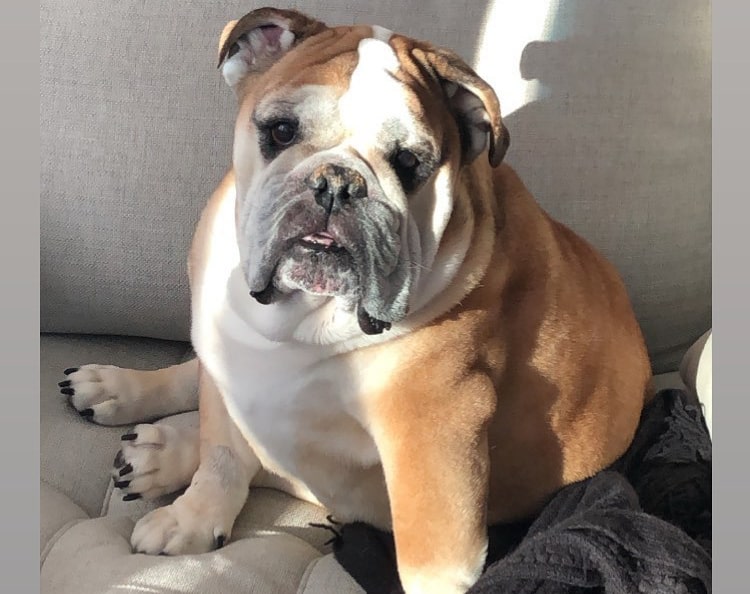 10. Royal Canin Veterinary Diet Urinary SO Aging 7+ Canned Dog Food
Our Rating: 4.5
Top Ingredients: Water, Chicken, Chicken Liver
Type: Wet
For senior dogs, this dog food by Royal Canin is the best for urinary problems.
It is highly palatable and comes with water as the first ingredient to increase hydration. The included ingredients are also relatively high-quality.
Pros:
Specially formulated for seniors
Blend of antioxidants and nutrients to promote healthy cognitive function
Can dissolve stones
Cons:
What are the common urinary health issues in dogs?
Dogs can potentially get several urinary health problems, just like people. Luckily, most of these problems are completely curable as long as help is sought.
However, in some cases, these problems can be deadly if left untreated. The problem itself usually isn't fatal, but infections can spread and cause other problems.
For this reason, it is essential to get your dog to the vet if you expect that they may be suffering from a urinary problem.
Infections in the Urinary Tract and Bladder
Urinary tract infections are quite common in some dogs. Symptoms include frequent urination, pain while urinating, blood in the urine, or straining to urinate.
Dogs that suddenly start going into the house may have a urinary tract infection.
A urinalysis typically diagnoses urinary tract infections. This is a breakdown of the contents of your pet's urine ph. You will need to collect a urine sample.
However, even if a urinary tract infection can often be determined by a urinalysis, a culture and sensitivity test is sometimes necessary.
Several organisms can cause UTIs. Some only respond to certain antibiotics. Therefore, figuring out the bacteria causing the problem is important for treatment.
As we mentioned above, some dog breeds are prone to UTIs. Female dogs and those with diabetes mellitus are more likely to contract UTIs. Dogs that have bladder stones may be more susceptible to UTIs as well.
Formation of Stones and Crystals in the Bladder
Occasionally, stones and crystals can form in the bladder. These rock-like formations are made of minerals that have settled in the dog's bladder.
There can be a single, large stone or several smaller stones. Usually, a mixture of stones is present.
The clinical signs of stones include blood in the urine and straining while urinating. The condition is assumed to be painful, as people with bladder stones report pain.
Sometimes, these stones can cause an obstruction. This obstruction can be partial and will cause the dog to urinate more frequently.
Complete obstructions will eventually lead to the rupture of the bladder and are considered life-threatening.
No one knows exactly how bladder stones form, but there are many theories. Most of them are related to diet, so a change in your dog's diet is often recommended.
There are several minerals that dogs prone to kidney stones should keep at a minimum.
Usually, bladder stones can not be diagnosed based on clinical signs alone. Sometimes, bladder stones can be palpated with the fingers.
An x-ray is required to see the stones inside the bladder, though. One or more tests may be necessary to see the stones properly.
There are a few treatment options for bladder stones. One is surgical removal, which involves surgery to remove the stones.
The other option does not involve surgery. In addition, the stones can sometimes be dissolved using dietary changes alone.
Prevention is usually the best treatment in this case, though. Dog foods that are high in protein, magnesium, and phosphorus may contribute to bladder stones.
While all dogs need these minerals, those prone to bladder stones should consume them in smaller amounts.
Other Kidney and Bladder Issues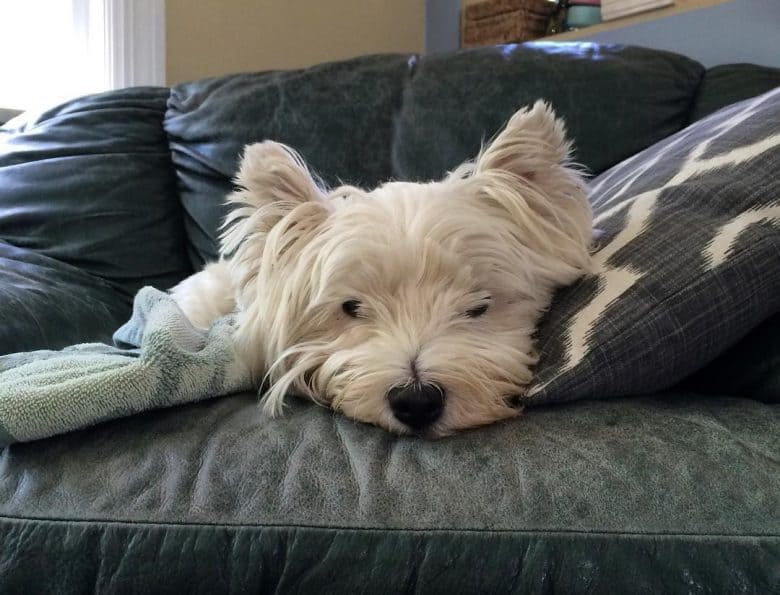 There are several other bladder and kidney problems as well, though these are usually rarer. Here is a list of other possible problems:
Diabetes Mellitus
Bladder Cancer or Tumors
Cushing's Disease
Pyometra
Prostatic Disease
Kidney Stones
Weakness of Urethral Sphincter (Incontinence)
Incontinence is commonly a problem for older dogs. However, it can affect any dog at any age.
Incontinence has many different problems. Often, it is a symptom of an underlying disease.
UTIs, anatomic abnormalities, weak bladder, spinal injuries, and inherited medical conditions can all cause incontinence at any age. Prostate disorders, hormonal imbalance, and medications can also cause this problem.
Symptoms are usually pretty obvious; the most apparent sign is that your dog will have accidents.
However, if your canine was previously house trained and then starts having accidents, it could be a sign of a deeper problem.
Spayed female dogs may develop a specific type of incontinence called "spay incontinence." It is caused by low estrogen levels, which eventually leads to muscle tone loss in the urethra.
Here's Dr. Lera discussing what urinary incontinence is and the tests your pup might need to determine if they have incontinence:
Urinary Tract Obstruction
Bladder stones usually cause urinary tract obstruction. These can go into the urethra and block the urine flow, which can be a serious problem.
If the blockage is complete, no urine will pass through the dog's system, and the bladder will eventually rupture.
Other things that somehow get stuck in your dog's urine can also create obstructions, though.
Kidney Disease or Failure
Kidney disease is often one of the most severe bladder problems out there. It involves the failure of the kidneys.
The kidneys are essential to your dog's body since they filter out wastes from the blood. So when they begin to fail, it can cause serious problems.
Causes of Urinary Tract Health Problems
Causes of urinary tract problems can vary widely from canine to canine. Some are born with anatomical differences that may put them more at risk for urinary problems.
Others may get exposed to bacteria that set up in their urinary tract, causing an infection. Spinal cord abnormalities and even stress can cause urinary tract health problems.
Diet may also play a role, especially in the formation of stones. High levels of certain minerals may play a role. Diets that are lower in these minerals may help prevent stones from forming.
Trauma to the urinary tract, bladder, or kidneys can also cause issues, such as obstructions. Congenital abnormalities can cause issues in puppies as they age.
Any disease that causes excessive drinking or little drinking can lead to other problems if left untreated.
Some dog breeds are particularly prone to urinary problems, including bulldogs.
Symptoms of a Urinary Tract Health Concern
The symptoms of most urinary tract problems are very similar. Therefore, it is difficult to tell them apart based on symptoms alone.
Often, UTIs are the most common, but all disorders will require further testing for confirmation.
Signs of Bladder Stones in Dogs
Bladder stones may not cause any symptoms at all until they get more serious. Often, you may not notice any symptoms until an obstruction occurs. Obstructions are severe and are considered life-threatening.
Here is a list of common symptoms:
Trouble peeing
Discolored urine
Unable to control his bladder
Blood urine
Vomiting
Urinary Tract Infections Symptoms
UTIs may not have many symptoms either. If you notice any of these possible symptoms, it is important to get your dog checked.
The infection can spread to areas where it may be more serious, like the bladder. You may not see a long list of symptoms with a UTI.
Here is a list of UTI symptoms:
Lethargy
Foul Smell from Urine
Persistent Licking of Genitals
Lack of Appetite
Urinating in inappropriate places
Incontinence
What role does diet play in treatment?
Diet can play a significant role in managing urinary tract problems. Proper hydration is important to avoid things like UTIs and bladder stones. Wet food can improve a dog's hydration if they aren't drinking enough otherwise.
The formulation of minerals also matters. Some have too high levels of certain minerals like phosphorus. Dogs who are prone to stones should consume lower levels of phosphorus in their diet.
Best Dog Food for Urinary Health Issues Buying Guide
Many urinary health issues can be prevented through proper diet. Stones are especially tied to diet, so canines prone to stones should consume a particular diet.
Dog Nutrition 101: What kind of food does your dog with urinary health issues need?
Puppies, adults, and seniors have specific health needs. For example, puppies often need more protein because they are growing.
However, the dietary guidelines for urinary health problems are the same for all life stages.
Things to look for when selecting food for Urinary Health: What should dogs eat?
Firstly, you should choose your food from a reliable brand. The ingredients should be high-quality and sourced from a suitable location.
Avoid foods formulated in China, for instance. The life stage should also be appropriate for your canine.
Even though you're looking for urinary health food, the ingredients should still be high-quality. Some brands may cut corners on the ingredients because it's a "specialty food."
Artificial preservatives, colors, and flavors should be avoided.
Balanced nutrition is essential, though lower protein is acceptable to avoid bladder stones. The protein included should be high-quality, though.
Omega-3 fatty acids are helpful for all canines and should be included. Preferably, the food should be high in moisture to increase hydration. Mineral levels like potassium should be limited to prevent buildup.
There aren't any specific ingredients that should be avoided or included in urinary health dog food. Instead, the overall mineral and protein content is the most important thing to consider.
You should also consider the ion content and pH levels. Alkaline food may help prevent calcium oxalate stones and increase overall bladder health.
Limited ingredient and natural ingredient diets may be helpful, but they aren't absolutely necessary.
Lower urinary tract diseases are usually caused by bacteria, which may not be affected by diet. Other urinary tract issues often are, though, in which case you will likely need to pick a prescription dog food.
Wet, Semi-Moist, or Dry? Which food is best for your dog?
For dogs prone to urinary problems, wet is the best option. This will increase water intake, which is important for dogs with nearly any urinary problem.
Dry can be suitable as well as long as your canine is drinking enough.
To grain or not to grain: Do dogs need grain-free food for Urinary Health issues?
There is no benefit to grain-free food for urinary health. Adding grains may help bring the protein level down to a suitable amount by increasing the carbohydrate amount.
However, high protein diets are not acceptable for most canines with urinary health problems.
Grain-free foods aren't necessarily bad, though. Some have been connected to heart problems by the FDA, however.
Unless your dog is allergic to gluten, there isn't a particular reason to avoid it in pet food. Whole grains can be quite nutritional.
Can you give homemade food for your dog with Urinary Health issues?
Yes, but be sure you work with your vet to ensure that your dog is getting the appropriate amount of nutrients.
Here's one recipe for homemade dog food you can try:
Ingredients:
Chicken legs and thighs
Carrots
Potatoes
A cup of rice
Two tbsp of olive oil
Instructions:
Cook the rice according to package instructions
Cut the carrots and potatoes into bite-size pieces
Add the olive oil and cook the chicken and vegetables in the oven until tender
Once the chicken has cooled, pick off the bones
Mix all the ingredients in a bowl
You may serve right away, or you may put them in bags to freeze so you can serve them later.
Frequently Asked Questions (FAQs)
How to switch dog food without getting your pup sick
You should switch to dog food slowly. Start by adding only a tiny amount of the new dog food to your dog's current food. As they tolerate it, switch out more until they are completely on their new food.
Should you give dog chews for Urinary Health to your dog?
Yes, some chews are appropriate for dogs. Preferably, you want chews that are low in protein and phosphorus. Check the ingredient list and nutrition label. This often means resorting to dog treats like cookies and biscuits.
Can a dog pass bladder stones?
Some stones may be small enough for a dog to pass. These stones can be used to determine what the other stones are made out of, which may help with treatment options.
However, bigger stones cannot be passed and will need to be removed through other means.
What medicines can you give your dog for better urinary health?
Sadly, there aren't many medications to help prevent most urinary problems. And before administering any medication, you need to check with your vet first.
Your vet may prescribe antibiotics for your pet if they already have UTI. However, diet and lifestyle changes are going to be the most important and practical.
Which supplements can you give to your dog for better urinary health?
There are many options on the market, many of which include cranberry.
Chewy and Amazon sell a number of supplements that you can buy. These supplements come in different forms like chewable, gels, tablets, and powders.
Speak with your vet about what may be the most helpful in your dog's specific situation.
Which food is best for Urinary Health?
The obvious winner is Hill's Prescription Diet C/D Multicare Urinary Care Chicken Flavor Dog Food if you have an adult canine.
This food is wet, so it includes higher levels of moisture than other diets. It also has decreased levels of certain minerals, which can help with stone prevention.
There are other dog foods that are great for your pup's urinary health but did not make it to our list.
You can check out Wellness CORE Grain-Free Puppy Recipe, FirstMate LID Australian Lamb Meal Formula, and American Journey Salmon & Sweet Potato Recipe, which are good recipes for dog foods for urinary health.
It's important to consult your vet first if you're changing your pup's food, especially if he has urinary health concerns.
Has your dog tried any of the foods we mentioned? Leave a comment below; we'd love to know more about it.
Reference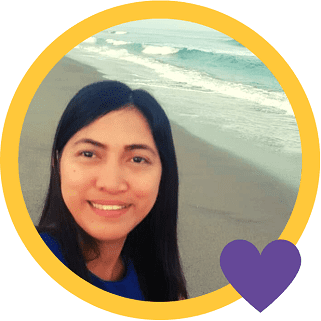 Cess is the Head of Content Writing at K9 Web and a passionate dog care expert with over 5 years of experience in the Pet Industry. With a background in animal science, dog training, and behavior consulting, her hands-on experience and extensive knowledge make her a trusted source for dog owners.
When not writing or leading the K9 Web content team, Cess can be found volunteering at local shelters and participating in dog-related events.