We may earn a small commission when readers buy products through links on this page. It supports our team to keep posting great content. Learn more about this
here
.
Last Updated on April 24, 2023
Yeast infections aren't just a human problem – dogs get them too!
Often confused for skin allergies, yeast infections can be a depressing and often frustrating chronic problem that causes your dog to itch uncontrollably, smell bad, and look poorly.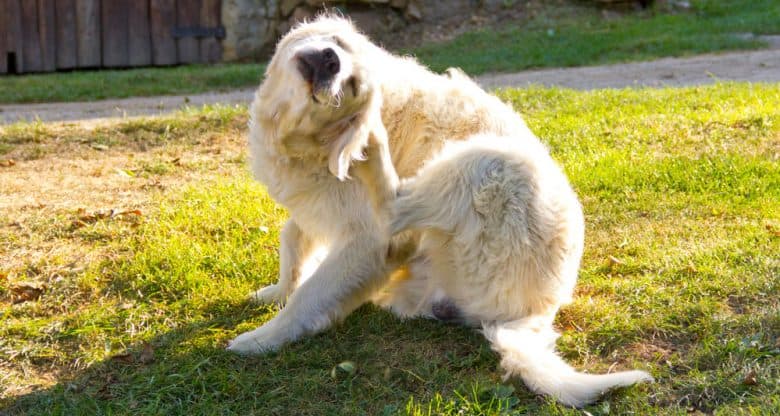 You can treat a canine yeast infection with medicated shampoos, antibiotics, and by changing your dog's diet.
Top 5 Picks for Best Dog Food for Yeast Infections
Best Dog Food for Dogs with Yeast Infections (by Life Stage)
There aren't any dog foods catered specifically to prevent or treat yeast infections, but there are certain ingredients that may exacerbate the problem.
While searching for the best anti-yeast dog food, you want to avoid starchy or sugary ingredients.
Best Puppy Food for Yeast Infections
All puppies require lots of calories to grow properly, but when you have a pup with a yeast infection, you'll want to make sure that the calories come from protein instead of carbs or sugar.
1. Farmina Medium and Maxi Breed Puppy Food (Lamb & Blueberry)
Our rating: 4
Top ingredients: Lamb, Dehydrated Lamb, Whole Spelt
Type: Dry
A medium-to-large-breed formulation that offers appropriate joint support.
Made from GMO-free ingredients such as sweet oranges and blueberries, your pup will be getting a highly nutritious and low-glycemic meal.
Pros:
Wonderful option for dogs with allergies to peas or legumes
Low-glycemic recipe that doesn't contain potatoes
Cons:
Doesn't sit well with all dogs and have been known to cause loose stools
2. Zignature Zssential Multi-Protein Formula Grain-Free Dry Dog Food
Our rating: 4.5
Top ingredients: Turkey, Turkey Meal, Salmon
Type: Dry
An all-encompassing formula that is gluten and grain-free. Whether puppy or adult, large breed or small, this is the kibble that is suitable for all.
With only the basic necessities, Zignature removes any potentially problematic ingredients. It's the best choice for sensitive pups.
Pros:
32% protein
Has no common allergens like corn, potatoes, chicken, wheat, or soy
With the added benefit of flaxseed oil which is a healthy source of omega-3 fatty acids for healthy skin and a shiny coat
Cons:
Best Adult Dog Food for Yeast Infections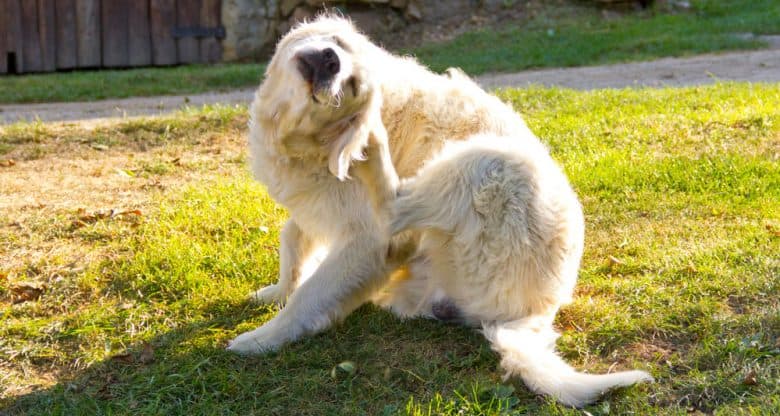 The top picks for adult dog food are often made with natural ingredients or contain human-grade natural foods.
Pet owners who have dogs suffering from Malassezia or other forms of yeast infections know how tiresome home remedies can be.
The best dry dog food comes into play as it can help curb some of these itching problems.
1. NUTRISCA Dry Dog Food (Lamb & Chickpea)
Our rating: 5
Top ingredients: Lamb, Lamb Meal, Peas
Type: Dry
A formula that's suitable for adult dogs of all breeds. This grain and starch-free dog food emulate a dog's natural diet.
This best value for money dog food has all the necessary ingredients and more. You can expect your dog to be better protected with the added antioxidants and minerals.
Pros:
30% protein
A grain-free formula suitable for sensitive digestions
Filled with antioxidant-rich ingredients such as blueberries and carrots
Cons:
Contains chicken fat which is a controversial ingredient for dogs sensitive to poultry
2. The Honest Kitchen Limited Ingredient Diet Fish Recipe Grain-Free Dehydrated Dog Food
Our rating: 4
Top ingredients: Dehydrated White Fish, Dried Organic Coconut, Dried Chickpeas
Type: Dehydrated
This list won't be complete without mention of The Honest Kitchen. Made from only six wholesome ingredients, it is easily digestible and packs a punch of nutrients.
Relatively pricey, it's best recommended for dogs with severe allergies and super sensitive stomachs.
Pros:
Limited ingredients mean a lower chance of having an allergic reaction
Also comes in beef, duck, turkey, and chicken recipes
Human-grade dog food
Cons:
Must be prepared with carefully measured amounts of water and rehydrated prior to serving
Doesn't come cheap
Fishy smell might be too pungent for some
3. Rachael Ray Nutrish Natural Chicken & Veggies Recipe Dry Dog Food
Our rating: 4.5
Top ingredients: Chicken, Chicken Meal, Dried Peas
Type: Dry
This recipe might have slightly lower protein levels than the rest of the dog food listed here, but it is a grain-inclusive option that offers wholesome carbohydrates.
If your dog is not too sensitive, they could benefit from this great value for money option!
Pros:
26% protein
U.S-grown chickens as the first ingredient
Perfect for adults of all sizes
An affordable option for those on a budget
Cons:
Not the best option for dogs with a high activity level
4. Stella & Chewy's Stella's Solutions Skin & Coat Boost Dinner Morsels Dog Food
Our rating: 5
Top ingredients: Lamb, Salmon, Lamb Heart, Lamb Liver
Type: Freeze-dried
Use it as a topping or feed it on its own, this all-breed suitable formula is created specifically for your dog's coat health.
Fortified with omega fatty acids, biotin, vitamin E, and linoleic acid, it will help keep your pooch's skin problems at bay. Say bye-bye to itchy skin and hair loss with Stella & Chewy's limited ingredient recipe.
Pros:
Contains pineapple, a natural anti-inflammatory fruit
Includes superfoods such as chia seeds and fenugreek to combat yeast overgrowths
Uses coconut flour as a binding agent which is much healthier for your doggo
Cons:
5. CANIDAE Small Breed Adult Dry Dog Food
Our rating: 4.5
Top ingredients: Chicken, chicken meal, peas
Type: Dry
One of the very few dog foods specially formulated for extra small dogs that protect against food allergies and yeast problems.
With novel protein from wild-caught salmon and zero grains, this is the perfect option for toy dogs with sensitivities.
Pros:
Freeze-dried raw coated kibbles which are smaller and healthier for small breeds
Contains probiotics for easy digestion
Created with just eight key ingredients
Cons:
Owners have complained of inconsistencies with the kibble
6. Brothers Complete Dry Dog Food (Lamb and Egg)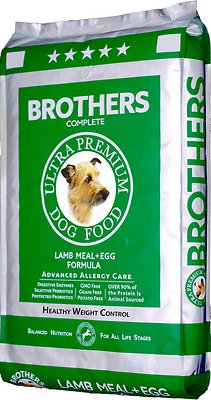 Our rating: 4.5
Top ingredients: Lamb meal, Dried whole eggs, Turkey meal
Type: Dry
Best-suited for dogs with advanced allergies or for dogs whose immune system needs a boost. This high-quality dog food comes in pellets instead of the common kibble.
A low carb and low glycemic choice which is high in amino acids, and for highly active dogs that require some assistance in the digestive department.
Pros:
Includes digestive enzymes and both pre-and probiotics
Natural preservatives are used in this wholesome dog food free from artificial fillers that may cause health issues
Cons:
There was an owner who complained about this recipe giving their dogs tummy troubles
7. Earthborn Venture Dry Dog Food (Rabbit & Pumpkin)
Our rating: 4.5
Top ingredients: Rabbit Meal, Pumpkin, Tapioca
Type: Dry
Earthborn Holistic's Venture line actually has a few different flavors.
You can choose the exotic Alaskan pollock, wild boar, or this rabbit and pumpkin food formula. It's formulated specifically for dogs with skin and digestive problems.
Its protein source would not trigger and make yeast issues worse, and your pet will surely enjoy it.
Pros:
Doesn't contain any eggs, by-products, or potatoes, which may cause allergies in some dogs
The natural ingredients are highly digestible and high in both vitamins and minerals
Cons:
Some owners may not be able to handle the smell
Very few dogs have experienced loose stools
Best Senior Dog Food for Yeast Infections
Generally, older dogs require less fat and carbs. So, a senior pooch should stay away from overly starchy ingredients.
Even sweet potatoes, which have been touted as a healthy alternative to potatoes should be avoided.
1. Instinct Natural Dry Dog Food (Rabbit)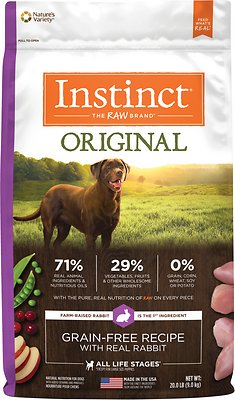 Our rating: 5
Top ingredients: Rabbit, Salmon Meal, Menhaden Fish Meal
Type: Dry
This freeze-dried raw coated kibble gives fido an extra push in the health department thanks to the high amounts of nutrients found in raw food.
You don't have to worry about any nasty additives such as artificial coloring, flavoring, or by-product meals. As an added bonus, this dog food is also free from potatoes and grains.
Pros:
Naturally occurring omegas for healthy brain health and shiny fur
Includes the necessary additives for a healthy digestive system and immunity
Contains cranberries, a fruit high in antioxidants
Cons:
Understanding Yeast Infections In Dogs
The first thing you should know is that your dog did not contract an overgrowth of yeast from an infected dog or even person. It is not contagious at all.
A yeast infection can occur in any damp or moist area, such as the ears or skin folds. It can cause the leaky gut syndrome, which can aggravate yeast infections.
What Causes a Yeast Infection?
Yeast infections are caused by an imbalance of bacteria that naturally lives on canines called Malassezia and Candida.
An abundance of these bacterias may cause your dog to have ear infections if their ears aren't cleaned and dried properly after a bath or swim.
A full-blown yeast infection can start with a shallow cut, an insect bite, or a compromised immune system; this is where diet can help.
Most common symptoms of yeast infections in dogs
Allergies may cause an overgrowth of yeast by compromising your dog's immunity, but a yeast infection can also cause allergies to develop, too.
Symptoms of Yeast Dermatitis (Malassezia)
Symptoms of Candidiasis

Itchiness
Musty smell on the skin
Skin inflammation
Dry or flaky skin
Darkened or thickening of the skin
Frequent ear infections

Scratching excessively
Pawing at their ears
Shaking their heads
Redness and inflammation
Unpleasant odors
Fever
Skin irritation or sores
What is an Anti-Yeast dog food?
Since yeast feeds on sugar, eliminating starch and glucose from your pet food can significantly starve the infection.
A diet high in antioxidants and vitamins can also strengthen your dog's immune system, which can help fight off future infections.
Many anti-yeast diets are low in starch and fortified with digestive enzymes. You can also look for omega oils and other supplements that will help strengthen your dog's skin and coat.
Best Anti-Yeast Dog Food Buying Guide
A balanced diet is a key to a healthy and happy fido. Even if he is suffering from chronic yeast infections, you want to make sure their dog food has all the essential nutrients.
Dog Nutrition 101: What kind of food does your dog need for Yeast Infection?
Different dog breeds have different nutritional needs, and so do dogs in various stages of their life.
Large breed puppies need carefully balanced amounts of calcium and phosphorus to ensure proper joint development.
Teeny tiny puppies will need more calories to sustain their fast metabolisms, plus they reach maturity much sooner than larger breeds.
On the other hand, senior dogs require fewer calories and may need softer dog food, depending on their activity level and dental health.
On the topic of activity level, the diet of adult dogs should help keep them at an optimum weight.
Things to look for when selecting dog food for Yeast Infection
Whether choosing a dog food off Amazon or Chewy, always ensure the dog food has a low glycemic index and high protein.
Allergies may aggravate yeast infections, so limited ingredient diets and even grain-free recipes may be a better choice for food-sensitive pups.
Best ingredients for dogs with yeast infections
Worst ingredients for dogs with yeast infections

Lean animal protein
Leafy greens (spinach, kale, seaweed)
Zucchini
Broccoli
Omega-rich foods (flaxseed, fish)
Low sugar fruits (raspberries, guava, cantaloupe, papayas, strawberries)
Probiotics and prebiotics

Gluten (wheat, barley)
Grains (rice)
Sugary fruits (mangoes, bananas, cherries)
Potatoes
Processed food
Peas
Corn
High fructose corn syrup
Wet, Semi-Moist, or Dry? Which food for Yeast Infection is best for your dog?
Choosing lean proteins over starchy foods is much more important than the texture of the food. Wet, raw, dry, or any type of food doesn't matter much.
When feeding dry kibble, pay attention to your dog's water intake, especially if your dog isn't fond of drinking water.
To grain or not to grain: Do dogs need grain-free food for Yeast Infection?
Grain-free dog food is best suited for dogs with grain allergies.
If your dog isn't grain-sensitive, there's no reason to put them on a grain-free diet, especially if they are a breed susceptible to heart disease.
Furthermore, grain-free doesn't mean anti-yeast. Many of these grainless options contain potatoes and other starchy foods, which are a no-no.
Frequently Asked Questions (FAQs)
How much food does your dog need when he has a yeast infection?
Continue feeding your dog according to his needs. There's no need to change the amount of food unless you have been feeding your dog a lower-grade pet food with lots of fillers.
Superior quality dog food keeps canines full for longer, and you won't need to feed as much.
What should you do if your dog has sensitivities and allergies?
Try to figure out what is causing your dog's allergic reactions and eliminate that food from your dog's diet.
It can be challenging, but you can start with some of the more common allergens, such as beef, dairy, wheat, eggs, chicken, lamb, and soy.
What about homemade or raw diets for yeast infections?
Homemade or raw diets are great for dogs with allergies or yeast infections because you can control what's going into their meals.
Check out how Brittany dealt with her Samoyed's sensitivities through homemade food:
What can you give your dog for ear infections?
To help soothe your dog's itchiness, you can deposit some green tea, diluted apple cider vinegar, or medicated ear drops into your pooch's ears.
You can also offer your pup some coconut oil for its antifungal properties. You should give 1 tsp for 10 lbs (4.5 kg) of body weight. Water can also help flush the toxins out.
How do you cure yeast infections in dogs?
The root cause of a yeast infection is your dog's immune system. In many dogs, yeast infections will be a chronic problem, and there is no actual cure.
However, you can manage it by using an appropriate shampoo and offering a suitable diet.
4 Simple Steps To Manage Yeast Infections In Dogs
Step 1: Treat the Itch
Check for hot spots and your dog's ears. You can help alleviate the itch with homemade remedies such as a vinegar rinse. You can also look for a benzoyl peroxide shampoo if there's waxy buildup all over your dog.
Step 2: Starve The Yeast
Starch only makes up about 4% of a wild dog's diet. Commercial kibbles often exceed ten times that amount, causing the yeast to multiply out of control.
Starve out the yeast by removing sugar, including carbs. Heavy metals also attract them, so make sure you're feeding your dog high-quality fish oil, GMO-free ingredients, and non-fluoridated water.
Step 3: Kill The Yeast
Add some yeast-killing food and supplements into your dog's diet. Garlic in small, controlled amounts can be beneficial to your dog. You only want to give ⅕ tsp for every 5 lbs (2.2 kg) of your dog's weight.
Caprylic acid can also help your dog, but the dosage is around ¼ tsp for medium- to large breeds, and you will need to make your adjustments accordingly.
Powdered olive leaf has been proven to fight mange. Small dogs should have a ¼ tsp daily, medium-sized dogs at ½ a teaspoon, and large dogs can have 1 tsp.
Pau D'Arco is a South American herb and should never be given to pregnant dogs.
Canine Herbalist Rita Hogan suggests that toy dogs should have no more than 100 mg, whereas giant breeds may have up to 500 mg.
Do note that as the yeast dies, it can cause your dog to react poorly and result in diarrhea, joint pain, nausea, or a worsening of their symptoms.
This yeast die-off may last a few days up to a few weeks, but it's entirely normal and not life-threatening.
To prevent a severe yeast die-off, you can gradually increase the treatment's intensity instead of making significant changes overnight.
Step 4: Boost Immunity
A healthy gut and balanced immune system will naturally prevent yeast infections.
Probiotics and prebiotics are great in this regard, and you can find them in dandelion root, burdock root, chlorella, and raspberries.
Fiber can increase the good bacteria in your dog's gut which will help control the growth of yeast in your dog. That's why leafy greens are a great addition to your dog's diet.
Talk to your vet before choosing the best dog food for yeast infections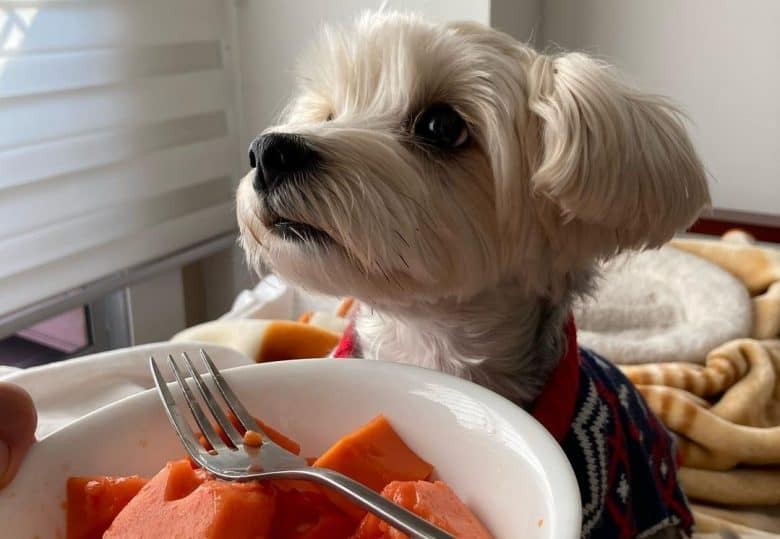 While some dogs can never be completely yeast-free, a suitable diet will help immensely in helping your dog live a comfortable life.
When choosing a diet for your dog, don't forget to take into account their activity level, breed size, and life stage.
Let us know in the comments if you have anything to add or a question we can help answer!
Further Reading: Got issues? We've got solutions
Reference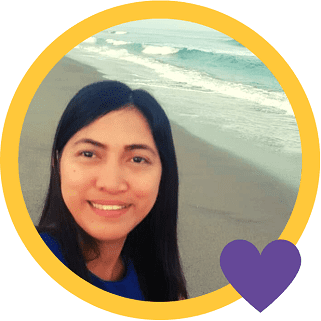 Cess is the Head of Content Writing at K9 Web and a passionate dog care expert with over 5 years of experience in the Pet Industry. With a background in animal science, dog training, and behavior consulting, her hands-on experience and extensive knowledge make her a trusted source for dog owners.
When not writing or leading the K9 Web content team, Cess can be found volunteering at local shelters and participating in dog-related events.