Last Updated on April 20, 2023
When it comes to Irish pride, this extends to our beloved pets.
Irish dog breeds, such as the Irish Setter, Irish Terrier, Irish Water Spaniel, Irish Wolfhound, Soft-coated Wheaten Terrier, and the Kerry Blue Terrier, are often given Irish names that reflect their heritage.
But what is the perfect name for your pup? Get inspired by Irish words, drinks, and places, as we look at the most popular Irish dog names.
What is a good Irish name for a dog?
Dogs have been beloved by the Irish for centuries. They are symbols of strength in Gaelic culture. As a result, some of the world's most popular dog breeds take their roots in Ireland.
Do you have an Irish breed and want to give them a fitting name? Or do you simply love Ireland and so like a name inspired by the rolling green hills and dark beer that would work for your Labrador Retriever?
Perhaps you have Irish roots of your own and want an Irish-inspired name that helps your new dog fit into your very own clan.
Irish names can be unique and different, rich in stories and history, even having mythical origins.
You can choose an Irish name to match your dog's personality or looks, such as coat coloring, or simply decide on a name based on its hidden meaning.
Either way, remember you'll be saying it repeatedly at the dog park when you're out on a walk or doing dog training. So pick something easy and fun to say and sounds pleasing to your ear as well as your dog's!
Remember you will also be shouting the name in public or in front of your granny and children, so stay away from anything offensive or rude.
You will also want to choose a well-suited name to their gender and the breed of dog.
Who's the most famous Irish dog?
Ireland not only breeds some of the world's best dogs, but it is also home to some much-loved celebrities.
These famous faces could serve as inspiration when choosing a name for your pet. Bono, Sinead O'Connor, Enya, Ronan Keating, and Damien Rice are all popular Irish celebrities that could lend their names to your pet.
Or, you could forget the stars and turn your attention instead to famous pups that have made a name for themselves in their own right.
You can't help but smile while looking at some of the most popular Irish dogs on Instagram.
Dublin resident @Bertietheblogger is an adorable Cockalier who loves posting about his adventures around the Irish countryside.
You could also follow Cronan and Garvan, two wolfhounds who make their home in Ashford Castle, or check out Phoenix on @phoenix_pudding to meet a working cocker spaniel who has some of the best hair in Ireland!
Best Irish Dog names
The Gaelic word for dog is madra. Perhaps this could be your dog's new name? Alternatively, several other Gaelic dog-related words could serve as inspiration.
Here are some of our favorites, along with their meanings:
Conan, meaning hound
Conor, meaning lover of hounds
Conry, meaning king of the hounds
Felan or Phelan, meaning wolf
Lorcan, meaning little wild one
Madigan, meaning little dog
Murphy, meaning hound of the sea or sea warrior
Rogan, meaning red-haired
You might also decide to be inspired by some commonly used Irish names, words, foods, phrases, or terms from Celtic myths. These names could include the following:
Patrick, for the patron saint of Ireland, St. Patrick
Puca, believed to bring both good and bad luck
Dagda, a large character from Irish folklore with power over life and the weather
Gael, referring to the Gaelic language and culture
Boxty, a traditional Irish potato cake
Castle, simply because there are so many of them in Ireland
Celt, after the Celtics
Top female Irish dog names
Your pup is considered a part of your family, so it makes sense to choose a human name for your dog. With Ireland producing some of the best girl's names globally, many of these could also work for your dog.
Here are some of our favorite girl dog names, along with their meanings:
Alma, meaning All Good
Aoibheann, meaning radiant beauty
Ardeen, meaning little height
Bree, meaning strong
Cadhla, meaning graceful
Cara, meaning friend
Colleen, meaning little girl
Deirdre, meaning sad one
Erin, meaning Irish
Ethne, meaning fire
Eve, meaning life
Fiona, meaning fair
Keelin, meaning slender
Keely, meaning beautiful
Keira, meaning black-haired
Kerry, meaning dark princess
Kiana, meaning ancient
Maeve, meaning goddess of song
Molly, meaning star of the sea
Neala, meaning champion
Roisin, meaning little rose
Riona, meaning queenly
Shannon, meaning wise
Saoirse, meaning freedom
Sorca, meaning bright
You might also choose to be inspired by some strong female warriors or legendary Irish characters.
This could include the female warrior Ailbhe (pronounced AL-va), the Irish saint Ita, or the monarch of the fairies, Queen Mab.
Top male Irish dog names
Irish boy names are trendy for male dogs; these can be inspired by well-known first names or even some famous Irish surnames. Here are some tremendous Irish-inspired boy dog names for your male pup:
Alroy, meaning red
Brian, meaning noble or strong
Brady, meaning spirited
Bran, meaning raven
Brendan, meaning prince
Darby, meaning liberty
Donovan, meaning dark
Declan, meaning full of goodness
Dermot, meaning free man
Cian, meaning ancient
Eloy, meaning red-haired youth
Evan, meaning little swift one
Finley, meaning fair-haired hero
Finnegan, meaning fair
Grady, meaning noble
Kieran, meaning little dark one
Liam, meaning strong-willed
Nolan, meaning little proud one
Niall, meaning cloud
Orin, meaning pale
Oscar, meaning deer lover
Rian, meaning little king
Sean, meaning god is gracious
Sullivan, meaning black-eyed one
Tiernan, meaning little lord
You might also choose to be inspired by some famous Irish male characters from film and TV, such as Flynn, the hero from Disney's Tangled.
Most popular Irish Dog names associated with the color green
Everyone knows that St.Patrick's Day-themed parties mean dressing up in the color green. Ireland is synonymous with the color green.
With green representing the Gaelic culture on the flag, the country is known as the Emerald Isle for its rolling green hills. The shamrock or three-leaf clover is also green!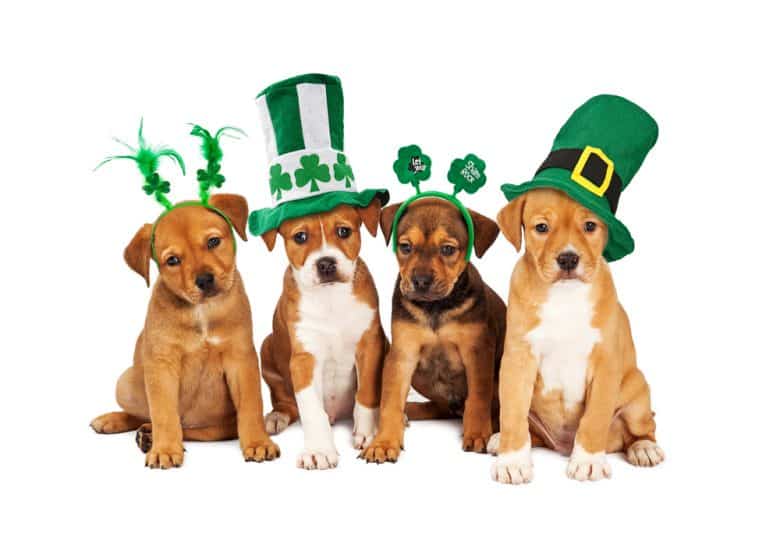 Other than naming your dog after these good luck symbols, you could choose another name inspired by the color green. How about one of the following:
Apple
Cash
Fern
Forrest
Holly
Hunter
Ivy
Pickles
Jade
Olive
Sage
Willow
You could also go for the name Odhran, pronounced O-rawn, which means little pale green one in Gaelic.
Irish Dog names inspired by names of Irish places
Ireland is a beautiful country, full of stunning towns, ancient castles, and famous landmarks. Why not choose a name for your Dog inspired by one of the Irish cities, towns, or tourist sites?
Blarney, known for the Blarney Stone and Blarney Castle
Burren, known for its bedrock landscape and limestone cliffs
Cashel, known for its rocky ruins or fairy hill and the place where St. Patrick was baptized
Cork, one of the largest cities in Ireland
Donegal, a north Ireland historic city
Dublin, the capital of Ireland and the largest city
Fingal, a medieval territory known for its coastal caves
Galway, meaning Stoney river, this small Irish town is located in the west of Ireland
Kerry, a famous county known for its dark-skinned people
Kilkenny, a favorite small town in the southeast of Ireland
Killarney, the location of one of the country's most beautiful national parks
Limerick, a medieval-style city in the south
Moher, attractive cliffs that serve as a popular natural site
Tyrone, home to the Sperrin Mountains
Wexford, a pretty town known for its medieval lanes
Irish dog names inspired by symbols of luck and destiny
The luck of the Irish is a famous phrase related to the Irish people's seemingly good fortune. Thus, it makes sense to give your dog a name associated with good luck. Here are some to choose from:
Ace
Chance
Charm
Destiny
Karma
Lucky
You could also go with a Gaelic term designed to bring your dog luck. For instance, Adh simply means lucky, or Beannaithe means blessed.
Irish Dog names inspired by Irish drinks
Ireland is a country associated with fearsome drinkers. St.Paddy's day's parties are some of the best around, filled with big jugs of green beer!
If you love a tipple or two, you might decide to name your dog after some famous Irish drinks.
The most famous Irish brand of beer, the dark stout Guinness, or even Murphy stout, could make an excellent name for a black dog. On the other hand, the Irish cream liquor, Bailey, perfect for a tan pooch.
The famous Irish drink, a Shandy, made by mixing beer with soda, could also work well for your dog's new name. Whiskey and Jameson are also other fun Irish drink-inspired monikers for your dog.
Fun Irish dog name ideas
Get inspired by your dog's personality or looks and choose a name that suits their style.
Barra, which means fair-haired, is a fun choice for a blonde dog, while Finn, which means white, would also be well-suited for a pale-colored pooch.
Orla, meaning golden princess, is also an excellent choice for a female dog, while Ciara, on the other hand, means one with dark hair. Quigley could describe a dog with unruly hair.
Alternatively, if you have a funky, bearded little dog, you might even decide to name them Leprechaun, after the little man found at the end of the rainbow!
You could also choose a fun name relevant to Ireland, such as Emerald, Hilly, Lush, or Greeny, to describe the countryside or Fin MacCool, a fantastic character from Irish legend.
Cute Irish dog names
Some of the cutest Irish dog names are sweet, short, and of course, just as adorable as your dog! How about naming your dog after the god of love, Angus, or simply opting for the Gaelic word for pup, Colin?
You might also opt for an Irish clan surname, such as O'Malley, which works wonderfully as a dog's name.
For a female dog, you might choose to name your pet Cliodhna after the goddess of love and beauty.
You could even simply opt for Gael, a shortened version of the word Gaelic, or lamb after all the little lambs found in Ireland.
Cool Irish dog names for males and females
Cool names have unusual pronunciation, ensuring your dog stands out in a crowd.
These cool names are perfect for the more adventurous dog owner who doesn't mind teaching strangers how to pronounce your dog's name or describing the hidden meaning behind it.
Try on these cool Irish dog names for size:
Ailfrid, meaning wise
Ainmire, meaning mighty lord
Aodhan, meaning fire
Caoimhe, meaning gentle or precious
Casey, meaning alert
Dempsey, meaning proud
Devin, meaning poet
Eistir, meaning star
Gaelle, meaning cheerful
Kavan, meaning handsome
Kennon, meaning ancient
Leasha, meaning alive
Muirne, meaning festive
Niamh, meaning radiance
Padraig, meaning noble
Tavish, meaning hillside
Seamus, meaning supplanter
Badass Irish dog names
Is your dog a true rebel? Then they need a name that reflects their boisterous, strong-willed nature. Here are some words that do just that:
Aidan, meaning born of fire
Bridget, meaning power and strength
Cathal, meaning mighty in battle
Delaney, meaning offspring of the challenger
Eamon, meaning wealthy protector
Fergus, meaning powerful and manly
Killian, meaning war
Lunn, meaning warlike
Mellan, meaning little lightning
Neala, meaning female champion
McBadass
McGregor (After MMA fighter Conor McGregor)
Creative and unique Irish dog names
Your dog is one of a kind, and so their name should be too. Use Irish or Gaelic words to inspire a wholly creative and exotic-sounding name for your dog:
Aoife, meaning beautiful
Blathnaid, meaning flower
Brogan, meaning sturdy shoe
Colm, meaning dove
Conlan, meaning hero
Ennis, meaning island
Girvin, meaning small rough one
Sile, meaning pure and musical
What should I name my Irish Dog puppy?
May the luck of the Irish be on your side when choosing a pet name. Your dog deserves the best name possible, and we hope we have served up great Irish-inspired choices for your best friend.
Do you have an Irish dog breed at home or a dog with an Irish-sounding name? Let us know more about your pet, and their name, in the comments below.
Further reading: Check out the list below for more creative options for your pooch!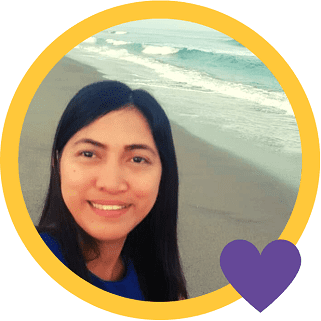 Cess is the Head of Content Writing at K9 Web and a passionate dog care expert with over 5 years of experience in the Pet Industry. With a background in animal science, dog training, and behavior consulting, her hands-on experience and extensive knowledge make her a trusted source for dog owners.
When not writing or leading the K9 Web content team, Cess can be found volunteering at local shelters and participating in dog-related events.