Last Updated on April 20, 2023
Cross a Poodle with a Golden Retriever, and you'll end up with a fluffy, teddy-bear-like bundle of cuteness known as a Goldendoodle.
These adorable, designer dogs have sweet, loving personalities to match their good looks, making them extremely popular family companions.
But such a super dog breed needs an equally great name. Let's look at our list of Goldendoodle names.
How do you pick the right name for your Goldendoodle?
Picking out name ideas for your new dog can come from a variety of sources, from your favorite book to your favorite food.
Of course, your new puppy's golden locks, fluffy appearance, and beautiful personality can also serve as inspiration.
One of the most important things to consider when choosing a name for your new Goldendoodle is training.
You will want your dog to easily be able to pick up on their name, without confusing it with a common command word, like sit or stay.
You'll also want to pick a name that's easy to call and shout across the yard and makes you happy to say.
After all, you will be using it several times a day and don't want to be embarrassed having to yell your pet's name across the park.
Also, it's best to opt for a word with one to two syllables. Dogs most easily remember these names.
Make sure the name isn't too complicated so that your dog can pick it up quickly, particularly if your pet is an older rescue animal.
The easier the name is for you and your dog to remember, the quicker the training process will be.
Who's the most famous Goldendoodle?
There are so many Poodle mixes out there! There's the Poodle-Labrador Retriever to create the Labradoodle or the Schnauzer to create the Schnoodle. The Goldendoodle, however, is perhaps the most famous of all!
These Doodle dog breeds can be found in standard, miniature, or toy sizes, depending on the Poodle parent, and are known for their cute appearance and outstanding personalities.
However, some Goldendoodles have taken their popularity to new heights on Instagram, where they share their daily doggie adventures with their followers.
These famous Goldendoodles could act as inspiration when it comes to naming your pup. Here are some of our favorites:
@brodiethatdood – A Goldendoodle from Florida named Brodie with over 46,000 followers
@orbidoodle – A pawsome prince named King Orbit with over 23,000 followers
@bentleythegroodle – Named Bentley or Bents for short, this Melbourne based pup has over 20,000 followers
@mrkevindoodle – Kevin is a cream colored Goldendoodle from Chicago with over 32,000 followers
@minidood_leo – Adorable little Leo likes in Oakland and has more than 45,000 followers
@nelsonthegoldendoodle – The uber-cool Nelson resides in Dallas, Texas, and has over 35,000 followers on his Instagram account
@minidoodlebentley – Another Goldendoodle named Bentley, this dog has an impressive 173,000 followers
@puppynamedcharlie – This Instagram accounts follows the adventures of two rescued doodles, Charlie and Sawyer, and has 137,000 followers
@samsonthedood – Perhaps the most famous Goldendoodle of all, Samson has over 1 million followers on his Instagram account
It's no wonder this crossbreed is popular! You can't just say it's a cute dog because they're amazing yet silly pups. Watch this video and get swooned:
The best Goldendoodle dog names
Goldendoodle dog owners frequently choose human names for their companions. Whether your dog is a boy or a girl, giving them an appropriate human name signifies that they are part of the family!
Female Goldendoodle names
Some of the best Goldendoodle girl dog names are happy-sounding words that end in a cheerful "ee" sound.
The best female dog names should also be fitting for your pretty princess. Some of the best female Goldendoodle names include:
Luna
Lucy
Daisy
Bella
Rosie
Maggie
Zoe
Sadie
Ruby
Millie
Chloe
Lola
Gigi
Lily
Poppy
Jojo
Piper
Joy
Dixie
Paisley
Izzy
Macy
Nala
Sophie
Phoebe
Princess
Stella
Sweetie
Zoey
Laney
Lacey
Lulu
Elsa
Darla
Hailey
Lady
Josie
Missy
Male Goldendoodle dog names
The sweet, teddy bear face of the Goldendoodle means that down-to-earth, loveable names are ideal for your boy dog.
You can also pick a name that is suited to the prince we know your dog is! Here are some of the top Goldendoodle boy names for inspiration:
Charlie
Cooper
Champ
Bailey
Harry
Ollie
Oliver
Max
Marley
Murphy
Winston
Milo
Rocky
Rover
Leo
Murphy
Beau
Duke
Frankie
Brodie
Goldendoodle names inspired by size
The size of your Goldendoodle can also serve as inspiration for their name. The smallest Goldendoodles available are Teacup Goldendoodles.
These dogs are created by crossing the Golden Retriever with a Teacup or Toy Poodle. Here are some great names for these tiny pups:
Tiny
Kid
Missy
Periwinkle
Pea
Twig
Cub
Dollie
Peanut
Pip
Pixie
A little bit bigger but no less cute, Mini Goldendoodles are created by mixing Goldies and mini Poodles. Here are some great names for Miniature Goldendoodles:
Buttons
Shrimp
Twiglet
Mini
Dumpling
Baby
Bitty
Chicklet
Cookie
Demi
Dottie
Duchess
Fifi
Goldendoodle names inspired by color
Color can serve as the ultimate inspiration for the perfect Goldendoodle name.
As these dogs are hybrids, they can come in various colors, from a light cream to a rich apricot or red, a chocolate brown, or even pure black.
Black Goldendoodle names
Even though black is one of the common Poodle colors, we can't say the same for black Goldendoodles. If you do find yourself with a black Goldendoodle pup, here are some great names for your dog:
Ash
Coal
Cinder
Ember
Jet
Olive
Oreo
Pepper
Raven
Shady
Slate
Shadow
Midnight
Brown Goldendoodle names
From a light coffee-colored Goldendoodle to one whose fur resembles dark, rich cocoa, no dog looks more like a teddy bear than a brown Goldendoodle.
Bambi
Brownie
Chestnut
Cocoa
Fawn
Guinness
Heath
Hershey
Log
Hickory
Kahlua
Mocha
Moose
Hazel
White/Cream Goldendoodle names
If you have a seemingly white pooch or one with luscious light golden fur, here are some great names for a Cream Goldendoodle:
Almond
Angel
Blondie
Butter
Buttercup
Cookie
Cotton
Frosty
Pearl
Polar
Snowball
Snowy
Sugar
Winter
Pebbles
Frost
Sugar
Apricot and red Goldendoodle names
The gorgeous apricot Goldendoodle can come in many shades, from light caramel to a deep, fiery auburn. You can also take inspiration from caramel-colored foods, gemstones, and metals:
Amber
Apricot
Blaze
Butterscotch
Caramel
Cinnamon
Copper
Crimson
Ember
Ginger
Goldilocks
Honey
Maple
Marigold
Peach
Penny
Pumpkin
Rusty
Ruby
Rose
Toffee
Sandy
Sunny
Goldendoodle names inspired by their fur
Curly, wavy, or fuzzy – the Goldendoodle's coat isn't just gorgeous, but it also doesn't shed much, making this mixed breed perfect for allergy sufferers.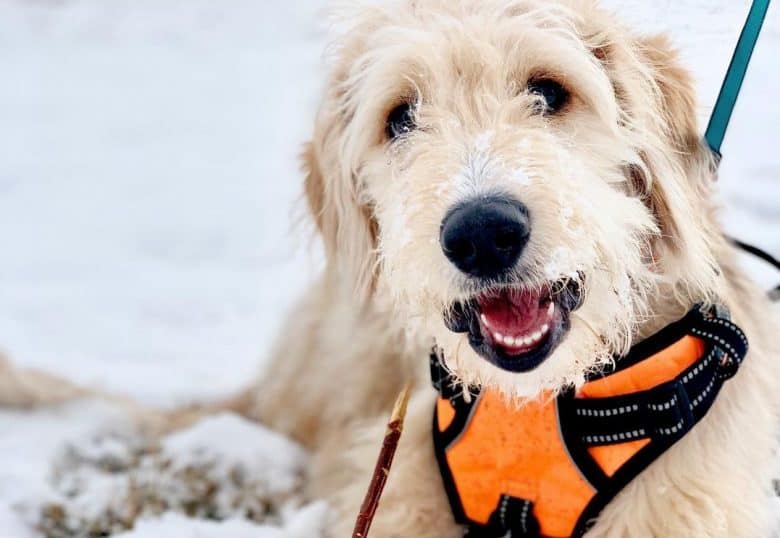 The Goldendoodle haircut can be fashioned into many styles, including a more pompous Poodle cut or a fluffy teddy bear style. Inspired by all that?
Fluff
Fuzzy
Furbaby
Furball
Puffy
Shaggy
Curly
Silky
Fleecy
Ruffles
Woolly
Whiskers
Bunny
Snuggles
Puffin
Names based on a Goldendoodle's sunny personality, zest for life, and comical disposition
While other dogs may be named something mythological to show off their strength or power, Goldendoodles are named for the sunny dispositions that make them a loving, often humorous best friend.
Here are some names that show off your dog's bubbly nature:
Buddy
Lively
Lovey
Peppy
Sunny
Wiggles
Zesty
Zippy
Zoomeez
Amica (Latin for a female friend)
Bellamy (French for a friend)
Happy
Joli
Jovi
Joy
Juju
Cool Goldendoodle names
Goldendoodles are friendly to humans and dogs, which makes them an excellent choice for families.
As one super popular pooch, your Goldendoodle deserves a cool name that shows just how much everyone wants to be their buddy.
Denver
Arrow
Titus
Magnus
Axel
Orion
Maverick
Jax
Trooper
Rebel
Sable
Tallulah
Sage
Funny Goldendoodle names
Goldendoodles can also be comical! And funny dogs can do with an equally hilarious name.
You could choose a word that rhymes with oodle, like noodle, or perhaps put a humorous sounding twist on a popular character or famous person, such as the following:
Hairy Paw-Ter
Bark Obama
Bark Twain
The Notorious D.O.G.
Captain Sniffer
Deputy Dawg
Sherlock Bones
Woofgang Puck
Count Droolsbury
Chewbarka
Mrs. Frizzle
Winnie the Doodle
Queen Elizawoof
Lucky Goodsniffer
Miss Fluffers
Princess Wags
Miss Barks-a-Lot
Lady Sniffers
Miss Barkley
Vera Fang
Cute Goldendoodle dog names
It's undeniable how cute a Goldendoodle puppy is. Their teddy-bear-like appearance just begs for a cuddle and serves as the inspiration behind many names. Here are some names for your adorable dog:
Bear
Teddy
Bruno
Polar
Grizzly
Panda
Cuddles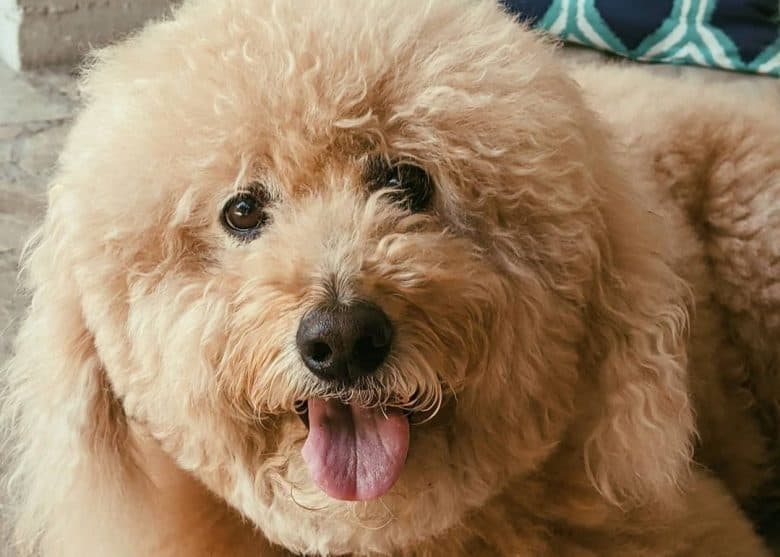 Unique Goldendoodle names
Do you want your dog to stand out from the crowd? Unique dog names can be hard to pronounce and even harder to spell, but you definitely won't get your dog confused with another at the dog park!
Here are some one-of-a-kind Goldendoodle names for male and female dogs:
Junju
Kona
Pushkin
Wailer
Ranger
Zoelle
Feather
Phaedra
Moxie
Emmy
Talulah
Minx
Ling Ling
Malani
Petunia
Athena
Breeze
Hobi
Mabel
Melody
Mitzi
Intelligent-sounding Goldendoodle dog names
And just like its parents, the Goldendoodle is a whip-smart fido that can be named to reflect their brilliance! Here are some brainy names for your pup:
Hugo
Darwin
Edison
Mendel
Hawking
Socrates
Solomon
Einstein
Mary
Hermione
Marie Curie
Alliteration names – Goldendoodle names that begin with G
Whether you love alliterations or the letter G, you might go for these choices:
Gus
Goofy
Gizmo
Georgie
Galaxy
Ghost
Gabby
Gemma
Genie
Georgia
Gypsy
Grace
Gloria
Goldie
Goldendoodle names inspired by food
Are you and your Goldendoodle a foodie? You can choose a moniker that reflects the love for your favorite food!
Doughnut
Cheerio
Biscuit
Pumpkin
Nacho
Basil
Pork Chop
T-Bone
Noodles
Caramel
Snickerdoodle, or snickers for short
How long will it take my Goldendoodle to learn his name?
Your dog's name will be the first human word that you can try and teach him or her. Teaching your dog his name is part of the bonding and dog training process, which will take time, treats, and plenty of patience.
But it's also intelligent like its purebred parents so a Goldendoodle learning its name should be a pain-free process.
Do this in a quiet spot that's free of any distractions, then spend two to five minutes teaching your dog its name. Use positive reinforcement, and maybe add a few of his or her favorite snacks or dog food.
When doing DIY dog training, you need to keep in mind that you want your dog to respond to his name by coming when you call, so it's important not to have the name associated with fear or any adverse reaction.
This will help your dog pick up his or her name within two days to a week.
What should I name my Goldendoodle?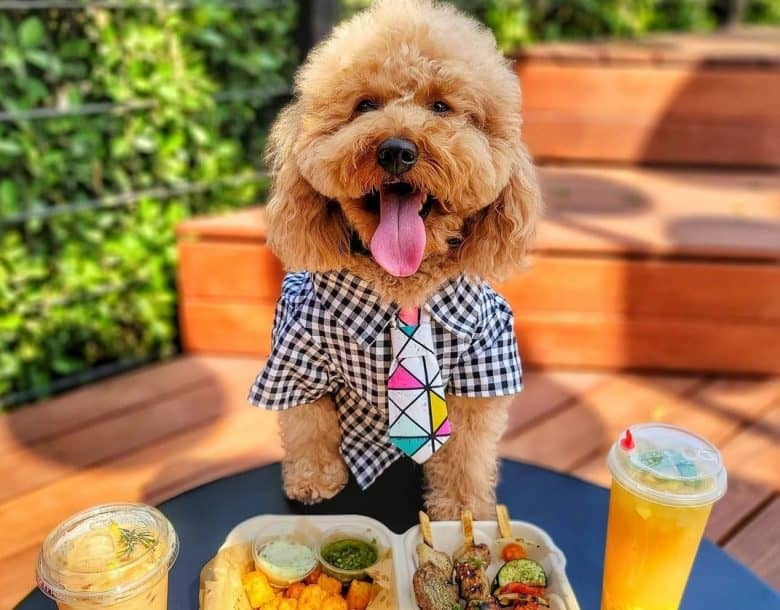 Have you picked out a name for your Goldendoodle from this long list? Get your puppy home before setting it in stone, as it should also match your dog's personality.
With a lifespan of around 14 years, your dog will have to be happy with your choice throughout its life.
Do you have any ideas for Goldendoodle names? We would love to hear your thoughts and puppy names.
Further reading: Other dog breed names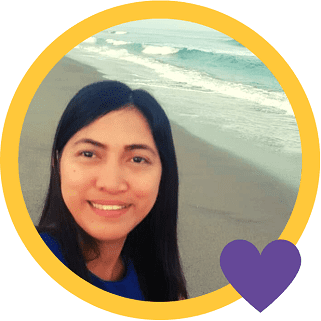 Cess is the Head of Content Writing at K9 Web and a passionate dog care expert with over 5 years of experience in the Pet Industry. With a background in animal science, dog training, and behavior consulting, her hands-on experience and extensive knowledge make her a trusted source for dog owners.
When not writing or leading the K9 Web content team, Cess can be found volunteering at local shelters and participating in dog-related events.