Last Updated on April 20, 2023
Are you considering adopting a Yorkie? Yorkshire Terriers are lovable fluff balls with distinct personalities, so they deserve an extraordinary name to match.
We've gathered some popular, unique, and cute Yorkie names for you to choose from.
With the help of this post, you can rather spend your time searching for the perfect dog food, a comfy bed, and plenty of toys. Read on to find the best Yorkie dogs' names.
Tips on finding & deciding a name for your Yorkie
Choosing a name for your new Yorkshire Terrier is no small feat. There are plenty of dog names to choose from, but there are things to consider before naming your Yorkie.
Firstly, you'll want to make sure your new puppy's name doesn't sound like any common commands. Avoid names that sound similar to 'sit,' 'stay,' or 'heel.'
These names will end up confusing your Yorkie and make training a challenge.
Also, you'll want to name your dog based on their personality. Try a few different names out on your pooch before you find one that suits them best. It's better to decide on a name earlier on.
While you can change their name or give your pup multiple names, this isn't advisable as it will confuse your pup.
But if you're stuck choosing between two incredible names, try to give your dog a first name and a middle name, or even select a double-barrel name.
If you want to learn more on how to teach your Yorkie puppy its name, watch this video:
What's in a name: Famous Yorkshire Terriers
If you're looking for famous small dog names, why not choose one from a TV show or movie. You could even name your new puppy after a celebrity Yorkie!
For the ultimate famous Yorkie name, get inspiration from the "Father" of all Yorkies, Huddersfield Ben.
This champion show dog only lived for six years, but he won over 70 prizes and sired many Yorkie puppies during his brief lifetime.
And for popular TV show or film names for Yorkies:
Barney – From the 1977 TV show Lou Grant, this Yorkie was attacked by a Pit Bull Terrier while on air, leading to a law stopping dogfighting.
Boi – Any High School Musical fan will remember the small dog belonging to Sharpay Evans in the second movie.
Hootie – From the famous movie Urban Legend, Hootie was a fraternity house dog who enjoyed drinking beer.
Mignon – In the TV show Green Acres, Lisa Douglas owns an adorable Yorkshire Terrier.
Moses – Meet the Fockers starred a family dog owned by Ben Stiller's parents.
Pickles – The film Dalry Colhoun stars a Yorkie as the pet of Aunt Dee.
Puppy Goo-goo – In the TV show The Simpsons, Milhouse Van Houten owns a stuffed Yorkie named Puppy Goo-Goo.
Toto – Inspired by the book (and the movie) The Wonderful Wizard of Oz, Toto is a beloved character. He is a Yorkie in the book but played by a Cairn Terrier in the film.
Yorkies are excellent family pets and companions for celebrities all over the world. Follow in the footsteps of your favorite celeb and name your new puppy after a famous dog.
Here are some celebrity Yorkie name ideas and notable Hollywood stars who own them:
Bob (Naomi Watts)
Cinderella (Paris Hilton)
Cinnamon (Emmy Rossum)
Dakota (Lindsey Lohan)
Doogie (Whitney Houston)
Enzo (Vanessa Williams)
Frankie (Miranda Kerr; Orlando Bloom)
Freak (Anastasia)
Hannah (Britney Spears)
Harry (Phoebe Price)
Jack (Hilary Duff)
Lila (Miley Cyrus)
London (Britney Spears)
Moonie (Miley Cyrus)
Mr. Famous (Audrey Hepburn)
Poncho (Missy Elliot)
Poupette (Milly Sims)
Roadie (Miley Cyrus)
Spike (Donny Osmond; Joan Rivers)
Tiger (Ivanka Trump)
Veronica (Venus Williams)
Whiz (Natalie Portman)
Zippy (Alyson Hannigan)
Stoli (Tara Reid)
Maibel (Jay Mohr)
Riley (Kevin Jonas)
Kitty (Heather Locklear)
Best Yorkie names for your dog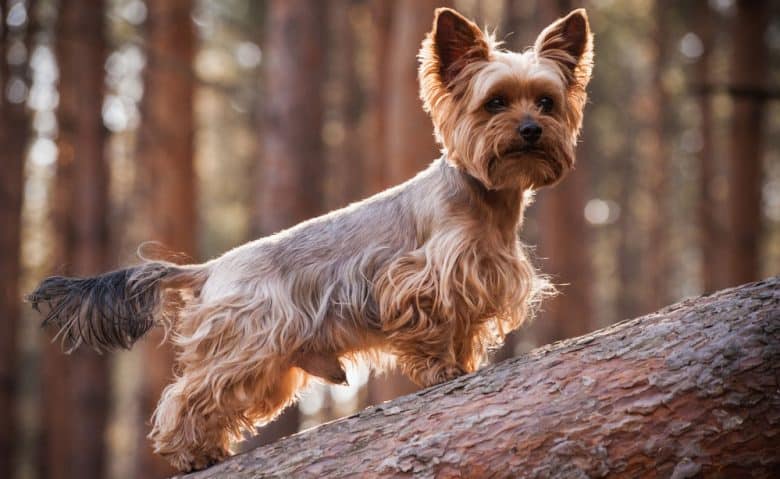 Maybe you prefer naming your Yorkshire Terrier based on the breed's interesting history and big personalities.
Yorkies were first bred to be exterminators in the mid-1800s. They caught rats in clothing mills and mines, and were also used for hunting both badgers and foxes underground.
You can trace their origin back to the Waterside Terrier. Weavers brought this breed to Yorkshire in England during the mid-19th century when they migrated from Scotland.
The breed first debuted at a bench show in England in 1961 under the breed name "Broken-Haired Scotch Terrier."
Now the American Kennel Club (AKC) classifies them as part of the Toy Group. And Yorkies are the 9th most popular dog breed in the United States.
Ready for more monikers? Here are some of the top Yorkie puppy names listed A-Z:
Abby
Apollo
Arlo
Aspen
Bandit
Benny
Bindi
Bo
Brody
Bruno
Buster
Cali
Cleo
Coco
Cody
Copper
Dexter
Dixie
Ella
Finley
Ginger
Goose
Gracie
Gus
Hank
Harley
Hazel
Jake
Jasper
Jax
Josie
Kobe
Kona
Layla
Leo
Levi
Lily
Loki
Louie
Lucky
Luke
Marley
Maverick
Maya
Mila
Millie
Murphy
Nala
Nova
Oakley
Olive
Oliver
Ollie
Oreo
Ozzie
Pepper
Ranger
Remi/Remy
River
Ruby
Ruger
Rusty
Scout
Shadow
Sophie
Sydney
Toby
Whiskey
Willow
Winnie
Top Female Yorkie names
Whether your new girl Yorkie is feisty or sweet as can be, these top 10 female names are great options.
Bella
Zoe/Zoey
Daisy
Roxy
Lola
Lucy
Luna
Penny
Sadie
Stella
But you don't have to choose from the top ten options for your girl Yorkie. There are many stunning girl Yorkie names that aren't as commonly used.
Annie
Chardonnay
Dory
Emma
Gabbie
Honey
Kali
Leila
Maggie
Maple
Mia
Moana
Molly
Nutmeg
Peaches
Pearl
Peppermint Patty
Petal
Polly
Rosie
Sassy
Savannah
Shelby
Starla
Sunflower
Best Male Yorkie names
Have you welcomed a boy Yorkie into your home? Then take a look at our picks for the top 10 male Yorkie names.
Bailey
Bear
Blue
Charlie
Cooper
Finn
Koda
Max
Milo
Tucker
If none of those suit your pup, you can also try some of these other cool Yorkie names for boys.
Admiral
Axel
Benji
Bentley
Boris
Chester
Chico
Elmer
Elson
Gizmo
Grizzly
Guinness
Hopper
Humphrey
Jogger
Lucus
Mickey
Oscar
Oxford
Paws
Porkchop
Prancer
Rufus
Scooter
Tito
Tracker
Wally
Ziggy
Yorkie names inspired by size
Yorkies are renowned for their small size, making them perfect handbag dogs. After all, they only weigh around 4-7 lbs (1.8-3.1kg).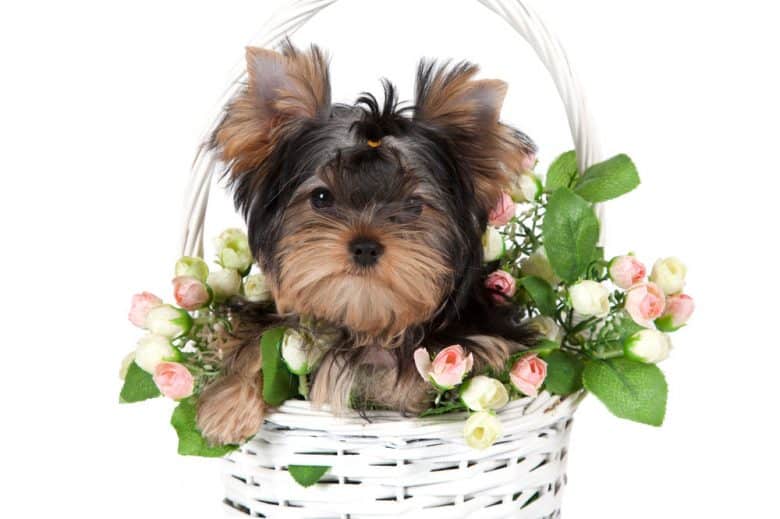 And Teacup Yorkies are even more miniature, weighing no more than 3 pounds (1.4 kg)! But just because they're little doesn't mean they don't have prominent personalities.
Here are some of our favorite size-inspired Yorkie and Teacup Yorkie names.
Baby
Bean
Bee
Biscuit
Bitsy
Bitty
Blossom
Boots
Bubbles
Button/Buttons
Byte
Chi Chi
Chip
Confetti
Cupcake
Cutie
Dew
Earl Grey
Elf
Feather
Fidget
Fifi
Fizzy
Gem
Gummy
Half Pint
Jellybean
Jewel
Lamb
Little
Midget
Mini/Minnie
Missy
Moppet
Morsel
Mouse
Munchkin
Niggle
Nipper
Nudge
Nugget
Peanut
Pebbles
Peewee
Piper
Pocket
Puny
Puppet
Rascal
Runt
Shorty
Shrimpy
Smalley
Small Fry
Smidge
Smudge
Splinter
Sprout
Squirt
Teenie
Teensy
Tiara
Tiny
Tiptoe
Token
Tweetie
Zu Zu
And some 'Big' names for Teacup Yorkshire Terriers:
Atlas
King
Moose
Rocky
Thor
Yorkie hunting names
Remember that we mentioned that Yorkshire Terriers were also used for hunting? Choosing a hunting-inspired Yorkie name may better reflect your fido's keen eye, sharp nose, and running abilities.
Here are a few of our recommended Yorkie hunting names:
Archer
Blade
Blaze
Bolt
Bullet
Bullseye
Eagle
Gunner
Hawkeye
Hunter
Legolas
Rambo
Rocket
Viper
Ygritte
Scottish Yorkie names
No matter where your Yorkie was born, people believe this dog to have first been the companion of Scottish Laborers.
If you're looking for a great name that reflects your Yorkie's Scottish heritage, try one of these names.
For female Yorkie Scottish names:
Aila
Aggie
Bonnie
Ceit
Coira
Effemy
Elise
Euna
Florrie
Freya
Garia
Grace
Grizel
Iona
Kenzie
Leslie
Lorna
Mairi
Moira
Skye
And for some male Yorkie Scottish names:
Ainsley
Alick
Beiste
Brice
Chattan
Clyde
Drummond
Duncan
Eoin
Euan
Forbes
Gibby
Gilroy
Hamish
Kirk
Maddock
Paton
Quinn
Tomas
Wallace
Want more ideas for monikers inspired by Scotland? Check out our list of Scottish dog names.
Fancy Yorkie names
These stately names are the perfect way to show the world your pampered Yorkie deserves to be treated like royalty.
These fancy names are perfect for your regal pooch. Let's start with some fancy girl dog names:
Alexandra
Anastasia
Angelica
Annabelle
Anne
Anouska
Aria
Ava
Belle
Bianca
Bunty
Callie
Catherine
Cece
Chanel
Charlotte
Chloe
Clara
Diana
Duchess
Elizabeth
Ellie
Emily
Georgia
Harper
Helena
Isabella
Izzy
Jules
Lady
Lexi
Lottie
Maisy
Margaret
Mary
Octavia
Ophelia
Paisley
Paris
Penelope
Portia
Precious
Princess
Queen
Rose
Scarlett
Sophia
Verity
Victoria
Let's not forget those prince-worthy and fancy male Yorkie names:
Aiden
Alfred
Angus
Archibald
Archie
Arthur
Atworth
Berkeley
Caden
Charles
Churchill
Darcy
Darius
Dickens
Duke
Edward
Edwin
Ethan
Fletcher
Gatsby
Grayson
Hamilton
Henry
Jackson
Julius
Kingsley
Kingston
Logan
Louis
Mason
Miles
Monty
Oli
Phillip
Preston
Prince
Princeton
Quincy
Rockwell
Romeo
Rory
Rupert
Sinclair
Spenser
Tate
Theo
Winston
Wolfgang
Cute Yorkie names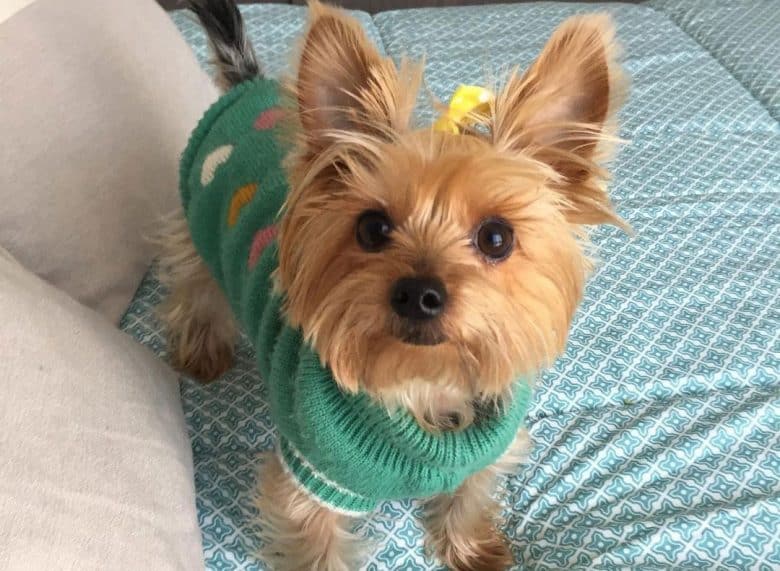 Yorkies are undeniably cute dogs. Their small size and large personality make them hard to resist. Whether you've got a Teacup Yorkie or a regular-sized Yorkie, you can't go wrong with a cute name.
Angel
Apples
Argyle
Babydoll
Banjo
Beau
Binky
Bon Bon
Bounty
Brownie
Bug
Bunny
Butterscotch
Cadbury
Candy
Cocoa
Cookie
Cotton
Cubby
Dolly
Droplet
Fudge
Gigi
Herby
Hiccup
Hopscotch
Hula
Jellytot
Kinder
Licorice
Lolly
Mento
Mingle
Muffin
Nemo
Nibbles
Penne
Periwinkle
Pixie
PJ
Pooh
Pumpkin
Sage
Sherbert
Silky
Skip
Skittles
Snickerdoodle
Star
Sugar
Sweet Pea
Teddy
Twirl
Whirl
Whisper
Cool dog names for Yorkies
If you know your little Yorkie will turn heads no matter where they go, choosing a cool name is an absolute must! It can even give your tiny pup a confidence boost! Plus, other dog owners will be in awe of your chosen name!
Ace
Bowie
Brisk
Bruce
Buddy/Bud
Carly
Cash
Cher
Cherry
Dusty
Elvis
Fox
Freddie
Galaxy
Jagger
Jarvis
Jett
Joni
Kat
Lemmy
Livewire
Mist
Mocha
Nibbler
Nikki
Ozzy
Picnic
Sinead
Sprite
Stevie
Tango
Funny Yorkshire Terrier Names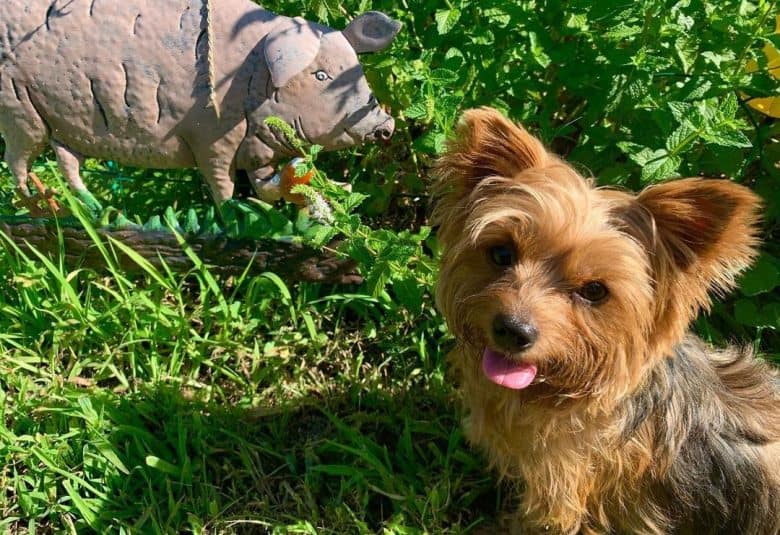 Maybe you want to name your dog something hilarious or silly. Not only will you love using the name, but fellow dog owners will get a good chuckle out of some of these:
Boomer
Bubba
Cheese
Chomp
Crush
Dogzilla
Dozer
Fanta
Fiesta
Grape
Grizzle
Hagrid
Hellboy
Hodor
Hulk
Jello
Juggernaut
Kong
Mars
Mr. Pipp
Octane
Pop
Santa
Unicorn
Wham
Looking for more gender-specific hilarity? Here are some funny female dog names for your little lady.
Aphrodite
Athena
Attila
Babushka
Britney Ears
Diva
Jezebel
Katy Hairy
Puddin
Rebel
Rogue
Saber
Tina Spay
Tootsie
Ursula
Masculine names don't have to be serious. Try a few of these tough but funny dog names on your new male Yorkie puppy.
Brutus
Chewbarka
Cletus
Einstein
Fabio
Fur-Dinand
Goliath
Hercules
Killer
Spud
Stinky
Stryker
Taco
Tank
Underdog
Wolf
Zeus
Unique Yorkie dog names
Calling your dog in the park and having more than one canine respond may be cute, but it can be problematic for other pet owners.
A unique name ensures your dog never gets confused. Have a look at some of these fantastic new names for your Yorkie:
Aesop
Beer
Cactus
Champagne
Cola
Crisp
Dancer
Dash
Floss
Fly
Frostie
Hornet
Nitro
Pepsi
Popcorn
Prom
Rage
Revel
Rolo
Scar
Soda
Sticks
Toga
Topic
Trip
Twix
Wasp
What should I name my Yorkie?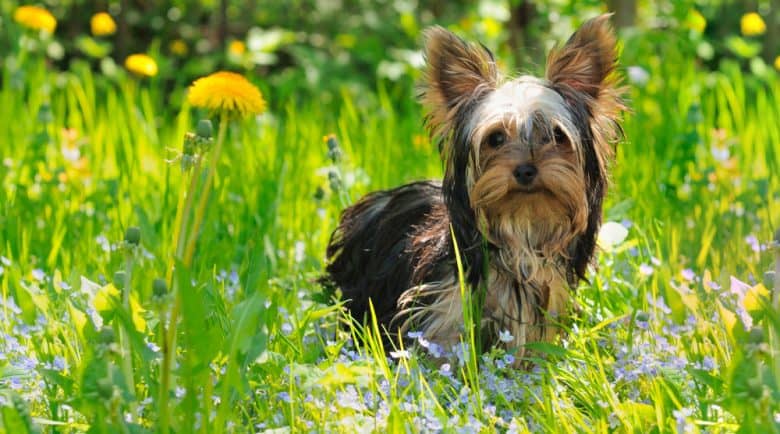 A lot of thought and planning goes into finding the perfect name for your Yorkshire Terrier puppy.
Whether you've adopted a lap dog, an aspiring diva, or a keen hunter, these names will suit their personality perfectly. No matter their size or age!
What have you decided to name your Yorkie puppy? Or do you have any creative dog name ideas? We'd love to know, so leave us a comment below.
Further reading: Other dog name options for your small pups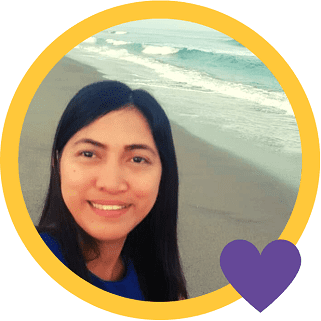 Cess is the Head of Content Writing at K9 Web and a passionate dog care expert with over 5 years of experience in the Pet Industry. With a background in animal science, dog training, and behavior consulting, her hands-on experience and extensive knowledge make her a trusted source for dog owners.
When not writing or leading the K9 Web content team, Cess can be found volunteering at local shelters and participating in dog-related events.